Add Herb roasted carrots with curry leaves and fenugreek to your list of super easy low carb keto side dishes that take only a few minutes of prep. This is a delicious recipe for roasted whole carrots, tossed with olive oil and savory spices. Don't have curry or fenugreek leaves? Check out my variations you can use with any roasted vegetables!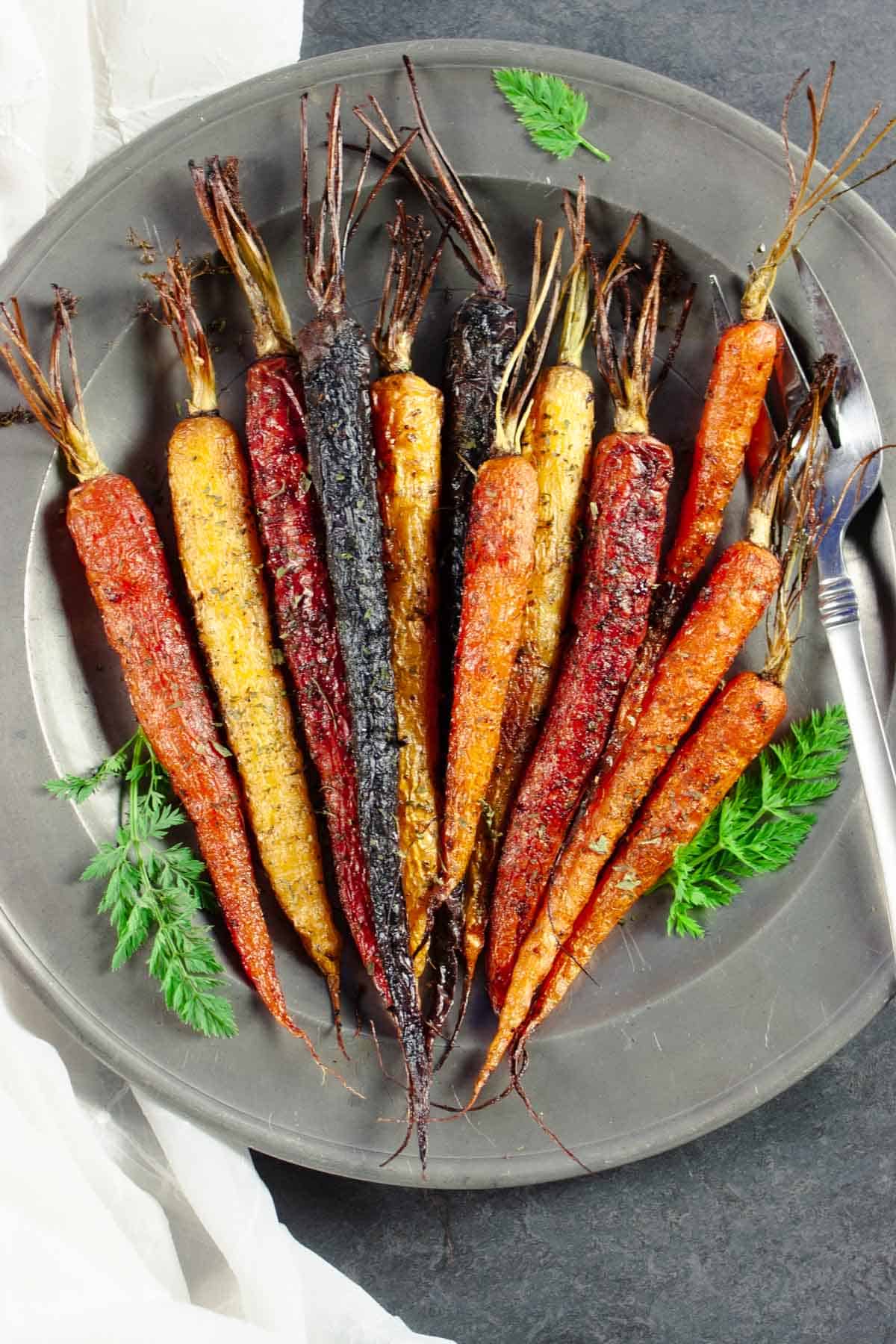 I'm a big lover of steamed and glazed carrots, but this oven roasted carrots recipe caramelizes the sugars and makes one of the best low carb side dishes that is especially sweet and savory. Even the most picky eater will love them!
Serve these alongside other keto sides such as Sautéed Brussels Sprouts with Maple and Rosemary or crisp Herb Roasted Rutabagas. Make a whole meal by serving with Indian Spiced Salmon, Crock Pot Pulled Pork, or as a great keto side dish for bbq with my Traeger Beef Ribs.
If you don't have curry leaves or dried fenugreek leaves, you can always use other spices. You can read more about curry leaves in my Curry Leaves Ingredient Spotlight and about fenugreek in my Fenugreek Ingredient Spotlight.
Are carrots keto friendly?
Good news! Add these to your list of low carb veggies. They can be included in a keto diet in small to moderate portions. However, they might throw off your macros if consumed in large quantities. Time to exercise that self control! New to keto? To learn more, check out my Guide to a Keto Diet article, and my Keto Diet Resources page.
Compared to other vegetables, they contain a few more carbs, but won't toss you out of ketosis if you pay attention to your portion size. Net carbs in carrots are quite low in comparison to many other root vegetables. 100g of carrots (which is just shy of one cup) contains about 7g net carbs. With a typical serving size of ½ cup, you can definitely still include these delightfully sweet root veggies as part of a healthy keto lifestyle.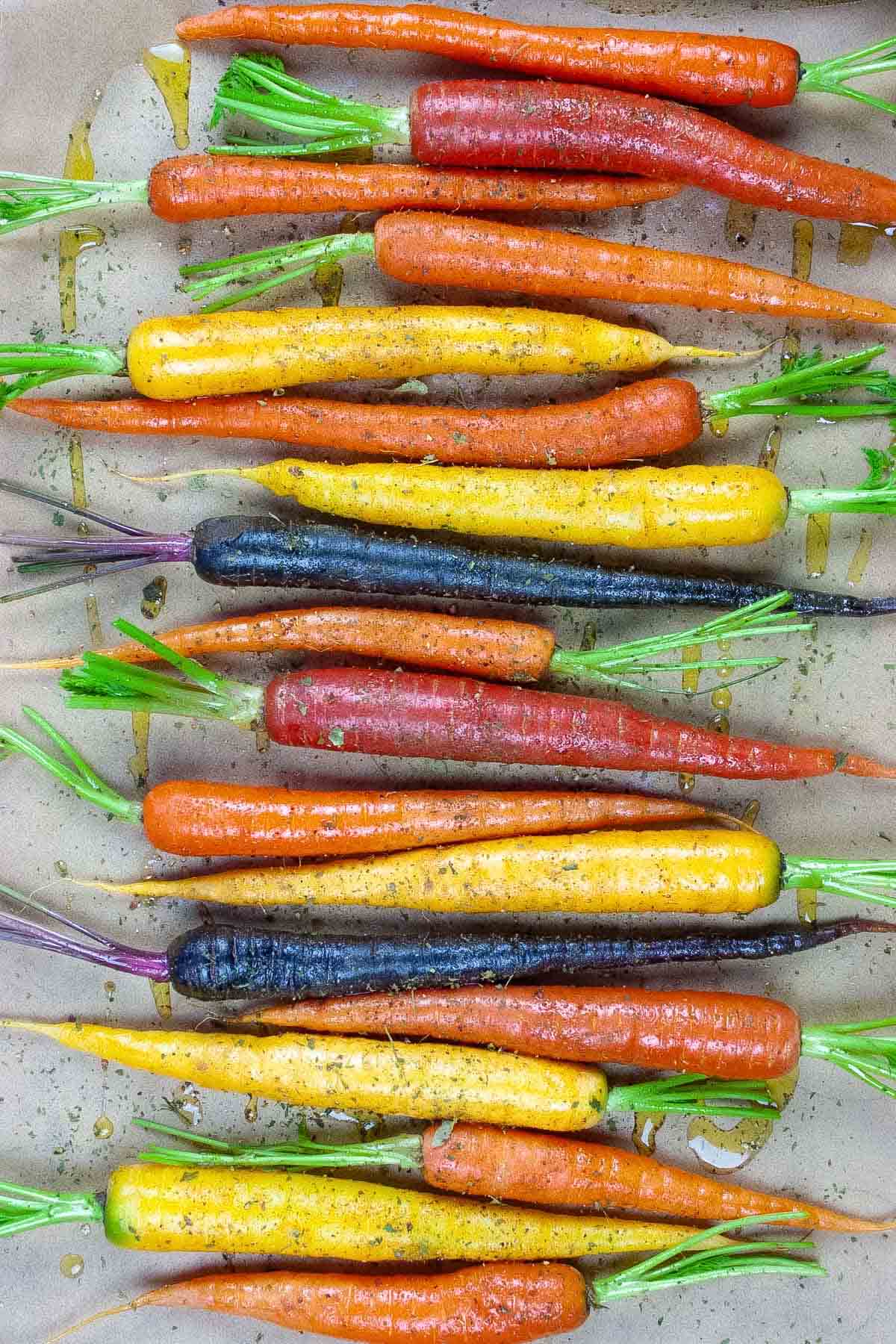 Are carrots low-FODMAP?
Yes, carrots can be added to your list of low-FODMAP vegetables. They're one of the few vegetables that are considered a FODMAP-free food.
Carrot nutrition
They are quite healthy and are packed full of vitamins, minerals and antioxidants, including vitamins A, K, and C, as well as potassium, calcium, iron and beta-carotene.
One serving is typically ½ cup (or 1-2 medium carrots), which provides about 25 calories, 6g carbs, 2g fiber (which equals 4g net carbs), about 3g of sugar and .6g of protein.
What kind of carrots are best for roasting?
You can use whatever variety you please. Here are a few ideas:
Heirloom carrots – Heirloom varieties come in more colors than just orange! They also come in beautiful colors like purple, white, yellow and even pink and red so you can serve amazing roasted rainbow carrots. I love leaving a little bit of the green tops on because they look extra fancy when roasted whole.
Baby carrots – These are always a fun choice. 'Baby carrots' is a just a fun term that's used for blemished roots that have been cut, peeled and shaped into the tiny shapes we know and love.
Good ol' orange carrots of any variety are perfect for roasting. Big carrots may be better for juicing, but can still be used if cut into smaller pieces.
What makes this recipe great
These Herb Roasted Carrots are:
Keto, low-carb, low-FODMAP and AIP friendly
Allergy friendly
Paleo, Vegan and Whole30 compliant
Kid friendly
Totally customizable
Great for make-ahead meal prep
Perfect for potlucks and holiday dinner gatherings to feed a crowd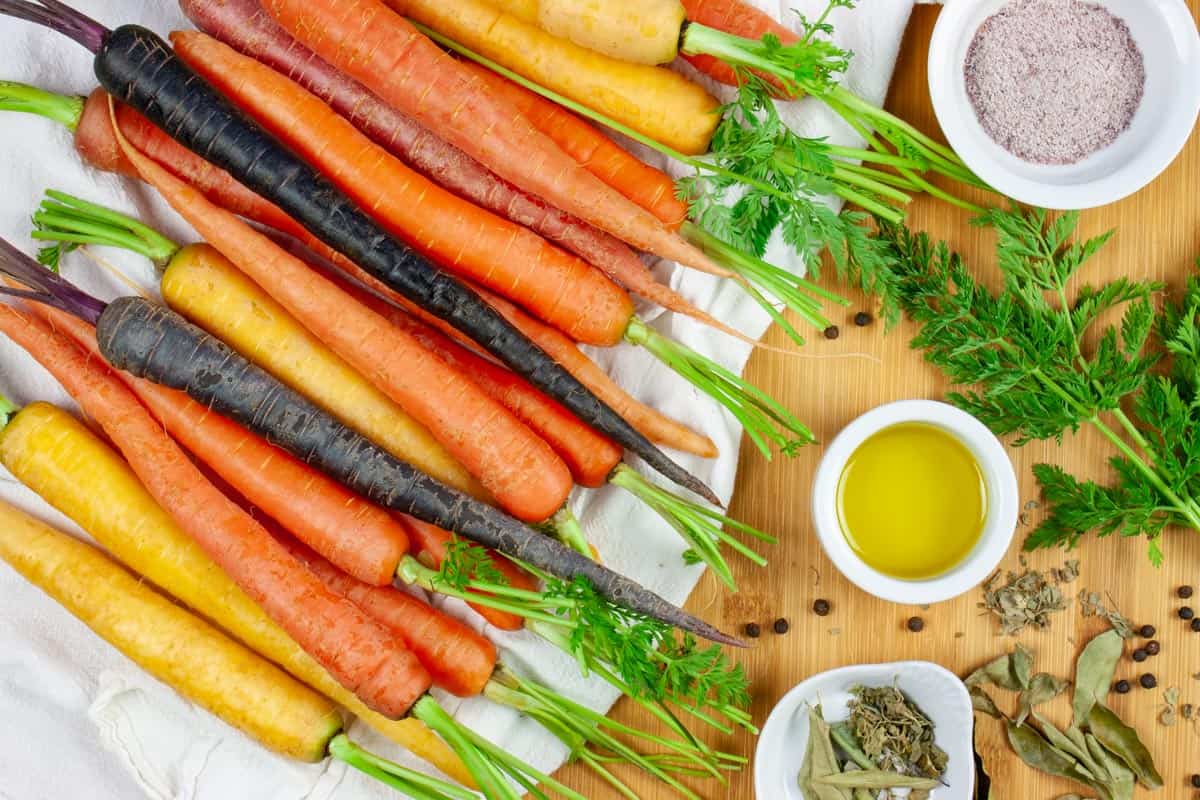 Ingredients
This recipe calls for only a few simple ingredients:
Fresh carrots - When roasting, I like to get 1-2 bunches, with the tops attached. I look for bundles where they all have about the same diameter, so they'll roast evenly. Try slicing carrots lengthwise if you can't find any perfect bunches, or if they have varying diameters.
Olive oil – you don't need much – only about 2 tablespoons to help with roasting.
Seasonings – this recipe calls for salt, curry leaves and fenugreek leaves, but you can use any spices you'd like.
Do you have to peel carrots before roasting?
To peel or not to peel... I never peel mine. Some people say the peels taste slightly bitter or just don't think the skins are visually appealing. If you're in either of these camps, peel away. but as long as they're washed and scrubbed, they're perfectly fine to eat with the peel on.
A good roasting will also tend to remove some (or all) of that bitterness. They become slightly caramelized (divine!) and their sweetness really comes forward. You'll probably be too preoccupied with the roasty richness to even notice.
Do you have to use curry and fenugreek leaves?
I chose these two savory Indian spices because they have such a unique, aromatic flavor and I love them. Curry leaves and fenugreek are used often in Indian cuisine, and fusion cooking is a passion of mine (I'm just a rebel at heart).
Fenugreek leaves have a slightly nutty flavor and pair well with the slightly citrus-like flavor of the curry leaves. You can learn more about both of these in my Ingredient Spotlights.
This is a perfect base recipe for you to use whatever spices you'd like. It's hard to go wrong - see below for some tasty variations.
Are curry leaves and fenugreek leaves low-FODMAP and AIP friendly?
Oh lucky day - yessirree! Add both of these to your list of AIP spices and low-FODMAP spices! If you haven't tried either of these savory herbs, I highly recommend them. They'll take your cooking to a whole new level.
You can use curry and fenugreek leaves in more than roasted vegetable recipes. Try them in soups such as my Easy Keto Fish Stew with Turnip and Fennel, or in my Homemade Bone Broth. You can use them on meat, poultry or fish, or even added into meatballs or ground beef.
Instructions
Three easy steps to get you to that sweet and savory roasted carrot goodness:
Prep: Trim the green tops, leaving a little bit of the stem still on and then wash and pat them dry.
Season: Place on a baking sheet (I like to line mine with parchment), drizzle with oil and sprinkle with herbs. Then I like to toss them just a little.
Roast:  Bake in a pre-heated 375F degree oven until slightly browned and fork tender.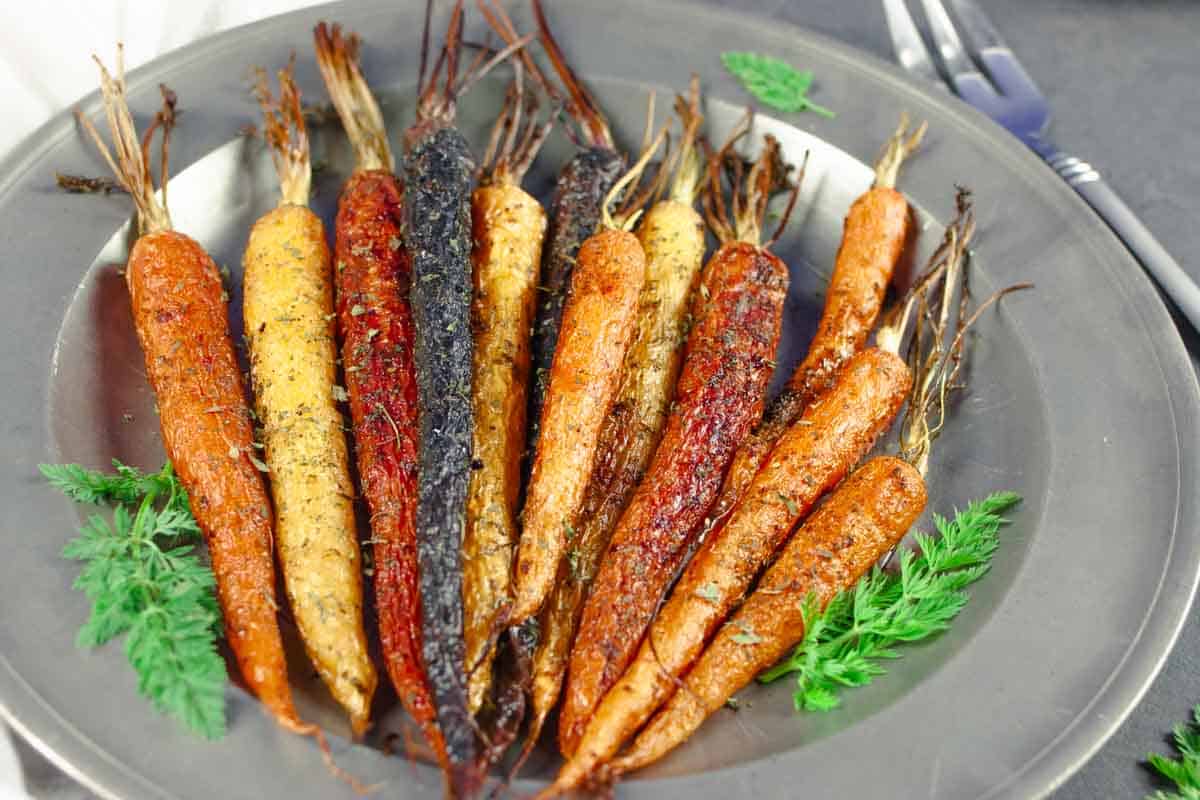 FAQ
Are cooked carrots healthier than raw carrots?
Roasting and baking is actually healthier than eating them raw. Cooking (roasting, steaming or pressure cooking) releases up to 40% of the beta-carotene they contain. Eating raw provides only about 3% of these nutrients. Boiling tends to leach out nutrients that eventually get poured off in the water.
Should I cut carrots before roasting?
If they are under an inch in diameter, you can bake them whole. Personally, I love the look of roasting whole carrots. They just look so elegant! However, if they're too thick, you can slice them in half, lengthwise or cut them into 'coins'. I like slicing them on the diagonal when making 'coins' so they have an oval shape. Just be sure your slices are uniform in thickness so they cook evenly.
Can you roast carrots without oil?
I don't recommend roasting without oil. The oil helps with browning and adds to the soft, chewy texture we love. Roasting without oil will also make them too dry. However, roasting any vegetables with too much oil will make them soggy. Just a drizzle goes a long way.
Should you cover vegetables when roasting in the oven?
Covering vegetables in the oven will steam them, rather than giving them that browned, caramelized, roastiness (is that a word?). I would only advise covering roasted vegetables with foil if they were browning too quickly. If your veggies get too dark, cover them with foil and bake until just fork tender.
Can you freeze carrots?
Yes! They can be frozen blanched or fully cooked. To freeze roasted carrots, it's best to quick-freeze them by spreading them out on a baking sheet and placing in the freezer. After they're frozen, place them in freezer bags, removing as much air as possible, or if you have a vacuum sealing system, that's the best way to protect from freezer burn.
Variations and add-ins
Add other root veggies - I'm all about empowering the kitchen wizard in all of us. If you have other veggies hanging around, try adding a few to the sheet pan, such as parsnips (omit for keto), rutabaga, or adding some broccoli or cauliflower (omit for low-FODMAP).
Make glazed or maple roasted carrots – season with a couple pinches of sweetener (I use monkfruit sweetener) or a drizzle of maple syrup (I use Sugar-free maple syrup for keto which makes these sugar-free glazed carrots.)
Try garlic roasted carrots – Add some finely chopped garlic for a kick (omit for low-FODMAP) or make these with garlic-infused olive oil for a FODMAP-friendly side dish.
Add a drizzle of some Cilantro Lime Dressing - it's amazing paired with the sweet carrots and savory fenugreek.
Storing leftovers
After your carrots cool to room temperature, store the leftovers in an airtight container and refrigerate for up to 5 days. Enjoy them reheated in the microwave or oven or gently heat in a pan with a little bit of olive oil or ghee with a pinch of salt.
Serving suggestions
These are such a versatile keto friendly side dish, they can be served alongside virtually any meal. They make an easy holiday side dish (Easter dinner or Thanksgiving dinner, anyone?) to pair with stuffing, keto mashed 'potatoes' and gravy, or everyday quick weeknight dinners.
They make a perfect veggie to pair with roast chicken, or try with my Indian Spiced Salmon, and alongside any meat, fish, poultry or vegetarian main course.
Other keto and low-FODMAP side dishes you might like
This post contains affiliate links. As an Instacart and Amazon Associate, I earn from qualifying purchases.
📖 Recipe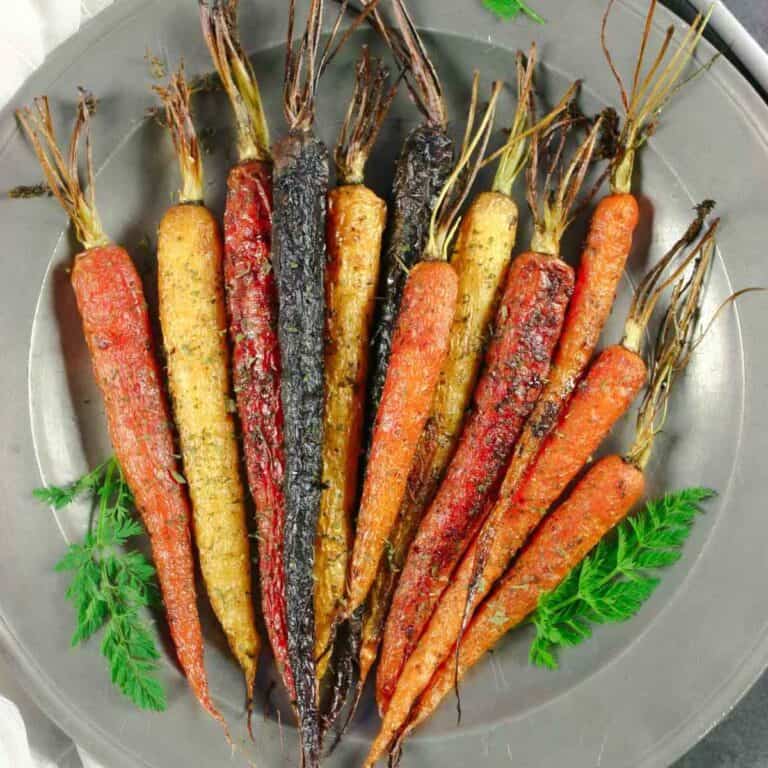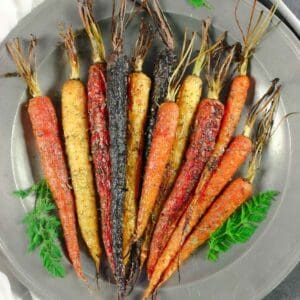 Herb Roasted Carrots with Curry Leaves and Fenugreek
This is a super simple and fast recipe for herb roasted carrots with curry leaves and fenugreek. It's an easy low carb keto side dish that is low-FODMAP and AIP friendly. An incredibly flavorful side with a touch of Indian spices!
Instructions
Trim the green tops off the carrots, leaving about an inch of the greens for visual appeal. Then wash and pat dry.

Place the carrots on the parchment and coat with olive oil.  Gently toss.

Sprinkle the carrots with the fenugreek leaves and curry leaves and gently toss.  Depending on the size of the carrots, you may have some crushed leaves left over.

Spread the carrots out on the parchment.  It's best to leave a little bit of space between them.

Sprinkle with salt and pepper.

Roast for 15 minutes in the oven.  Turn and roast for another 15 minutes or until fork tender (this may vary slightly depending on your oven and thickness of the carrots).

Adjust salt and pepper to taste.
Nutrition
Serving:
1
carrot
Calories:
65
kcal
Carbohydrates:
6
g
Fat:
5
g
Sodium:
197
mg
Fiber:
2
g
Sugar:
3
g
Net Carbs*:
4
g
*Net carbs = carbohydrates - fiber
Nutritional information is an estimate, calculated using online tools and does not include optional ingredients unless otherwise indicated.
Did you make this recipe?
Leave a review below, then snap a picture and tag @Rad_Foodie on Instagram so I can see it!