Tender white fish is cooked in a creamy coconut milk broth to create a light, delicately curried fish stew. This healthy low carb fish soup recipe makes a fast, easy, weeknight dinner that is AIP, keto and low-FODMAP friendly!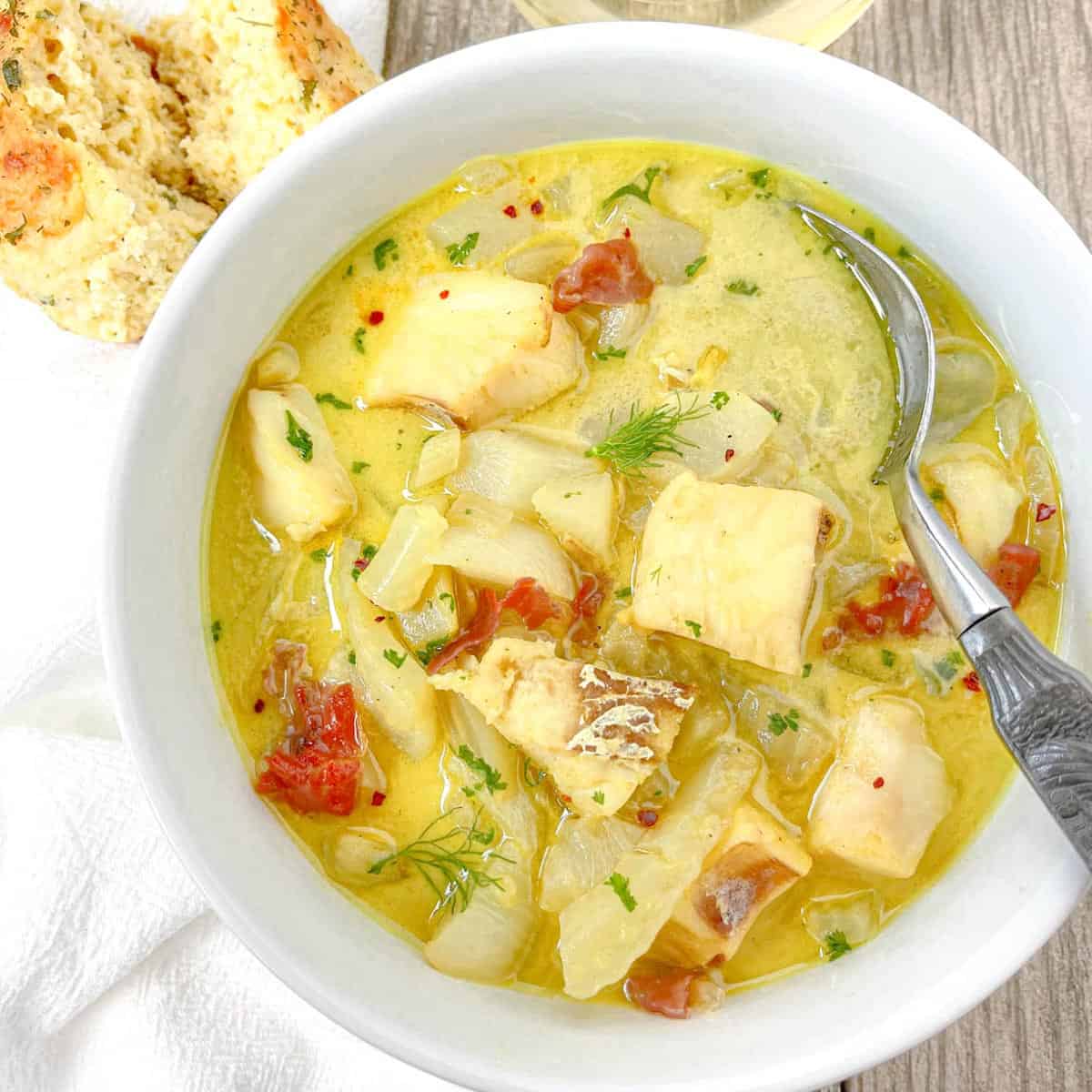 I literally think this recipe came to me in a dream. I remember falling asleep thinking about what to do with that pound of cod that was sitting in my freezer. Soup? Really – cod soup? Well, okay, dreamtime, I'll try it. I'm always up for creating hearty meals and cozy winter comfort food. The result was an easy fish stew with turnip and fennel!
Many folks find cooking fish a bit intimidating, especially when they've had a 'tough fish soup' experience. Never fear – recipes with seafood can be easy to prepare without creating tough, rubbery fish.
"A fish chowder without potatoes", you ask? It can be done! Whitefish chowder is a perfect recipe for the addition of the bright, sweetness of turnips and fennel. You'll never miss the taters – I promise.
If you're looking for cold weather comfort food, this recipe is on the top of my list of fall and winter recipes. Curry powder contains vibrant warming spices that are magical in soups made with coconut milk and they make you all toasty warm from the inside out. Nothing like snuggling in with a nice warm bowl of homemade soup.
This easy keto fish chowder is a perfect recipe for easy Sunday meal prep. The leftovers keep well in the fridge for easy weekday lunches – talk about a win!
Why coconut milk instead of a milk or cream broth?
Sometimes I think dairy can be a little over done in low carb diets and I wanted to create a recipe that was for both a dairy-free and gluten-free soup. What I love about this dish is that it fits in perfectly with ketogenic, low carb, low-FODMAP and AIP diets and lifestyles, with just a few minor substitutions. Fish stew with coconut milk is light, savory and creamy – no dairy needed!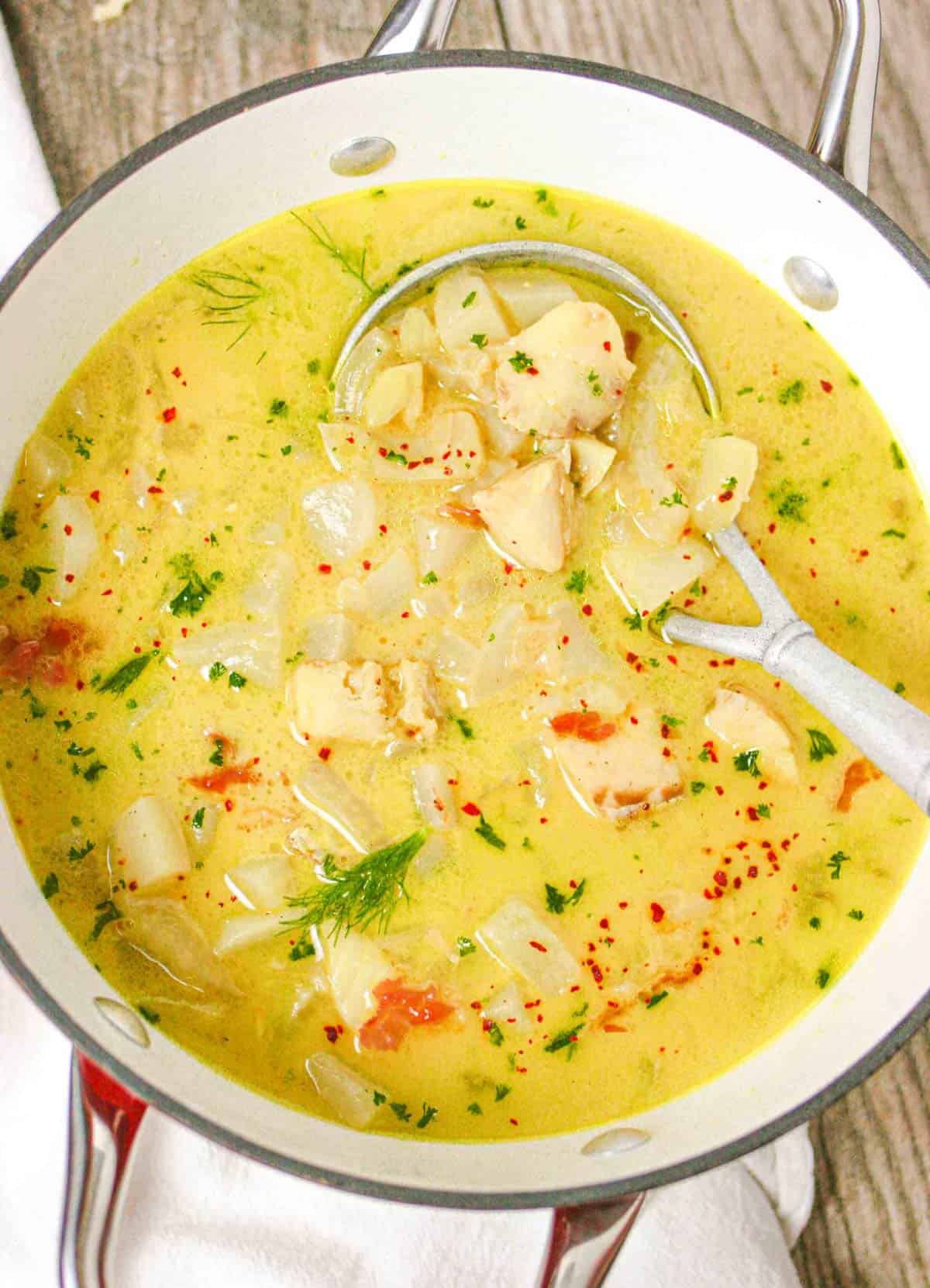 Where does fish soup come from?
There are many variations of fish stew, soup and chowder. It's difficult to know exactly where the original fish stew came from, but every culture seems to have recipes that are passed down through generations. The French Bouillabaisse, Portugese fish stew (Caldeirada), Fiskesuppe (Norwegian fish stew) and Brazilian Moqueca are all influenced by their local maritime communities' catch-of-the-day and are some of the most popular and recognizable fish stews. No one knows for sure who made the first fish stews or chowders, but each culture certainly has created masterpiece soups with unique flavors from their regions.
Choosing the best white fish
Any firm white fish can be used, such as cod, sea bass, catfish, tilapia or snapper. Delicate fish like sole will end up falling apart. You can even swap out the white fish for salmon or shrimp.
For this recipe, I used wild cod as the star of this one-pot fish stew. The cod is simmered in a coconut and chicken broth with fresh turnips, fennel bulb and a touch of curry to create a symphony of flavors.
What is fennel?
Fennel is a very underrated vegetable with a fresh, aromatic anise flavor, that is actually a member of the carrot family. It may seem a bit intimidating from the outside, but it's very easy to work with and may become your favorite new ingredient.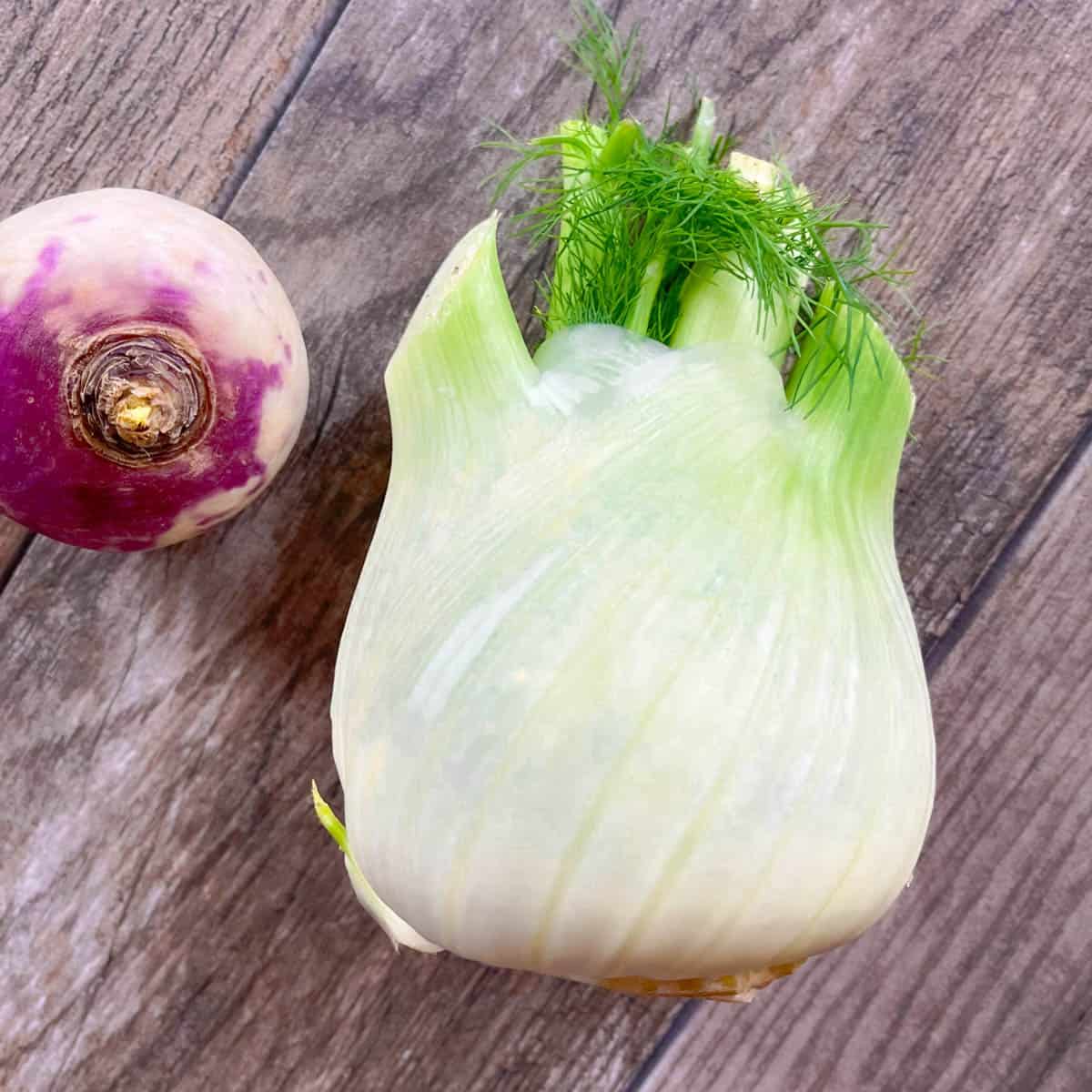 What part of the fennel bulb do you eat?
The stalks and leaves are edible, but most recipes with fennel will just call for the bulb. The texture is similar to celery, with a light licorice flavor.
You can eat fennel in salads, soups, roasted or simply sautéed. The character changes depending on how it's cooked. It adds a bright, subtly sweet flavor to this delicately curried fish stew. And save a little of the fennel fronds for garnish or use them in a salad to serve alongside your stew.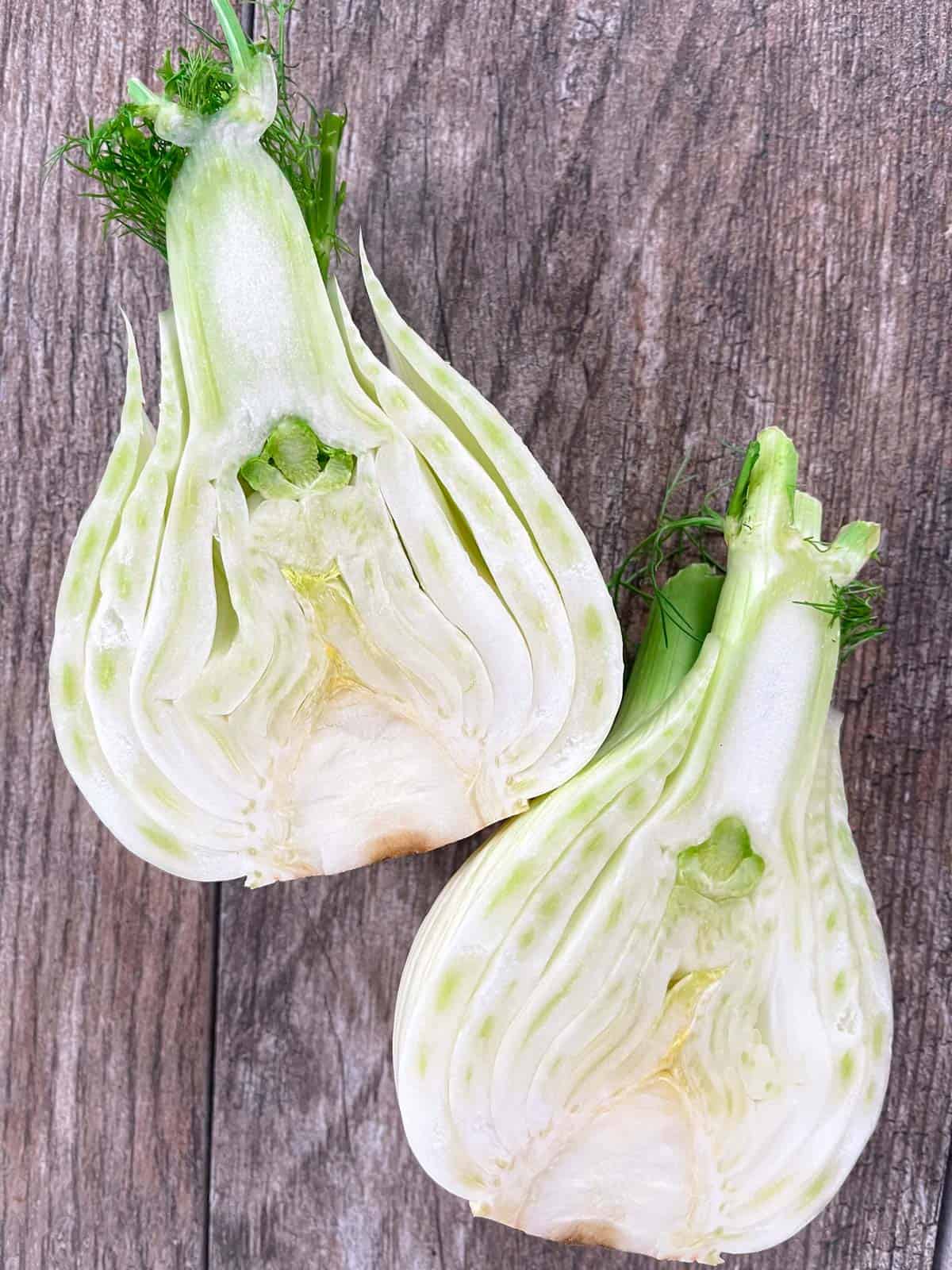 How to prepare fennel
First, trim the stalks. These are great to use in vegetable stock. The fronds can be eaten raw so don't toss them. Cut the bulb in half, trim the bottom and remove the tougher core. Peel off any wilted or rubbery outer layers. You can cut your slices thick or thin. Many people like to use a mandolin to slice their fennel, but I like my stew a little chunky. I find that using a mandolin shaves the fennel well for use in salads or for sauteeing, but it's a little too thin for soups. I recommend slicing with a chef's knife in about ¼ inch slices.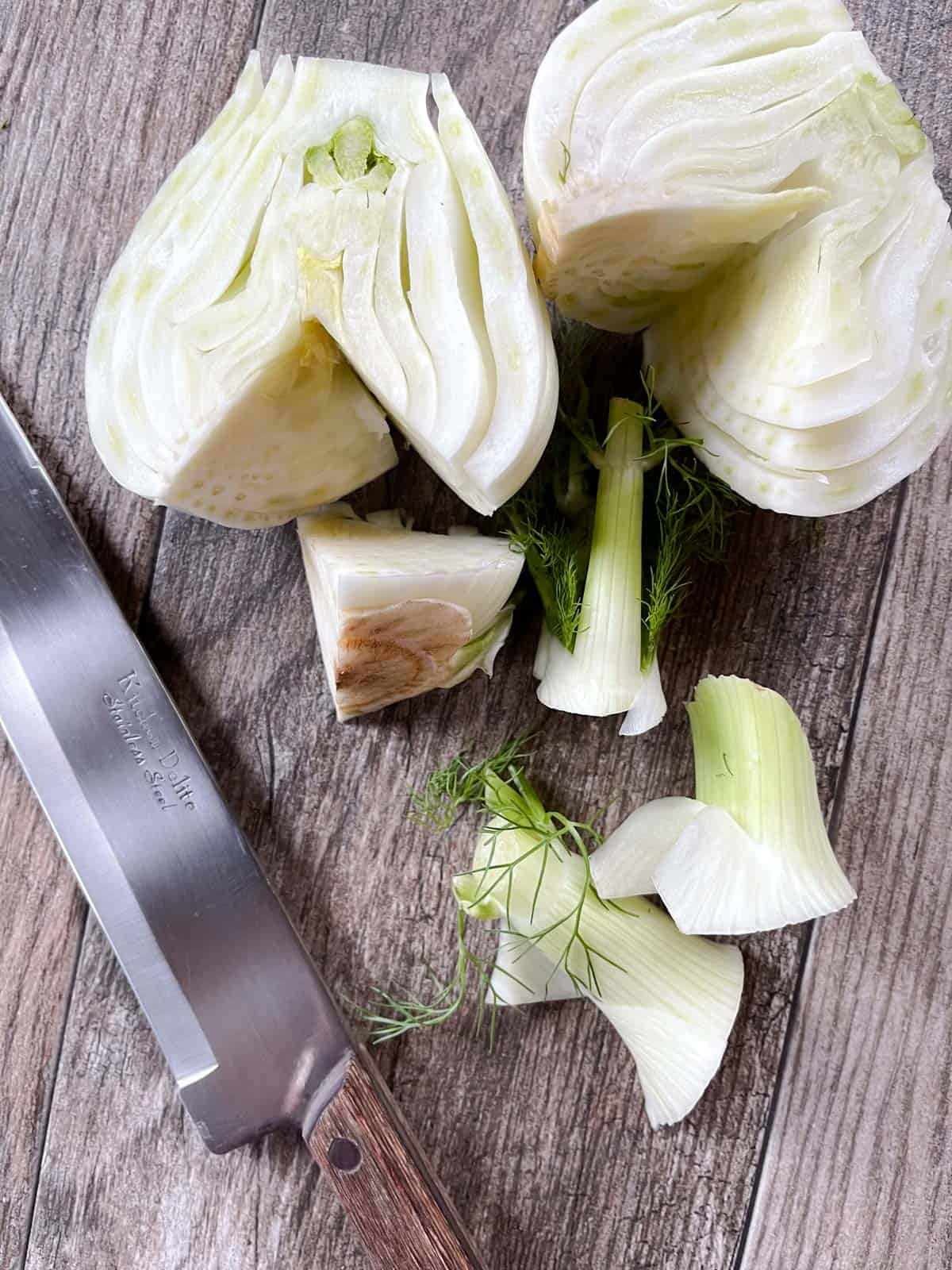 Turnips vs. potatoes
Turnips contain far fewer carbs and calories than potatoes. If you don't follow a low-carb or keto diet, you can certainly use potatoes or parsnips in the place of turnips. I find that turnips have a sweeter flavor and lighter texture than potatoes, which make them a perfect addition to this soup.
Selecting and preparing turnips
Opt for smaller turnips because they tend to be sweeter with minimal to no bitterness. If you can find Japanese turnips (also called Hakurei or Tokyo turnips), these are my favorite to use and are even delicious eaten raw. But good ol' purple turnips work brilliantly, too.
To prepare the turnips, slice off the top and bottom and peel them with a vegetable peeler. Then cut into approximately ½ inch cubes.
FAQ
Can I make this a low-FODMAP fish stew?
I've added onion and garlic to this recipe but it can easily be made without either and still be amazing. I like to substitute the onion and garlic with asafoetida. It adds an 'is that onion or garlic?' flavor that you just can't seem to pinpoint. The best way to use it is to sauté it in ghee or oil to release the aromatics, before adding other ingredients.  Instead of sautéing onion and garlic, you'll sauté a pinch of asafoetida. However, even if you are using onion and garlic, feel free to use the asafoetida, as well. I lends an amazing depth to the soup.
You can also substitute the onion for green leek tops, chives or green onions (tops only).  Consider adding or topping the soup with a bit of garlic-infused oil.
---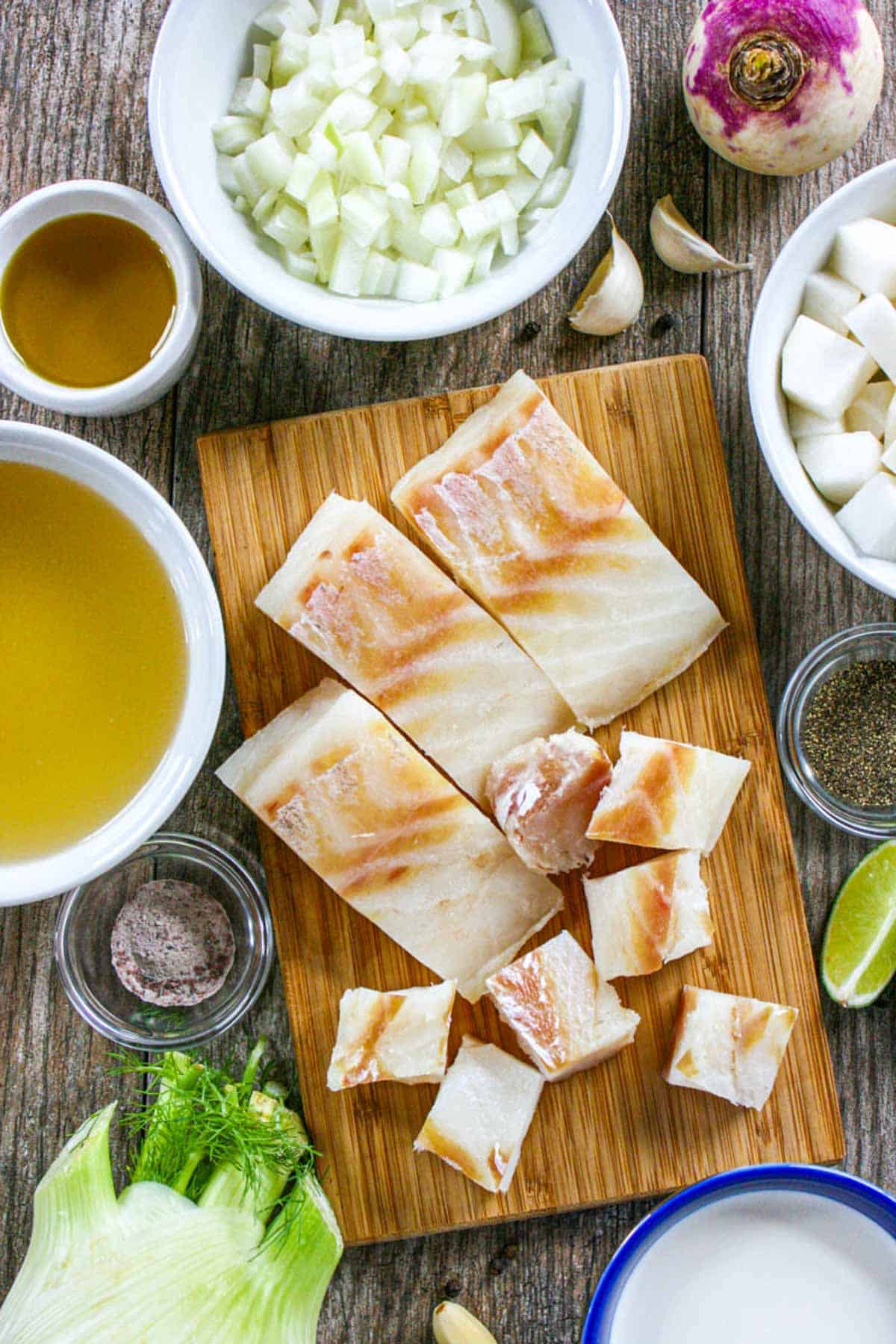 How to make fish stew
While some other fish stew recipes take a long time to prepare and cook, this easy recipe is table ready in about 30 minutes!
Saute the onion and garlic (or asafoetida) in olive oil or ghee
Add the broth, coconut milk, spices and vegetables and simmer until just tender.
Stir in the coconut cream, fish and fresh lime juice and simmer for a few more minutes.
Serve and enjoy!
Optional secret ingredient
I'm a giant fan of kala namak black salt. I use it, literally, in almost everything and you'll find it in several of my recipes. It has a very sulfur-like aroma, but the flavor is extremely complex. The sulfur scent and flavor disappears when used in cooking and imparts a depth to your dish that you just can't get from any other ingredient. I absolutely love it in this soup! Between the asafoetida mentioned above and the black salt, this stew will have a very unique and earthy, complex flavor. However, if you don't have kala namak black salt, you can certainly use sea salt or Himalayan pink salt in its place.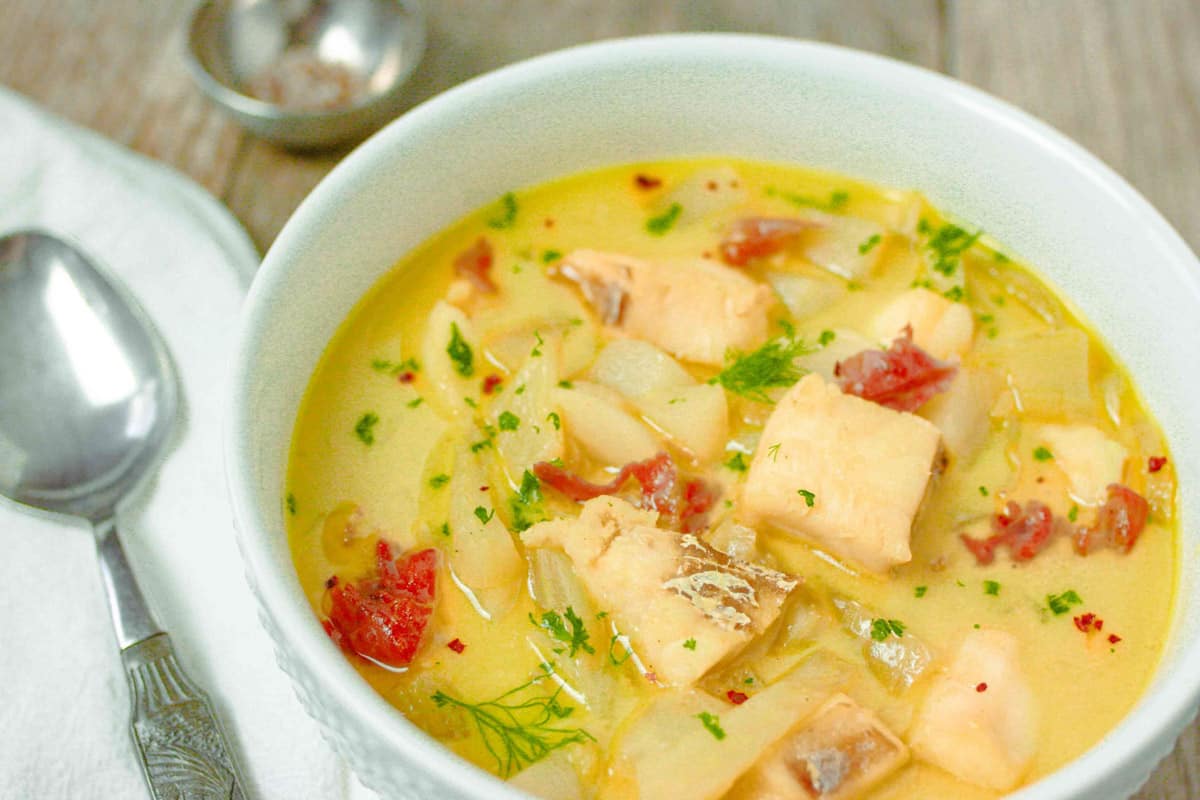 Substitutions, add-ins and add-ons
To make the soup, in addition to coconut milk, I use my homemade chicken bone broth, but fish stock or vegetable broth can be used in place of the chicken broth.
If you aren't a fan of recipes with turnips, you can sub those out for for say, potatoes, parsnips, rutabaga, carrots, butternut squash and even zucchini.
Feel free to add some leafy greens like kale, collards or bok choi. I'm all about switching things up. However, I'm really in love with the use of fennel in a coconut fish chowder. It gives it such a bright flavor. And the ingredients I've included for this recipe provide flavors that blend together so well.
I'm a fan of topping this soup with crispy prosciutto or pancetta. Simply crisp it in a pan and crumble on top of the soup. Bacon crumbles are amazing, too.
Top with chopped avocado and/or fresh cilantro.
Add a fresh squeeze of lime just before serving.
Top with your favorite low carb croutons.
If you like a bit of spice, add some red pepper flakes, or my favorite, Aleppo pepper (read more about why Aleppo Pepper is such a great seasoning).
Add a few curry leaves for a bright, fresh, unique flavor (read my Ingredient Spotlight all about curry leaves)
What to serve with fish stew
While this fish stew can stand well on its own, there's nothing like pairing it with a little something on the side, like some Cheddar Almond Flour Drop Biscuits or a tasty salad like Fattoush. If you're planning on serving dessert, consider a Berry Clafoutis or satisfy that chocolate craving with some easy Deep Dish Chocolate Chip Cookies!
Other recipes you might like
This post contains affiliate links. As an Instacart and Amazon Associate, I earn from qualifying purchases.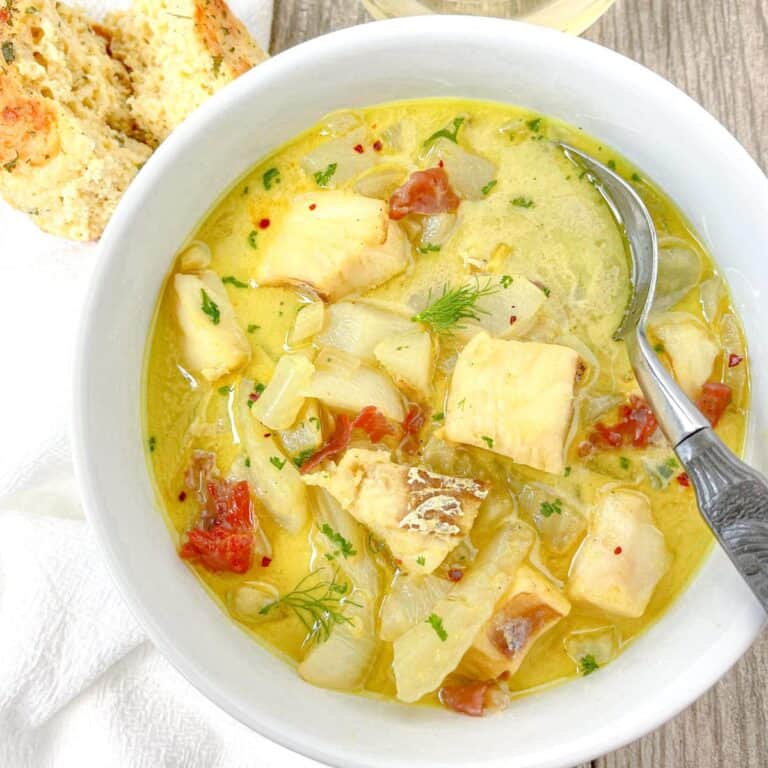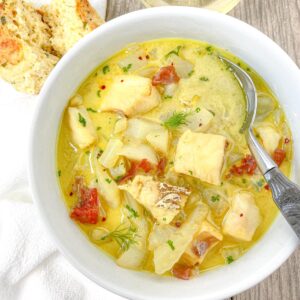 Easy Keto Fish Stew with Turnip and Fennel
Tender white fish is cooked in a creamy coconut milk broth to create a light, delicately curried fish stew.  This healthy low carb soup recipe makes a fast, easy, weeknight dinner that is AIP, keto and low-FODMAP friendly!
Ingredients
1.5

pounds

cod white fish

(or tilapia, cut into 1 inch pieces)

2

turnips

(medium sized, peeled and chopped)

1

fennel bulb

(chopped – see Instructions)

4

cups

chicken broth

1

can

coconut milk

(13 ounce can)

2

tablespoons

ghee

(or olive oil)

¼

teaspoon

black pepper

(omit for AIP)

1

teaspoon

sea salt (or kala namak black salt – see Note 1)

¼

teaspoon

curry powder

(or AIP curry powder – see post)

1

pinch

asafoetida powder

(for low-FODMAP – optional – see Note 2)

½

lime

(juice only)

½

onion

(yellow, chopped finely – omit for low-FODMAP)

2

cloves

garlic

(finely minced – omit for low-FODMAP)
Optional Toppings
1

avocado

(cut into cubes)

2

teaspoons

cilantro

(chopped)

4

slices

crispy pancetta
Instructions
Add ghee or olive oil to a large pot and turn on low heat
If using asafoetida
Add the asafoetida and simmer for about one minute.
If using onion and garlic
Turn up to medium heat, add the onion and garlic and sauté on medium heat until just tender.
Prepare the fennel bulb
Chop off the top stems and bottom of the fennel bulb. Then cut out the tough core (see post for details and pictures).

Remove the tougher outer layers and chop.  I like to reserve a few of the fennel leaves for garnish.  They have a lovely flavor and aroma.
Prepare the soup
Add the vegetables, chicken broth, clear liquid from the coconut milk (reserve the cream – see Notes), salt, pepper and curry powder.  Simmer for about 15 minutes or until just tender enough to be pierced with a fork.

Add the fish, reserved coconut cream (see Notes, below) and lime juice and simmer for an additional 5 minutes.

Turn off the heat and let sit for about 10 minutes before serving.  This allows the fish to continue cooking without being 'overdone'. 

If topping the stew with crispy pancetta, use the 10 minutes that the stew is sitting to prepare.  Warm a skillet on medium heat and add the pancetta slices.  Toast for about 2-3 minutes on each side or until slightly crispy.  Remove from heat and cool.  

After stew has rested for 10 minutes, place into bowls and top with cilantro, avocado and crispy pancetta or whatever your heart desires!
Notes
Note 1
Kala namak black salt is my favorite salt to use in so many recipes.  Read more about Kala namak here.
Note 2
I love using asafoetida instead of onion and garlic because the flavor is very similar to onion and garlic, but using it here is purely optional.  If you do not follow a low-FODMAP diet, you can certainly use the onion and garlic included in the ingredient list and instructions. Read more about Asafoetida here.
About coconut milk
If you're using coconut milk that comes in a Tetra Pak, rather than a can, the cream typically doesn't separate from the milk.  No worries about reserving any coconut cream to add toward the end of cooking.  Just add all of the coconut milk at the beginning of the recipe.  If you have coconut cream in your pantry, you can add a few tablespoons toward the end of cooking, like the recipe describes.  Personally, I think it adds just a touch more of fresh coconut flavor to the soup, but it's not required.
Nutrition
Serving:
2
cups
Calories:
308
kcal
Carbohydrates:
11
g
Protein:
15
g
Fat:
20
g
Cholesterol:
37
mg
Sodium:
889
mg
Fiber:
5
g
Net Carbs*:
6
g
*Net carbs = carbohydrates – fiber
Nutritional information is an estimate, calculated using online tools and does not include optional ingredients unless otherwise indicated.
Did you make this recipe?
Leave a review below, then snap a picture and tag @Rad_Foodie on Instagram so I can see it!