Pumpkin Porridge with Maple Pecan Syrup and brown butter is a perfect comfort food for autumn. It's a delicious low-FODMAP breakfast idea, is filling and incredibly healthy. Say hello to a tasty breakfast 'pudding' - oats not included! As a sugar-free and grain-free cereal, it's a cozy keto friendly recipe you'll absolutely love.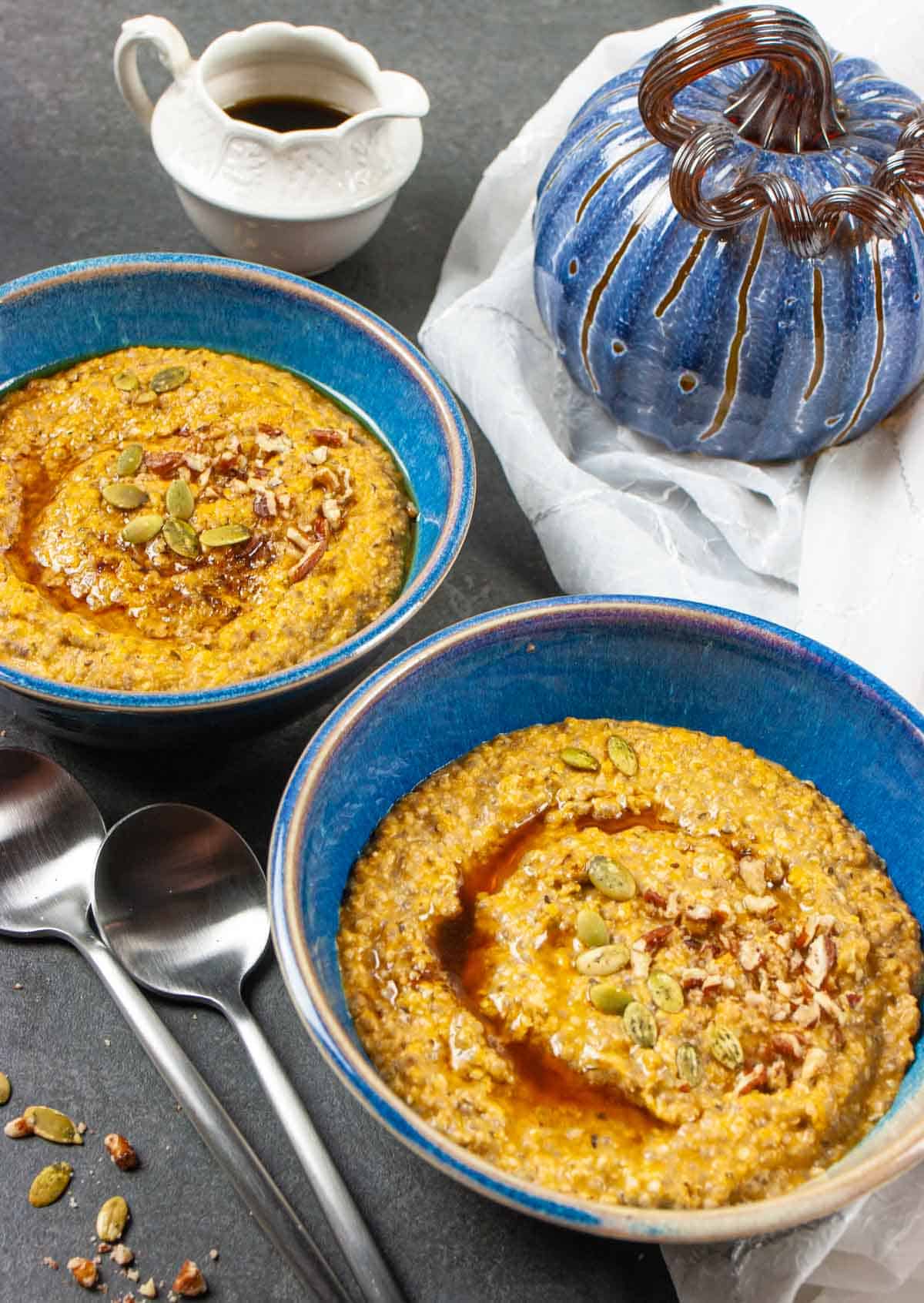 It's that time of year for pumpkin spice everything and I'm so ready! Honestly, I eat pumpkin year round because it's delicious and such a healthy ingredient. But, I do consume more during harvest season, just because… And, a homemade pumpkin spice cereal is festive and full of all those cozy fall vibes.
Don't have a pumpkin spice blend in your cupboard? Check out my easy recipe for Homemade Pumpkin Spice Seasoning. You'll never have to run to the store for a pre-made spice mix to season your squash again! And, if you love this recipe, you might want to try this Low Carb Keto Pumpkin Bread.
This pumpkin porridge differs from the popular Hobakjuk, a Korean hot cereal made with winter squash and glutinous rice. While you can use any type of winter squash in this recipe, the use of hemp hearts and chia seeds instead of rice, keeps this very low carb.
Honestly, I consider this recipe to be the the Holy Grail of keto 'oatmeal'! It's sweet, savory, creamy, super healthy and low-carb. If you like pumpkin grits, you'll love this low-carb version. And don't for get to sprinkle some chopped Maple Bourbon Candied Pecans on top for an extra treat!
Why you'll love this recipe
I'm an enormous fan of hot breakfast cereals. This keto oatmeal is a quick gluten-free cereal that hits the spot especially when my keto friendly granola seems too cold to eat on a chilly morning.
This low-carb 'oatmeal' recipe is:
High in omega-3 fatty acids
A good source of dietary fiber
Makes a quick Whole30 breakfast bowl
A delicious hot paleo and keto cereal recipe
FODMAP friendly! It's a low-FODMAP cereal you'll love. Not only is it a tasty breakfast idea, but it can be considered a low-FODMAP dessert. Add a touch more sweetener, some chocolate chips and top with coconut cream.
What is porridge?
Porridge is a hot cereal made by boiling ground or crushed grains or legumes in milk, water or broth. These are often starchy grains that create a creamy texture as they are cooked down.
In the US and Canada, porridge is typically made from oats, wheat, rice or corn (grits). Today, lower-carb porridges are made from whole grains, such as millet, quinoa and flax.
Hemp heart porridge with chia seeds and almond flour is a thick, creamy substitute for oatmeal or other grains. It's a keto oatmeal that can be enjoyed year round.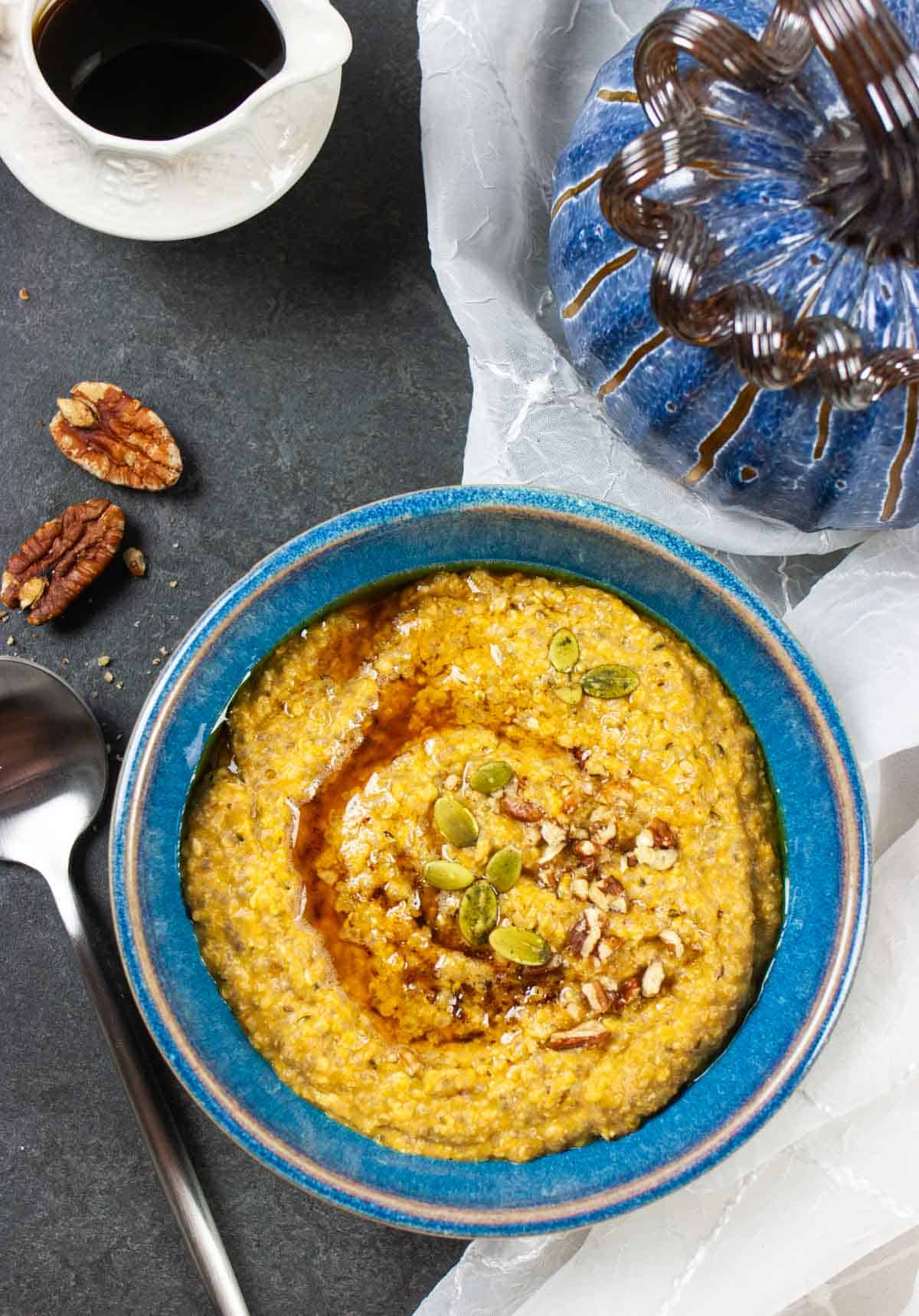 Is pumpkin keto?
Yes, it is! Add this recipe to your list of keto pumpkin recipes. It's a squash that is keto friendly and can easily be incorporated into a low carb diet. It is naturally low in carbs and has a healthy amount of fiber. However, when following a keto diet, it's still important to watch portion size. One cup of cooked pumpkin contains about 8 net carbs.
If you're looking for more keto friendly recipes, be sure to stop by my Keto Recipes category.
How many carbs are in oatmeal?
One cup of cooked oatmeal has about 23g net carbs, which makes it a high carb food. One serving of this chia and hemp hearts oatmeal provides only 3g net carbs, making it a very keto friendly breakfast option.
Is pumpkin low-FODMAP?
Yes! You can eat pumpkin on a low-FODMAP diet. According to Monash University, canned pumpkin is low-FODMAP in servings of ⅓ cup. It contains fructan and galacto-oligosaccharides (GOS) and is considered high-FODMAP in servings of ½ cup or more.
Looking for more Low-FODMAP inspiration? Stop by my Low-FODMAP Recipes page.
Does this use a keto friendly syrup?
Yes – I love using ChocZero syrup in my recipes. The variety I use in this recipe is a sugar-free maple pecan syrup that is not sweetened with erythritol. Some sweeteners like erythritol can cause digestive upset for some people (like myself). Of course, you can use any syrup you'd like – or use none at all. I've found that this syrup pairs ridiculously well with pumpkin keto oatmeal and it's the best sugar-free syrup I've ever had.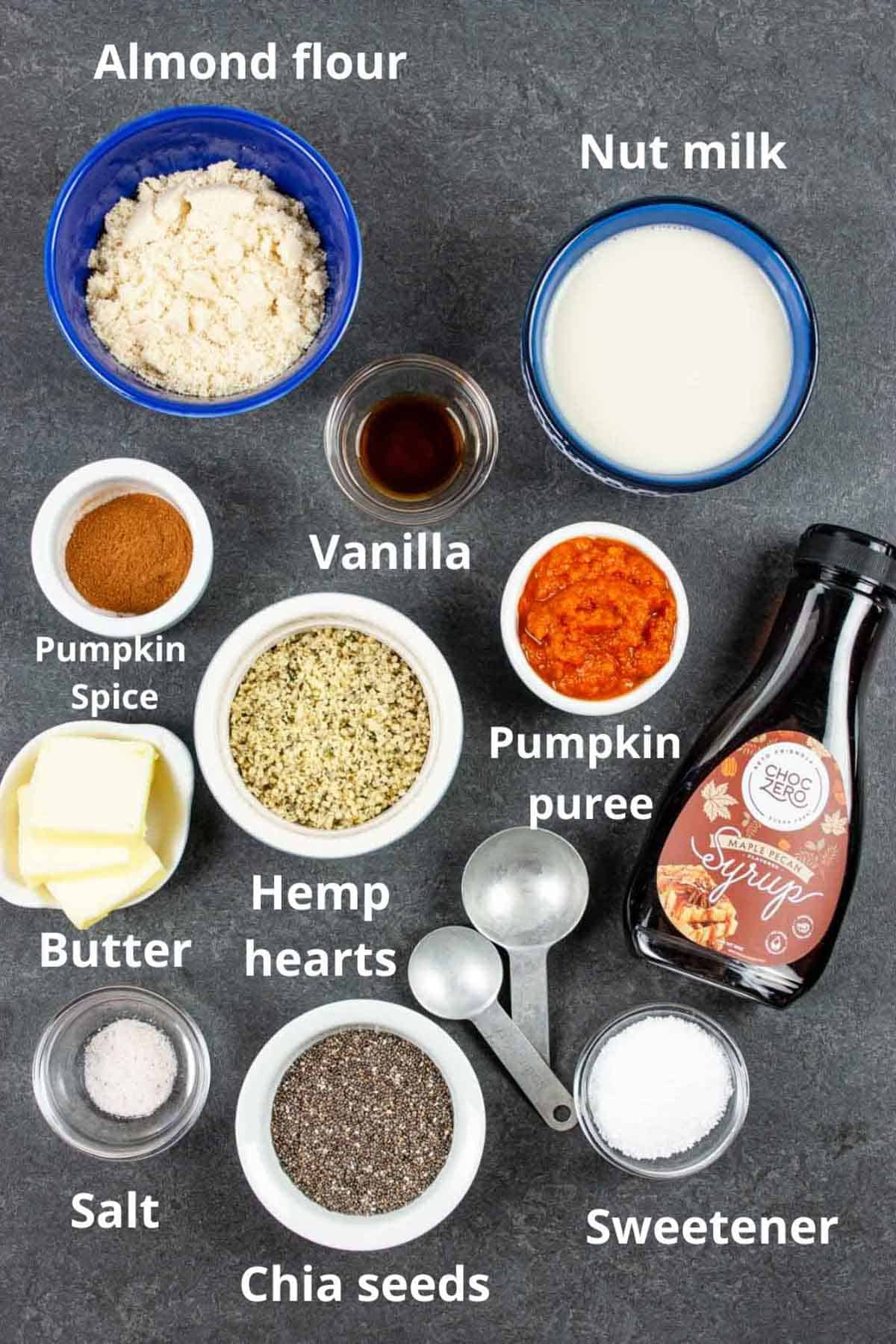 Ingredients
For the porridge (keto 'noatmeal'):
Hemp hearts
Chia seeds
Almond flour
Pumpkin puree
Nut milk
Vanilla extract
Pumpkin spice
Sea salt
Stevia
For the syrup:
Butter
ChocZero Maple Pecan sugar-free syrup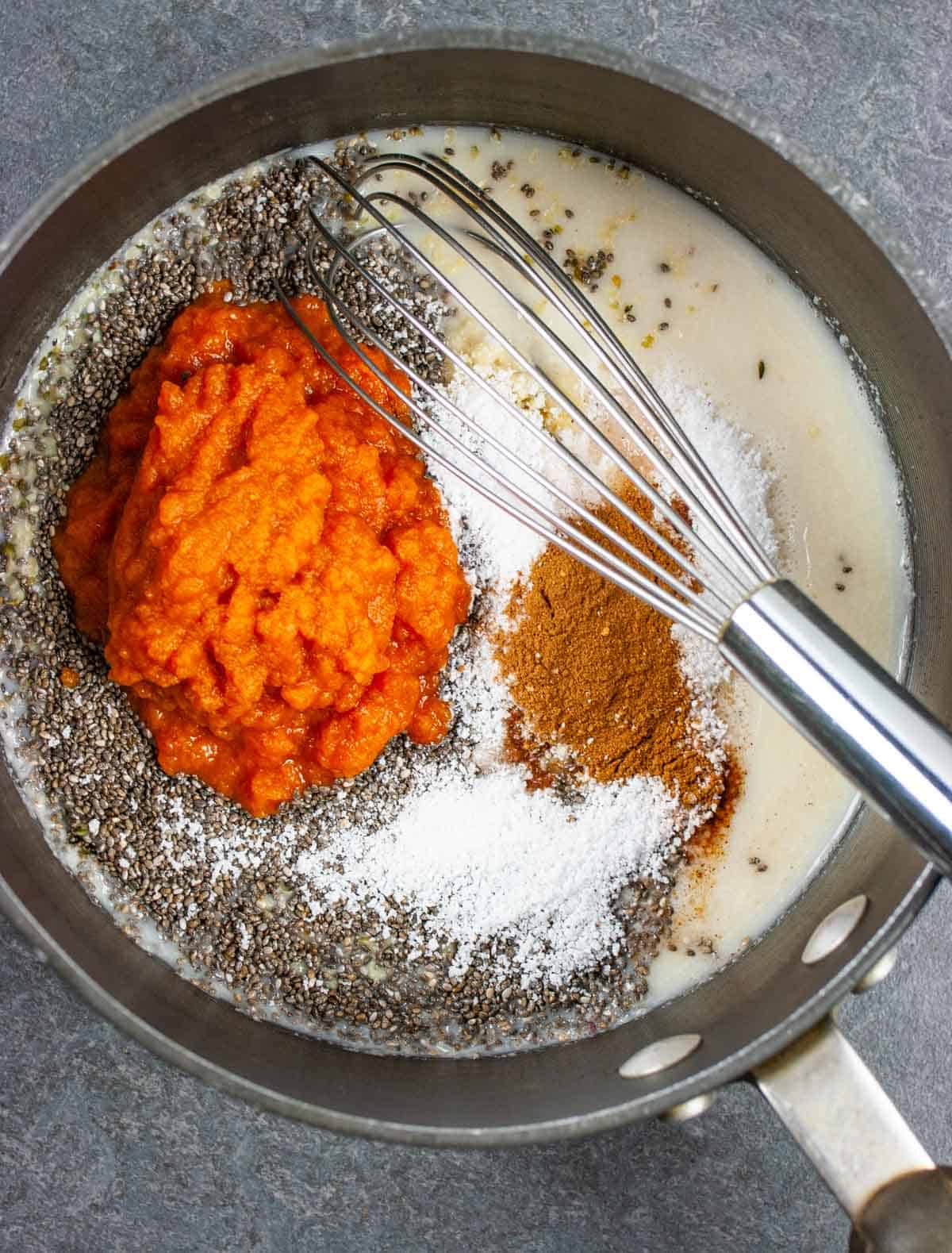 Instructions
To make this recipe, you'll need two small pots: one to make the hot cereal and the other to make the browned butter syrup.
In the pot used for the cereal, combine all the porridge ingredients and simmer for about 5 minutes or until the seeds have softened and the cereal is thick and creamy.
The butter can be browning in the second pot at the same time, so it all comes together at about the same time.
Variations
This keto oatmeal recipe is so versatile. It makes a delicious breakfast, snack or even dinner. Try these tasty variations:
Use whole fat coconut milk instead of nut milk
Add your favorite fruit or berries
Make a savory bowl for any meal: add steamed greens, your favorite protein and/or top with a soft egg
Keto overnight oats
Overnight keto oatmeal is one of the easiest things to make for a fast keto and low-FODMAP breakfast. Simply mix all of the cereal ingredients together and let sit in the refrigerator overnight. You can decide if you want to heat it, eat it cold or add syrup. This makes a healthy low carb oatmeal alternative that will keep your hunger satisfied for hours.
Meal prep for make-ahead breakfasts or snacks
This porridge makes amazing leftovers. I always make a double batch so I have some around for at least a couple of days. It makes a super quick, healthy breakfast or snack. I like to separate it out into portions, in small mason jars, add a dab of the browned butter syrup and it's ready to be re-heated. I've found that it's also a perfect post-workout snack.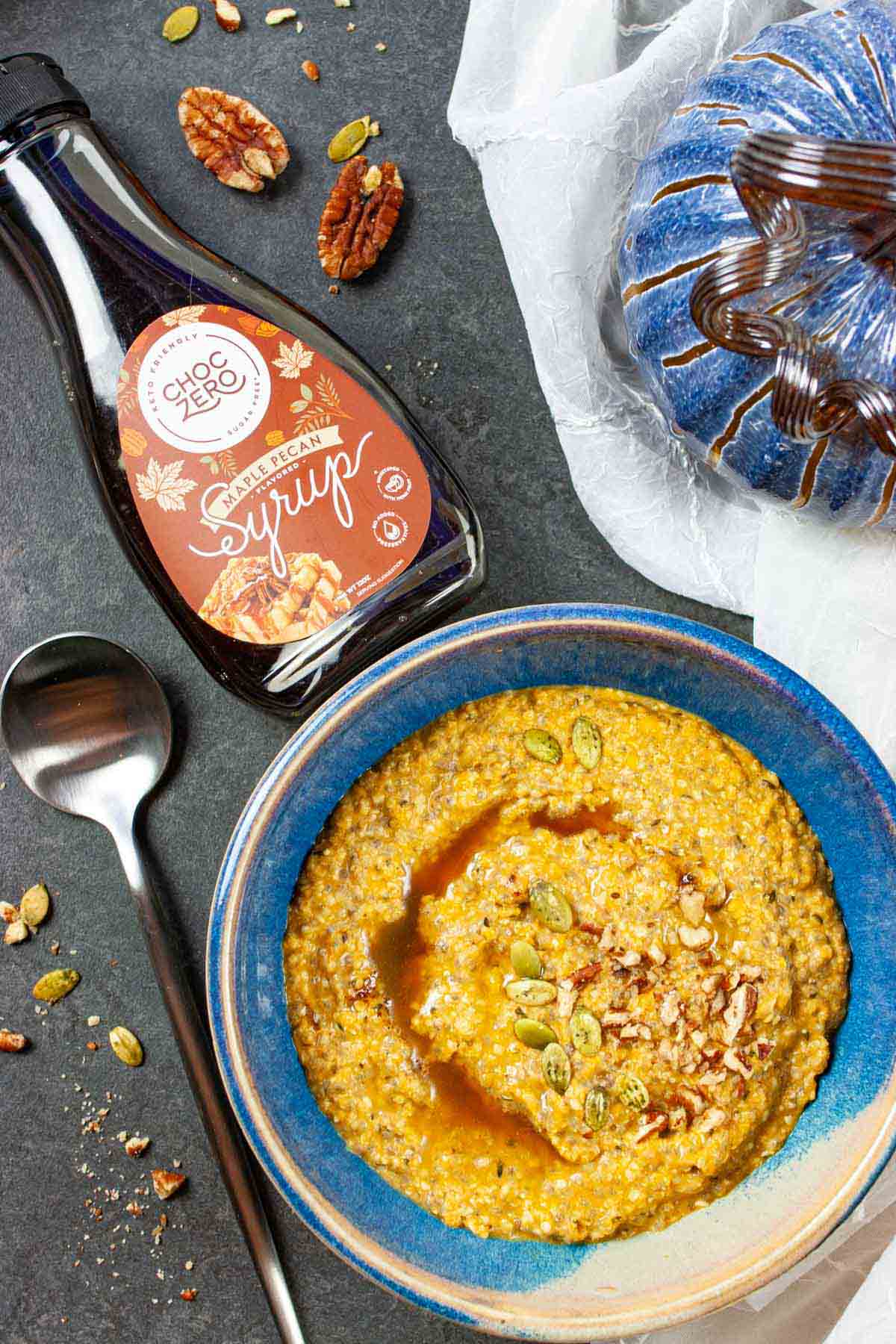 Serving suggestions
I adore topping this low carb oatmeal with the maple pecan browned butter sauce. Here are some tasty variations:
FAQ
Porridge vs oatmeal – what's the difference?
Porridge refers to any mixture of grains or legumes boiled in water, milk or broth.  Oatmeal is a type of porridge that is made from oats.
Is maple syrup FODMAP friendly?
Yes, thank goodness!  This delicious natural (but high carb) sweetener is low-FODMAP.

Sugar-free maple syrup is also considered to be low in FODMAPs.  Alternative low-carb sweeteners in keto friendly syrups, such as erythritol and allulose, are also low-FODMAP.  Even though monk fruit has not been FODMAP tested yet, it is considered to be a low-FODMAP sweetener.
Is pumpkin a vegetable or fruit?
It is, in fact, a fruit.  Anything that starts from a flower, bontanically, is considered a fruit.
Is oatmeal keto friendly?
No, my friends, I hate to say it, but oatmeal is a very high-carb grain.  Even though it contains healthy resistant starch, it is not a low carb food.  One cup of cooked oats contain 23g net carbs, which can kick you out of ketosis.
Looking for more delicious breakfast recipes?
This post contains affiliate links. As an Instacart and Amazon Associate, I earn from qualifying purchases.
📖 Recipe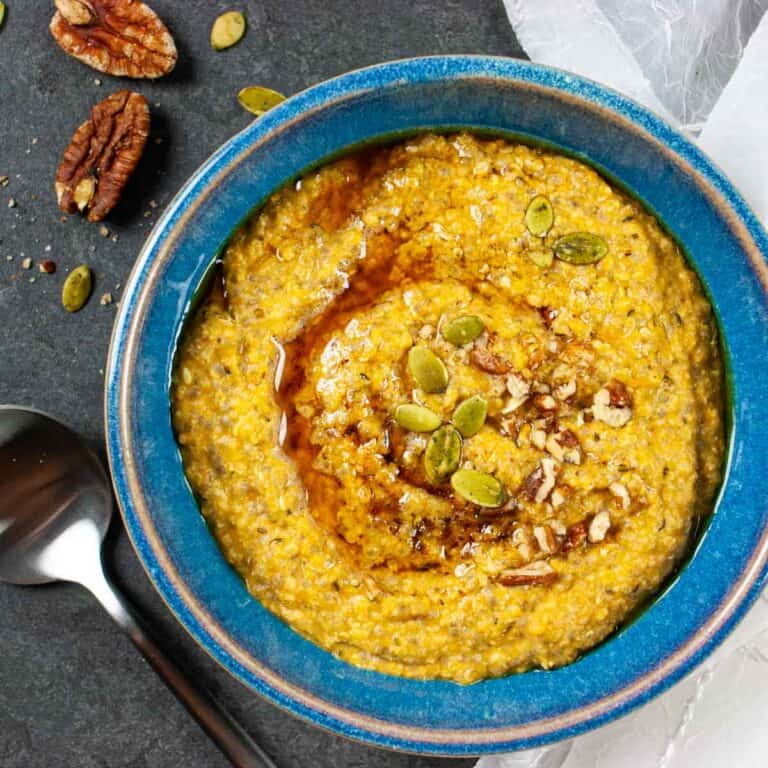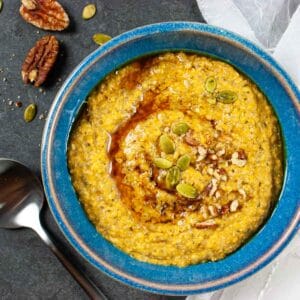 Pumpkin Porridge with Maple Pecan Syrup
Pumpkin Porridge with Maple Pecan Syrup and brown butter is a perfect comfort food for autumn.  It's a delicious low-FODMAP breakfast idea, is filling and incredibly healthy.  As a sugar-free and grain-free cereal, it's a keto friendly recipe you'll absolutely love.
Ingredients
For the maple pecan syrup
Instructions
In a small pot, whisk together all the porridge ingredients and simmer until thickened, about five minutes, stirring often.

While the cereal is simmering, add the butter to another small pot and cook on medium heat until browned.  Turn off the heat, remove from the burner and add the syrup.  Mix until thoroughly combined.

Spoon the porridge into a bowl and top with the syrup.

Serve with a smile!
Notes
*If you don't have the ChocZero Maple Pecan syrup, you can use regular maple syrup if not following a keto diet.  This recipe is also delicious without any syrup added.
---
Try these variations
Nutrition
Serving:
1
serving
Calories:
170
kcal
Carbohydrates:
7
g
Protein:
7
g
Fat:
14
g
Cholesterol:
0
mg
Sodium:
38
mg
Fiber:
4
g
Net Carbs*:
3
g
*Net carbs = carbohydrates - fiber
Nutritional information is an estimate, calculated using online tools and does not include optional ingredients unless otherwise indicated.
Did you make this recipe?
Leave a review below, then snap a picture and tag @Rad_Foodie on Instagram so I can see it!