Create this savory, fluffy low-carb and low-FODMAP 90 Second Parmesan Oregano Bread in the microwave in minutes! With only 1g net carbs per serving, who can say no? Serve it for breakfast as a keto English muffin with butter, make sandwiches, the best toasted garlic bread and more!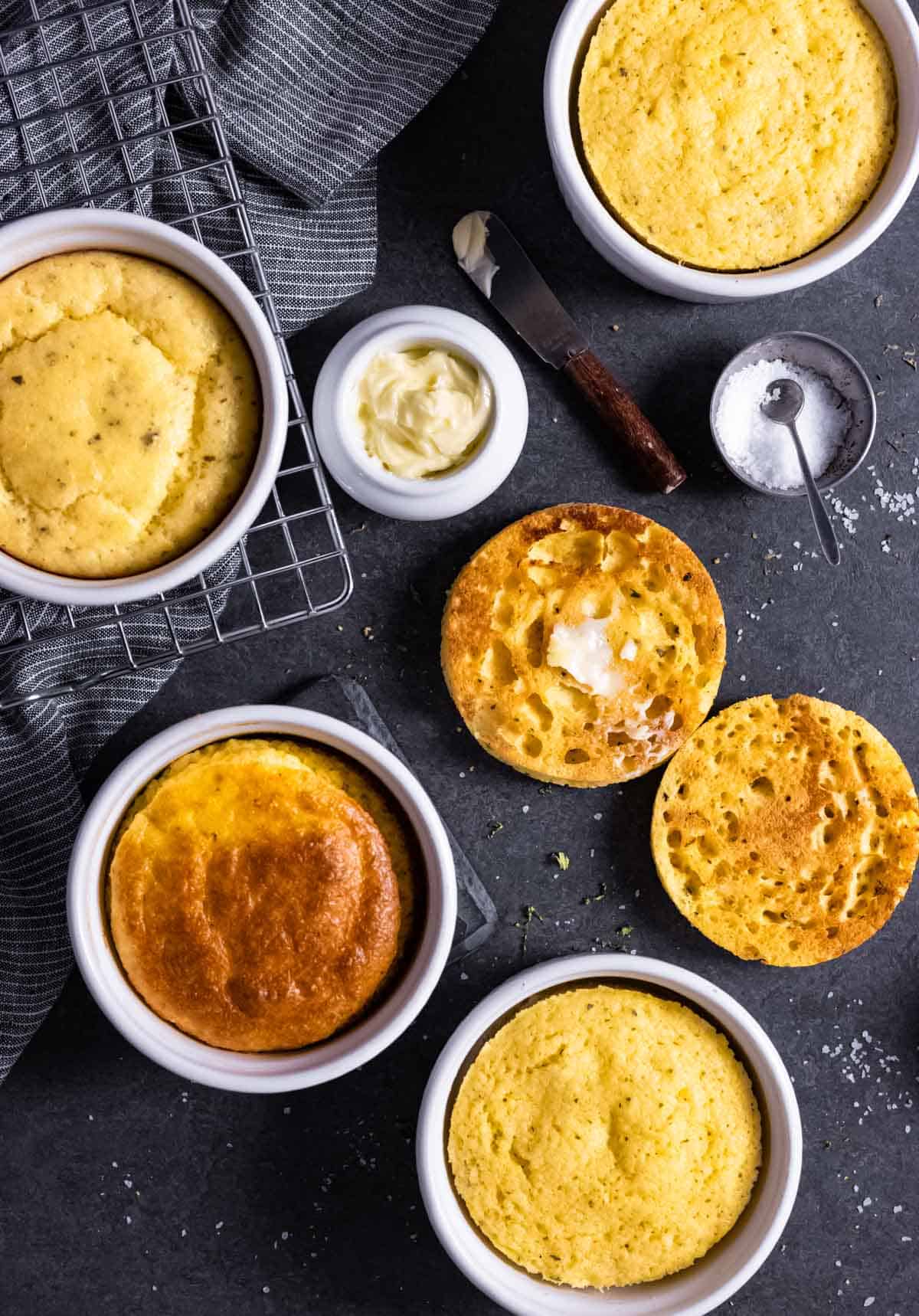 Jump to:
90 Second Parmesan Oregano Bread with almond flour is a perfect low-carb bread for any meal.  It's a savory 90 second keto bread that's FODMAP-friendly and so cheesy and delicious. And, with only 1g net carbs per serving, you can enjoy these however and whenever you please.
Like my Low-carb Sandwich Thins, these are so versatile! If you're looking for more low-carb inspiration, be sure to stop by my Keto Recipes section and find the perfect pairing for some toasted cheesy bread.
And, if you follow a low-FODMAP diet, this is a wonderful recipe that keeps the FODMAP content low, while pleasing those taste buds. You'll find many more FODMAP-friendly options in my Low-FODMAP recipes section that are sure to please.
Why a parmesan and oregano mug recipe?
Because oregano and cheese were simply meant to be together.  Together, they make a cheesy, toasty, delicious keto bread that can stand up to toasting and piled-high sandwiches.  It makes a perfect grilled cheese, breakfast sandwich or toast (oh, avocado toast!).
Traditionally, Italian parmesan oregano bread is a rustic, chewy Italian loaf with a savory taste and aroma. It's made with wheat flour, yeast and a few other ingredients, then formed into long loaves and baked after rising for about an hour.
This is nothing like the ol' Subway sandwich bread – you know, their Italian herb and cheese sandwich variety? Even though that tastes SO good, you can create your own gluten-free bakery at home and whip up your own low-carb mug recipe in no time at all.
This is a quick, easy recipe that includes all the flavor without the unwanted carbs and can be made in about 5 minutes. It's essentially, a savory, soft English muffin in a mug (or ramekin).
Why you'll love this recipe
This recipe is:
The best keto mug bread ever
Low-carb, coming in at only 1g net carb per serving
A gluten-free English muffin recipe (who can say no to savory, gluten-free English muffins?)
Perfect for creating English muffin nooks and crannies that get toasty on the top and fill with dreamy, melted butter
Made with low-FODMAP flour
So fast and easy – it only takes 90 seconds to cook
Healthy and so versatile
How many carbs in an English muffin?
Store-bought English muffin carbs come in at about 24 net carbs per muffin, which can easily kick you out of ketosis, even if you only consume half of one.  If you follow a keto diet, keto friendly English muffins are hard to find on a store shelf, but so easy to make yourself, with just a tiny fraction of the carbs.
Is this a low-FODMAP bread?
Yes! Almond flour is considered a low-FODMAP flour in servings of up to ¼ cup. And, parmesan cheese is a low-FODMAP, very low-lactose aged cheese. All ingredients are FODMAP-friendly, making this a perfect option for those watching their FODMAP intake.
This recipe makes one 'mug' recipe, and will provide two slices. I consider one serving as one slice, or half a recipe, keeping the FODMAP content very low.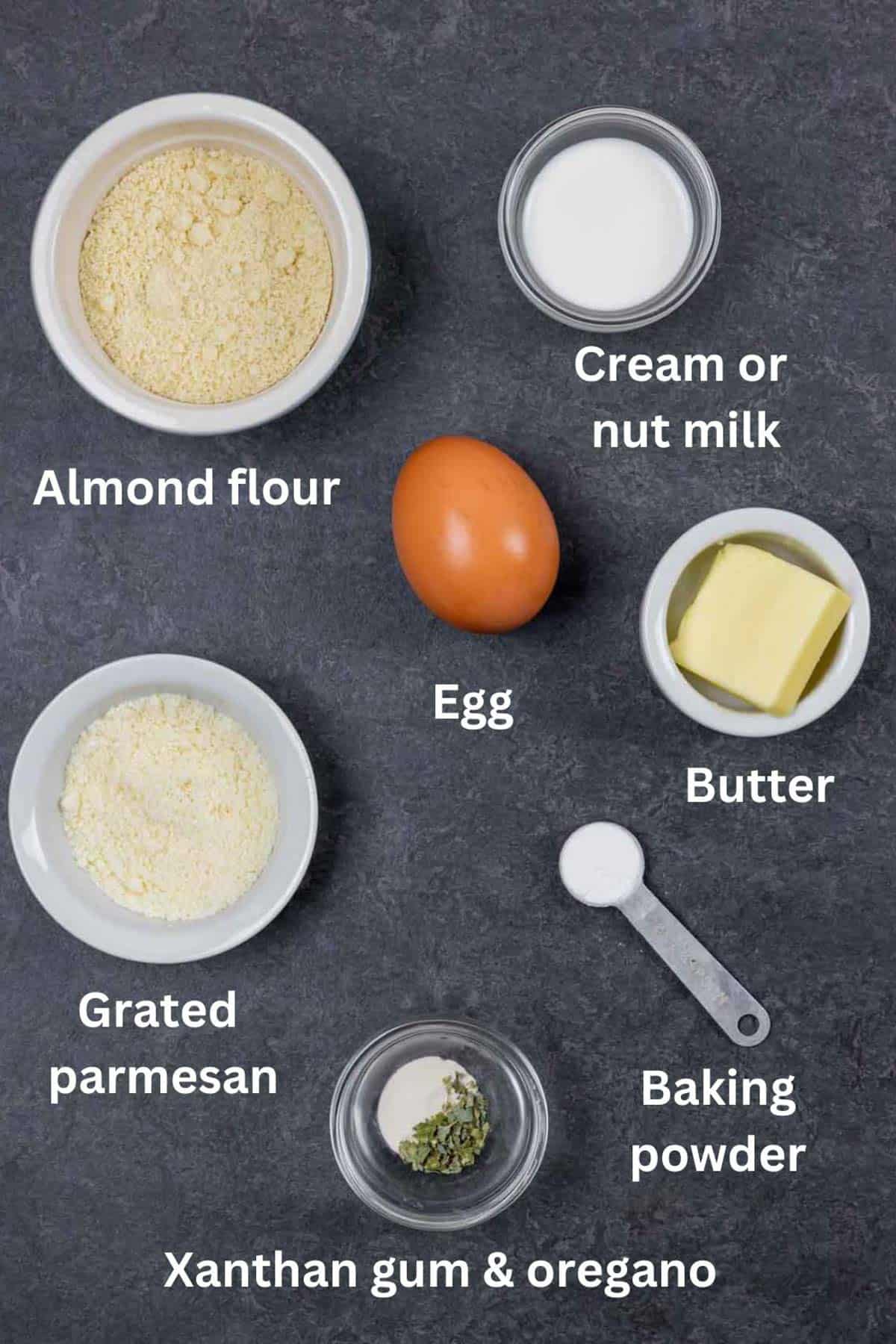 Ingredients
The ingredients for this recipe are so simple:
Parmesan cheese - grated is best
Dried Oregano - I use dried oregano leaves. If using powdered oregano, use only a couple of pinches.
Egg
Xanthan gum - not required, but recommended. Not familiar with this ingredient? Learn all about it in my What is Xanthan Gum Ingredient Spotlight.
Butter
Instructions
This can be made in a mug, or any 4 inch round ramekin, or a 4 inch square ramekin.
Grease the sides and bottom of the ramekin or mug
In a small bowl, melt the butter in the microwave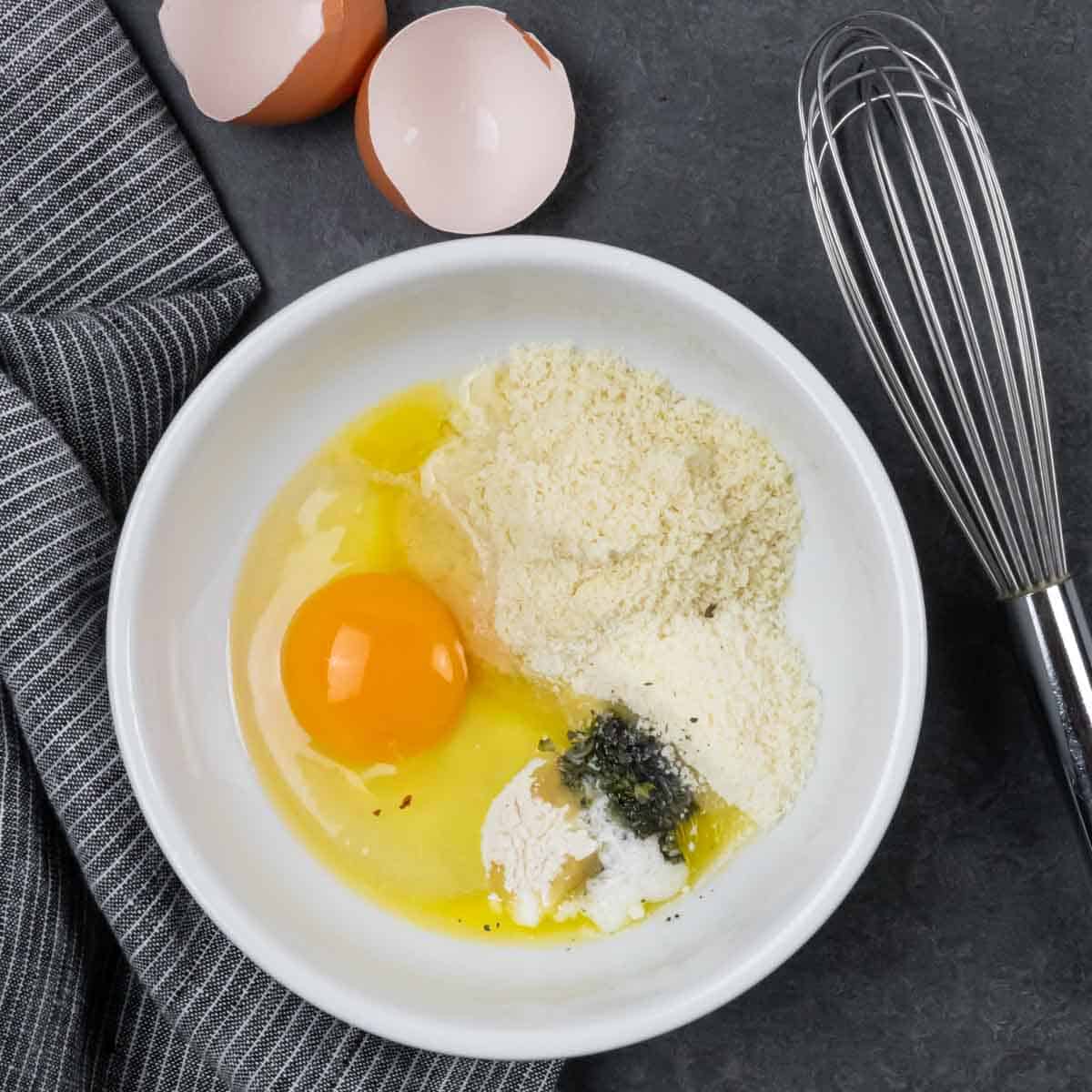 Add the almond flour, parmesan, oregano, egg, baking powder and xanthan gum to the bowl with the melted butter and mix until thoroughly incorporated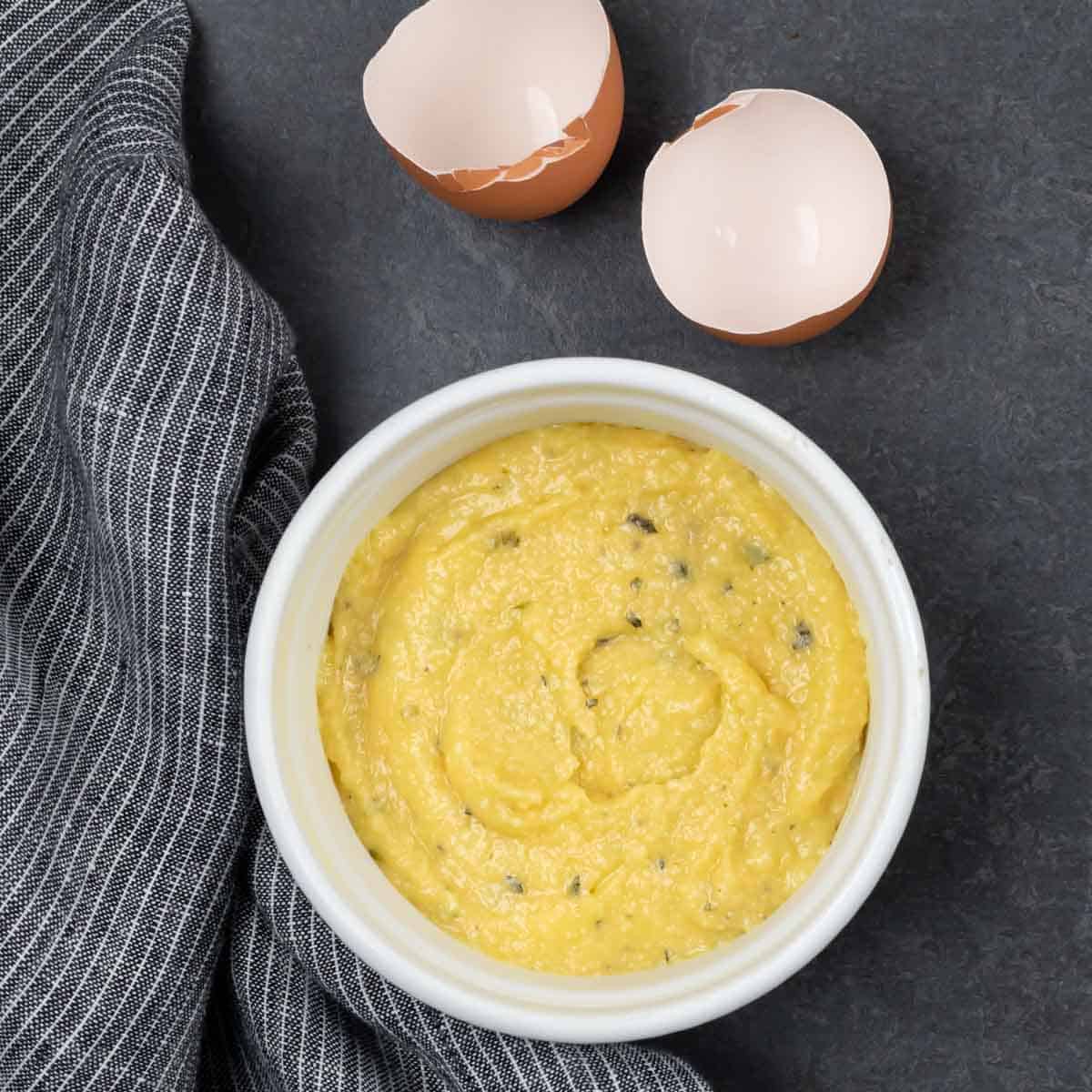 Pour batter into the ramekin or mug
Microwave on high for 90 seconds
Let cool, slice and serve
While cooking in the microwave, the batter will likely rise above the level of the ramekin. However, it will settle as soon as it's finished cooking.
TIP: The ramekin or mug will be very hot when removing from the microwave, so be sure to remove it with a towel or oven mitt.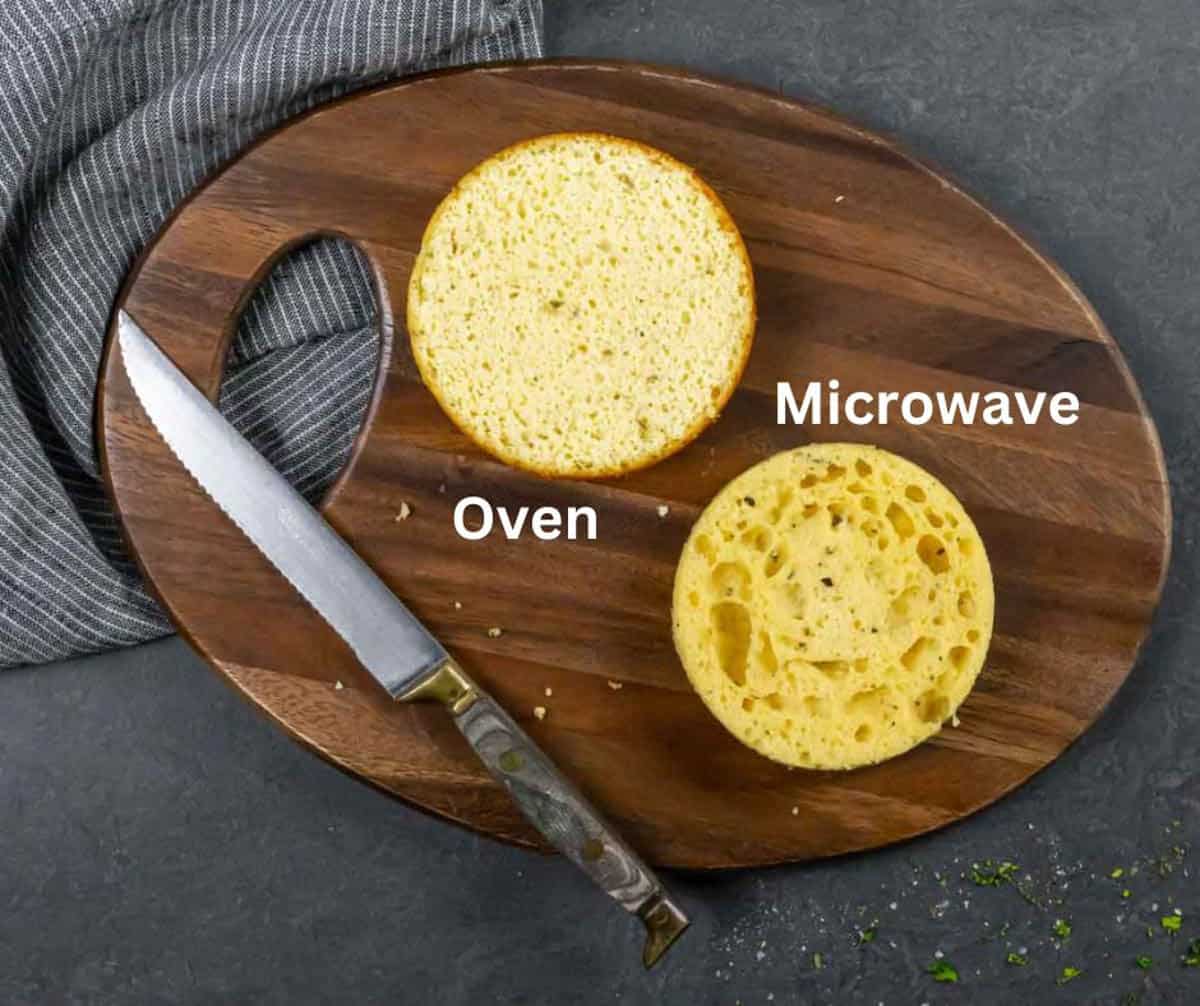 Can I make microwave bread in the oven?
Yes! This recipe can totally be made in the oven. Simply pour the batter in an oven safe baking dish, such as a ramekin and bake at 350F for about 20 minutes, or until set.
The texture will be more 'bready' with a little less 'English muffin' texture, as shown in the image above. Personally, I love the nooks and crannies that you get with microwaving.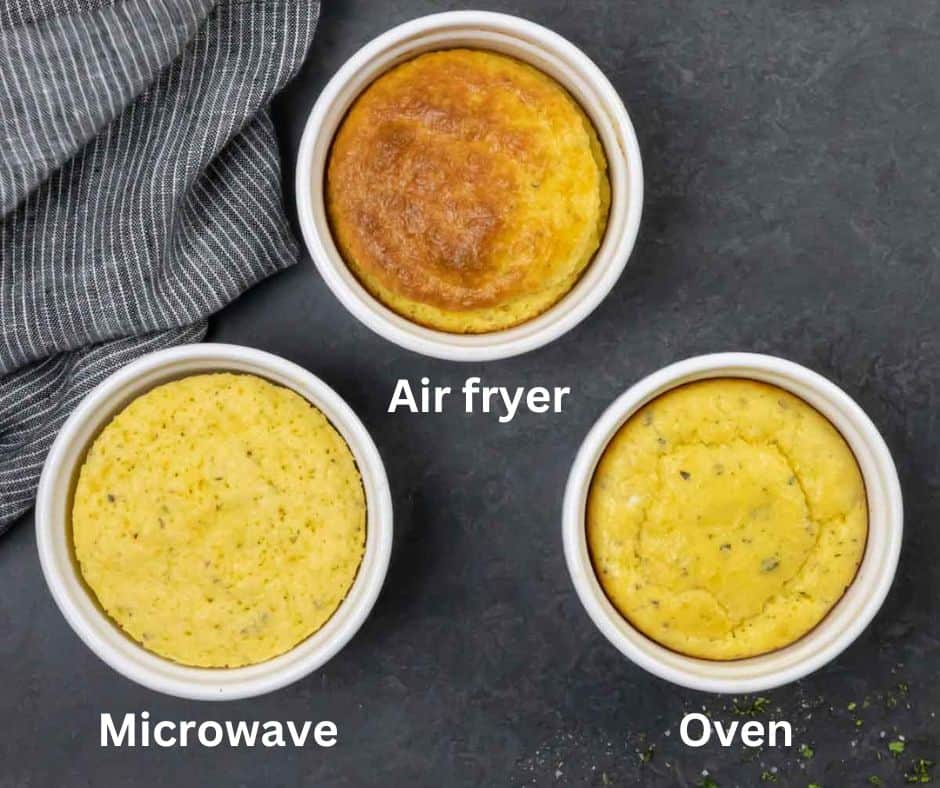 Can this be an air fryer bread recipe?
Yes – making this in the air fryer is just as easy as baking it in the oven. Simply pour the batter into a ramekin or other oven-safe dish and air fry at 350F for about 10-12 minutes, until set and golden on top.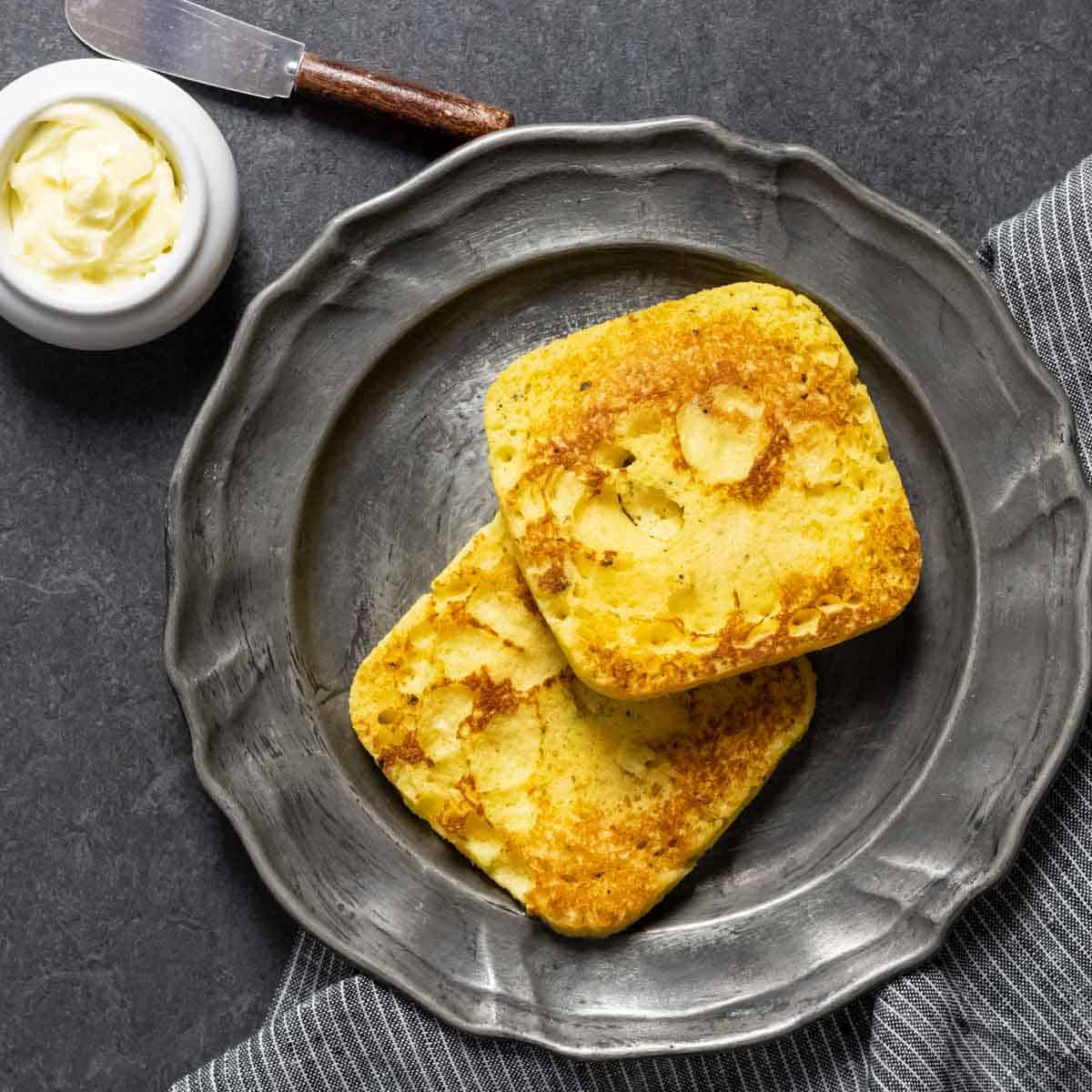 How to store
The best way to store low carb keto baked goods is in the refrigerator. They will keep well in the refrigerator for up to 5 days if stored in an airtight container or sealable plastic bag. These are a great choice to make-ahead for sandwiches or toast.
They can also be frozen in zip-top freezer bags for up to three months.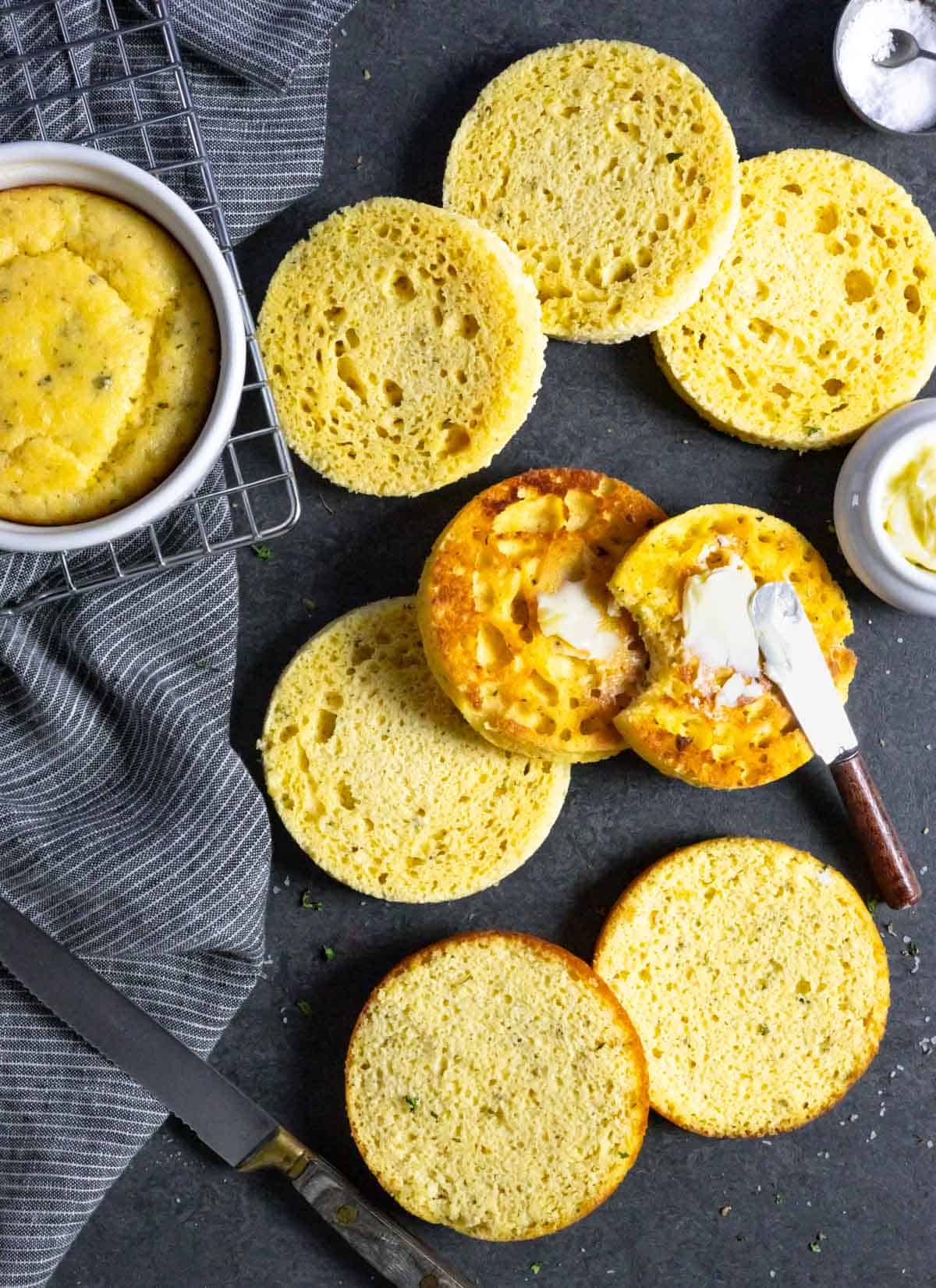 Serving suggestions
Toasted with butter and topped with raspberry jam – trust me. Raspberry, oregano and parmesan together is a flavor explosion
Make a keto eggs benedict
Top with sautéed greens, bacon and a soft egg
These are perfect for gluten-free garlic bread
Cut into squares and toast in the oven for perfect gluten-free croutons
Create an 'English muffin pizza' – air fryer or in the oven.  This is a perfect savory English muffin recipe.
Be a purist and simply toast with butter – so good
Make a delicious sandwich with Crock Pot Pulled Pork and Coleslaw with Cilantro and Lime
Avocado toast with Low-FODMAP Guacamole, tomatoes, capers and Pine Nut-free Basil Pesto makes the best breakfast or lunch. Top with freshly cracked black pepper and Himalayan pink salt.
Toasted ham and cheese is a thing of beauty
Add your favorite chicken or tuna salad or cold cuts, with all the fixin's
Have an open-faced sandwich with salmon lox, cream cheese and capers
FAQ
Are almonds low-FODMAP?
Yes – almonds are low-FODMAP in servings up to 10 nuts.  However, when ground, they make an excellent low-FODMAP flour.  One serving of almond flour is FODMAP-friendly in quantities up to ¼ cup. This low-FODMAP bread recipe calls for ¼ cup almond flour for the entire recipe.
Does mug bread taste eggy?
Not at all. Like a lot of folks, I'm not a fan of eggy bread recipes. This recipe makes a soft, fluffy bread without an eggy taste.
Is keto bread good for diabetics?
Coming in at only 1g net carbs per slice, this recipe is a great option for those managing diabetes, while still satisfying that bread craving.
What does nook and cranny mean?
This expression is used for everything from food (like these English muffins) to how to clean surfaces. It's use originated in the 14th century with 'nooks and crannies' meaning small 'out-of-the-way' locations in an object or a room, with 'nook' meaning a distant corner and 'cranny' meaning a crack or gap. For this mug bread, it simply refers to those beautiful gaps with toasty edges that get filled with luxurious, melted butter.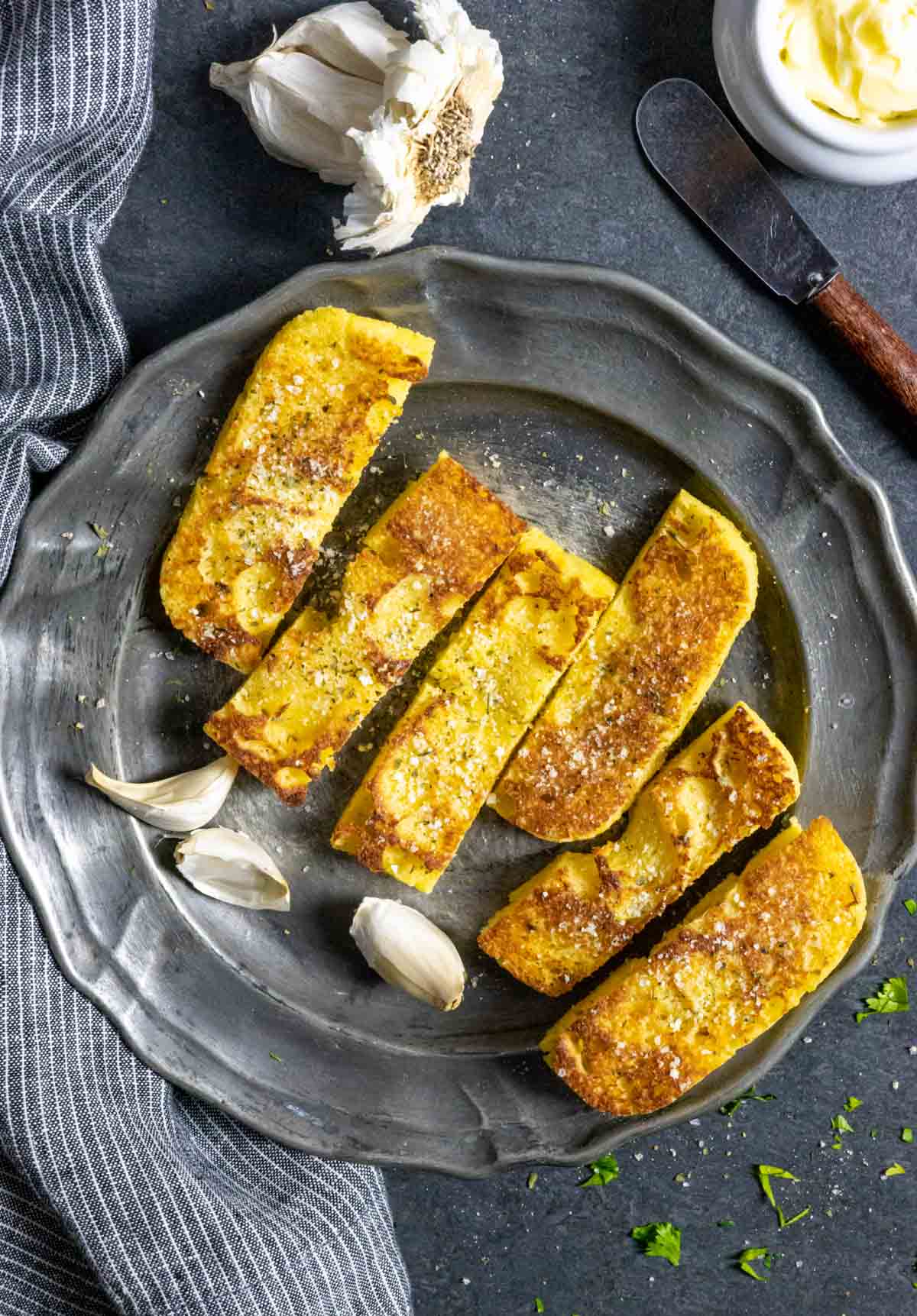 📖 Recipe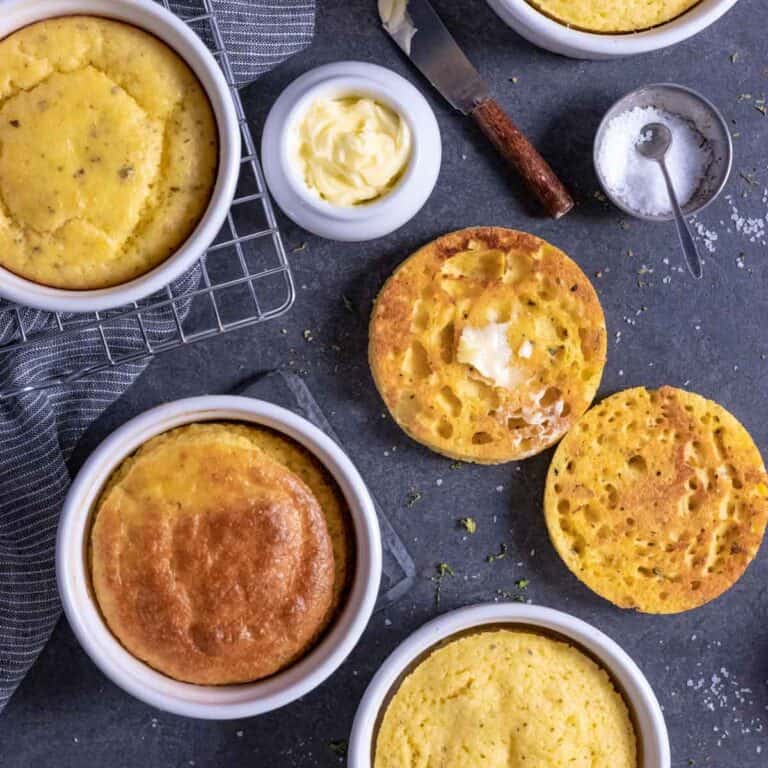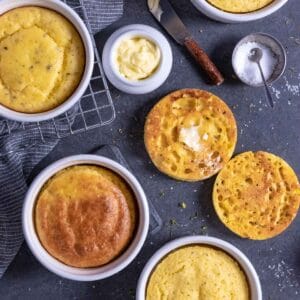 90 Second Parmesan Oregano Bread
90 Second Parmesan Oregano Bread with Almond Flour is a perfect low-carb bread for any meal. It's a savory, cheesy, 90 second keto bread you'll want to have whenever that bread craving hits.
Instructions
In a small bowl, melt the butter in the microwave (microwave about 15 seconds or so).  

In the same bowl, add the remaining ingredients.

Whisk all of the ingredients until thoroughly combined.

Pour into the greased ramekin and microwave for 90 seconds.  The bread will get very puffy, like a souffle, but it will fall as soon as the microwave shuts off.

Let the bread cool, even though it's hard to wait! 

Invert the ramekin and gently tap to release the bread.
Notes
Note: 
The cook time is actually 90 seconds (1.5 minutes), rather than 2 minutes shown above.
TIP:  The ramekin or mug will be very hot when removing from the microwave, so be sure to remove it with a towel or oven mitt.
Variations:
Nutrition
Serving:
1
slice
Calories:
113
kcal
Carbohydrates:
1
g
Protein:
4
g
Fat:
10
g
Cholesterol:
205
mg
Sodium:
195
mg
Fiber:
0
g
Sugar:
0
g
Net Carbs*:
1
g
*Net carbs = carbohydrates - fiber
Nutritional information is an estimate, calculated using online tools and does not include optional ingredients unless otherwise indicated.
Did you make this recipe?
Leave a review below, then snap a picture and tag @Rad_Foodie on Instagram so I can see it!