This super creamy keto coleslaw with cilantro and lime is a delicious twist on traditional coleslaw. Pickled pepperoncini adds a touch of heat and festivity to this fresh cabbage salad. It's a perfect summer side dish for cookouts, barbeques and picnics. And, I've included an AIP and Whole30 coleslaw variation!
Jump to:
Why You'll love this cilantro lime slaw
This healthy coleslaw recipe is so easy to make and is a delicious, classic side dish. A big heaping scoop is perfect to top off a pulled pork sandwich made with my Low-Carb Sandwich Thins and Slow Cooker Pulled Pork. Or, have a bowl of slaw with a scoop of Asian Tuna Salad on top.
I've turned up the volume on the flavors by adding cilantro, lime, pepperoncini and green onion. It's a versatile slaw recipe to serve as a barbeque side dish with Smoked Flank Steak or Traeger Beef Ribs topped with tangy Sugar-free Backyard BBQ Sauce, Low-FODMAP BBQ Sauce or a Homemade No-Cook Barbecue Sauce made with ketchup. Add to burgers or your favorite fish taco recipe. The creamy, sugar-free dressing is delightful with chopped cabbage, but is also fantastic on a lunch or dinner salad. It's actually a variation of my Cilantro Lime Salad Dressing, just a little bit thicker.
Even if you're a lover of old fashioned coleslaw with vinegar or chopped KFC coleslaw, I think this healthy low-carb recipe will make it into your healthy side dish repertoire.
What is coleslaw?
Coleslaw is a simple salad, consisting of shredded cabbage, mixed with dressing.
The origins of cabbage salad date back to ancient Roman times, where raw cabbage was served with vinegar, eggs and spices. The creation of mayonnaise in the 18th century was a pivotal moment for the future of this salad in America. Today, most slaws incorporate the creamy, savoriness of mayo.
The Dutch founders of New York grew cabbage as a staple crop. They prepared a dish called koosla, that was brought to the States from the Netherlands. Eventually this became known as coleslaw.
While cabbage, as the main ingredient, is still part of the basic recipe, new flavors and varieties have been created, using ingredients from around the globe. Other vegetables are often used instead of cabbage, such as fennel, Asian pear, carrots and broccoli stems.
Is coleslaw keto?
Yes, my friends, it totally is. Cabbage is low in carbs and pairs perfectly with my keto coleslaw dressing. Most dressings for slaw call for sugar or some kind of sweetener. If you don't want a sweet dressing, you can choose to leave it out. To keep this a low-carb salad dressing, simply swap the sweetener for a keto-friendly sugar alternative, like stevia, erythritol (monk fruit) or allulose.
Salad ingredients
Cabbage – you can use green or red cabbage or a combination of both. Chop or shred to your preferred texture using your food processor, knife, mandolin or box grater. You can use a pre-shredded bag of coleslaw mix or prepare from a whole head of cabbage. Don't miss this How to Shred Cabbage post – it's a deep dive into DIY cabbage shredding!
Carrots – these add a splash of color and a slightly sweet flavor. I also like the texture they contribute to the slaw. If you don't want the added carbs, you can eliminate these altogether. They're a small addition and add a very, very miniscule amount of carbs to the entire recipe. Freshly grated are best, but pre-shredded, bagged carrots work well, too.
Green onion – finely sliced is best. For low-FODMAP, use only the green part.
Cilantro – this herb is amazing with cabbage and pairs so well with tangy, acidic lime
Pepperoncini – these pickled peppers add a touch of zing to the salad. Finely slice them for even distribution in the slaw. And, absolutely use the juice! Before slicing, I hold the pepper over the mixing bowl and slightly pierce the pepper with the tip of the knife, releasing the juice into the salad. If you're following an AIP diet, simply eliminate these.
Dressing Ingredients
Mayonnaise – creamy mayo gives this dressing that classic taste of traditional coleslaw. It adds a savory, richness that keeps you coming back for more! For my AIP, low-FODMAP and Whole30 friends, make sure you check the label for any unwanted ingredients. Or, try making some from scratch!
Sour cream – this adds an extra creamy smoothness. You can replace it with additional mayonnaise or your favorite plain yogurt for an extra tang. To make a low-FODMAP salad dressing, make sure you use a lactose-free sour cream. Or, eliminate the sour cream and replace it with more mayonnaise.
Lime juice and lime zest - zested lime and freshly squeezed juice adds a bright flavor and complexity when paired with the creamy dressing.
Sweetener – while totally optional, I like just a hint of sweetness in my slaw. Cabbage can have a slight bitterness when eaten raw and a touch of sweet can make a big difference. I like to use stevia.
Salt and pepper to taste – as this salad is already bursting with flavor, I find I use very little of each. Black pepper adds some earthy notes. You may find that you don't need to add salt at all, depending on what kind of mayonnaise you're using. Feel free to eliminate it – you don't want a salty coleslaw!
TIP: When choosing a sweetener to use, consider the size of the granules. Some sweeteners may not dissolve readily in the dressing and give a slight grainy texture. Using a powdered sweetener may be a better option.
Is cabbage fodmap friendly?
Monash University has tested several varieties of cabbage and found that green and red cabbage are low-FODMAP in serving sizes of less than ¾ cup. So, this is great news for cabbage lovers on a low-FODMAP diet! This recipe is made with a low-FODMAP salad dressing, so enjoy your coleslaw – just don't go overboard on portion size and use a mayonnaise that suitable for a low-FODMAP diet.
Keep in mind that cruciferous vegetables like cabbage contain an indigestible sugar called raffinose that may cause some digestive upset, especially for people with IBS or IBD.
Health benefits of cabbage
Cabbage has a very impressive nutrient content. It's a good source of dietary fiber, calcium, magnesium, potassium, vitamins C and K, thiamine, niacin and folate.
The antioxidants in cabbage come from vitamin C and other flavonoids, such as quercetin. Red cabbage may also be high in anthocyanins, further increasing the anti-inflammatory and immune boosting properties of this frequently overlooked vegetable.
Polyphenols and anthocyanins present in cabbage may reduce the risk of cardiovascular diseases by reducing blood pressure, preventing platelet build-up and binding to bile acids, which may aid in lowering cholesterol.
Cabbage is rich in sulfur, which may be useful in fighting infection. However, some people may be sensitive to sulfur and experience mild digestive upset.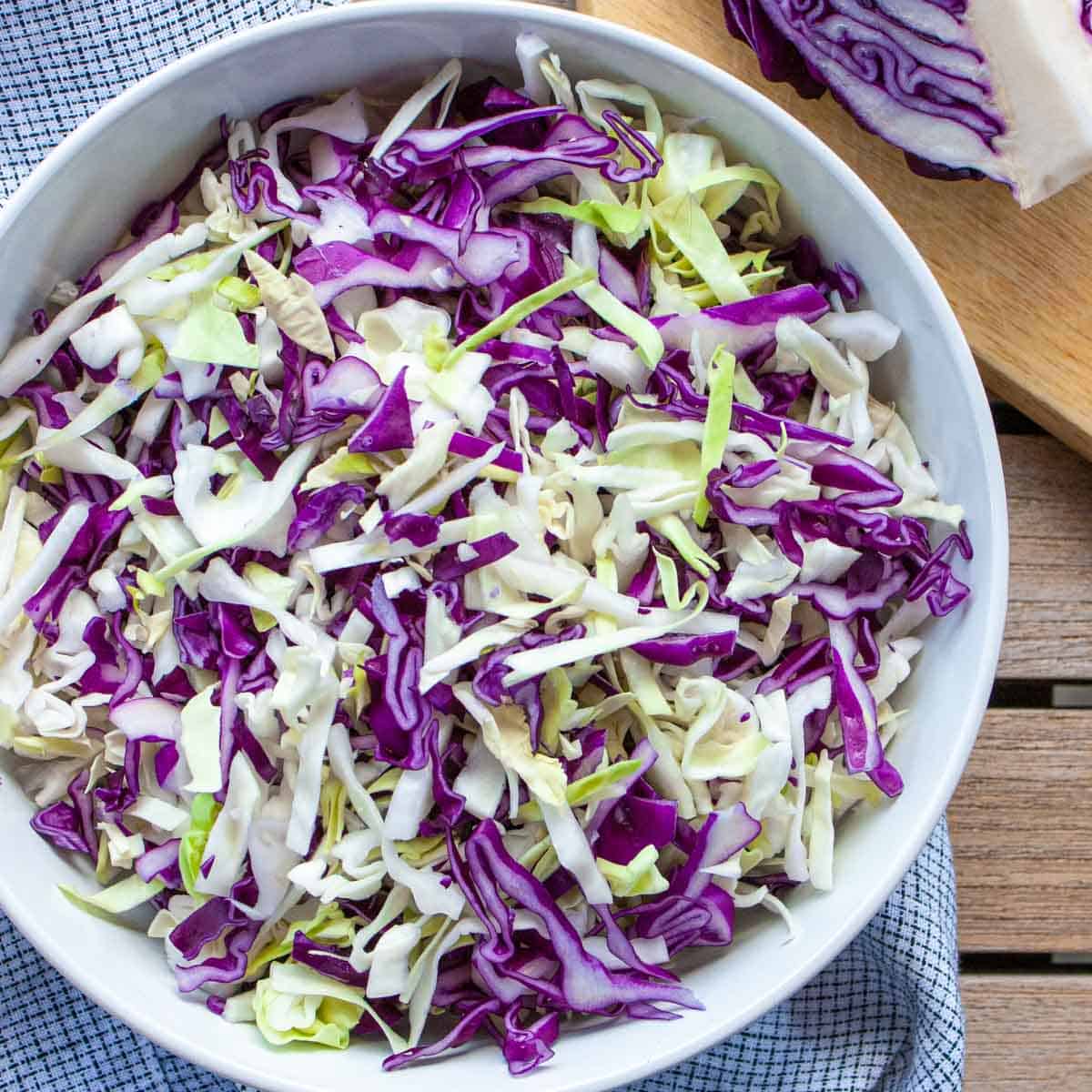 How to shred cabbage
Shredding cabbage is so easy and you'll save money not having to buy a packaged coleslaw mix. And, you get to decide the texture of your cabbage slices for your slaw. Chopped, grated or sliced – the choice is yours!
You can use a chef's knife, a mandolin, a box grater (not my favorite method) or a food processor (the best!) to quickly prep a head of cabbage for your salad.
See my full post on How to Shred Cabbage for a deep dive into the different ways to cut and shred cabbage to make the perfect slaw.
What is pepperoncini?
Pronounced peh-per-uhn-chee-nee, these peppers have a hot, sweet flavor and are a popular food in the Mediterranean diet. They are a type of chili pepper and are commonly known as golden Greek peppers, Tuscan peppers and sweet Italian pepper. While they can be eaten raw, they are most often pickled and served as a condiment, on salads and used in cooked dishes to add a smoky flavor.
Pepperoncini are only mildly spicy – enough to create just a tingle on the tongue. They have a bright, tanginess and lend just a touch of heat.
They are very similar to banana peppers in both flavor and appearance. You can often find them both right beside each other in the grocery aisle. Banana peppers have a similar flavor, but are milder than pepperoncini and make a good substitute.
The appearance of pepperoncini slightly resembles aji pineapple peppers, which are also yellow, but are considered to be moderately hot. These chili peppers are fairly rare, with a distinct pineapple taste, which makes them perfect for hot sauce.
I love the addition of the low level spiciness these pepperoncini add to the salad. Adding them is totally optional, but they contribute a serious 'oomph' to your cabbage slaw.
Instructions
This easy side dish comes together in just minutes (and tastes better than any deli counter slaw!):
1 - In a large bowl, combine all of the dressing ingredients and whisk until thoroughly combined.
2 - Add the chopped and shredded vegetables to the bowl and mix. Make sure to scrape the bottom of the bowl to incorporate all the dressing.
TIP: I like to make coleslaw using just one large bowl, rather than making the dressing in a separate container, then combining everything in another bowl. It's one less dish to wash!
How to Store
Store in an air-tight container for up to 5 days. After a couple of days, the cabbage may release some water. Simply drain it off the salad or stir it in. Add a dollop of additional mayo, if needed.
Variations
To keep this a low-FODMAP salad, replace the sour cream with more mayo or use a lactose-free sour cream.
To make an AIP coleslaw, omit the pepperoncini, black pepper and replace the sour cream with more mayonnaise, or try adding some coconut cream. Be sure you use an AIP friendly mayonnaise. If you want an extra 'zing' to the salad, add a touch of apple cider vinegar or some grated horseradish for that extra bit of heat. It's divine!
For a Whole 30 coleslaw, replace the sour cream with more mayo or coconut cream (yum!). For Whole30, if you want some added sweet, try adding finely chopped dates, dried currants or other dried fruit, such as apricots. They will add a few extra carbs… and a lot of flavor!
Paleo coleslaw – replace the sour cream with more paleo-friendly mayo or coconut cream.
To make a no mayo coleslaw - Use yogurt instead of mayo with a touch of vinegar or replace the mayo and sour cream with olive oil and apple cider vinegar or champagne vinegar to make a vinegar based slaw.
Add bacon bits, sliced almonds, pepitas (pumpkin seeds) or hemp, chia or sunflower seeds for extra flavor and crunch.
Cotija cheese is a perfect addition to this coleslaw recipe
Add ¼ teaspoon of homemade Tikka Masala Powder for some additional wow factor!
Serving suggestions
FAQ
How long does coleslaw last?
If kept sealed, in the refrigerator, it can last up to 5 days.  The cabbage may release some water that can be drained off or simply stirred into the salad.
Can you freeze coleslaw?
Yes!  Make sure it is stored in the freezer in a tightly sealed, freezer-safe container. Make sure you eat it within 6 months.  The quality will start to decline and there's a potential for freezer burn if frozen for longer.

After it's thawed, the cabbage will release some water that can be drained off or stirred back into the salad.
What cabbage is best for coleslaw?
Green cabbage is the classic variety for coleslaw.  But red, Napa and savoy cabbage can also be used.
Is cabbage a superfood?
With an outstanding nutrient profile, cabbage can be considered a 'superfood'.  It's a nutritional powerhouse and is high in vitamins C and K, as well as other antioxidants. It may help prevent certain diseases, decrease inflammation and improve digestion, due to its high fiber content.
Does cabbage affect the thyroid gland?
Cruciferous vegetables, such as cabbage, kale, broccoli, cauliflower, Brussels sprouts, collards and mustard and turnip greens contain compounds called goitrogens.  These are compounds that can block an enzyme that allows the thyroid gland to use iodine.  However, goitrogens are destroyed by cooking and fermentation (ie. kimchi), which ensures they won't affect thyroid function.  Eating them raw, like eating raw cabbage in coleslaw, can potentially affect thyroid function if eaten often or in larger quantities.  It's recommended that people with hypothyroidism and Hashimoto's thyroiditis avoid eating raw cruciferous vegetables or eat them in small quantities.

Other foods that contain goitrogens are soy, spinach, strawberries, peaches and peanuts. 
Did you make this recipe? Let me know how you liked it by giving a star rating and leaving a comment!
If you make this recipe, please come back and leave a star rating and review! It's greatly appreciated. And, I'd love to see your creations! Take a picture and tag me on Instagram! Happy eating! – Tracey.
Other recipes you might like
Serve coleslaw with these favorites.
📖 Recipe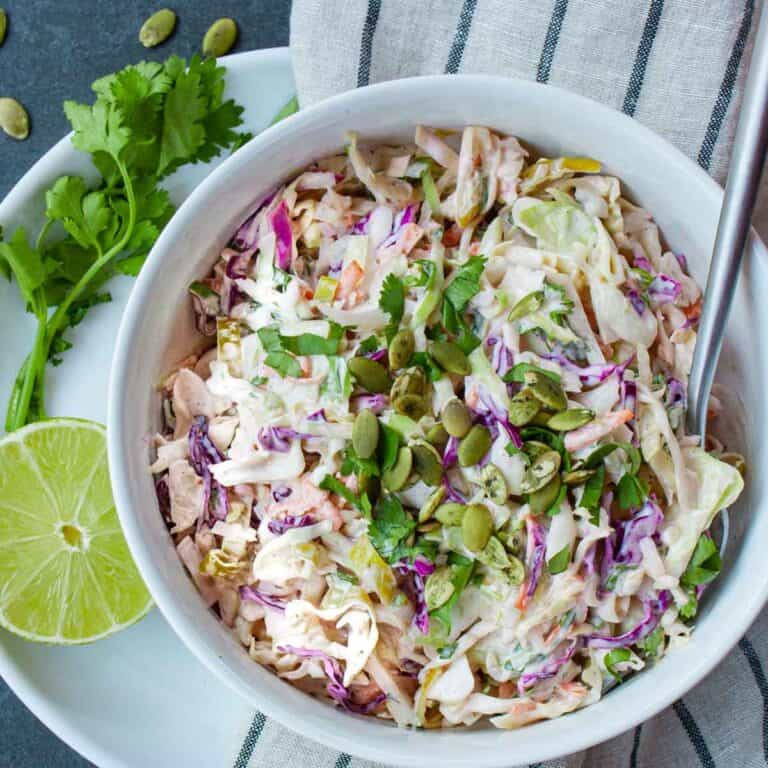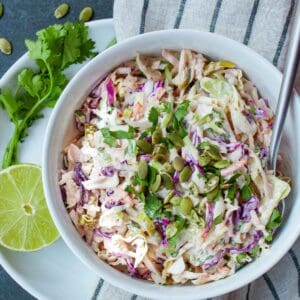 Keto Coleslaw with Cilantro and Lime
This coleslaw is a twist from the traditional with the addition of lime, green onions, cilantro and pepperoncini.  It's festive, crunchy and bursting with flavor!
Ingredients
For the salad
1

medium cabbage

(about 6 cups or 8-10 oz, shredded)

2

green onions

(green part only for low-FODMAP)

½

cup

carrots

(shredded or thinly sliced)

½

cup

cilantro

(chopped)

4

pepperoncini

(large - thinly sliced)
For the dressing
½

cup

mayonnaise

½

cup

sour cream

(lactose-free for low-FODMAP)

2

tablespoons

lime juice

1

teaspoon

lime zest

¼

teaspoon

black pepper
salt

(to taste)

2

teaspoons

stevia

(use sweetener of choice)
Instructions
Combine the salad dressing ingredients in a large bowl and whisk together to combine.

Add the sliced and chopped vegetables to the bowl and mix.

Add salt and pepper to taste.
Nutrition
Serving:
0.75
cup
Calories:
149
kcal
Carbohydrates:
7
g
Protein:
2
g
Fat:
13
g
Cholesterol:
14
mg
Sodium:
115
mg
Fiber:
3
g
Sugar:
4
g
Net Carbs*:
4
g
*Net carbs = carbohydrates - fiber
Nutritional information is an estimate, calculated using online tools and does not include optional ingredients unless otherwise indicated.
Did you make this recipe?
Leave a review below, then snap a picture and tag @Rad_Foodie on Instagram so I can see it!