If you're looking to add depth, complexity and a little magic to your recipes, try adding a spoonful of pureed salt cured lemons (preserved lemon paste) for a bright addition to any dish. Don't have them at home? Try this quick preserved lemon paste recipe made from fresh lemons.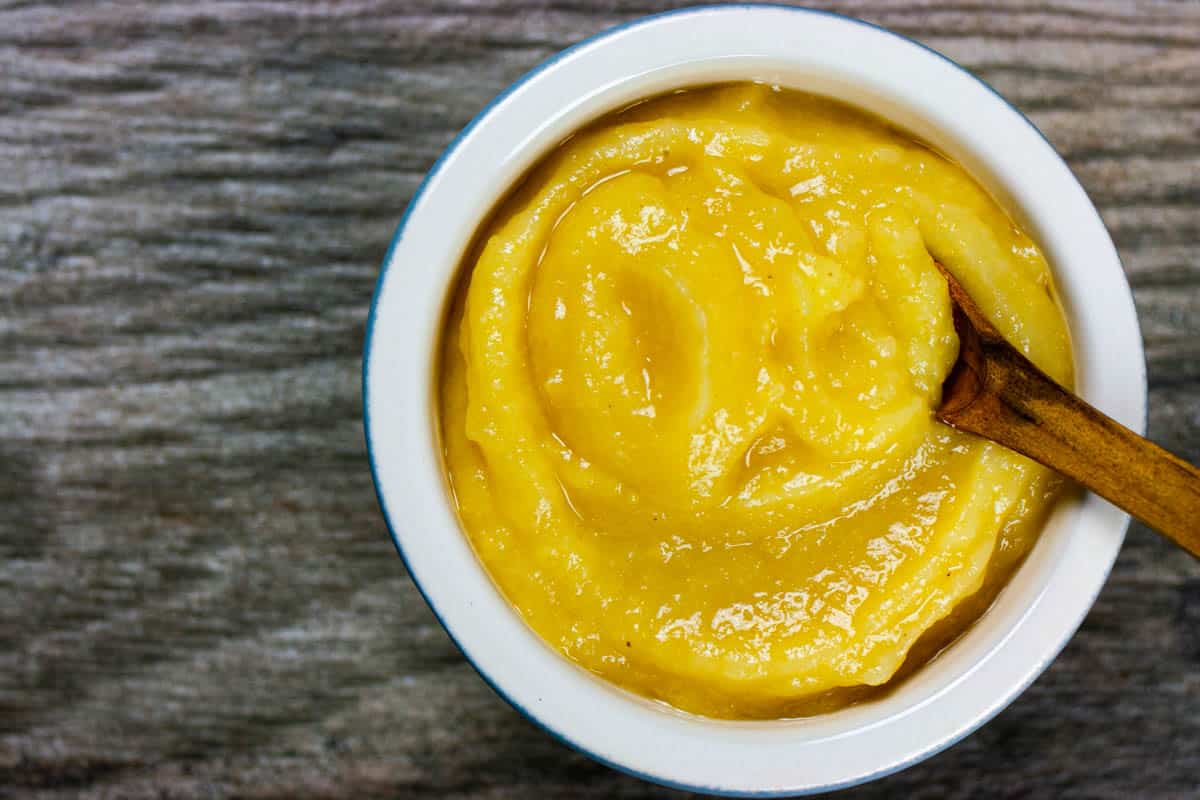 The flavor that is developed by the simple fermentation of lemons in salt is a thing of beauty. Historically, I haven't been a huge citrus fan, but they've changed my cooking (and eating) in a wonderful and delicious kind of way.
What are preserved lemons?
Preserved lemons (aka lemon pickle) are fermented lemons that are traditionally used in Moroccan and North African cooking, in tagines and rice dishes. They are sometimes sliced or quartered (or just left whole), placed in a glass jar (sometimes with spices) with salt and fermented for weeks or months. Over time, they become cured, the peels soften and the tanginess and bitterness mellows.
What do they taste like?
Salted lemon? Not exactly. The longer they ferment, the less bitter they become and the rind absorbs the bright flavor of the brine.
Their flavor can best be described as delightfully bright, slightly savory with a bit of salty umami. They add an intense, concentrated flavor without the sour tartness of fresh lemons.
How to make your own
Personally, I haven't made these at home. I've only purchased them in a jar or at the Whole Foods Market olive bar. But, there are so many wonderful recipes on how to make preserved lemons at home. The process looks very straightforward and so easy.
For a fun project, grab some mason jars, a ridiculous amount of kosher salt and a big bag of lemons and you're a few weeks away from savory, salty citrus bliss. I guarantee they're worth the wait.
Check out recipes from The Mediterranean Dish and Feasting at Home. Some recipes recommend chopped or sliced lemons (see the recipe at Feasting at Home) or simply scoring the whole fruit and packing them with salt (See Mediterranean Dish's recipe). Whichever method you choose, making your own preserved lemons to make a paste or puree is a great way to add flavor to your recipes and save some money. Not to mention, you'll have a new favorite pantry staple!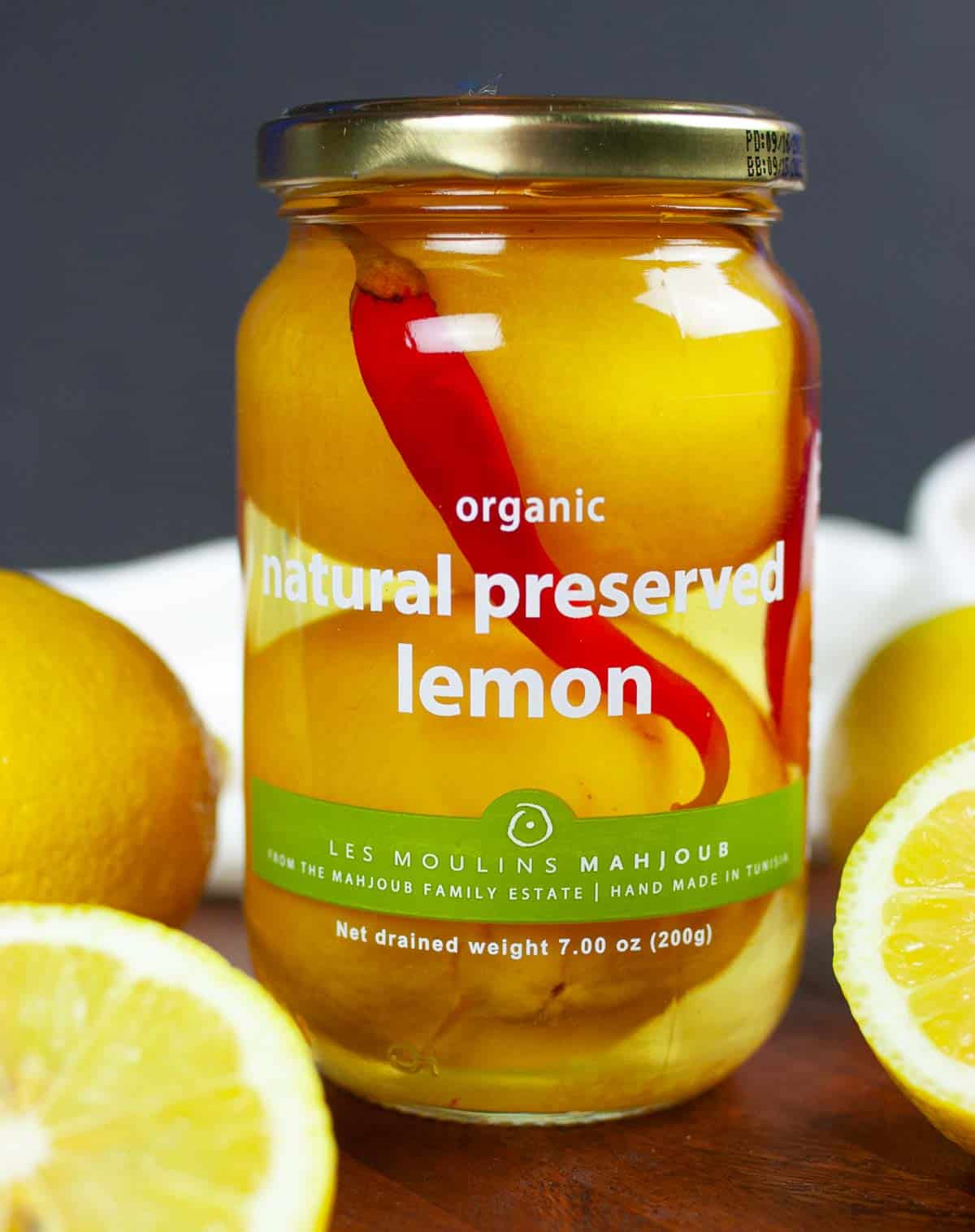 Where to buy
If you're not up to making your own, preserved lemons are often available at the grocery store or can be purchased online. My favorite brands are Mina and Les Moulins Mahjoub. Mina Preserved Lemons contain only lemons, lemon juice and salt - perfect for any recipe. There are red peppers preserved into Les Moulins Mahjoub preserved lemons, which gives them a little kick. I'm a spice wimp, but the touch of heat in their brine is pretty amazing. TIP: Try using a about ⅛ teaspoon of the brine from the jar in a vodka martini or even in a glass of water with ice and mint.
What type of lemons are used?
The best for preserving are the Meyer variety due to their small size and thinner skins. However, Lisbon and Eureka are the most popular lemons sold at grocery stores and can be used in place of Meyer.
How to use
You can use these in any way you would use a whole lemon or chop them up (peel and all) and add to salads or stews. They are also sliced and added to tagine dishes, as well as cocktails (think martinis!).
Keep in mind that recipes with preserved lemons could get a little too salty if you don't wash them off first. Before using, rinse them under cold water to wash away any excess salt. The salty brine is also brilliant used in cocktails (Bloody Mary, anyone?)
What does lemon puree taste like?
Pureed preserved lemons are simply cured lemons that have been pureed in a high speed blender with the brine, fresh lemon juice or water and blizted into a paste. It may seem odd to eat a whole lemon, peel and all, but the flavor is amazing. The bitterness of the pith is transformed, creating a mellow, yet complex citrus flavor.
Preserved lemon paste is the easiest way to use preserved lemon, as it's the most versatile (in my opinion). It has the salty punch of the rind and the acidic flavor of the fruit, all blended into a smooth, magical, silky, floral puree.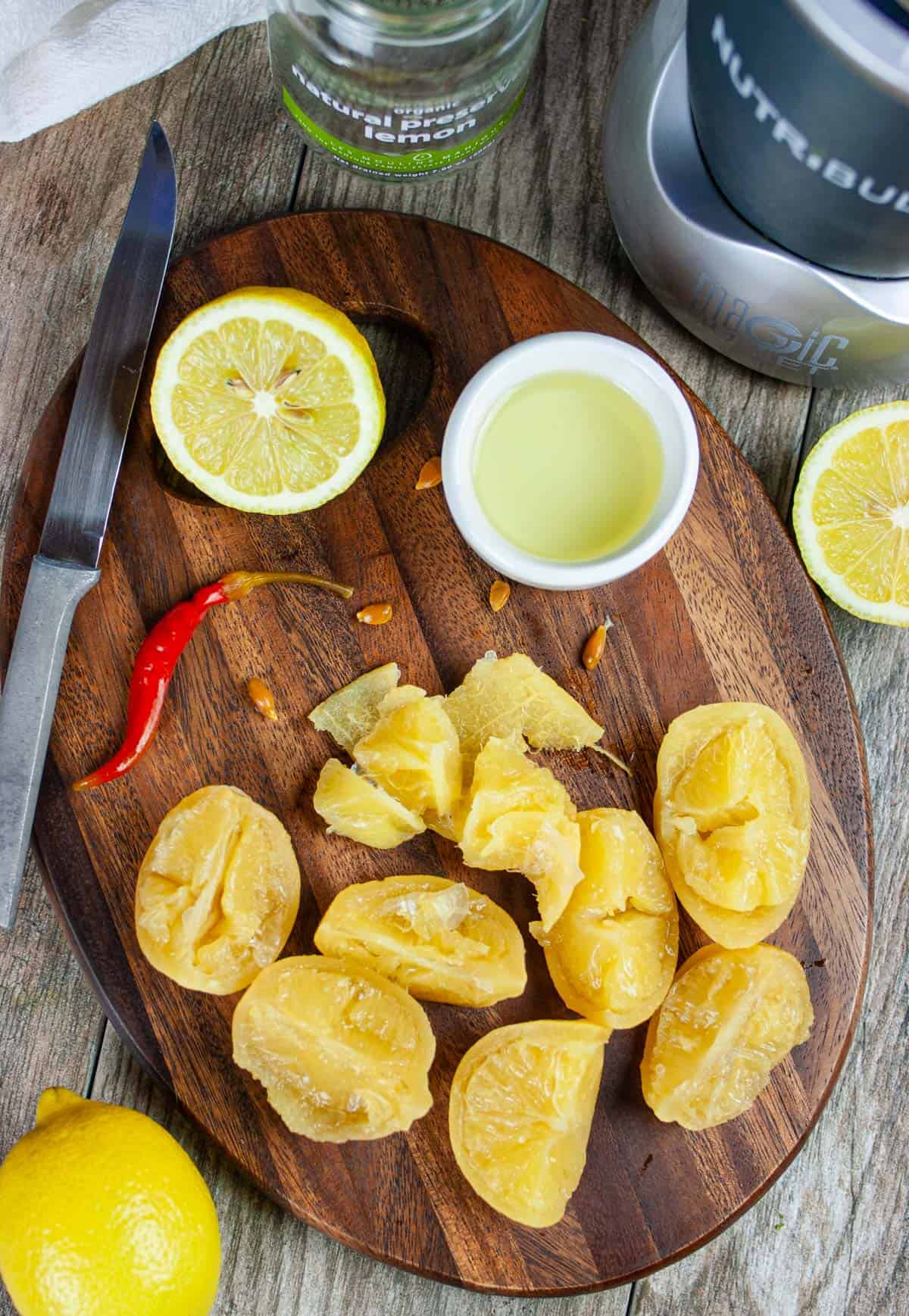 How to make preserved lemon puree
It couldn't be easier! Here's a quick and easy recipe:
Place preserved lemons in a high speed blender (I actually like to use my Nutribullet for this).
Blend to your desired consistency. I like to blend for about 20 seconds, to the consistency of baby food.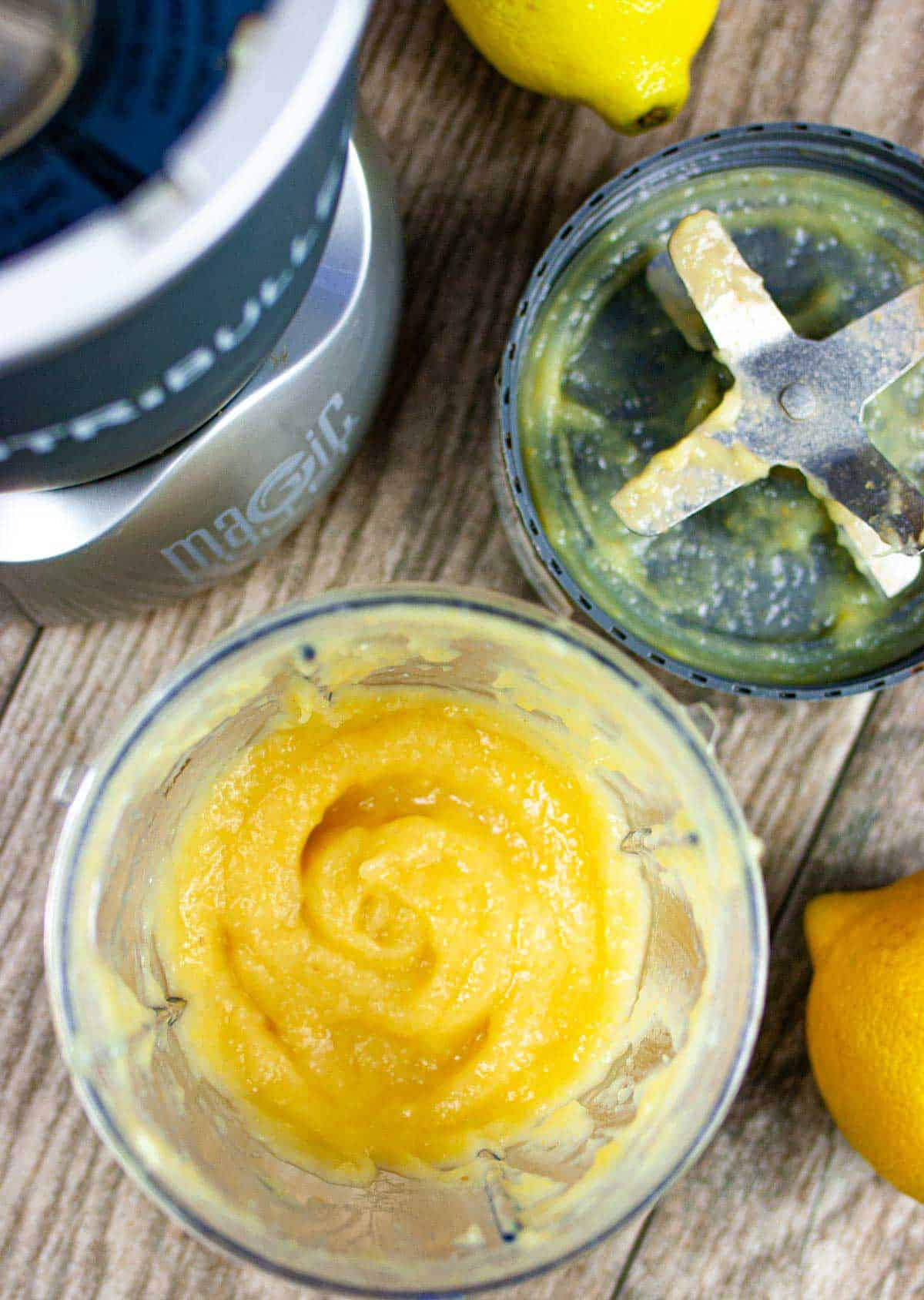 TIP: For a creamier paste, add a touch of olive oil or avocado oil to create a creamy texture, similar to an aioli.
How to store
Store in the refrigerator in a sealed jar (I use mason jars) for up to six months.
Consider freezing the puree in ice cube trays or small freezer-safe containers. They'll last close to forever.
How to use
I'm so in love with this stuff! There are many ways to use preserved lemon paste – your imagination is the limit. Often, this amazing citrus condiment can be a substitute for lemon juice to add a zingy, tangy flavor to dishes. If lemon juice is essential for a recipe (ie. adding liquid to a recipe), then add a touch of lemon paste for an extra punch.
Try using it for cocktails, in tuna salad, homemade salad dressings (try it in my amazing Blue Cheese Dressing Recipe), sauces, dips, on fish, with chicken or beef, on grilled meats and vegetables, add to soups or stews, pastas, add to tzatziki, and mix with mayo for a quick, lemon aioli. Try using the puree to make compound butter for grilled fish – truly heaven.
Where to buy
While preserved lemon paste can sometimes be found in specialty markets, it's easily found online. My favorite is from New York Shuk. Why do I like this brand? New York Shuk's preserved lemon paste contains only preserved lemons, lemon juice and salt, where others will often contain added water, making a thinner, less flavorful product. Plus, I love that they create handcrafted, gourmet products. If I don't make my own at home, this product is what I use.
Substitutions
While nothing will give a dish the same flavor as using the real thing, there are a few substitutes:
Lemon zest and sea salt– the flavor will be milder with a brighter lemony fragrance. However, you will get an extra hint of saltiness.
Make salt-preserved lemon skins – If you have some time, you can make a quick substitute. Squeeze the juice from one lemon, thinly slice the skins and toss in plenty of salt. Let stand for at least one hour, but 24 hours is optimal. Again, the flavor is milder and the texture will be different from lemons that have fermented in salt for a few weeks.
Make a quick lemon paste (read on and see the recipe card, below).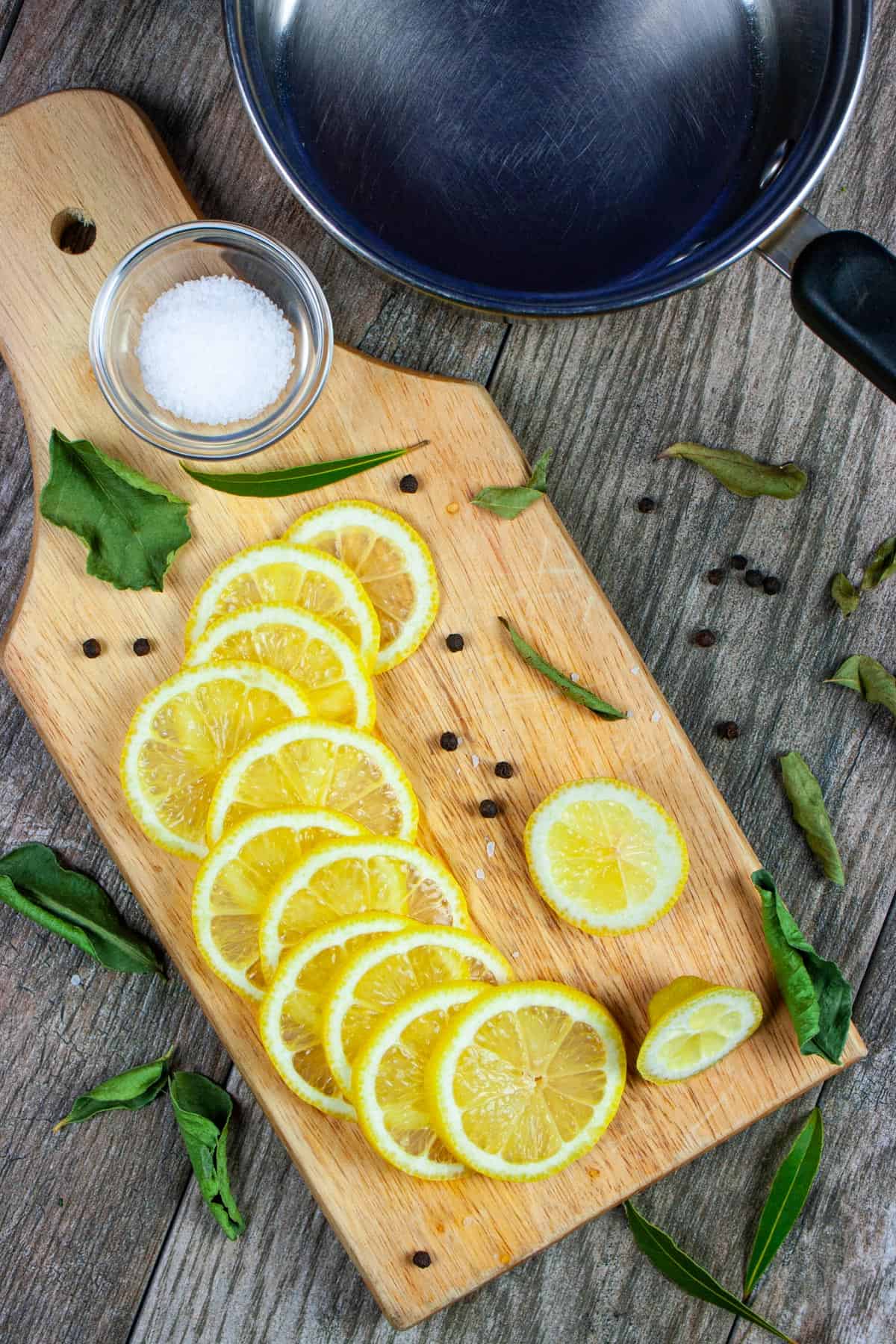 How to make a quick lemon paste
This is a fast, simple hack to make your own on the stovetop. Keep in mind, this method doesn't produce the same citrusy, floral bouquet that Father Time creates with traditional preserved lemons, but it's still very good in a pinch.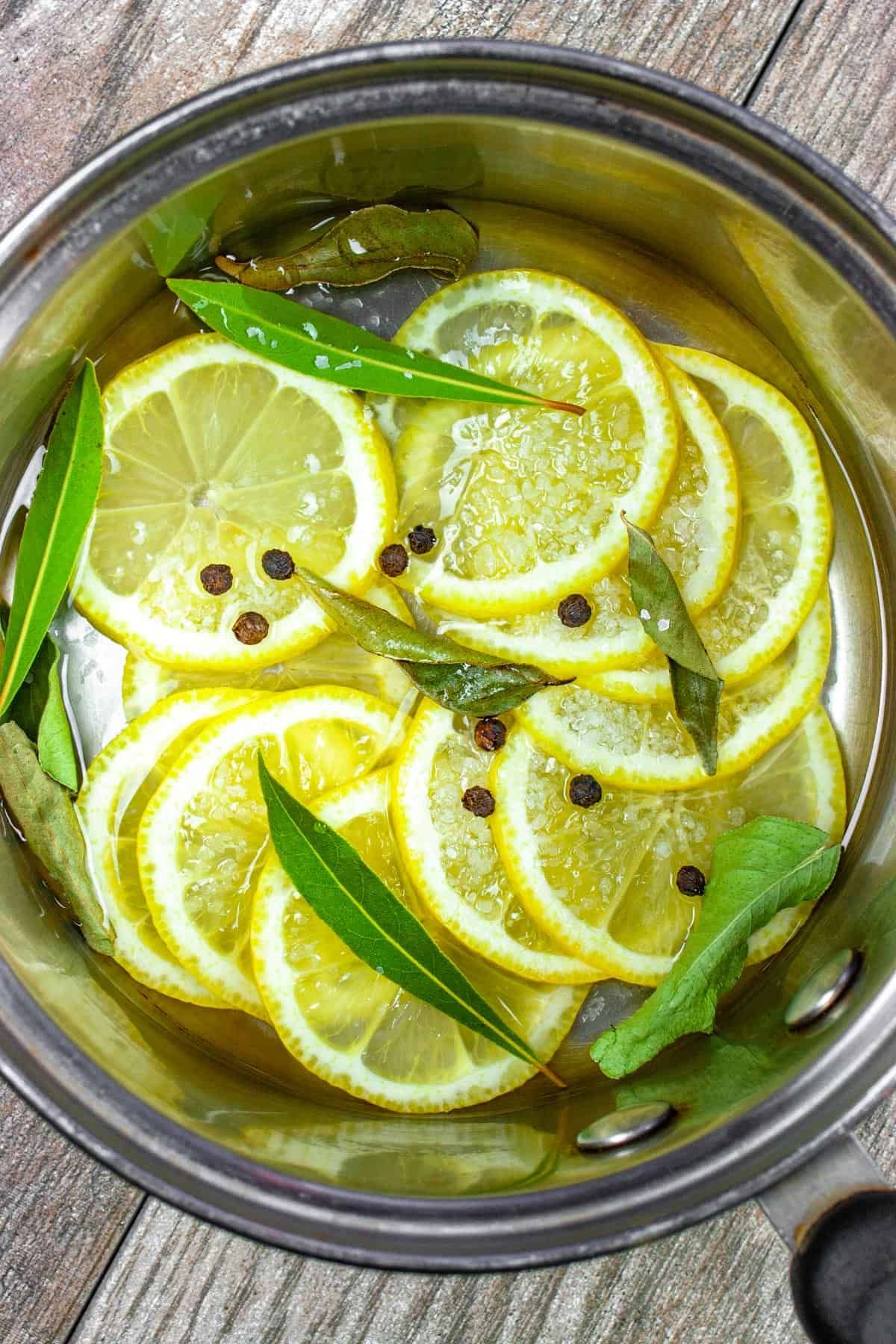 This method calls for boiling thin lemon slices with lemon juice and salt, then pureeing them in a blender. It's a way to create a preserved lemon flavor in a short amount of time. It won't have the fully developed flavor as properly preserved lemons, but it's pretty good. See recipe card, below, for details.
When making my own, I like to add some herbs to the pot to add some depth of flavor. Try adding:
Bay leaves
Curry leaves (read about curry leaves)
Kaffir lime leaves
Peppercorns
Rosemary, thyme or savory
Hot peppers or chilis
For example, in the picture above, I added bay leaves, kaffir lime leaves, peppercorns and curry leaves. It tasted amazing!
Try preserved limes and preserved lime puree
You can also use the same process used to make preserved lemons to create salt preserved limes or key limes.
Try the quick recipe, below, using limes for a zesty lime puree to use in sauces, dips, with fish or in cocktails. It may become your new favorite thing!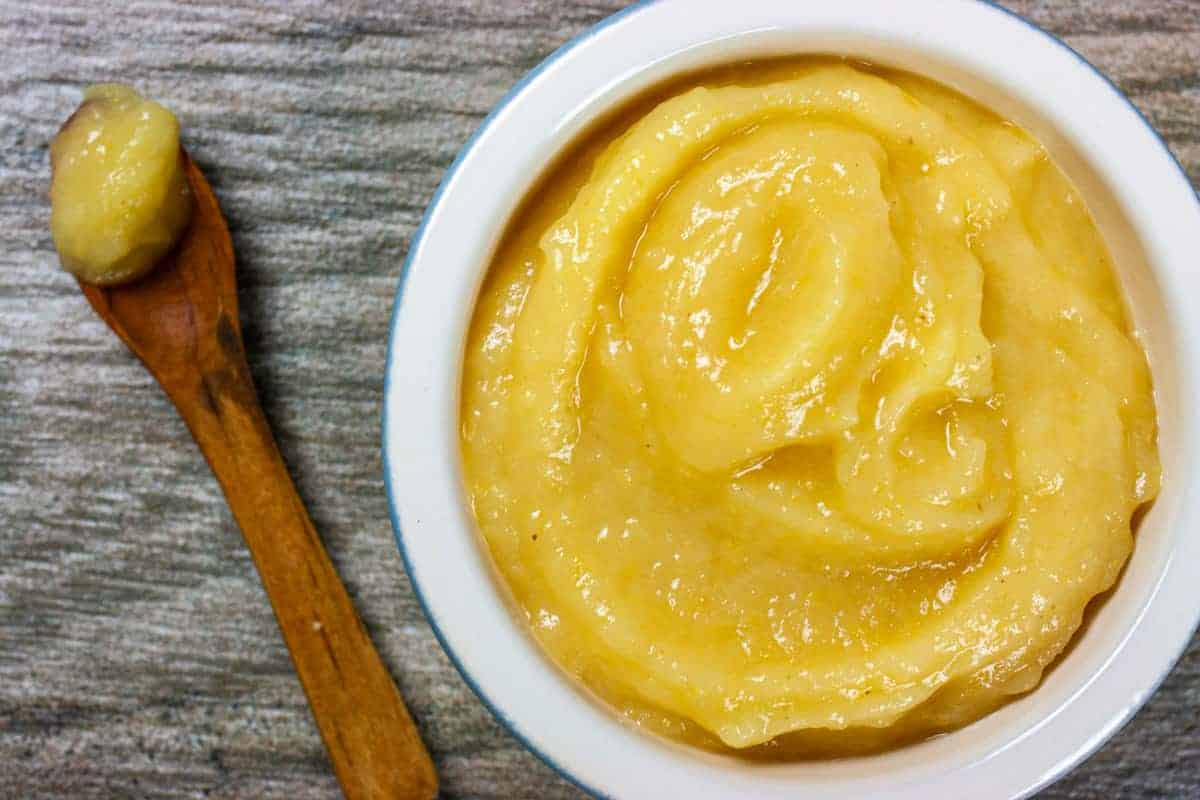 Recipes using preserved lemon puree
This post contains affiliate links. As an Instacart and Amazon Associate, I earn from qualifying purchases.
📖 Recipe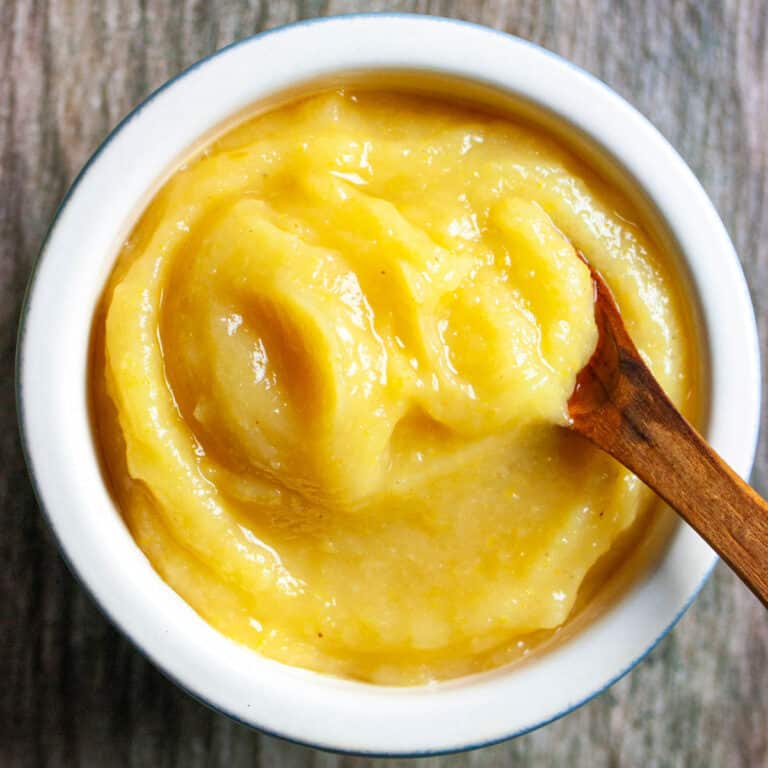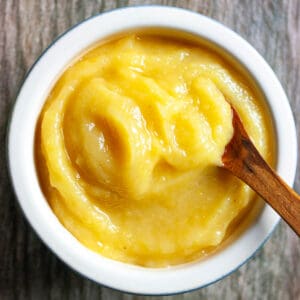 Quick Lemon Puree Recipe (try with limes!)
Add some depth and complexity to any dish by making a quick lemon paste.  It's as close as you can get to pureed, preserved lemons without waiting for them to cure at home or making a special purchase.
Instructions
Wash the lemons.  Make sure to remove any waxy residue.

Trim the ends and discard.

Slice into ¼ inch slices and remove the seeds.

Combine the sliced lemons, lemon juice, water, salt and herbs (if using) in a small saucepan and simmer over medium-low heat and cover.  TIP:  Check often to make sure the liquid hasn't evaporated.  Add more water or lemon juice if needed.

Simmer until the rinds are tender and translucent, 10-15 minutes.

Let cool completely.

Remove any herbs, if using.

Transfer to a blender (I like to use my Nutribullet for this) and puree until thick and smooth (think baby food consistency).  If too thick, add water or more lemon juice, 1 teaspoon at a time.
Notes
Make with limes
To make a quick preserved lime puree:  Follow the above instructions, substituting the lemon for 5-6 limes and use lime juice instead of lemon juice.
Freezing
Spoon into ice cube trays for several small servings or freeze in small freezer-safe containers.  The puree should stay good in the freezer for at least a year or more.
Nutrition
Serving:
0.5
teaspoon
Calories:
3
kcal
Carbohydrates:
1
g
Fat:
0
g
Sodium:
290
mg
Net Carbs*:
0
g
*Net carbs = carbohydrates - fiber
Nutritional information is an estimate, calculated using online tools and does not include optional ingredients unless otherwise indicated.
Did you make this recipe?
Leave a review below, then snap a picture and tag @Rad_Foodie on Instagram so I can see it!