Crème Fraiche Dressing with Preserved Lemon is a silky, creamy, homemade salad dressing recipe that can be used in many different ways. Don't have crème fraiche or preserved lemon puree? My variations have you covered while keeping this lucsious dressing recipe keto, low-FODMAP and dreamy good!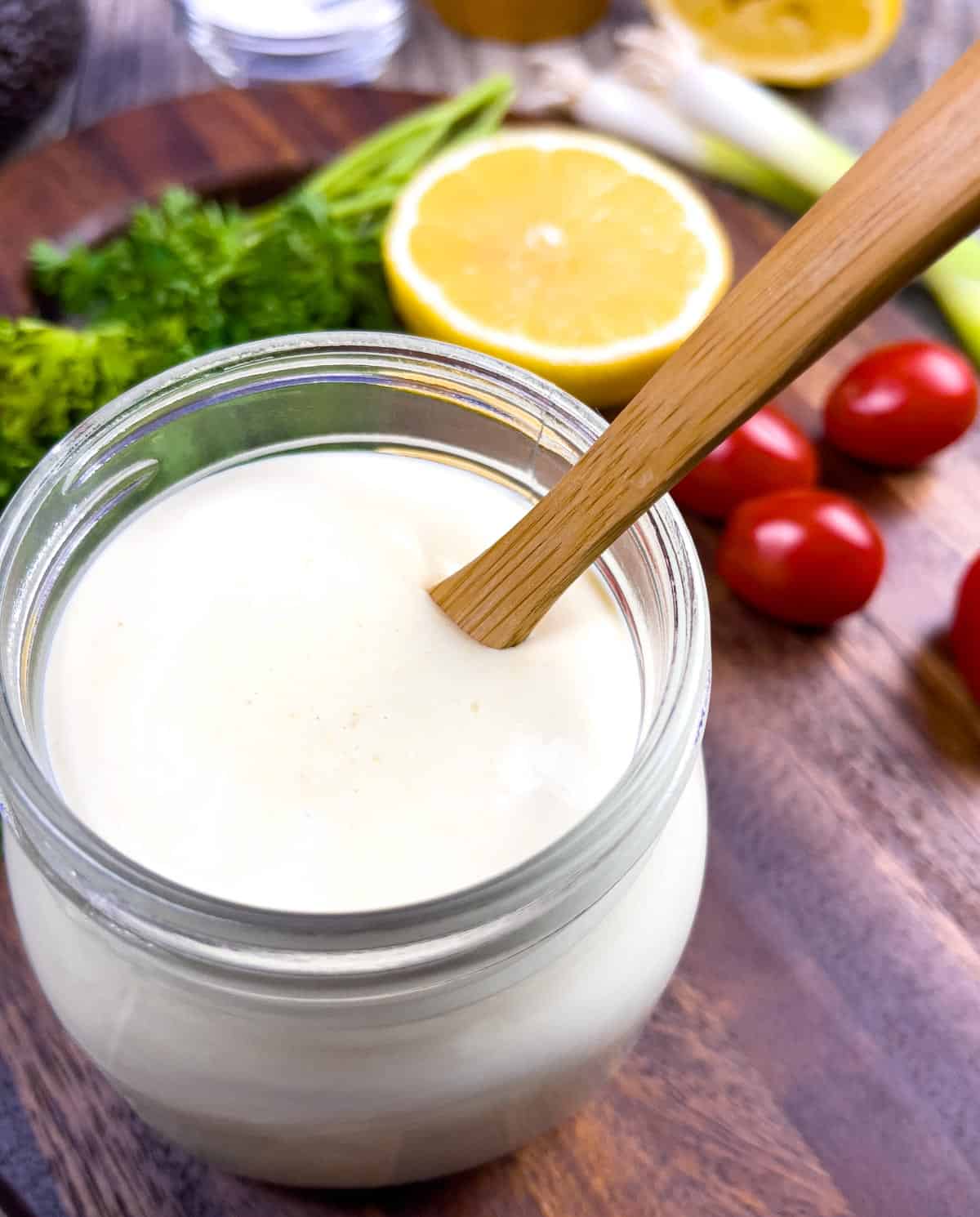 Jump to:
This creamy salad dressing is such a versatile recipe that can be used as a dipping sauce, marinade or condiment. It pairs ridiculously well with my Keto BLT Salad with Shredded Kale.
If you're a fan of silky and creamy salad dressing (I'm raising my hand, here), then this is your recipe! If I don't have a quart of my Blue Cheese Dressing in the fridge, then I certainly have a pint or so of this dressing as a back-up. I'm not a huge citrus fan, but this light, flavorful sauce has such a bright, umami-rich flavor - I'm hooked.
I don't always have crème fraiche or preserved lemons around, so I've included variations with sour cream and my quick lemon puree that still makes one of the best gourmet dressings that have ever crossed your taste buds.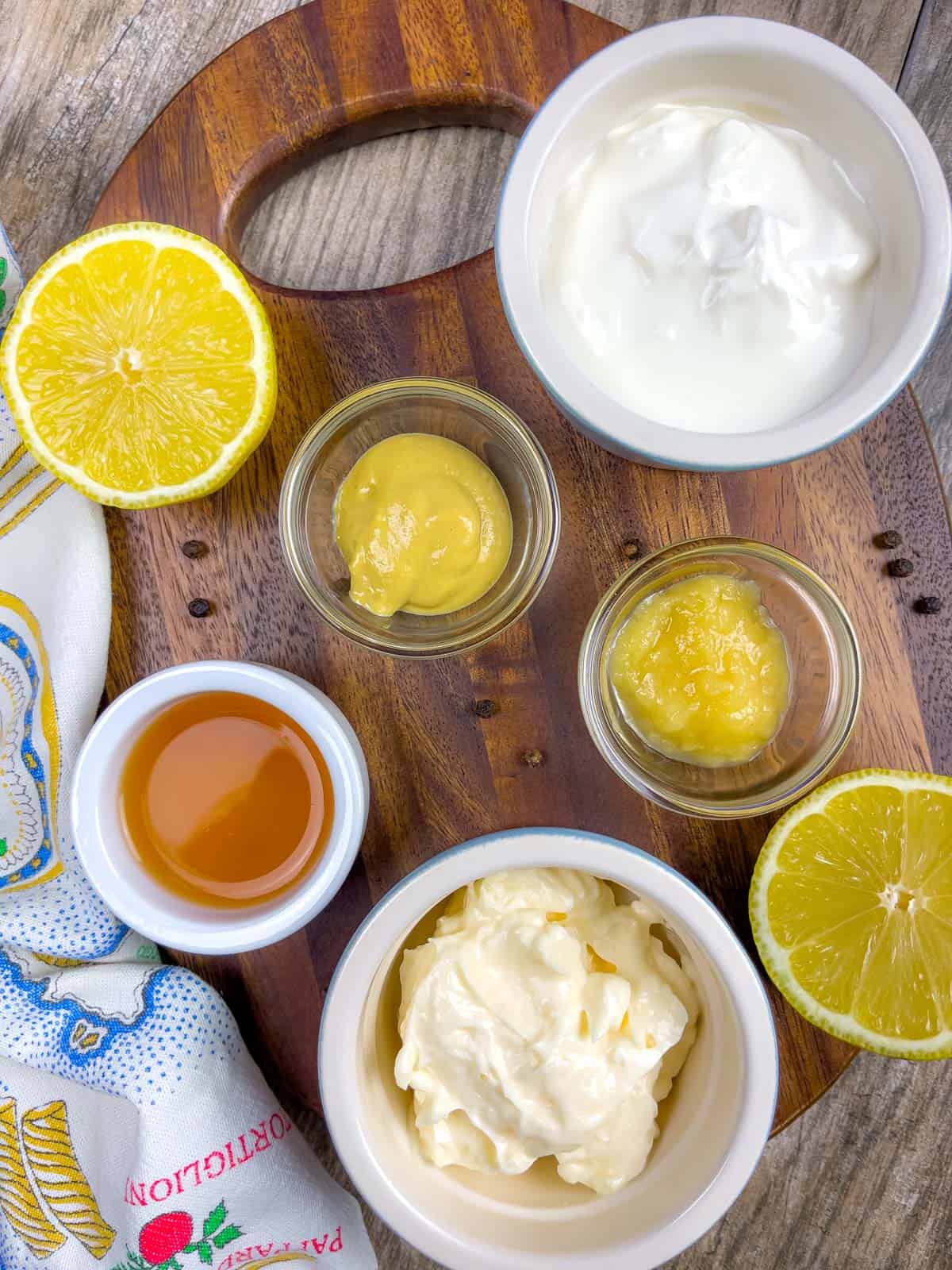 🛒Ingredients
To make this low-carb and sugar-free dressing, simply whisk together these few ingredients:
Crème fraiche
Mayonnaise
Dijon mustard
Whole preserved lemon or paste
Fresh lemon juice
Apple cider vinegar
That's it! It doesn't get any easier.
What is crème fraiche?
It is simply French for 'fresh cream' - a cultured cream that is slightly soured using fermentation with healthy bacteria, similar to sour cream and yogurt. Slightly tangy and sour, it is used as an ingredient or condiment in many sauces, dressings and dips. It has a very high fat content (around 30 percent) and can also be used as a topping like whipped cream or simply mixed with pasta.
What is the difference between crème fraiche and sour cream?
Sour cream has a lower fat content and is higher in protein. It's more sour and will tend to curdle when heat is applied. Crème fraiche has a naturally high fat content and doesn't curdle or break when exposed to higher temperatures.
Substitutions
If you don't have crème fraiche (cultured cream) in your fridge or can't find any at your local grocery, you can either make it yourself at home or simply use sour cream or Mexican crema. Mexican crema is a little thinner and sweeter than cultured cream, but makes a fine substitute.
👩‍🍳How to make homemade cultured cream
Traditionally, this is made with unpasteurized cream that naturally contains the healthy bacteria necessary for culturing. However, in the US, all dairy is required to be pasteurized, so a starter culture (mainly consisting of healthy Lactococcus bacteria) needs to be added to culture the cream.
Cultured cream directions
Simply add 1 tablespoon of buttermilk to 1 cup heavy cream in a glass mixing bowl (metal bowls may react to the culturing process).
Let stand for 12-24 hours at a warm room temperature, ideally between 70-78 degrees Fahrenheit, until thick and creamy. Refrigerate for about 24 hours before using. Your homemade cultured cream will last about 2 weeks in a sealed container in the refrigerator.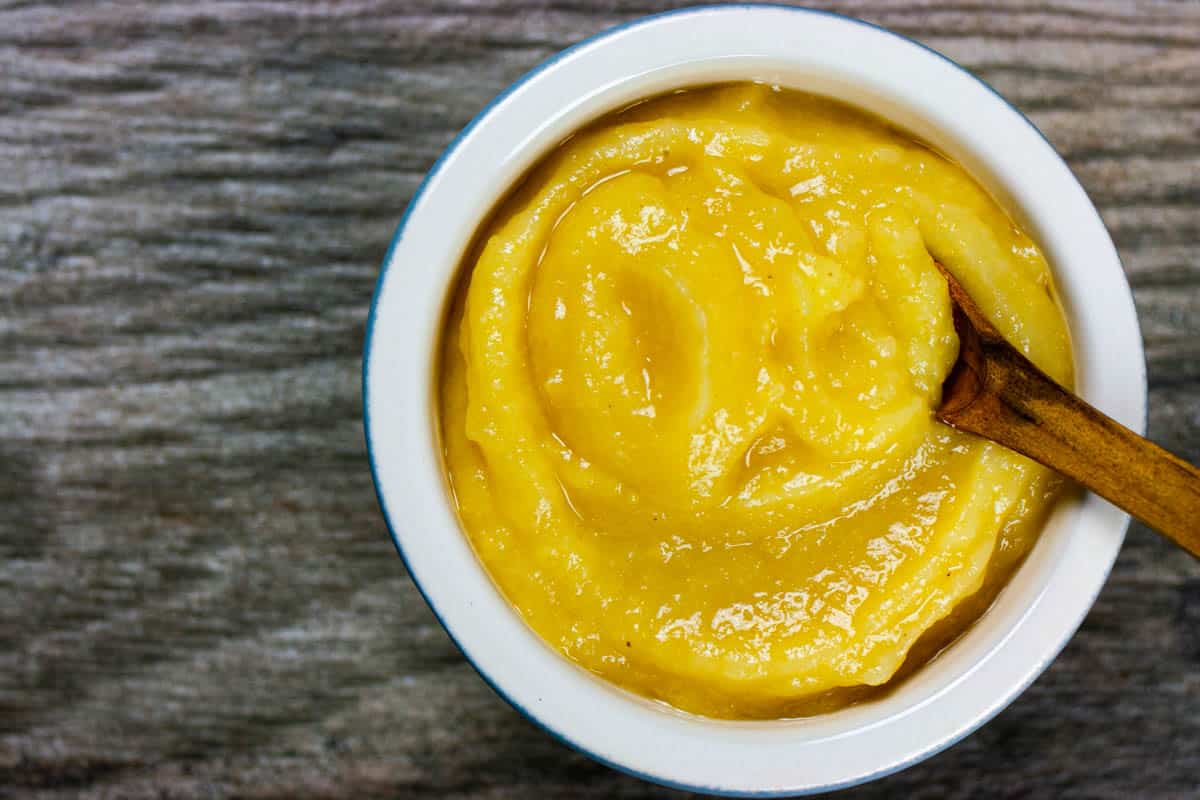 🍋What is preserved lemon paste?
It is a paste (or puree) made from preserved lemons, which are salt-cured and fermented for several weeks or months and develop a complex, salty, savory, umami flavor. A paste is made by pureeing them to a smooth consistency. Read my post about preserved lemons in my ingredient spotlight.
🛒Where to buy
Gourmet food and specialty stores will often carry preserved lemon puree. However, most grocery stores will carry whole preserved lemons which can quickly and easily be pureed into paste or used whole in this recipe with the use of a blender.
If your local grocery store has neither, preserved lemons and paste are available online.
📝Preserved lemon substitutions
While they add a unique flavor to anything they touch, there are a couple of easy substitutions that are still perfect for this recipe:
🥗Is this a low-FODMAP salad dressing?
Yes! All of the ingredients used are low in FODMAPs, providing you use a low-FODMAP mayonnaise. Drench your greens to your heart's desire!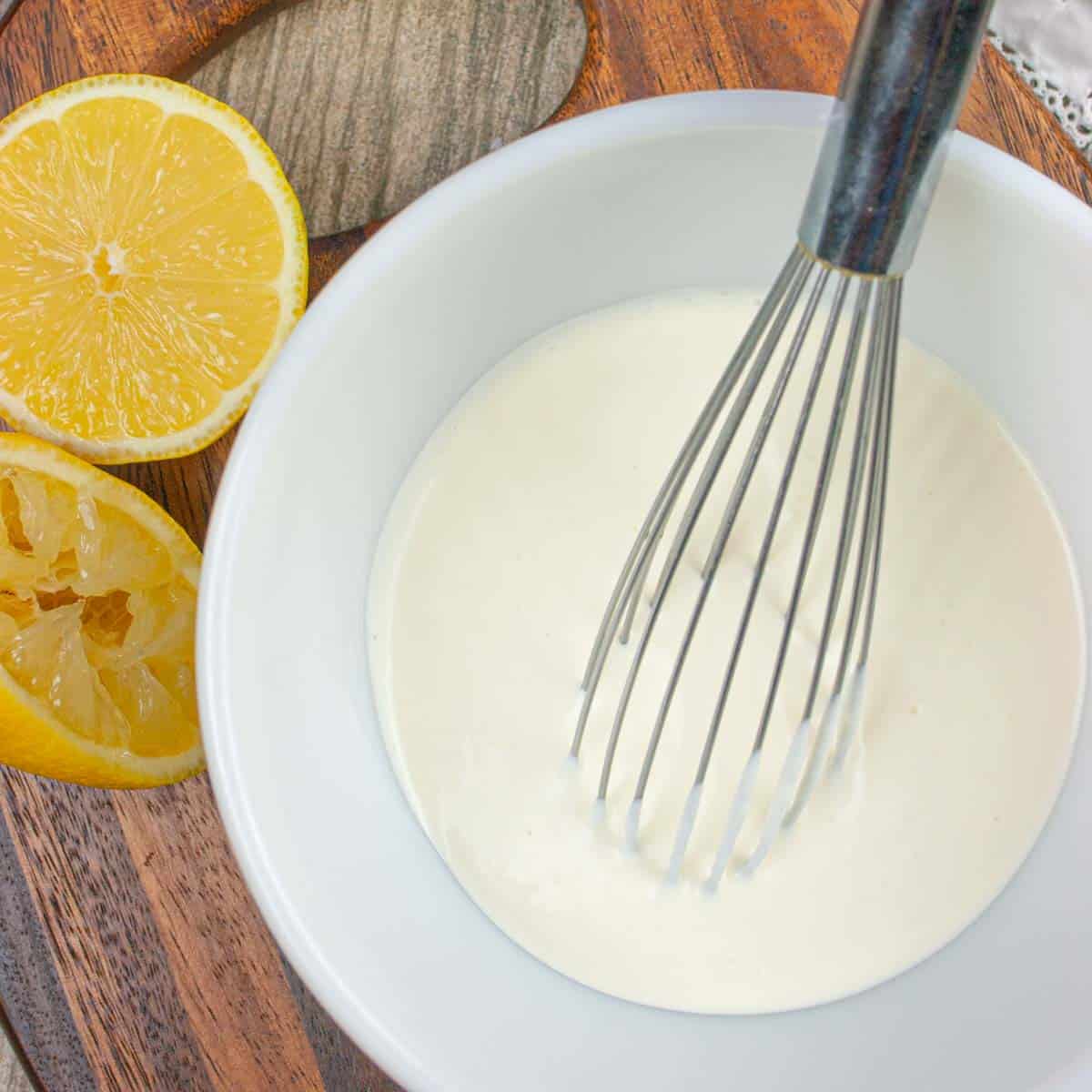 📃Instructions
There are two super easy ways to make this simple dressing:
Using preserved lemon puree
Place all ingredients in a medium bowl and whisk until thoroughly combined and the dressing is silky smooth.
Store in the refrigerator until ready to serve.
Enjoy!
Using whole preserved lemon
Place ¼ of a whole lemon and all ingredients in a blender (I like to use my Nutribullet for this) and blend until smooth and creamy.
🥡How to store
Store your dreamy dressing in the refrigerator in a tightly lidded container or glass jar. I like to use mason jars.
It's best to consume within seven days. If you notice the dressing beginning to separate, just give the jar a shake or whisk until homogenous again.
➕Optional add-ins
Add a touch of buttermilk or heavy cream – This is a fairly thick dressing. If you want it a tad more pourable, thin it out a little bit.
Add herbs and spices – red pepper flakes, Aleppo pepper (read more about Aleppo Pepper), black pepper, dill, tarragon, chives or basil.
If you like a sweet salad dressing, add a teaspoon of your favorite sweetener.
Add some finely chopped garlic or shallots.
Substitute the crème fraiche or mayo for Greek yogurt for a tangier flavor.
🍽How to use
Use it as a vegetable dip
Marinate salmon or white fish for an hour, then add to a skillet and simmer until cooked through
It makes the best fruit dip
Add it to cold pasta salad with your favorite low carb pasta
Mix with shredded cabbage for a lemony coleslaw
Drizzle it on steamed or grilled fish or sliced, grilled steak – it makes an amazing dressing for my Indian Fusion Salmon Recipe
It's perfect with Greek salad, chicken and steak salads or kale salad
Toss with roasted vegetables
Sauce up some freshly steamed greens
Use as a replacement for hollandaise sauce
If you find more uses for this delightfully silky dressing, let me know in the comments, below. I love to hear about your creations!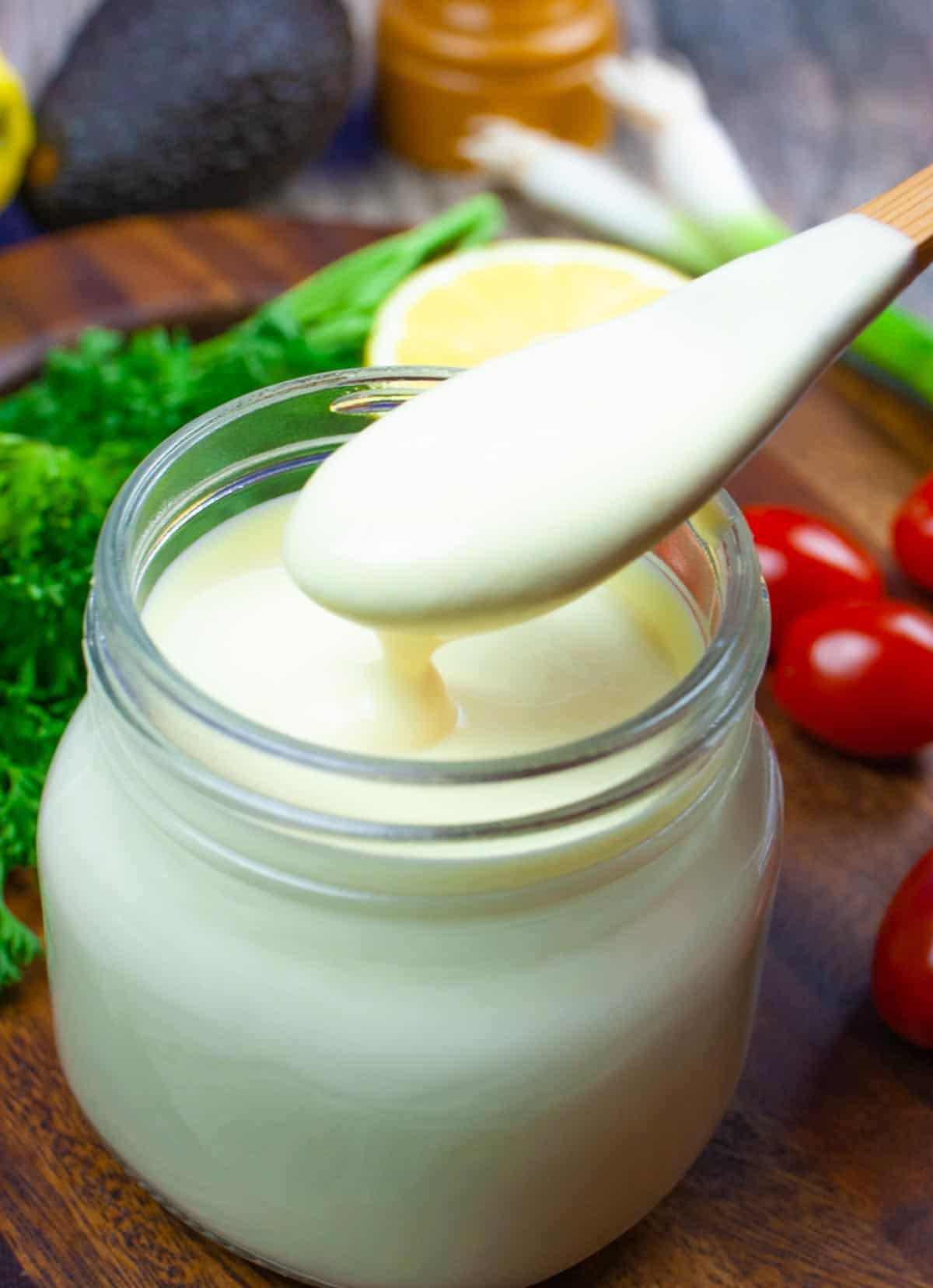 🙋‍♀️ FAQ
Is crème fraiche low-FODMAP?

Yes! It is a high-fat dairy product with a low lactose content of about 3-4%, making it suitable for a low-FODMAP diet in servings up to 2 tablespoons.
Is crème fraiche actually French?
Yes. It originated in the dairy producing regions of France. There are different varieties in France that vary from liquid to thick cream.
What is low-fat crème fraiche?
The low-fat variety is only about 15% butterfat and relies on stabilizers such as starch and xanthan gum for thickness and texture.
📖 Recipe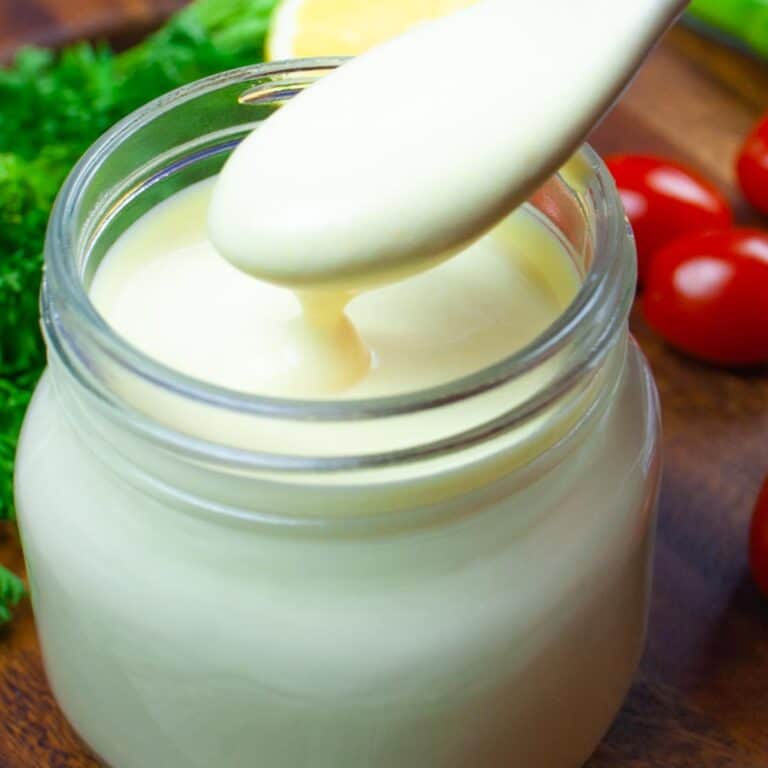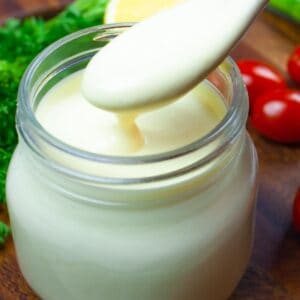 Crème Fraiche Dressing with Preserved Lemon
Here's a light, creamy and refreshing dressing that reminds you of sunny days. This low carb, creamy lemon dressing is tangy, smooth and is amazing on salads, veggies, meat or as a dip!
Instructions
If using preserved lemon puree
Combine all ingredients in a medium bowl and whisk until thoroughly mixed.
If using a preserved lemon
Combine all ingredients in a blender and blitz until smooth and creamy.
Notes
To make your own lemon paste, see my Ingredient Spotlight on Preserved Lemon and Lemon Puree.
---
Substitutions
If you don't have creme fraiche (cultured cream), you can use sour cream or Mexican crema.  You can also substitute Greek yogurt.
---
Optional add-ins
Nutrition
Serving:
2
tablespoons
Calories:
114
kcal
Carbohydrates:
0
g
Protein:
0
g
Fat:
12
g
Cholesterol:
17
mg
Sodium:
181
mg
Fiber:
0
g
Net Carbs*:
0
g
*Net carbs = carbohydrates - fiber
Nutritional information is an estimate, calculated using online tools and does not include optional ingredients unless otherwise indicated.
Did you make this recipe?
Leave a review below, then snap a picture and tag @Rad_Foodie on Instagram so I can see it!