This savory Keto BLT Salad with Shredded Kale and Preserved Lemon Dressing is a perfect crispy salad for easy weeknight meals or summer cookouts. It's crowd pleasing with easy prep that rivals any restaurant recipe. It's like a healthy BLT that makes a delicious keto, low-carb and low-FODMAP meal!
Who can say no to a blt? A traditional BLT sandwich was always high on my list when dining out or if I needed to make a quick and easy weekend lunch or weeknight meal. Now that I don't eat many wheat products and live mostly gluten-free (mostly…), a big, hearty BLT salad loaded with bacon is what my low-carb heart desires.
Good news for my low-FODMAP friends! This is a low-FODMAP salad and dressing that can be enjoyed in whatever serving size you please!
This vibrant, healthy recipe is full of nutritious ingredients and tastes incredible. It's an easy choice for meal-prep or make drool worthy salad kits for portable weekday lunches and everyday dinners.
A drizzle of creamy lemon dressing (or should I say, 'blt salad dressing') makes this basic healthy bowl of greens essentially a BLT without bread.  Top it with a few Maple Bourbon Candied Pecans as an added treat. This is a crazy delicious dish you'll want to eat on repeat. Serve it along side a homemade pizza made with Keto Fathead Dough Pizza Crust.
What I love about chopped salads is that the ingredients are chopped into bite sized pieces where all of the flavors can be enjoyed in each savory bite.
📃Ingredients
This is a highly nutritious bacon, lettuce and tomato chompfest that rivals any ol' basic BLT salad recipe. It comes together in a snap with simple, gourmet ingredients:
Kale – one large bundle
Bacon, lardons or crispy pork belly – you choose! Or, include them all. There's no such thing as too much bacon, am I right?
Tomatoes – Plump cherry tomatoes are perfection, but chopped tomatoes work well, too.
Dreamy, creamy lemon dressing – preserved lemons or preserved lemon puree add an unreal umami flavor to dressings that just can't be achieved with any other ingredient. No preserved lemons? No worries – fresh lemons and lemon zest can also be used. Check out my variations in my Crème Fraiche Dressing with Preserved Lemon Paste.
Salt and pepper to taste.
🥬What is the best kale for salads?
Curly and Tuscan kale (also known as dinosaur or Lacinato) are used most in salads due to their sweetness and tender leaves. Both are carried in most grocery stores and are the best in dishes that don't require cooking. My favorite option for salad is the Tuscan variety.
Tuscan kale has dark green, flat, very textured leaves (it looks kind of prehistoric, so I get why it's also called 'dinosaur'). It has a very mild, sweet flavor and the leaves tend to be the most tender compared to other varieties.
Curly kale is also a good option, but it tends to be a little bit tougher and more spicy, with a slight bitterness.
🔪How to cut kale
Removing the stem from the leaves is always a good idea, but not necessary. I find it too fibrous, so I always remove the stem, but it's purely optional.
💭TIP: The kale should be washed before serving. You can wash the whole leaves before slicing or, you can cut or shred first and then rinse it in a salad spinner. The latter method will actually decrease some of the bitterness.
What is the best way to cut the kale for salad?
Simply lay the leaf flat on a cutting board and cut away the tender leaf from the stem. Then stack the leaves and slice into small pieces.
If you prefer the leaves torn, you can also remove the tender leaf from the stem with your hands and shred or tear the leaves without a knife.
For a pretty slick method to shred the leaves, fold them in half and cut the tough stem from the leaf. Roll the leaves and cut them into slices. Then chop in the other direction.
🖐Massaging kale
I call this 'kale therapy'! Giving your kale a massage is the best way to soften it for salad. Massaging helps to break down the texture, making it easier to chew and digest. And, your hands get a nice oil treatment.
Massaging instructions
After rinsing and chopping, place kale in a large bowl.
Coat with a drizzle of olive oil and a couple pinches of sea salt
Massage with your hands – for 3-4 minutes, really squeeze the leaves (with love) and pinch between your fingers. Don't be shy – your kale can take it!
💭TIP: Add a squeeze of lemon juice with the olive oil and salt. Each piece will be infused with even more flavor and tenderness.
Try not to over-massage. You want to squish it around just until it starts to wilt. If massaged too long, it will lose that crisp texture and may even become a little mushy. It should be more crisp than rubbery.
⚕Kale nutrition
Dark leafy greens are some of the healthiest foods you can put in your body. This recipe is certainly a nutrient powerhouse.
Kale is high in nutrients: It's packed with antioxidants, fiber, beta-carotene, vitamin C, vitamin K, vitamin B6, and minerals such as manganese, calcium, copper and potassium. It's truly one of the most nutrient dense food on earth.
A cup serving has 1g of carbs, 1g of fiber (zero net carbs!) and about 1g protein
🍋Preserved lemon dressing
This creamy lemon salad dressing with crème fraiche is such a versatile homemade salad dressing that can be used as a dipping sauce, marinade or condiment. It pairs ridiculously well with this kale salad and is the silkiest, creamiest lemon dressing ever. In fact, it's so special, it has it's very own post on this site - read all about this Crème Fraiche Dressing with Preserved Lemon Paste. Not familiar with preserved lemons or preserved lemon puree? Read all about them (with a quick lemon puree recipe) in my Ingredient Spotlight post.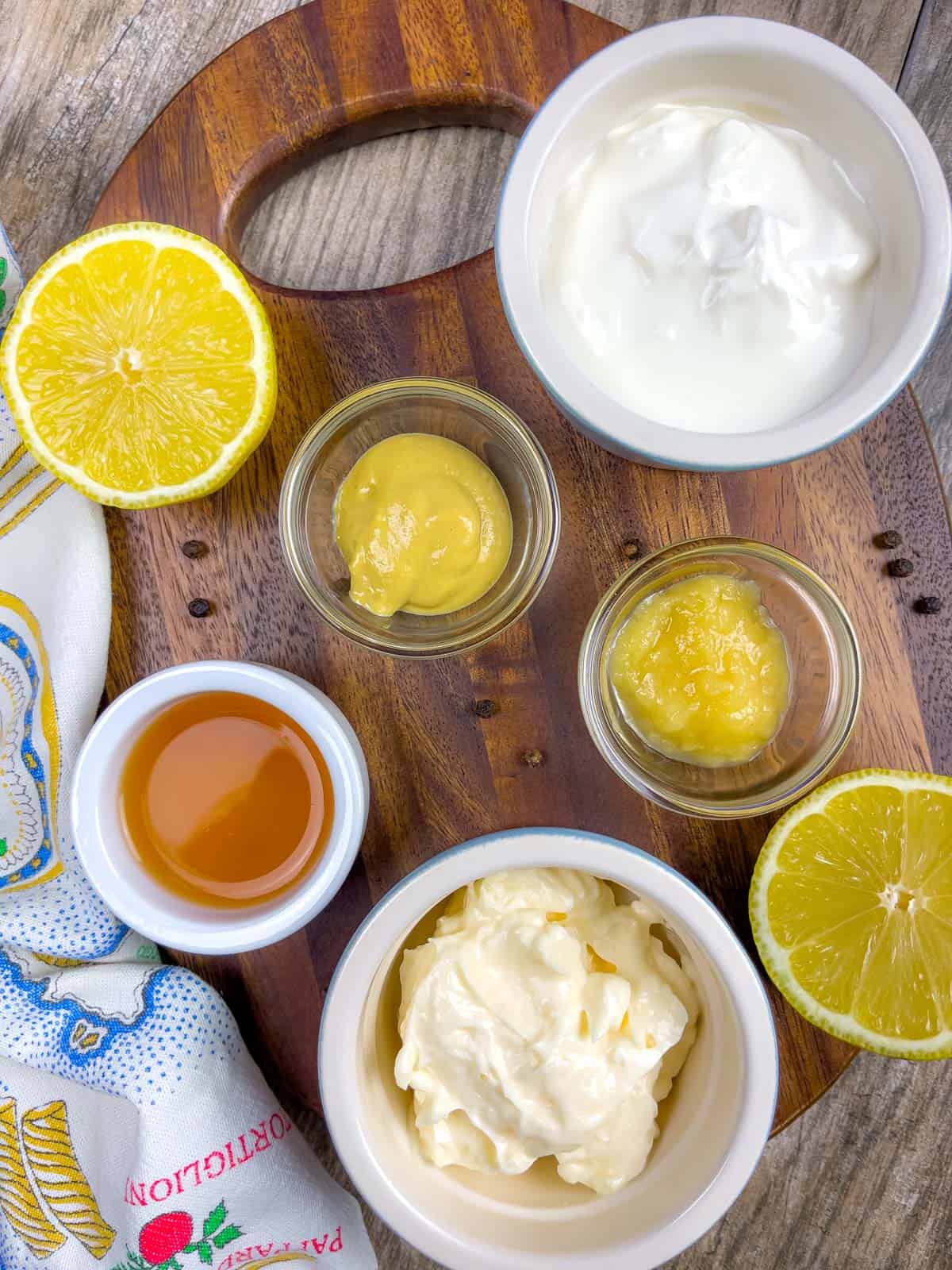 📃Dressing ingredients
Just a few simple ingredients make the silkiest, creamiest low-carb and sugar-free lemon dressing:
Crème fraiche (or sour cream)
Mayonnaise
Dijon mustard
Preserved lemon paste or whole preserved lemon (read more in my Ingredient Spotlight for a quick preserved lemon paste substitute made with fresh lemons)
Fresh lemon juice
Apple cider vinegar
🥄How to make the dressing
There are two quick methods to make this simple, super creamy salad dressing, depending on whether you are using lemon paste (or puree) or whole preserved lemon:
Using preserved lemon paste or quick lemon puree
Combine all of the ingredients in a medium bowl and whisk until smooth.
Using whole preserved lemon
Place all ingredients in a blender (I like to use my Nutribullet) and puree until silky smooth.
That's it! It doesn't get any easier.
🥗Is this a low-FODMAP salad dressing?
Yes! All of the ingredients in this dressing are low-FODMAP, providing you use a low-FODMAP mayonnaise (a mayonnaise without onion or garlic added). Drizzle it on your greens to your heart's content!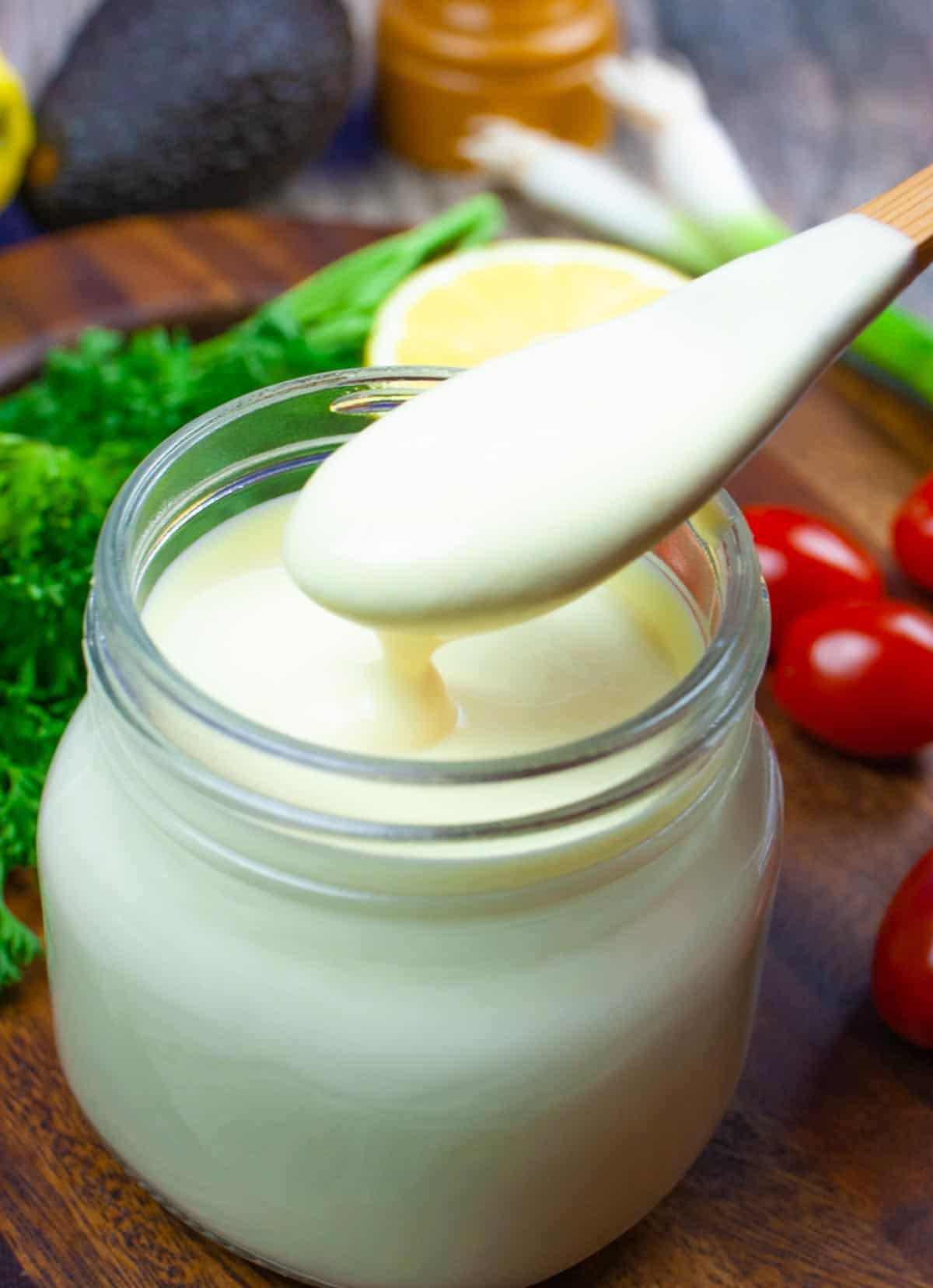 🥓What kind of bacon to use
My favorite kind of bacon for salads is either thick cut bacon or thick crispy pork belly. But, you can use whatever crispy bacon you'd like - thick or thin cut, pepper bacon, maple bacon, lardons, crispy pancetta or even crispy prosciutto.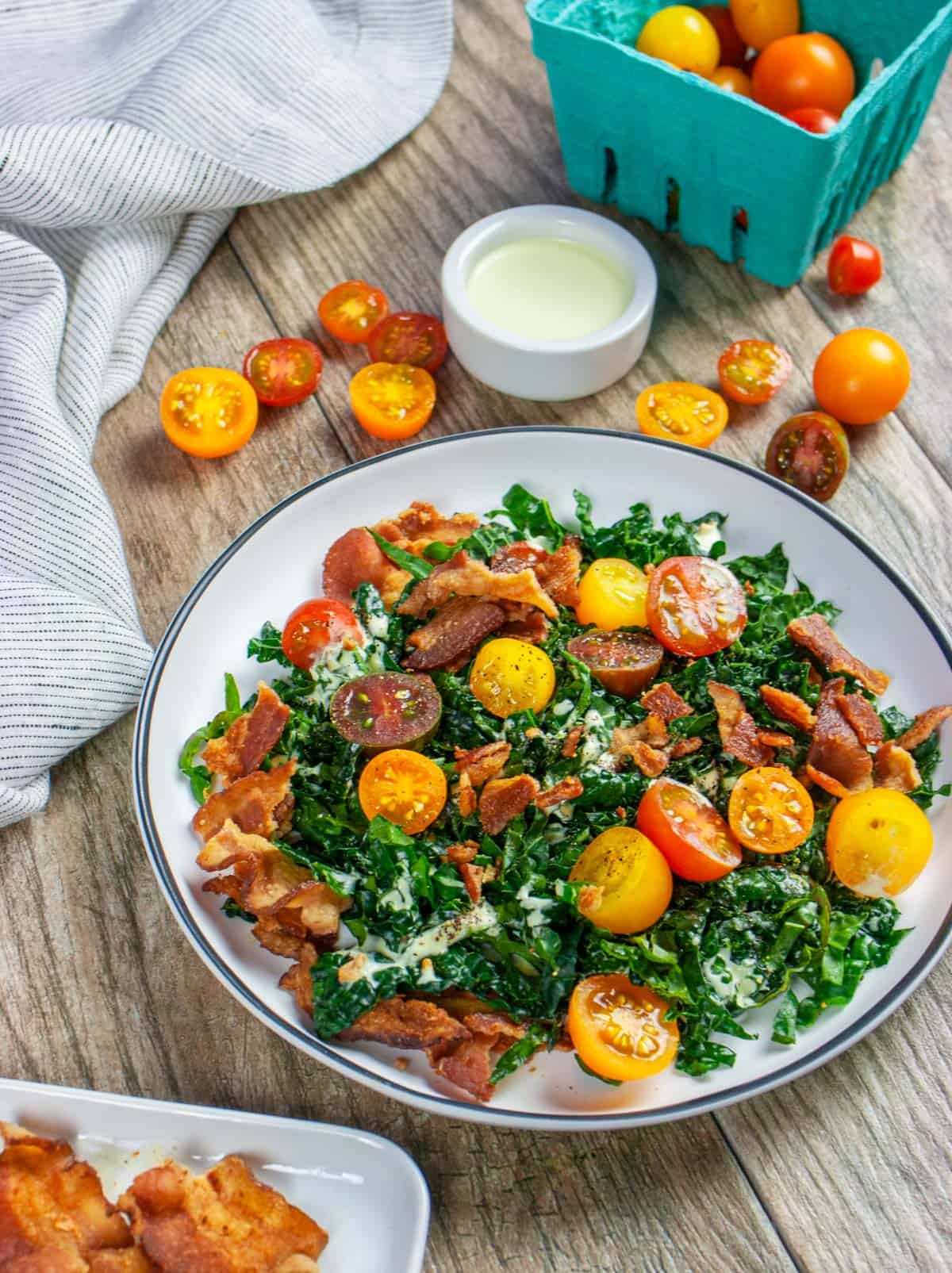 👩‍🍳Directions
Whether you choose to serve this as individual salads or as a big BLT salad bowl to please a crowd, the prep will be the same:
De-stem, chop the kale and give it a good wash.
Dry it in a salad spinner or press the water out with a towel (Option: you can wash the leaves before chopping, but washing after chopping removes some of the bitterness).
Make the creamy preserved lemon dressing.
Toss the kale with a small amount dressing and add more to desired taste.
Top with chopped tomatoes and bacon (see additional add-ins, below).
🥡Storing leftovers
You can store this salad dressed or undressed, as kale doesn't tend to wilt like lettuce.
Simply store in an airtight container or bowl covered in plastic wrap. Before serving leftovers, toss with a squeeze of fresh lemon juice and a pinch of salt.
➕Variations
Here are a handful of decadent ideas to switch things up:
Swap out hearty kale for butter lettuce
Add grilled or smoked salmon
Add some candied pecans, walnuts, pumpkin seeds, or sunflower, hemp or chia seeds
Make a fall or harvest salad with bacon and cranberries, nuts or roasted winter squash
Toss in some of your favorite cheese (blue cheese, anyone?)
Make a hearty weeknight dinner and serve with sliced chicken
Turn it into a warm kale salad and add some sautéed mushrooms (use oyster mushrooms to keep this a low fodmap salad)
Top with 'keto panko' - crushed pork rinds
Salad for breakfast? Oh, yes! Top with a soft boiled, poached or fried egg
🍽Serving suggestions
This is a hearty side to pair with a myriad of dinner recipes.
It's perfect with:
Or, add your favorite protein for a filling dinner salad.
🙋‍♀️Kale FAQ
Is kale good for everyone?
In small to moderate quantities, kale is good for most everyone.  There may be folks with IBS/IBD that don't react well to the higher fiber content and should avoid it altogether.  Individuals with blood clotting disorders or are on blood thinners should talk to their doctor about how much kale is okay to consume.  It's high in vitamin K, which aids in blood clotting and can be contraindicated for some people especially if eaten in large amounts.
What is the best way to eat kale?
Kale is often eaten raw in salads and smoothies, but is also delicious steamed or sautéed.  There is no 'best' way to eat kale - how you enjoy it is completely up to you!  However, kale does include an indigestible sugar called raffinose (which is present in all cruciferous vegetables) that may cause digestive upset when eaten in larger quantities.  In this case, consider cooking kale to increase its digestibility and eat only in small portions.
Is kale low fodmap?
According to Monash University, kale is considered a low-FODMAP food and is well tolerated by most people with IBS.  Kale makes a delicious low-FODMAP salad (only trace amounts of FODMAPs are present) and can be enjoyed in any quantity.
Other recipes you might like
This post contains affiliate links. As an Instacart and Amazon Associate, I earn from qualifying purchases.
📖 Recipe
Keto BLT Salad with Shredded Kale and Lemon Dressing
This savory keto BLT salad with shredded kale and preserved lemon dressing is a perfect crispy salad for easy weeknight meals or summer cookouts.  It's crowd pleasing with easy prep that rivals any restaurant recipe.  It's like a healthy BLT that makes a delicious keto, low-carb and low-FODMAP meal!
Ingredients
For the salad
1

bunch

kale

(I used lacinato which is Tuscan Kale)

½

pint

grape tomatoes

(cut in half)

6

slices

bacon

(cooked and crumbled)

sea salt

(to taste)

black pepper

(to taste)
Instructions
Make the dressing
If you're using preserved lemon, process all ingredients in a food processor (I like to use my Nutribullet) until creamy and smooth. 

If you're using preserved lemon puree, you can simply whisk all of the dressing ingredients together in a medium bowl.
Make the salad
Remove the spines or stems from the kale and cut into small pieces (see post for details)

Rinse the kale and spin dry in a salad spinner or dry with a towel.

Place kale in a large bowl, drizzle with the olive oil and add a pinch of sea salt.

Massage the kale for 3-4 minutes (see post for details)

Add a small amount of dressing to the kale and toss.  Add more to taste.

Divide the salad onto plates and top with sliced tomatoes and bacon.  Season with salt and pepper to taste.
Notes
*If you don't have preserved lemon or preserved lemon puree, you can make a quick lemon puree or substitute with the juice of a whole lemon and a teaspoon of lemon zest.
---
Optional add-ins
Bacon, cranberries, roasted winter squash
Blue cheese, chicken, sauteed mushrooms
Top with 'keto panko' - crushed pork rinds
Make it a breakfast - top with a soft boiled, poached or fried egg
Nutrition
Serving:
1
serving
Calories:
100
kcal
Carbohydrates:
3
g
Protein:
5
g
Fat:
8
g
Cholesterol:
22
mg
Sodium:
226
mg
Fiber:
2
g
Sugar:
1
g
Net Carbs*:
1
g
*Net carbs = carbohydrates - fiber
Nutritional information is an estimate, calculated using online tools and does not include optional ingredients unless otherwise indicated.
Did you make this recipe?
Leave a review below, then snap a picture and tag @Rad_Foodie on Instagram so I can see it!