Shredding cabbage isn't difficult or complicated. Learn how to shred cabbage in the food processor or by hand and step away from purchasing pre-packed slaw mix. Try one of these quick and easy methods for crisp, fresh, perfectly textured cabbage. Use this versatile vegetable to add a healthy crunch to your favorite recipes. Try it in coleslaw, stir fry, tacos, soups or your favorite keto egg roll in a bowl.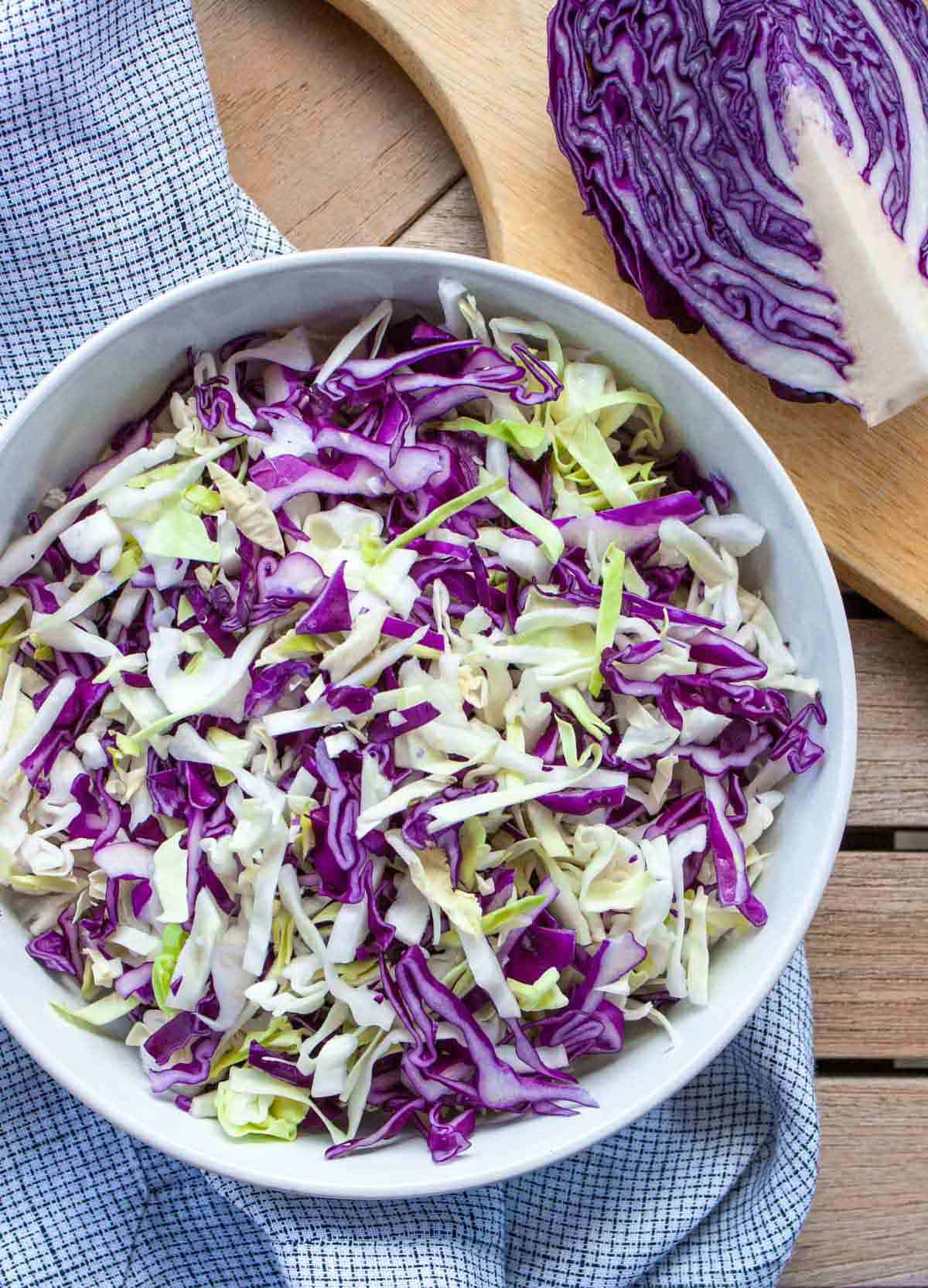 I have to admit, I've felt a little intimidated about shredding my own head of cabbage. For years, I relied on bagged coleslaw mix that, often times, has looked a little less than optimal.
Purchasing that little bag of pre-made stuff seems so much more convenient, doesn't it? However, cutting and shredding your own cabbage is super simple. You'll never spend the additional cash for pre-packed, wilted looking slaw in a bag again.
Try making some Keto Coleslaw with Cilantro and Lime for your next barbeque or summer picnic.  This recipe includes a little heat from pickled pepperoncini, that creates a party for your taste buds.  It's a unique variation that really sets this festive coleslaw apart from other traditional slaw recipes.
Benefits of shredding your own
Fresh vegetables are best! Freshly grated slaw is incredibly crisp and flavorful.
You decide what to include in your slaw mix. It's easy to shred both green and purple cabbage for a colorful dish.
Save time and money by shredding your own at home
Cabbage keeps for quite a while in the fridge vs. pre-packaged. You have no idea how long ago the pre-shredded mixes were processed. Freshly shredded makes a huge difference in recipes, especially when it's eaten raw, like in coleslaw.
You get to decide on the best texture for your dish. If you're looking for finely textured cabbage pieces, large shreds or coarsely grated, it's all in your control.
Different types of cabbage
Green "cannonball" cabbage is the most popular and widely grown variety.  It has a light, crisp flavor with peppery notes.  It's incredibly versatile and can be eaten raw or cooked.  I love using this green cabbage in my Homemade Asian Cabbage Rolls.
Red cabbage is almost identical in flavor to its green cousin.  However, when cooked, the red color can bleed into the finished dish, which may affect its overall appearance.
Savoy cabbage is also known as curly cabbage.  It has ruffled leaves and doesn't have a tightly packed head as other varieties do.  It can also be eaten raw, in coleslaw or a crunchy wrap.  It's also delicious cooked in a stir-fry or braised in butter.
Napa cabbage, also called Chinese cabbage, looks more like a head of romaine lettuce.  It has a mild flavor and is also a popular variety used in kimchi.
Bok choy is a long variety, with leaves growing from a central stalk.  It looks similar to mustard greens, and has a slight mustard-like flavor.  Bok choy is often used in Asian cooking, in stir frys, but is also delicious when cooked whole.  I enjoy using this variety in my Keto Lo Mein with Low Carb Asian Noodles.
Are brussels sprouts cabbage?
Sorry, but no. Brussels sprouts are not actually baby cabbages, contrary to popular belief. They are cruciferous vegetables that are members of the Brassica family, along with kale, cabbage, turnips, collards, broccoli and cauliflower.
Brussels sprouts are wonderful roasted or sautéed, like in my Sautéed Brussels Sprouts with Maple and Rosemary, but are also fine when eaten raw.  They taste great when shredded and made into a Brussels slaw.  Personally, I haven't tried them with this recipe, but they'd probably be delicious!
How to pick a cabbage
All varieties should have a firm, tight head and be quite heavy for their size. Avoid heads that are soft or discolored. These are signs that they aren't fresh and may have begun to spoil.
How to store cabbage
Store in a plastic bag, in the crisper drawer (or in the coldest part) of your fridge.  Heads are best stored whole, until ready to use.  To keep them fresh, refrigerate in the produce bag from the store or place them in a sealable zip-top bag (if you can find one large enough). A head will last about 2 months when stored this way.
If you only use a partial head, be sure to tightly wrap the remainder and keep in the crisper drawer. It won't last as long as the whole head, but it will stay fresh for about a week.
Preparing the head
Remove the outermost leaves. The outer layer of leaves tend to be a little tough and should be discarded.
Rinse the head with cold water and pat dry. This will remove any debris that has penetrated the surface leaves.
How to cut cabbage
There are two steps to cutting the head prior to shredding or slicing: 1) cutting into wedges and 2) removing the core.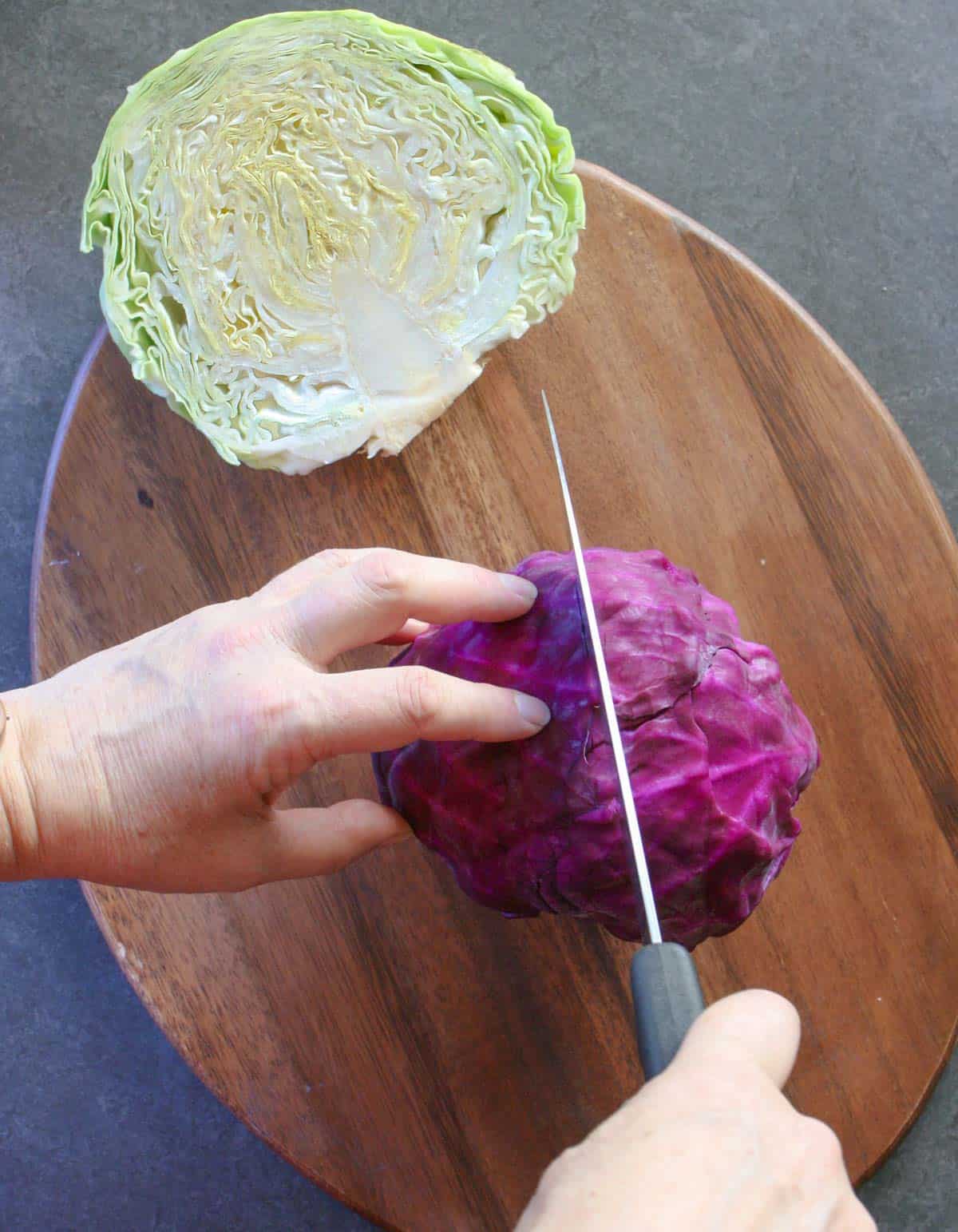 Place the head on a cutting board and cut in half vertically, through the core. Then, cut each half in half again to create 4 wedges.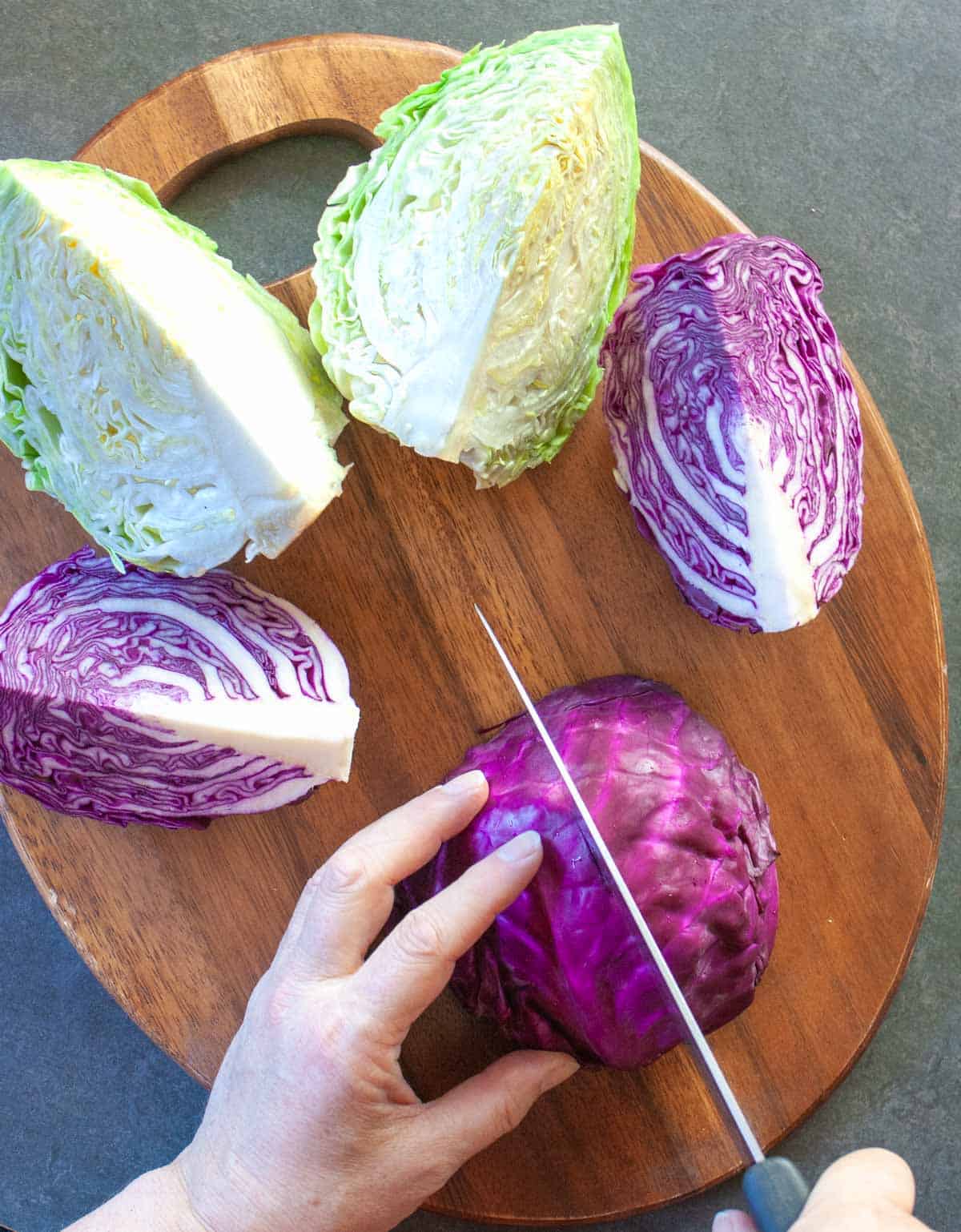 Remove the stem and core by cutting at a slight angle. This will remove the tougher portions, leaving behind the more tender outer leaves.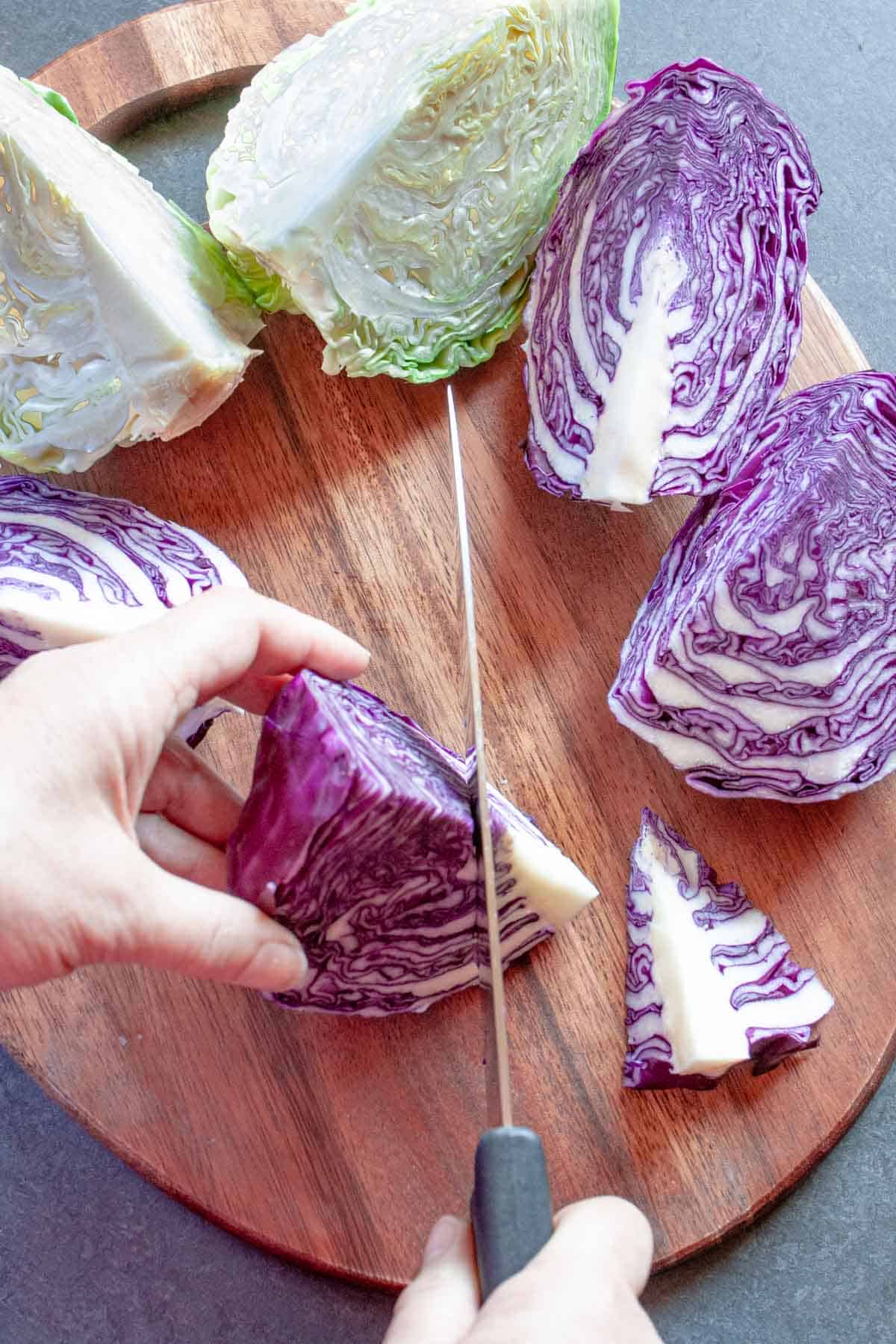 How to shred cabbage
Using a food processor
Shredding with a food processor is incredibly fast and easy.  It is also less messy than other methods and clean up is a breeze.  It takes very little effort and an entire head can be shredded in about 60 seconds or less.
The best blade to use
Choosing which disc to use with your food processor depends on the texture you like for your coleslaw or other dish.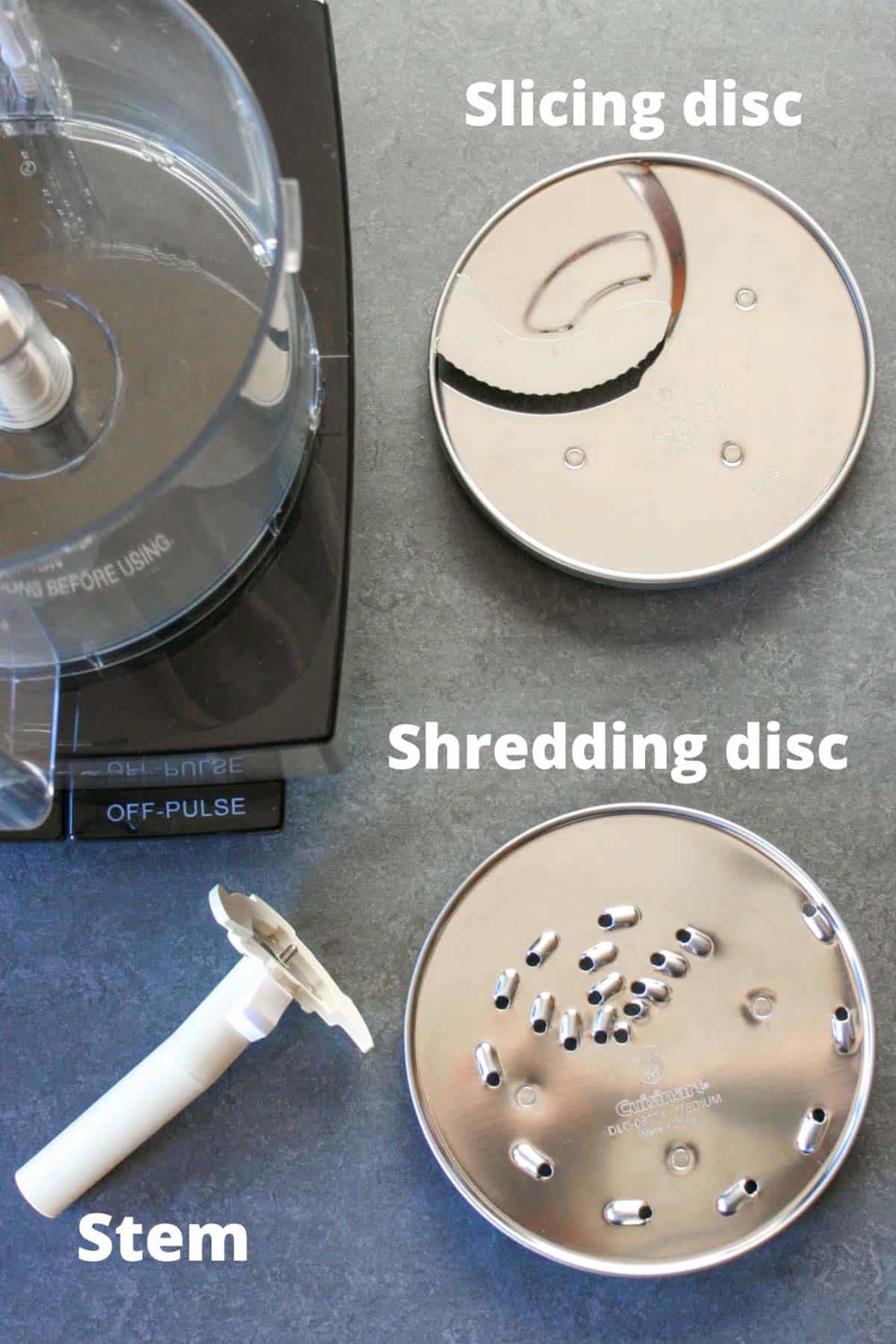 Personally, I like my leaves in longer shreds, as opposed to being finely chopped. But, this is just personal preference. The slicing disc is perfect for this.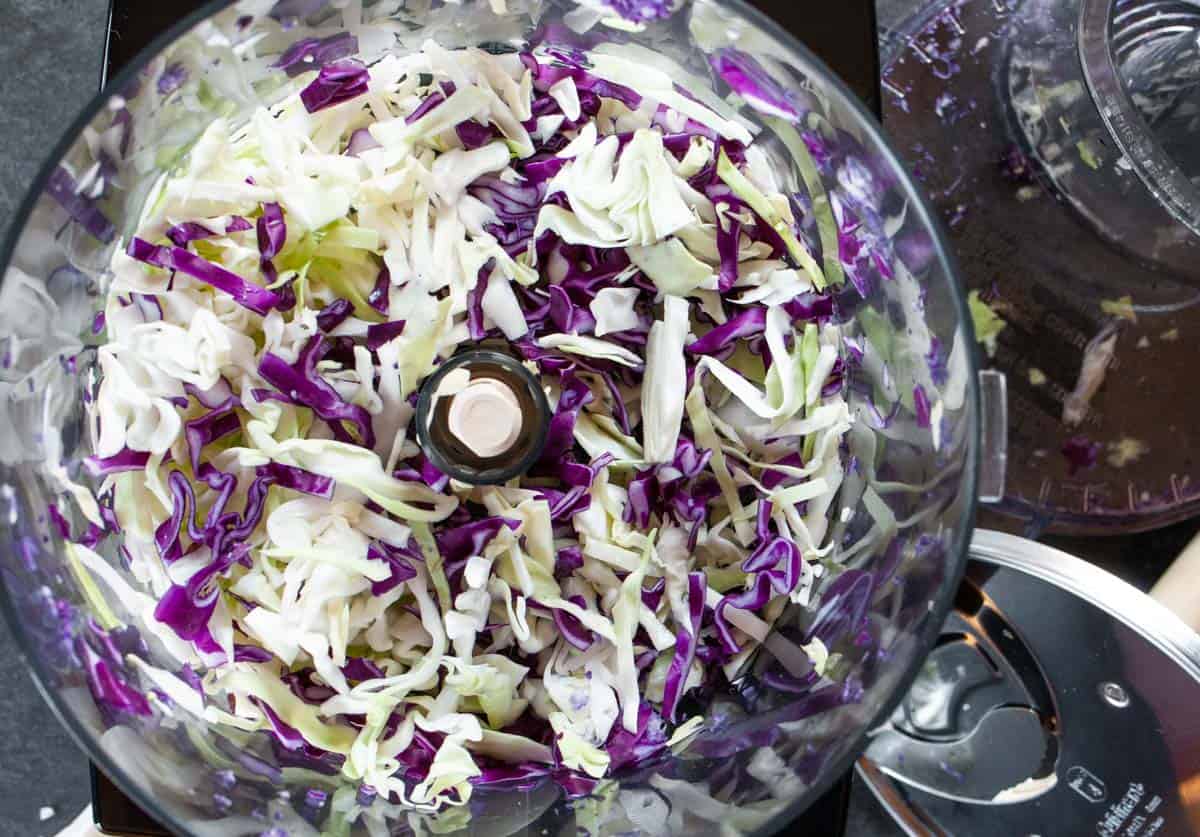 The slicing disc fits on the top of the food processor (using the stem attachment) rather than inside, like the S blade. It functions like a mandolin and is perfect for thin, uniform slices.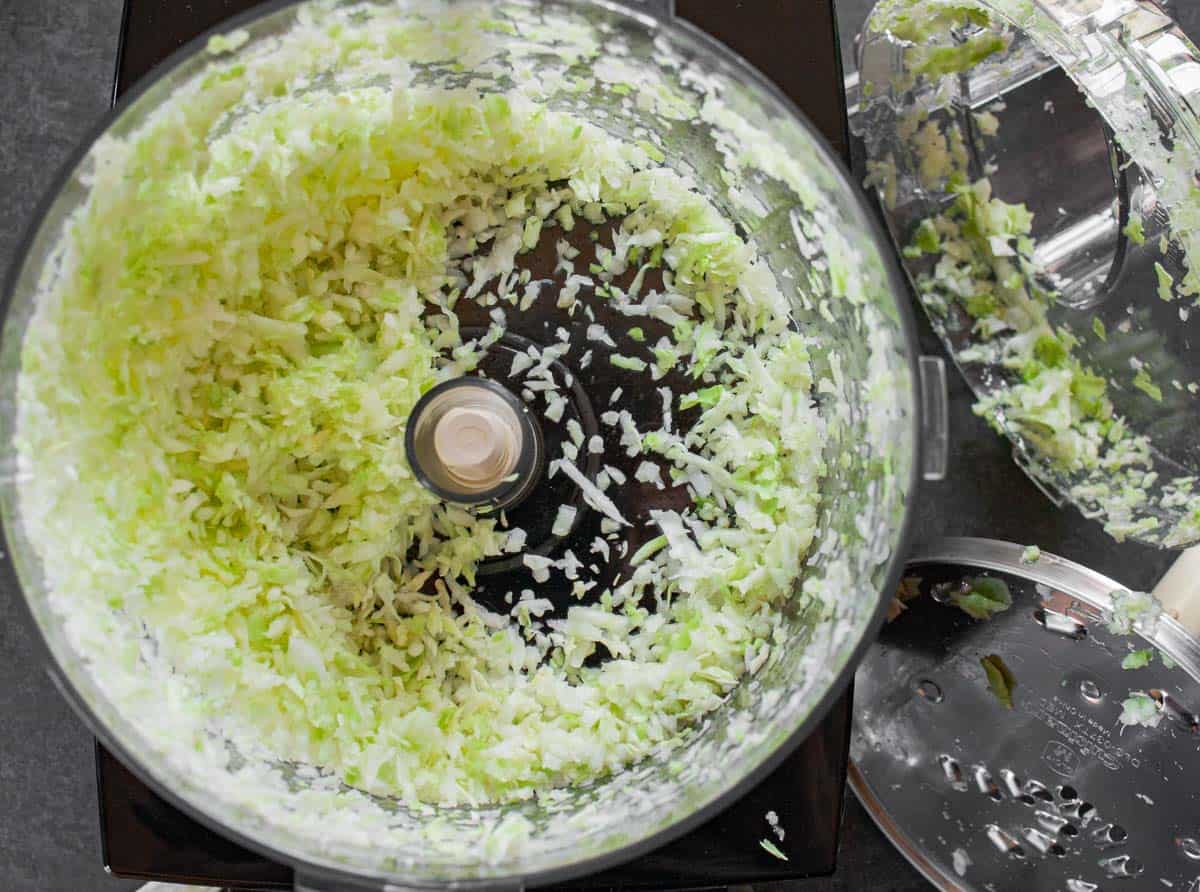 The grating disc also fits on the top of the food processor (using the stem) and produces very small, textured shreds. This is good for use in salads and is my favorite way to make my own shredded carrots, zucchini, broccoli stems and Brussels sprouts.
Using a knife
Leafy greens can be easily shredded using a sturdy, sharp chef's knife. If I'm not using my food processor, this is my second-favorite method.  It's very fast and easy, with little mess or clean up.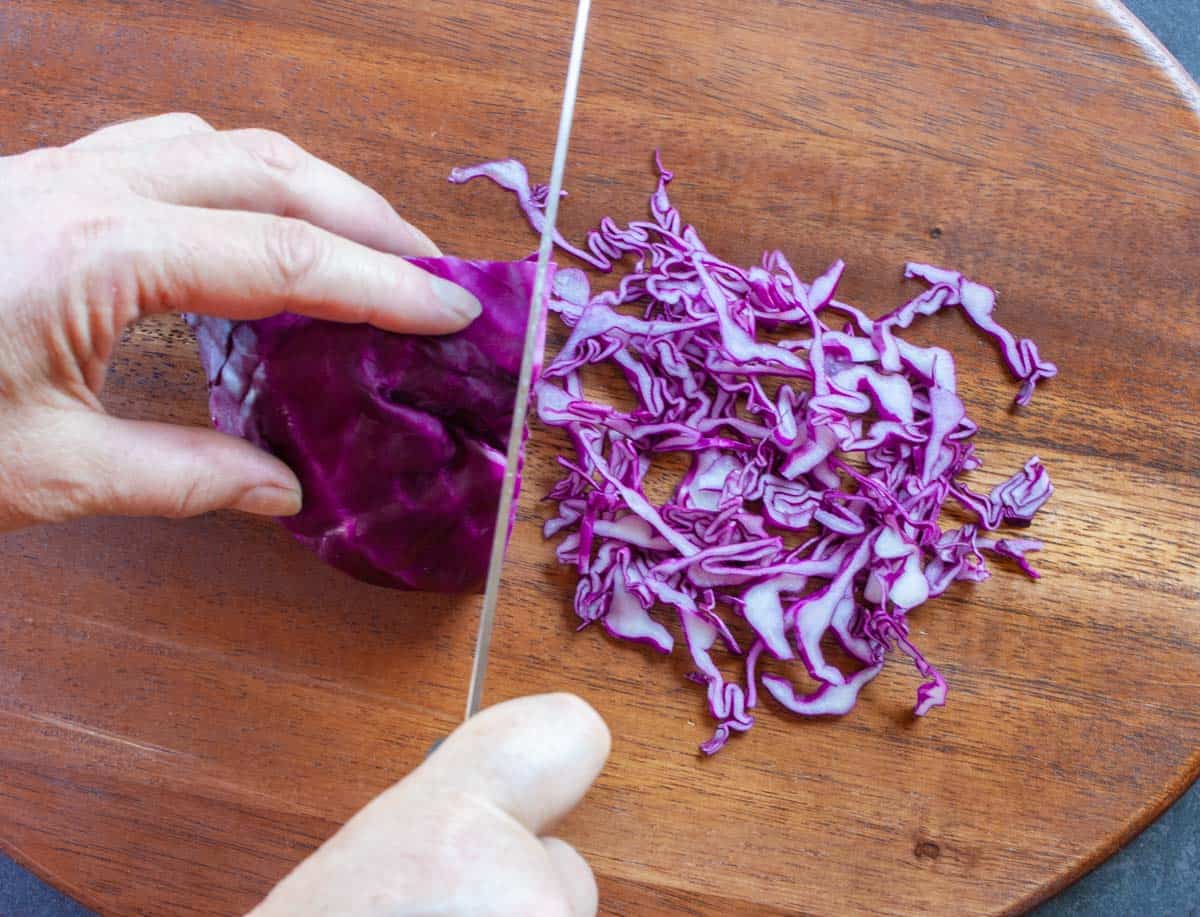 Place the quarters on a cutting board with the flat side down and cut into thin slices. The slices can then be cut width-wise to make smaller pieces.
Using a mandolin
Slicing with a mandolin is very fast, easy and yields very uniform pieces.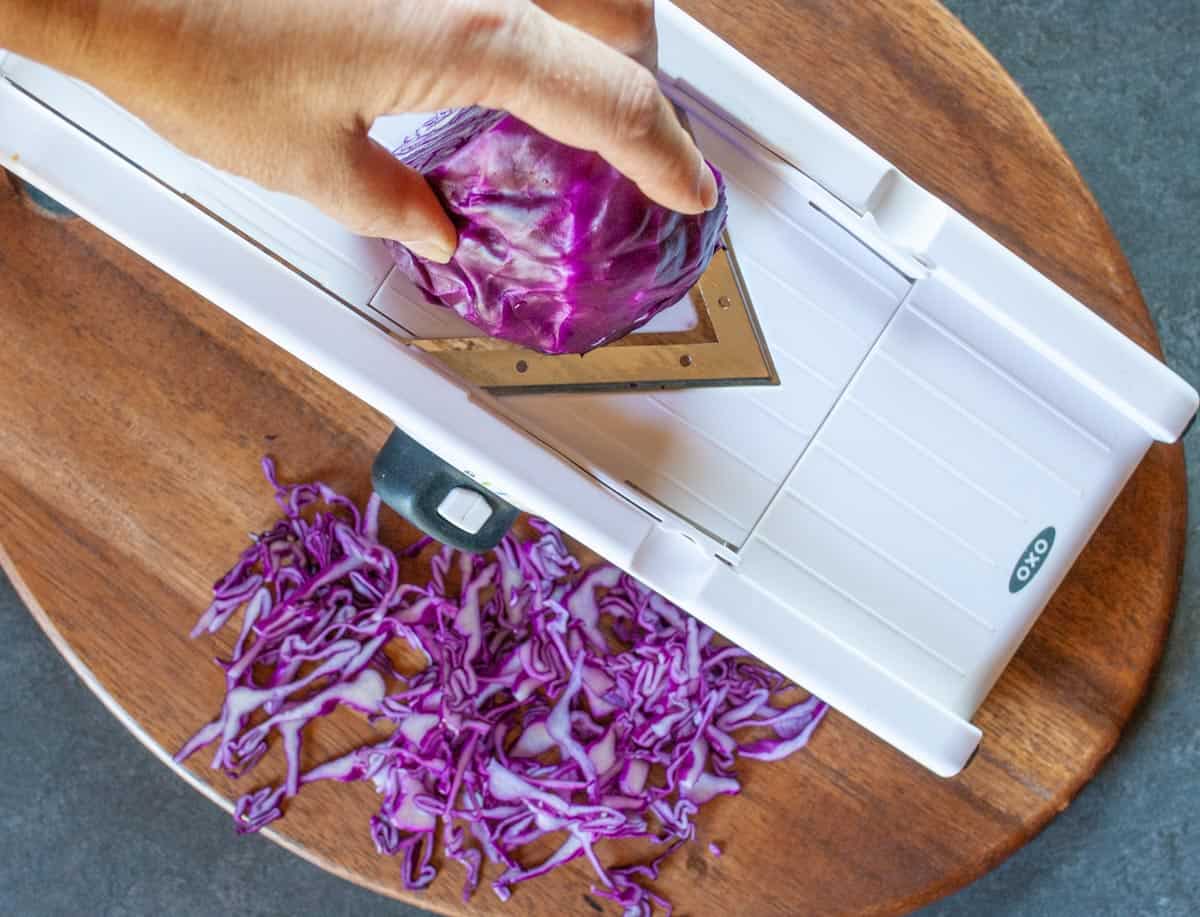 After selecting your desired thickness, run the flat side of the wedge along the mandolin.
Using a hand grater (or box grater)
While using a box grater isn't my preferred method, it is a useful tool for shredding cabbage. This tends to be a little more messy and challenging (in my opinion), and produces shreds of various textures.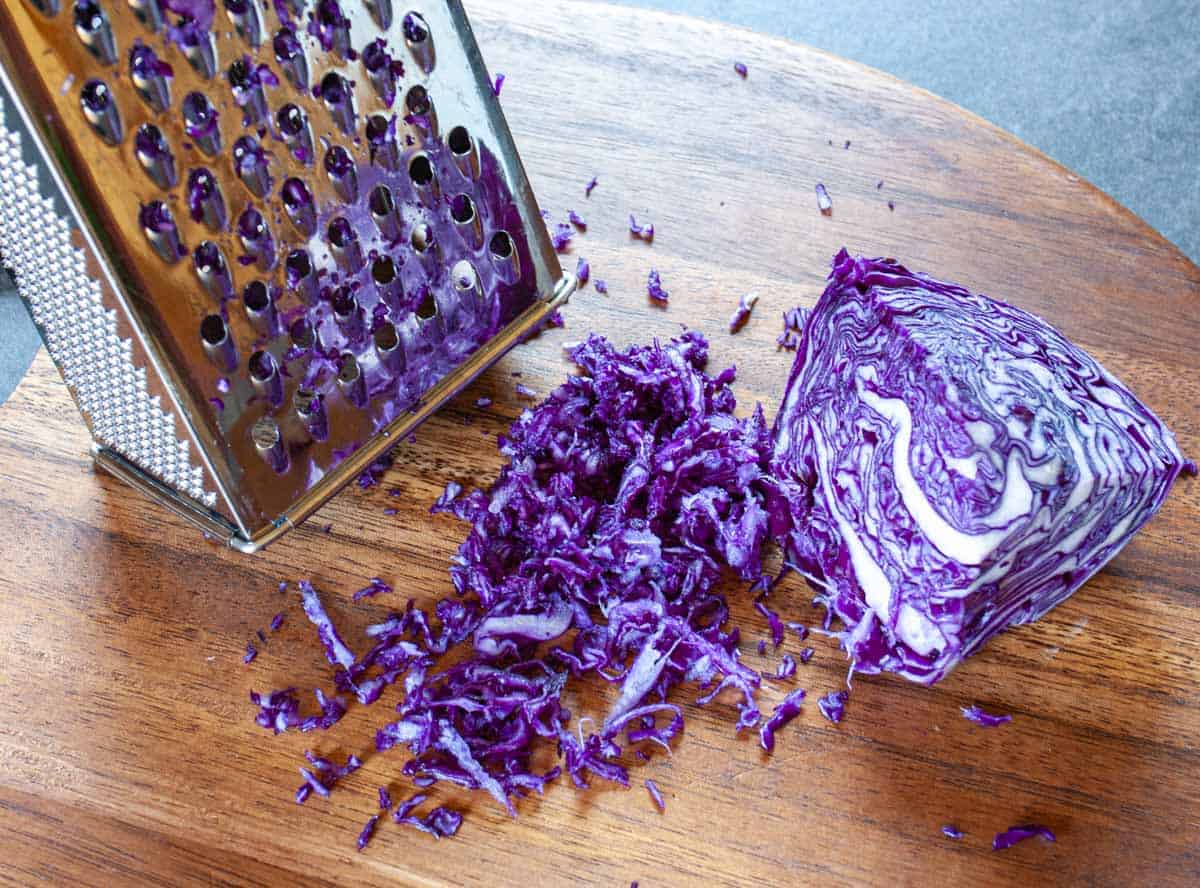 Use the large holes on the grater to get fine, textured pieces.
Storage
Place your shredded cabbage in a tightly sealed plastic bag or air-tight container and store in the crisper or coldest part of your fridge.  It should stay fresh for up to 5 days.
Try these recipes with cabbage
FAQ
How long does cabbage last?
If it's wrapped in plastic, a head will last up to a month in the fridge. Once cut, if it's tightly covered and refrigerated, it should last up to a week. Store tightly sealed in an air-tight container or zip-top bag and used within 5 days.
Can you eat cabbage raw?
Yes! This is a very versatile vegetable that is packed full of nutrients and can be eaten raw or cooked. It's been used for millennia, in a variety of dishes like coleslaw, sauerkraut and kimchi.
What's the best cut for coleslaw?
This is personal preference. Some people like their coleslaw in small shreds, while others like it finely chopped. There is no wrong way to cut or shred for coleslaw. Try different textures and decide what you like best!
What is the difference between grated vs. shredded?
A grated item will be very fine in texture, which tiny fragments. Shredding produces longer strips that are smoother and more uniform in size and shape.
How many cups of shredded cabbage do you get from a head?
Heads come in many different sizes, so this will vary based on the diameter of the head. One medium head makes about 8 cups.
Can you freeze cabbage?
Yes! In fact, freezing is a great way to preserve it for later use. Freeze the whole leaves, wedges or shreds. Check out the instructions in this post from The Kitchen Community for blanching and freezing techniques.
Is cabbage good for you?
Yes - it's one of the most nutritionally dense vegetables you can eat. It's unfortunate that it's so overlooked, as it has a very impressive nutrient profile. Eaten raw, it's high in vitamins K, C, B6, folate and minerals, such as manganese, calcium, potassium and magnesium.
This post contains affiliate links. As an Instacart and Amazon Associate, I earn from qualifying purchases.
📖 Recipe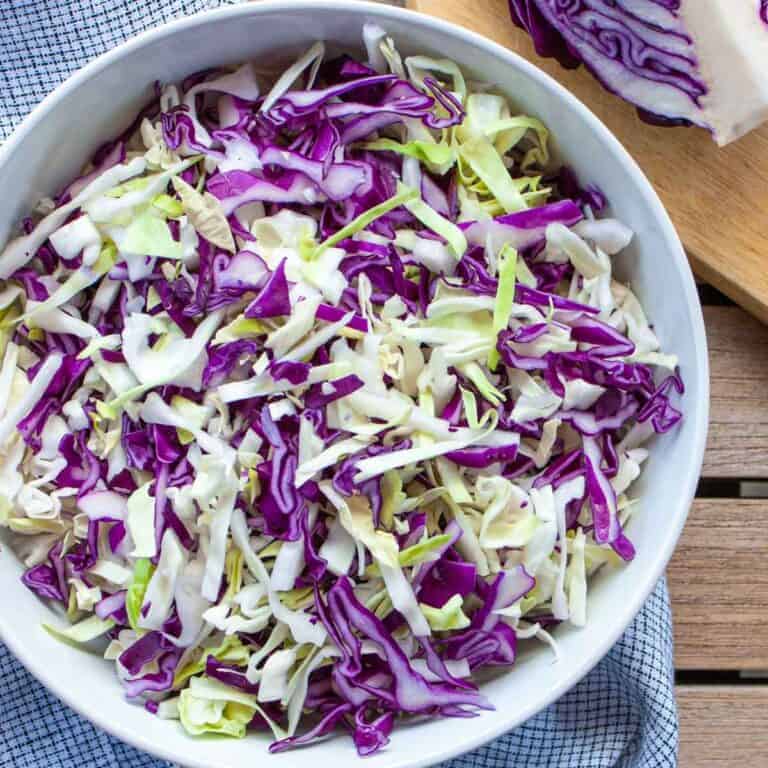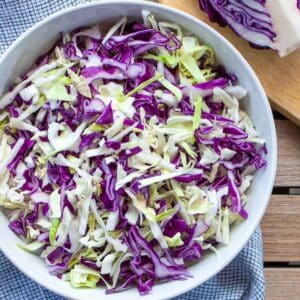 How to shred cabbage (food processor and by hand)
Shredding cabbage isn't difficult or complicated.  Learning to cut and shred your own, at home, is a fast and easy way to save money and add a healthy crunch to your recipes.  Try one of these methods for crisp, perfectly textured shreds to use in your next favorite dish.
Ingredients
1

head

cabbage

(red or green)
Instructions
Remove the tough outer leaves from the head.

Place the head on a cutting board and cut in half with a knife.

Put each half flat side down on the cutting board and cut in half again, making 4 wedges.

Cut the center core stem from each wedge at an angle and remove.

Process in your food processor, slice by hand using a knife or mandolin or grate with a box grater (see post for details of each method).
Notes
A full head of cabbage will stay fresh in the fridge wrapped in plastic (or in a plastic produce bag) for up to a month.
Chopped or sliced cabbage will keep for up to 5 days if kept in an air-tight container or zip-top bag.  It's best to store in the coldest part of your refrigerator or in the crisper drawer.
Nutrition
Serving:
1
cup
Calories:
34
kcal
Carbohydrates:
8
g
Protein:
2
g
Fat:
0
g
Cholesterol:
0
mg
Sodium:
12
mg
Fiber:
3
g
Sugar:
4
g
Net Carbs*:
5
g
*Net carbs = carbohydrates - fiber
Nutritional information is an estimate, calculated using online tools and does not include optional ingredients unless otherwise indicated.
Did you make this recipe?
Leave a review below, then snap a picture and tag @Rad_Foodie on Instagram so I can see it!