If you like pot stickers, you'll love these Homemade Asian Cabbage Rolls! They're delicious, easy and so fun to make. Seriously, they're one of my favorite low carb dishes!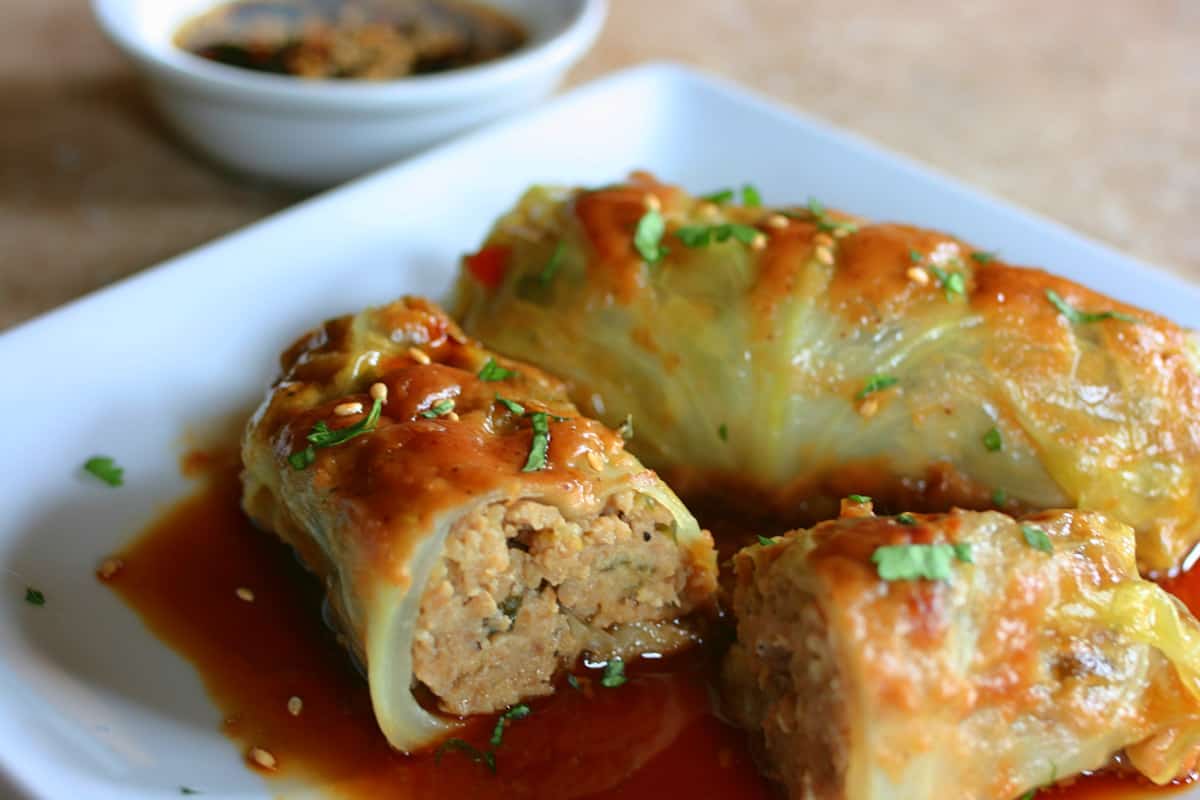 I really enjoy making recipes that I know my family and friends will love. Even kids that pinch their nose at the mere mention of cabbage will love these homemade Asian Cabbage Rolls. Recipes like this are put in regular rotation at our house. We grow our own cabbage, so we certainly need several recipes to use it up. No worries – I could eat this recipe on a daily basis. It's really that good. We never get tired of it.
Cabbage has become a favorite veggie of mine. It can be added to soups, grilled and of course, made into salad, like my Keto Coleslaw with Cilantro and Lime.
I like to use the Cannonball variety, simply because it's so versatile and it looks so beautiful in the garden.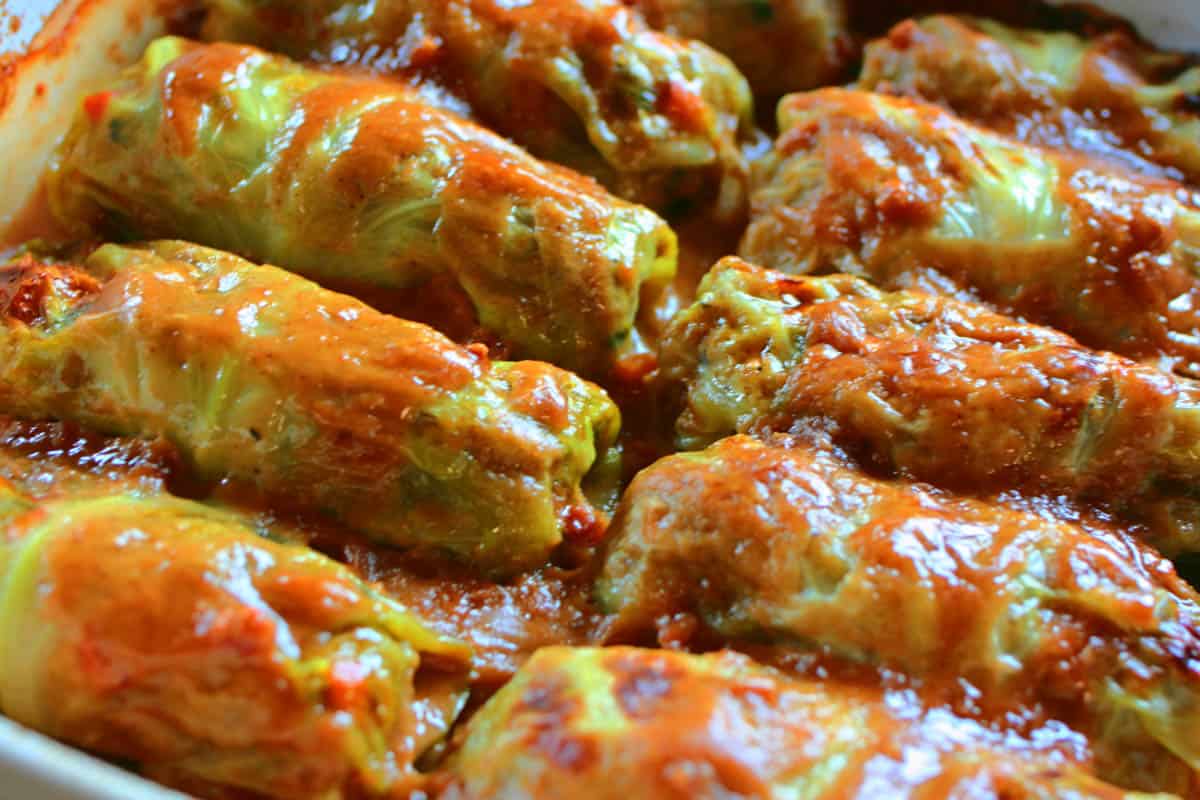 The cabbage roll origin story
I have to admit, this recipe was a bit of an accident. Originally, I added the ingredients to ground chicken to make meatballs. But the chicken actually had a considerable amount of retained water and the egg that I added made it too soggy. My meatballs fell apart in the pan, so I just mooshed it all together and made one big patty and topped it with sprouts, cabbage, scallions and peanut sauce. It was amazing and tasted just like pot stickers. Since I follow a ketogenic lifestyle and rarely eat wheat, I figured that cabbage would make fun 'pot stickers' I love it when I'm right.
How to make
Putting cabbage rolls together is super simple. Rolling them could be a fun activity for the whole family!
This recipe has a few steps, but actually takes very little time to prep. It entails boiling the cabbage and pulling the leaves off the head, sautéing the meat mixture and creating the rolls. Just before they head into the oven, top them with a simple peanut sauce.
Boiling the cabbage
When I first made this recipe, boiling a whole head of cabbage seemed a little intimidating. I'd never boiled a whole head of cabbage before and it made me just a teensy bit insecure. Silly me. It's so easy and totally fun!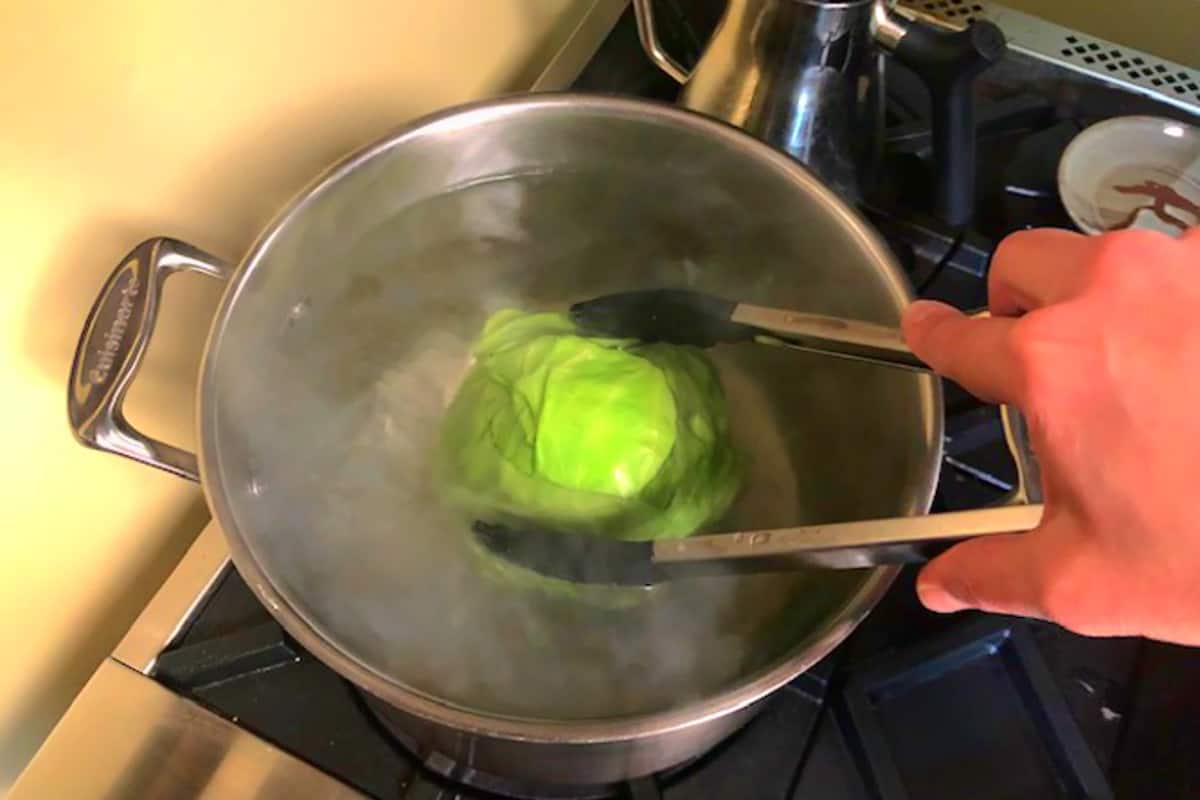 First bring a pot of water to a boil. Make sure it's enough to submerge the entire head of cabbage.
When it's boiling, gently add the head of cabbage to the water and boil for about two minutes. The cabbage might want to float to the top, so you may need to hold it down with tongs.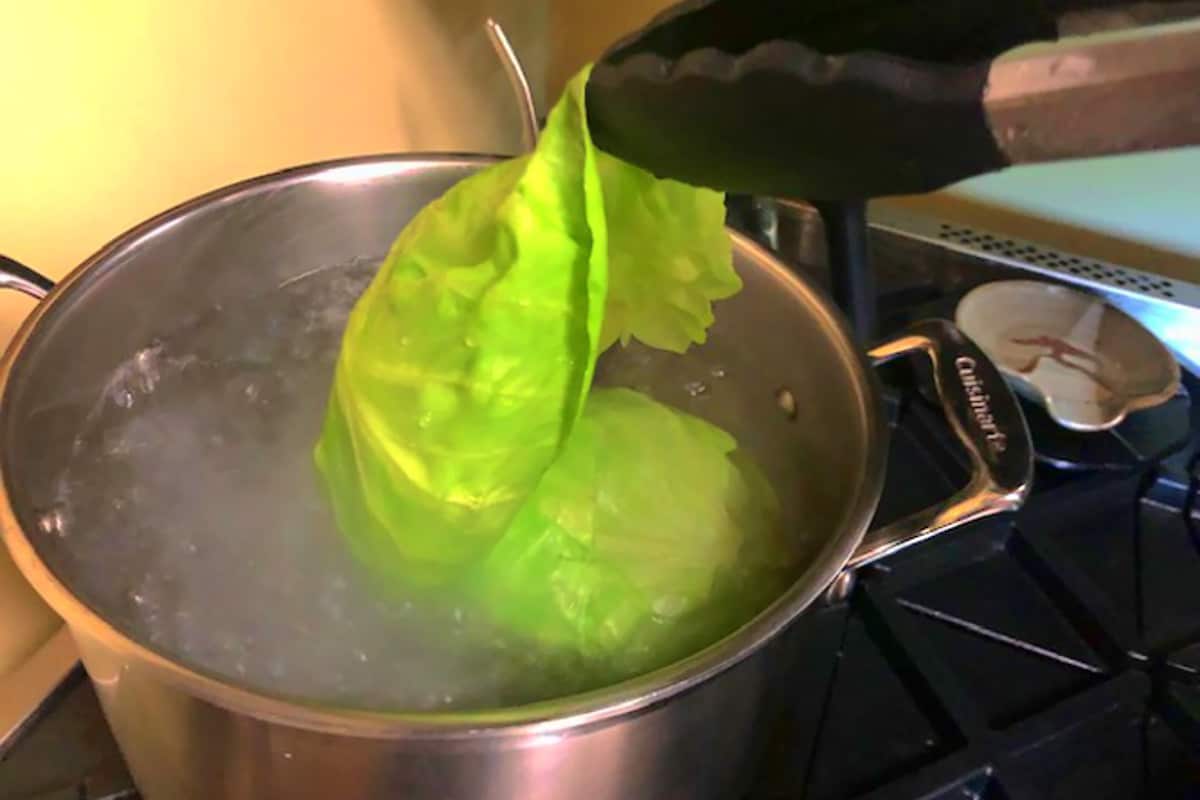 After 1-2 minutes, the leaves will be flexible enough to start pulling off the head. Using your tongs, gently start pulling off the leaves and place them on a plate.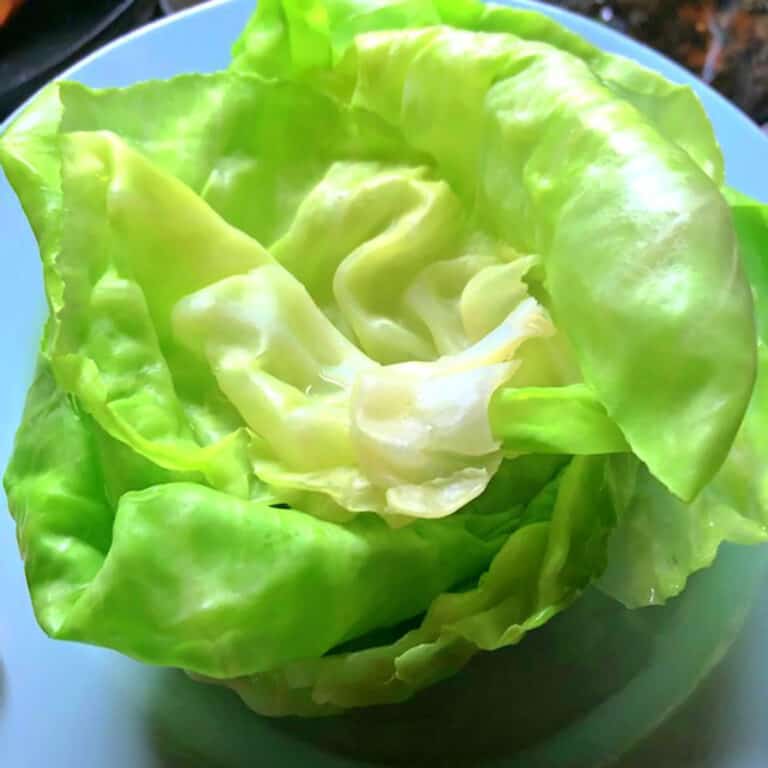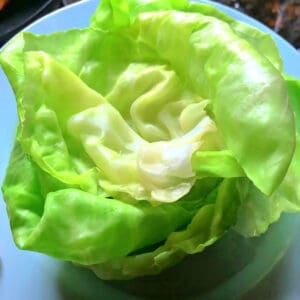 As you pull the top leaves off, the leaves underneath will release as the head continues to boil.
Keep peeling the leaves off until you reach the center of the head where the leaves would be too small to hold filling. Save the center and small leaves for another recipe (I like to make cabbage noodles from these).
What kind of meat to use for the filling
You can really use any ground meat or poultry for this recipe. I used ground chicken, but you can certainly use pork, turkey, beef or even salmon!
Preparing the filling
Add the ground meat or poultry to a pan that has been oiled with about 1 tablespoon of toasted sesame oil.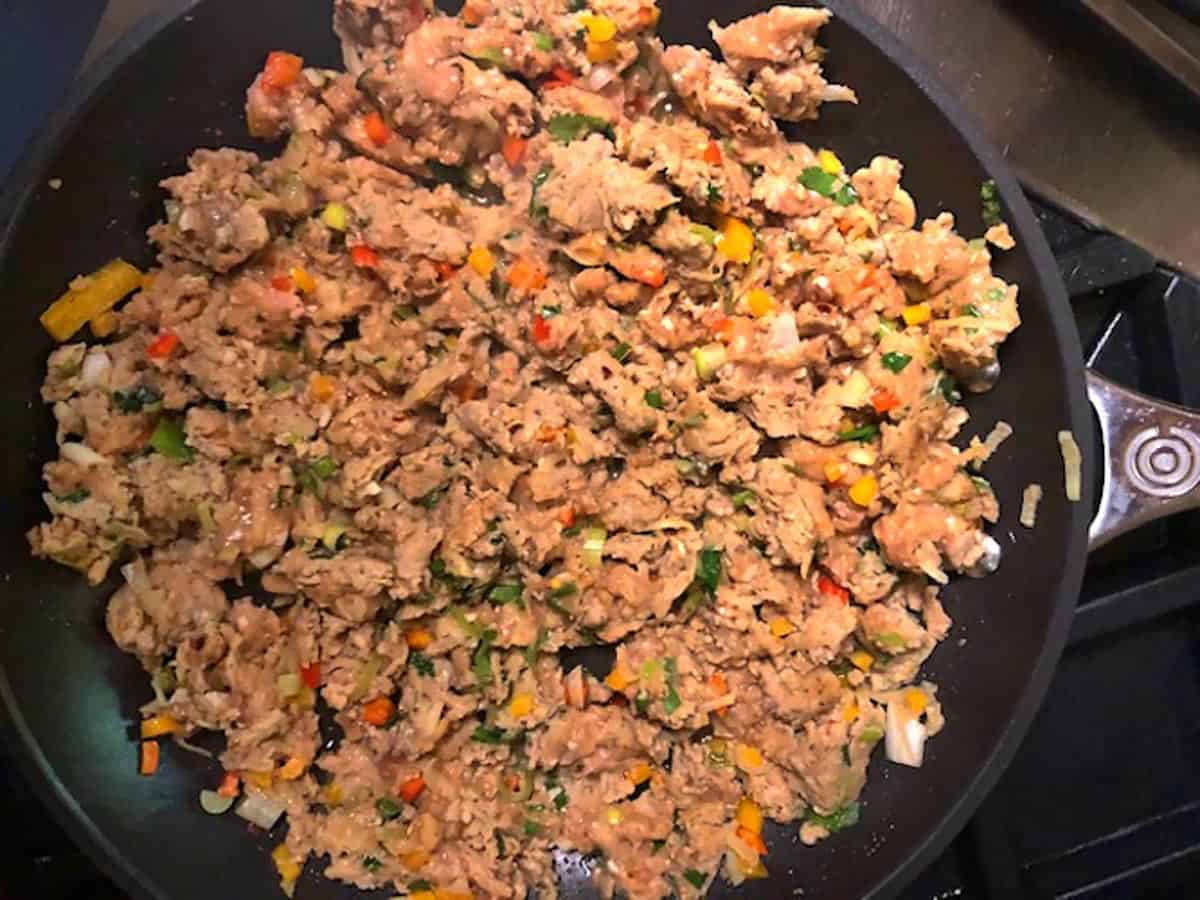 Add the remaining ingredients for the filling and sautee until thoroughly cooked.
Making the rolls
Oil a baking pan with about a tablespoon of toasted sesame oil.
Fill each cabbage leaf with about three tablespoons of the filling.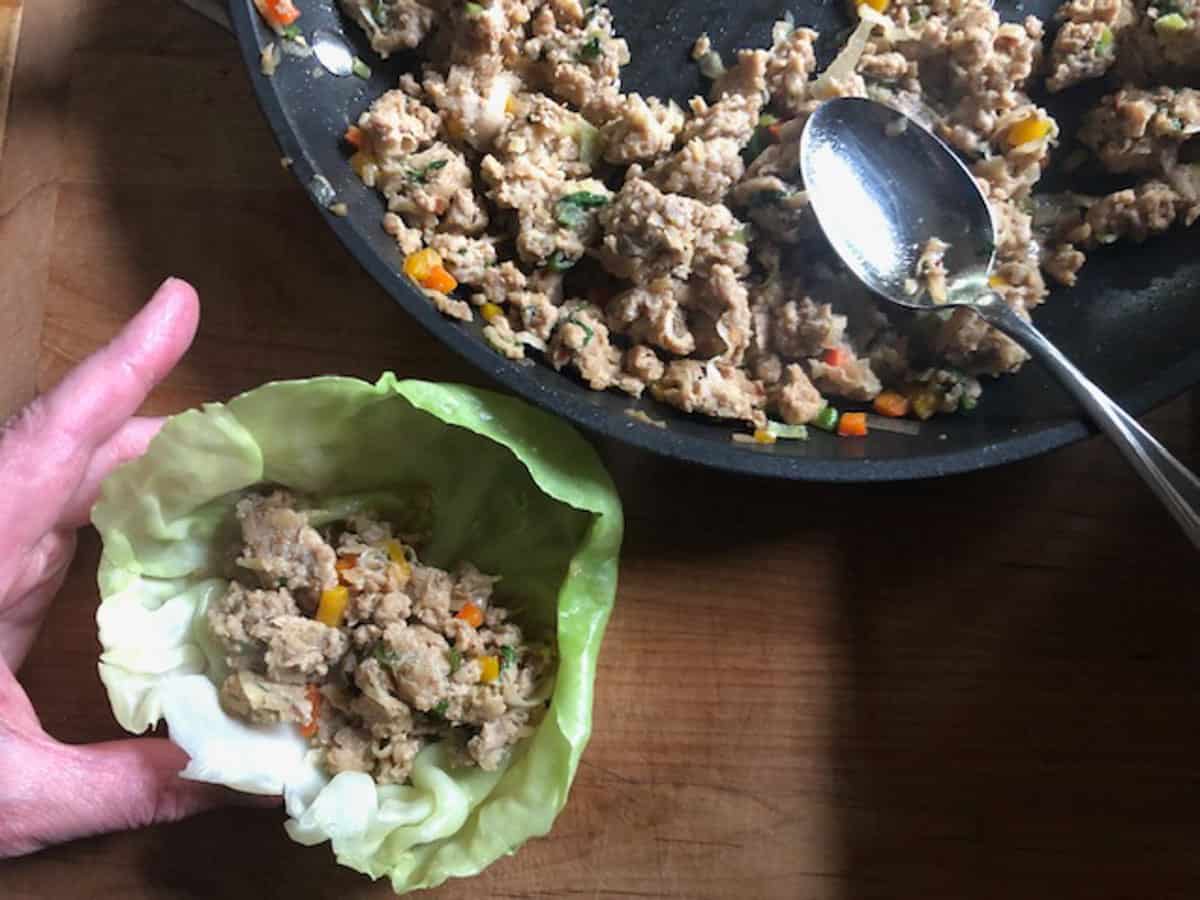 Roll the stem side first, fold in the sides and finish rolling. Place in the pan. Keep rolling until all the filling and leaves are used.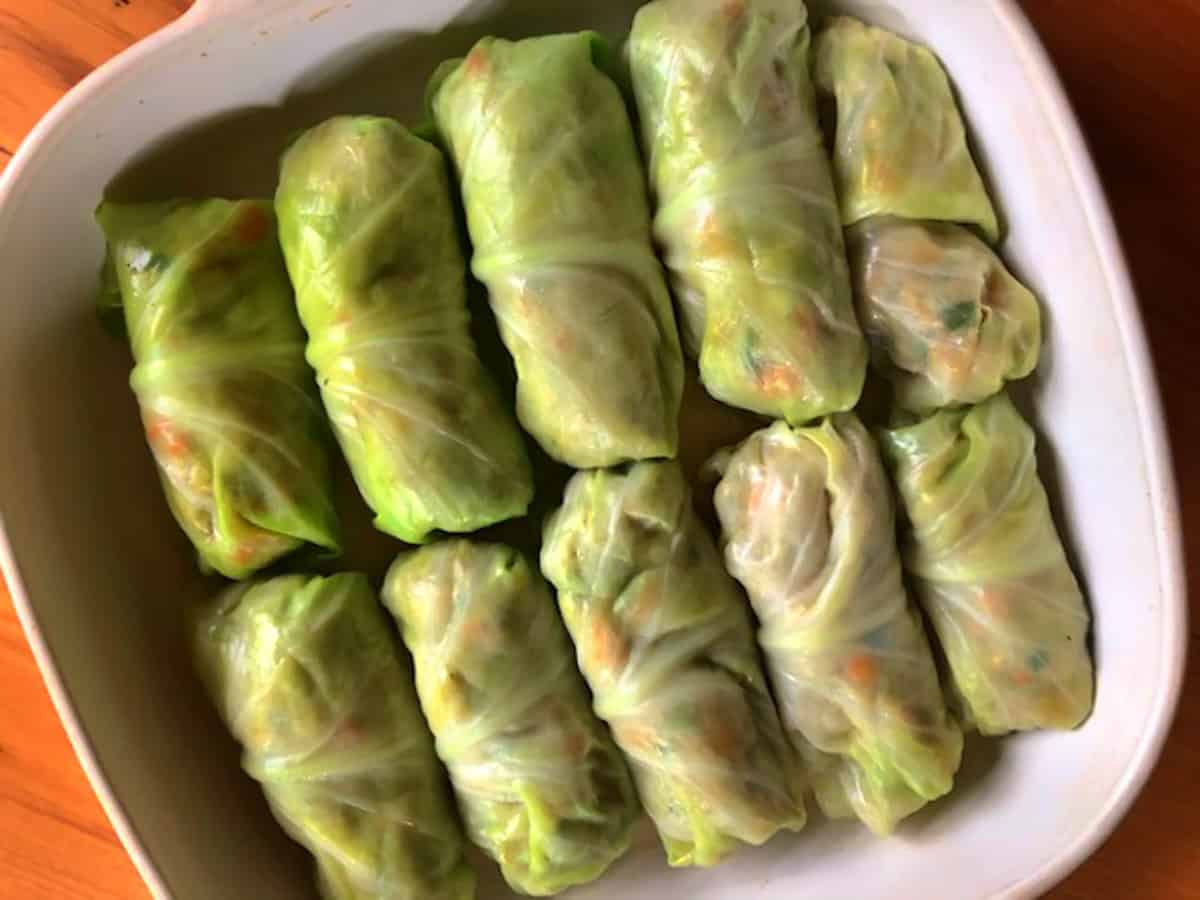 Mix together the peanut sauce and pour on top of the rolls.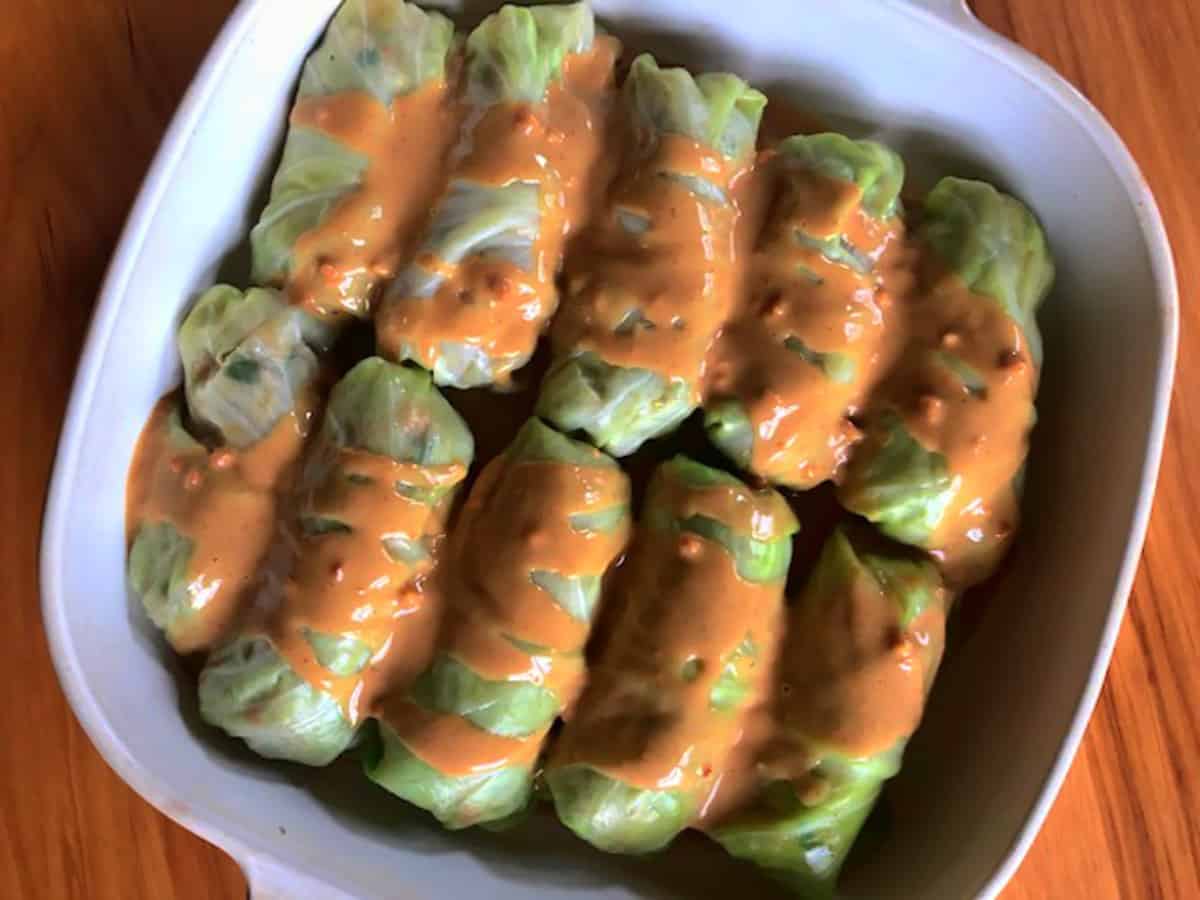 Cover and put them in a 375 degree oven for 30 minutes. Then remove the cover and cook them for another 15 minutes, until they become slightly golden on top.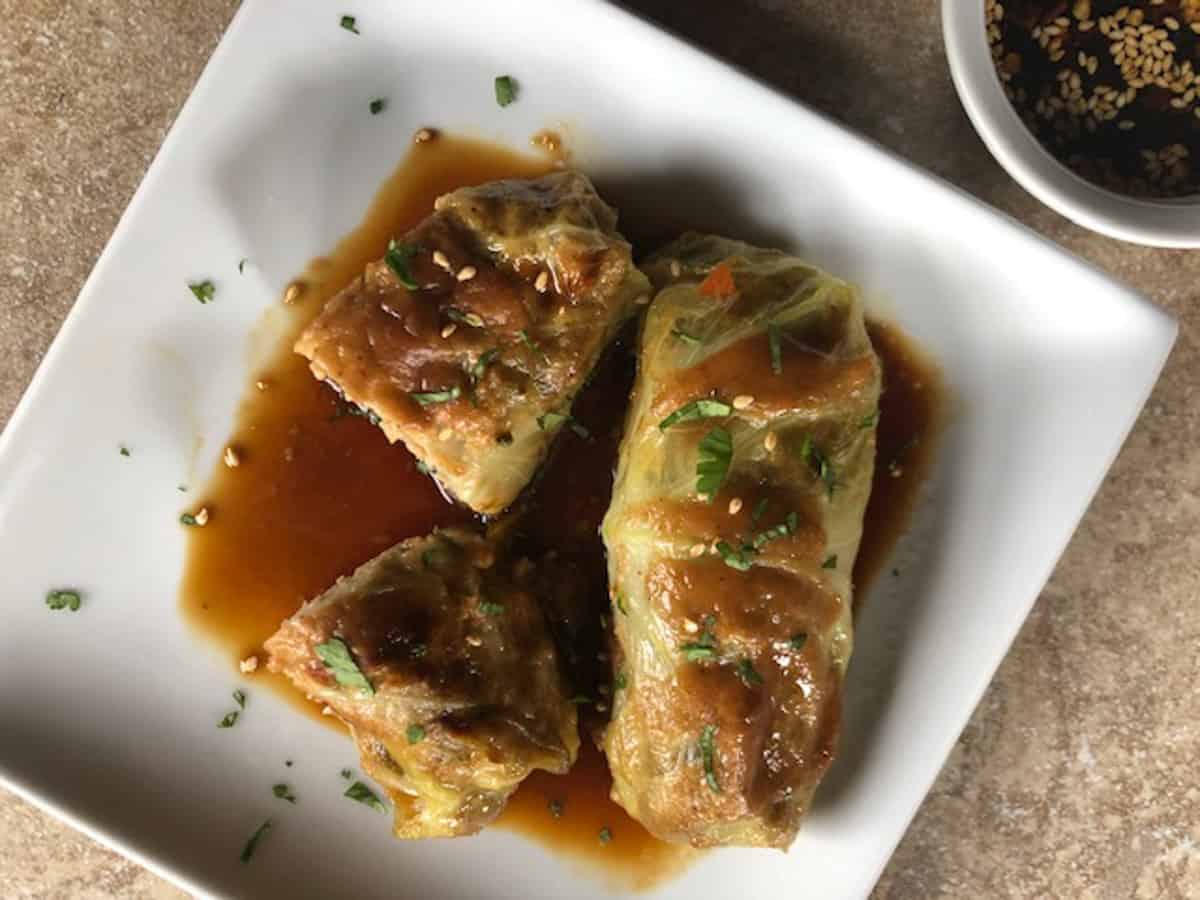 I like to serve them with a simple dipping sauce made from tamari, sesame seeds and red pepper flakes. Then I have to hold myself back from eating more than I should! Another great way to serve is on a bed of my Homemade Cauliflower Rice, especially if you follow a Keto diet.
Other recipes you might like
This post contains affiliate links. As an Instacart and Amazon Associate, I earn from qualifying purchases.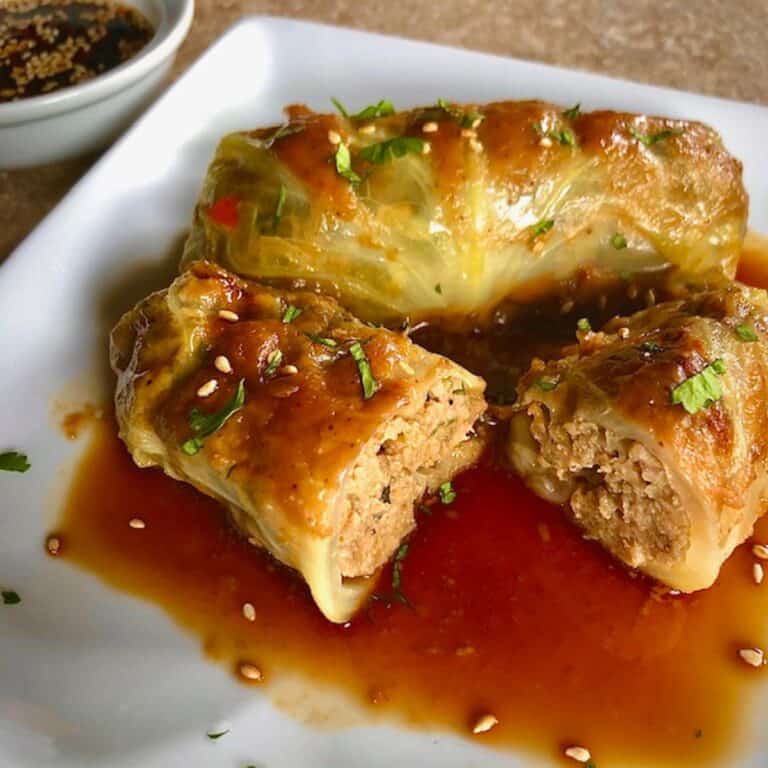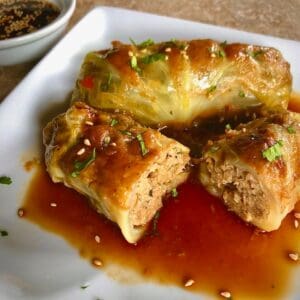 Homemade Asian Cabbage Rolls
If you like pot stickers, you'll love these Homemade Asian Cabbage Rolls! They're delicious, easy and so fun to make. Seriously, they're one of my favorite low carb dishes!
Instructions
Preheat oven to 350 F.

Boil a 2 pound cabbage for two minutes and pull off the leaves as it cooks (see post for specifics).  Save the small center leaves for another recipe.

In a

bowl

, combine the rest of the ingredients for the filling and mix well.

In a

skillet

, over medium heat, add about a tablespoon of toasted sesame oil.  When heated, add the meat mixture and sauté until cooked thoroughly.

Fill the cabbage leaves with about three tablespoons of the meat mixture.  Roll the stem side over the meat, then fold the sides into the center and finish rolling.  Line up in the greased baking pan.

In a

small bowl

, combine all ingredients for the peanut sauce and

whisk

together.  You may need to add more water depending on the brand of peanut butter you are using.  It should be fairly thin and pourable.

Once thoroughly combined, pour the peanut sauce over the cabbage rolls and bake covered for 30 minutes.

Uncover and bake another 15 minutes, until the rolls start to brown on top.

To plate, pour about 1 tablespoon of the dipping sauce on the plate, add the rolls, top with sesame seeds and chopped cilantro.

Dig in!
Nutrition
Serving:
2
rolls
Calories:
230
kcal
Carbohydrates:
12
g
Protein:
16
g
Fat:
14
g
Cholesterol:
51
mg
Sodium:
863
mg
Fiber:
5
g
Sugar:
6
g
*Net carbs = carbohydrates - fiber
Nutritional information is an estimate, calculated using online tools and does not include optional ingredients unless otherwise indicated.
Did you make this recipe?
Leave a review below, then snap a picture and tag @Rad_Foodie on Instagram so I can see it!