This keto bibimbap bowl has pretty much everything you could ever want, all in one meal. It has incredible flavor, color and texture and it's bursting with umami. While it may not be authentic, it's an easy version that will make your taste buds sing!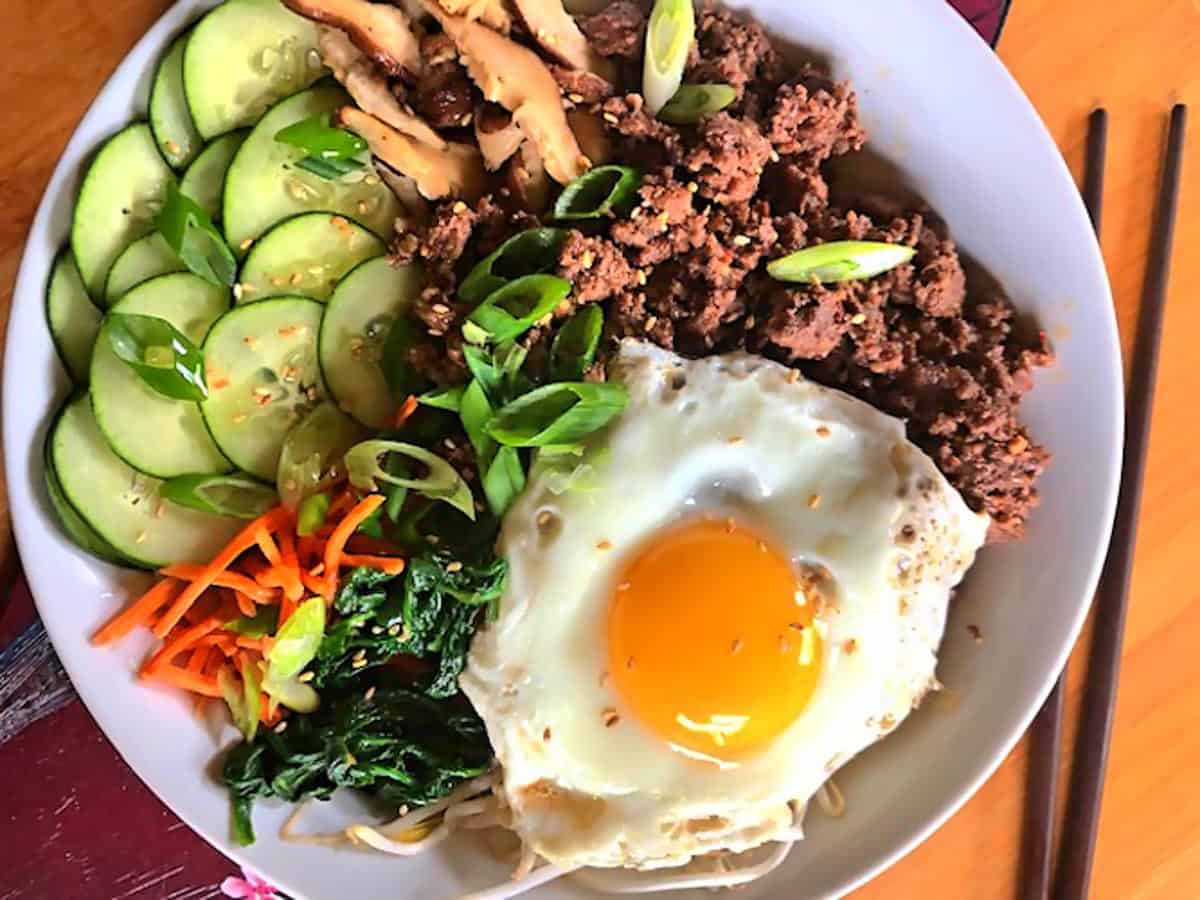 Bowl meals are so easy and are some of my favorite meals. They're so versatile, you can pretty much use whatever veggies and meat you have in your fridge. Serve it with a nice hot cup of Bamboo Leaf Tea.
Easy homemade keto bibimbap
While my version of bibimbap isn't authentic, I did what I could to pay homage to a dish that's served me well over the years.
For this version, I used a pound of ground chuck in my freezer. We had a hearty portion of chuck roll that we ground ourselves and made this fabulous, lean ground beef.
The veggies are essentially what I had in my fridge at the time. Unfortunately, I didn't have any kimchi or Korean peppers on hand, but I think this made an amazing bowl, just the same.
This dish is as simple as making a gochujang sauce for the beef, sauteeing some veggies, adding toppings and frying up an egg.
What is Gochujang?
There are many versions of this classic Korean ingredient. It has an incredible kick and unique depth of flavor.
Gochujang usually contains fermented soybeans, peppers, salt and sweetener. It tends to be super hot, so if you're buying some pre-made, check to see if there's some indication of the spice level.
While this isn't a traditional gochujang sauce, it does include ingredients that are easily found in your local grocery store. And, it's a quick and easy sauce that can be made in minutes.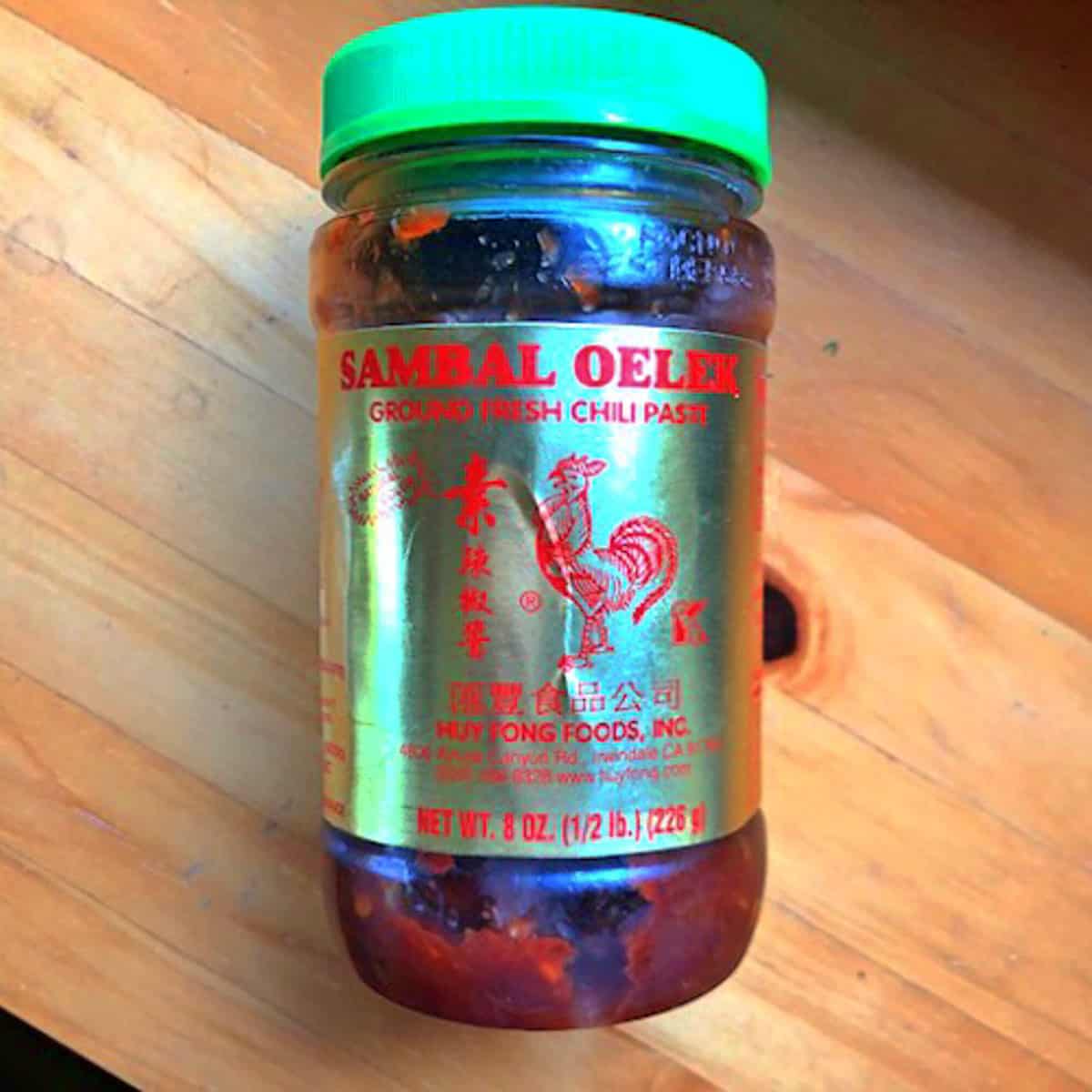 I happened to have this jar of Sambal Oelek in my pantry, just waiting for a recipe to come along. It doesn't disappoint. It's available in most stores and is quite inexpensive. It has a ton of other uses too, so it's a good ingred to keep around.
I tend to be a hot spice wimp. This gochujang sauce can be made as spicy as you'd like. I added enough heat for myself, but feel free to kick it up a notch and add some more (or less!).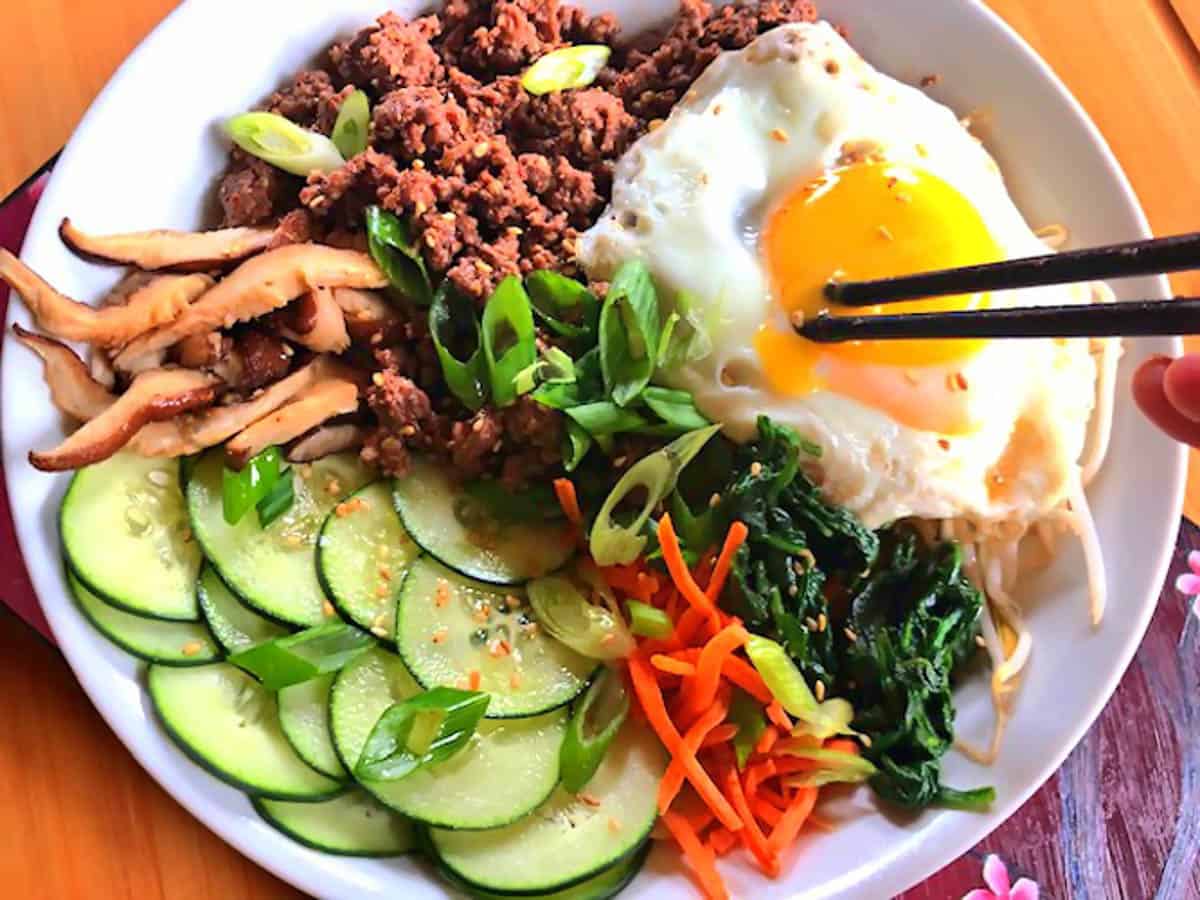 Customize your own bibimbap
This keto bibimbap bowl is a totally flexible dish! You can add more or fewer ingredients to your bowl. Try pickled veggies, kimchi, sautéed mushrooms (I like oyster), steamed or sautéed greens (like kale or collards), and serve it all up on a bed of shredded cabbage (visit my How to Shred Cabbage for easy instructions). I served mine on a bed of shredded iceberg lettuce.
Even though the bibimbap bowl looks complicated, I promise this really isn't! Is fast and easy and takes only about 30 minutes. And the leftovers are phenomenal – perfect for made-ahead meal prep. This dish is a good one to whip up a big batch for lunches for the week. Just hard-boil the eggs instead of frying and pack it all up for simple 'to-go' meals.
Let me know what you add to your bibimbap bowl! Comment below or post a pic and tag me on Instagram!
Other recipes you might like
This post contains affiliate links. As an Instacart and Amazon Associate, I earn from qualifying purchases.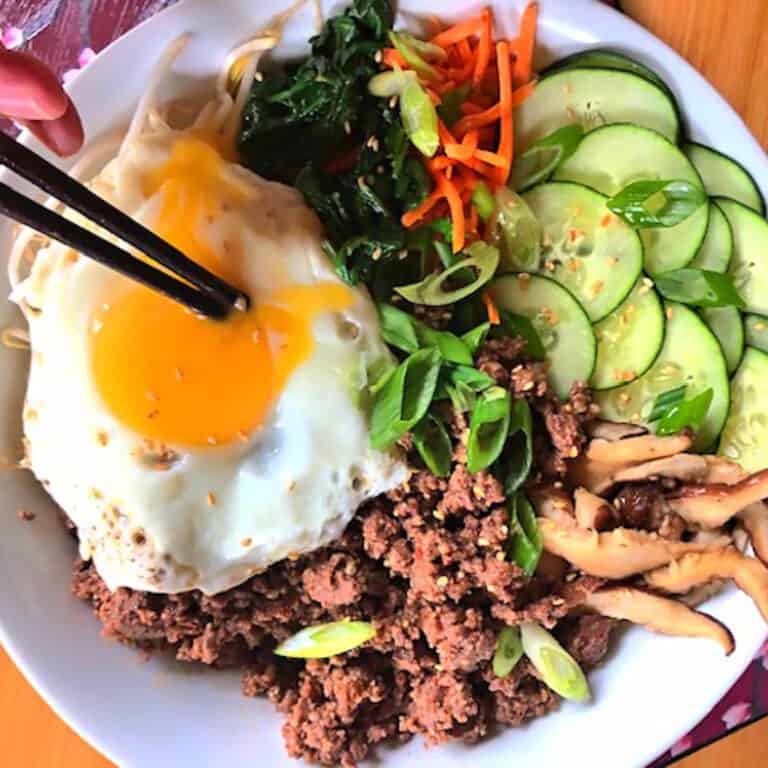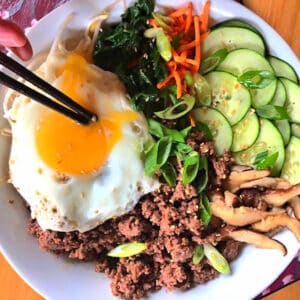 Keto Bibimbap Bowl – The Ultimate Meal
This meal has pretty much everything you could ever want, all in one bowl. It has incredible flavor, color and texture and it's bursting with umami. While it may not be authentic, it's an easy version that will make your taste buds sing!
Ingredients
Instructions
To prepare
In a medium bowl, combine all ingredients for the gochujang sauce and whisk until thoroughly combined.

In a large skillet, heat 2 tablespoons of sesame oil and swirl to cover the skillet. 

Add the first vegetable you would like to sauté, sprinkle with a pinch of salt and garlic powder (if using).

Sauté for a few minutes and remove to a plate.

Add each vegetable in this way, one at a time and set aside on the plate.

In the same skillet you used to sauté the veggies, add two more tablespoons of sesame oil and swirl to coat the skillet.

Add the ground beef.  Stir until well dispersed in the pan and add the gochujang sauce.

Cook until fully browned.

Thinly slice the cucumber, carrot and scallion and any other optional fresh vegetables you are using.

Fry or soft boil one egg for each bowl you will be immediately serving.  If prepping meals for another day, cook the egg fresh each day or make sure the pre-cooked eggs are hard boiled.
To build the bowls
Place about 2 cups of shredded lettuce in each bowl, followed by ¼ of the ground meat and ¼ of the sautéed veggies.

Add some cucumber, sliced carrot, any other toppings used, the cooked egg and sprinkle with green onions and sesame seeds.

There are no rules or specific measurements for each ingredient you use in the bowl.  You can divide the ingredients evenly or in any way you choose!
Notes
Optional toppings
kimchi, cabbage, mung bean sprouts, crispy shallots, pickled vegetables, sautéed mushrooms
If there's any sauce that is still in the pan from the ground meat, drizzle that over the bowls.  It's amazing!!
Nutrition
Serving:
1
serving
Calories:
488
kcal
Carbohydrates:
8
g
Protein:
35
g
Fat:
33
g
Cholesterol:
263
mg
Sodium:
900
mg
Fiber:
3
g
Sugar:
4
g
Net Carbs*:
5
g
*Net carbs = carbohydrates – fiber
Nutritional information is an estimate, calculated using online tools and does not include optional ingredients unless otherwise indicated.
Did you make this recipe?
Leave a review below, then snap a picture and tag @Rad_Foodie on Instagram so I can see it!