A DIY pumpkin spice seasoning is a perfect way to save money by using spices you probably have in your spice cabinet. Make your autumn recipes for pumpkin season with an easy spice recipe to use in pumpkin pie, breads and more. And, this recipe uses low-FODMAP spices and is AIP compliant!
Autumn is the season for pumpkin spice everything! Get ready for your happy fall baking marathon with rich spices and warm goodies with this simple recipe for your own homemade spice blend. When pumpkin season hits, I love using this mixture for everything from pumplin spice lattes, Pumpkin Porridge with Maple Pecan Syrup (a great keto and low-FODMAP breakfast) to keto pumpkin pie – a traditional Thanksgiving dessert staple. And, don't forget it's perfect for a FODMAP-friendly Pumpkin Bread that is low-carb and keto.
What is pumpkin pie spice?
This recipe is a blend of 5 common spices (or 4 if you follow the autoimmune protocol) that is traditionally used in pie and other baked goods. It often includes warming herbs and spices, but does not include pumpkin as an ingredient.
Why is it called pumpkin pie spice?
In the 1950s and 60s, McCormick and other brands began marketing a spice blend called 'pumpkin pie spice' or 'pumpkin spice' to save people the time and effort of combining the single herbs on their own. It's become a pantry staple and a common ingredient in many popular holiday recipes.
Why you'll love this recipe
Easy to make at home – it takes just a few minutes to whisk together
Saves money – it's much cheaper to make your own homemade blends, rather than buying a jar at the store
You know exactly what's in it
Scale the batch up or down to fit your spice jar
Modify the ingredients to your tastes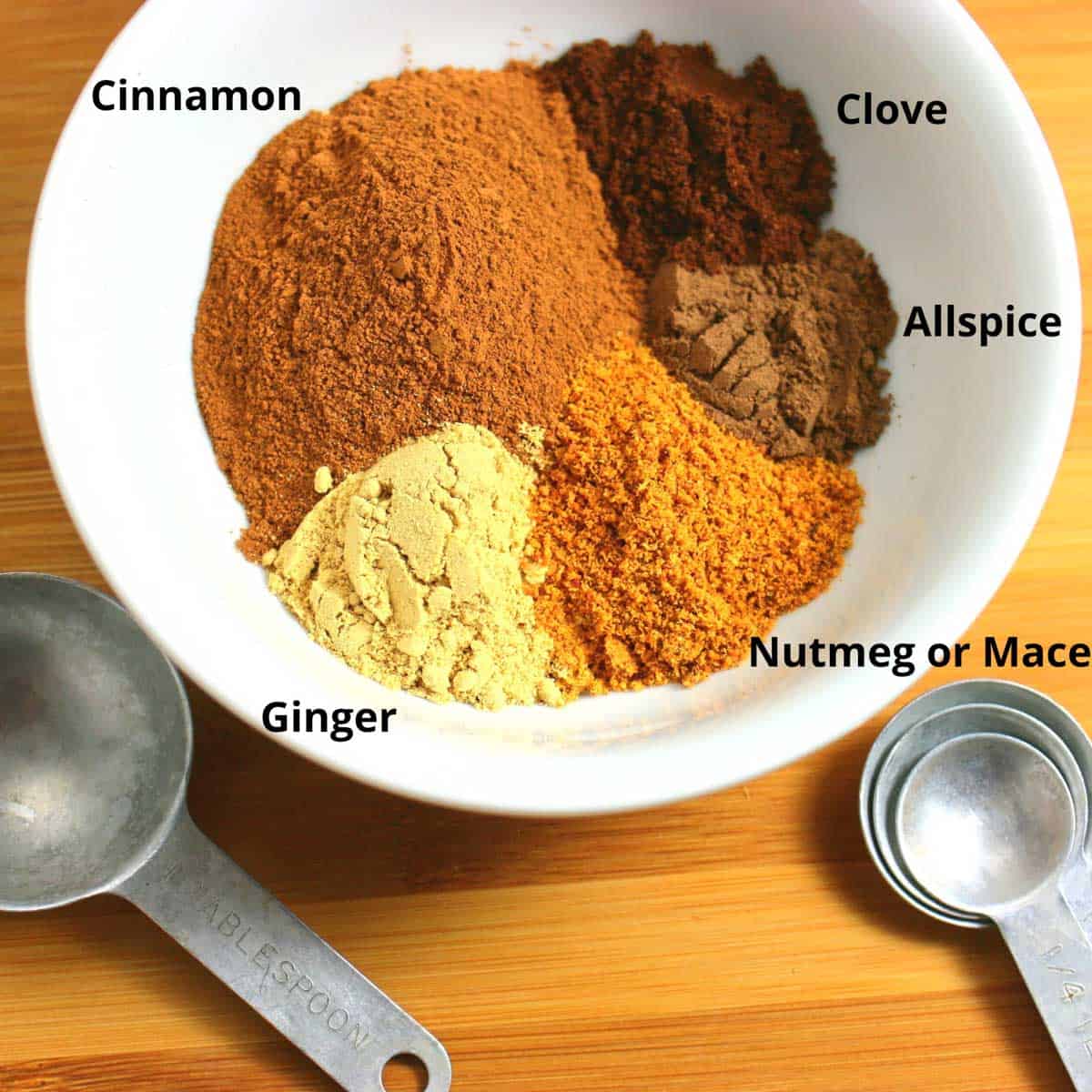 Ingredients
You don't need a store-bought pre-made blend when you can use basic ingredients you probably already have in your pantry:
Cinnamon – considered the main ingredient
Nutmeg or mace – either work beautifully. Mace is a bit stronger and more pungent, but is very similar to nutmeg.
Allspice – has a very complex flavor
Clove – Just a few pinches add a spicy, earthiness
Ginger – creates brighter, almost citrusy notes
Is pumpkin spice low-FODMAP?
Yes! Add this to your list of low-FODMAP seasonings! This recipe includes all low-FODMAP spices.
AIP pumpkin spice blend
All of your AIP desserts with pumpkin are in for a treat! For those following the Paleo Autoimmune Protocol, it's easy to keep this spice mix strict AIP, with no seeds or berry spices. Simply eliminate allspice and replace nutmeg with mace.
What is mace spice?
Mace is a lacy outer membrane that encircles a whole nutmeg seed. Removing and drying the outer layer produces mace. Its flavor is very similar to nutmeg powder, just slightly more pungent, peppery and less sweet. You can typically use nutmeg and mace interchageably in recipes.
I like to use mace in my Keto Eggnog recipe, and as an optional addition to Corned Beef Meatballs with Horseradish Mustard Sauce and Keto Colcannon with Rutabaga.
Mace spice as an ingredient has no relationship to mace pepper spray used for self defence.
What is allspice?
Allspice actually comes from a berry, known as myrtle pepper. It is a single, very versatile ingredient that has both sweet and savory notes.
It is often considered as a whole bunch of spices mixed together, which is a common misconception.
In recipes that call for pumpkin spice, allspice can be used as a pumpkin pie spice substitute.
Try adding a pinch in savory stews, breads or muffins or even with meat, for a warm, global flavor.
I like to use allspice in my Low-FODMAP Taco Seasoning and Low-FODMAP Seasoning for BBQ, as well as Keto Barbeque Seasoning. You can also use it as a seasoning in salad dressings - give this Lebanese Fattoush Salad a try.
Directions
Simply stir them together and you're ready to bake!
If using whole herbs, place all of the ingredients in a spice grinder and grind until they are a fine powder.
TIP: If you don't have powdered ginger, don't add fresh ginger to the mix. In most recipes, fresh ginger can be used separately. Crushing the ginger into a paste or finely chopping with provide the same flavor. You can also try adding a small amount of ginger juice to recipes – just make sure you cut back on other liquids used.
Uses
You can use this blend in any recipe that calls for pumpkin spice.
If you have a recipe that calls for multiple ingredients including cinnamon, ginger, clove and similar spices, you can replace the total of those spices with the same amount of this blend.
Here are a handful of delicious ways to use these spices:
How to store
To keep the aroma and flavor of spices as long as possible, store your dried herbs and spices in a cool, dry place, out of direct sunlight. Store in a container with a tight fitting lid.
It's best not to store spices over the stove, as the heat will cause them to deteriorate faster.
Spice jars come in many shapes and sizes. Most people like to store them in clear containers because they're nice to look at. While this is fine to do, they may not last as long as if they were in solid colored containers. Light and heat affect both whole and ground spices.
Glass containers for spices tend to be better than plastic. Plastic tends to be porous and allows a small amount of air into the container, slowly damaging spices. Spices stored in glass last much longer than those stored in plastic.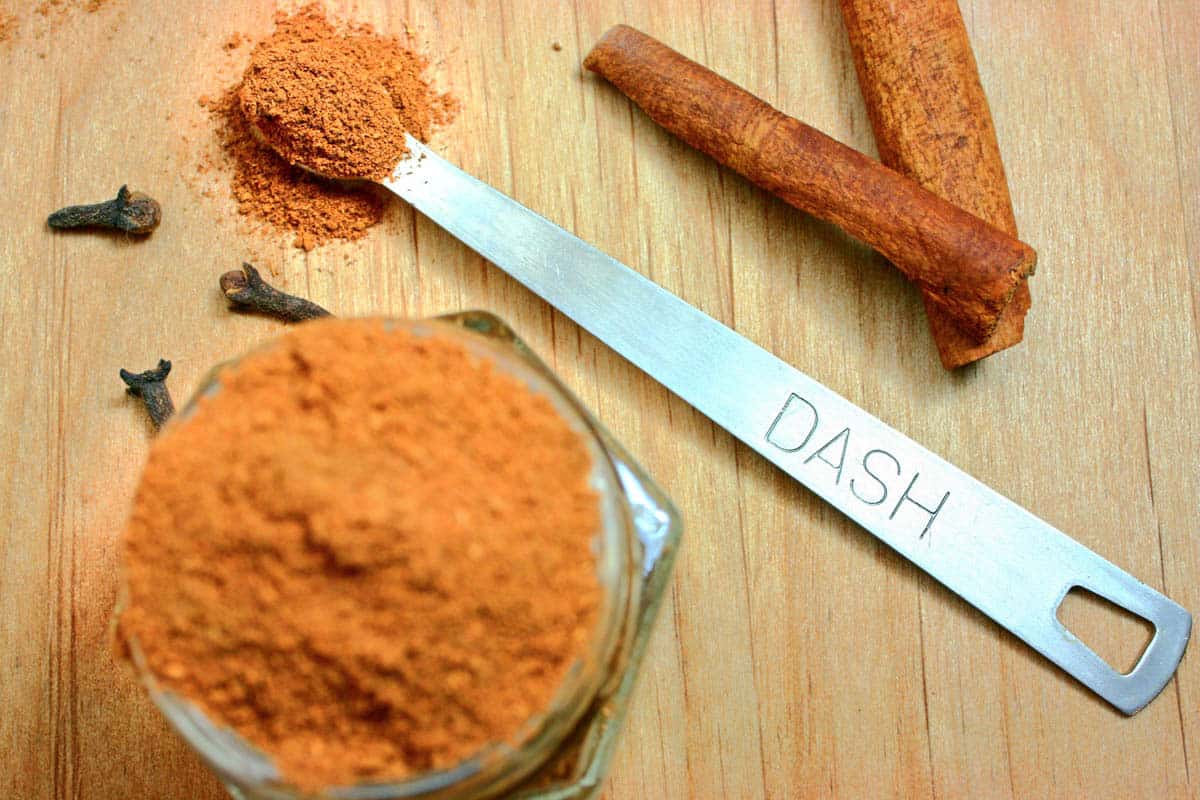 Pumpkin pie spice substitute
If you need that fall flavor in your recipe and don't have all of the ingredients to blend your own, you can use the spices you have on hand, even if its just one or two. Any blend of cinnamon, allspice, nutmeg, mace, clove, ginger or even cardamom work well together. If I don't have a blend already handy, I will often only use allspice, which works wonders on its own.
For each teaspoon of pumpkin spice, use ½ teaspoon cinnamon, ¼ teaspoon ginger, ⅛ teaspoon nutmeg or mace, ⅛ teaspoon allspice and a pinch of clove.  Of course, these can always be adjusted according to personal taste.
FAQ
Pumpkin pie spice vs apple pie spice – what is the difference?
There is a slight variation in ingredients.  Apple pie blend often includes cardamom and eliminates clove.  Pumpkin spice almost always includes cloves, but does not include cardamom.
Does cinnamon go bad?
Really, does cinnamon expire? Like other spices, ground cinnamon can last up to 2-3 years if stored in a cool place, in a tightly closed container.  However, over time, it will lose its aroma and flavor.  If still light and powdery, it could still be used, you would just need to add more.
How long do spices last?
How long spices last often depends on how they are stored. Generally, if stored properly in a tightly closed container, ground spices last up to three years.  Whole spices tend to last a bit longer, up to four years.  The best way to evaluate the freshness is to smell them.  If they have lost their aroma or are clumpy, then throw them away.  If you think it may have gone bad – if it just doesn't look or smell right - it's always best to toss it.
Is pumpkin spice healthy?
These warming spices are not only a delicious addition to sweet and savory recipes, they are actually quite good for you!   All of the spices used have health benefits.  Most have anti-inflammatory properties, contain antioxidants and can aid in digestion.

Making your own blend ensures your mix is sugar-free and gluten-free.  You can also be sure it is paleo friendly, Whole30 compliant, keto friendly and is a perfect low-FODMAP seasoning.  It can also be easily modified for the AIP diet.
Let me know how this recipe works for you in the comments! I'd love to know what treats you've baked!
Other recipes you might like
This post contains affiliate links. As an Instacart and Amazon Associate, I earn from qualifying purchases.
📖 Recipe
How to Make Pumpkin Spice Seasoning
A DIY pumpkin spice seasoning is a perfect way to save money by using spices you probably have in your spice cabinet.  Make your autumn recipes for pumpkin season with an easy spice recipe to use in pumpkin pie, breads and more.  And, this recipe uses low-FODMAP spices and is AIP compliant!
Instructions
Combine all ingredients in a small bowl and mix together.

Store in a tightly sealed small jar or container.
Notes
This spice blend will last up to 3 years if tightly sealed. However, I like to only make as much as I think I'll use during the winter months, when I tend to use these warming spices the most!
Nutrition
Serving:
1
tablespoon
Calories:
19
kcal
Carbohydrates:
3
g
Protein:
0
g
Fat:
0
g
Cholesterol:
0
mg
Sodium:
3
mg
Fiber:
1
g
Sugar:
0
g
Net Carbs*:
2
g
*Net carbs = carbohydrates - fiber
Nutritional information is an estimate, calculated using online tools and does not include optional ingredients unless otherwise indicated.
Did you make this recipe?
Leave a review below, then snap a picture and tag @Rad_Foodie on Instagram so I can see it!