This easy keto eggnog is so creamy and is the perfect holiday drink, served hot or cold. Make this silky beverage using powdered or raw egg yolks, warming spices and raise a cup of holiday cheer!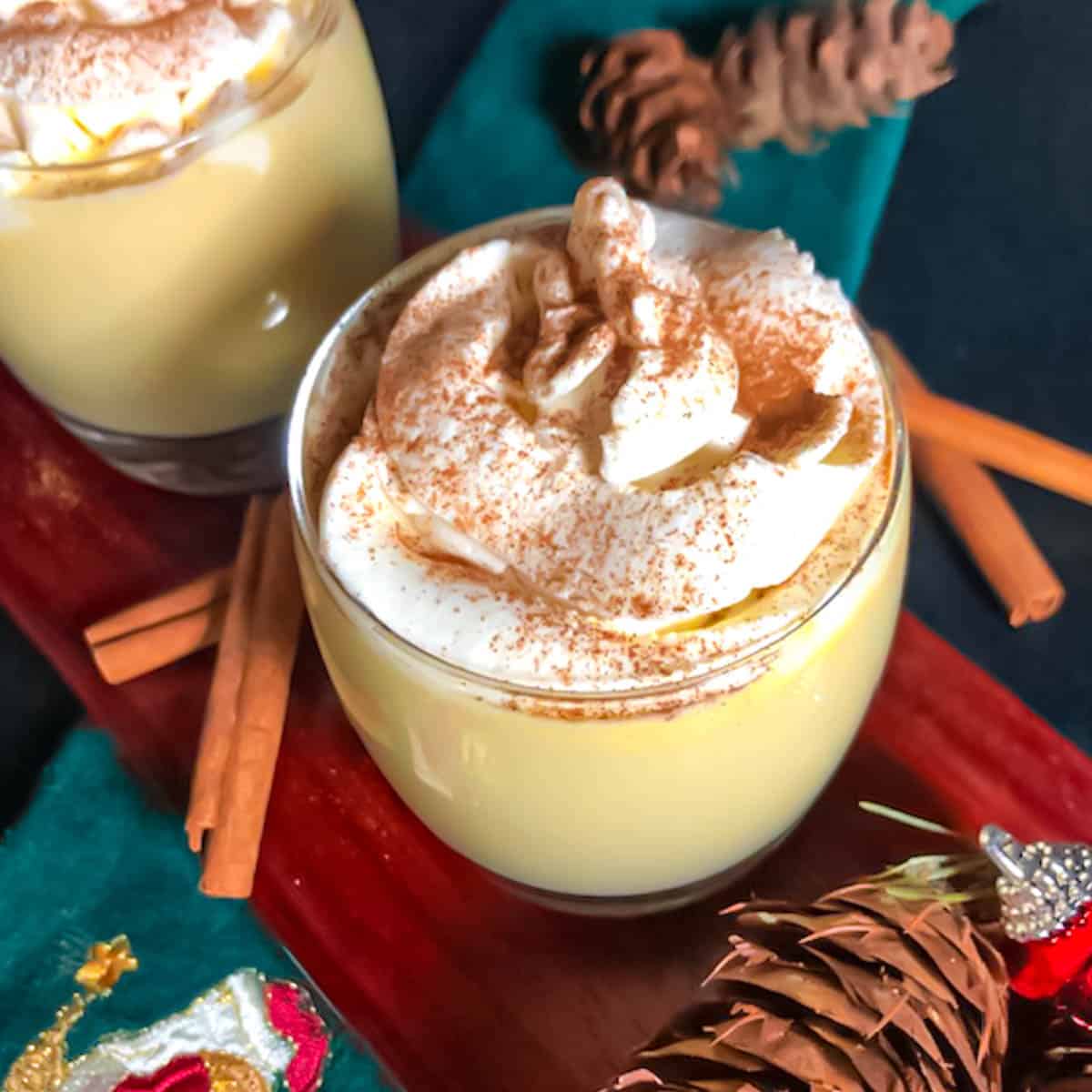 I don't think any holiday party or New Year's Eve celebration is complete without a little glass of velvety, rich eggnog. This sugar-free eggnog recipe is so sweet and luscious, it's perfect on its own, but it does make a perfect keto cocktail (boozy eggnog, anyone?) when spiked with a little something.
Traditional, store-bought nog calls to me from the shelf every holiday season, but I've found it's always just a little too sweet. And, the high carb content is certainly enough to kick you out of ketosis. So, I've created a keto nog with variations to make it a paleo or low-FODMAP drink, using low-FODMAP spices.
I love serving this alongside some Low-carb Pumpkin Bread or with a Deep Dish Browned Butter Chocolate Chip Cookie. And, you can top it with some Sugar-Free Whipped Cream and sprinkle with a little Keto Pumpkin Spice.
Why you'll love this recipe
It's a simple, two-step recipe that takes only 5 minutes on the stove
This makes a thick, rich, creamy, sugar-free eggnog
Variations include (see below): how to make chocolate eggnog and making dairy-free and nut-free variations
This recipe is low-carb keto, FODMAP-friendly and paleo
Eggnog is a great keto fat-bomb! Since it's made with heavy whipping cream or full-fat coconut milk, it's very satisfying!
What is eggnog?
Eggnog is a sweet 'milk punch with eggs', like a loose custard, and is traditionally served chilled, with alcohol. It's suggested that this drink originated in Britain from a drink called 'posset', which was made from milk curdled with wine or ale and spices. Eventually, it became a drink that contained both milk and eggs and was served with brandy or sherry. It was very often used to toast good health and prosperity, which may be why it is now a symbol for the holidays.
Even though the word 'nog' refers to a strong beer, the word may originate from the word 'noggin', which is a wooden mug used to serve alcohol.
Commercially prepared eggnog often contains less cream and egg than homemade, relying on gums and other thickening agents to produce a creamy texture. Many brands also add natural and artificial flavorings and colors (not to mention, a lot of sugar) to make a flavorful, bright yellow beverage.
Making eggnog at home is not only healthier, but is an impressive, wholesome, festive drink to serve to guests – without all of those unnecessary ingredients. Homemade is definitely better!
Ingredients
Making a festive, low-carb eggnog calls for a few traditional ingredients and a low-carb sweetener. Here's a list of ingredients you'll need:
Powdered vs raw egg yolk
Even though this is a gently cooked eggnog, you can substitute the raw egg yolk with powdered egg yolk.
Never heard of powdered egg yolk? It's awesome to keep around for so many reasons (like making scrambled eggs or quiche) but they're perfect for this recipe. And, you don't have to worry about using leftover egg whites or contracting food-borne illness, as powdered egg yolks are pasteurized, alleviating the risk of illness from harmful microbes.
If using raw egg yolks for the egg mixture, make sure the eggs are not cracked or dirty. If there is any debris on the shell, be sure to wash them before use. Do not use eggs if they have small cracks. Cracking allows bacteria (such as salmonella or E. coli) to enter the egg, leading to potential contamination.
If you choose to make a blender eggnog, I would certainly opt for using the pasteurized powdered egg yolk since it's not cooked.
The best sweetener to use
Almost any sugar substitute can be used for this recipe. But, since this is a keto eggnog recipe, using a keto-friendly sweetener is best. Here are the best sugar substitutes for this eggnog:
Stevia (FODMAP friendly) – I like to use powdered stevia for this recipe. Actually, I like to use this in most of my recipes because it's the easiest on my digestion, zero carbs, zero calories and is a low-FODMAP sweetener. Sometimes there is a little bit of an aftertaste, but that tends to diminish over time, once used in a recipe. Since your eggnog needs to chill, the time in the fridge should greatly reduce any aftertaste.
Allulose – many people are fond of allulose as a FODMAP-friendly, keto sweetener. However, it can cause digestive problems for many people (like me). Keep in mind that allulose is only 70% as sweet as other low-carb sweeteners, so you'll need to add about 30% more to achieve the same sweetness as using erythritol or stevia.
Erythritol or erythritol monkfruit blend – As with allulose, erythritol can cause some digestive upset, but is a great sweetener. I like Lakanto Monkfruit with erythritol because it has a flavor and texture that is very close to real sugar. It can be used as as 1:1 sugar substitute. It's also a good low-FODMAP sweetener.
Xylitol – is high-FODMAP and can aggravate IBS symptoms, but is tolerated by many folks not following a low-FODMAP diet and is a good low-carb sweetener. Keep in mind that it is very toxic to cats and dogs, so be sure to keep this away from your furry friends.
If making a paleo eggnog, sweetening with honey, coconut or maple sugar (or syrup) is absolutely delightful.
I haven't tried using sugar-free liquid sweeteners. If you try them, let me know how you like it!
The best bourbon to use
I love bourbon, just so you know. Old Fashioneds and Manhattans are my go-to's when I indulge in the occasional cocktail. There are many different bourbons that would work well for your eggnog recipe, so feel free to use what you have. However, I have a couple of suggestions:
If you're purchasing bourbon to make this recipe, get a good one. Seriously, don't skimp and buy the super cheap stuff. Good bourbon tastes so much better and that will come through in your drink.
Consider buying an 'airplane' bottle if you won't be consuming a pint or more
For drinks, I'll sometimes use rye, but I love Kentucky whiskey and use Maker's Mark. It's so versatile and makes really, really great cocktails. I like to use this in my bourbon recipes and it's divine in this nog. Pretty soon I'll have a whole list of Maker's Mark recipes, so stay tuned for that!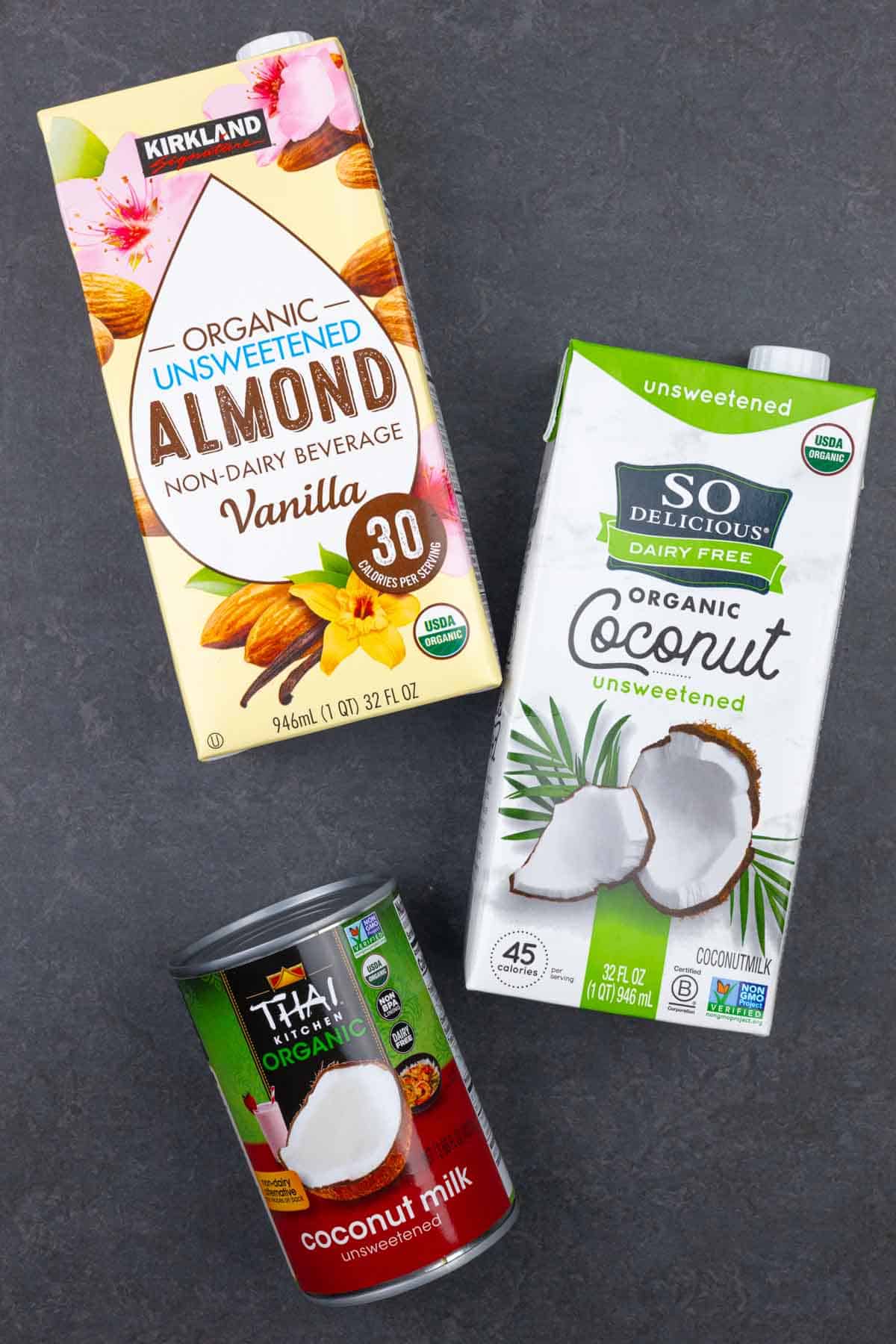 The best alternative milk to use
Nut milk or coconut milk works best for this recipe. My favorite brand for an almond milk eggnog is the Kirkland Organic Unsweetened Vanilla Almond Milk. I'm sure other brands would work well, too, but this is my 'tried and true' almond milk that blends well with the heavy whipping cream and tastes great.
To make a coconut milk eggnog, I really love the So Delicious Organic Unsweetened Coconut Milk. It has a nice texture and mixes in very well with heavy whipping cream or whole-fat coconut milk. This is actually my favorite to use.
If you want to make a dairy-free eggnog recipe, use whole-fat unsweetened organic coconut milk from Thai Kitchen. I like this one best because their coconut milk is homogenous and very rarely separates the coconut cream from the liquid (if it does separate a little bit, just a quick stir does the trick).
Is this a low-FODMAP eggnog?
Yes! A one-cup serving is less than ½ cup of almond milk and under ½ cup of coconut milk, making this a low-FODMAP drink.
Real heavy whipping cream (that is 36% or more milk fat) is a dairy product that is very high in fat and very low in lactose. Most sources agree that heavy cream is FODMAP-friendly in servings of up to ½ cup. If this recipe is made with heavy whipping cream, one serving (which is about 8oz) provides less than ½ cup cream, making it FODMAP-friendly.
If you have concerns about the lactose content, you can reduce the amount of cream used and replace it with more almond milk or other alternative milk. Keep in mind that almond milk is low-FODMAP in servings of 1 cup and coconut milk is low-FODMAP at ½ cup serving size.
Other FODMAP-friendly milk alternatives can also be used, but they will increase the carb content. I would recommend using oat milk, as it's naturally creamy and slightly sweet and has about 13g net carbs per cup.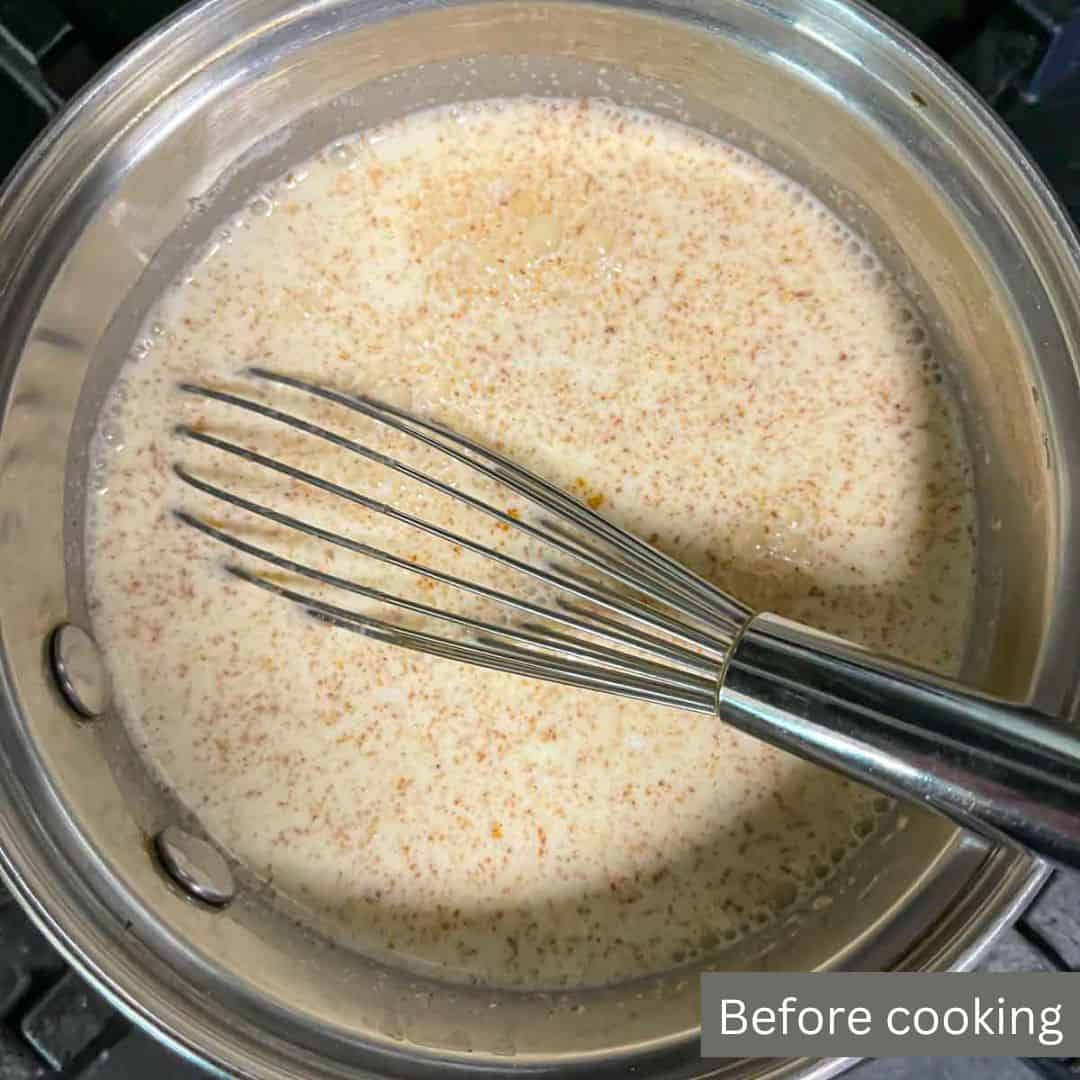 How to make eggnog
This is probably the easiest stovetop nog recipe ever. Blender eggnog most likely wins the 'easiest eggnog recipe' competition, but I like the idea of heating raw egg yolks on the stovetop to avoid any potential for salmonella.
Many recipes call for whipping the egg yolks separately from the cream and other ingredients, but I've found putting all the ingredients into a saucepan together and heating them works well - maybe even better!
Place the heavy whipping cream, nut (or coconut milk), spices, sweetener, alcohol (if using) and vanilla in a small sauce pan
If using raw eggs, separate the yolks from the whites and place the yolks in the pot with the other ingredients. If you don't use the egg whites in your nog, I have suggestions for using leftover egg whites in other recipes.
If using powdered egg yolk, rehydrate the yolks by mixing 3 tablespoons of powder with 3 tablespoons of warm water and whisk until smooth and creamy. Then add to the sauce pan.
Whisk all of the ingredients together until smooth
Heat over low heat and lightly whisk constantly until hot (about 160 degrees), but not simmering. It should take about 3-4 minutes.
Chill and serve
TIP: I like to make a (mostly) alcohol-free eggnog, so I add my spirits during the cooking step to evaporate most of the alcohol. This way, I still get the caramel, spice and vanilla flavors from the bourbon without the buzz.
Should I make eggnog with egg whites?
In many homemade eggnog recipes, egg whites are typically whipped, then added to the pot to make a frothy mixture. I'm not a fan of the texture, personally. The whipping cream does a fine job of adding creaminess and extra depth to the palate, so adding the whites is an optional variation to this recipe.
If you do want extra frothiness, simply use a hand mixer to whip the egg whites until they form soft peaks. Then add a couple tablespoons of sweetener and whip until they form stiff peaks. Add the whites to the yolk mixture and whisk until thoroughly combined. Add the whipped whites to the yolk mixture and heat to about 160 degrees, whisking until heated through.
Blender eggnog
Making blender eggnog isn't my favorite method, but some folks love it, as it an easy one step recipe. Personally, I enjoy the extra creaminess of the cooked version, but this can work well in a pinch.
Simply add all of the ingredients to a blender (I LOVE my Vitamix) and puree on low until everything is well combined
Chill for at least an hour before serving
TIP: This is a perfect opportunity to use powdered egg yolks. As they are pasteurized already, it alleviates the concern for food-borne illness.
Using leftover egg whites
If you're like me and don't add whipped egg whites to your nog, there are delicious options to use your leftover egg whites.
Leftover egg whites pair well with powdered egg yolks to make fantastic omelets and quiche. Simply whisk the powdered yolks with a little water to rehydrate and add to your leftover whites. Yum! Also, consider making more festive keto recipes using egg whites such as meringue cookies or use them to make Keto Candied Pecans, which are wonderfully delicious, addictive and are a great holiday gift idea.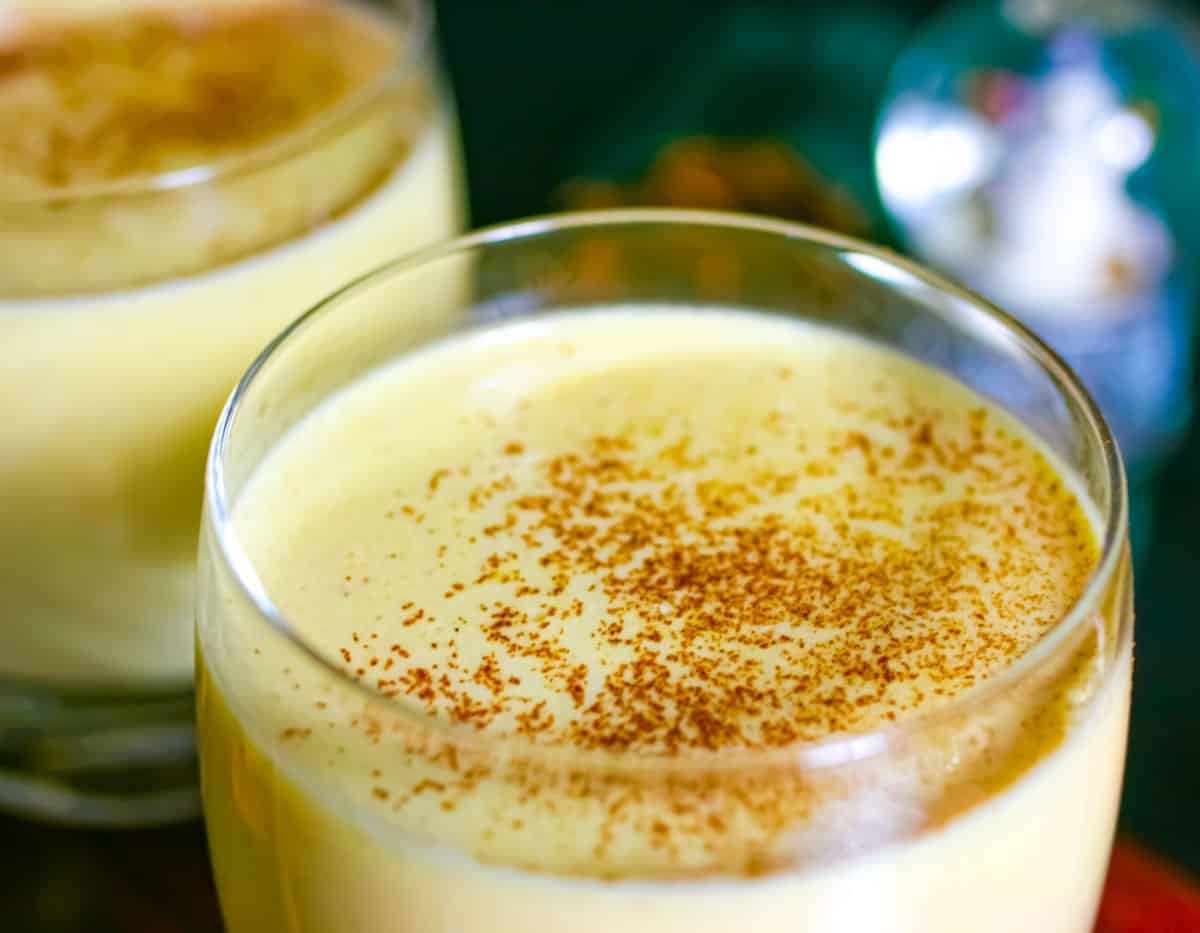 Making an eggnog cocktail
Boozy bourbon eggnog? Yes, please!
If you're a fan of having a festive holiday drink with a tad bit of booze, feel free to add a little bit to your glass before serving.
My favorite low-FODMAP alcohol additions are bourbon, rum, spiced rum (a Captain Morgan eggnog is amazing, especially if you use coconut milk), brandy or cognac. All of these spirits are low carb, keto-friendly alcohols and perfect to add a little spike to your keto holidays!
How to serve
Homemade eggnog can be served hot or cold.
Use a milk frother (I have this exact one) to add a little creaminess when serving chilled or warmed
Top with Sugar-Free Whipped Cream and a sprinkle of nutmeg or Homemade Pumpkin Pie Spice and a cinnamon stick
Add an ounce of your favorite spirit and serve chilled
Or, be like me and just keep a big vat in a mason jar and sip on it whenever you need a tasty keto fat bomb - haha! Not kidding, actually!
How to store
Store in a mason jar or another airtight container in the refrigerator for up to a week (but I doubt it will last that long).
Variations
FAQ
Is Bailey's keto-friendly? 
Bailey's eggnog is an all-time favorite, but is very high in sugar and carbs.  Even if using Bailey's Lite, you're still consuming 3.7 carbs per ounce, which could actually fit into a keto lifestyle if consumed in moderation.
Can you freeze egg whites?
If you're not going to use leftover egg whites right away, they can easily be frozen in small, freezer safe containers and frozen for up to a year.
What temperature kills salmonella in eggs?
Heating eggs to a temperature of 160 degrees Fahrenheit or hotter will kill salmonella and E. coli bacteria present in eggs.
How common is salmonella in eggs?
Chicken and other poultry can carry salmonella bacteria which can be spread from the birds to their eggs.  According to the Centers for Disease Control - Salmonella and Eggs, this is not as common in commercial eggs because companies wash eggs before they reach stores. Approximately 1 in every 20,000 eggs may be contaminated with salmonella.
Does pasteurizing kill bacteria?
Yes. The pasteurization process kills harmful microbes. That's one reason why powdered egg yolk is great for eggnog. It's been pasteurized and can alleviate the concern for food-borne illness.
What is bourbon?
Bourbon is a type of whiskey that is only made in America. Most bourbon is produced in Kentucky, but there are many small batch whiskey distilleries popping up all over the country. Bourbon must consist of over 50% corn mash and is aged in charred oak barrels. It has a complex flavor profile, often consisting of oak, spice, vanilla and caramel.
If you make this recipe, be sure to let me know how you like it! Post a picture on social and be sure to tag me and leave a comment and star rating. I hope you love this sugar-free keto eggnog as much as I do!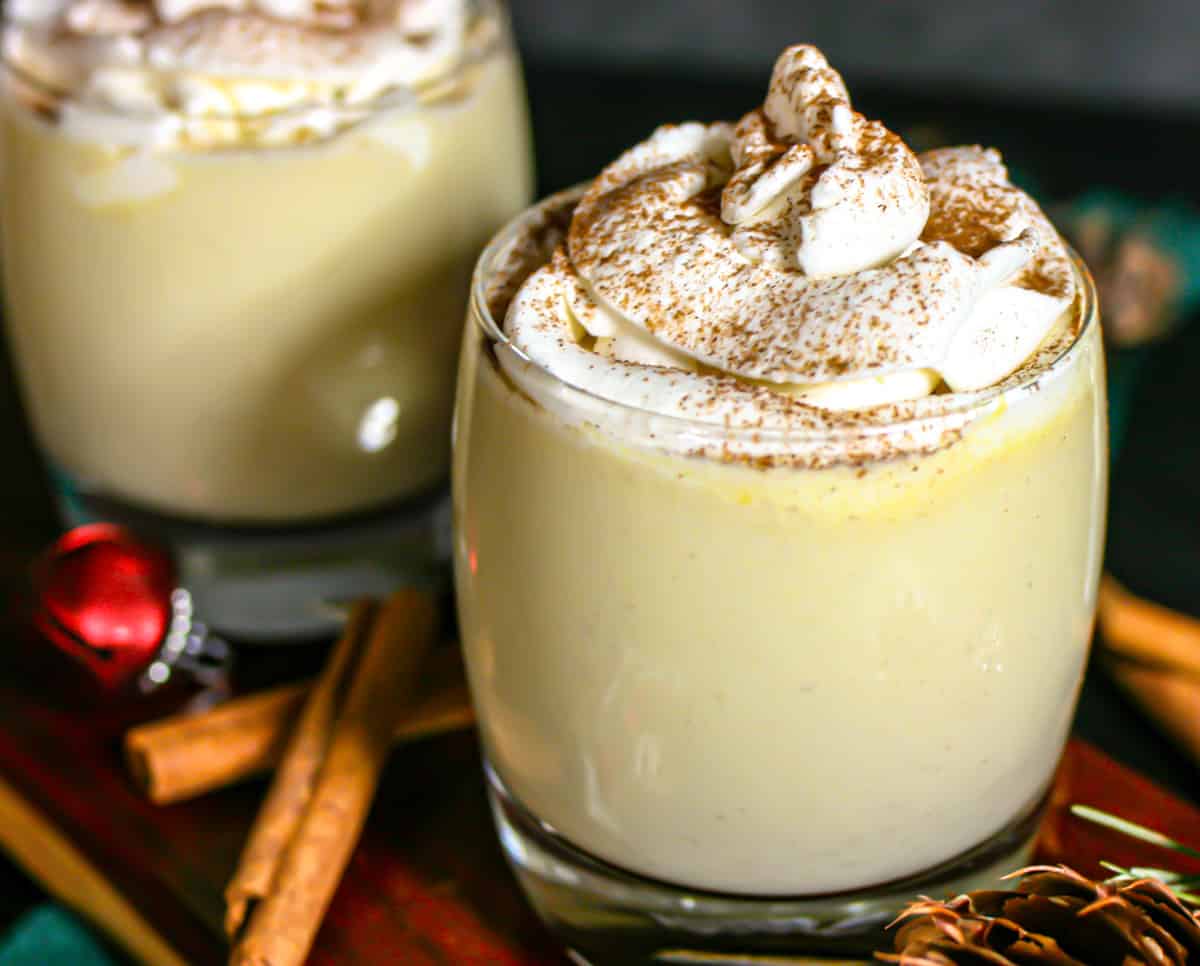 Other keto recipes you might like
This post contains affiliate links. As an Instacart and Amazon Associate, I earn from qualifying purchases.
📖 Recipe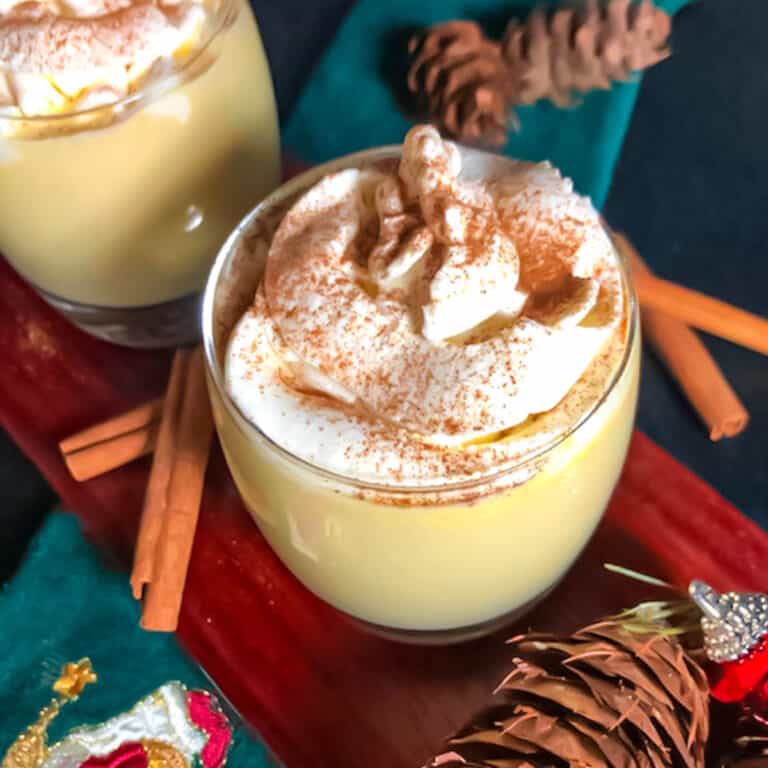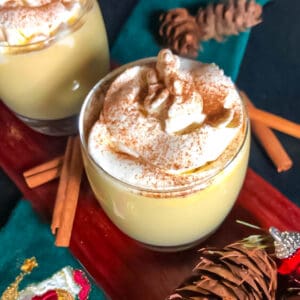 Easy Keto Eggnog Recipe
This easy keto eggnog is so creamy and is the perfect holiday drink, served hot or cold.  Make this silky beverage using powdered or raw egg yolks, warming spices and raise a cup of holiday cheer!
Instructions
Add the heavy whipping cream, nut milk, sweetener, vanilla, spices and spirits to a small saucepan over low heat.

Separate the egg yolks from the egg whites and add the yolks to the saucepan and whisk until mixture is smooth and creamy. See Notes for ideas for what to do with the leftover egg whites and for instructions if using powdered egg yolks.

Warm slowly until heated through (to about 160°F), whisking constantly - about 4 minutes.

Transfer to a mason jar or other sealed container and chill for at least an hour.
Notes
Do not simmer or boil.  If the mixture gets too hot, the egg yolks will fully cook. It will still taste good, but you probably don't want cooked eggs in your nog.  If you find there are some small bits of cooked yolk, strain the eggnog to catch any solids.
If using powdered egg yolk, re-hydrate the yolks by mixing 3 tablespoons of powdered yolk with 3 tablespoons of warm water and mix until smooth and creamy.  Then add to the other ingredients in the saucepan.
Use the egg whites to make Sugar-free Candied Pecans, add to scrambled eggs or make a quiche.  Or, you can add them to your eggnog by whipping them with a hand mixer to form soft peaks, add a couple tablespoons of sweetener, then whip to form stiff peaks.  Add to the yolk mixture while it's heating on the stove and whisk until the nog is heated through to about 160 degrees Fahrenheit.
TIP:  I like to make a (mostly) alcohol-free eggnog, so I add the spirits during the cooking step to (mostly) evaporate the alcohol, while still getting the flavor from the spirits.
Variations
How to serve
Homemade eggnog can be served hot or cold.
How to store
Store in a mason jar or another airtight container in the refrigerator for up to a week (but I doubt it will last that long).
Nutrition
Serving:
1
serving
Calories:
283
kcal
Carbohydrates:
2.5
g
Protein:
5
g
Fat:
27
g
Cholesterol:
235
mg
Sodium:
95
mg
Fiber:
1
g
Sugar:
3
g
Net Carbs*:
1.5
g
*Net carbs = carbohydrates - fiber
Nutritional information is an estimate, calculated using online tools and does not include optional ingredients unless otherwise indicated.
Did you make this recipe?
Leave a review below, then snap a picture and tag @Rad_Foodie on Instagram so I can see it!