These are seriously the most amazing low carb, keto almond flour brownies. Even folks not eating low carb will never know these are keto (and low-FODMAP)!
These brownies are totally all fudgy chocolate decadence. No one will every know these are made without wheat or sugar! This recipe is so incredibly easy, you may never go back to eating any other brownie recipe ever again.
This recipe came to me while daydreaming out of the car window on the way home from the beach. This honestly was my first attempt at making keto brownies. I had an old recipe for carb-loaded brownies and got inspired. Right after we unpacked the car and kissed our kitties hello, I got to work in the kitchen. When they popped out of the oven, we devoured half of the pan, they were so good. And we could eat them without feeling like we've had a total sugar overload. We didn't feel guilty even a little! At 1g net carbs, who would?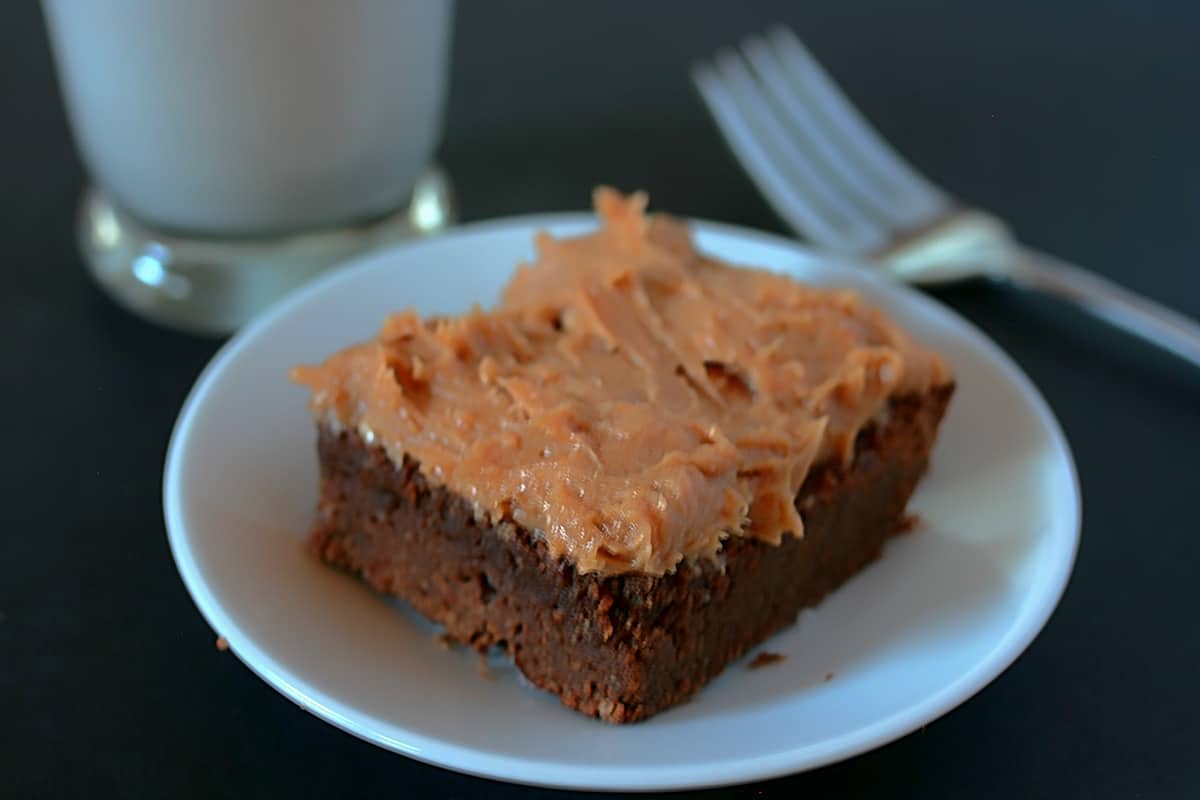 Low carb brownie variations
Many folks like to add nuts to their brownies. If you're one of these people, toss 'em in! Add some walnuts, pecans or whatever your heart desires.
You can go totally wild and add some coconut, low carb chocolate chips, or cacao nibs (love these!).
There are a few other variations that I discuss in the Keto Brownie Ingredients section, below.
To frost or not to frost?
Either way, these are to-die-for and are perfect all on their own. But, if you like frosting on your brownies, I recommend my Peanut Butter Cream Cheese Frosting that you can find with the rest of my Desserts. There's something about peanuts and chocolate that are a match made in heaven. If you don't want to make a frosting, try topping with some fresh Keto Whipped Cream (vanilla or chocolate works – take my word for it!)
Ingredients
I always aspire to make my recipes as healthy as possible, so I use a few ingredients that differ from other brownie recipes. These ingredients are typically available at regular grocery stores.
I'm a big fan of 'superfoods' and use cacao in many of my recipes. I almost never use the regular unsweetened cocoa powder now that I've discovered raw cacao powder. And I love to use cacao butter in my chocolatey recipes in place of about half of the butter I would use. It adds an extra layer of chocolate-goodness. But if you don't have cacao butter around, you can always substitute it for butter, coconut oil or even olive oil (mmm, olive oil cake!).
I decided to use whey protein isolate in these brownies to give them a little extra density. You can absolutely replace this with extra almond flour if you don't have whey protein isolate around.
If you make other substitutions, let me know and post in the comments! Enjoy!
Other recipes you might like
This post contains affiliate links. As an Instacart and Amazon Associate, I earn from qualifying purchases.
Easy Keto Brownies
These are seriously the most amazing low carb, keto brownies.  Even folks not eating low carb will never know these are totally keto!
Instructions
Line an 8×8 baking pan with parchment or grease the bottom and sides.  If not using parchment, add the cacao or cocoa powder to the pan and tap to evenly distribute the cacao to cover the grease on the pan (like you would with flour for a cake).

Melt the butter, cacao butter and chocolate in a small pan over low heat, whisking very often.

Combine the almond flour, whey protein isolate, sea salt and baking powder in a small bowl, set aside.

Combine the eggs, vanilla and sweetener. Whisk or beat for about 30 seconds.  The longer you beat the eggs, the fluffier the brownies will be.

Add the melted butter and chocolate mixture to the combined wet ingredients and whisk until thoroughly incorporated.

Add the dry ingredients to the wet ingredients and mix until thoroughly combined.

Pour the mixture into the prepared pan and spread evenly.

Bake for 20 minutes.

Optional:  Sprinkle with flake salt after removing from oven.

Let cool completely.  They will get firmer as they cool.  They'll also get firmer if covered and refrigerated.

Slice into 12 brownies.
Notes
I like to use a combination of sweeteners.  To me, Stevia is a little bitter on its own and erythritol can cause digestive upset for some people (like me).  The two together provide a nice sweetness and balance.  If you can tolerate erythritol, then you can replace the Stevia altogether.
Top with Low-Carb Sugar-Free Whipped Cream, or a delicious Peanut Butter Cream Cheese Frosting.
I recommend refrigerating most keto baked goods to extend their shelf-life.
Nutrition
Serving:
1
brownie
Calories:
133
kcal
Carbohydrates:
2
g
Protein:
4
g
Fat:
12
g
Cholesterol:
61
mg
Sodium:
475
mg
Fiber:
1
g
Sugar:
0
g
Net Carbs*:
1
g
*Net carbs = carbohydrates – fiber
Nutritional information is an estimate, calculated using online tools and does not include optional ingredients unless otherwise indicated.
Did you make this recipe?
Leave a review below, then snap a picture and tag @Rad_Foodie on Instagram so I can see it!