How about some gooey, chewy, soft, flourless keto peanut butter chocolate chip cookies to satisfy that sweets craving? These low carb cookies are naturally gluten-free and make a perfect low-FODMAP dessert. With only 1 net carb per cookie, you can feel good about indulging!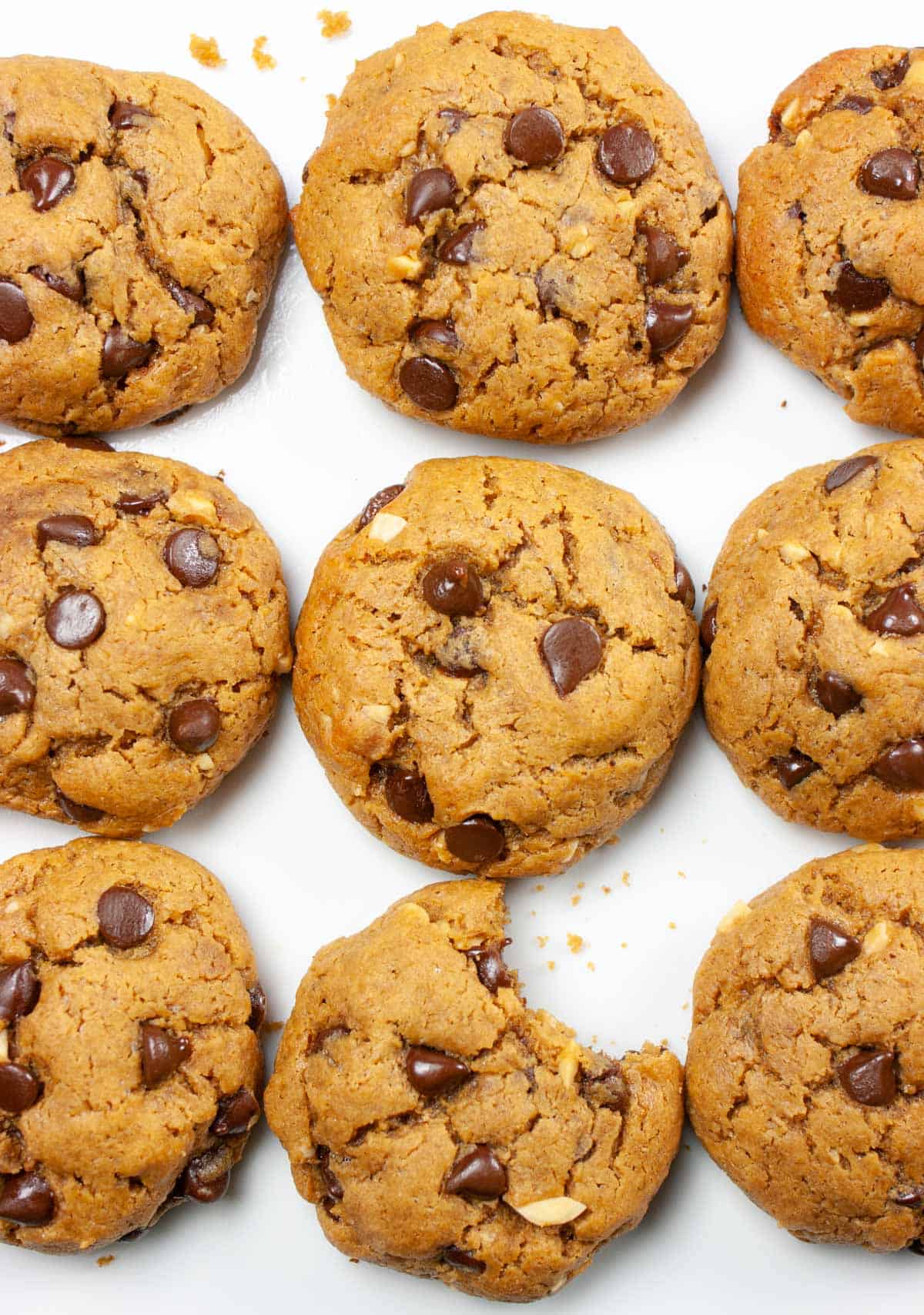 Jump to:
I'm so glad these are low-carb cookies, because I can't keep them out of my mouth. These are my go-to low carb treat when I have a sweet craving, need a fat bomb or am just looking for an easy, perfect dessert (milk and cookies is totally my jam!).
If you're like me and love peanut butter, I've got you covered with this low-carb and low-FODMAP cookie recipe. Have a Chocolate Peanut Butter Brownie, or spread some Peanut Butter Cream Cheese Frosting on top of a Chocolate Mug Cake.
These are all sugar-free, gluten-free and high fat, which is perfect for a low-carb keto lifestyle. However, you don't need to be on a keto journey to enjoy these magical cookies.
Since I'm always exploring the outdoors, these make the perfect hiking snack to fit into my backpack or take along for a picnic.
Is peanut butter keto?
Not all brands are keto friendly. Many contain added sugar which can add significant carbs and kick you out of ketosis. Make sure you read the ingredients before you purchase.
Look for unsweetened products that contain only peanuts and no additional oils. Some brands add a little salt to enhance the peanut flavor, which is okay if you aren't on a low sodium diet.
Even though all natural brands are considered to be low carb and keto compliant, two tablespoons have about 3 net carbs. As long as you don't consume too much, good ol' PB fits well into a healthy keto diet.
Are these low-FODMAP cookies?
Yes - you can enjoy these amazing cookies as a low-FODMAP dessert or snack. I've added a small amount of molasses to the recipe that can easily be eliminated, especially if you're using brown sugar. If you're not using a sugar-free sweetener, try using coconut sugar for an added molasses flavor.
Is peanut butter low-FODMAP?
Yes, in servings of two tablespoons or 32 grams. Each cookie contains less than 2 tablespoons, making them very FODMAP-friendly.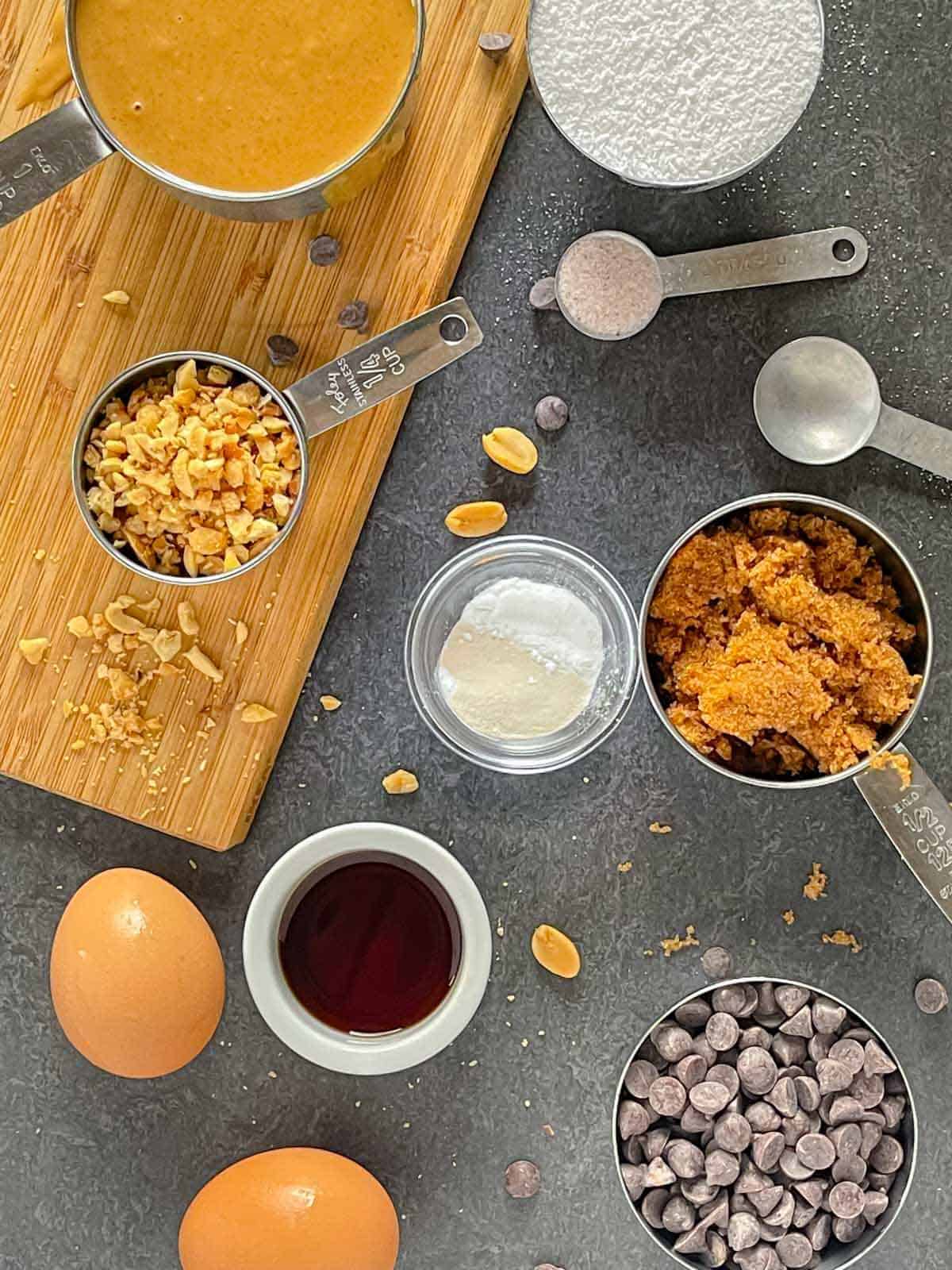 Ingredients
These cookies come together quickly with a handful of keto pantry staples. The ingredients you'll need to make these awesome keto treats are:
Natural unsweetened peanut butter – I actually like to use an organic creamy PB.  You can also choose to use a chunky PB – either works great.
Eggs – I like to use cold eggs for this recipe, as it keeps the batter a little thicker
Baking soda and baking powder
Sea salt
Vanilla extract
Molasses – optional, but it adds extra depth to the cookies.  There's only a half teaspoon for the whole recipe, so the added carbs are negligible.  Since molasses is a high FODMAP ingredient, omit this for low-FODMAP.
Xanthan gum – adds just a little extra texture, but is optional. Read all about this ingredient in my Xanthan Gum Ingredient Spotlight.
Chopped peanuts – optional, but I like the extra crunch
Swerve Brown and monkfruit/erythritol blend sweetener – or sweetener of your choice, such as allulose or stevia.  Personally, I often use a combination of 50% Swerve Brown or monkfruit/erythritol sweetener and 50% stevia powder because too much erythritol (that is an ingredient in Swerve Brown and most monkfruit sweeteners) causes digestive upset.
Sugar-free chocolate chips – you can use dark chocolate, milk chocolate, semi-sweet chips or cacao nibs (For sugar-free chocolate chips, there are two brands I love: ChocZero and Lily's. See the Notes in the recipe card for links to sugar-free milk chocolate, dark chocolate and semi-sweet chips).
Instructions
Making these decadent cookies is super simple:
First, combine the PB, eggs, molasses, vanilla extract and sweetener in a medium sized bowl.  Mix until thoroughly combined.
Then, stir in the salt, baking powder, baking soda and xanthan gum.
Finally, stir in the sugar-free chocolate chips and chopped peanuts.
Roll or scoop in 1 inch balls onto a cookie sheet lined with parchment paper or a silicone baking mat.
Decorate the top of each cookie with extra chocolate chips and bake for about 10 minutes.
Do your best to let the cookies cool before diving in.
To get a crunchier cookie
Are you team chewy cookies or team crispy cookies? Personally, I'll take a gooey, chewy cookie over crunchy any day. But, if you're team crunchy cookie, you can flatten these out before baking just a bit to get a firmer texture.
Since these are gluten-free cookies and have no flour, they don't ever get that crispy crunch that you might be looking for. They stay a pretty chewy, gooey cookie.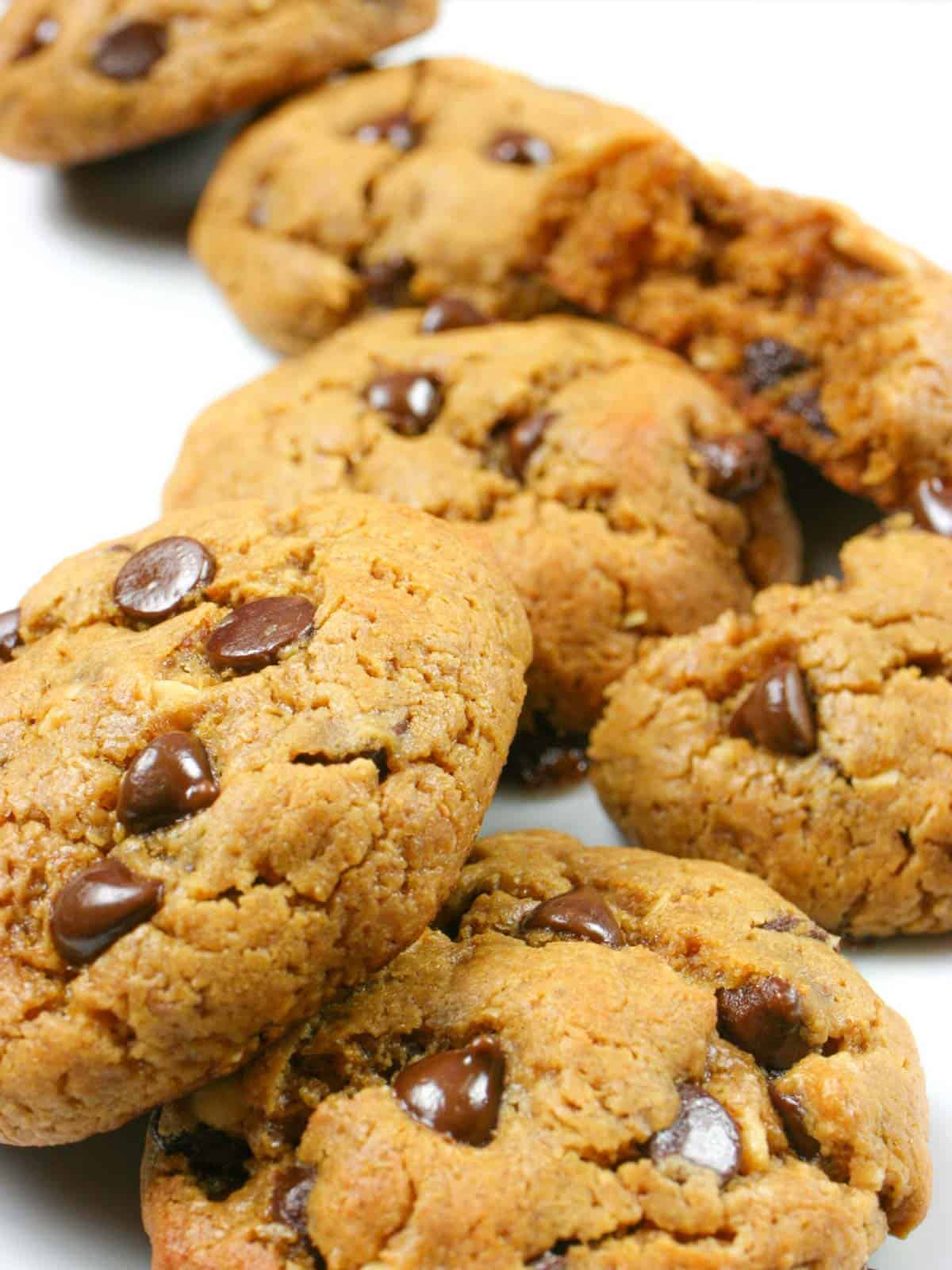 Variations
This recipe can be switched up in a few different ways:
Replace PB with your favorite nut butter – try these chewy keto cookies with almond butter, sunflower seed butter or cashew butter
Leave out the chocolate – what? Just want keto peanut butter cookies without chocolate chips?  Feel free to leave them out.
Use raw cacao nibs – in place of chocolate chips to make a healthier cookie
Storing
I like to store all of my keto baked goods in the refrigerator because I find they keep better and longer. However, you can store these cookies in airtight cookie jar at room temperature for 3-4 days.
If you find you won't consume them in time, freeze them in a freezer bag and then thaw at room temperature.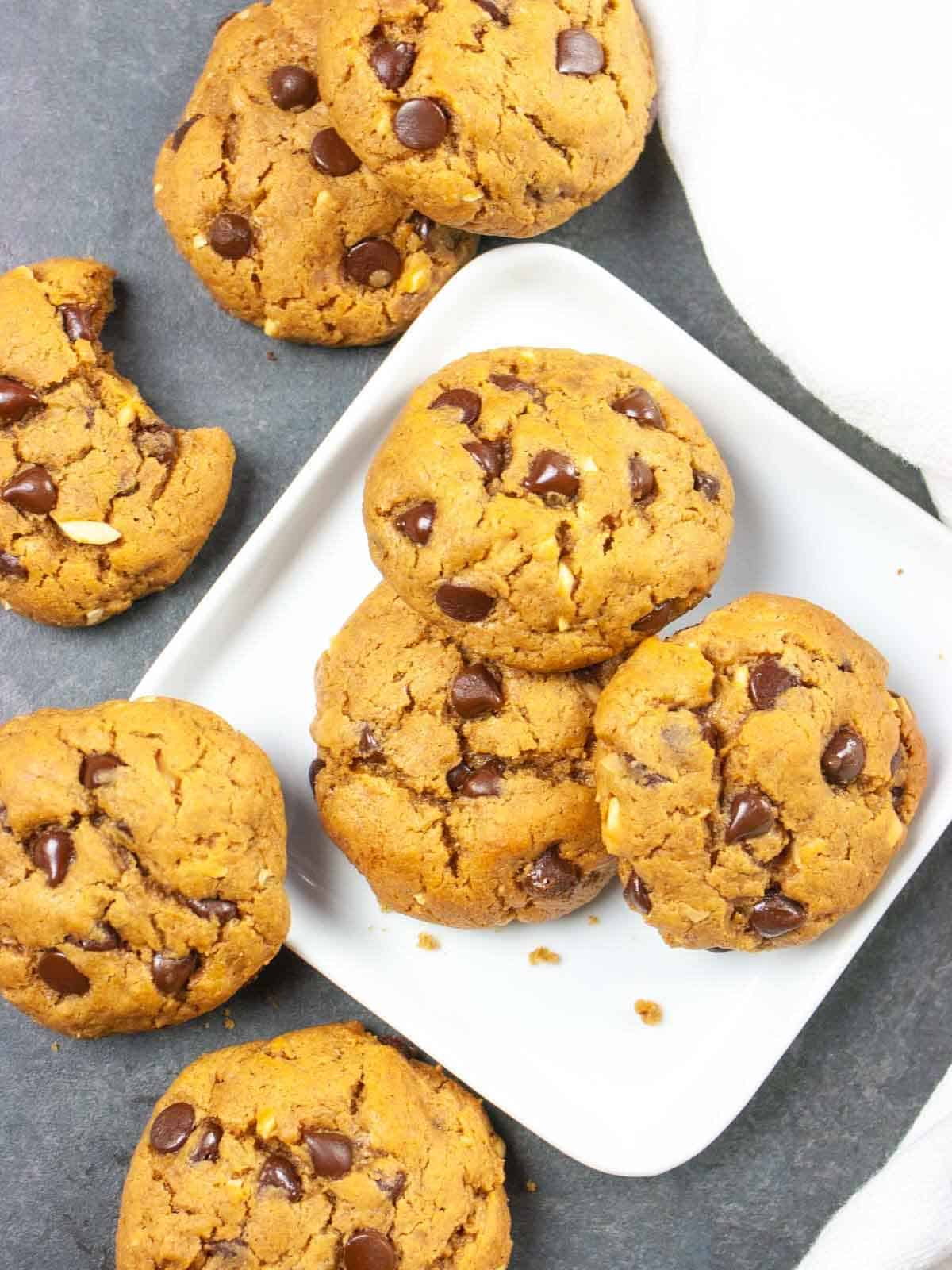 FAQ
Can I make keto cookie dough ahead of time?
You certainly don't have to immediately bake your cookies.  You can refrigerate the dough in a covered container or roll the dough into balls and store them in a container or zip lock bag.  The cookie dough will keep just fine in the refrigerator for up to 2 days.
Can I freeze peanut butter cookie dough?
This dough freezes really well.  If you want to only bake a partial recipe, freeze the dough in a freezer-safe container or freezer bag for up to three months.  You can freeze the dough as-is or roll the dough into balls and freeze.
Why use baking powder and baking soda together?
In this recipe, I've found that baking soda encourages the cookies to spread out a little bit, while the baking powder gives them a little life and a chewy, fluffy texture.
Should I chill the cookie dough?
Chilling the dough isn't necessary. Cookies tend to spread out less when the dough is chilled, but these will stay fluffy and chewy, without flattening out during baking.
Should I use room temperature or cold peanut butter?
Room temperature PB is easier to measure out and mix with the other ingredients. Also, the more you cream it with the eggs, sugar and other ingredients before adding the dry ingredients, the more air will be put into the dough. This will lead to fluffier cookies.
Did you make this recipe? Let me know how you liked it by giving a star rating and leaving a comment!
Be sure to stop by my Dessert Recipes page for more sweet inspiration!
📖 Recipe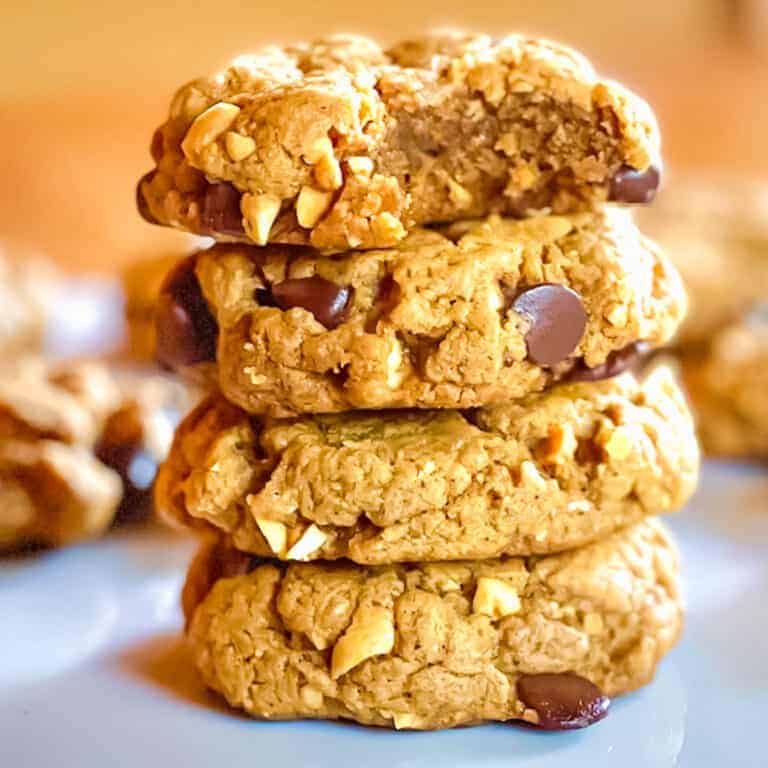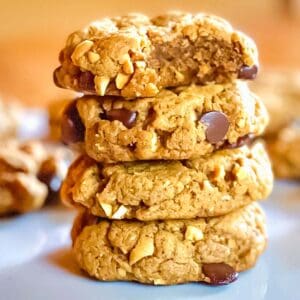 Flourless Keto peanut butter chocolate chip cookies
How about some gooey, chewy, soft flourless keto peanut butter chocolate chip cookies to satisfy that sweets craving?  These keto cookies are naturally gluten-free, low-FODMAP friendly and are only 1 net carb each!
Instructions
In a medium bowl, mix the peanut butter, eggs, sweetener, vanilla, salt and molasses (if using).

Add the baking soda, baking powder and xanthan gum and mix until thoroughly combined.

Fold in the chocolate chips and chopped peanuts (if using).

Top with additional chocolate chips.

Bake for 10 minutes, then place on a cooling rack to cool down.
Notes
Sweeteners
Personally, I often use a combination of 50% monkfruit/erythritol blend sweetener or Swerve Brown and 50% stevia powder.  Too much erythritol (that is an ingredient in Swerve Brown and most monkfruit sweeteners) causes digestive upset for me.  Another good option is allulose, which tends to be more 'digestive friendly' than erythritol for many folks.
For sugar-free chocolate chip varieties I love, try
Variations
Nutrition
Serving:
1
cookie
Calories:
127
kcal
Carbohydrates:
2
g
Protein:
5
g
Fat:
11
g
Saturated Fat:
1
g
Cholesterol:
25
mg
Sodium:
90
mg
Fiber:
1
g
Sugar:
1
g
Net Carbs*:
1
g
*Net carbs = carbohydrates - fiber
Nutritional information is an estimate, calculated using online tools and does not include optional ingredients unless otherwise indicated.
Did you make this recipe?
Leave a review below, then snap a picture and tag @Rad_Foodie on Instagram so I can see it!