Xanthan gum is a popular ingredient in many dressings and keto recipes – but what is it, exactly? Learn what it is, how it's used and options for a xanthan gum alternative.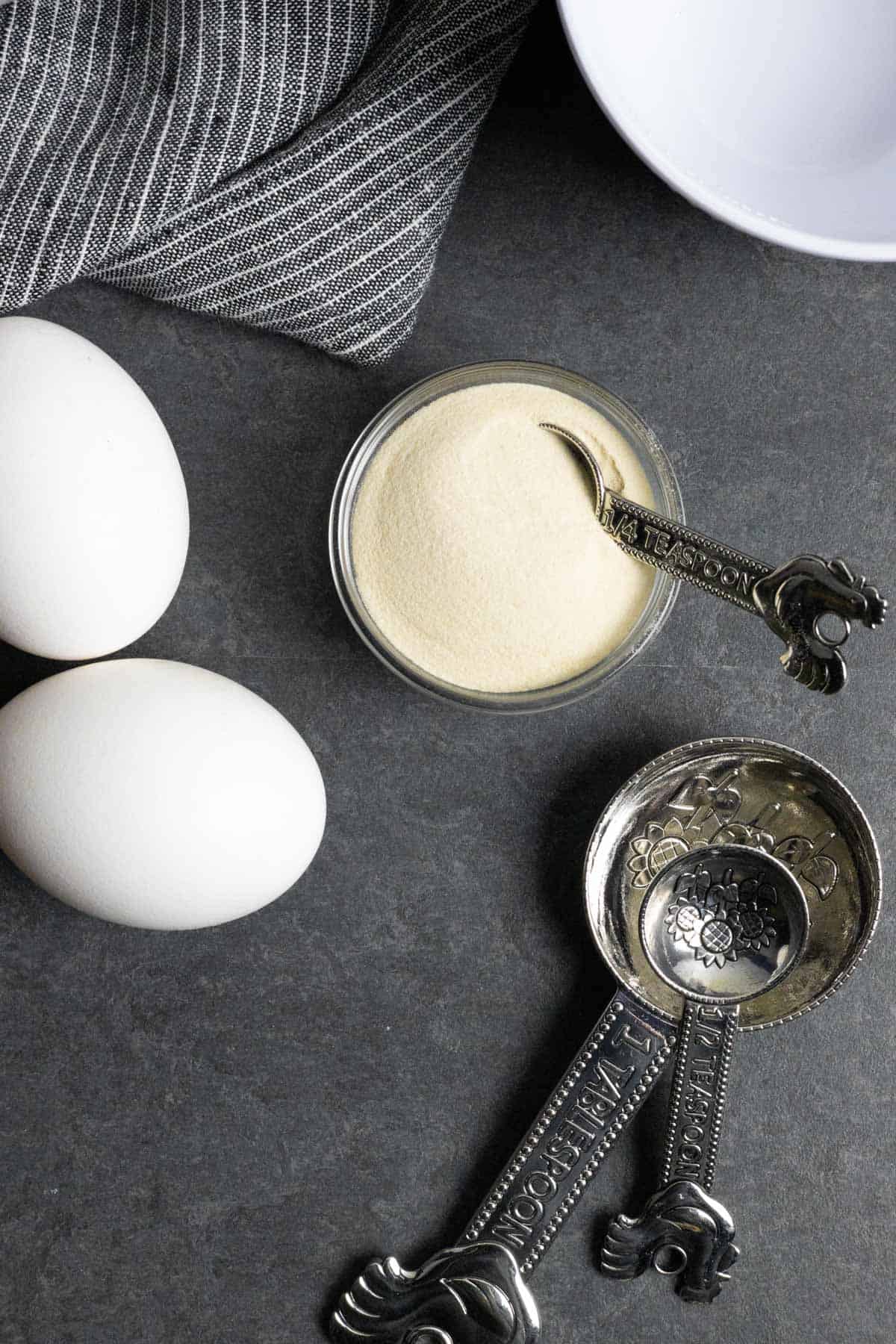 Xanthan gum is a powdered ingredient that many people have never heard of, but it's most likely in many products currently sitting in your fridge or pantry. It's used in many salad dressings, gravies, and sauces as well as baked goods. It's often found in gluten-free recipes such as my Cheddar Almond Flour Drop Biscuits or this yummy 90 second Parmesan Oregano Bread.
What is xanthan gum?
Put simply, it is a soluble fiber that is used as a thickener, stabilizer and can add a chewy texture to gluten-free breads and baked goods such as these Gluten-free Low-Carb Sandwich thins.
When added to liquid, it creates a viscous, thick (and kind of slimy) solution, which makes it a perfect replacement for flour in many recipes such as sauces, dressings, gravies, soups and stews like Keto Irish Stew. The thick nature of the gum, when combined with other wet ingredients, creates a texture similar to what gluten would produce in breads and baked goods, adding a superior chew and texture, without heaviness. It helps gluten-free breads and almond flour recipes hold together and prevents them from becoming too crumbly.
Xanthan gum is made when strains of a bacteria called Xanthomonas campestris are combined with a glucose (sugar) solution from wheat, corn or soy or a lactose (dairy sugar) solution from dairy. This mixture is then allowed to ferment. The end result is a thick, sticky substance. Alcohol is added to solidify the 'goo' and it is then dried and turned into a powder.
It is also found in personal care products such as lotions, toothpaste, cosmetics and shampoos and has uses in industrial products like adhesives, cleaners, herbicides and insecticides due to its thickening and stabilizing properties.
As a pantry staple, one bag will last a very, very long time because such a small amount is used in recipes.
Guar gum vs xanthan gum
Both ingredients are used as emulsifiers and thickening agents and are very popular in gluten-free baking. They keep oils from separating out and help to suspend solid particles, keeping them from settling to the bottom. The both can also be used to thicken dough and batters, but each performs a bit differently than the other, which is why they are often used together in recipes.
Xanthan gum will help bind ingredients together, trapping air bubbles, giving additional rise and elasticity to baked goods. It holds up well to high heat cooking and acidic recipes (such as those containing lemon juice) where guar gum does not.
Guar gum is best used in recipes that will not be exposed to high heat and do not have a high acid content. Both will cause it to lose its thickening properties.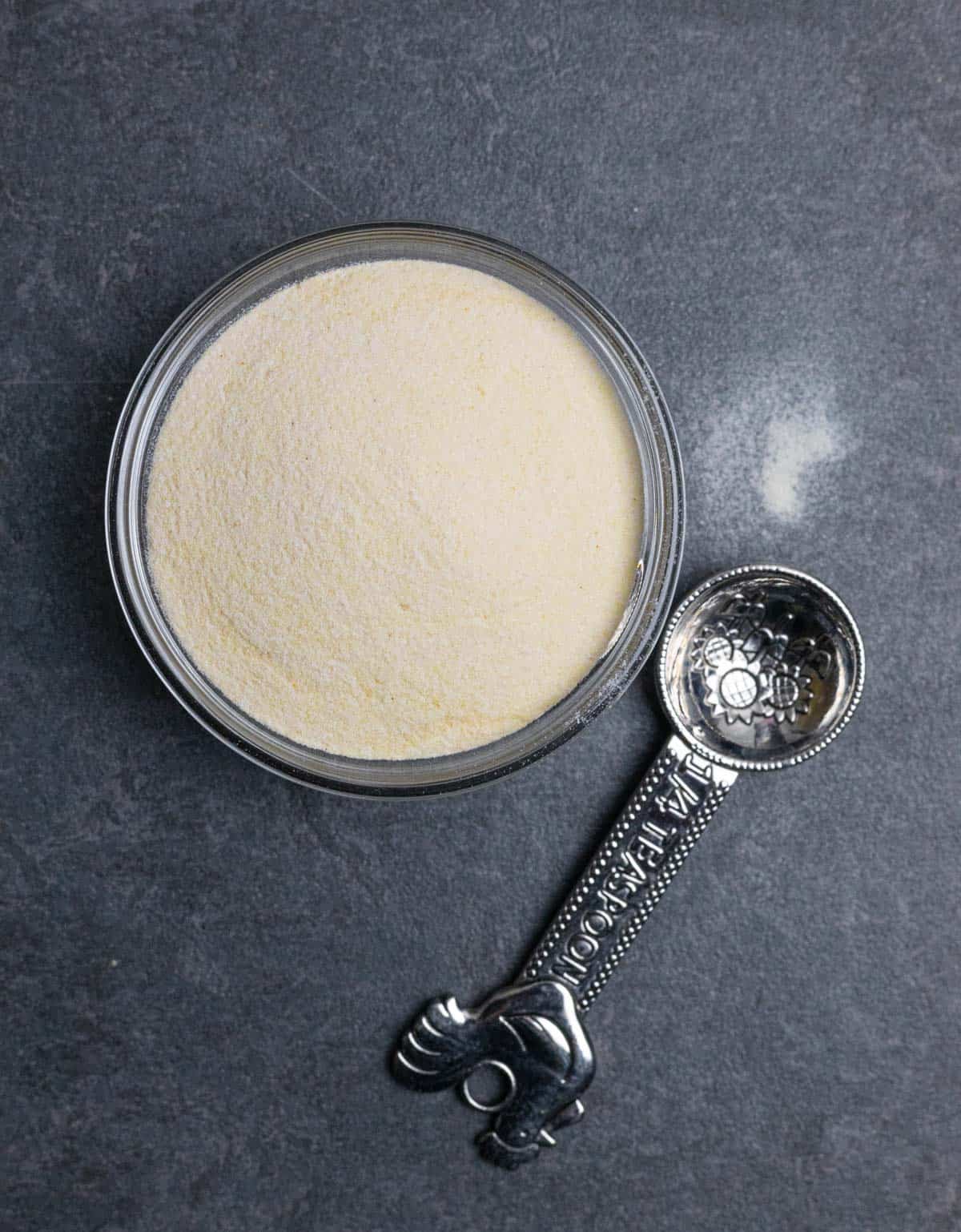 Is xanthan gum keto friendly?
Yes! It contains zero carbs and is a great keto-friendly ingredient. It works well as a gluten substitute and helps to bind baked goods, improving their texture and chew. It's a versatile ingredient for low-carb and gluten-free baking and makes a superior keto thickener.
Is xanthan gum low-FODMAP?
Yes – it is considered a FODMAP-friendly thickening agent that is only known to trigger IBS symptoms if consumed in large quantities. As only very small quantities are used in recipes, it should be fine to use in low-FODMAP recipes.
Xanthan gum health benefits
There have been studies that have shown this ingredient to have some benefits to health:
Satiety – It can provide a sense of increased fullness when consumed, possibly due to an ability to delay emptying of food from the stomach, thereby slowing digestion
Laxative effects – Like other soluble fibers, it increases water content in the intestines to create softer and bulkier bowel movements and potentially relieving constipation
Lowers blood sugar and cholesterol – When consumed in large quantities, it has been shown to lower both cholesterol and blood sugar levels. When added to high carb dishes, it can lower the overall glycemic index of the dish. However, most foods contain just a very small quantity.
Prebiotic effects – It is a soluble fiber that is not digested by the body. However, the bacteria in our intestines feed and thrive on fiber and other compounds that we do not digest, so it may act as a prebiotic by feeding the good 'bugs' and having a beneficial effect on our gut microbiome.
How to use xanthan gum
There are many ways to use xanthan gum in baking and cooking. A small amount goes a long way. Most baked goods recipes call for ¼-1/2 teaspoon, which is plenty.
TIP: If using a pre-mixed gluten-free flour, be sure to check the ingredients for the addition of xanthan gum. Many gluten-free flours already contain this as an ingredient to replace the elasticity that gluten provides. Adding more is likely to make the end result heavy and thick.
Use as a binder
It can mimic the elasticity found in gluten and make doughs stickier and more elastic. As a binder, it works very well with alternative flours such as almond and coconut and holds baked goods together, giving more structure to the finished product. It also works well with baking powder, baking soda and yeast, creating more gas bubbles. This helps low-carb and gluten-free bread and cookies get extra rise and lift, similar to the way gluten works in bread.
Use as an emulsifier
This is often added to many salad dressings to keep water, oil and solids from separating. It's also found in many varieties of keto ice cream, along with other gums used for texture and stabilization.
If using in a salad dressing, start very small, with just a pinch or two. A pint of salad dressing will often take less than ⅛ teaspoon to thicken.
Some people prefer to whisk the powder into the oil before adding the rest of the ingredients. This is an optional step and is really personal preference.
Use as a thickener
Due to its profound thickening qualities, it's a great choice to thicken soups and gravies. The texture is a little bit different from flour-based thickeners, so it's best to add small amounts, conservatively – you can always add more. Adding 1 teaspoon will often be plenty to thicken a pot of soup or stew.
To use as a thickener, simply blend the powder into the liquid that you'd like to thicken and whisk it in. It's best to sprinkle it across the surface, as it thickens instantly. Keep in mind that the amount you'll need to add will depend on the desired consistency.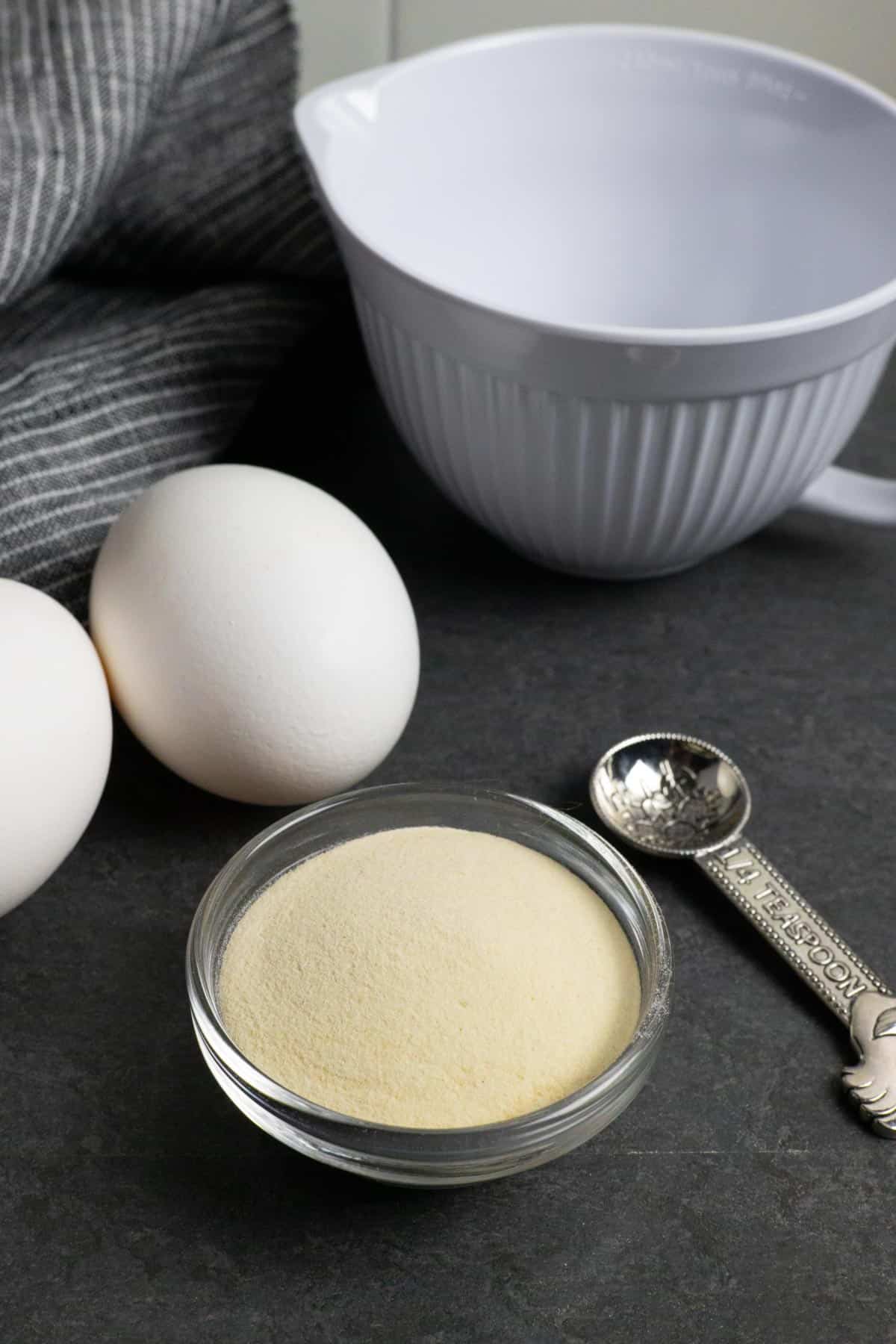 Xanthan gum side effects
Side effects to small amounts are uncommon and are typically only seen when larger quantities are consumed, over 15g per day, which is difficult to reach from diet only.
Like other soluble fibers, if consumed often or in large quantities, it can have a laxative effect and contribute to flatulence and bloating.
Xanthan gum substitute
There are some great options to use as a substitute for xanthan gum that can be used in both keto and low-FODMAP recipes.
Psyllium husk powder
Psyllium husk powder is a soluble fiber that has excellent binding properties and can often be used as a substitute FOR XANTHAN GUM-YES in baking. It can give elasticity to breads and baked goods, but can also give them a heavier quality.
Substitute 2 parts psyllium husk powder to 1 part xanthan gum.
Ground golden flaxseeds (flax meal) and water
Flax meal mixed with water can also be a good binder for baked goods. It helps retain moisture and give breads texture, yet it doesn't have the same binding qualities or contribute to elasticity like xanthan gum or psyllium.
Use in a 2:1 ratio as a replacement for xanthan gum. Mix the flax meal with 2 parts of hot water for every 1 part flax and let sit for approximately 10 minutes before adding to the other ingredients.
Guar gum
Guar gum is extracted from the guar bean and has a similar amount of soluble fiber as xanthan gum. It doesn't hold up to hot temperatures well, so it's best used in cold and chilled foods, such as dressings.
Use 1.5 times the amount of guar gum for every 1 part of xanthan gum. Consider for mixing guar gum with oils or fats first, then add this mix to the rest of your wet ingredients.
Unflavored gelatin powder
Gelatin is made from animal collagen, usually beef or pork. Its ability to gel and 'firm up' can add structure, binding and chew to baked goods. It can sometimes add a little heaviness to breads and muffins, but is an excellent addition to gluten-free cookies, such as my Matcha White Chocolate Cookies with Almond Flour.
Use gelatin in a 2:1 ratio as a xanthan gum alternative.
Cornstarch
Cornstarch is a fantastic thickening agent for soups, stews and gravies. But, is cornstarch keto? It can be. One tablespoon contains 7g net carbs, which can easily be added to a low carb or keto diet plan. Considering one tablespoon is enough to thicken several servings of a particular dish, it would add only 1g net carbs per serving, depending on the dish, which isn't earthshattering.
But, is cornstarch low-FODMAP? Yes it is. Just like corn flour is a low-FODMAP flour, so is its starch.
You can substitute for xanthan gum in a 1:1 ratio.
Agar agar
Agar agar is often used in place of unflavored gelatin in many recipes, as it's a great vegan gelatin substitute. It's made from red algae and is sold in sheets, flakes or powder.
Agar agar requires more prep to use and may produce a more dense texture. Unflavored gelatin is often used as a substitute for agar agar, but isn't vegan friendly.
Use this ingredient in a 1:1 ratio as a xanthan gum replacement.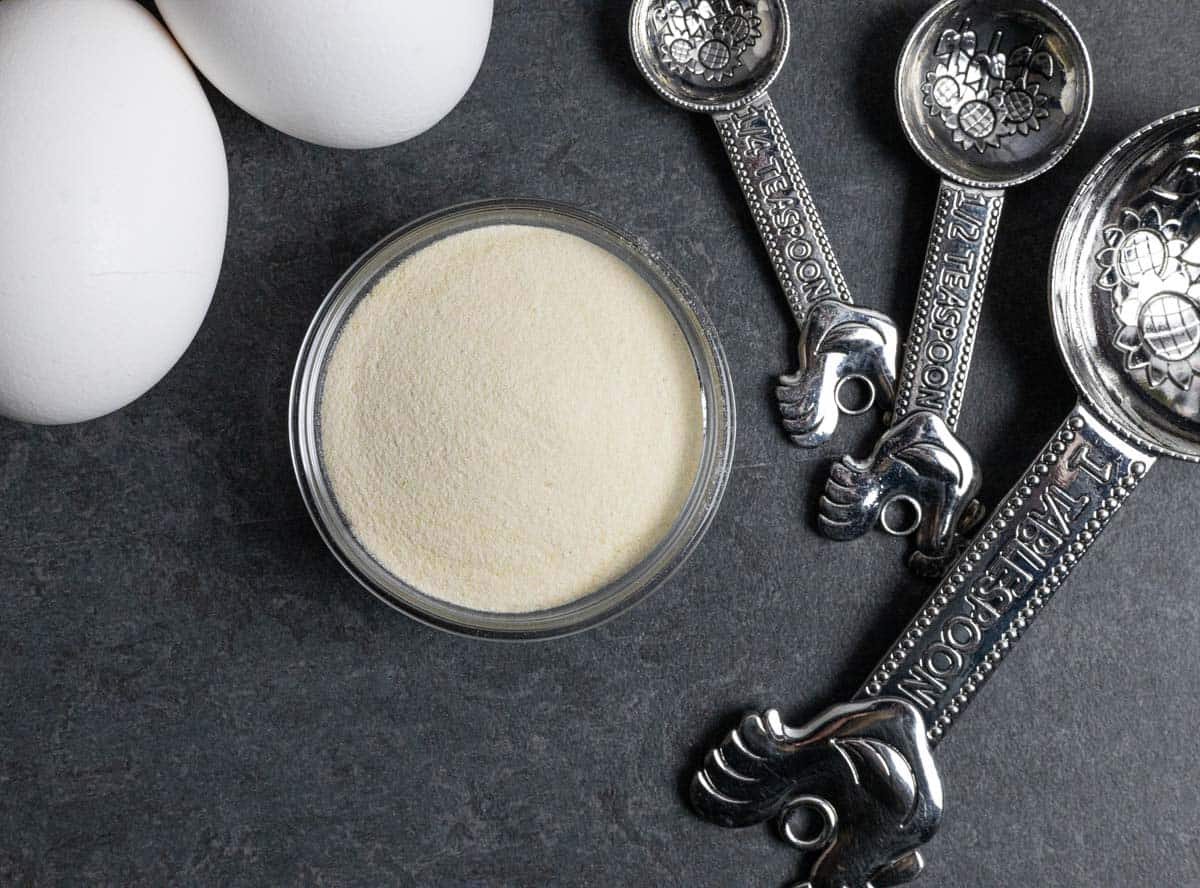 Guidelines for using xanthan gum
The amount used can vary depending on your own texture preference, so these are relatively conservative, general guidelines that will enhance the texture and chew of your recipes.
Baked goods
For baked goods such as cookies, quick breads, muffins and pancakes, add ¼ teaspoon per cup of flour.
Liquids
For use in gravies, soups, sauces and dressings, use ⅛ teaspoon per 8 ounces of liquid. Add small quantities at a time for thicker recipes.
FAQ
Is xanthan gum vegan?
It is typically considered as a vegan-safe product, but as it is sometimes made from dairy sugars, it should be verified as vegan by the producer of the product.  If it is a vegan-friendly product, it should indicated it on the package.  It's Just Xanthan Gum has been verified as a vegan product.
Does xanthan gum have carbs?
Yes, but it is a low-carb keto-friendly ingredient, with only 7g net carbs for an entire tablespoon.
Is xanthan gum safe?
As it's made from fermenting sugars from grains or dairy, if you have allergies to wheat, corn, soy or dairy, it may be best to find substitutes for xanthan gum, just for safety purposes.  Other than its potential for allergens, it is considered a safe food additive.
Can I use xanthan gum as a substitute for psyllium husk powder?
In many recipes, you can substitute psyllium husk with xanthan gum, but you use much less.  Only use about ⅓ as much xanthan gum to replace psyllium husk.  For example, if a recipe calls for 1 tablespoon of psyllium husk powder, use 1 teaspoon of xanthan gum.
Is xanthan gum a guar gum substitute or good substitute for agar agar?
You can use xanthan gum as a substitute for guar gum and each can often be used in place of the other.  If using xanthan gum in place of guar gum, decrease the amount used by 50%.
It is also a good agar agar substitute.  Xanthan gum won't set up the same as agar agar, but it will thicken the recipe and keep ingredients from separating.  Use it in a 1:1 ratio with agar agar.
---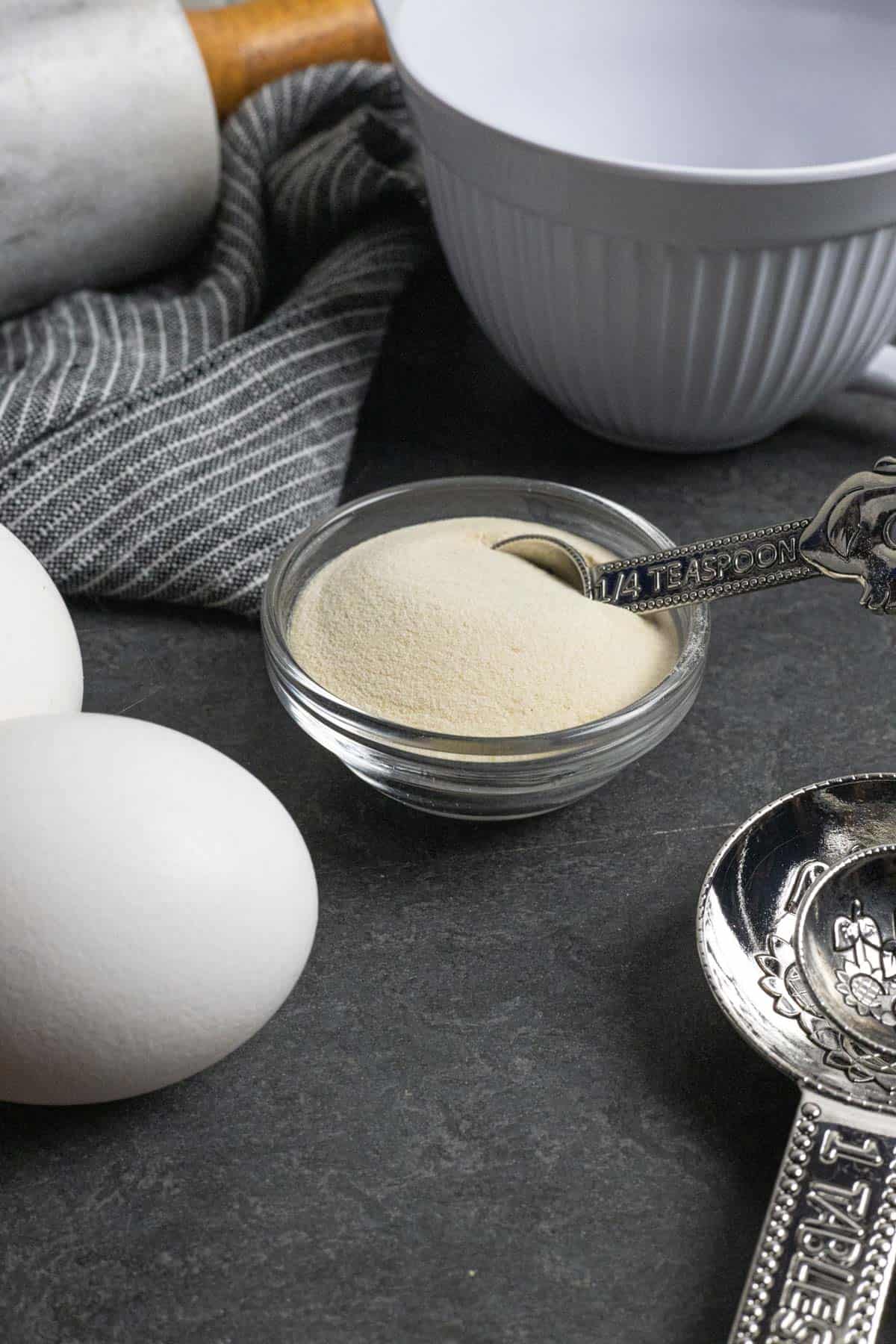 Popular recipes with xanthan gum
This post contains affiliate links. As an Instacart and Amazon Associate, I earn from qualifying purchases.