Enjoy this keto friendly traditional British dish for any meal of the day! Low carb Yorkshire pudding? Oh yessss… epically good! Plus, it's fun to make and looks pretty neat, tool! This low carb Toad in the Hole is quick, easy and ridiculously tasty!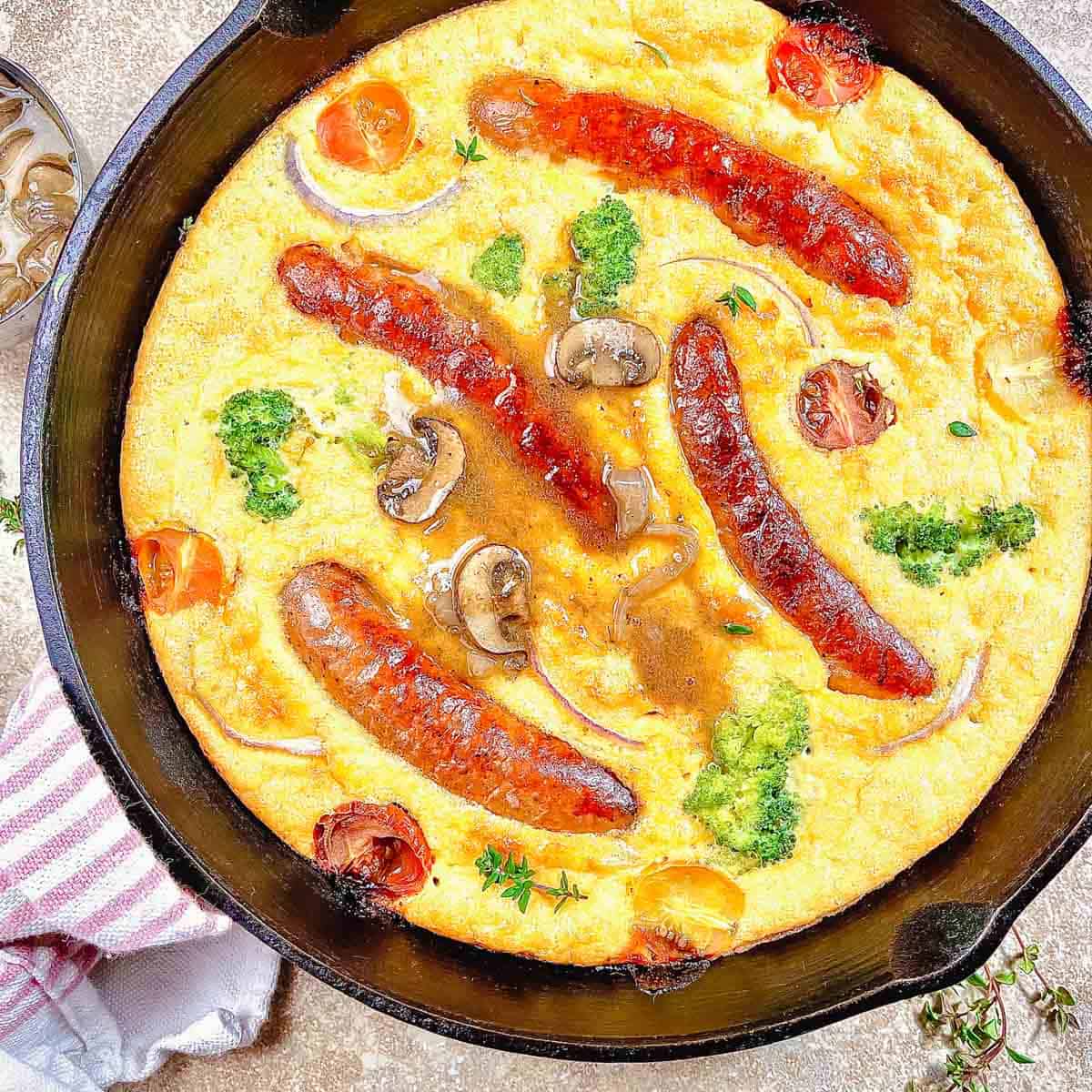 I know what you're thinking – could a recipe with such a silly name actually be good?
Definitely – believe it or not, this strange-sounding dish is total comfort food! And, because I love taking traditional recipes and making them keto-friendly. I do have a tendency to explore International recipes due to my adventurous palate… And, I get a kick out of recipes with playful names!
This British-inspired dish consists of sausages baked in a creamy low carb Yorkshire pudding batter, served up with a divine onion and mushroom gravy. Seriously, if you've never heard of this or have never had it, you're in for a special surprise.
And, this recipe is so easy and cooks up in no time! So easy, so delicious! Once you've tried it, you'll probably add this in to your regular menu rotation!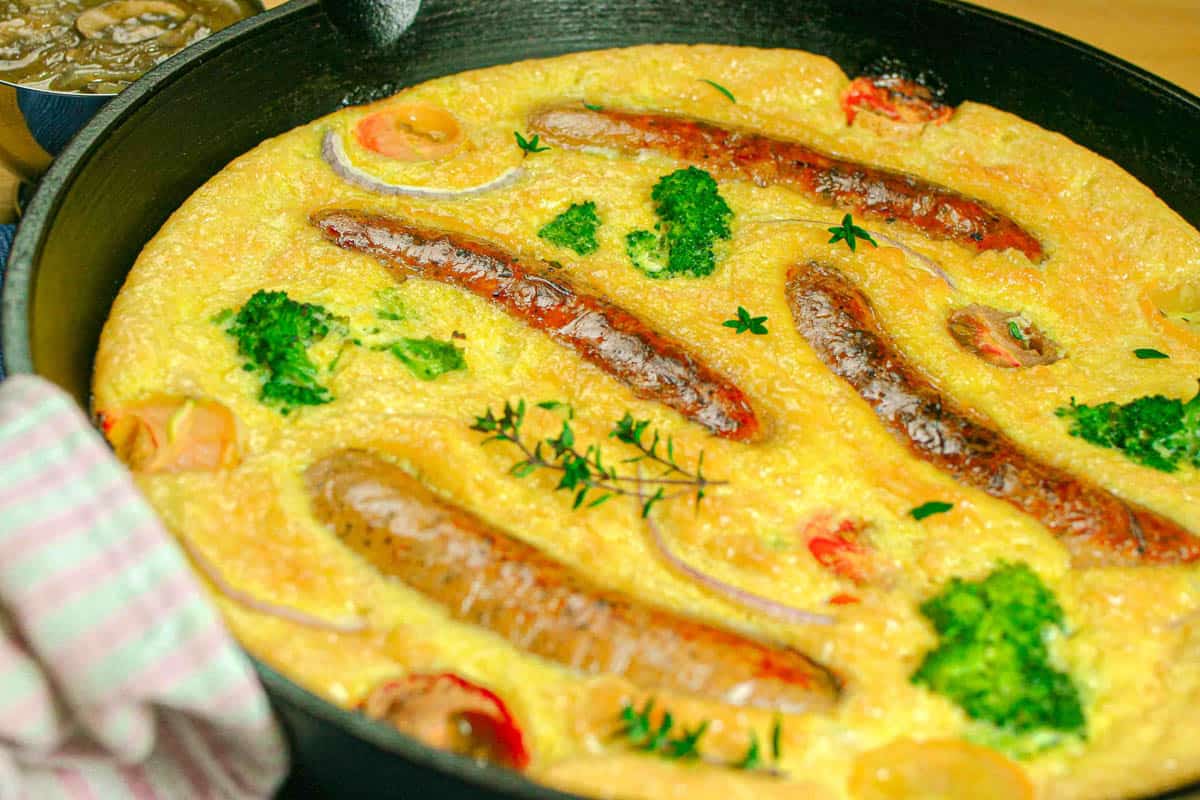 Why is Toad in the Hole called toad in the hole?
I love British dishes and am incredibly fond of some of their odd names for traditional delicacies, like Bubble and Squeak and Spotted Dick. But the recipe title Toad in the Hole comes from an amusing local legend from somewhere around the town of Alnmouth, in Northumberland. Or at least I think it does… Honestly, there's no clear story about the name, but here's the one I know of…
Some say that during a golf tournament, a golfer putted a ball into a hole where a large frog happened to be sleeping. The irate toad popped the ball out of the hole, peering angrily at the golfers. The chef at the hotel that hosted the tournament created a dish to commemorate this hilarious event by baking sausages in a batter that is supposed to look like toads peering out of golf holes.
See the resemblance there? Nope – me either… But it's a cute story, nevertheless.
I do believe this dish does come from a more traditional practice that was begun the 18th century where meat was added to a batter-based dish. This was a creative way to stretch out expensive protein and feed the family a filling meal at low cost. It's a brilliant way to take lower cost cuts of meat (like sausage) and create an extravagant meal!
What exactly is Yorkshire pudding?
Interestingly enough, Yorkshire puddings have nothing to do with dessert. Yorkshires are a savory batter cooked in a hot oven that puff up considerably around the edges. The edges should be crisp, the center tender, soft and moist and should always be served with a tasty onion gravy.
Is this keto Yorkshire pudding traditional?
No, not exactly, but it comes close. It's a bit of a challenge to get that Yorkshire pudding rise using a low carb flour, but this recipe certainly comes close! It's tender and savory and is a perfect compliment to any sausage (or meat!).
I use fine almond flour for this recipe and found it works really well! And I love using my cast iron skillet. They cook so evenly and this dish just looks pretty cool in them, too!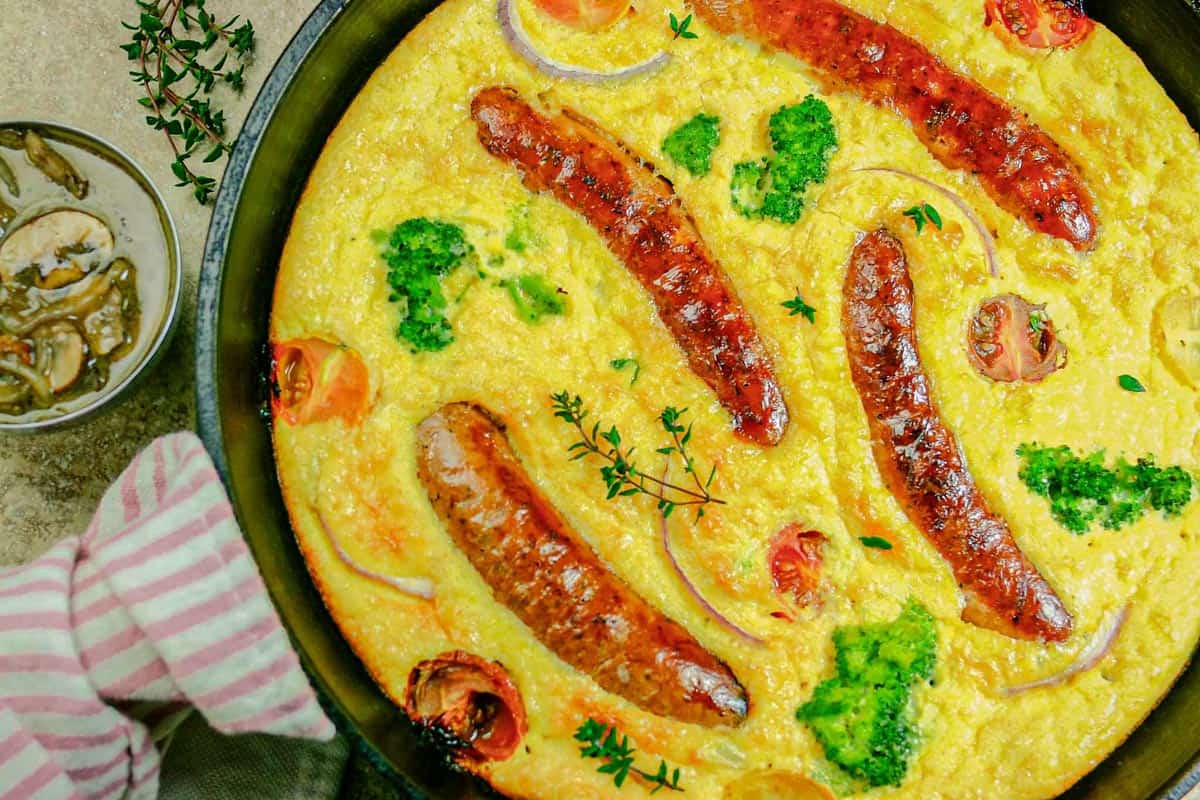 What kind of sausage is used for Toad in the Hole?
You can use whatever sausage that suits your fancy! Try anything from kielbasa to andouille sausage.
You don't even have to use sausage. Try making meatballs (cooked first) or adding a savory, cooked meat like lamb or baked, seasoned poultry.
How to make Toad in the Hole
This easy-squeezy recipe takes a few basic ingredients that are probably already in your pantry.
It's as simple as browning the sausages, whipping up a quick batter and popping it in the oven. While it's baking, the onion gravy pretty much cooks itself.
Optional add-ins
While Toad in the Hole typically is only batter and meat, I like to add a few veggies. It's difficult for me to make a dish with NO vegetables in it – except for maybe a dessert… If you don't want to add any, I won't hold it against you!
But if you do want to add some, you can add any vegetables that you would normally add to a frittata or quiche such as: broccoli, zucchini, mushrooms, onions, tomatoes, spinach, etc. For this recipe, I added a few stems of broccolini, red onion and cherry tomatoes.
Can I make this a low-FODMAP Toad in the Hole?
Of course!! The trick is to find a low-FODMAP sausage. However, you can use any meat or make your own homemade sausage to add!
The batter is low-FODMAP but the gravy needs just a couple of tweaks to make it compliant. Instead of using sliced onion, use sliced leek tops or green onions – the green parts only. Replace the cremini or button mushrooms with oyster mushrooms – yes, those are low-FODMAP in small amounts!
Grab a skillet and let's get cooking!!
Other recipes you might like
This post contains affiliate links. As an Instacart and Amazon Associate, I earn from qualifying purchases.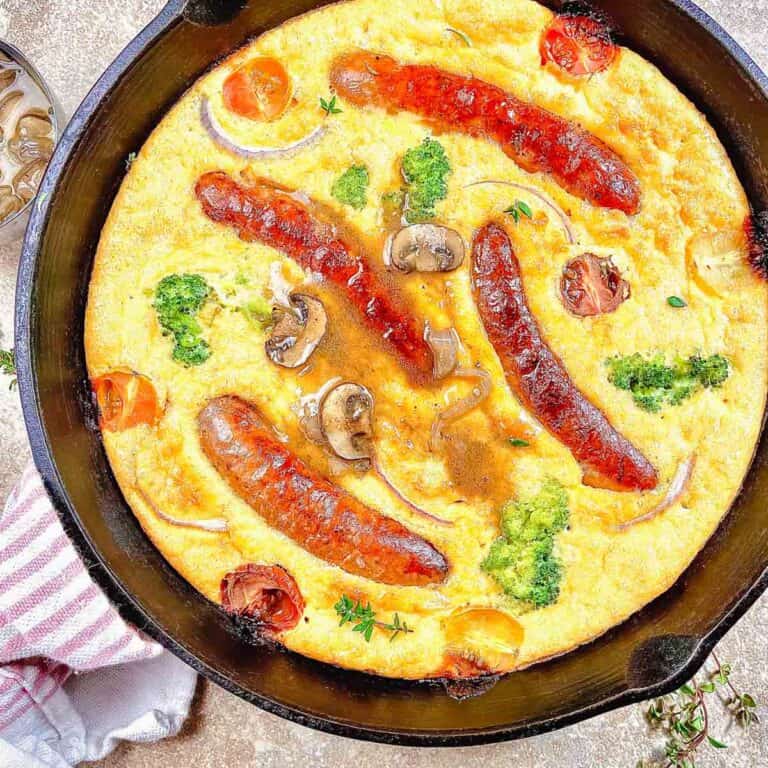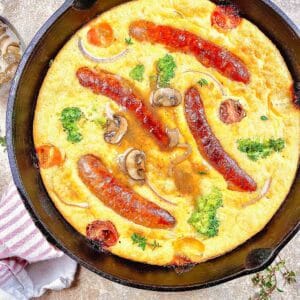 Low Carb Toad in the Hole Recipe
A keto-fied classic British dish in a low carb, gluten-free Yorkshire pudding with savory sausages.  Serve up with onion gravy for a new experience in total comfort food!
Ingredients
Optional add-ins
onion

(sliced – See Notes for other options!)

broccolini

tomatoes
Instructions
Pre-heat the oven to

375

°F

.

Add the sausages and cook until browned.

In a large bowl, combine the eggs, mascarpone cheese, maple extract, almond milk, sweetener, almond flour and xanthan gum.  

With an electric hand mixer, mix the ingredients on medium-high for one minute.  Optional:  You can combine the ingredients in a blender and blend for about 15 seconds or whisk briskly by hand for one minute.  Note: whisking by hand may not produce the same fluffiness of the finished product.

To the buttered oven-proof skillet (or pan), add the batter.  Place the sausages and any other optional add-ins to the batter.
For the gravy (*See Note)
While the Toad in the Hole is baking, make the gravy!

In the pan that browned the sausages, melt 2 tablespoons of butter, then add stock, mushrooms, onions, salt and pepper.

Simmer until vegetables are tender, about 5 minutes.

Add a small pinch of xanthan gum and salt and pepper to taste.

If the gravy is too thin, add xanthan gum by small pinches until you reach desired thickness.  If you overdo the xanthan gum and it becomes too thick, add a bit more broth.

Serve your delicious Toad in the Hole with a spoonful of the luscious gravy and enjoy!!
Notes
Xanthan Gum
Never used Xanthan Gum?  Learn more about it in my Xanthan Gum Ingredient Spotlight which includes substitutes for xanthan gum.
For the gravy*
If you like a lot of gravy, simply double the recipe!!
Optional add-ins
Add any vegetables you would normally add to a frittata or quiche such as:
broccoli
zucchini
mushrooms
onions
tomatoes
spinach
Note: Nutritional values will vary based on the sausage you use.  The values listed are based on using sugar-free smoked pork sausage.
Nutrition
Serving:
1
serving
Calories:
678
kcal
Carbohydrates:
1
g
Protein:
21
g
Fat:
55
g
Cholesterol:
270
mg
Sodium:
940
mg
Fiber:
3
g
Net Carbs*:
0
g
*Net carbs = carbohydrates – fiber
Nutritional information is an estimate, calculated using online tools and does not include optional ingredients unless otherwise indicated.
Did you make this recipe?
Leave a review below, then snap a picture and tag @Rad_Foodie on Instagram so I can see it!