Here's a super easy keto chocolate almond flour mug cake that bakes up soft, fudgy and so fluffy with simple staples you'll find in your pantry. It's the perfect sugar-free, gluten-free and low-FODMAP dessert that will satisfy that chocolate craving in just a few short minutes.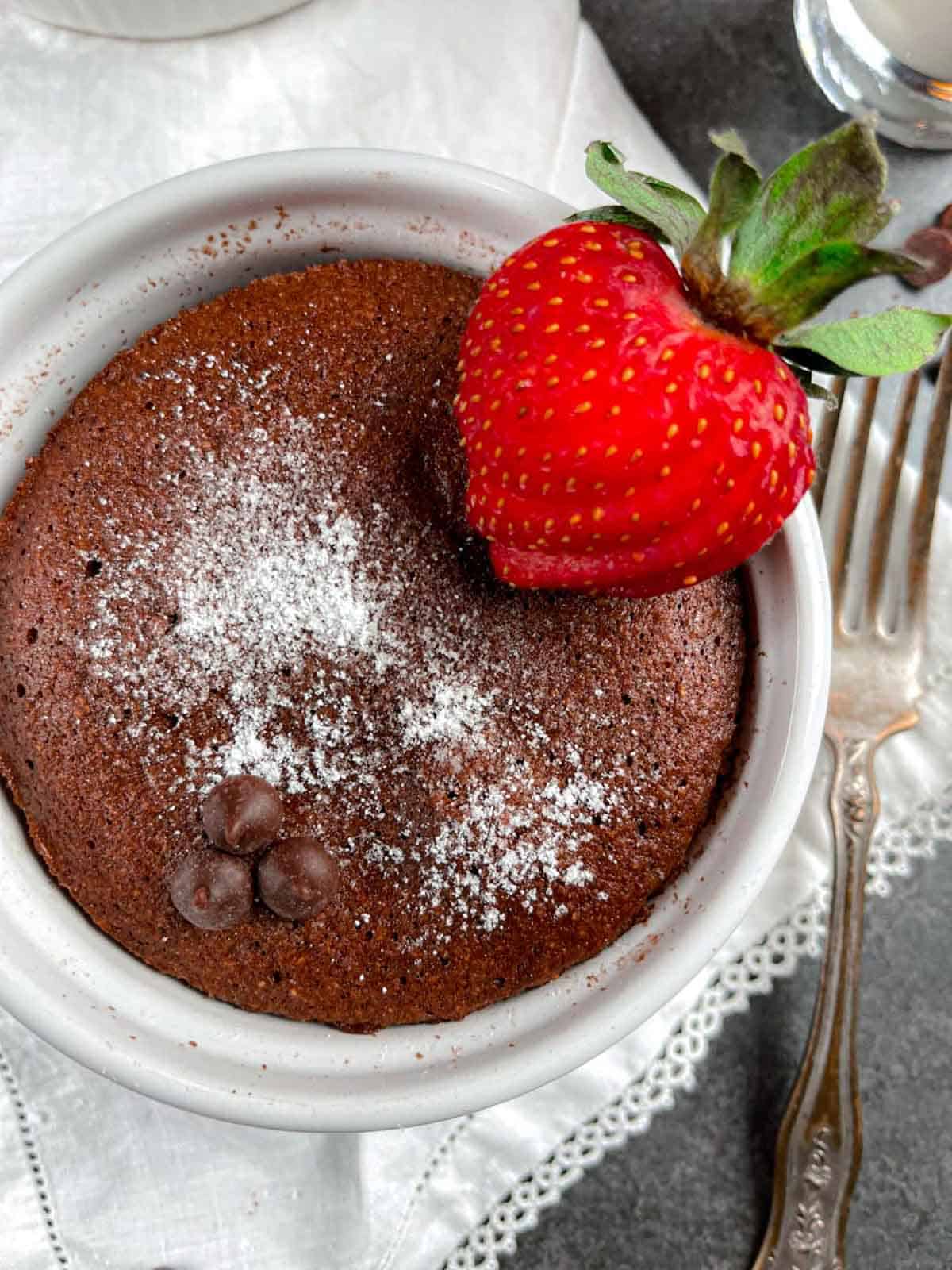 Jump to:
Did your cake craving decide to have a party with your chocolate craving? No time to bake? That's okay – here's a rock star fluffy, low-FODMAP cake in a mug that tastes like real chocolate cake. Oh right – it IS real chocolate cake… all moist and delicious where you don't have to worry about having a keto cheat day or feel guilty about eating the whole thing. How sweet is it to have a single serving cake to bake and not go off plan? Righteous and phenomenally rad, am I right?
So when that chocolate craving hits, or when you just need that Valentine's Day surprise, this chocolate almond flour mug cake can be whipped up in no time.  Simply double the recipe and you have perfect, moist and delicious cakes of chocolate indulgence for two. Be adventurous and top it with a Silky Smooth Keto Chocolate Sauce, or even with Peanut Butter Cream Cheese Frosting.
Speaking of chocolate indulgence, be sure to check out these Deep Dish Browned Butter Chocolate Chip Cookies in a ramekin, or some delicious Peanut Butter Chocolate Chip Cookies.
Why you'll love this recipe
There's so much to love about this single-serving cake in a mug:
It's a sweet, chocolaty, decadent little dessert
If a rich, moist texture is what you like, this is for you!
Quick and easy treats are the best
It's healthy and ready in about 5 minutes
This amazing recipe is sugar-free, gluten-free, low-FODMAP and low-carb
Ingredients
Almond flour - is a versatile, keto and FODMAP-friendly flour
Coconut flour or whey protein powder - adds a lovely texture. If you're following a low-FODMAP diet, use whey protein powder instead of coconut flour. You can also replace these with more almond flour in a 2:1 ratio. I really like making a protein mug cake using vanilla whey protein powder here. TIP: Use whey protein powder, not isolate. Whey protein isolate will work, but the cake will be more heavy and dense.
Mayonnaise - I love using mayonnaise in keto cakes! It helps keep them tender and moist. If you don't want to use mayo, you can always replace it with butter or olive oil (which makes a delicious, tender cake!).
Egg - binds everything together and adds a fluffy texture.
Cacao powder - I love the health benefits of raw cacao powder. You can also use unsweetened cocoa powder for a rich, chocolatey flavor.
Sweetener - use your favorite sweetener of choice. I like to use a 50/50 blend of powdered stevia and monkfruit.
Baking powder - helps make this cake rise
Heavy whipping cream, half and half or nut milk - to thin out the batter just a bit
Vanilla extract - always adds a depth of flavor
Butter or oil - to grease the ramekin or mug
What is the best almond flour to use?
I recommend using fine almond flour. Some low carb almond flours use whole almonds (meaning the skins are also ground) which is okay for some dishes, but I find that it doesn't work as well for baking. Fine, blanched is really the best to use. And, it works exceptionally well in microwave recipes.
Instructions
You can make this fudgy chocolate delight in a ramekin (which is my favorite way to make it, btw), in a mason jar or in a coffee cup – it's totally up to you, just as long as it's microwave safe.
If you want to make two smaller cakes, no worries - this doesn't have to be just a single serving. These perfect little keto and low-FODMAP desserts can be split into two small cappuccino cups or two small ramekins. It's truly a low-carb 'cup' cake that will satisfy even the most die hard sweet tooth while delivering that perfect cakey texture. It's a recipe for chocolate lovers (like me!)!
This easy mug cake recipe calls for just a few ingredients: almond flour, coconut flour, baking powder, cream or nut milk, mayonnaise, cacao (or cocoa) powder and sweetener.
Here's how this sweet treat comes together: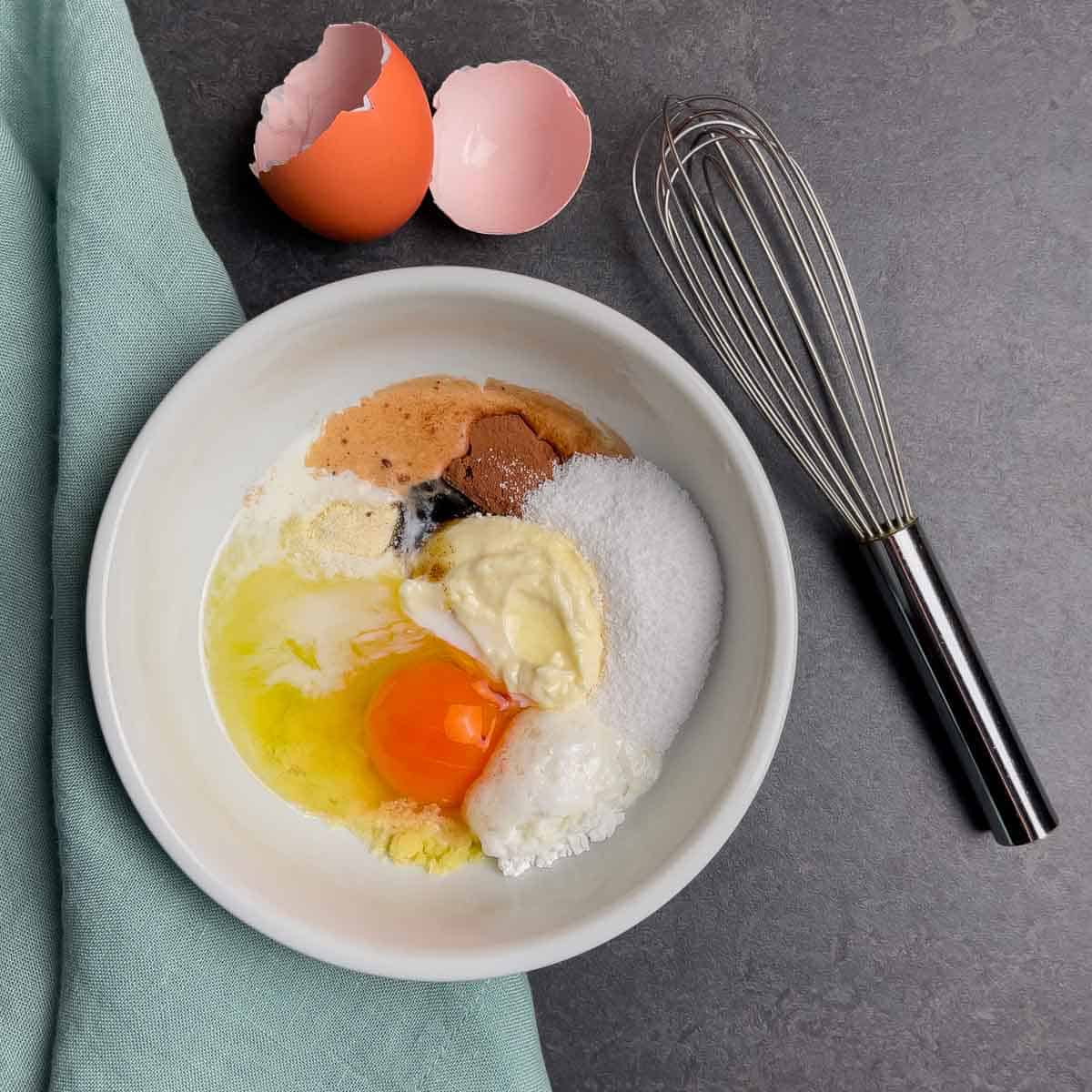 In a small bowl, add the ingredients.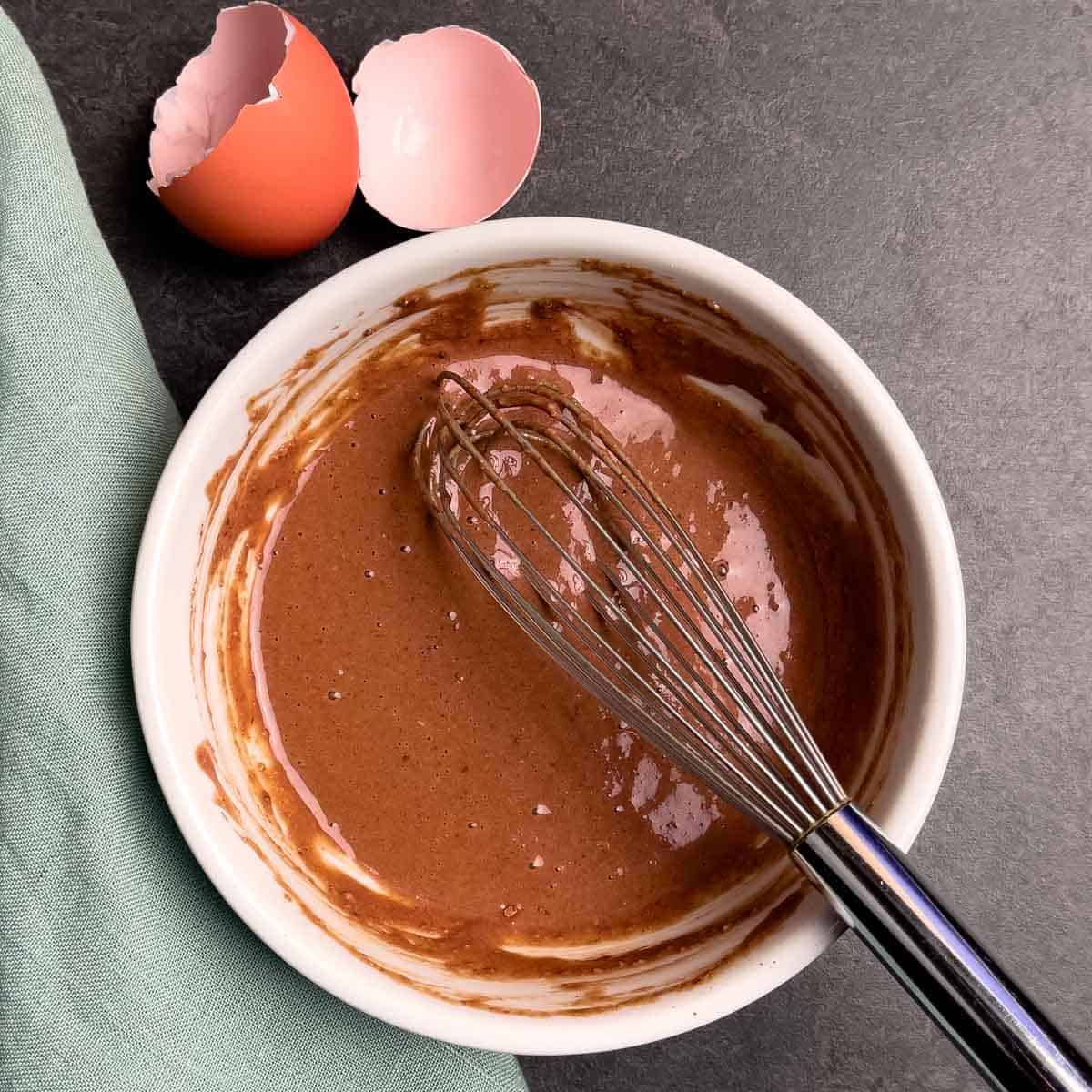 Mix until thoroughly combined.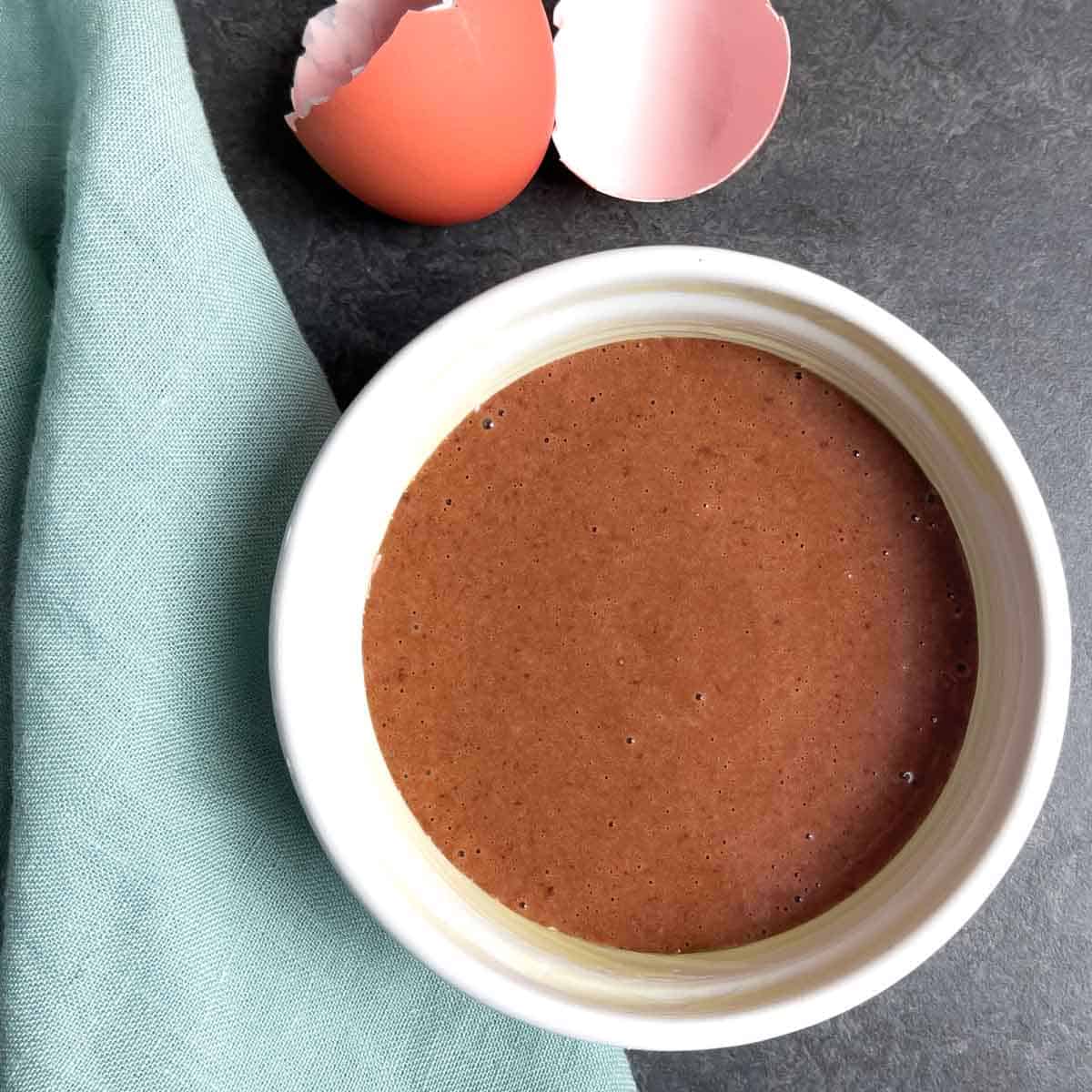 Pour the batter into a greased, microwave safe cup or ramekin.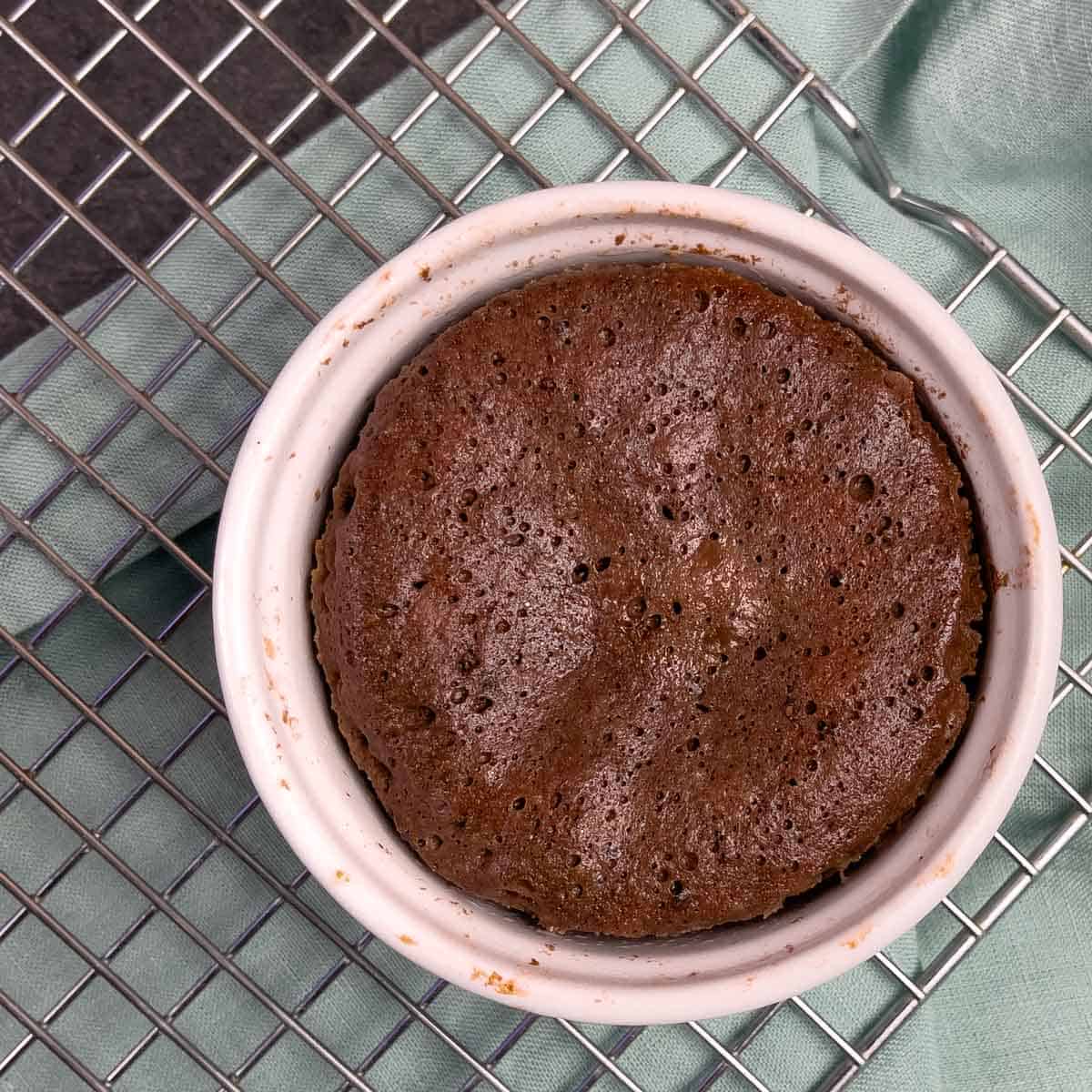 Microwave on high for 60 seconds, then let cool.
Done. You now have your own keto bakery.
TIP: After removing from the microwave, the ramekin will be very hot, so be sure to use an oven mitt to transfer to a cooling rack or counter.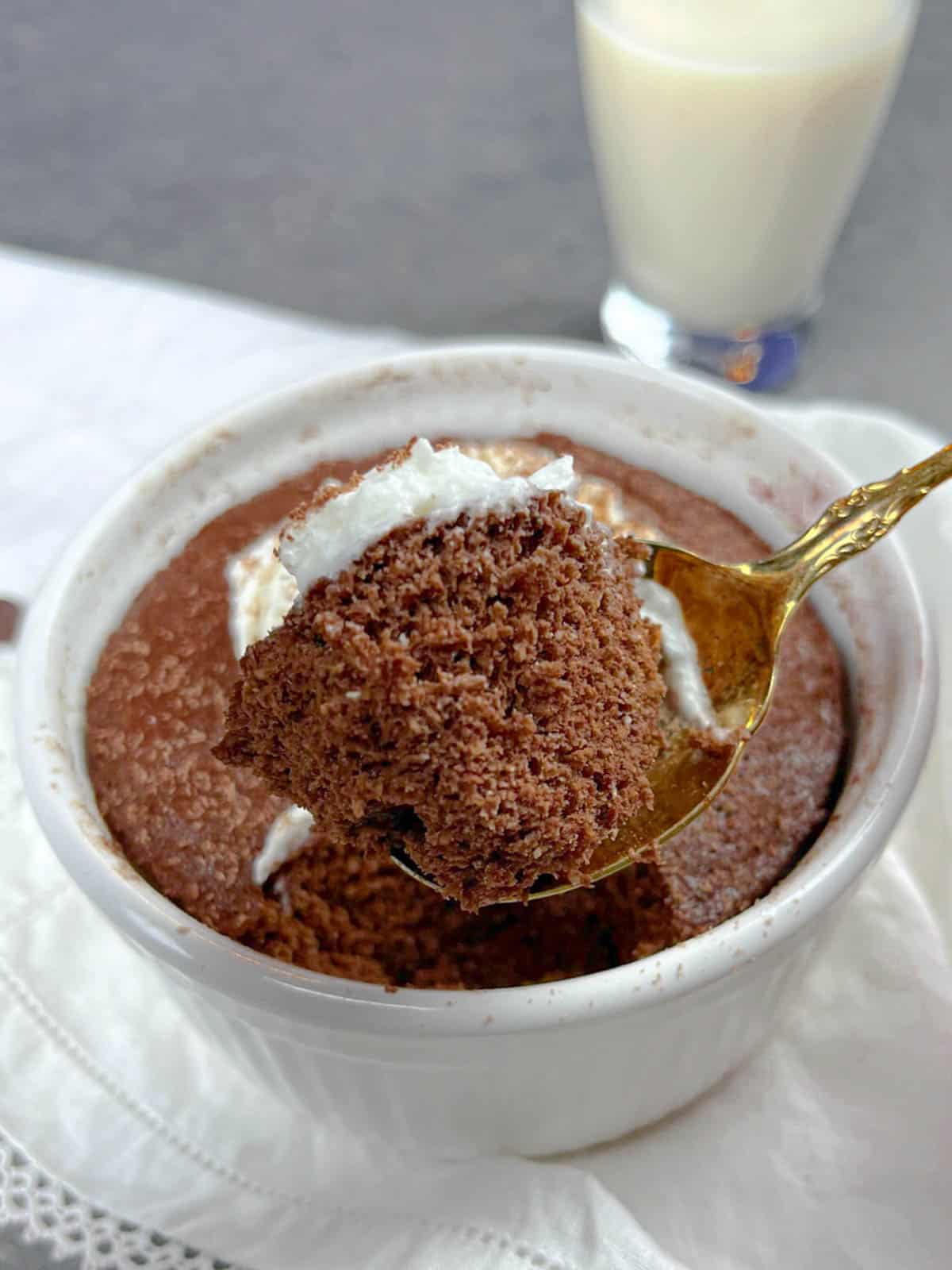 What makes this mug recipe different?
Besides this being a sugar-free mug recipe, I have a secret ingredient to making this chocolate cake so soft and fluffy. Well, actually, it's not really a secret. Bakers have been using mayonnaise in chocolate cake for ages. I got a 'wild hair' and tried using mayo instead of using my usual butter and the result was a keeper! It's like a puffy little keto brownie in a mug.
You certainly don't have to use mayonnaise. It can easily be replaced with butter, coconut oil or olive oil (chocolate olive oil cake is phenomenal!).
FAQ
Is this a gluten-free mug cake?
Yes indeedee! This is actually a very healthy mug recipe that uses almond flour and coconut flour instead of wheat.

Do I have to use a keto friendly sweetener?
No - only if you want to. By no means does this have to be a sugar-free cake. You don't have to follow a keto lifestyle or a keto diet to enjoy a perfect mug recipe. I like to use a combination of stevia and monkfruit sweetener, but you can use any sweetener you please: regular sugar, coconut sugar, maple sugar, etc. They all work great!
How do I make this a dairy-free dessert?
It's a cinch to create a dairy-free mug cake. Simply use plant based milk instead of cream and grease the ramekin with your favorite product, like coconut oil or plant shortening.
How do I know if my mug cake is done?
After 60 seconds, your fancy treat should be completely set. Microwaves vary, so you may need another 20-30 second to guarantee it's cooked through. Insert a toothpick in the center. If it comes out clean, you're set!

Can this mug cake be cooked in an air fryer or conventional oven?
While I've never made it in an air fryer or oven (yet!), I would guess that 350 degrees Fahrenheit for about 15-20 minutes would work. If your cake has risen and you insert a toothpick in the center and it comes out clean, then it's done.

Did you make this recipe? Let me know how you liked it by giving a star rating and leaving a comment!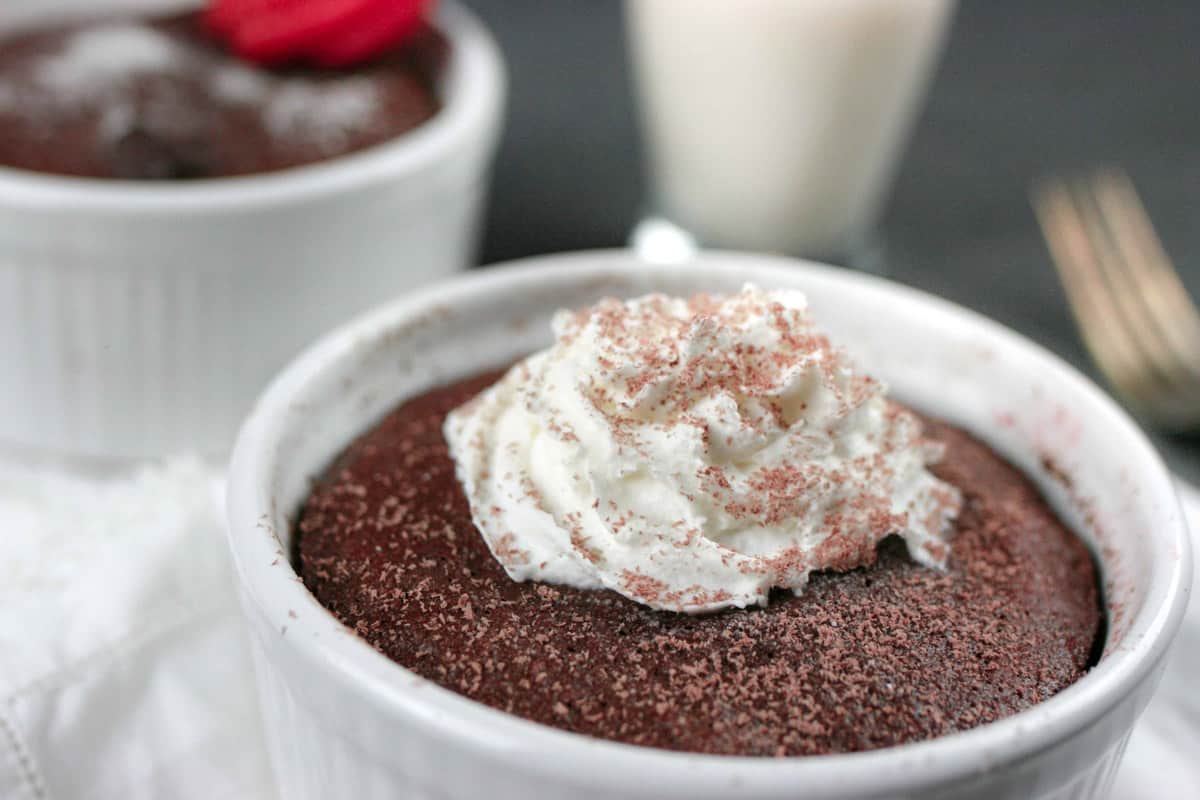 Variations
You can try some of these ideas to take your fancy low carb mug cake to a whole new level. No one will know it's actually healthy: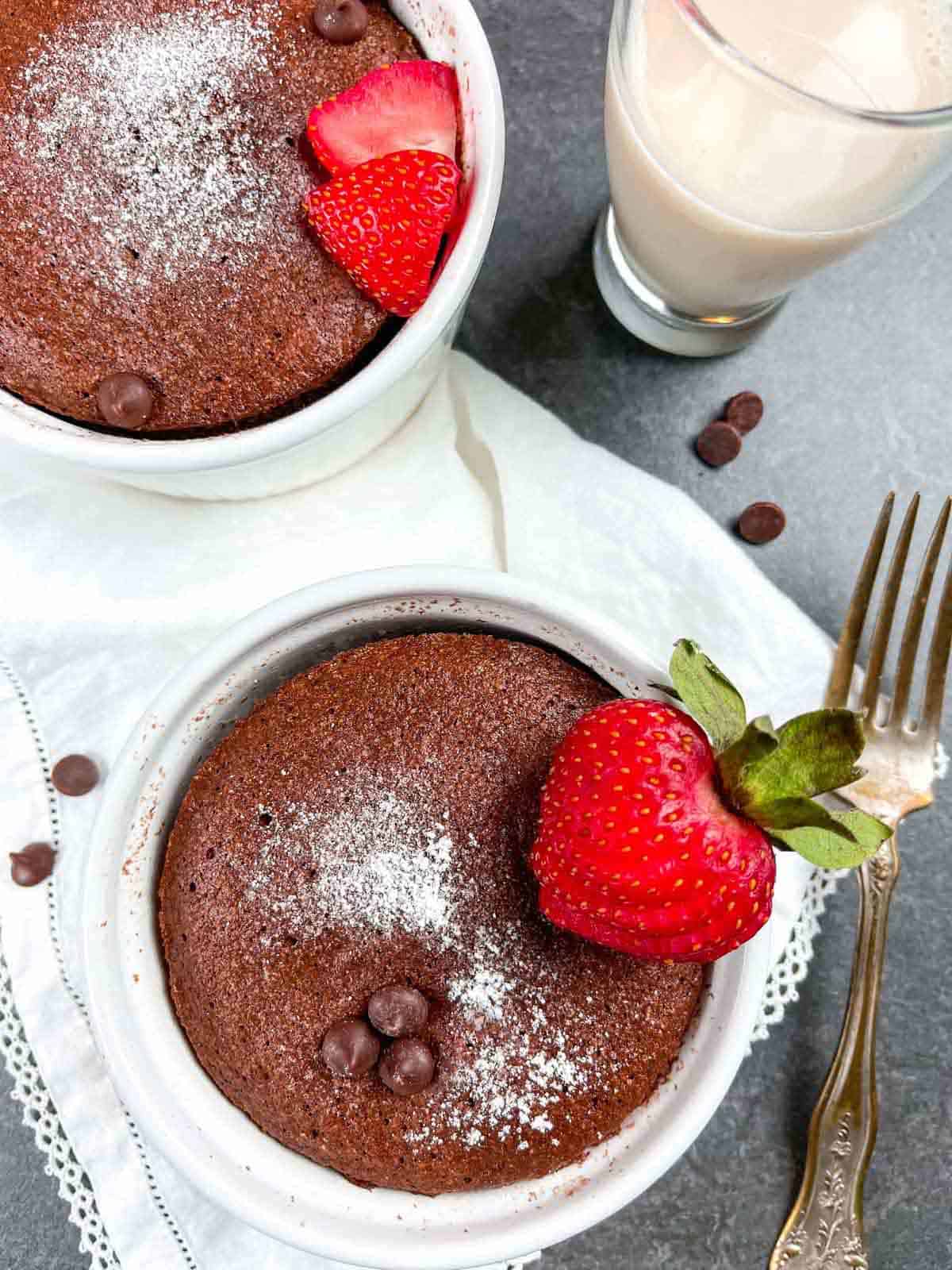 📖 Recipe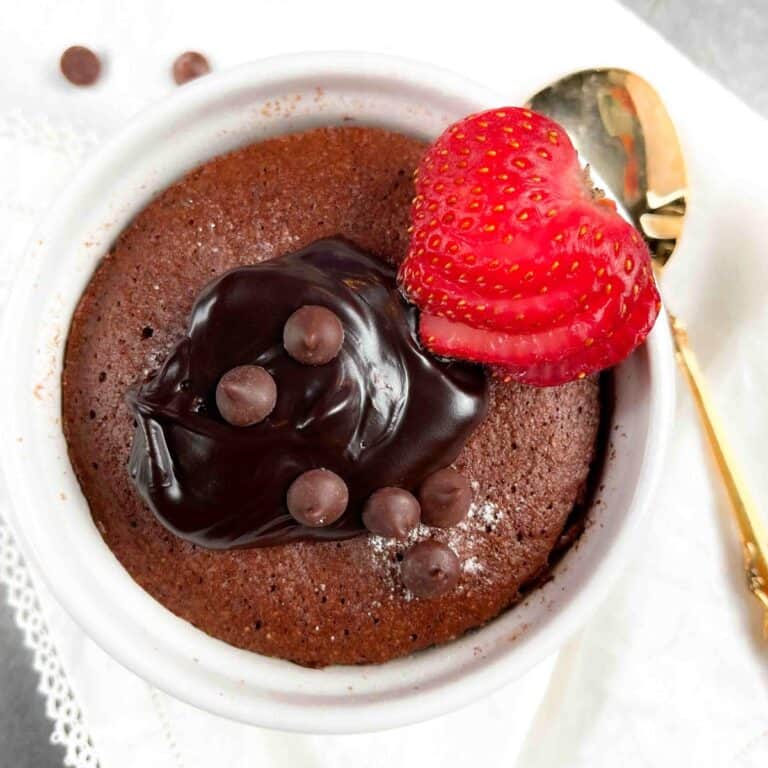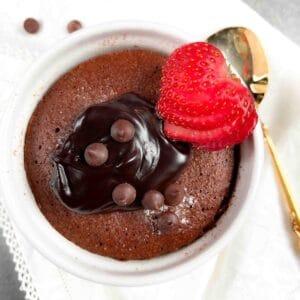 Chocolate Almond Flour Mug Cake
This Chocolate Almond Flour Mug Cake bakes up soft, fudgy and so fluffy with simple staples you'll find in your pantry.  It's the perfect sugar-free, gluten-free low-FODMAP dessert that will satisfy that chocolate craving in just a few short minutes.
Instructions
Pour batter into the prepared ramekin.

Microwave for 60 seconds on high.
Notes
For a low-FODMAP mug cake - use whey protein powder (not whey protein isolate) or use two additional tablespoons of almond flour.
As the cake is cooking in the microwave, it will rise considerably.  No worries - it will fall just a little as soon as it's finished cooking.
Variations
Serving suggestions
Nutrition
Serving:
1
cake
Calories:
272
kcal
Carbohydrates:
9
g
Protein:
9
g
Fat:
21
g
Cholesterol:
175
mg
Sodium:
166
mg
Fiber:
4
g
Sugar:
2
g
Net Carbs*:
5
g
*Net carbs = carbohydrates - fiber
Nutritional information is an estimate, calculated using online tools and does not include optional ingredients unless otherwise indicated.
Did you make this recipe?
Leave a review below, then snap a picture and tag @Rad_Foodie on Instagram so I can see it!