Make this easy lo mein at home with low carb noodles in just 15 minutes! It's better than takeout and totally customizable!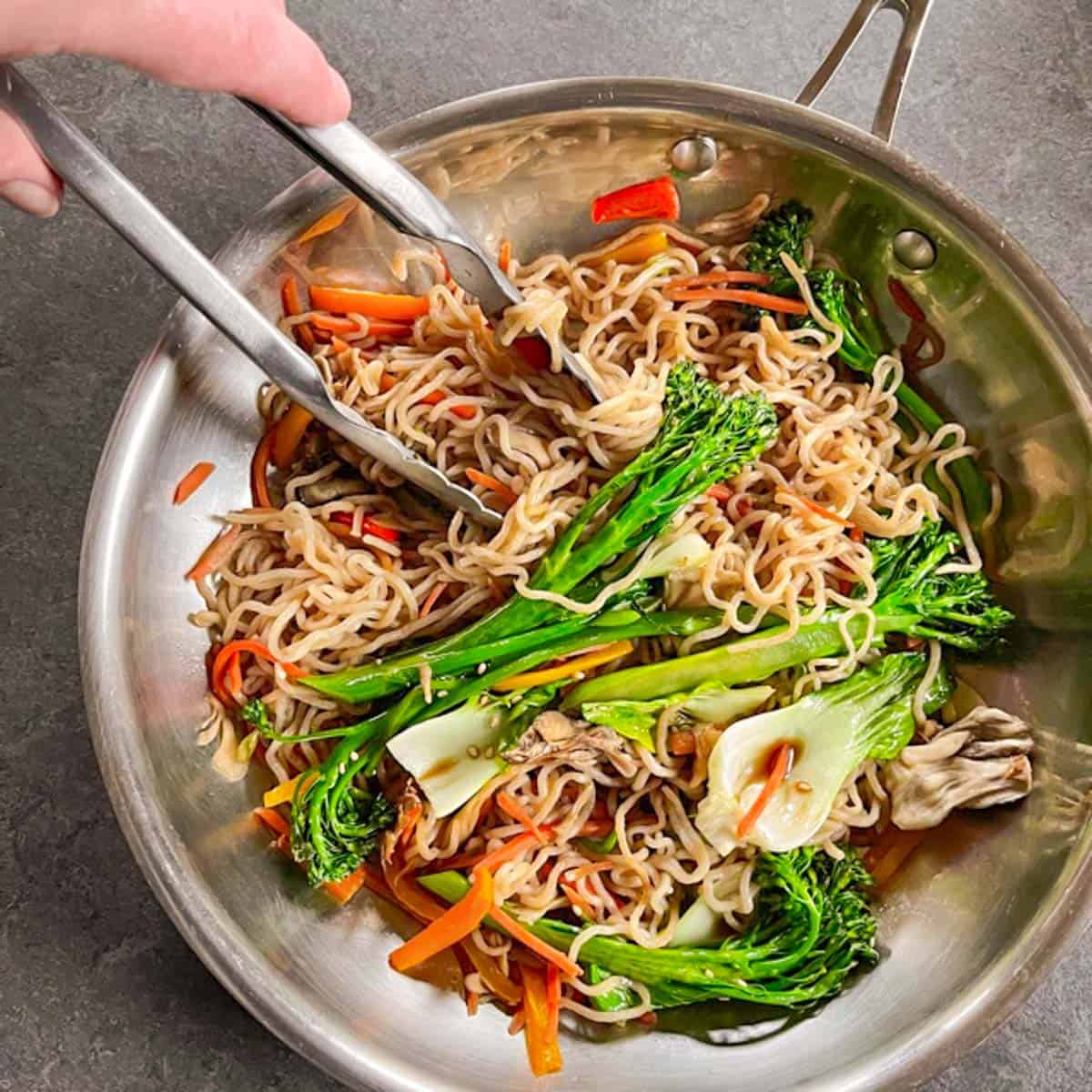 Whether you use a fork or want to go more traditional with chopsticks, get ready for a totally slurp-worthy meal. You're going to LOVE this super easy stir fry with low carb lo mein noodles. You can use pretty much any vegetables you have in your fridge, and serve it with a hot cup of Bamboo Leaf Tea for the perfect meal. It's simple to keep it A keto and low-FODMAP lo mein, so grab a skillet and let's go!
I think every time we'd get Chinese take out we would order some kind of noodle dish. Stir fried noodles have always been one of my favorites and I have such fond childhood memories of piling my plate high with savory, chewy, salty Asian noodles every chance I got.
Since following a ketogenic diet, I've been feeling a little deprived of noodles and have finally found some FABULOUS noodles to satisfy that craving.
If you're only familiar with chow mein, read on, my friends - it's time to get some silky keto lo mein noodles into your life. For real. Are you following a keto, AIP or low-FODMAP diet? This recipe is for you, too!!
What is lo mein?
Traditionally it is a Chinese noodle dish with thick, fresh egg noodles and crisp vegetables. It is typically served with a protein – beef, chicken, seafood, tofu, or with veggies only.
An authentic recipe consists of chewy egg noodles and toppings with the sauce served on the side. You're meant to mix the sauce into the noodles yourself. "Lo" means "to mix or stir" and "mein" means noodles.
An American-Chinese version is often what you find at Panda Buffet (yum – totally not hating here) or quick Chinese take out restaurants. Unlike the classic recipe, you'll find a stir-fried noodle dish with thick, spaghetti-style noodles and toppings like pork, chicken, beef or vegetables. And don't forget the stack of soy-sauce packets!
Lo mein vs chow mein
There are some very subtle differences between the two, but the main difference is the kind of noodles that are used. Generally, 'lo mein' is made from an egg noodle pasta that is boiled and then tossed with sautéed vegetables and meat. The noodles are tossed, rather than fried, like chow mein, so they stay soft. Chow mein typically consists of crispier, fried noodles. And, chow mein noodles tend to be a bit thinner and drier in consistency.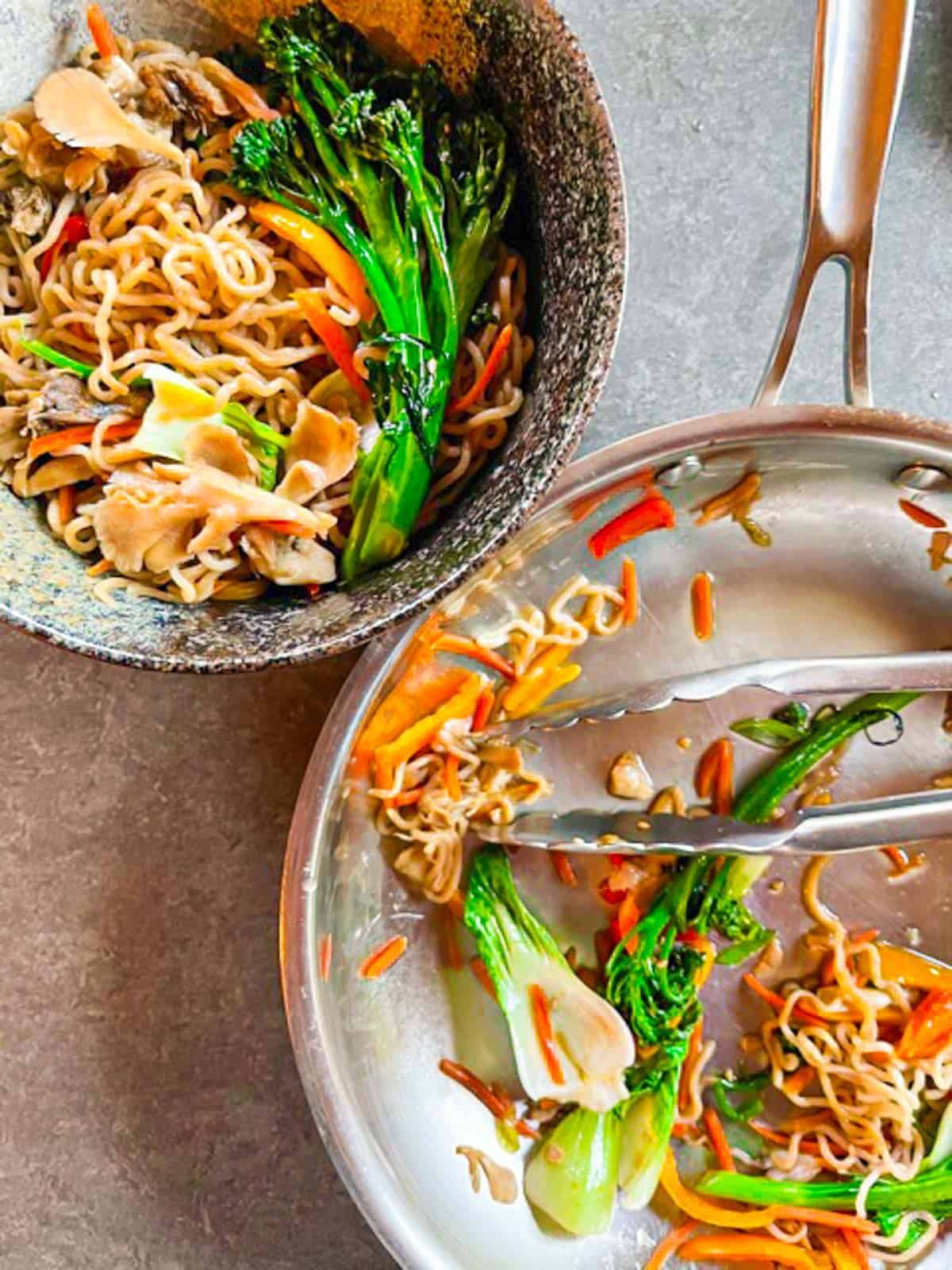 Instructions
This keto lo mein recipe is not only a snap to make, but it's super healthy, MSG-free and made with low carb noodles. In fact it's the probably the best lo mein just this side of your favorite Chinese restaurant. No more cold take out noodles! You can enjoy this easy, 15 minute recipe at home in just a few simple steps:
Make the sauce
Warm the noodles
Cook the mix-ins – I like to keep it simple with a few different pan fried vegetables and a protein, but here we've made this recipe vegetarian
Toss. Add the noodles and sauce to the pan until everything is evenly coated.
Slurp and enjoy!
Easy lo mein sauce
The sauce is what is so addictive about this dish. Well, that and the noodle part… It's is an umami rich combination of tamari or soy sauce, toasted sesame oil, fish sauce, ginger (fresh or powdered, or ginger juice!) and a little bit of monkfruit sweetener.
I know - did I actually say ginger juice? Yuuuppp - this is one of the best things invented since chocolate - trust me! It keeps for a long time in the fridge and can be easily added to anyyyyyything. If you need that ginger flavor in a recipe - or drink - you need this. I'm love it and always have a bottle in my fridge.
What is fish sauce?
Just one of the best things ever. It's a simple ingredient is made from fermenting fish or krill. You'll find it as a staple seasoning in many Asian dishes and it provides an umami explosion in this recipe. If you don't have fish sauce, you can substitute for more soy sauce, but I highly recommend using it because it adds a ton of flavor.
The best soy sauce to use
I'm a big fan of tamari and coconut aminos. I know, these aren't technically soy sauce, but I use them often as a soy sauce substitute and they work just as well in this recipe. Here are a few options:
Tamari – is so very much like regular soy sauce, it's just gluten-free. It's made only with soybeans (no wheat). Can tamari substitute for soy sauce? Yes – absolutely! Most people won't notice any difference between the two. I'm with most people on this one.
Coconut aminos – What exactly is coconut aminos, anyway? This is a dark colored sauce that is very similar to soy sauce and tamari. Instead of being made from soy, it is made from the sap of the coconut plant – not the coconuts. The sap is fermented, producing a savory, allergy-free and gluten-free soy sauce alternative.
Dark soy sauce – Is slightly darker and thicker than regular soy sauce. It has a richer, sweeter taste and is often used to add a deeper 'soy sauce' taste and darker color to dishes. If you have this in your pantry, now is the time to use it! For this recipe, split the regular soy sauce measurement into half regular and half dark. It is very strong and cannot be used in place of regular soy sauce. It will completely overpower your dish.
Light soy sauce – Where dark soy sauce is mainly used for giving color to dishes, light soy sauce is mainly added for flavor. If you don't want your noodles to be stained from a darker soy sauce, this is a good option. It can also be used interchangeably with regular soy sauce.
Regular soy sauce – this is your 'all purpose soy sauce'. It provides a robust soy flavor without staining the noodles. This is perfect for pretty much everything - dipping (think sushi), salad dressings, noodles, vegetables, stir frys, and many other low carb Asian recipes.
Toasted sesame oil
This is one ingredient you don't want to skip. The toasty, aromatic, nutty, umami-ness (is that a word?) of toasted sesame oil is a must. Don't get this confused with regular sesame oil. The toasting process builds a completely different flavor and color. The untoasted variety is used as a neutral oil, like avocado or grapeseed. Try this in stir frys, dressings or just a drizzle over vegetables any time. I've fried my eggs in it – heavenly.
The best low carb pasta
For a good low carb and keto friendly pasta, my favorite low carb noodles are shirataki noodles from Miracle Noodle. I also love the Healthy Noodle brand. Both are made from konjac, are carb free pasta options and have a great texture. I'm also a fan of hearts of palm pasta which are only 2g net carbs per serving. These pasta options are all plant based noodles that make great Chinese noodle recipes, easy stir fries and are perfect to serve with any sauce.
You can also use spiralized zucchini, rice noodles or other wheat-free noodles if you like.
Only have spaghetti, fettuccini or ramen noodles? Toss 'em in! The rules for this dish are pretty flexible. You can use any type of noodle your heart desires.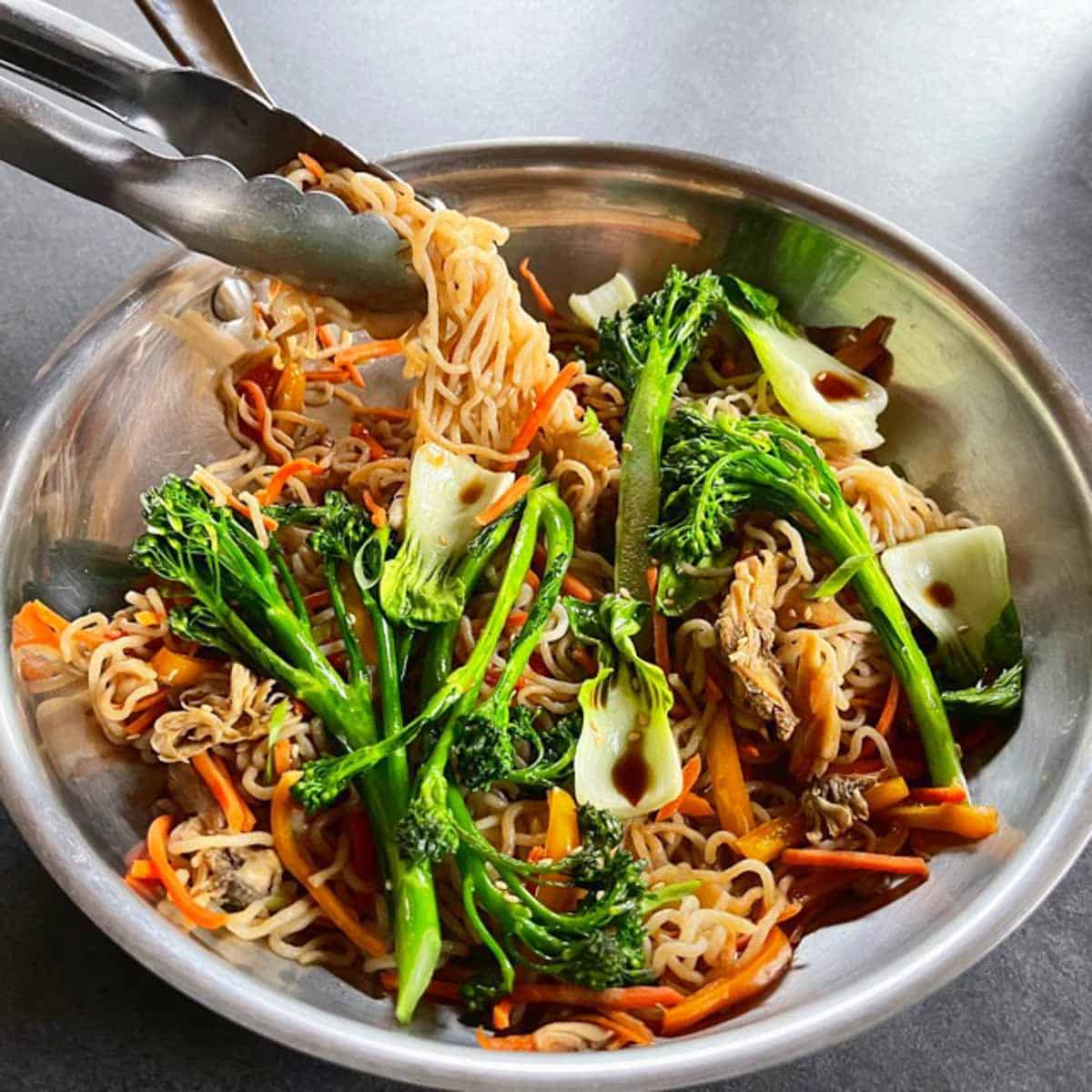 FAQ
Can I make a low-FODMAP lo mein recipe?
Most definitely! Use vegetables that are low in FODMAPs, such as bok choy, carrots, green beans, oyster mushrooms, spinach and bell peppers. There are a great many pastas that are also low-FODMAP, such as rice and quinoa pasta. To keep this dish low in carbs and low-FODMAP, opt for low-FODMAP noodles such as shirataki pasta, hearts of palm pasta or spiralized veggies.
Can I make an AIP friendly lo mein?
Yes, yes, you bet! While shirataki noodles aren't AIP compliant, hearts of palm, spiralized veggies and spaghetti squash are. Instead of using soy sauce or tamari, coconut aminos and fish sauce add plenty of flavor on their own. Since sesame oil is not AIP friendly, coconut oil would add a wonderful, complementary flavor. For more umami flavor, adding some seaweed would be deeeelicious.
What is traditionally in lo mein?
This dish is often served with some type of protein, such as tofu, meat or seafood and a variety of vegetables such as green onions, snow peas, broccoli, cabbage, bok choy and carrots.
Mix-ins
You can use almost any vegetables or protein. The versatility of this dish is one of the reasons I love it so much.
Here are some ideas to make this your own homemade masterpiece:
Vegetables - Red pepper, carrots, mushrooms (think oyster, shiitake or maitake), bok choy, green onions, broccolini, asparagus, zucchini, shredded cabbage (see easy instructions in How to Shred Cabbage), spinach, lotus root, peas, snap peas, green beans… you get the idea! Crisp, caramelized, pan-fried veggies are a party in a pan.
Take some joy in clearing out your fridge. You know what I mean… we all have that lonely zucchini or bell pepper in there somewhere.
Protein – Most people tend to make chicken lo mein, but all proteins are welcome. You can use either shrimp, chicken, beef, tofu (firm), tempeh or pork. I like to cook whatever protein I'm using in sesame oil with a splash of tamari. Let cool and thinly slice or shred. Except for shrimp – leave those whole.
Spicy lo mein
Some folks gotta have their spice. I get it. There are a few ways to do this. To make your noodles spicy:
Add 1-2 teaspoons of your favorite hot sauce or chili paste (I like Sambal Oelek)
Sprinkle with some red chili flakes
Add some hot chilies in with your vegetables
Alrighty! Off you go, noodle masters. Go forth and slurp!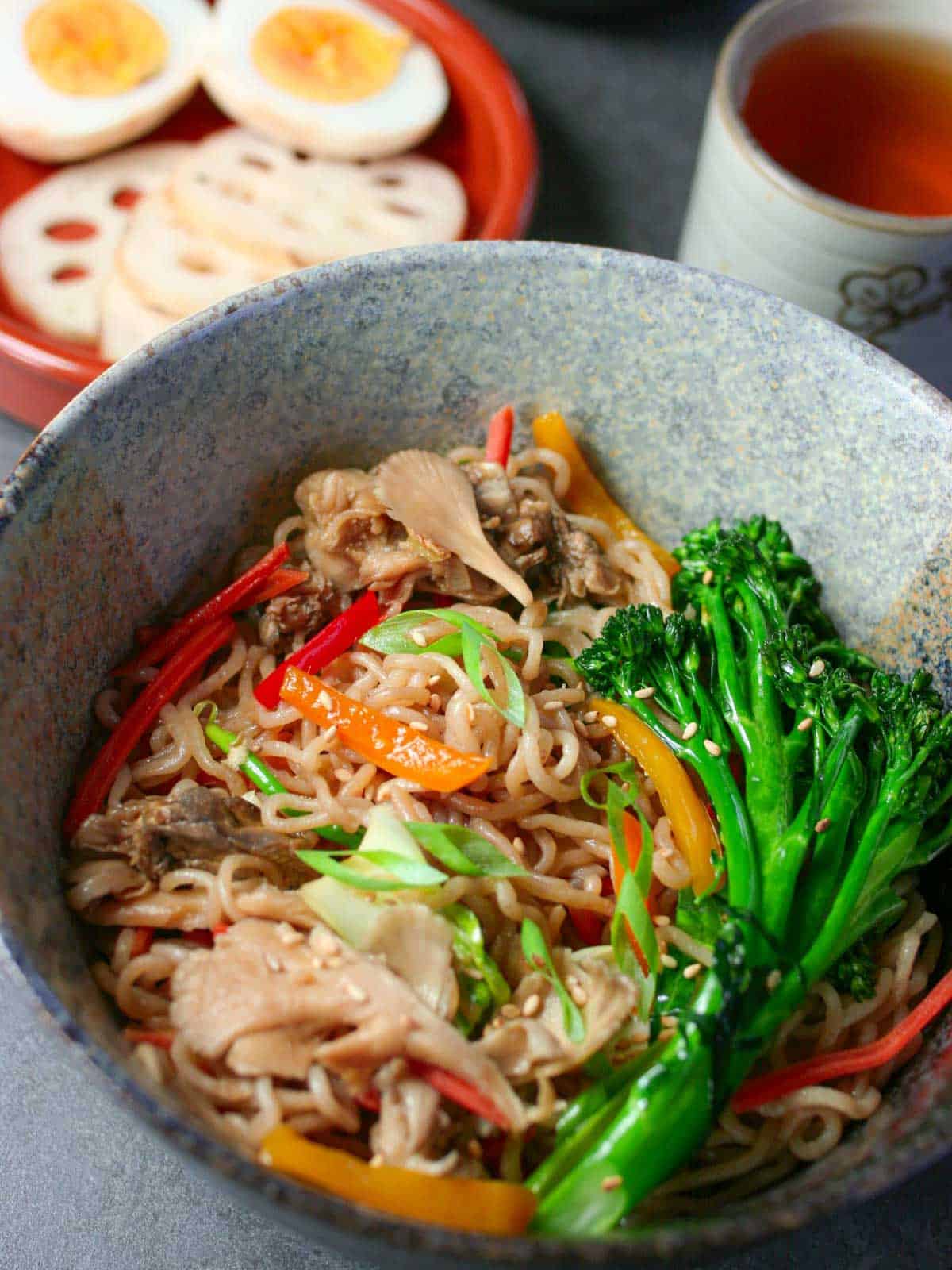 Other recipes you might like
This post contains affiliate links. As an Instacart and Amazon Associate, I earn from qualifying purchases.
📖 Recipe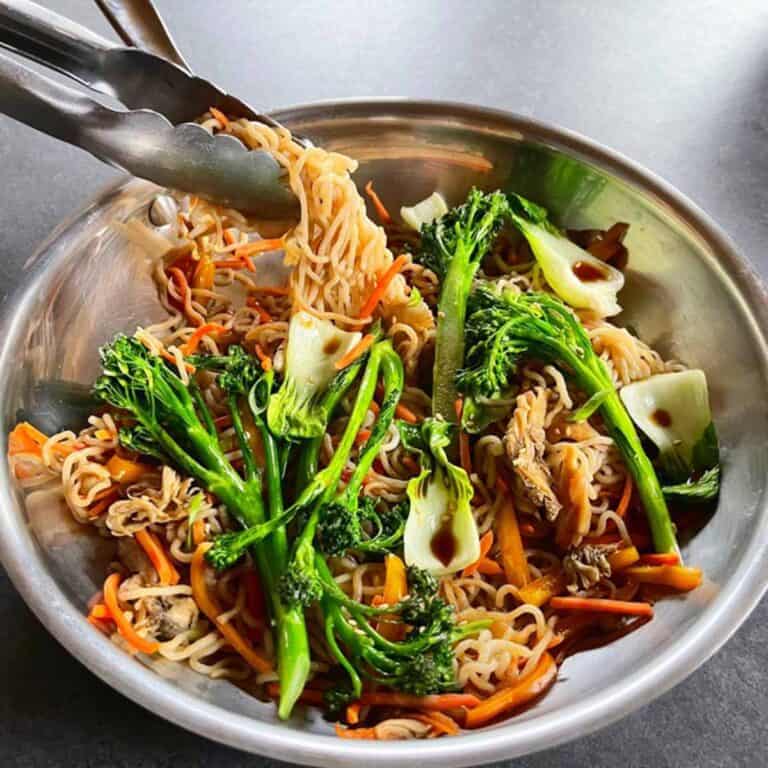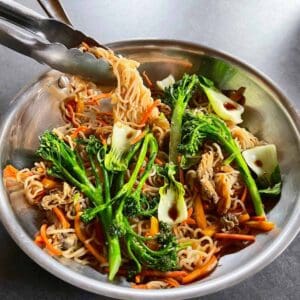 Keto Lo Mein With Low Carb Asian Noodles
Homemade Lo Mein made with a pile of vegetables and low carb asian noodles is so easy, healthy and insanely delicious! If you have 15 minutes and a pan, you can make this dish right now!
Ingredients
Protein (if using)
½

pound

chicken

(or other protein. If not preparing vegetarian, cooked and thinly sliced. shrimp can be whole.)
Instructions
Add the vegetables, and about 2 teaspoons of sauce and stir fry on medium-high heat until just fork tender (about 5 minutes).

While the vegetables are sautéing, rinse the shirataki noodles - if using (see Notes) and let drain/dry as much as possible.

Add the rinsed noodles, cooked protein (if using), and sauce to the pan. Toss until everything is coated.

Add more tamari or fish sauce to taste and garnish with slices of green onion and sesame seeds.
Notes
Vegetables to add
I used oyster mushrooms, carrots, red pepper, baby bok choy and broccolini
*About Shirataki Noodles
The instructions on the Miracle Noodle Shirataki Noodles say to boil them and let dry before adding to a dish.  Feel free to follow these instructions - however, I just rinsed them, drained them well and added them directly to the pan.  They had a nice firm chew and absorbed the sauce perfectly!
I like to use Miracle Noodle spaghetti or angel hair style noodles.  They have the perfect texture for stir fry.
Nutrition facts:  Please note that nutrition values will vary depending on the vegetables and protein you add.
Nutrition
Serving:
1
serving
Calories:
73
kcal
Carbohydrates:
9
g
Protein:
4
g
Fat:
4
g
Cholesterol:
0
mg
Sodium:
827
mg
Fiber:
5
g
Net Carbs*:
4
g
*Net carbs = carbohydrates - fiber
Nutritional information is an estimate, calculated using online tools and does not include optional ingredients unless otherwise indicated.
Did you make this recipe?
Leave a review below, then snap a picture and tag @Rad_Foodie on Instagram so I can see it!