Sweet, vegetal and nutritious, bamboo leaf tea is a smooth and bright tea to add to your daily pot!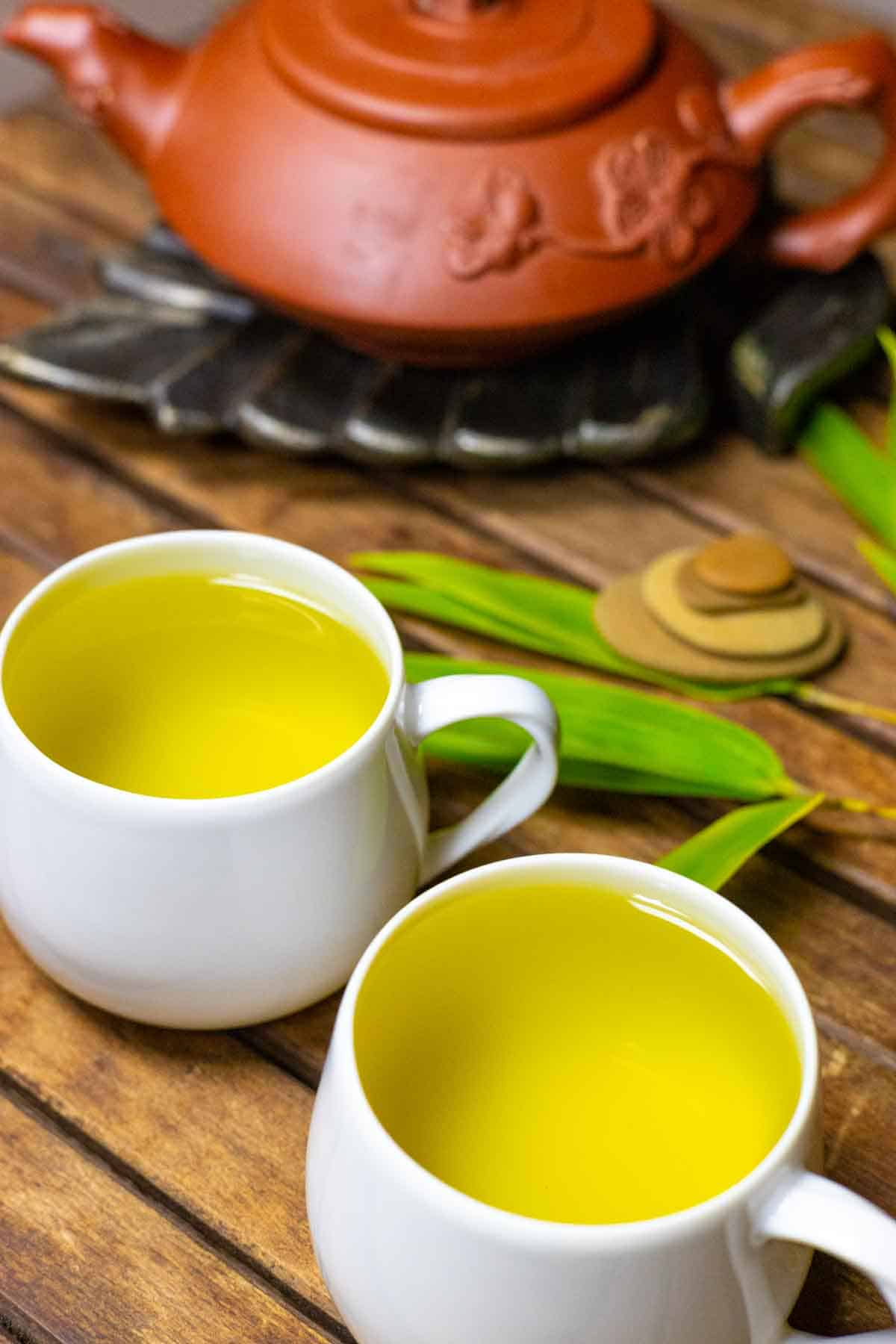 Magical and dazzling, bamboo has an exotic feeling and its beauty is somehow calming. Did you know its delicate looking leaves can be brewed into an extremely healthy and delicious tea?
For hundreds of years, bamboo has been used in both Chinese and Ayurvedic medicine due to its health benefits and healing properties. It is a very sustainable crop, with both the leaves and stems being used for tea.
What is bamboo leaf tea?
This delicious brew is made from young bamboo leaves that are picked, washed and dried in the sun.
It has a sweet flavor that can balance mind and body, without any caffeine. It is a delicious and very healthy caffeine free tea alternative to green tea.
Bamboo has the highest amount of silica of any plant, 10 times the amount of popular herbs such as horsetail and nettles. Horsetail contains about 8% silica, where bamboo leaf contains about 70% – the highest of any plant. Silica is what contributes to bamboo's strong, fast growth and flexibility.
What does bamboo tea taste like?
The flavor is sweet and vegetal (slightly grassy), with notes of cornsilk and cocoa. It's very much like traditional green tea. It's very mild, refreshing and light, with a pale green to light yellow color.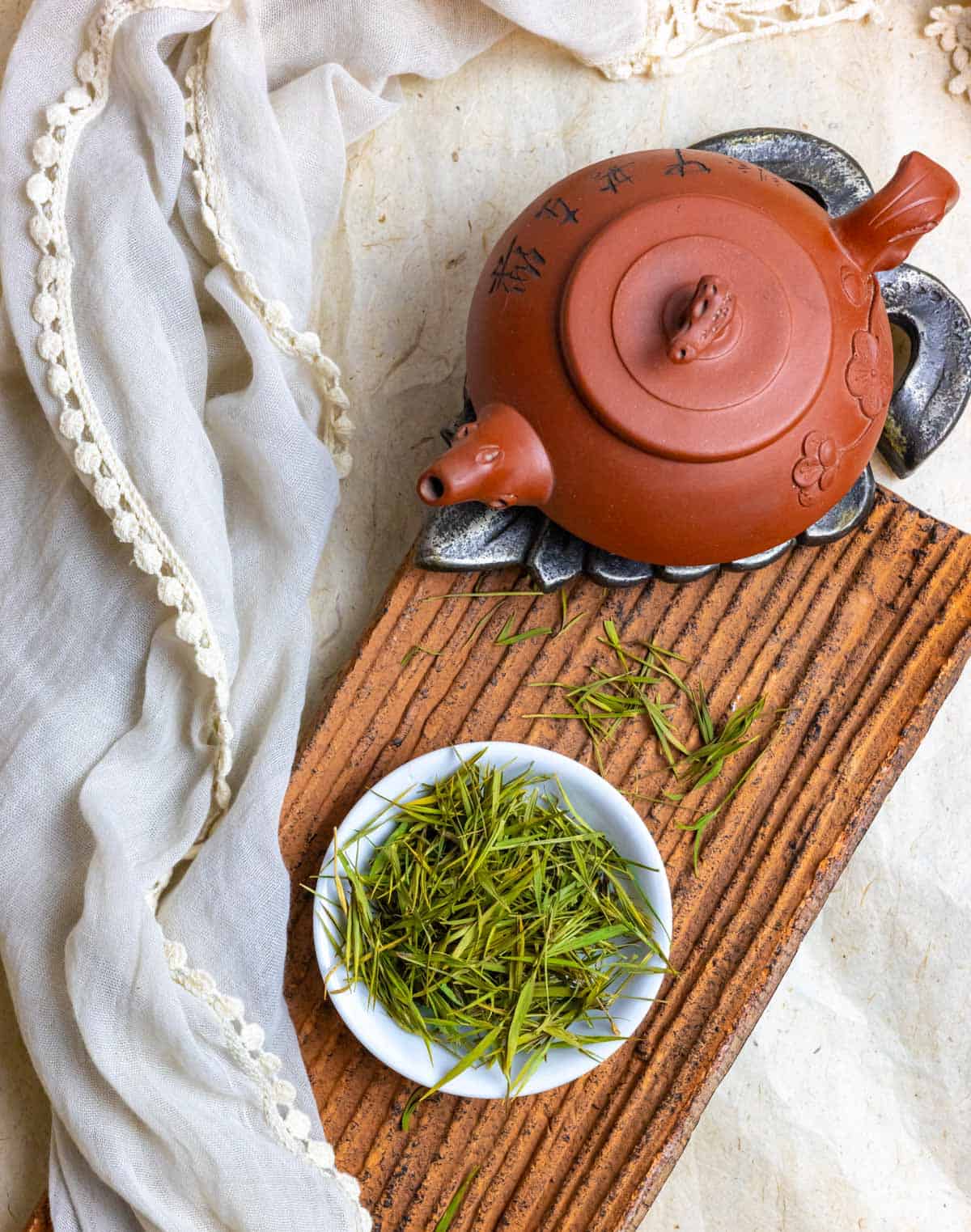 Bamboo tea benefits
There's so much to love about this elegant brew, including its numerous health benefits:
It's rich on antioxidants and amino acids
High in silica, which has been linked to increased hair growth and nail strength
Supports collagen production, supporting rejuvenation and elasticity of skin
Contributes to healthy bones and increased bone density
Promotes cardiovascular and digestive health
Drinking bamboo tea and homemade bone broth may have synergistic health benefits. The silica in the tea is a building block of collagen and bone broth is a delicious source of natural collagen. Consuming both as part of a healthy routine can rejuvenate your skin, aid in muscle repair and even reduce inflammation.
Contains B vitamins (including folic acid), vitamins A and E, beta-carotene and anthocyanins
Has a high mineral content, including silica, magnesium, potassium, iron and copper among others
Contains about 4% soluble fiber, which equals about 1g of fiber per cup
Can easily be included in special diets. It's keto-friendly, paleo, AIP and Whole30 compliant and is a delicious low-FODMAP tea.
Where to buy
The leaves are available as either a loose tea or in tea bags. My favorite way to brew it is with loose leaves, especially when brewing a whole pot. However, having it pre-packaged is very convenient and portable when on-the-go or for making a quick cup.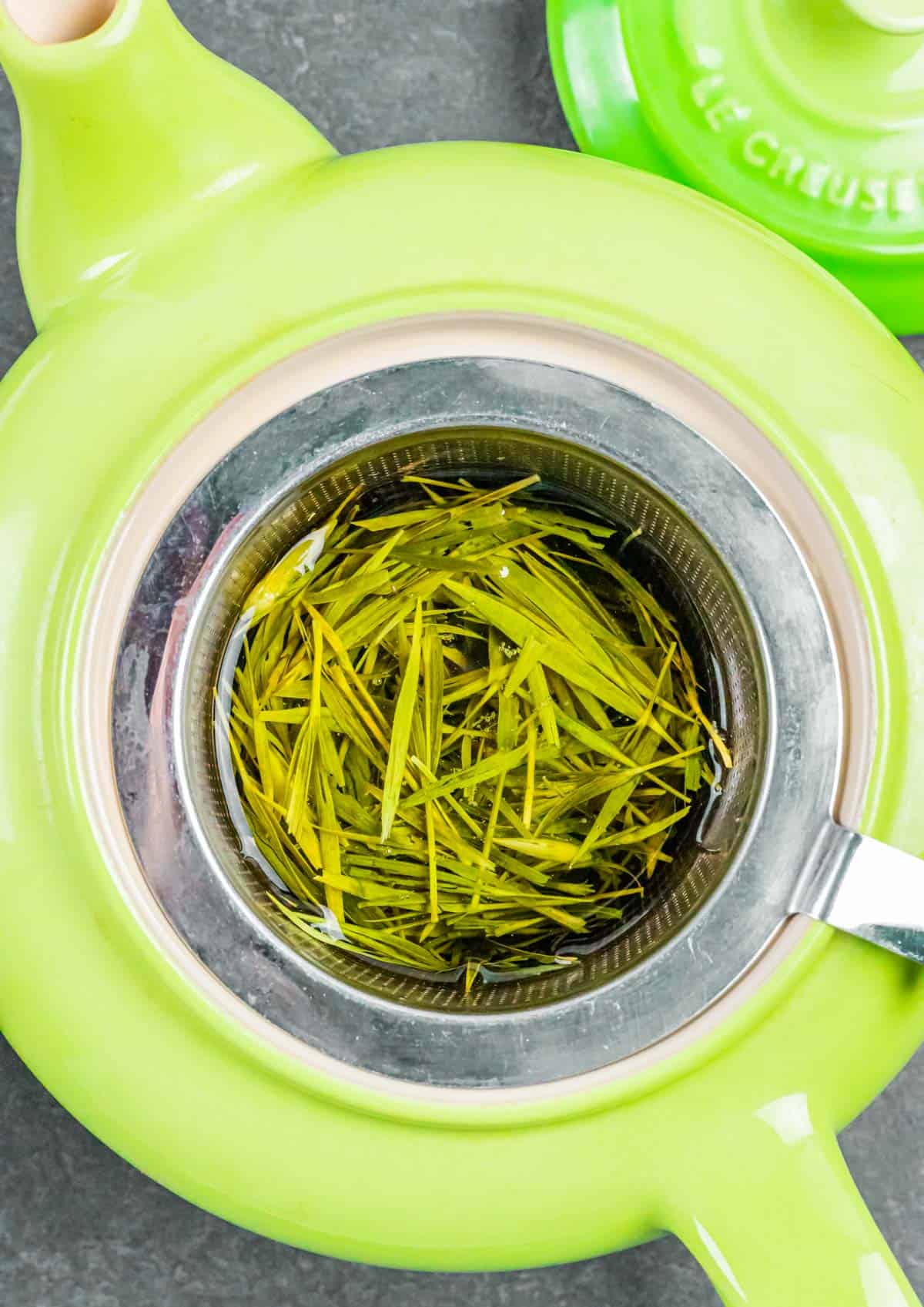 How to brew
Brewing loose leaf tea is a very simple process. There are a variety of brewing methods and the brew time can be adjusted according to your personal tastes.
Use 1 teaspoon (or 1 tea bag) per cup (which is a good healthy 'pinch' of leaves)
Heat the water to 200F degrees (8oz of water per cup)
Steep for 3-5 minutes and enjoy
Serve with a squeeze of lemon, light sweetener or simply by itself (my favorite).
It can be infused up to three times.
How much to drink
Although no side effects of bamboo tea have been reported, moderation is always encouraged. For healthy benefits, consumption can be up to 3 cups per day.
If drinking for the benefits of silica, it's suggested to drink a few cups daily for 2-3 months before seeing any changes in hair or nails.
How to drink
Enjoy this brew hot or cold. It has a light sweetness that is enhanced when chilled and makes a delicious iced tea.
Variations
Bamboo leaf blends very well with other green and herbal teas. Here are a few of my favorite variations:
FAQ
Is bamboo a grass?
Yes, it is considered a perennial grass.  It is also the fastest growing land plant in the world.
Is bamboo edible?
Yes – you can eat bamboo.  However, the shoots are the most edible part, as well as the sap, which is made into a drink, mostly as a sweet wine.  Bamboo shoots are harvested while they are still soft and make wonderful additions to salads and stir frys.
Does bamboo produce oxygen?
Yes – quite a bit.  It is wonderful for the environment because it can produce up to 35% more oxygen than trees, absorbing more carbon dioxide.
How fast does bamboo grow?
Some varieties of bamboo can grow up to 2.9 feet per day, according to Guinness World Records.  If you sit in a bamboo culm, you may actually see and hear it growing.
Is bamboo leaf a low-FODMAP tea?
Bamboo leaves may be considered low-FODMAP.  Bamboo shoots and bamboo juice are considered low-FODMAP and fresh bamboo is low in FODMAPs, so a brew made from the leaves is very likely to be FODMAP-friendly and could be added to the list of herbal low-FODMAP teas.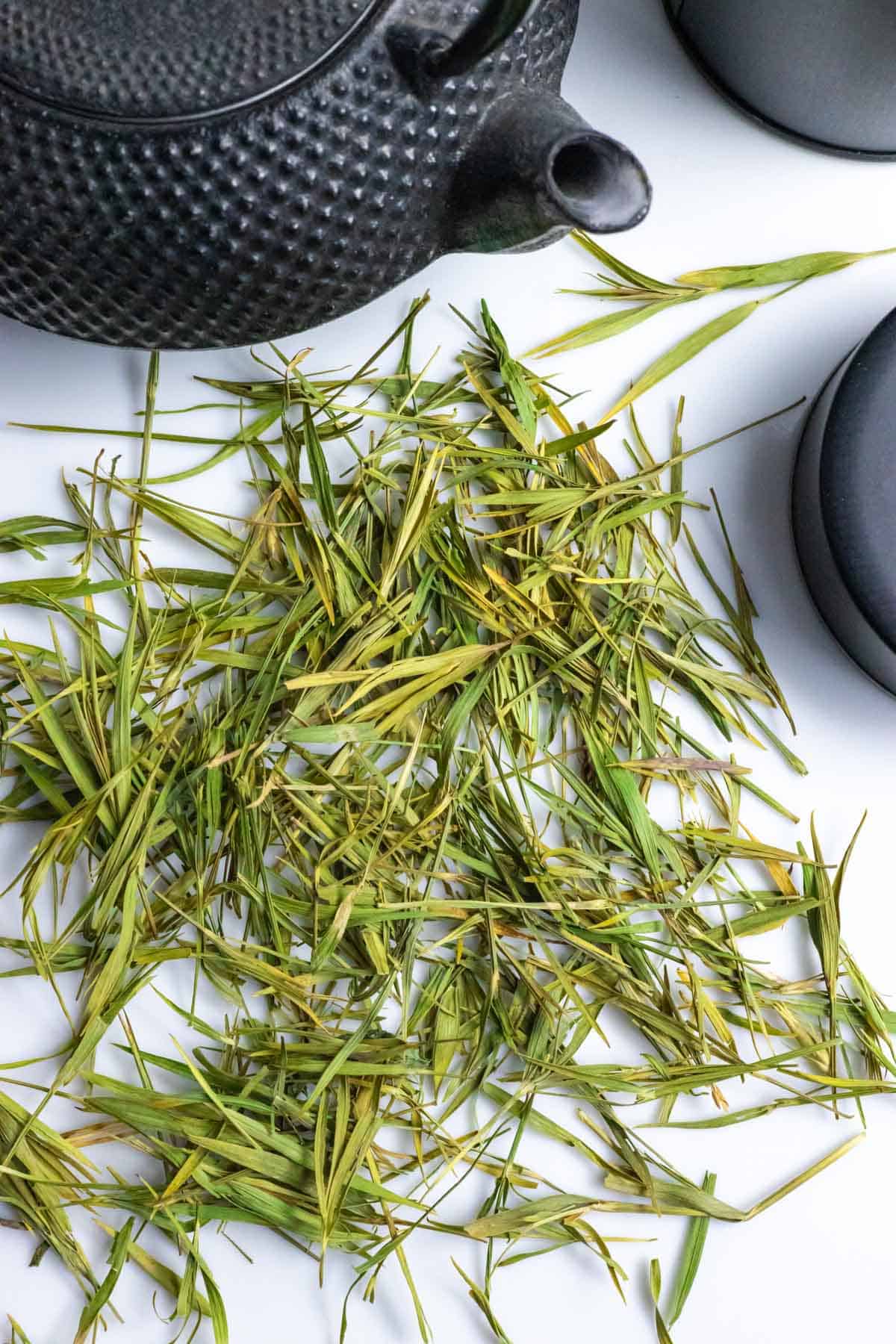 This post contains affiliate links. As an Instacart and Amazon Associate, I earn from qualifying purchases.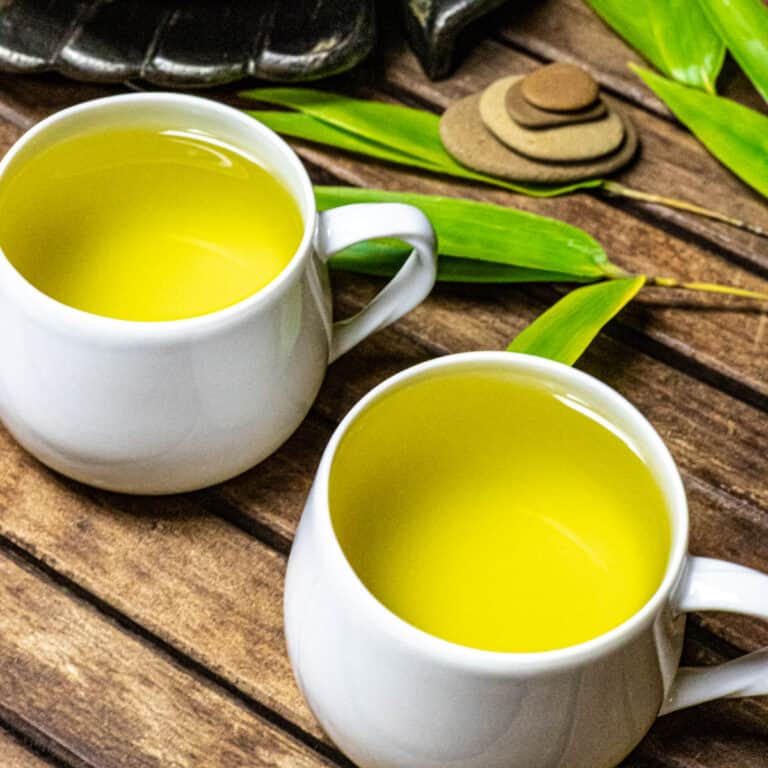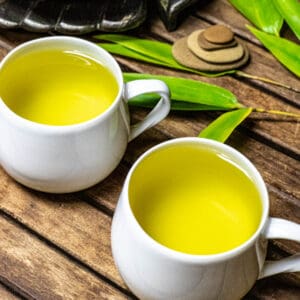 Bamboo Leaf Tea
Sweet, vegetal and nutritious, bamboo leaf tea is a smooth and bright tea to add to your daily pot!
Ingredients
1

teaspoon

bamboo leaf tea

(loose or 1 tea bag)

8

ounces

water

(filtered is best)
Instructions
Pour heated water over tea to fill cup or pot and steep 4 minutes

Repeat for additional infusions
Notes
Brewing and serving notes
You can re-steep 1-3 times based on your personal tastes.  I sometimes will add a little more tea to a 2nd and 3rd infusion for a bit more strength.
Serve with a squeeze of lemon, light sweetener or simply by itself (my favorite).
Variations
This brew blends very well with other green teas.
Nutrition
Serving:
8
oz
Calories:
0.01
kcal
Carbohydrates:
0
g
Protein:
0
g
Fat:
0
g
Fiber:
1
g
Net Carbs*:
0
g
*Net carbs = carbohydrates – fiber
Nutritional information is an estimate, calculated using online tools and does not include optional ingredients unless otherwise indicated.
Did you make this recipe?
Leave a review below, then snap a picture and tag @Rad_Foodie on Instagram so I can see it!