Here's a complete guide on how to make cauliflower rice - keto, Whole30, paleo and AIP friendly! Included are some tasty variations for the best homemade riced cauliflower recipes.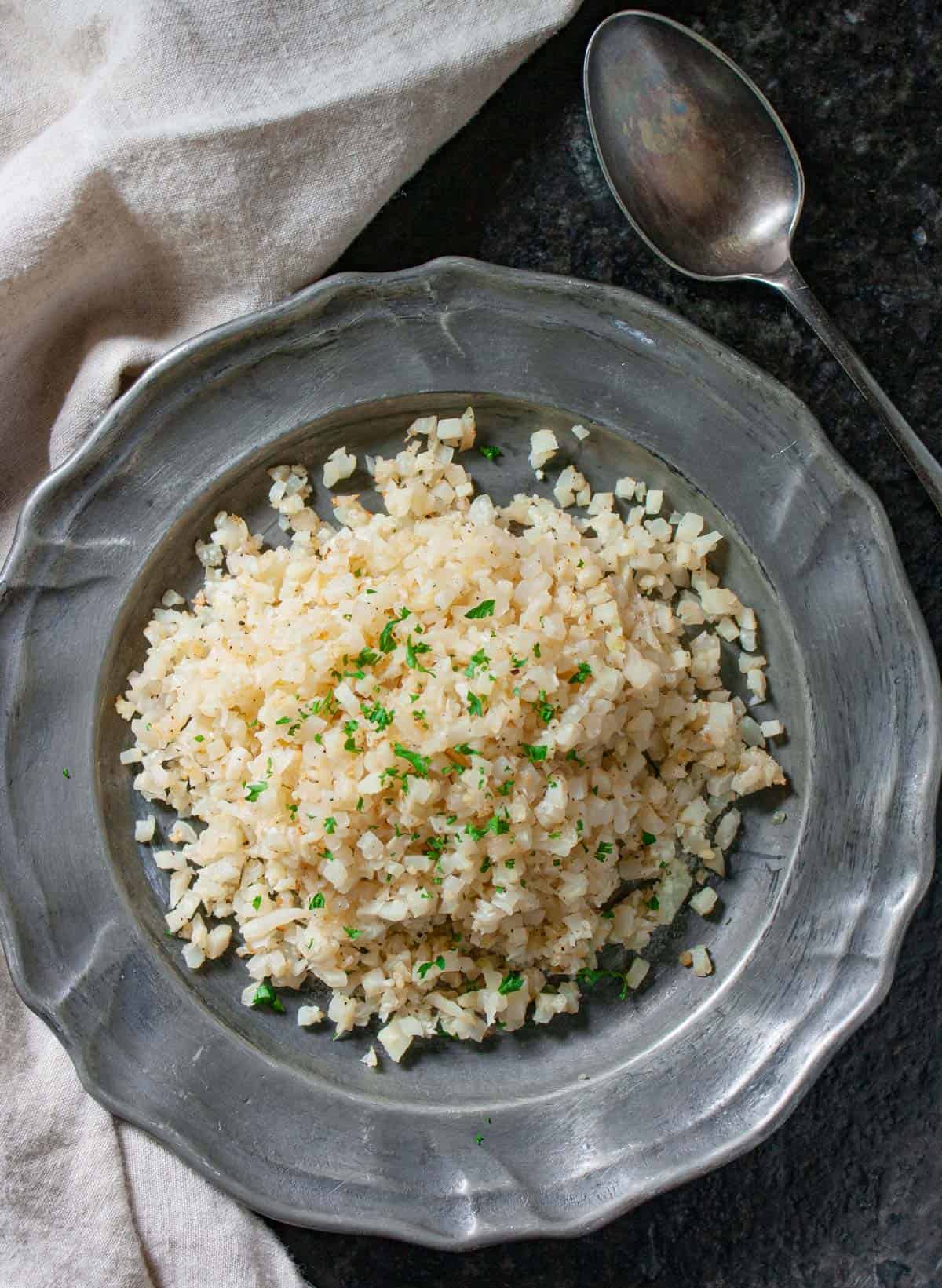 Jump to:
Sometimes when life gets busy, you gotta keep food really simple. And healthy. And ridiculously delicious.
To be honest, I've drastically underestimated just how good this stuff is. Once I was able to incorporate some FODMAPs back in my diet, this vegetable was never on the radar. It just seemed so boring. I have to confess just how wrong I was! It's the farthest thing from boring and I'm totally in love with it.
Whether you're looking for vegetarian recipes, vegan cuisine inspiration or just a simple side dish, this simple, basic recipe has you covered. This recipe is just straight up veggies that can be made in a zillion different ways.
It's super versatile and you can season your masterpiece however you see fit. Explore my suggested variations for how to season below.
This recipe makes a great side dish for Salmon with Indian Spices or Asian Cabbage Rolls. See my additional ideas for what to serve with this versatile dish.
Think ahead and batch cook a vat for the week's meal prep. Nutritious and tasty weekday lunches are at your fingertips.
This is an easy, complete 'how-to' guide, similar to my How to Shred Cabbage recipe. We'll start with the basics and move on to how to make it with a food processor and also by hand.
What is cauliflower rice?
This is a grain-free rice alternative that is made entirely from cauliflower. It's simply grated (or processed) into rice-sized bits, creating faux rice.
Is cauliflower good for you?
There are a number of benefits to eating this delicious rice substitute that is low in calories and carbs, making it a perfect whole food alternative to traditional rice.
The fiber in this vegetable is a pre-biotic, meaning it helps to feed healthy bacteria in your gut, promoting digestive health and reducing inflammation.
It's also a good source of vitamin C, folate, pantothenic acid, Vitamin B6, choline, manganese, potassium and antioxidants.
Is cauliflower keto friendly?
Yes, yessirree this is one of my favorite keto rice alternatives. One cup contains about 96 calories and 4g net carbs. It's a perfect addition to a low-carb or keto diet.
Is cauliflower low-FODMAP?
Sorry, my friends, but no. It is considered a high-FODMAP vegetable in any serving size.
What does it taste like?
Funny enough, to me, it does taste a little like rice. There is a very delicate, cabbage-like flavor, making it a great base or side dish. Even though there is mild cauliflower taste, a few seasonings and pantry staples make it a very tasty rice substitute that takes on the flavor of whatever you season it with.
Can I buy it pre-made?
Yes - you can find packages available frozen but it is also available in shelf stable packs, pre-cooked and in microwaveable pouches.
However, I find that when freshly riced, it has more flavor and is less soggy than some frozen, store-bought varieties. And, preservatives used in some shelf-stable products tend to leave a little aftertaste.
How much cauliflower rice in a head?
Heads vary in size and can range from 1.5-3 pounds.
A medium head will produce about 1 pound, or 4 cups
Large heads will produce around 1.5 pounds, or 5-6 cups
Extra large heads will give you about 2 pounds riced, or 7-8 cups
Instructions
There are a few easy methods for making your own at home: using a food processor, a box grater, in a blender, or using a knife. Don't have a food processor? No worries - each method is so easy! If you're interested, I use this Cuisinart food processor, and I think its the best ever.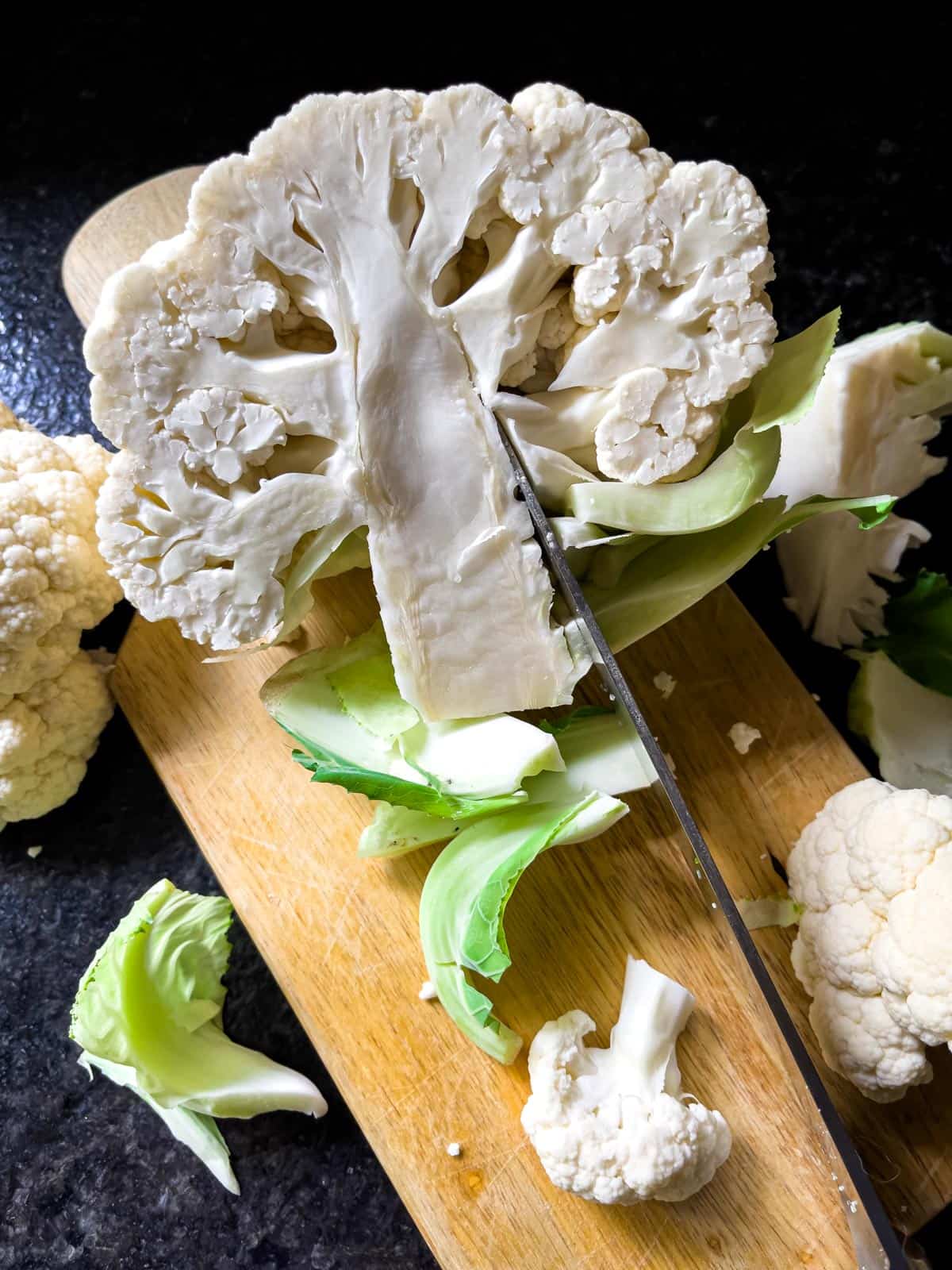 Preparing your head of cauliflower
Wash and cut the head. Trim off any brown spots from the florets.
Cut the head in half
Cut out the woody center. Alternatively, you can cut the head into quarters and then cut out the center.
Cut large florets into smaller pieces if you're using a food processor or blender.
Using a food processor
This is actually my preferred method. Within minutes, you can rice an entire head.
There are two methods using your food processor: With the S blade or with the grater attachment. Either will yield a great result.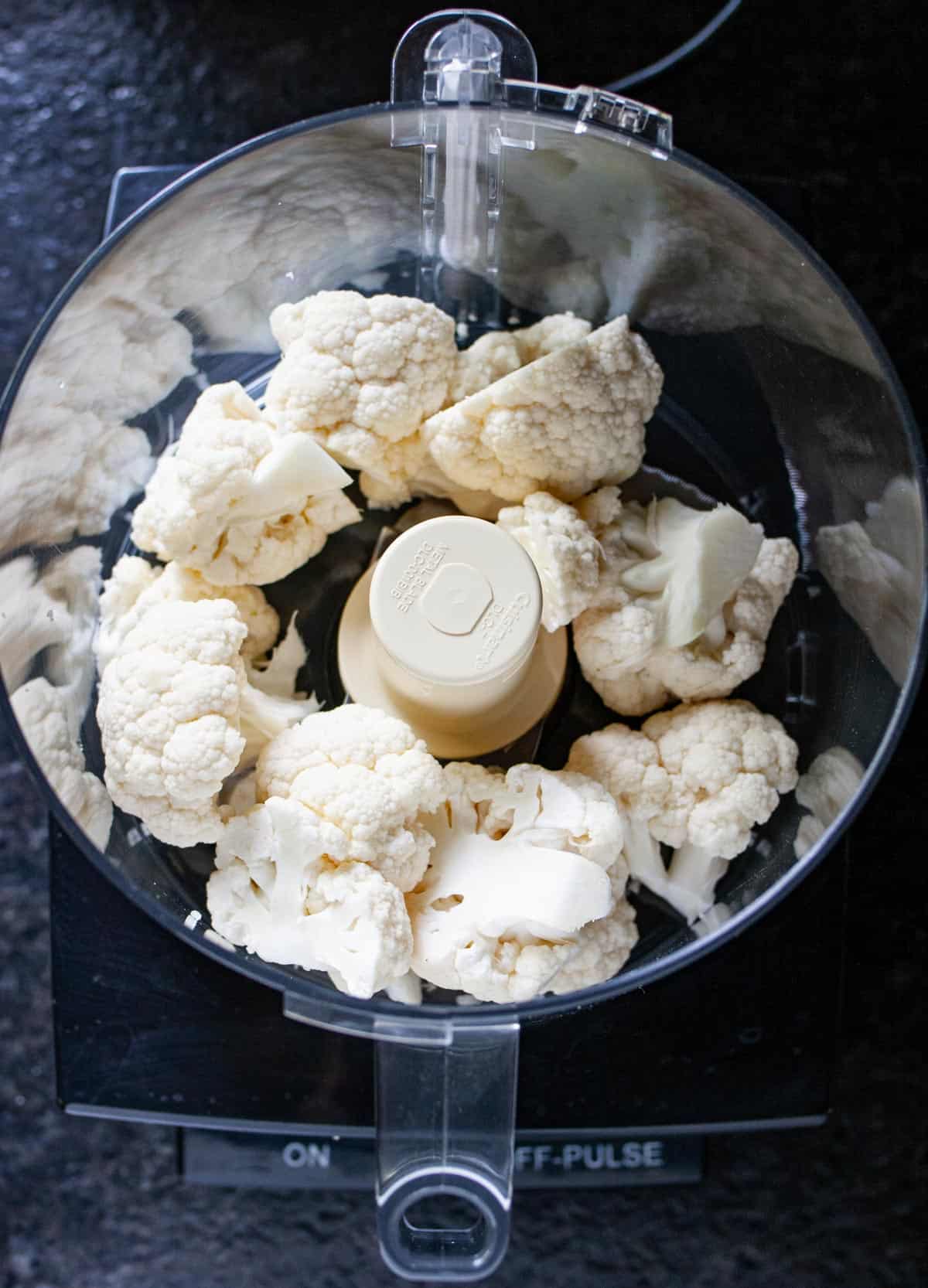 Using the S blade
Place the prepared florets in the food processor
Pulse until it is chopped into fine pieces
TIP: Sometimes pieces will be chopped very fine, while others are still too large. It's best to add chopped florets to your food processor bowl in small amounts and work in batches. The grater attachment will yield more uniform 'grains', where the S blade will often produce finer pieces.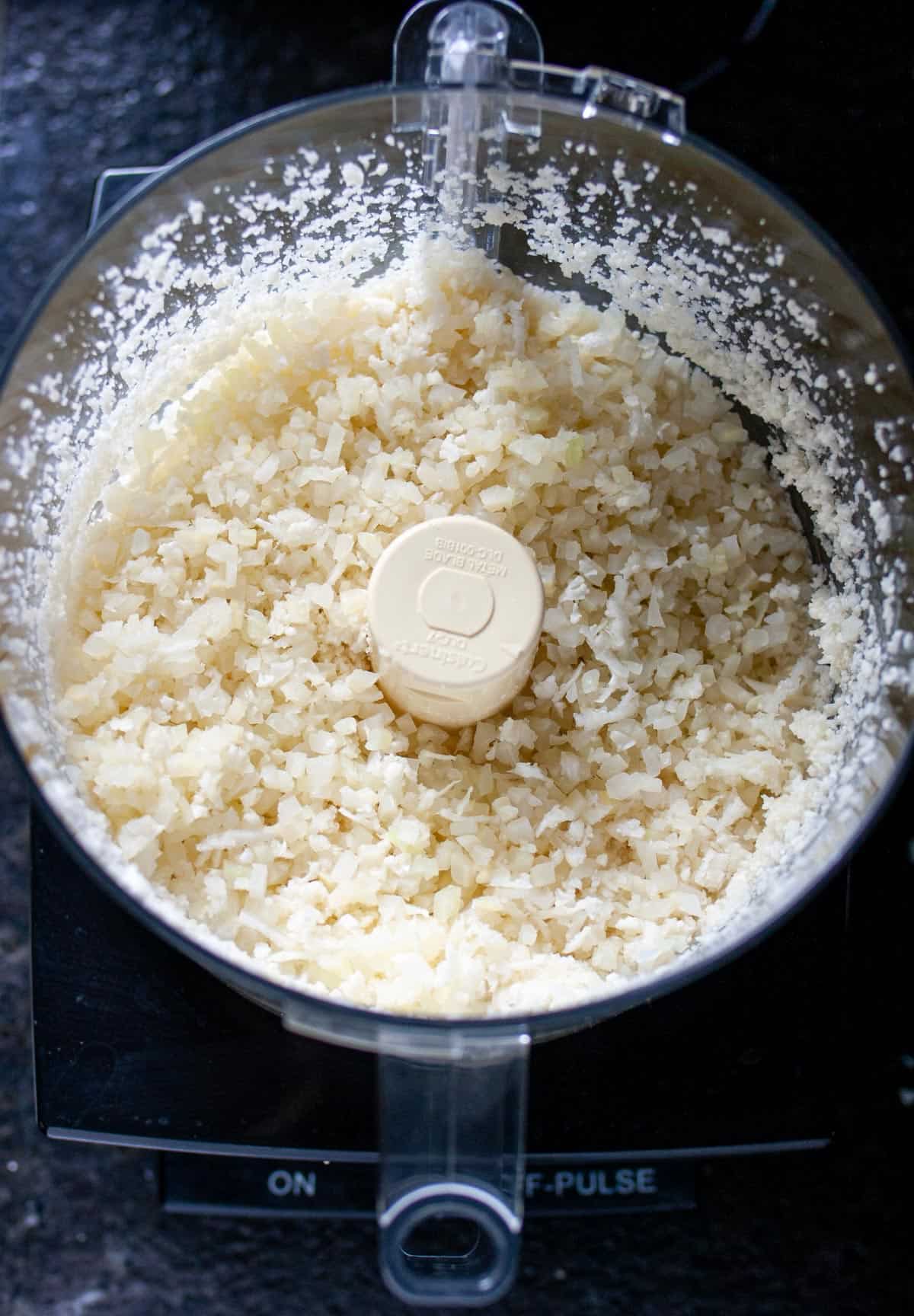 Using the grater attachment
Set up your food processor with the grater attachment
Turn your food processor on and feed the prepared florets through the tube. Depending on the capacity of your food processor and the size of the head, you may have to empty it a couple of times.
How to make without a food processor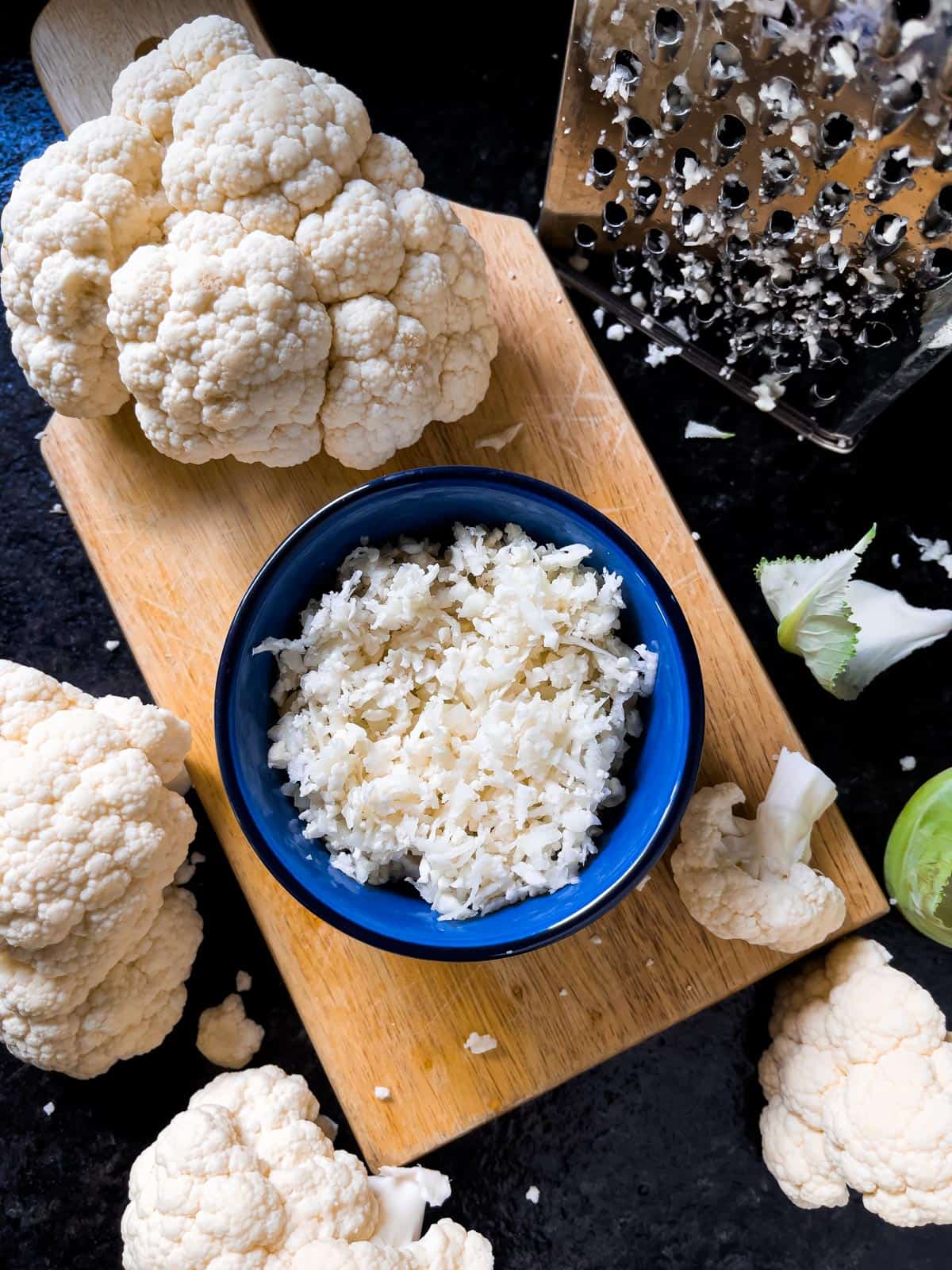 Using a hand grater
If you don't have a food processor, using a box grater (or cheese grater), is fast and easy.
Cut the cored head into medium-sized pieces and grate on the side with the large sized holes
Using a blender
There are two methods for blending: with and without water. While using a food processor is my preferred method, blending is very effective.
Without water
Add about 2 cups of prepared florets to a high-speed blender. Pulse until small pieces are formed, then dump into a bowl.
Working in batches, add the rest (about 2 cups at a time) to the blender and process.
With water
Add 2-3 cups of prepared florets to the blender
Pour in just enough water to immerse the florets
Pulse until they resemble grains of rice floating in the water
Strain to remove as much water as possible and repeat with remaining florets
Using a knife
Using a large chef's knife, chop the prepared florets into tiny pieces. Even though this process may take a little longer than with a food processor or hand grater, it's very simple to do, using minimal utensils.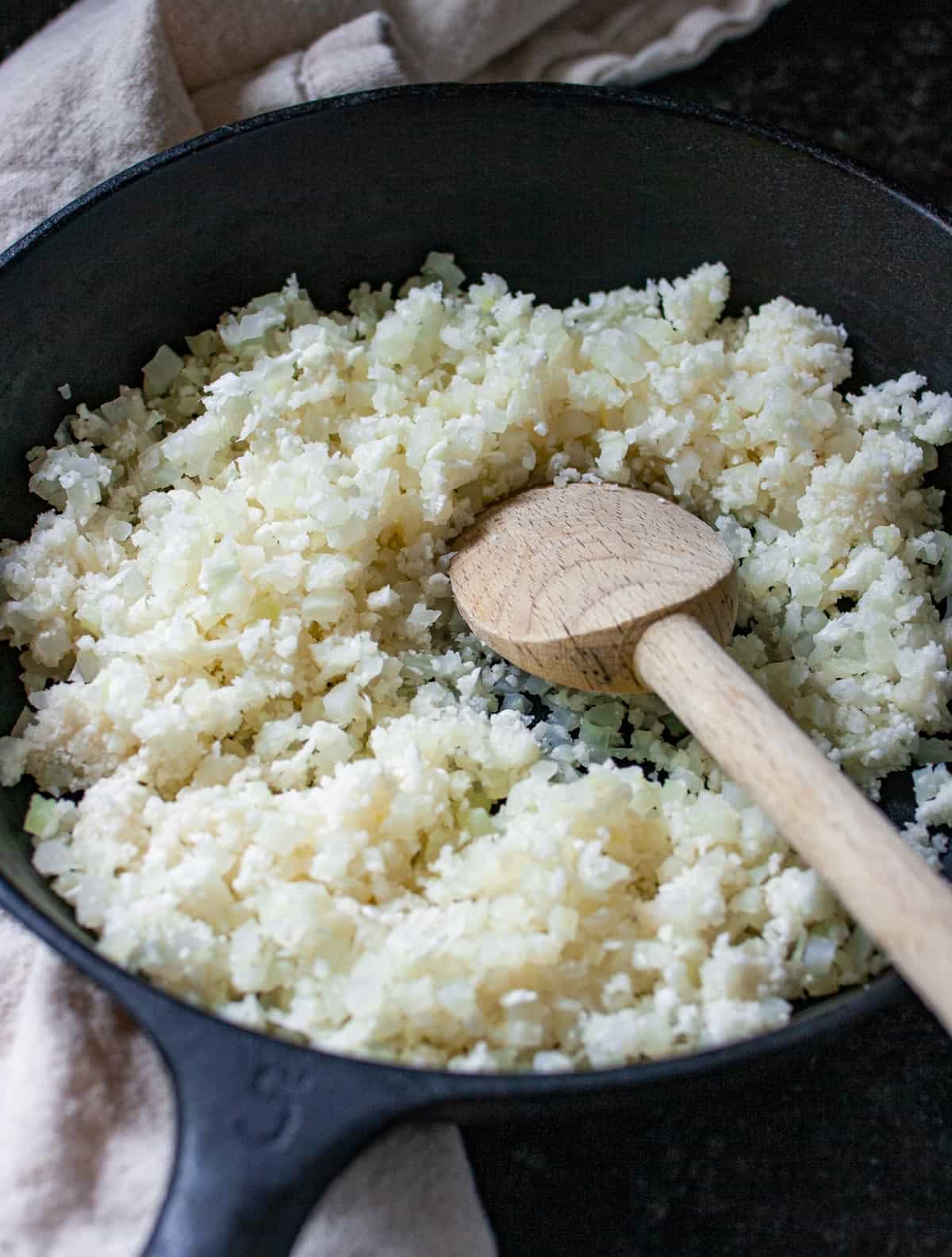 How to cook from fresh
The best way to cook freshly made 'rice' is on the stove. If you're going to make a casserole, the cauli rice should be gently cooked before adding it to the casserole dish to keep it from becoming too watery.
Heat a generous amount of oil in a skillet (just enough to lightly cover the bottom) over medium heat
Add the 'rice' and stir fry, until just tender (think al dente!)
How long to cook
Cooking time will vary, depending on the size of your 'grains' and whether you're cooking from fresh or frozen.
Preparing from fresh takes only about 5 minutes on medium heat.
Heating from frozen will take an extra few minutes to thaw and evaporate all of the retained water.
TIP: Cooking time will vary with your personal taste. For al dente rice, sautéing for 3-5 minutes should be just enough. If overcooked, it can be on the mushy side. If you're going for sticky rice texture, cook for an additional couple of minutes.
How long does it last in the fridge?
When freshly riced and raw, it will last about 3 days in the refrigerator. If it's cooked, it will last about 4 days.
Can you freeze it?
Yes, it can be frozen, but the texture will often change a bit once thawed, depending on the size of your 'grains'. You can freeze it raw, blanched or sautéed.
How to freeze
Freezing from raw
This is a fast, easy 'all-purpose' method for freezing:
Blanching
If you want to have pre-cooked 'rice' to use in recipes, I recommend this method:
Submerge your 'grains' in boiling water for about 30 seconds
Transfer to an ice bath to stop the cooking process
Drain and pat dry with a towel
Freeze in a freezer bag or airtight container for up to 4 months
Sautéing
Sauté in oil for about 3 minutes
Let cool and store in an airtight container for up to 4 months
TIP: For best results, spread the 'grains' out on a sheet pan. When frozen, place in a freezer bag or airtight container.
How to cook frozen cauliflower rice
The best way to prepare it from frozen is to add it to an oiled skillet while still frozen or partially frozen. If thawed completely before sautéing, it may become a little too soft. However, if you need to cook it after it's been completely thawed, turn up the heat just a little bit, to medium-high to get just a little crisp edge.
Keep in mind that the 'mushiness' will vary depending on the size of the 'grains'. Cooking from frozen is usually the best option, but not always necessary.
Variations
This basic recipe is your ticket to simple, weeknight meals. Here are some suggestions for how to season cauliflower rice:
Cilantro lime – add 1-2 tablespoons of lime juice, some lime zest and chopped cilantro.  Perfect for keto Mexican dishes!
Pesto rice - add a tablespoon or two of Basil Pesto before serving. So good.
Onion and garlic - Add some finely chopped onion and/or garlic
Add masala – add a sprinkle of your favorite Tikka Masala Powder, or stir in some homemade Tikka Masala Paste and try cooking with ghee instead of olive oil.
Use sesame oil (think cauliflower fried rice) – sauté in toasted sesame oil and add some chopped green onions
Make it cheesy (keto friendly comfort food!) – sauté, turn off the heat, add shredded cheese and cover until melty and gooey
Add coconut milk – sauté in coconut milk and add a tablespoon or two of coconut cream
Make 'cous cous' – sauté in olive oil and cook covered for 5 minutes or until tender
Garlic and herb – sauté a couple garlic cloves in the oil and add fresh chopped herbs such as basil, parsley, chives or cilantro just before serving
Try any of these recipes for mix-ins to make great seasoned cauliflower rice: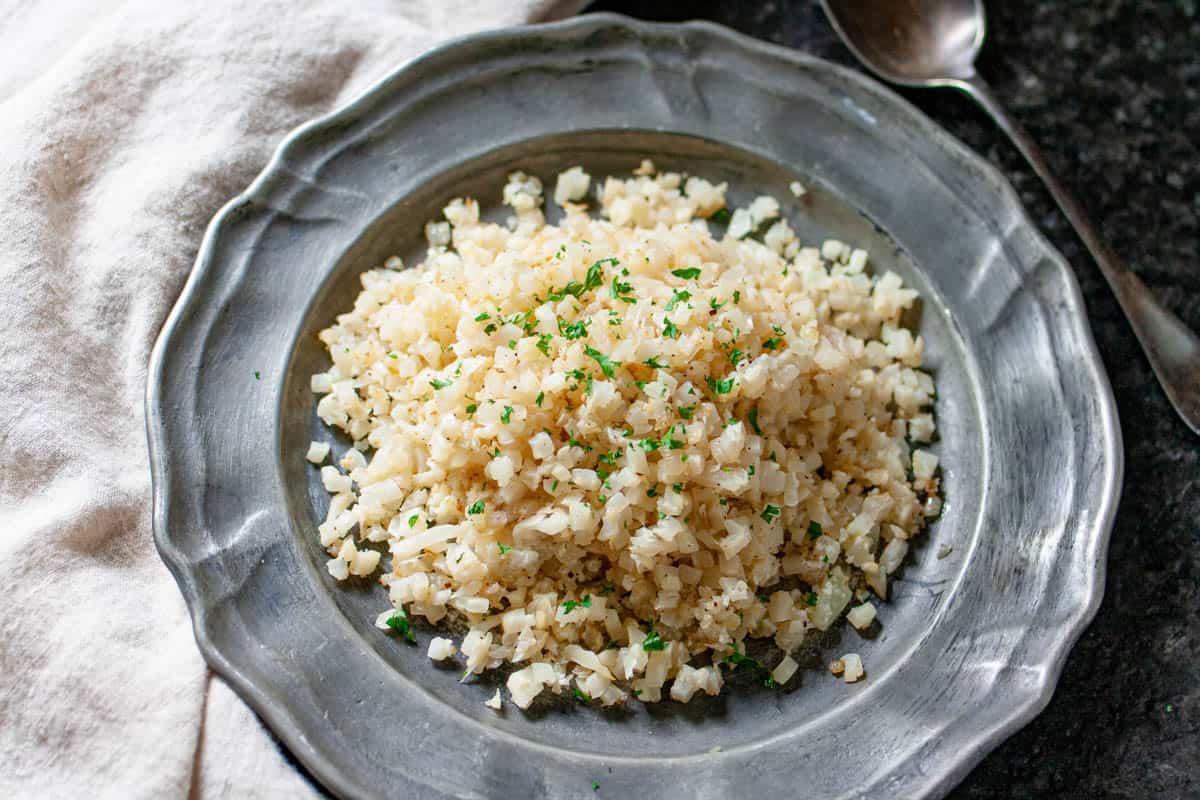 FAQ
Is frozen cauliflower rice as good as fresh?
Yes, in my opinion!  It absorbs the flavors it's cooked with and is delicious if cooked from fresh or frozen.  But, if I had to choose, I would opt for fresh.
Is it cheaper to make or buy cauliflower rice?
Making your own is so much less expensive than buying it pre-riced from the store.  You will most likely pay twice as much per ounce for a ready-made product.
Should I cover cauliflower rice when cooking?
It depends.  For simple, sautéed or a cauliflower rice stir fry, do not cover it.  For dishes that could benefit from steamed cauli rice, such as cous cous or risotto, simply cover it while cooking.
Do I need to add water when cooking cauliflower rice?
No – don't add water while sautéing.  It will be overdone and too soft.
Can I eat raw cauliflower rice?
Yes, you can.  Lightly cooking will enhance its digestibility, but eating it raw provides the most antioxidants per serving. However, cooking yields a better texture and flavor.
Recipes to serve with cauliflower rice
This recipe pairs terrifically with shrimp, chicken, tofu, tempeh or any of these delicious recipes:
📖 Recipe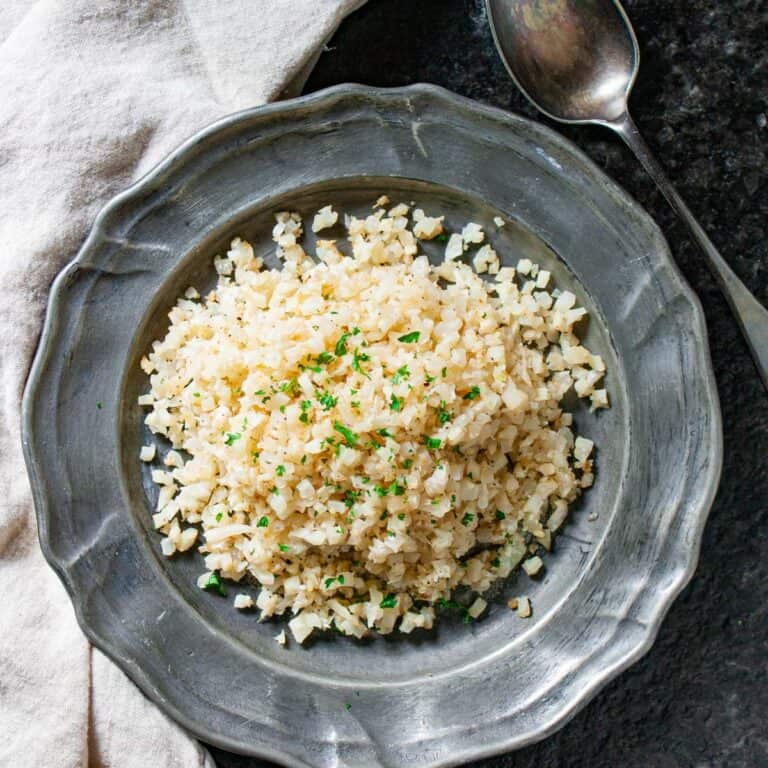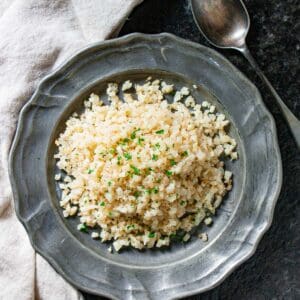 Homemade Cauliflower Rice (Keto, Paleo and AIP)
Say hello to this easy keto cauliflower rice recipe!  This complete guide includes several methods for making easy keto rice.  This is a recipe that can be used as a base for all of your best riced cauliflower recipes yet to come!
Instructions
Add the riced cauliflower, salt and pepper (if using).

Sauté for about 5 minutes, uncovered, until soft (if using frozen cauliflower, add a few more minutes).

Adjust salt and pepper to taste.
Notes
Variations
Cilantro lime - add 1-2 tablespoons of lime juice, some lime zest and chopped cilantro.  Or mix in some Cilantro Lime Salad Dressing.
Finely chopped onion and/or garlic
Add a sprinkle of your favorite Tikka Masala Powder, or stir in some homemade Tikka Masala Paste and try cooking with ghee instead of olive oil
Use toasted sesame oil, and add some chopped green onions
Add your favorite shredded cheese after cooking and cover
Saute in coconut milk, and add a tablespoon or two of coconut cream
Make it 'cous cous' by sauteing in olive oil and cooking covered for 5 minutes or until tender
Garlic and herb - saute a couple garlic cloves in the oil and add chopped fresh herbs such as basil, parsley, chives or cilantro just before serving
Nutrition
Serving:
1
serving
Calories:
96
kcal
Carbohydrates:
7
g
Protein:
3
g
Fat:
7
g
Sodium:
633
mg
Fiber:
3
g
Net Carbs*:
4
g
*Net carbs = carbohydrates - fiber
Nutritional information is an estimate, calculated using online tools and does not include optional ingredients unless otherwise indicated.
Did you make this recipe?
Leave a review below, then snap a picture and tag @Rad_Foodie on Instagram so I can see it!