Here's a favorite Irish side dish that's a real treasure – made from creamy mashed rutabaga instead of potatoes or cauliflower. It's like keto mashed potatoes with butter and sautéed greens. What's not to love?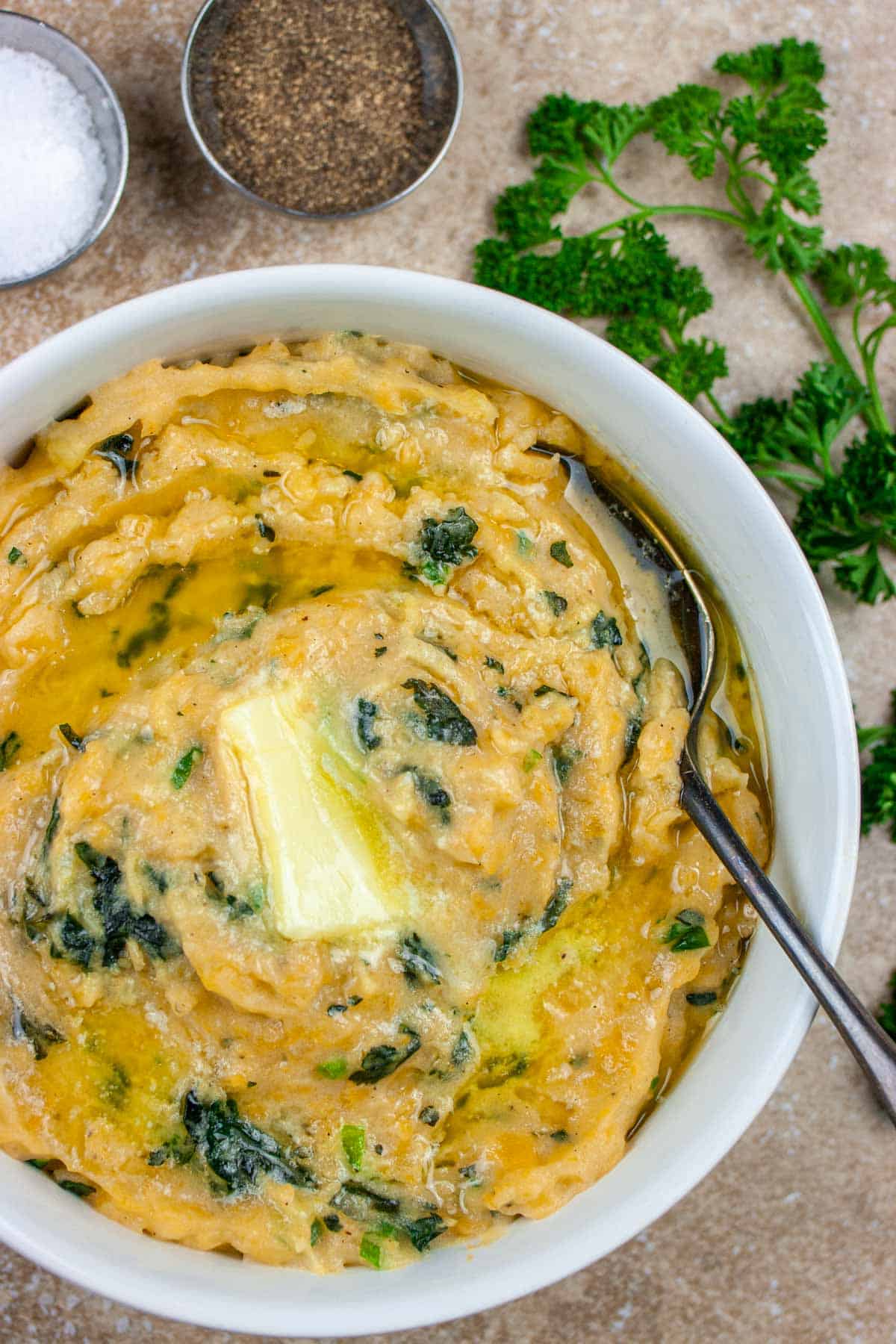 Perhaps every Irish family has their own version of this classic comfort food. But do they have keto, AIP and low-FODMAP colcannon recipes? This may be the only place you find all of those in one place!
The Rad Foodie version of low carb colcannon celebrates the humble rutabaga. This tasty traditional Irish side dish is perfect for a St. Patrick's Day meal of Keto Irish Stew, served with Cheddar Almond Flour Drop Biscuits and finished with a dessert of green Matcha White Chocolate Cookies.
Don't serve it only in March! Keto colcannon is the perfect creamy mashed potatoes substitute that the entire family will love and will earn its place as a regular on your dinner table.
And for us low-FODMAPpers, you can have keto mashed potatoes made without cauliflower!
What is Colcannon?
Colcannon is a traditional Irish dish of buttery mashed potatoes with cabbage or kale. Today, in America, we often see it served as part of a St. Patrick's Day feast. But it's so simple, healthy and delicious, that it most likely will end up being a dinner staple. Instead of using fabulous Irish potatoes, our colcannon mash made with rutabagas is the perfect substitute for the typical high carb whipped potatoes.
Ingredients
Keto colcannon takes just a few simple ingredients (see below for AIP substitutes):
Rutabaga
Butter
Kale or cabbage leaves
Heavy whipping cream
Green onions
Salt and Pepper
Tips for making low-fodmap and aip irish colcannon
This colcannon recipe is already low-FODMAP complaint, as long as only the green part of the onion is used.
For an AIP version, there are a few replacements:
What is a rutabaga?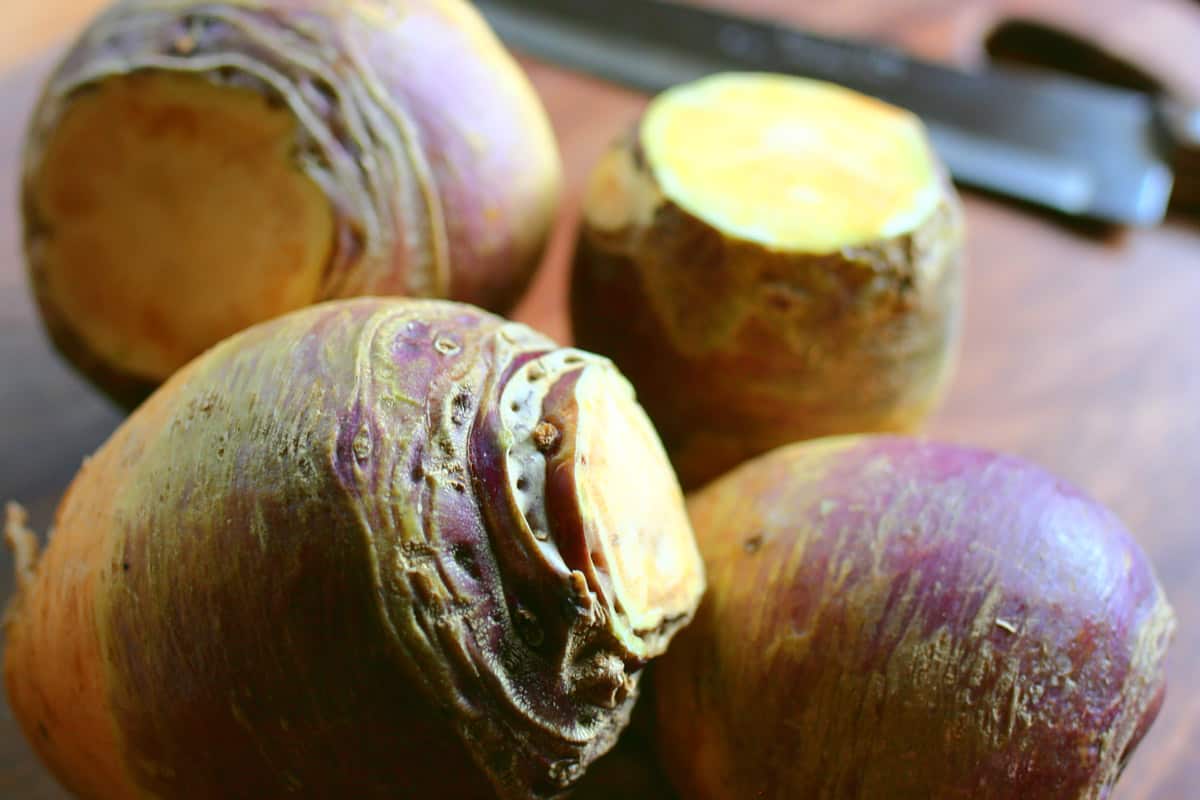 I know, some of you won't be very familiar with rutabagas (aka Swedes). They're often overlooked, which is unfortunate. But more for us, right?
Rutabagas are full of flavor, are slightly peppery and don't have that slight bitterness that you can get from turnips. Rutabagas are commonly confused with their turnip cousins because they look quite similar. Turnips are white and purple and rutabagas are mostly yellowish and purple-brownish and are generally a bit bigger. Some rutabagas can be upwards of 3 pounds! What I recently learned, is that both turnips and rutabagas are members of the cabbage family, as is cauliflower.
Rutabagas can be a substitute for potatoes in pretty much any recipe. They make amazing low carb mashed potatoes and are delicious roasted, as well.
A note on mashing: Rutabagas are a little tougher than potatoes. They aren't typically as fluffy and starchy, so it may take a few extra seconds to mash - totally worth it.
Are rutabagas keto friendly?
The luck of the Irish is with us! Rutabagas have considerably lower carbs than potatoes. Like, considerably. A medium potato has about 32 net carbs, whereas a medium rutabaga has about 8g.
I also find rutabagas to be a bit more flavorful than potatoes. Low carb and high in flavor? I'm in.
Rutabagas are chock full of nutrients
Rutabagas provide substantial amounts of vitamins and minerals, such as calcium, magnesium, phosphorus, potassium, vitamin C and B vitamins.
They are also high in beta-carotene and antioxidants which are helpful for warding off disease and play a protective role in skin aging.
How to cook
There are a few methods for cooking the perfect rutabaga mash:
Pressure cooking
This is my favorite way to cook rutabagas (and most of my veggies). Pressure cooking helps to retain all the nutrients and flavor and cooks rutabagas very quickly. I use a stove-top pressure cooker, but you can also use an Instant Pot.
Rutabagas will cook up soft and mashable when cooked at high pressure for 10 minutes.
Steaming
Steaming is a great way to cook your veggies and still keep nutrients locked in. It doesn't cook your rutabagas as quickly as pressure cooking, but it works really well. Rutabagas will take about 25 minutes to cook when steamed.
I used to steam all of my veggies before I got my pressure cooker. I used a digital food steamer before it finally croaked after years and years of use.
Boiling
When I started eating rutabagas, I would boil them. It definitely does the trick, but 1) it takes a long time to cook them (about 20-30 minutes) and 2) a lot of the nutrients will boil out into the water.
Whatever method you use to cook rutabagas, this dish will turn out wonderfully!
If you can't find a rutabaga...
There are a couple of substitutes for rutabagas if you can't find any at your local market. You can use celeriac, which is celery root. Mashed celeriac is another low carb alternative to mashed potatoes and is also low-FODMAP.
Then there are good ol' turnips. Turnips are a tried and true low carb and keto substitute for potatoes and can be used just like rutabagas. Substitute turnips in any way that you would use a potato.
You'll find many colcannon recipes that use cauliflower. You can create a delicious colcannon with creamy mashed cauliflower. However, cauliflower is very high in FODMAPs, which is why I think rutabaga is the best veggie for keto colcannon. And I just love the flavor!
Can't find a potato alternative?
If you're in a serious pinch and can only find potatoes, there is a way to use potatoes and decrease their starch (carb) content while increasing the pre-biotic benefits, as well!
Potatoes contain 'resistant starch'. That means when they are cooked and refrigerated (or frozen), some of the starch undergoes a change that becomes resistant to digestion. After potatoes are cooked and refrigerated for 24 hours or more, up to about 4-5% of the starch may become 'resistant starch'. Check out this great article about resistant starch.
If you need that potato 'fix' (I hear you…!) split the mashed rutabaga in half with refrigerated mashed potatoes. It's still a low-carb colcannon and perfect St. Patrick's Day food!
How to make
Making colcannon is so easy – it requires just a few steps:
Peeling, cutting and boiling your rutabaga
Sautéing the kale or cabbage
Mashing the rutabaga and greens with butter, chopped scallion, salt and pepper
Serve with a beaming smile
Serving suggestions
Colcannon with rutabaga is a perfect keto side dish that can take the place of mashed potatoes or mashed cauliflower at any meal, any time of year.
I absolutely love to serve this with my Keto Irish Stew.  Heap some colcannon in the bowl and cover it with this savory stew. Or, top a bowl with some Keto 'Corned' Beef Meatballs.
Colcannon is also an easy side dish to pair with any meat, especially my smoked Traeger Beef Ribs. Or, if you're like me, I'll just have a bowl of it mounded with bacon!
Make an easy breakfast and top some hot colcannon with a fried egg (and bacon, sausage or ham - so good!).
Optional add-ins
Bacon!!! Feel free to stir in some crispy bacon or pork belly or just pile it on top (like me)!
Finely diced ham or crumbled sausage – decadent salty goodness…
Sautéed leek – thinly slice about half of a leek (green part only for low-FODMAP), sauté in butter or olive oil until soft and stir in
Replace the butter with ghee
Garlic or garlic-infused olive oil – Sautee up some garlic or add some garlic-infused olive oil for us low-FODMAPpers
Cheese – who loves cheesy mashed potatoes? Who doesn't? Add some of your favorite shredded cheese to the hot colcannon and mix until melty
Add some spices: thyme, savory, a pinch of nutmeg or mace, crushed sage or crispy sage in butter!
Top with sour cream
FAQ
Are rutabagas healthier than potatoes?
Rutabagas are lower in carbs and calories, making them a great option for a keto/low carb lifestyle or if you're trying to lose weight.  Rutabagas and potatoes are both nutritious, with comparable nutrient values, but rutabagas are much easier to fit into a low-carb diet.
Does rutabaga get soft when cooked?
Rutabagas contain a higher fiber content than potatoes and require a longer cooking time.  They don't exactly have the same smooth mouth-feel as starchy potatoes, but they do soften when fully cooked.
How do I store colcannon?
Colcannon can be stored in an airtight container in the refrigerator for 3-5 days.
Can I freeze colcannon?
If you want to stash away some colcannon for later, you can freeze it in any air-tight container or even in freezer bags, for up to 6 months.
---
Other recipes you might like
This post contains affiliate links. As an Instacart and Amazon Associate, I earn from qualifying purchases.
📖 Recipe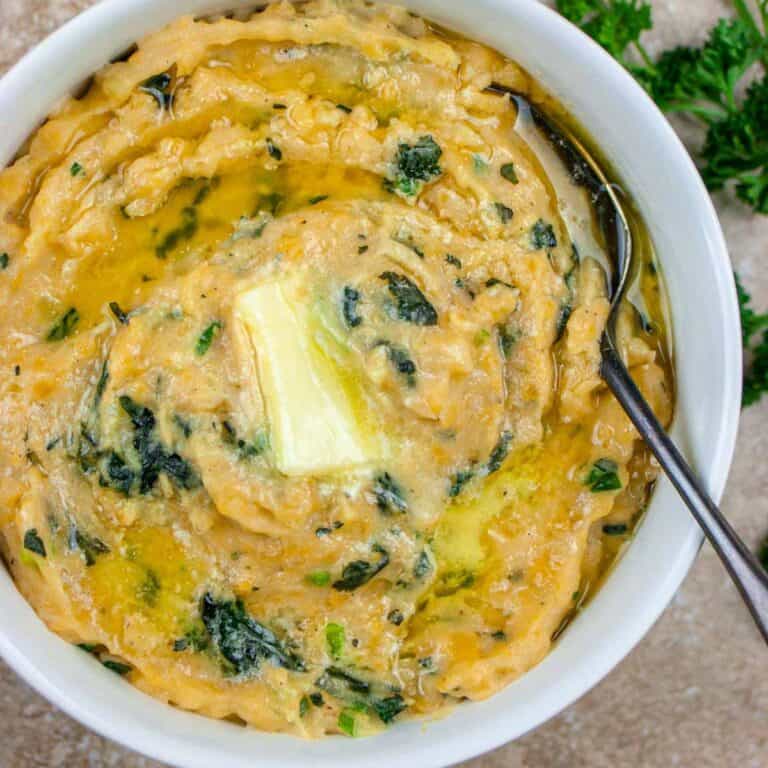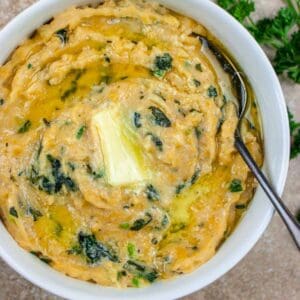 Keto Colcannon - with Rutabaga!
Here's a classic Irish dish that's real treasure – without potatoes!  Rutabagas to the rescue! It's so good, you'll never miss the starch.
Ingredients
2

pounds

rutabaga

(about 3 medium sized)

5

tablespoons

butter

(divided)

2

cups

kale

(shredded - about 4 large leaves)

1

teaspoon

salt

(plus a pinch)

½

teaspoon

black pepper

2

tablespoons

heavy whipping cream

2

green onions

(green part only for low FODMAP)
Instructions
Prepare the rutabaga
Peel and cut the ends off of the rutabaga.

Cut the rutabaga in ½ inch squares.
Boiling cook method
Add the rutabaga squares to a stock pot and add enough water to cover.  Add a pinch of salt.

Bring to a boil and boil for about 20 minutes, or until fork tender.  Drain.
Pressure cooking method
Add rutabagas to your pressure cooker and cook at high pressure for 10 minutes.  Use the natural release or quick release method - it's up to you!
Steaming cook method
Add the chopped rutabaga to your vegetable steamer and steam for about 25 minutes or until soft.
Prepare the kale
Peel the stems from the kale and chop or tear into 1 inch pieces.

Sautee in 2 tablespoons of butter until soft.
Combine and serve
In a large bowl, mash the cooked rutabaga with the remaining butter, salt, pepper, kale, cream.

Transfer colcannon to a serving bowl and top with more butter (if desired) and chopped green onion.
Notes
Optional add-ins
Replace the butter with ghee
Garlic or garlic-infused olive oil - sautee up some garlic or add some garlic-infused olive oil for us low-FODMAPpers
Add some spices: thyme, savory, a pinch of nutmeg or mace, crushed sage or crispy sage in butter!
Top with sour cream or your favorite cheese
Add bacon, pork belly, finely diced ham or crumbled sausage
Nutrition
Serving:
1
serving
Calories:
114
kcal
Carbohydrates:
10
g
Protein:
2
g
Fat:
11
g
Cholesterol:
31
mg
Sodium:
670
mg
Fiber:
5
g
Sugar:
1
g
Net Carbs*:
5
g
*Net carbs = carbohydrates - fiber
Nutritional information is an estimate, calculated using online tools and does not include optional ingredients unless otherwise indicated.
Did you make this recipe?
Leave a review below, then snap a picture and tag @Rad_Foodie on Instagram so I can see it!