Here's an easy recipe to dress up that humble rutabaga. Herb roasted rutabagas are a savory side dish that will beat that potato craving! They're A super low-carb and low-FODMAP potato alternative.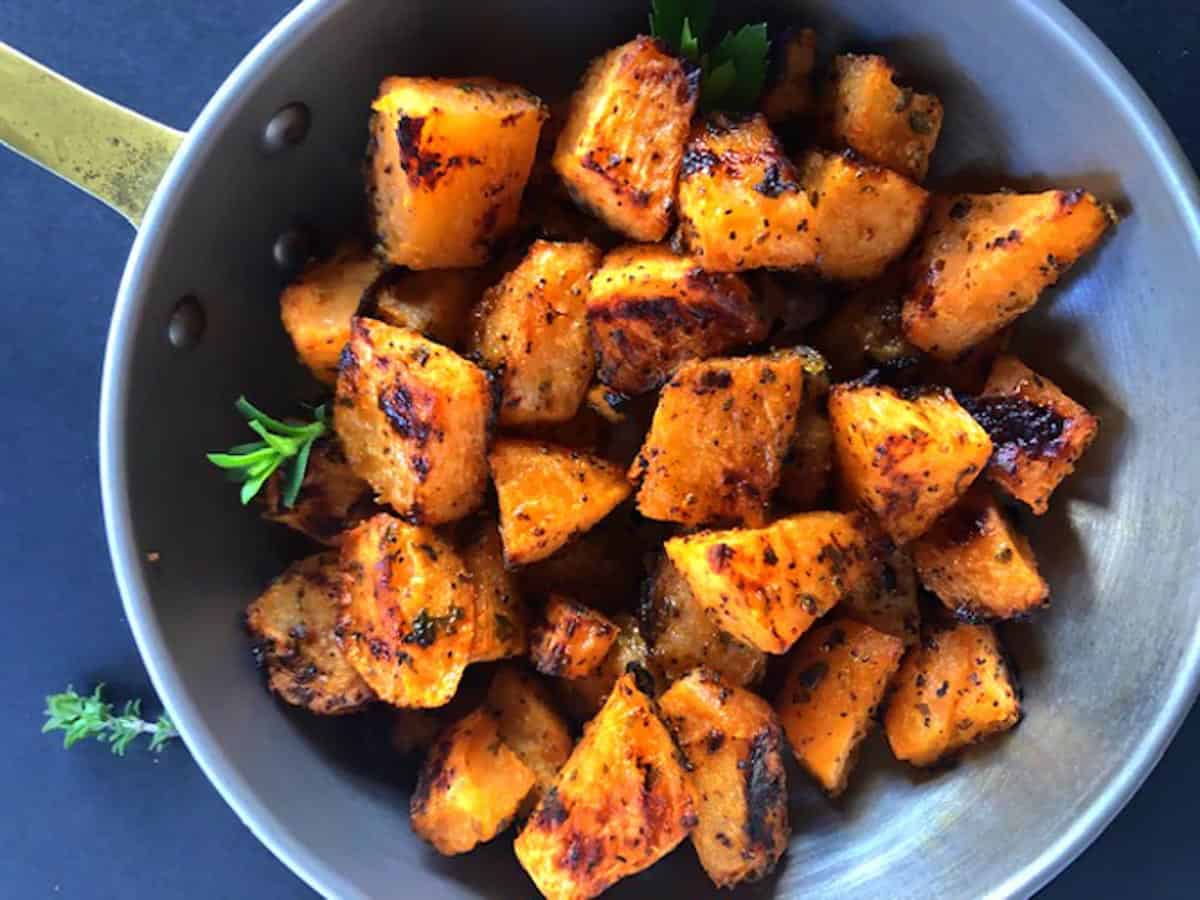 I've been known to sneak some potatoes into my keto diet every now and then. I practice a targeted keto diet, so I work these in after a hard workout. Really, tater tots are my favorite comfort food – now my secret's out! But recently, I've come across the absolute BEST tater alternative, which in my opinion, is the humble rutabaga.
Rutabagas are incredibly savory with an earthy undertone.  They make a delicious low carb potato substitute. You can use them as a mashed potato substitute by making an amazing Colcannon or Skordalia. This chunky roasted rutabaga side dish can also be drizzled with Cilantro Lime Dressing to give it a zesty kick. It's one of the most versatile sauces to have in your fridge. Or, top with a few spoonfuls of Mexican Chimichurri or Red Chimichurri Sauce – you may just have a new favorite. And if you happen to be missing the creamy-butteriness of mashed potatoes (which I do from time to time), this is the perfect dish to satisfy that craving with a tiny fraction of the carbs.
What is a rutabaga?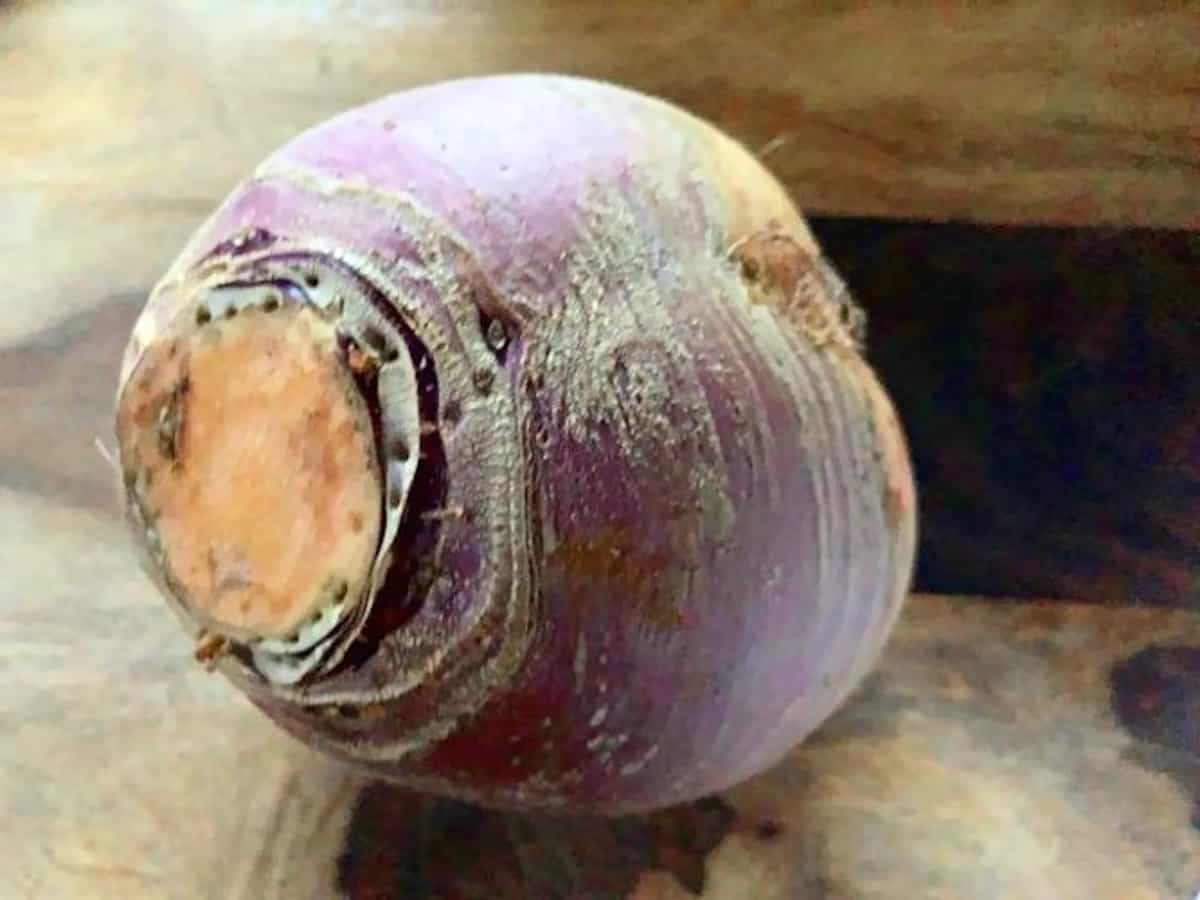 I know, some of you won't be very familiar with rutabagas – I know I wasn't, until fairly recently. Let me assure you – they are amazing and my fave new veggie.
The rutabaga is a little homely, but don't let that be a deterrent. They are full of flavor, are slightly peppery and don't have that smidge of bitterness that you get from turnips (in fact, they're actually sweeter and are very low in carbs, similar to turnips). They are commonly confused with their turnip cousins because they look quite similar. Turnips are white and purple and rutabagas are mostly yellowish and purple-brownish and are generally a bit bigger… Some rutabagas can be upwards of 3 pounds! The big ones make excellent fries… What I recently learned, is that both turnips and rutabagas are both members of the cabbage family. Who knew?
What do you do with rutabaga?
Seriously, anything that you would do with a potato. They can be mashed with butter and cheese, made into fries and make a mean colcannon. Check out my Keto Rutabaga Colcannon after you've made this recipe. But for today, I'm talking about the joys of roasting these puppies.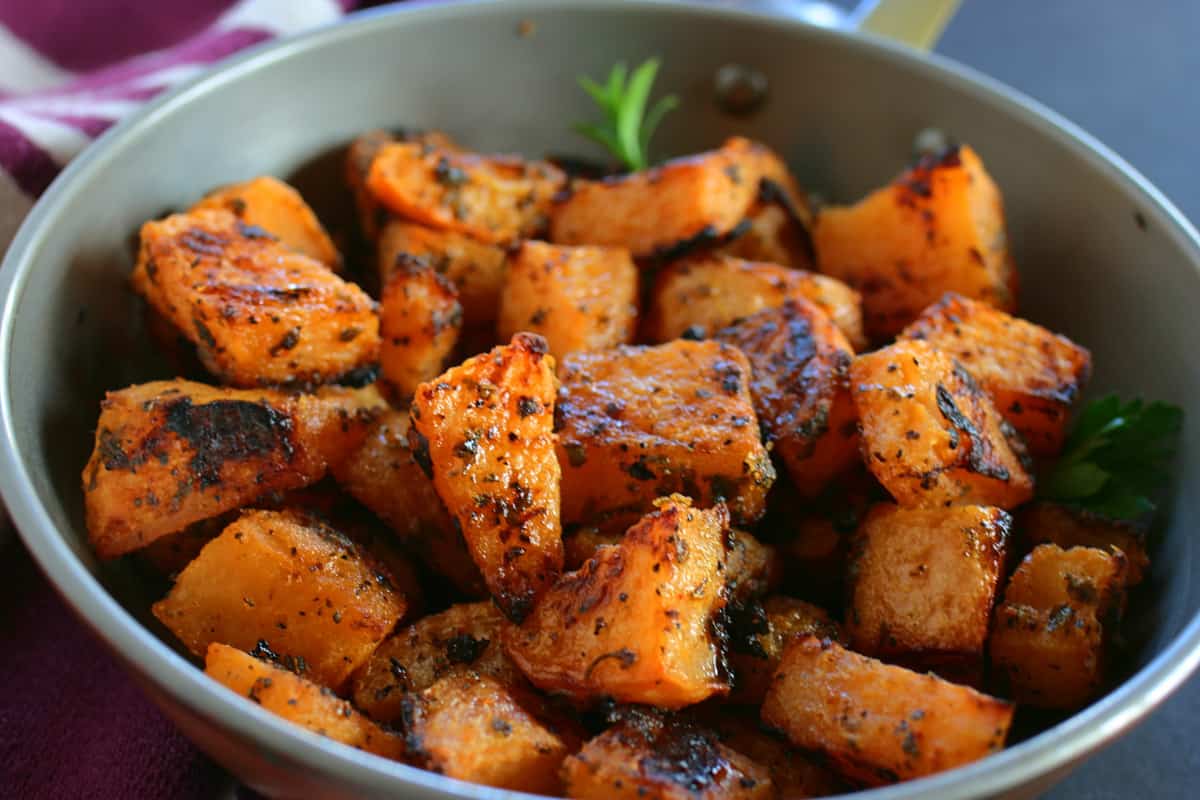 Instructions
For this recipe I used one big (about 3 pound) rutabaga.
Preheat your oven to 375F degrees.
Simply peel your rutabaga and cut into roughly 1 inch chunks. I make some into perfectly square cubes and others I cut into odd shapes. Guess I just like variety.
Mix the rest of the ingredients in a large bowl and whisk together. Add the rutabaga and toss until each piece is evenly coated.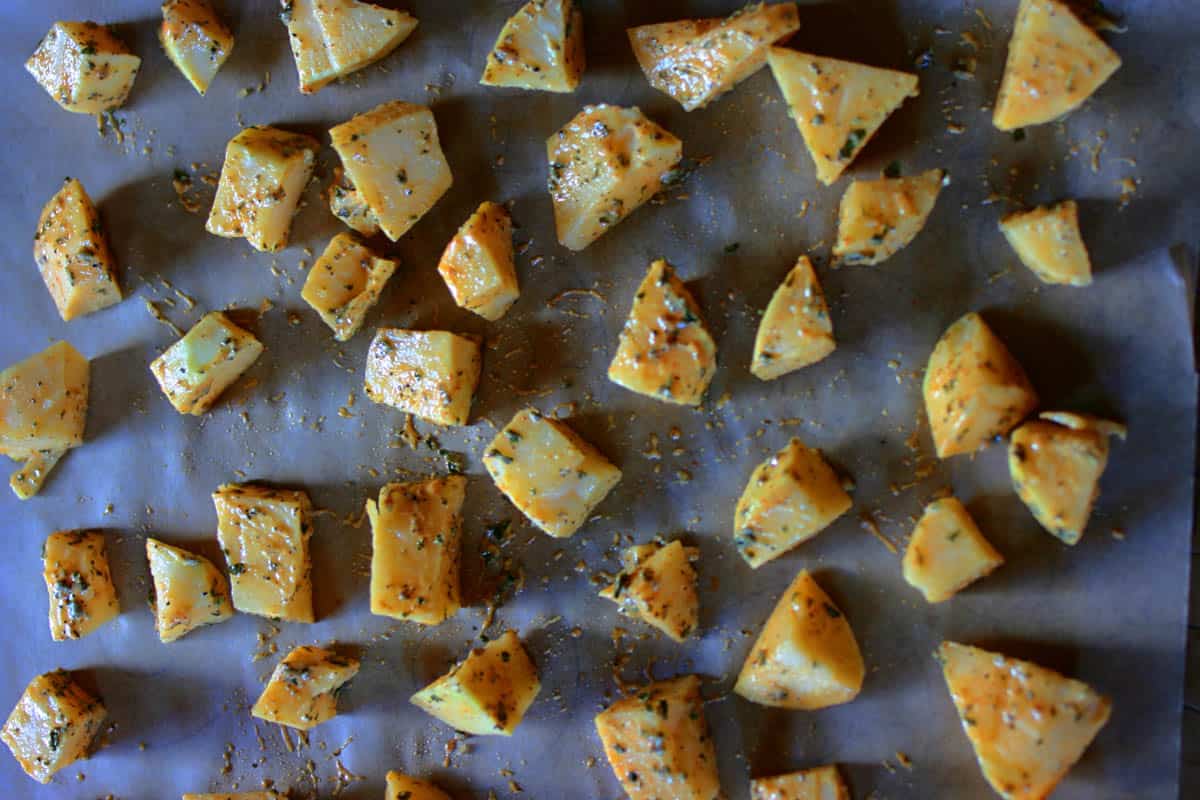 Now, spread these out on a parchment-lined baking sheet, making sure there's plenty of room between each piece so the air can freely circulate.
Cover with foil and bake for 15 minutes. Flip or stir the pieces, cover and bake another 15 minutes. Then remove the foil and bake for an additional 15 minutes, or until fork tender.
Sprinkle with a bit of salt and drizzle of olive oil and let them cool. I know you want to eat a piece right now, but you don't want to burn your mouth, so… deep breaths. It's only a few minutes…
Other keto side dishes you might like
This post contains affiliate links. As an Instacart and Amazon Associate, I earn from qualifying purchases.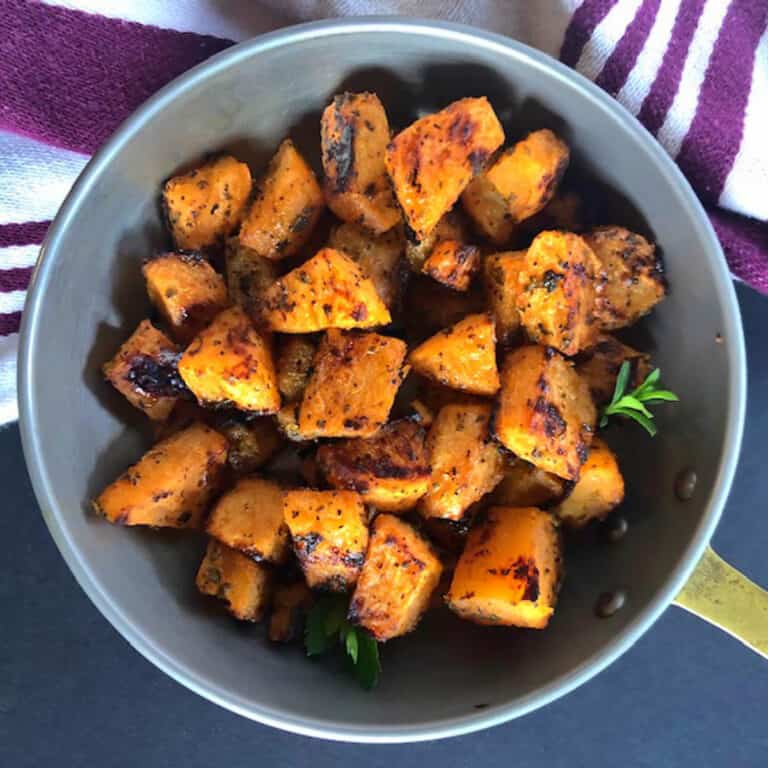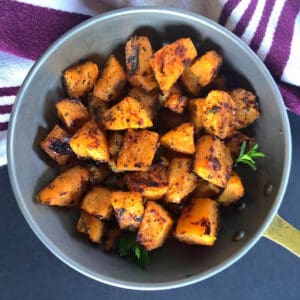 Herb Roasted Rutabagas
Herb roasted rutabagas are a perfect keto side dish.  Once you taste these little puppies, you'll forget all about potatoes.
Instructions
Peel and cut the rutabaga into about 1 inch squares.

In a large bowl whisk the remaining ingredients until thoroughly combined.

Add the rutabaga pieces to the bowl and toss to coat.

Pour onto a baking sheet, making sure there is space between each piece, for good air flow.

Cover with foil and bake for 15 minutes.

Uncover, stir or flip the pieces, re-cover, then bake for another 15 minutes.

Remove the foil, and roast uncovered for an additional 15 minutes or until fork tender.

Once removed from the oven, add a light sprinkling of salt and drizzle of olive oil, if desired.
Notes
Serving suggestions
Any meal or side with potatoes can be made with rutabaga!  Mashed with butter and cheese, chop into fries, or make a Keto Rutabaga Colcannon.
Nutrition
Serving:
1
serving
Calories:
121
kcal
Carbohydrates:
11
g
Protein:
2
g
Fat:
8
g
Cholesterol:
0
mg
Sodium:
778
mg
Fiber:
4
g
Sugar:
7
g
Net Carbs*:
7
g
*Net carbs = carbohydrates – fiber
Nutritional information is an estimate, calculated using online tools and does not include optional ingredients unless otherwise indicated.
Did you make this recipe?
Leave a review below, then snap a picture and tag @Rad_Foodie on Instagram so I can see it!