Sautéed Brussels Sprouts with Maple and Rosemary is an easy, savory side dish that will steal the show! These are sweet, savory perfection!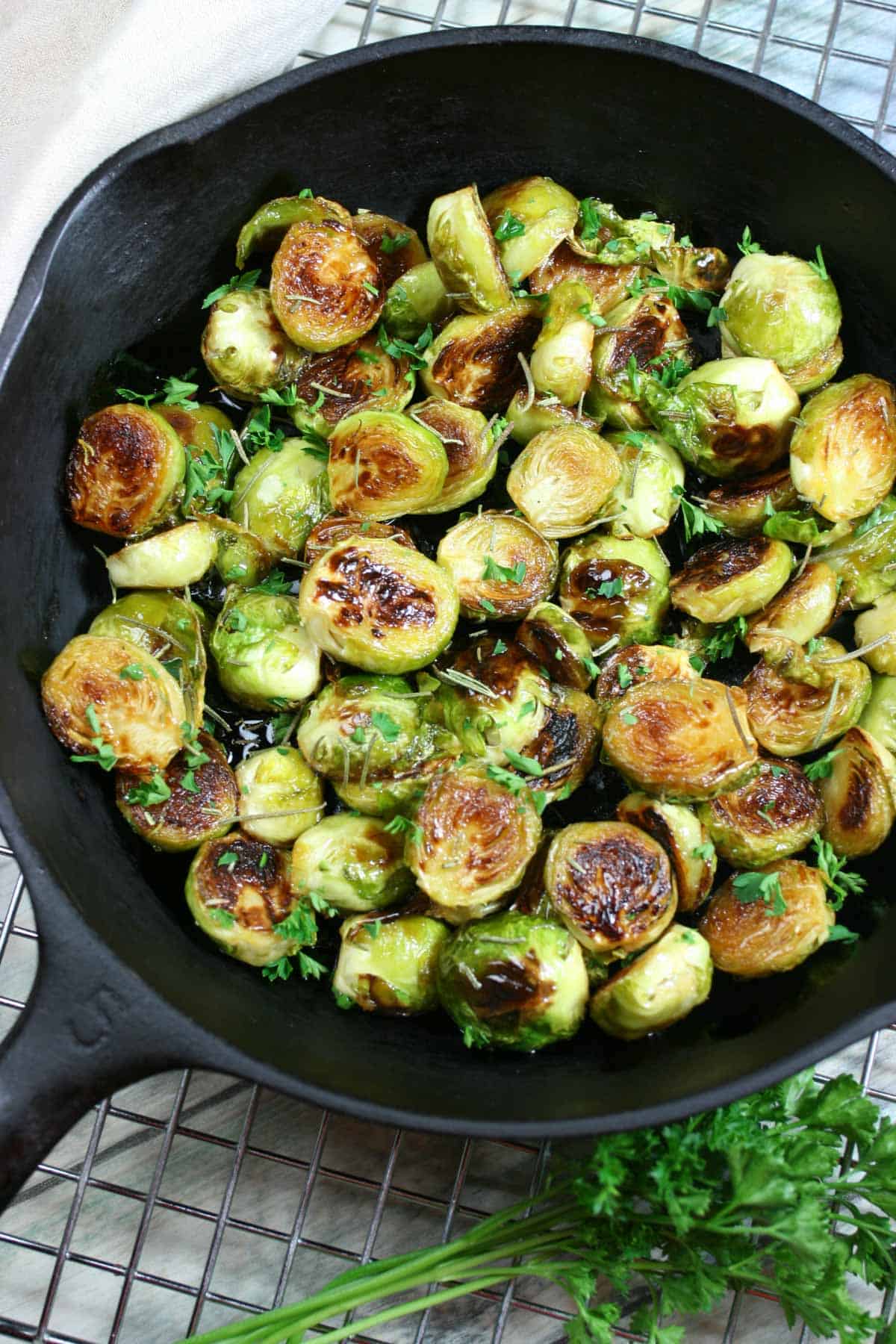 Confession time: I never used to be a Brussels sprouts fan. I remember having them when I was a kid (and even as an adult), where they were either hard, bitter or too squishy. I was like, "What's the point"? Truly, they have gotten a bad rap as being bitter and gross. I don't know if there's a good way to boil them like so many folks used to do, but I'll take them caramelized and crispy any day!
One day I found myself at a potluck and my friend brought these little gems roasted with garlic and parmesan that were cooked to perfection. I was hooked and have been making them in a variety of ways ever since.
I love them roasted but I think I love them even more sautéed in cast iron on the stove top. It's much faster than roasting in the oven. And, if your oven is full, like full of turkey at Thanksgiving, this is the best, quick and easy recipe. Cooking them stove-top is certainly a win!
Stove top (pan frying) in my cast iron skillet has actually become my preferred cooking method. The texture and flavor is amazing! So amazing that it's officially replaced roasting them in the oven.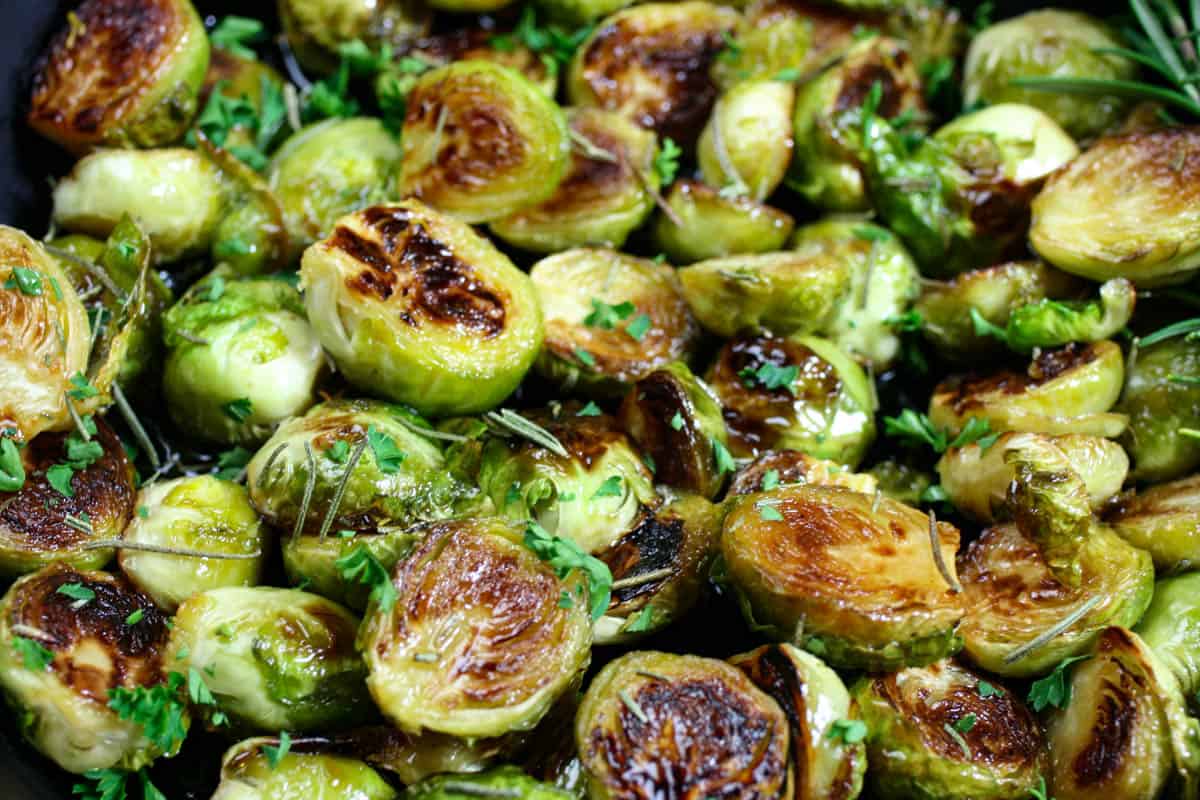 When are Brussels sprouts in season?
These days you can find them available almost all year, but the peak season is generally from September to February. Perfect for that time of year when people are looking for a classic holiday side dish. But, I love them as a delicious side dish for any meal, during any season - not just as part of a holiday meal (think summer BBQ side for a Smoked Flank Steak, a Thanksgiving side dish or Christmas dinner side).
How to select the best Brussels sprouts
Choosing the best sprouts is fairly simple. Much easier than choosing the perfect avocado (which can be difficult!). The most tender are usually 1 to 1-½ inches in diameter. The general rule is the smaller the head, the sweeter the taste.
The sprouts should be firm, tightly packed and bright green. Avoid those that have shriveled or yellow leaves or black spots. They should also have a bright, fresh smell.
How to prepare
You can find fresh sprouts sold on the stem (how fun!) or already picked and ready-to-go. I've purchased them both ways.
I'm a fan of just purchasing them already trimmed off the stem - it's less cutting and work especially when preparing holiday meals or quick weeknight meals or side dishes.
Preparation is very simple. Start by rinsing the sprouts and then pick off any dried, withered or dirty leaves.
One at a time, cut off the end of the sprout, then cut them in half.
Do I need to soak Brussels sprouts before cooking?
Soaking before cooking is totally optional. Personally, I've never done this and they've always turned out sweet and tender.
If you choose to soak them, do so before trimming or cutting them.
How to cook
Cooking requires just a few basic ingredients and some pretty straightforward recipe prep.
Sautéing in a pan brings out natural sugars - caramelization that doesn't happen with braising, steaming, or microwaving them (think mush - gag factor there). Sautéing (especially with maple syrup) and releasing the natural sugars will reduce the bitter taste. The addition of maple syrup doesn't hurt, either!
I start by adding the oil to a large skillet (I prefer cast iron, of course!). When the oil is hot, add the prepared sprouts, flat side down and sauté for 5-10 minutes - until they get a nice caramelization. Then flip them and add a little hot water and simmer until it's evaporated.
At that point, add the butter, maple syrup, dried rosemary and a couple pinches of salt. Toss until thoroughly coated and syrup gets caramelized just a bit.
The result is tender little heads with just a little 'chew'... Perfect! They develop a sweet, nutty taste when browned and caramelized, even without the addition of maple syrup. That caramelized flavor is just heavenly! Speaking of carmelized flavor, sprinkle a few Maple Bourbon Candied Pecans on top for an extra special treat.
Do note that cooking time may slightly vary depending on the size of your sprouts.
To make a Paleo or AIP recipe, replace the butter with more olive oil and replace the sugar-free maple syrup with regular maple syrup. Who can say no to that? Probably no one on earth.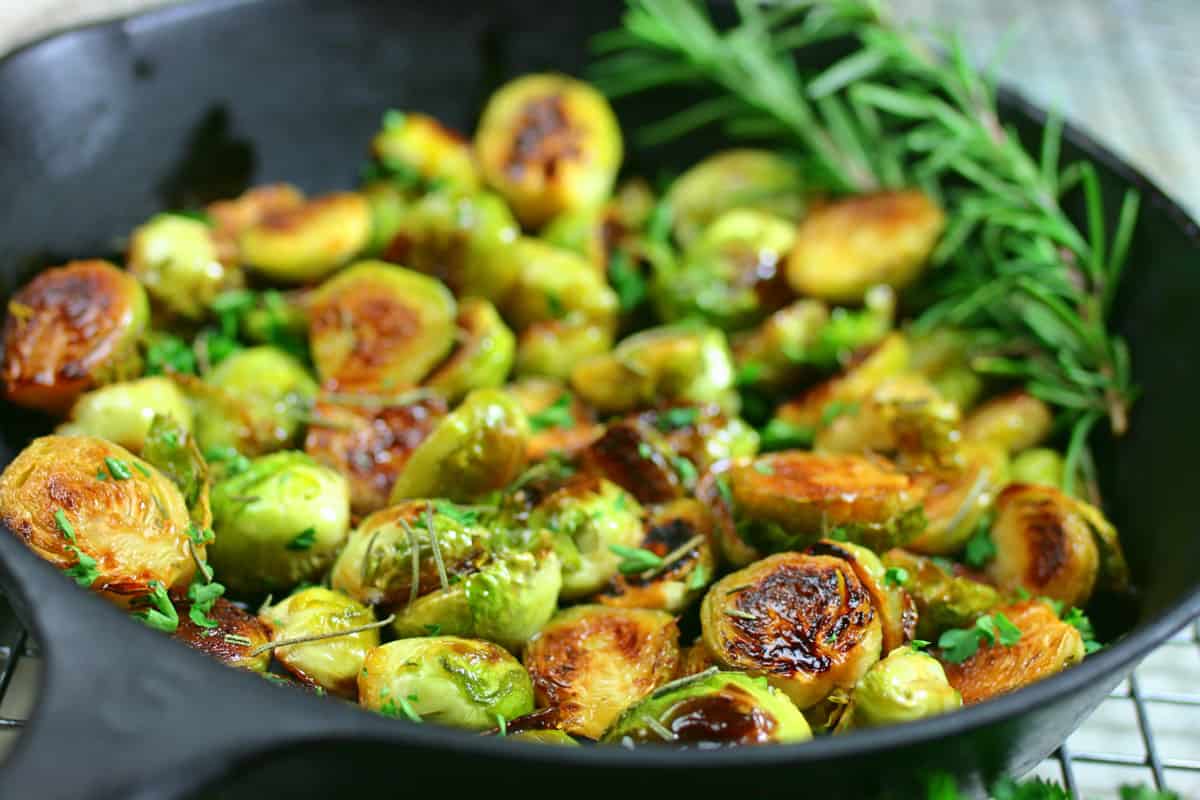 Are sautéed Brussels sprouts good for you?
Yes, they are rich in nutrients and are and easy way to incorporate vegetables into your diet.
These little green gems are low in calories, low in carbs, high in fiber and are high in vitamins such as A, C, K and folate. They're also chock full of minerals, such as manganese, and are antioxidant-rich. What I didn't know is that they are also one the best plant sources of omega-3 fatty acids, with 135mg of ALA in each half-cup serving! Omega-3's have been shown to be beneficial in decreasing inflammation and reducing triglycerides, among other health benefits.
Are Brussels sprouts keto and low carb friendly?
Many folks ask if they can eat these on a keto diet. Thankfully, they are low in carbs and can be enjoyed as part of a healthy keto lifestyle. According to USDA calculations, one cup of contains only 4.5g of net carbs. Happy dance!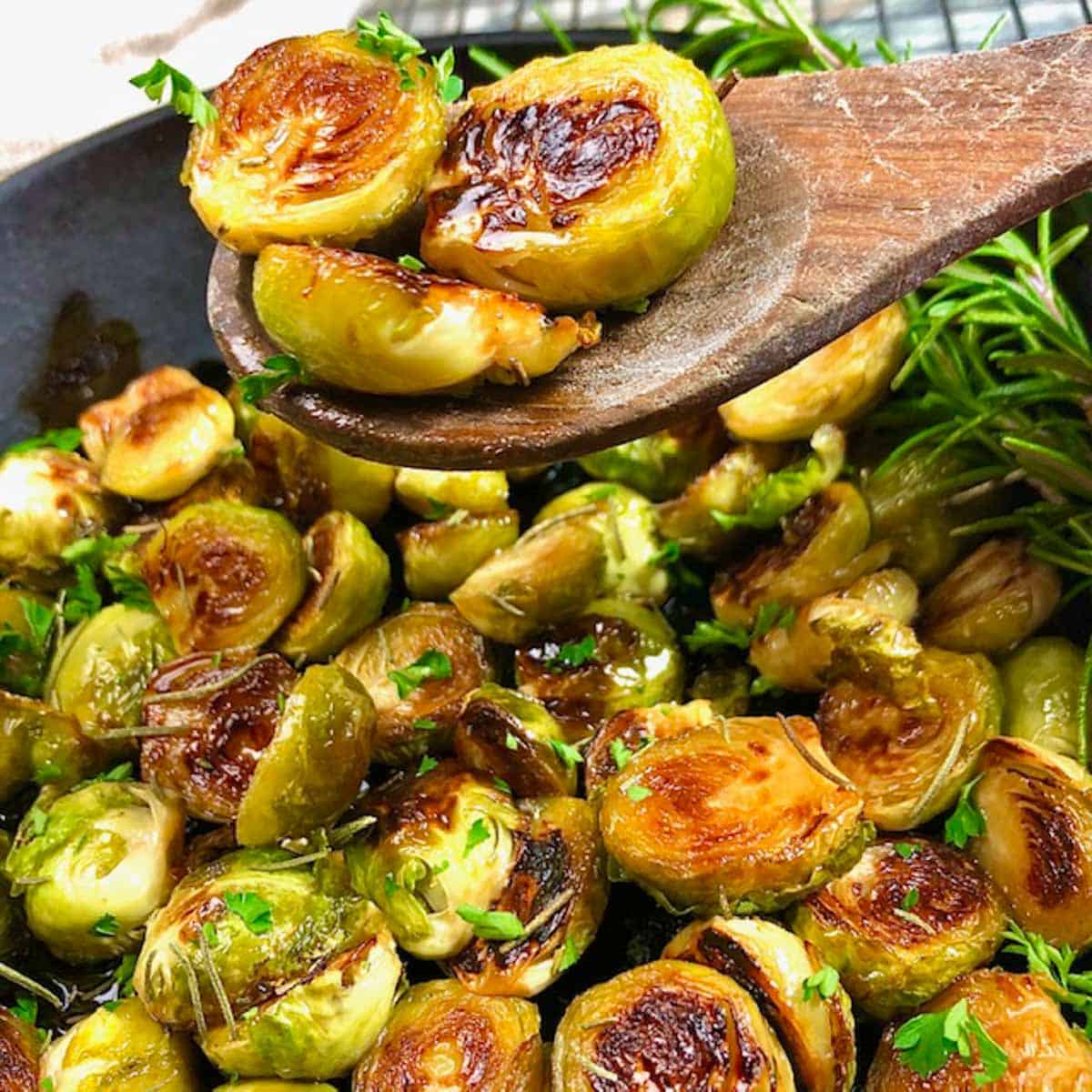 Are Brussels sprouts low-fodmap?
Yes, they are low-FODMAP in small quantities. Monash University has found that they can be considered low-FODMAP in servings of about 38g, which is about 4 whole sprouts, depending on the size.
Definitely take note to see if the fructans cause digestive upset. However, note that they also contain a non-digestible carb called raffinose that can cause gas and bloating and can be confused with a FODMAP intolerance. Start with small portions and adjust accordingly.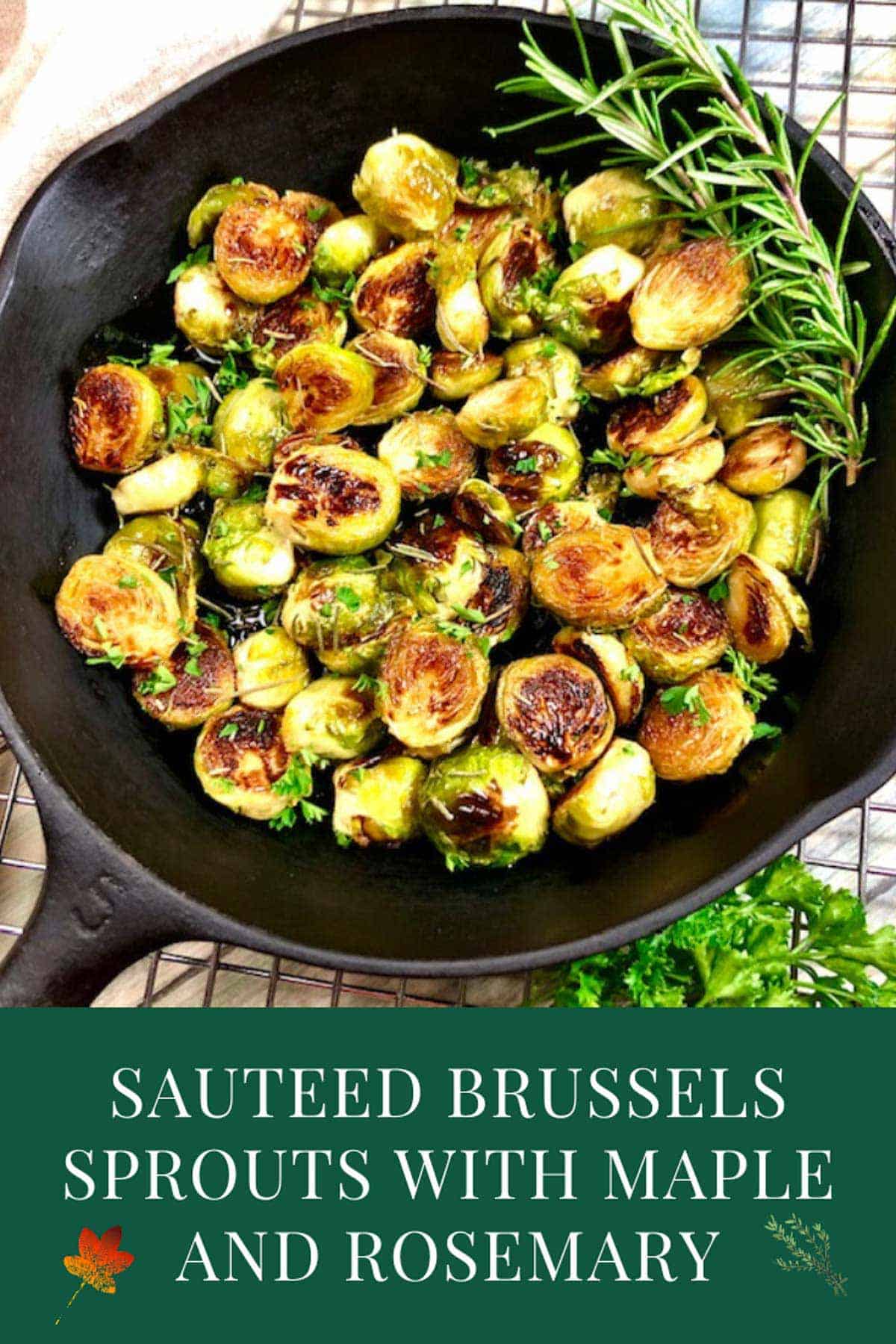 Serving suggestions
Meats pair well with Brussels sprouts. Consider serving these alongside seared chicken breasts, juicy skillet pork chops, my Crock Pot Pulled Pork, or try with my Olive Balsamic Turkey Thighs. This side is also amazing with Smoked Traeger Beef Ribs or a Flank Steak on the smoker.
They also pair very well with fish. Try rich, hearty options like roasted cod, striped bass, sturgeon, tilapia and salmon. Try these with my Indian Spiced Salmon for a mouthwatering meal!
Variations
Pan fried sprouts can be seasoned in many different ways, using the same basic principles: make sure the pan is well oiled, prep them in the same way you would for this recipe and consider these few other ideas to switch it up for easy weeknight meals:
Sautéed with bacon - Cook 4 slices of bacon until crisp and cook the Brussels in the bacon drippings. Add the crisp bacon at the end of cooking.
Sautéed with herbs - Add about a tablespoon of other fresh or dried herbs at the end of cooking. I love savory, thyme and sage.
Pan fried with garlic and parmesan - Add a teaspoon of finely chopped garlic to the pan. They'll be crisp and caramelized - yum! Then toss a handful of parmesan over the sprouts at the end.
Pan sautéed with balsamic vinegar - Cook as directed above, omitting the maple syrup and rosemary. Remove from heat and add one tablespoon of balsamic vinegar and toss well. Add spices and pine nuts or sliced almonds and return to low heat for about a minute, until the nuts just begin to toast.
FAQ
How long do Brussels sprouts last in the fridge?
If kept raw and whole, they can last about a week in the fridge - sometimes a little longer. The older they are, the stronger and more bitter they can become. It's best to prepare them within five days of purchase.
How do you store Brussels sprouts?
When storing whole and raw, store them unwashed and dry in a covered bowl. Moisture can cause them to decay, so only wash them right before you prepare them for cooking.

If kept on the stalk they will keep for several weeks in the refrigerator or another cool place, such as the garage.
How do you know when Brussels sprouts are bad?
The best way to know is to smell them. Their smell gets stronger as they age and will smell like old cabbage. They also may be soft, wilted or squishy instead of firm to the touch.
Other recipes you might like
This post contains affiliate links. As an Instacart and Amazon Associate, I earn from qualifying purchases.
📖 Recipe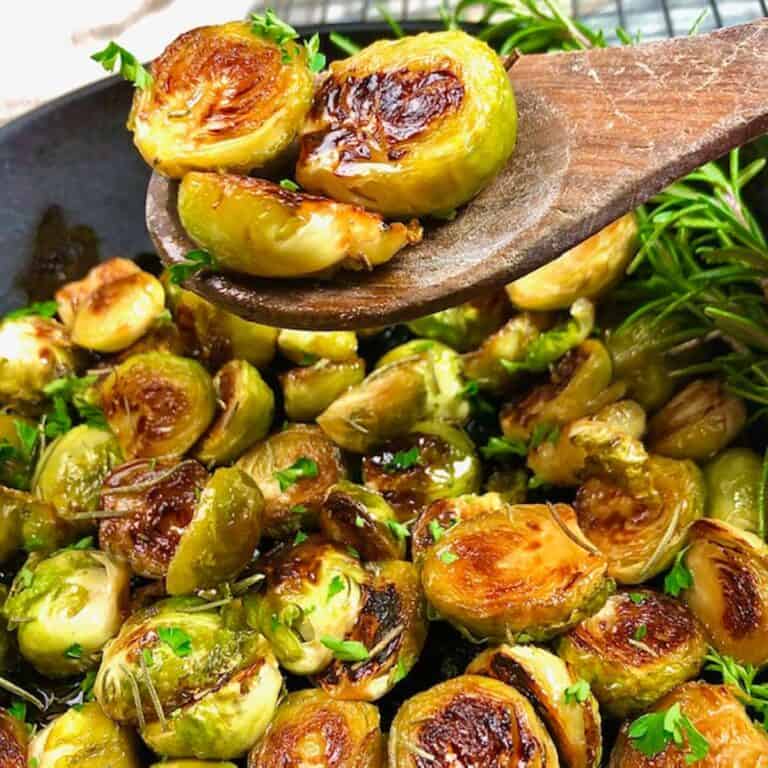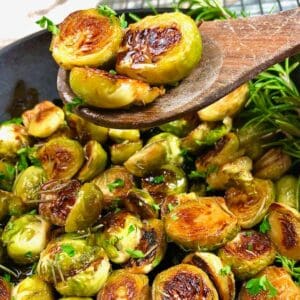 Sautéed Brussels Sprouts with Maple and Rosemary
Sautéed Brussels Sprouts with Maple and Rosemary is an easy, savory side dish that will steal the show! These are sweet, savory perfection!
Instructions
Rinse, cut off the ends and remove any old, damaged or withered outer leaves.

Slice each sprout in half.

When the skillet is hot, add the brussels sprouts, cut side down. Sautee until brown and carmelized, about 5 minutes.

When browned, flip over and add hot water.  Let simmer until the water has evaporated.

Add the butter, sugar-free maple syrup, rosemary and salt to taste.  

Toss until thoroughly coated and the syrup caramelizes just a bit. They will still be a bit firm, with just a little 'chew' to them - perfect!
Notes
Cooking times may vary depending on the size of your sprouts.  I used small to medium-sized sprouts for this recipe.
---
Nutritional values will vary based on what maple syrup you use, and the quantity.  I used ChocZero Sugar-Free Maple Syrup for this recipe.
Nutrition
Serving:
1
serving
Calories:
106
kcal
Carbohydrates:
6
g
Protein:
2
g
Fat:
8
g
Cholesterol:
10
mg
Sodium:
101
mg
Fiber:
3
g
Sugar:
1
g
Net Carbs*:
3
g
*Net carbs = carbohydrates - fiber
Nutritional information is an estimate, calculated using online tools and does not include optional ingredients unless otherwise indicated.
Did you make this recipe?
Leave a review below, then snap a picture and tag @Rad_Foodie on Instagram so I can see it!