Creamy Cilantro Lime Salad Dressing is a tangy addition to add to your next bowl of greens. This easy keto and low-fodmap salad dressing also makes a delicious dip or marinade for chicken, fish or your favorite protein. And, it's paleo and Whole30 friendly, with an AIP variation, as well!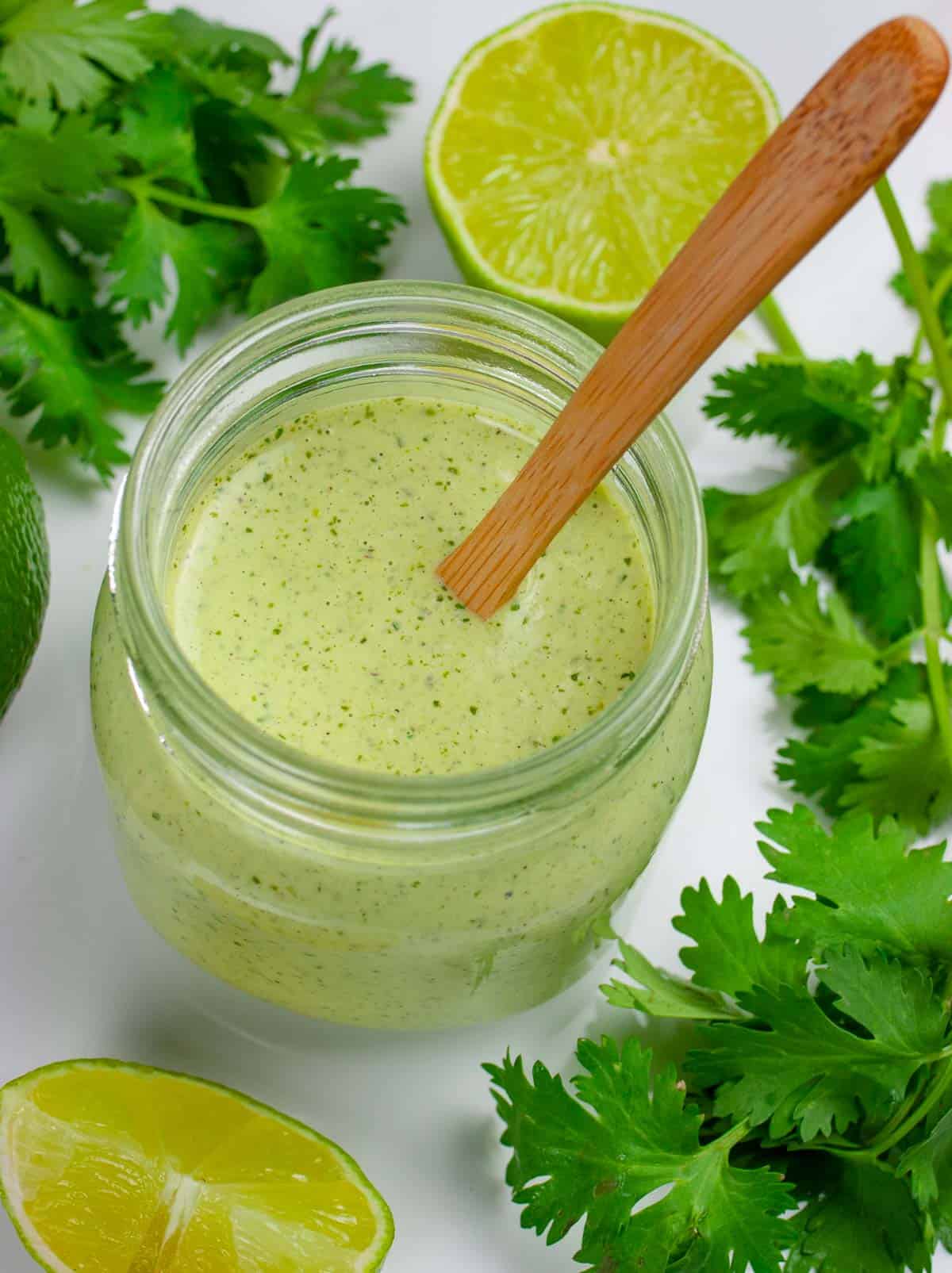 Homemade salad dressings take just a few minutes to make and are so much better than store bought varieties.
This FODMAP friendly salad dressing was inspired by my Keto Coleslaw with Cilantro and Lime.  Pour it over your favorite summer salad, roasted veggies, such as Herb Roasted Carrots with Curry Leaves and Fenugreek or Herb Roasted Rutabagas, or use it as a marinade for your favorite meats or seafood.  It's creamy, tangy, and has a tiny kick from pepperoncini (optional to add, but highly recommended!).
I'm a lover of creamy, healthy salad dressings and my family enjoys salads year round. Elevate any veggie bowl with some of my favorite keto dressings, including Blue Cheese, and Sesame Ginger. And, be sure to check out my low-FODMAP salads.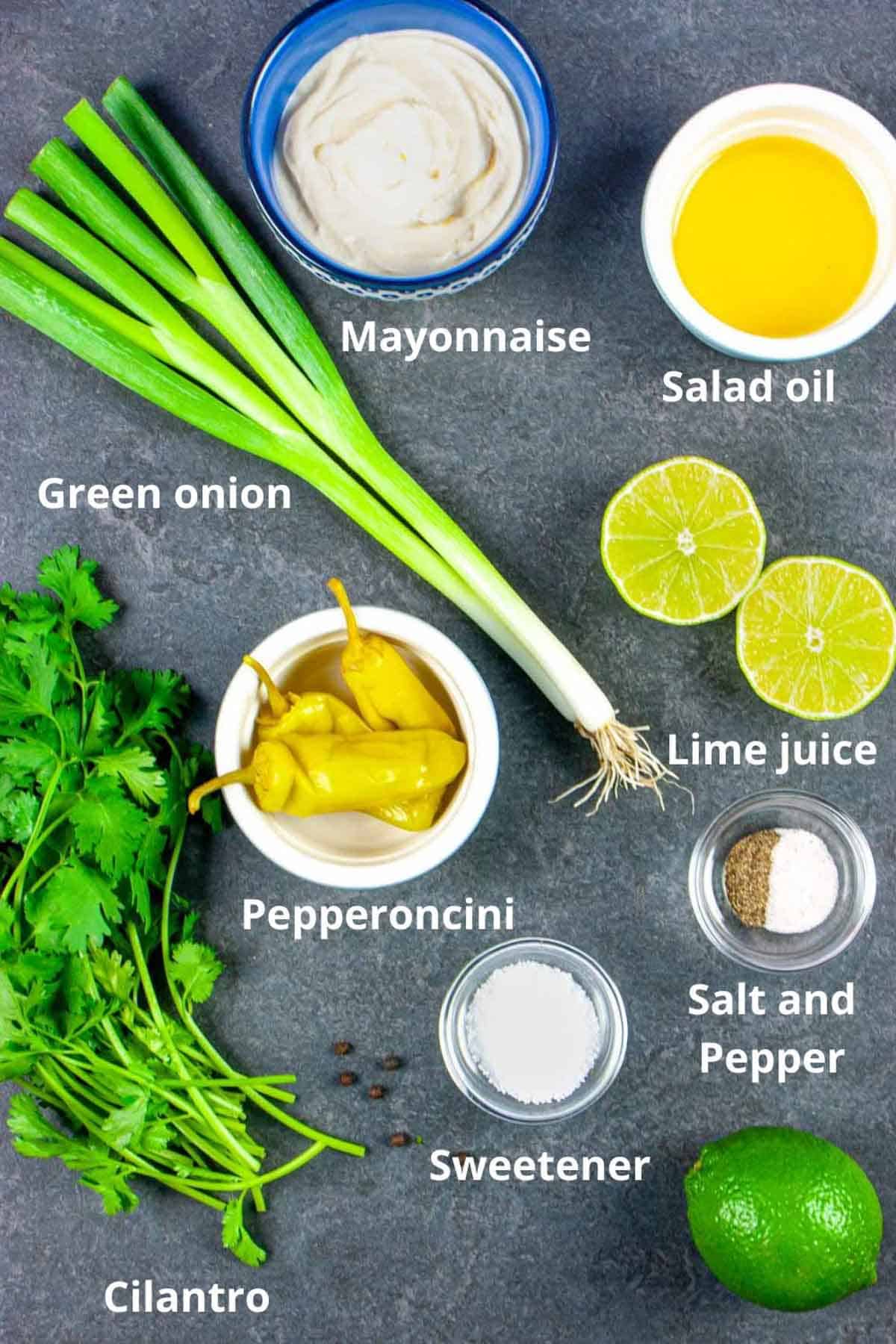 Ingredients
Fresh ingredients are key to making the best cilantro lime dressing.
Cilantro – is the star of this recipe.  It's totally delicious and adds a beautiful green color.
Fresh lime juice – Adds a zesty and bright flavor and it's acidity balances perfectly with the fats in the oil
Salad oil – I recommend avocado oil, as it's a neutral oil.  You can also use olive oil, but it will change the flavor profile just a little.  MCT, walnut, flaxseed and sunflower oils are also other good options, but avoid coconut oil, as it turns solid when refrigerated.  If you follow a low-FODMAP diet (or even if you don't), garlic-infused olive oil is a very good choice here.
Mayonnaise – adds creaminess and depth of flavor.  You can also substitute the mayo with full-fat yogurt (think coconut!) or sour cream.
Pepperoncini – these are optional, but really add a special zing! If you choose to eliminate these, consider adding a teaspoon of apple cider or champagne vinegar.
Green onion – Just a hint of onion is so good!
Salt and pepper – these tie all the flavors together
Directions
This low carb dressing couldn't be easier to make. Simply put all of the ingredients into a blender or food processor and blend. It's that easy! I like to use my Nutribullet.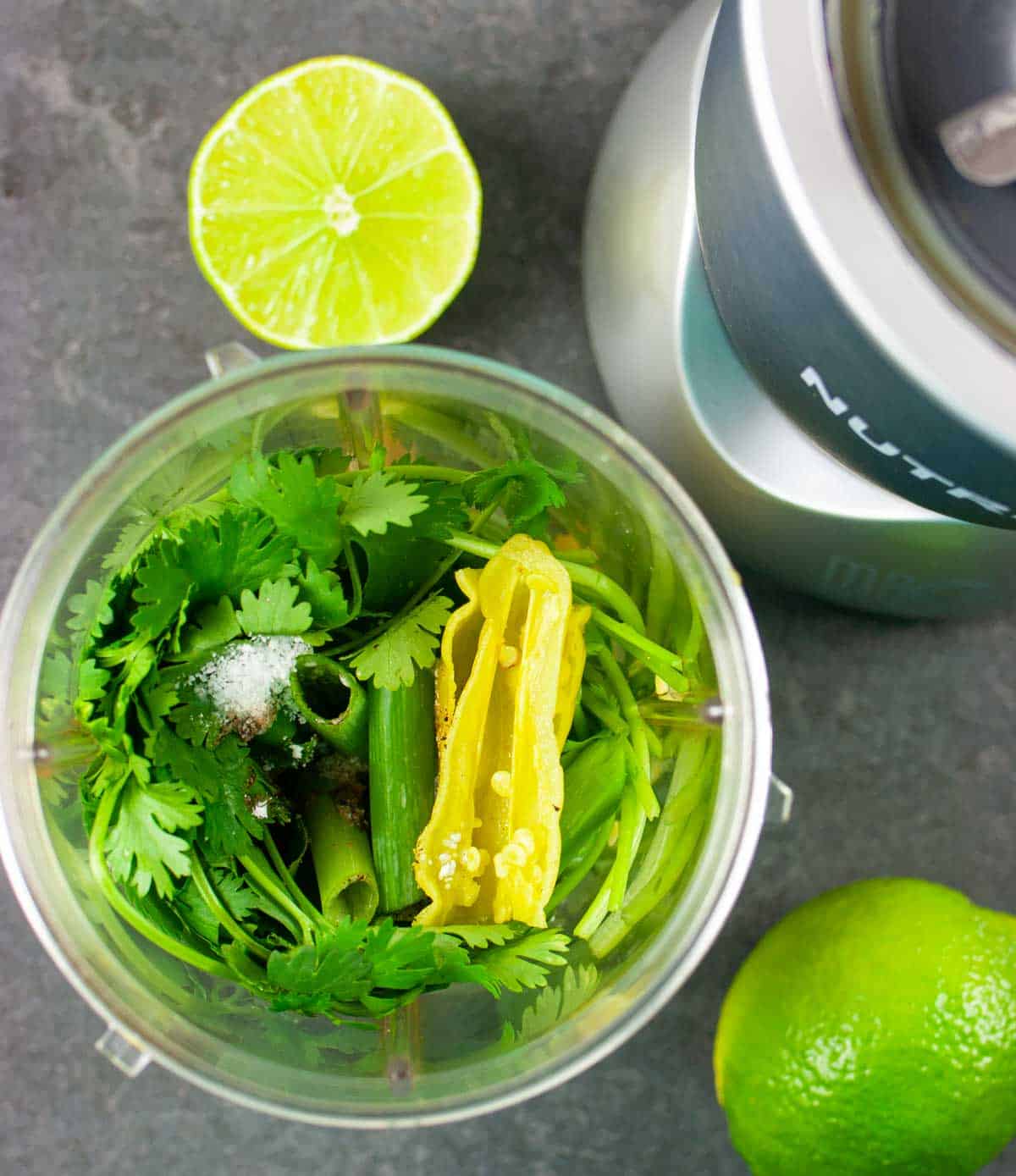 TIP: If using olive oil, place all of the ingredients except the olive oil into the blender or food processor and blend. Then add the olive oil and pulse a few times until thoroughly incorporated. Olive oil tends to develop a bitter flavor when blended, so it's best to mix it in at the end.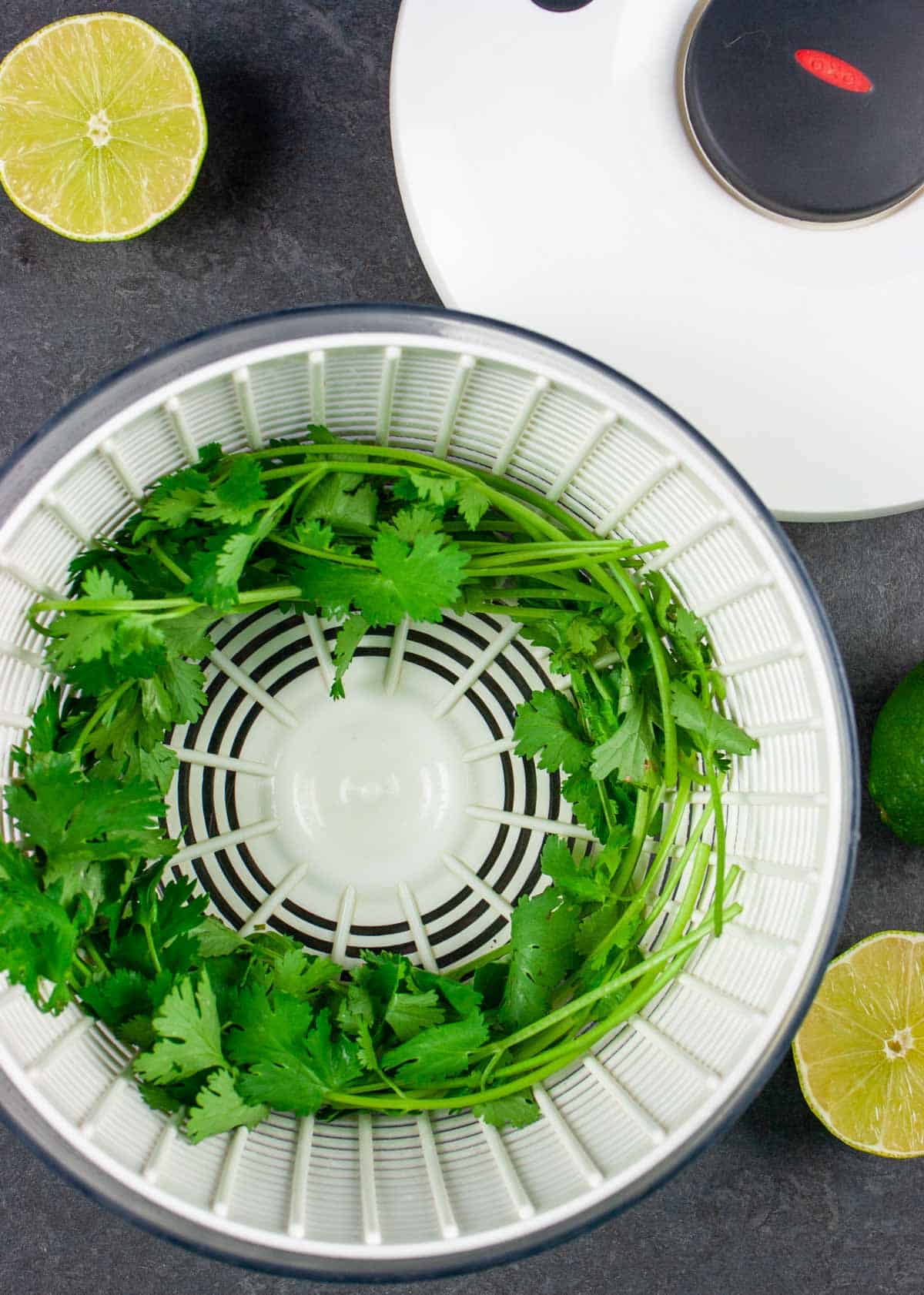 TIP: After washing your cilantro, make sure it's as dry as possible. Even a little water left on the leaves can result in a thinner consistency. I have this small salad spinner that I love to use for smaller amounts of greens. It's perfect for herbs.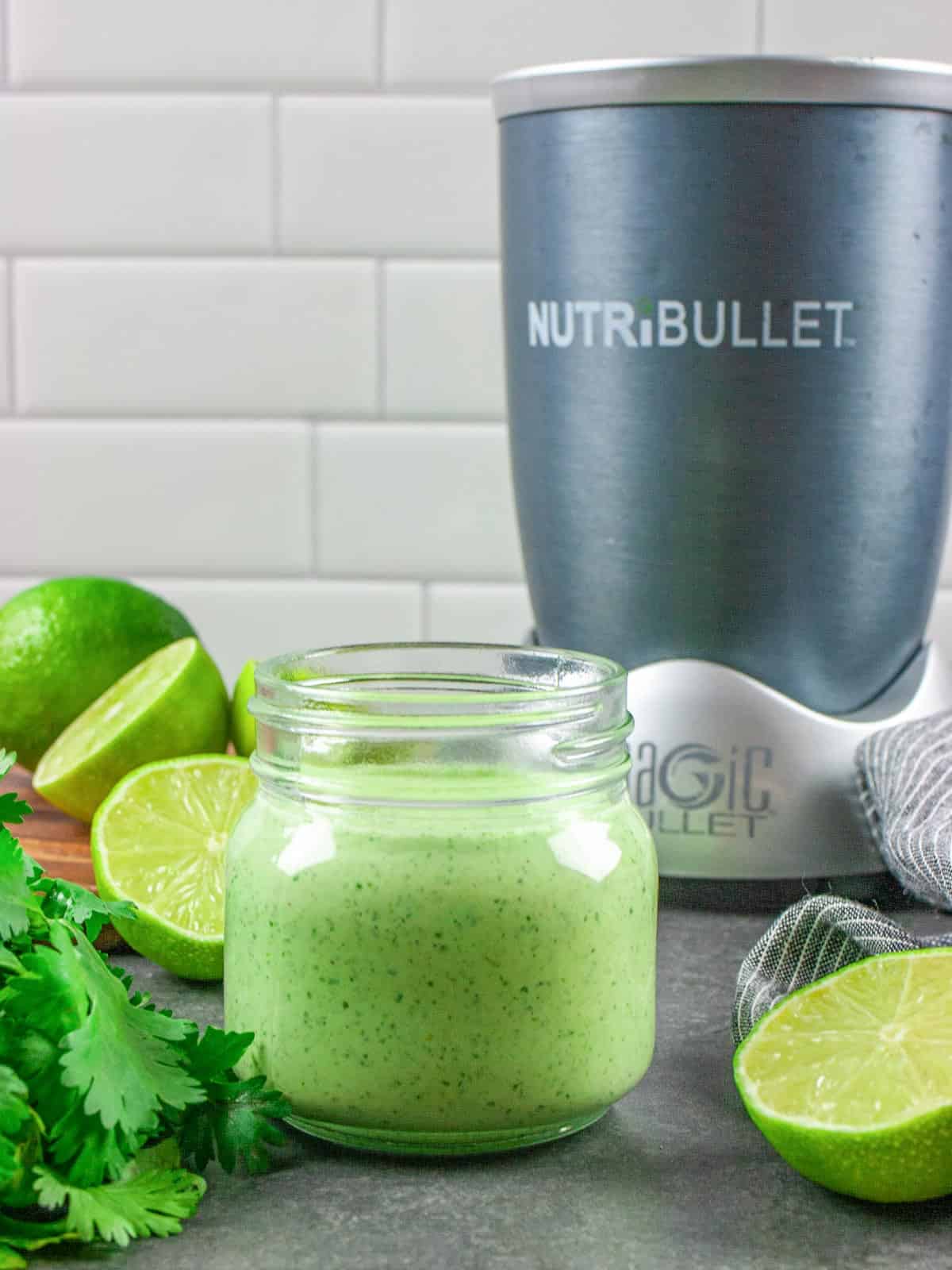 Variations
AIP salad dressing – Be sure to use an AIP mayonnaise and eliminate the pepperoncini and black pepper
Cilantro ranch dressing – Add a half packet of ranch seasoning and enjoy! Add some low-FODMAP ranch, AIP ranch seasoning mix, or regular ranch seasoning that is not either of the above.
Avocado cilantro dressing – Add ¼ or ½ an avocado.  If it's too thick, add a little more oil and/or lime juice.
Herbs – Try adding powdered coriander, cumin or a pinch of curry or garam masala.  So good!!
Make it spicy – add ½ a jalapeno, a few pinches of cayenne pepper or some Aleppo pepper. (See my ingredient spotlight on Aleppo Pepper.)
Add garlic and onion – not following a low-FODMAP diet?  Add a garlic clove and/or use a few slices of fresh red onion.
Keto and low-FODMAP dip – replace the oil with more mayonnaise, sour cream, or your favorite low carb Greek yogurt.  Add ½ an avocado for a thick, rich, creamy dip or sauce.
Use basil instead – Not a fan of cilantro?  Replacing it with basil essentially creates a pesto salad dressing.
Serving suggestions
Use this creamy dressing to:
Top fish tacos or steak, chicken, shrimp salad
Make an easy fish marinade (think tilapia or cod)
Pour over a bed of lettuce and top with some Asian Tuna Salad
Thicken it up to use as a healthy coleslaw dressing, dip for veggies or even a sandwich spread
Top burritos, burrito bowls, tacos, or use as a dip for quesadillas. It pairs ridiculously well with Low-FODMAP Taco Seasoning
Mix in with your favorite low carb pasta (it makes a perfect keto pasta recipe) or veggie noodles for a creamy noodle bowl (cilantro noodles are oh, so tasty!)
Drizzle on Indian Spiced Salmon, Easy Keto Carnitas, Crock Pot Pulled Pork or a pulled pork sandwich
Add a few dollops to Homemade Cauliflower Rice
How to Store
Pour the dressing into a mason jar or container with a tight-fitting lid. The dressing will keep for about a week in the refrigerator.
My Nutribullet blender cups come with a lid, so I usually just store my blended dressings in the same cup they were blended in. Super convenient!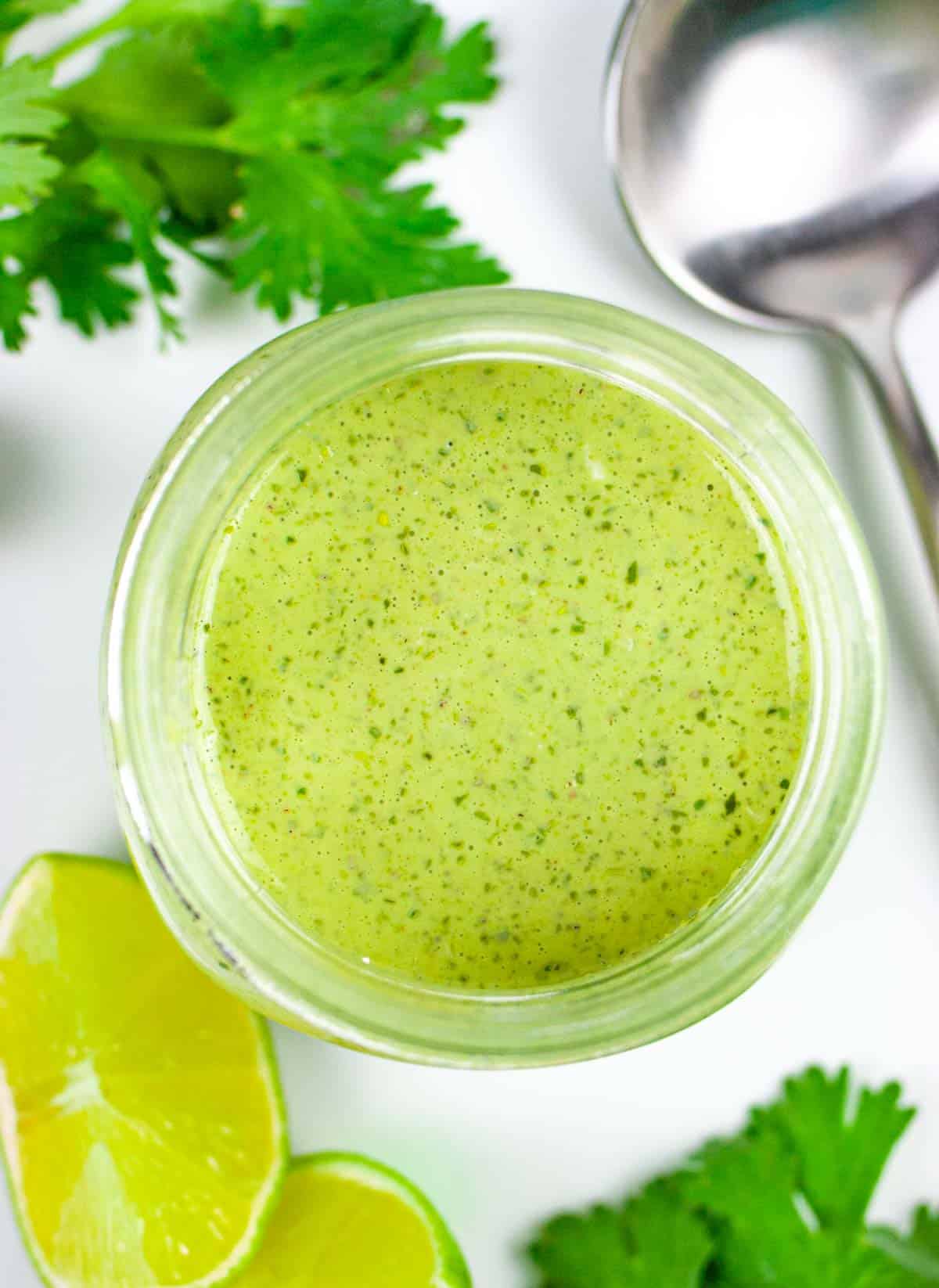 FAQ
Do I need to trim cilantro stems?
No. Unlike parsley that has bitter stems, cilantro stems are flavorful and tender.  You can use them along with the leaves and they blend up perfectly for use in sauces and dressings.
Can you freeze salad dressing?
Technically, yes, but the flavor and consistency will deteriorate quickly.  I advise consuming it freshly made.
Is this a paleo salad dressing?
As long as you use a paleo-friendly sweetener, this is perfect for a paleo diet.
Does this recipe fit a Whole30 meal plan?
Absolutely!  Just make sure you use a Whole 30 mayo.
Who do some people think cilantro tastes like soap?
Anywhere from 4-14% of the world's population have a variation in a group of olfactory receptor genes that detects aldehyde chemicals, present in both soap and cilantro.  The detection of this chemical gives cilantro a soapy aftertaste.
What is a good cilantro replacement?
I find the best substitute for cilantro is basil. It's aromatic, fresh flavor is a wonderful fresh cilantro substitute in any recipe.
Did you enjoy this recipe? Please leave a rating and comment – I appreciate it very much!
Other recipes you might like
This post contains affiliate links. As an Instacart and Amazon Associate, I earn from qualifying purchases.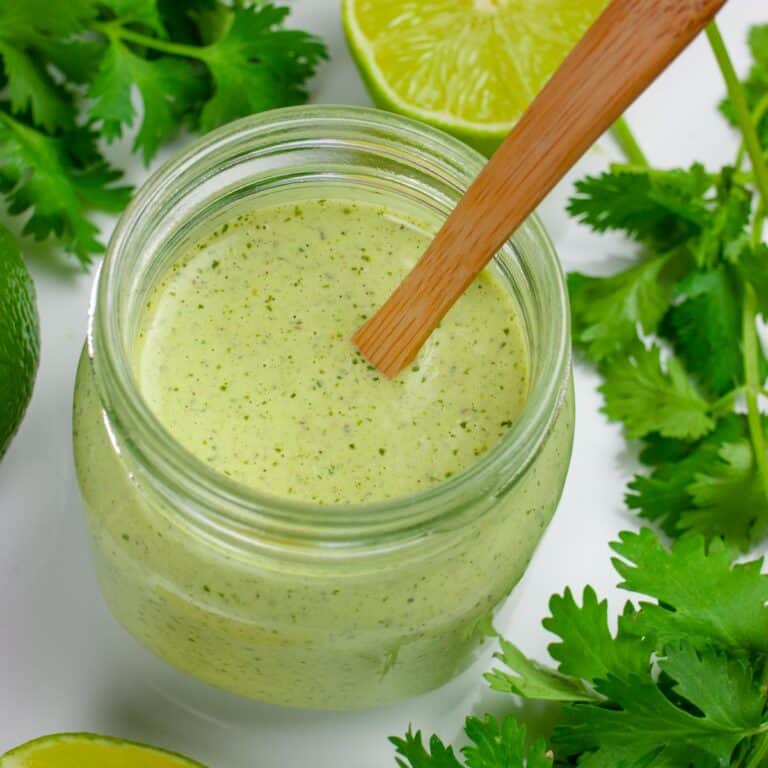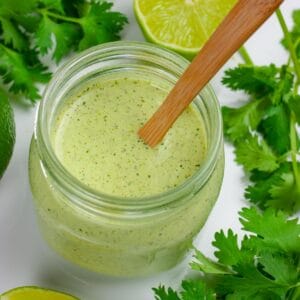 Cilantro Lime Salad Dressing (low carb and FODMAP friendly)
Creamy Cilantro Lime Salad Dressing is a tangy addition to add to your next bowl of greens.  This easy keto and low-FODMAP salad dressing also makes a delicious dip or marinade for chicken, fish or your favorite protein.  And, it's paleo and Whole30 friendly, with an AIP variation, as well!
Instructions
Cut the stems off the pepperoncini and trim ends off the green onions.  (Use only the green parts of onions for low-FODMAP)

Place the cilantro, mayonnaise, lime juice, green onions, pepperoncini, salt and pepper in a blender and blend until smooth.

Add the olive oil and pulse a few times, until just incorporated.  If using another oil, such as avocado oil, it can be added in the blender with all of the ingredients in the previous step.  Olive oil tends to develop a bitter flavor when blended.

Taste and make any seasoning adjustments.

Store in a sealed mason jar or container for up to 5 days.
Notes
If you choose not to use pepperoncini, consider adding a teaspoon of apple cider or champagne vinegar for a little more acidity.
Variations:
Nutrition
Serving:
3
tablespoons
Calories:
157
kcal
Carbohydrates:
1
g
Protein:
0
g
Fat:
17
g
Cholesterol:
5
mg
Sodium:
285
mg
Fiber:
0
g
Net Carbs*:
1
g
*Net carbs = carbohydrates – fiber
Nutritional information is an estimate, calculated using online tools and does not include optional ingredients unless otherwise indicated.
Did you make this recipe?
Leave a review below, then snap a picture and tag @Rad_Foodie on Instagram so I can see it!