Aleppo pepper is a deep red, slightly mild member of the Capiscum Annuum family that adds an earthy, almost fruity heat and flavor to many dishes that could use just a touch of heat.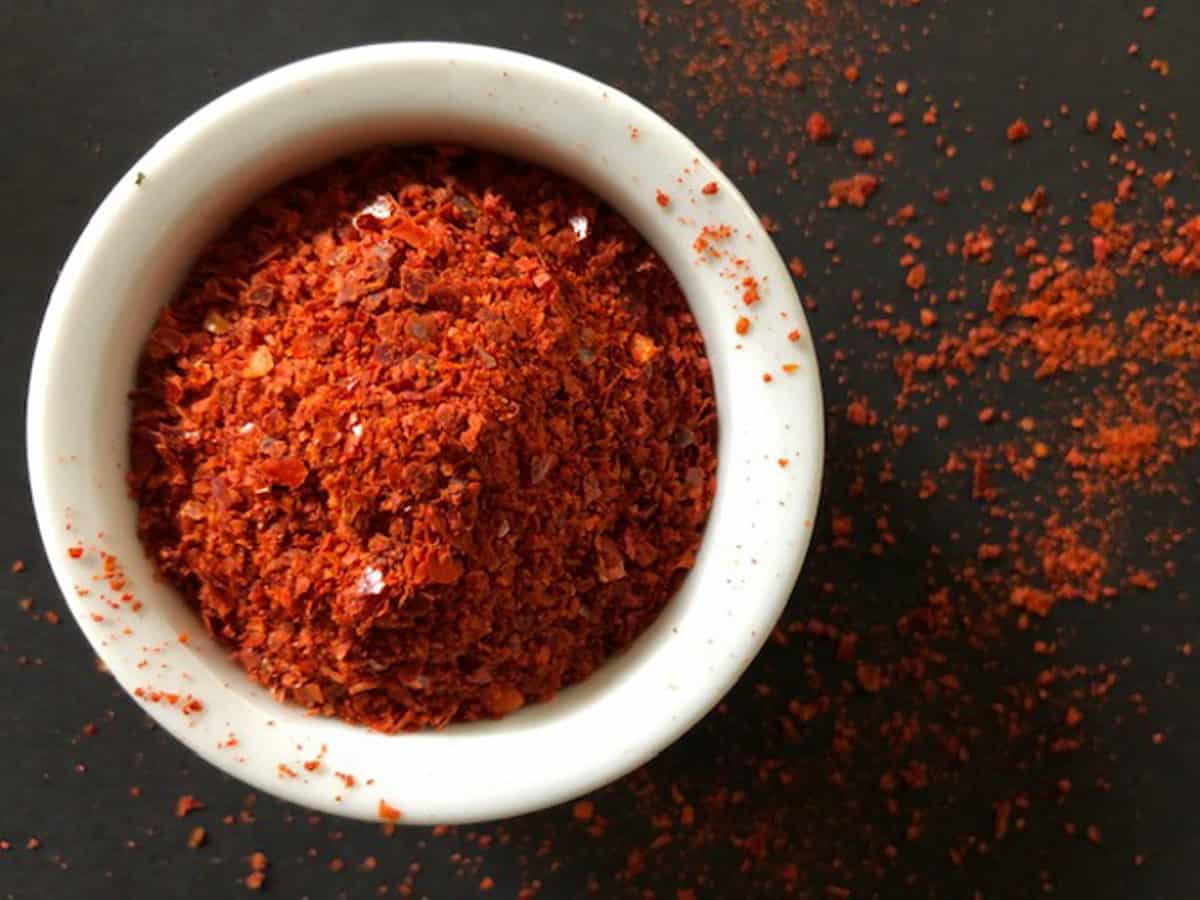 Jump to:
Aleppo pepper is one of the newer additions to my pantry and has quickly become one of my favorites. These deep red, mild flakes are aromatic and intensely flavorful. They're so versatile, they can be added to just about anything – meat, veggies, tofu, fish… you probably get my point!
Where does Aleppo pepper come from?
They are named after Aleppo, a city along the Silk Road in northern Syria, where they originate. Due to conflict in the region, it is difficult to grow and export them from Aleppo. They are grown in the US, but most are imported from Turkey, where many of the Syrian growers moved their operations.
Why you'll love Aleppo pepper
These peppers are known for their ability to enhance the flavor of anything they touch – kind of like salt. In fact, the slight saltiness of the peppers may come from the way they're dried and processed, as salt is often used. Sprinkle them on Candied Pecans before baking, top your favorite homemade Guacamole, or bowl of hearty Fish Stew with Turnip and Fennel for a great color and flavor kick.
I feature them in my Spicy Marinated Olives recipe, and will even add a little to my Blue Cheese Dressing.
Also known as Halaby peppers, they are mild in heat and are a deep burgundy. I'm a bit of a spicy-hot-pepper wimp, so these are perfect for me! Unlike red chili flakes, they are very savory, with an earthy, salty, citrusy, cuminy (is that a word?) type flavor, with a hint of sundried tomato. It's mild heat builds slowly, with a raisin-like flavor. Sound good? They definitely are! They are a very common condiment in the Middle East, used as a traditional seasoning in Middle Eastern and Mediterranean cooking. Use this spice boadly in many dishes that include meat, salads, dips and vegetables.
How to use Aleppo peppers
They are so incredibly versatile.  You can add a sprinkle to eggs, veggies, roast chicken or add a splash of color to salads.  These would be awesome on the rim of a bloody-mary glass!  Add them to anything that could use a little extra kick of flavor and a tiny bit of heat.  You can use red pepper flakes or paprika as an Aleppo pepper substitute.  Maybe add a pinch to top your next bowl of guacamole?
Here is where to buy Aleppo pepper flakes online!
Recipes with Aleppo pepper