This Homemade Green Salsa Verde recipe is so easy to make and much better than any bottled salsa! It's a low-FODMAP variation that is bursting with flavor. It can be used as a topping for your favorite Mexican food, served with chips or even baked with eggs.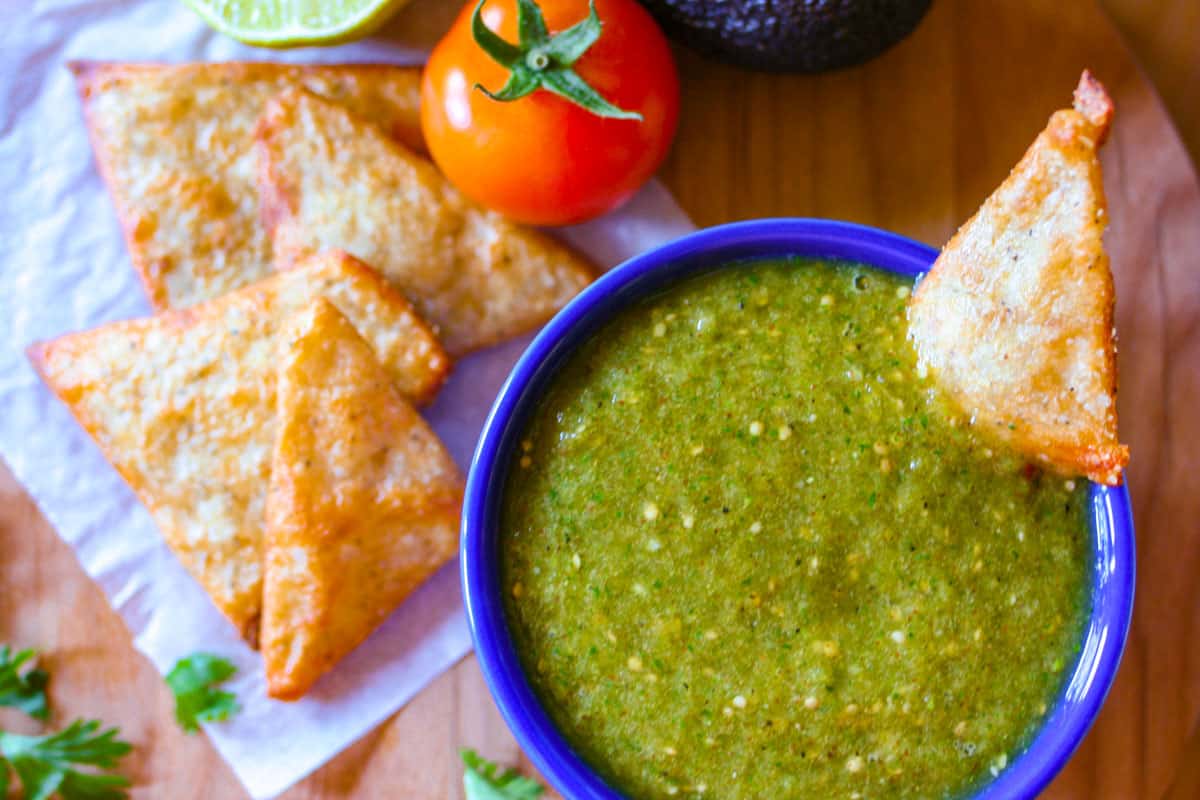 This Low-FODMAP Green Salsa Verde is also keto and is my favorite salsa of all time, even without onion or garlic. However, I include variations for a green salsa that suits any taste! You can browse more of my Low-FODMAP recipes here. You can also enjoy all of my Keto Recipes.
There's no way I'm ever going back to store-bought salsa verde – not when I can make a big batch of fresh, homemade salsa in my own kitchen. I've found that the store-bought versions can be just a little on the vinegary side. This is such an easy salsa recipe, it can be whipped up in a short time and it's totally irresistible!
While I'm very fond of tomato salsa (especially roasted tomato salsa), it's fun to switch things up with a little bit of verde salsa with tomatillos now and then.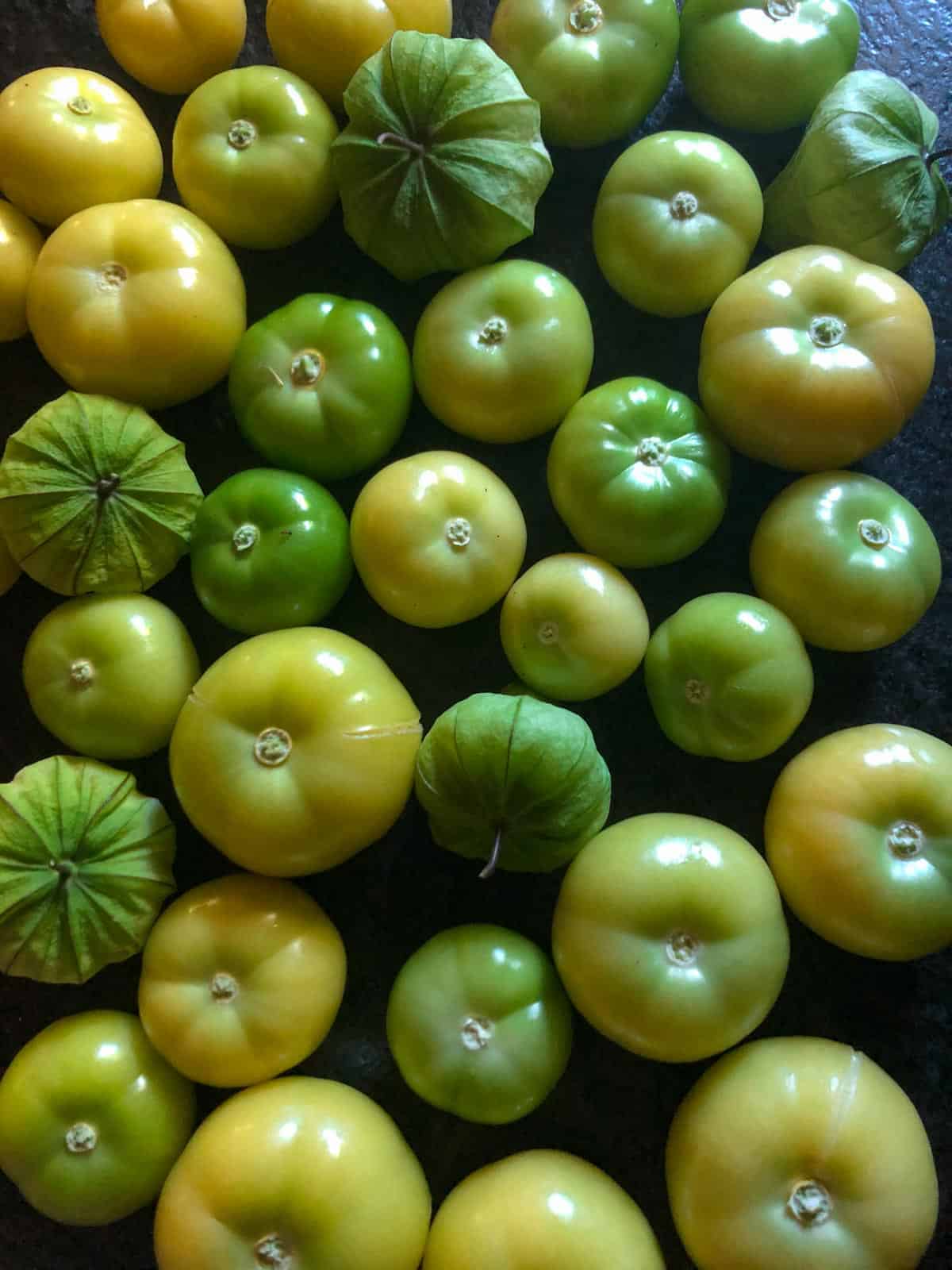 Tomatillo salsa FAQ
What is a tomatillo?
A baby tomato?  A green tomato?  Not exactly.  Even though the name translates to 'little tomato', they actually aren't baby tomatoes at all.
These little fruits are native to Mexico and look like little green tomatoes with a dry husk wrapping around the outside.  They come in a variety of colors – usually green (most common), but also purple, yellow and orange.  When cooked, they all turn a light, lovely greenish-yellow.
Raw tomatillos have a tangy, acid, citrusy flavor.  But when roasted, they have a bright, fresh flavor which makes them perfect for verde sauce.
Like tomatoes, tomatillos belong to the nightshade family of plants, along with potatoes, eggplant and peppers. 
Why are tomatillos and tomatoes called nightshades?
That's a very good question, but it may have something to do with their past being sort of dark and mystical.
It may also have to do with the toxicity of these Solanaceae plants.  The leaves and the stalk of these plants are toxic, but the fruit is not.
However, tomatillos and tomatoes are not 'deadly nightshade'.  Deadly nightshade is known as belladonna, in the same family, but it is not the same plant.
Are tomatillos low-FODMAP?
According to Monash University (the authority on low-FODMAP foods), tomatillos are considered low-FODMAP in serving sizes up to 75g. 
Is store-bought salsa low-FODMAP?
Honestly, I have never seen any salsa verde in a jar that is low-FODMAP.  Every one contains onion and garlic.  That's why I love this recipe!  It's a simple recipe made with natural ingredients, without the worry of excess fructans that can cause digestive upset.
---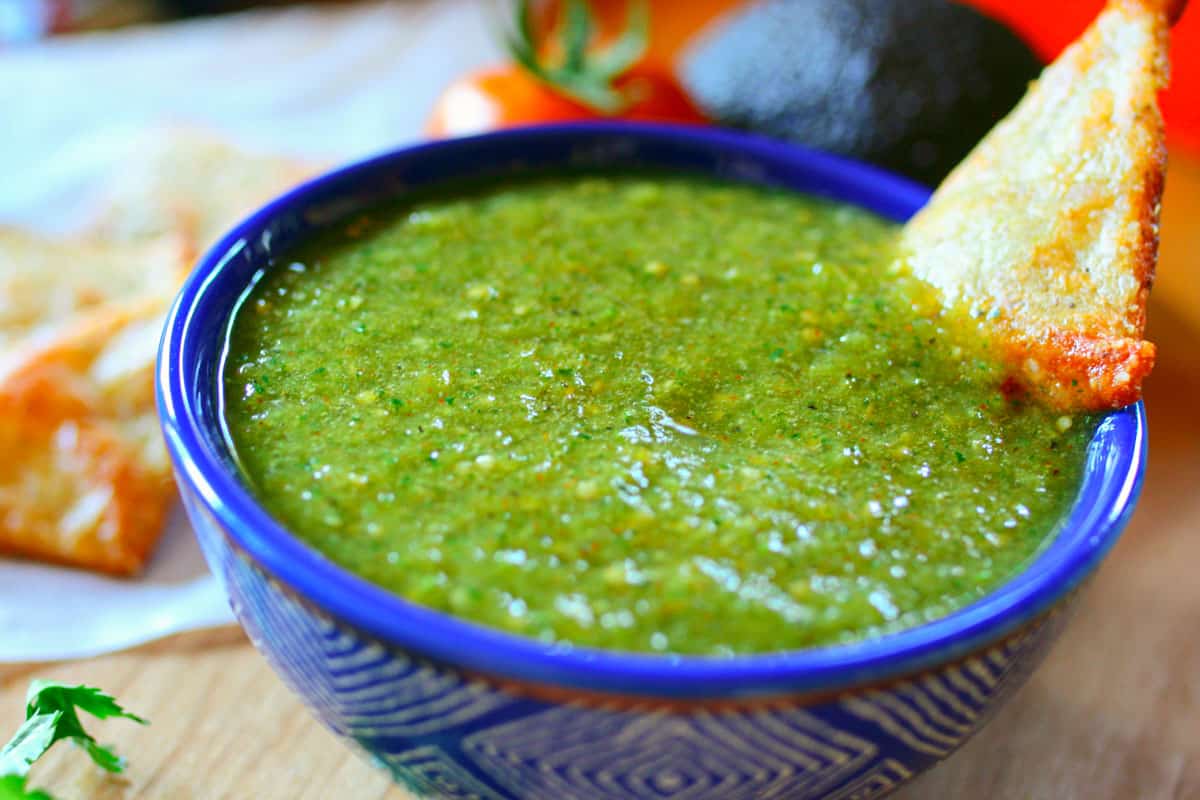 Where to find tomatillos
Tomatillos are often available year-round. You can usually find them near the jalapeno peppers at the grocery store.
In the summer, they're typically available at your local farmer's market.
If you can't find fresh tomatillos, they are also available canned.
Do you garden? If you have any space for a garden (even a small container garden), you can grow them and freeze them yourself!
Growing tomatillos
If you can grow tomatoes, you can grow tomatillos! They're actually very pretty bushes, especially when the little lantern-looking husks have formed on the plant.
We're big on organic gardening at our house. While we don't have a big garden space, we do manage to grow a couple of plants every year. We will roast or smoke tomatillos and then freeze them to use in recipes year-round. There's nothing like growing and cooking with your own harvest!
Tomatillos are perfect for container gardening, garden boxes and raised beds, as well as planted directly in the ground.
Even if you aren't a home gardening expert, try growing some tomatillos. In order for them to germinate, you should have at least two plants. They need to cross-pollinate in order to produce fruit.
Tomatillos come in a variety of colors: green, purple, yellow and even orange.
To learn more, visit this link about organic container gardening.  And go to this link to find tomatillo seeds.
How to select tomatillos
Press the tomatillos: Look for fruit that are firm and have filled their papery wrappers. They should not be soft or squishy when pressed.
Peeling back the wrapper: When you peel back the wrapper, they should be a lovely light green color with no blemishes or wrinkles.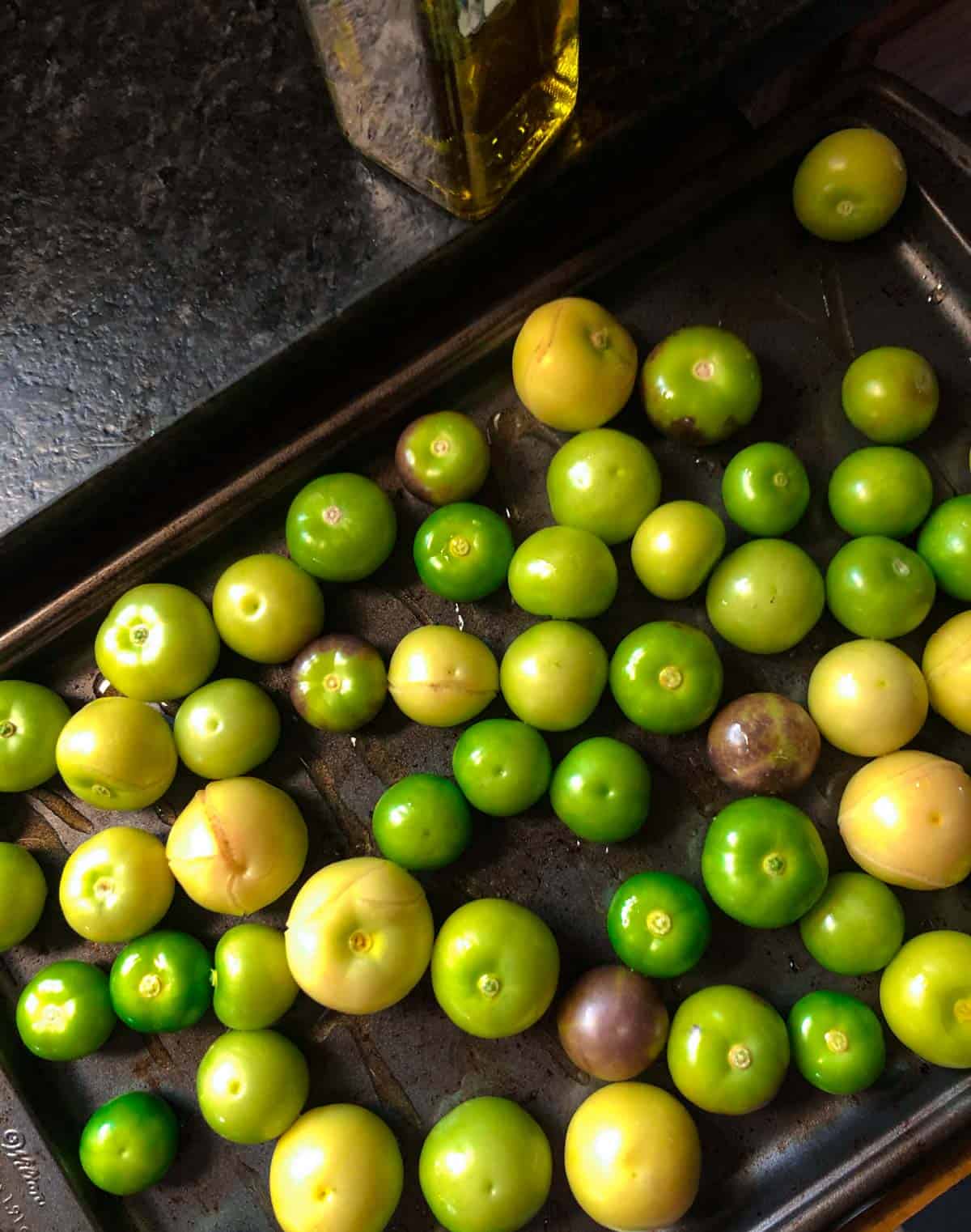 Tomatillo preparation
Prepping tomatillos is so easy. Simply peel off the papery wrapper to reveal the beautiful green fruit. They will be a bit sticky. I like to use a mild soap to wash the skins, then rinse them well in a strainer and pat dry with a towel. Some folks don't use soap and it's certainly not necessary – it's only my personal preference. You can just rinse them off and pat dry with a towel.
Roasting or smoking
I enjoy making salsa from tomatillos that have been roasted or smoked. A smoked homemade chipotle salsa verde is nothing short of magical (I'm just a big fan of chipotle powder)! But, roasting the tomatillos in the oven makes a perfectly delicious salsa, as well.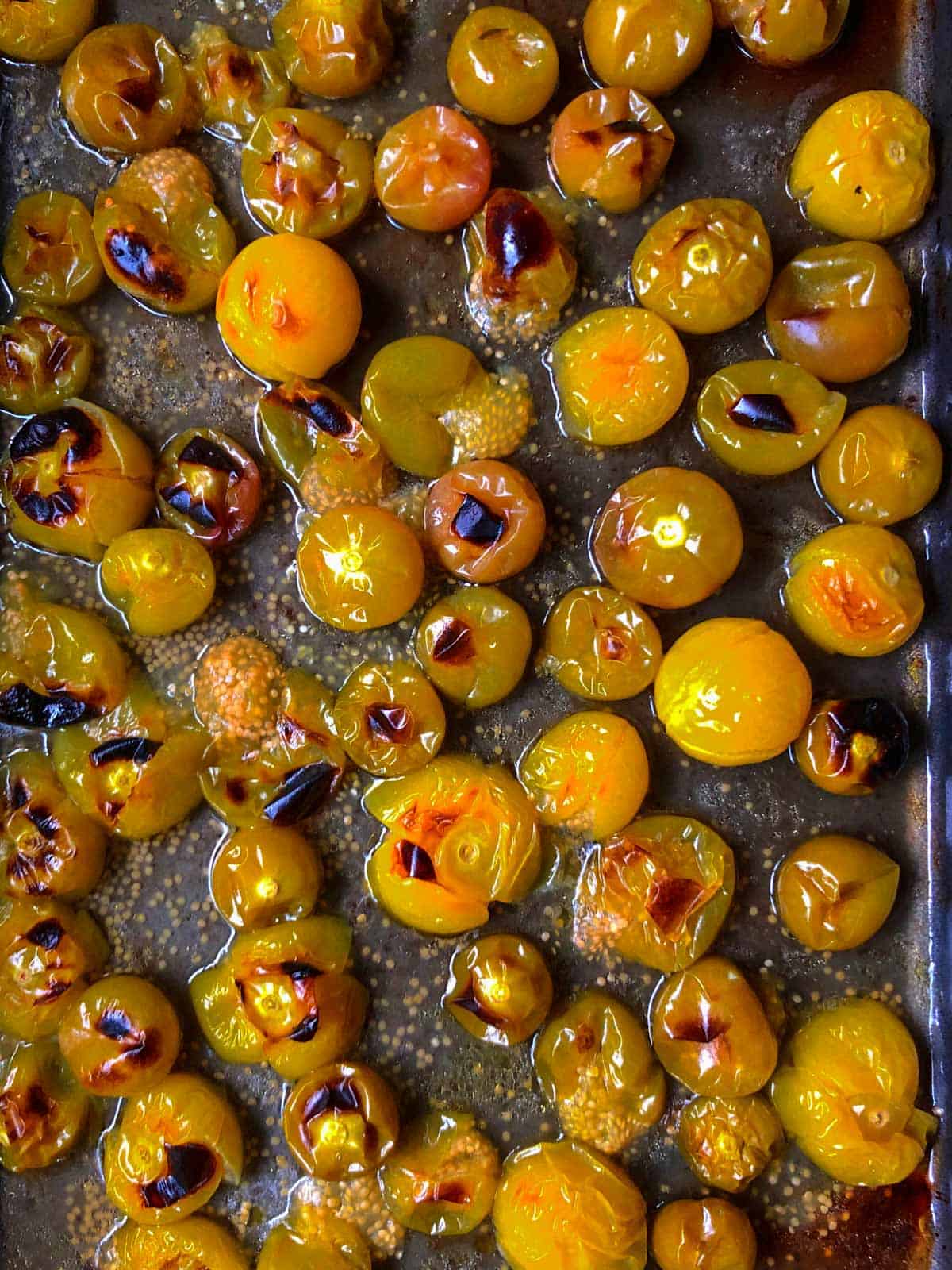 Oven roasted
Pre-heat the oven to 375F.  Add the tomatillos to a baking sheet pan and drizzle with olive oil.  Roast for about 45 minutes, until the skins and flesh have softened. Roasting time will vary depending on the size of your tomatillos.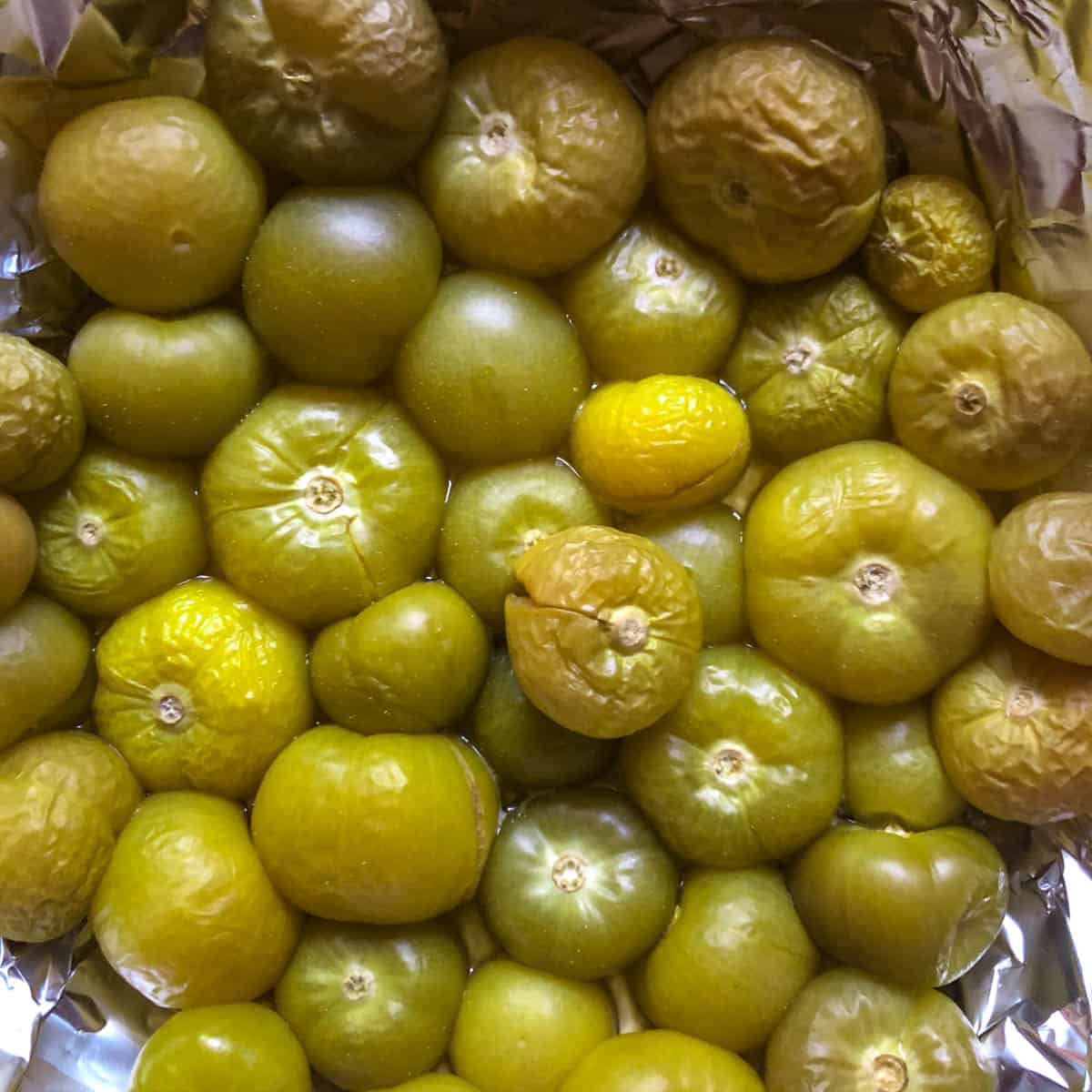 Smoking
Line a roasting pan, sheet pan or vegetable grill pan with foil.  Add the tomatillos and drizzle with olive oil.  Smoke at 275F for about 90 minutes – until the flesh and skins have softened.
Note on smoking:  These directions are based on smoking on a Traeger wood pellet grill.  Smoke time may vary based on your smoker.
Variations
Add garlic and onion – This recipe doesn't contain any high FODMAP foods like onion or garlic, but if you want to add some, go for it!  Adding ¼ of a red or white onion and/or 2 cloves of garlic is delicious!
Play around with spices – try adding a dash of cumin or substituting the chipotle or chili powder with masala or even curry!
Add some jalapeno or serrano peppers – Remove the seeds from the peppers and add to the blender or food processor with the rest of the ingredients for a little extra heat!
Add some Aleppo or red pepper flakes – if you don't have any fresh peppers to add that little bit of extra heat, Aleppo pepper flakes or red pepper flakes are a perfect substitute.  Not familiar with Aleppo peppers? They're a staple in my pantry and you can read my post dedicated to them (about Aleppo peppers).
How long does salsa last in the fridge?
This salsa verde should keep well in the fridge for up to a week. If you won't use it up during that time, try freezing it.
Can I freeze salsa?
You sure can!  Freezing salsa is a perfect way to preserve that freshness.  It will keep for up to 6 months in a tight lidded container.  I like to freeze fresh salsa in mason jars and use dissolvable labels to add a package date.
Serving suggestions
The sky is the limit! Here are some of my favorite ways to enjoy this healthy salsa:
Top an omelet or scrambled eggs
Try baking eggs in a ramekin with two tablespoons of salsa and a sprinkle of cheese (think Cotija!)
Top off your favorite burrito, torta, tacos, enchiladas, nachos or quesadillas
Use it as a tomatillo sauce for anything you're grilling or roasting
Add a half cup to your skillet when pan frying fish
Add a cup to a baking dish and bake with your favorite white fish
Serve with chips or as a dip for veggies
Try fish tacos with salsa verde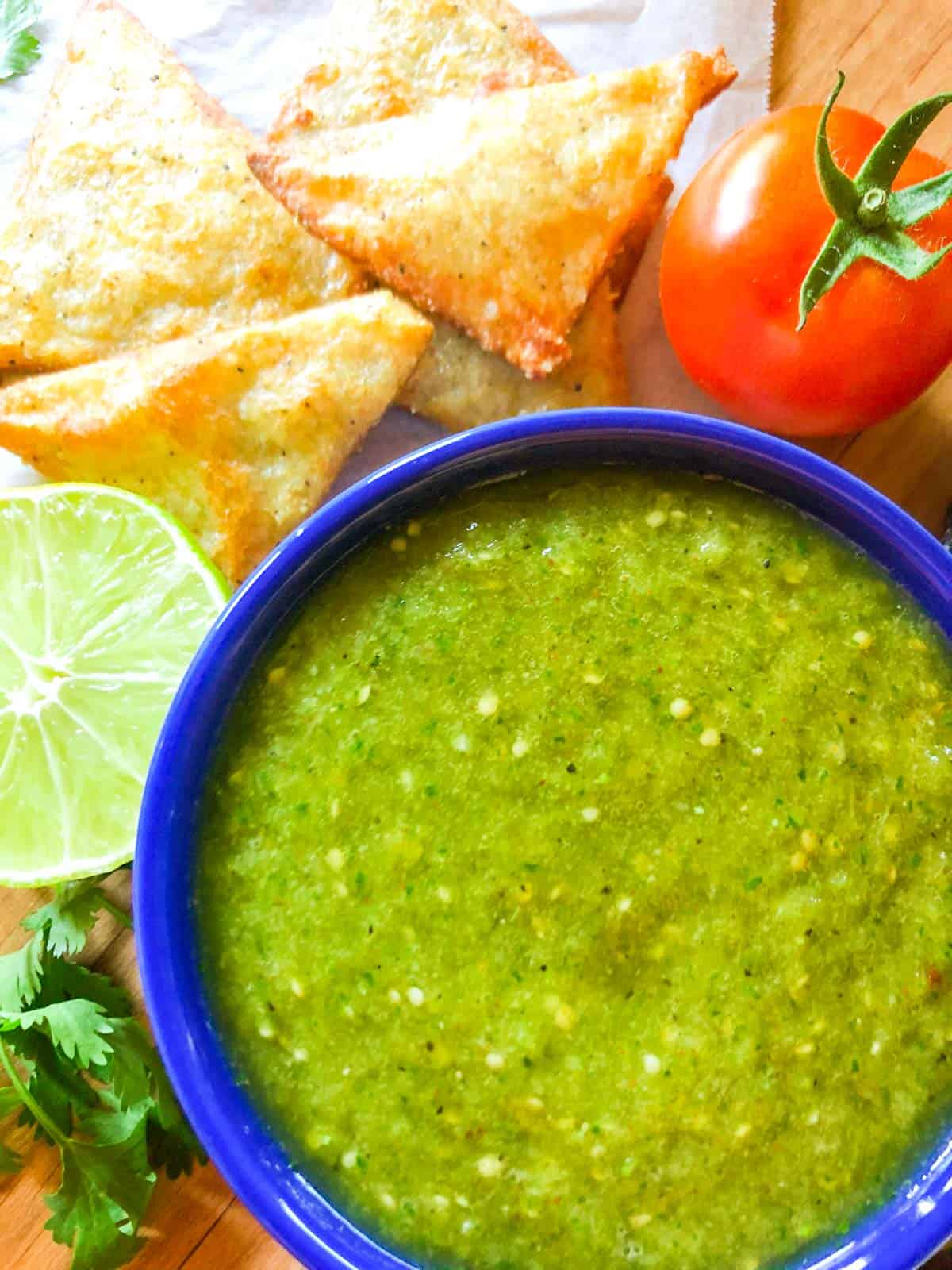 Other recipes you might like
This post contains affiliate links. As an Instacart and Amazon Associate, I earn from qualifying purchases.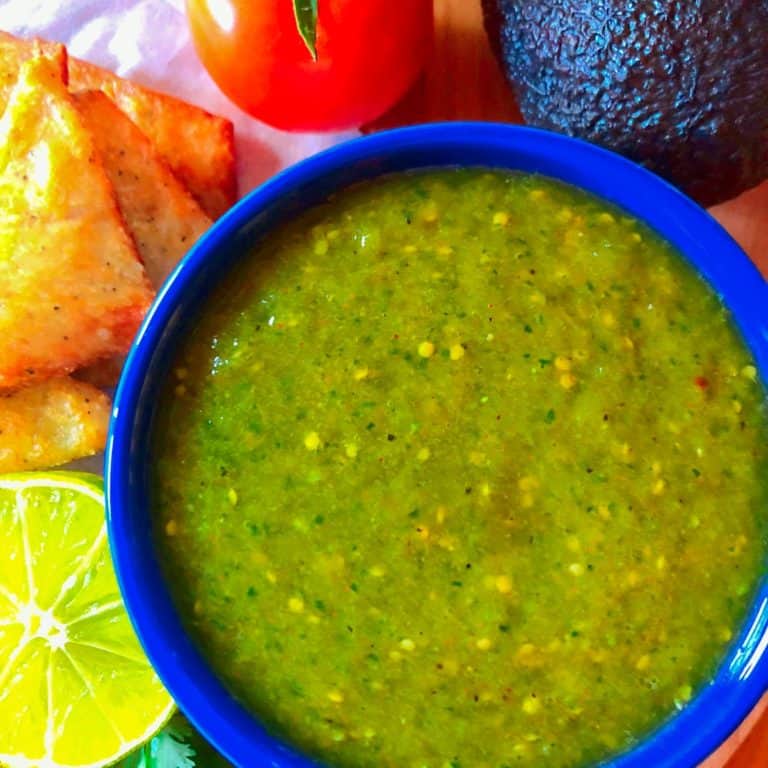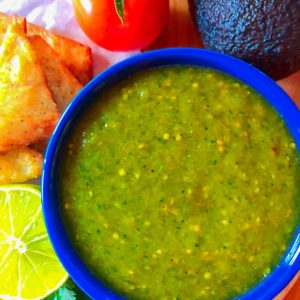 Low-FODMAP Salsa Verde with Tomatillos (Green Salsa)
This Homemade Fresh Salsa Verde with Tomatillos is so easy to make and much better than any bottled variety! This green salsa is low-FODMAP and is bursting with flavor. It can be used as a topping for your favorite Mexican food, served with chips or even baked with eggs.
Ingredients
1

pound

tomatillos

(husks removed)

Olive oil

(for roasting the tomatillos)

2

green onions

(large – green part only for low-FODMAP)

½

cup

cilantro

(fresh – firmly packed)

1

tablespoon

lime juice

(fresh)

1

teaspoon

salt

(plus more to taste)

½

teaspoon

chipotle powder (or chili powder)

¼

teaspoon

black pepper

1

jalapeno pepper

(finely chopped, seeds removed – optional)
Instructions
Notes
Variations
If you are not following a low-FODMAP diet, try adding

¼

onion, 2 cloves of garlic.
Play with the spices you use – add a dash of cumin, or substitute the chipotle or chili powder with masala or even curry.
Add serrano or jalapeno pepper  – remove seeds and add to the blender or food processor for a little extra heat.
Add some Aleppo pepper, or red pepper flakes.  You can read more about Aleppo peppers in my spotlight post.
Nutrition
Serving:
1
serving
Calories:
28
kcal
Carbohydrates:
5
g
Protein:
1
g
Fat:
1
g
Cholesterol:
0
mg
Sodium:
296
mg
Fiber:
2
g
Net Carbs*:
3
g
*Net carbs = carbohydrates – fiber
Nutritional information is an estimate, calculated using online tools and does not include optional ingredients unless otherwise indicated.
Did you make this recipe?
Leave a review below, then snap a picture and tag @Rad_Foodie on Instagram so I can see it!