Radish Salsa with cilantro is so bright and refreshing and can be served with almost any dish. It puts the 'Rad' in radish! This low-FODMAP salsa without tomatoes is a low-carb keto salsa, and is AIP friendly! Get ready for some 'wonder crunch', kitchen wizards!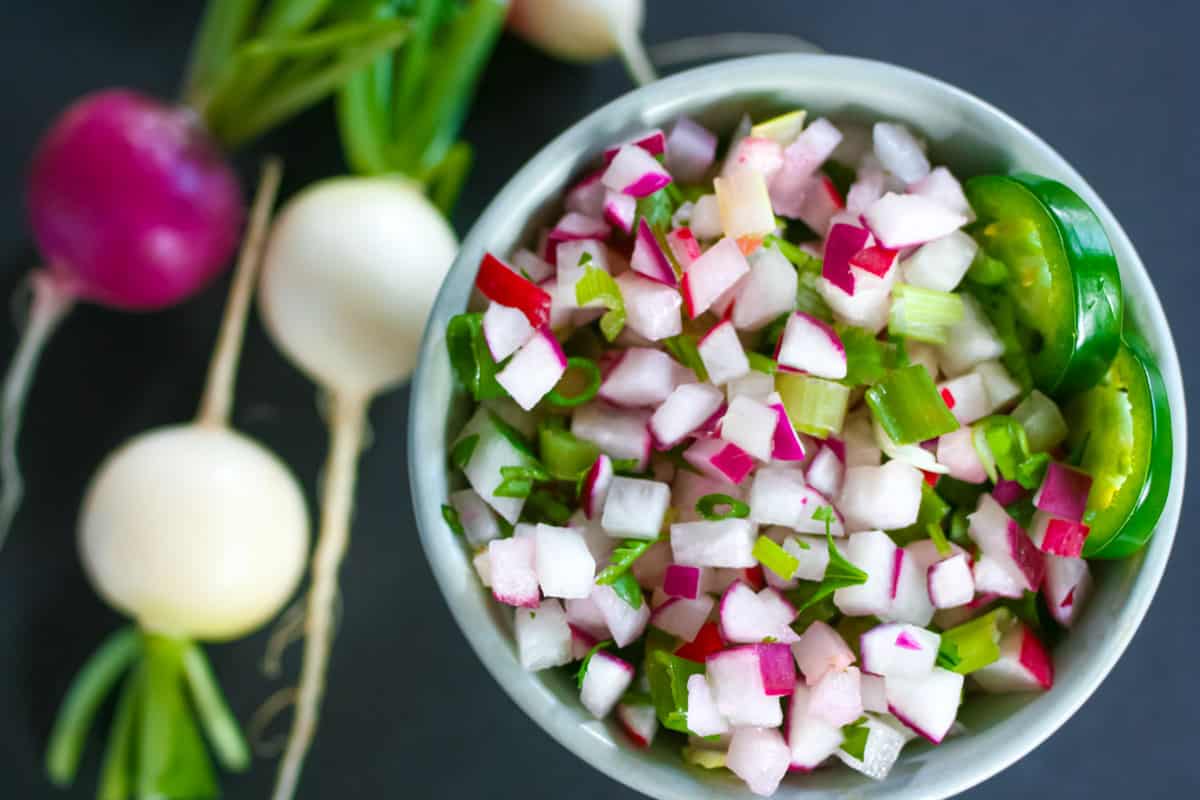 Think radishes are only for salad? I think not! I'm gonna shake things up – be RADical (see what I did there… haha) - and use up those radishes that are just hanging out in your crispers to make some fresh, homemade radish salsa! Please feel free to check out my other amazing Salad Recipes that are sure to please.
Some folks think that salsas are only something to be served with chips, but I enjoy them with eggs, meat and fish, as well as on tacos or burritos. They can complement almost any meal, not just tortilla chips (no tortilla hating here, though). There are typically not many calories or carbs in salsa, which makes them a perfect addition for, well, anything!
We're big fans of tacos over here - everything from breakfast tacos with scrambled eggs to my Pork Carnitas tacos for lunch, to an amazing Chicken Taco Soup for lunch or dinner. This recipe is zesty and crunchy, and is sure to go to the top of your taco toppings list for all of your taco recipes. Steak tacos seasoned with Low-FODMAP Taco Seasoning, topped with a squeeze of lime, here we come... If you're looking for more taco toppers such as Mexican Chimichurri or homemade guacamole, you'll find more in my Sauces, Dressings and Dips category.
Here is a great way to make a veggie based vegan condiment that expands beyond traditional variations with tomatoes and tomatillos. It evokes summer vibes, in any season. Not to mention, crunchy, peppery radishes are a pretty addition to any plate. Don't we all like pretty food?
We grow radishes in our home garden almost year-round in Portland. In the spring and summer (peak radish season), we have huge harvests. There's nothing like fresh, seasonal produce! I found I needed to conjure up some creative ways of enjoying the various varieties we plant. Our neighbors can only handle so many 'garden gifts'.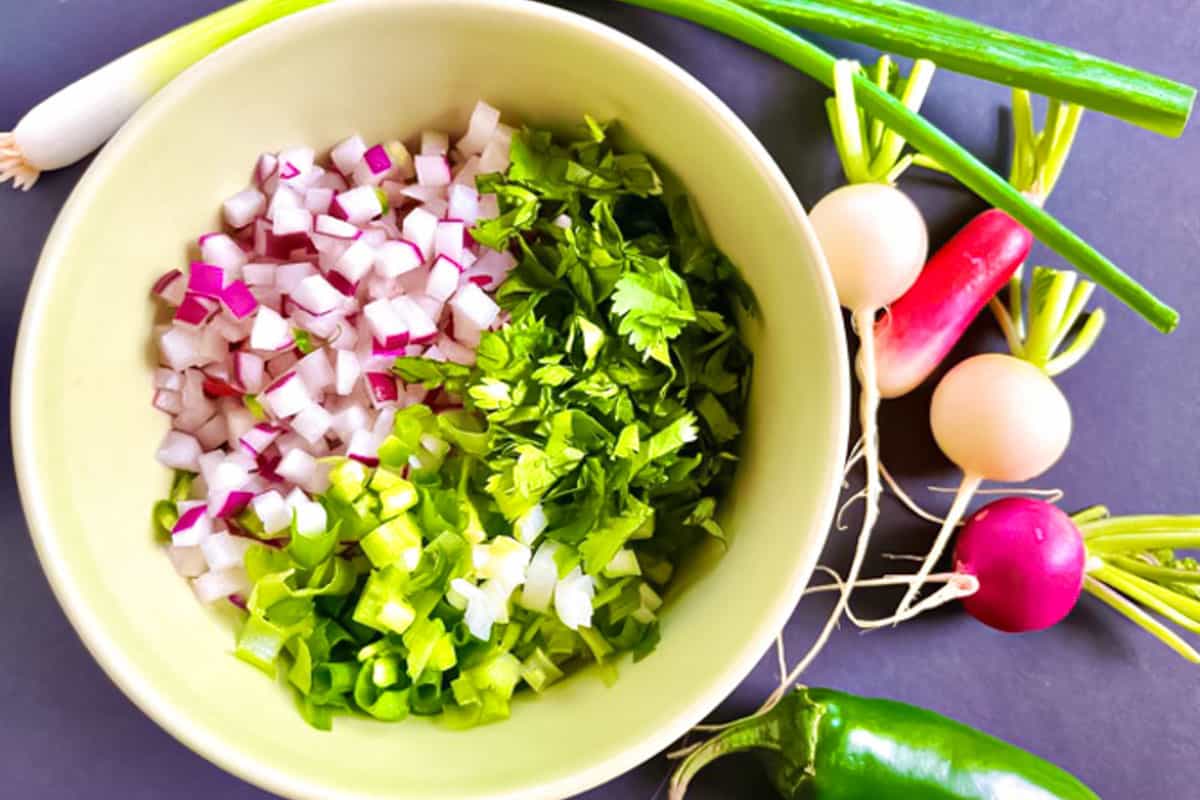 Ingredients
With a few easy ingredients, you can whip this together in no time! Here's all you need to create that radish heat-salt-lime bliss:
About 2 cups of radishes
Green onion (green part only for Low-FODMAP)
Cilantro
Lime
Salt and pepper
Jalapeno (omit for a nightshade free salsa)
Instructions
We harvested our first garden radishes of the year the other day and I've been planning a handful of radish recipes to use those up. There's nothing like the first spring radishes! Seriously, I get excited about pulling roots out of the ground.
This recipe is essentially a radish salad or radish slaw, just finely chopped. Feel free to keep it chunky if you want – you're in control!
Grab a knife or your food processor and you're off!
Trim the tops and roots from your radishes
Seed the jalapeno, if using. For a milder recipe, consider using only half
If chopping by hand, finely chop the radishes, green onion, jalapeno and cilantro. If using your food processor, chop the radishes in half and add all ingredients to the bowl. Let the food processor do the work!
Stir in salt and pepper to taste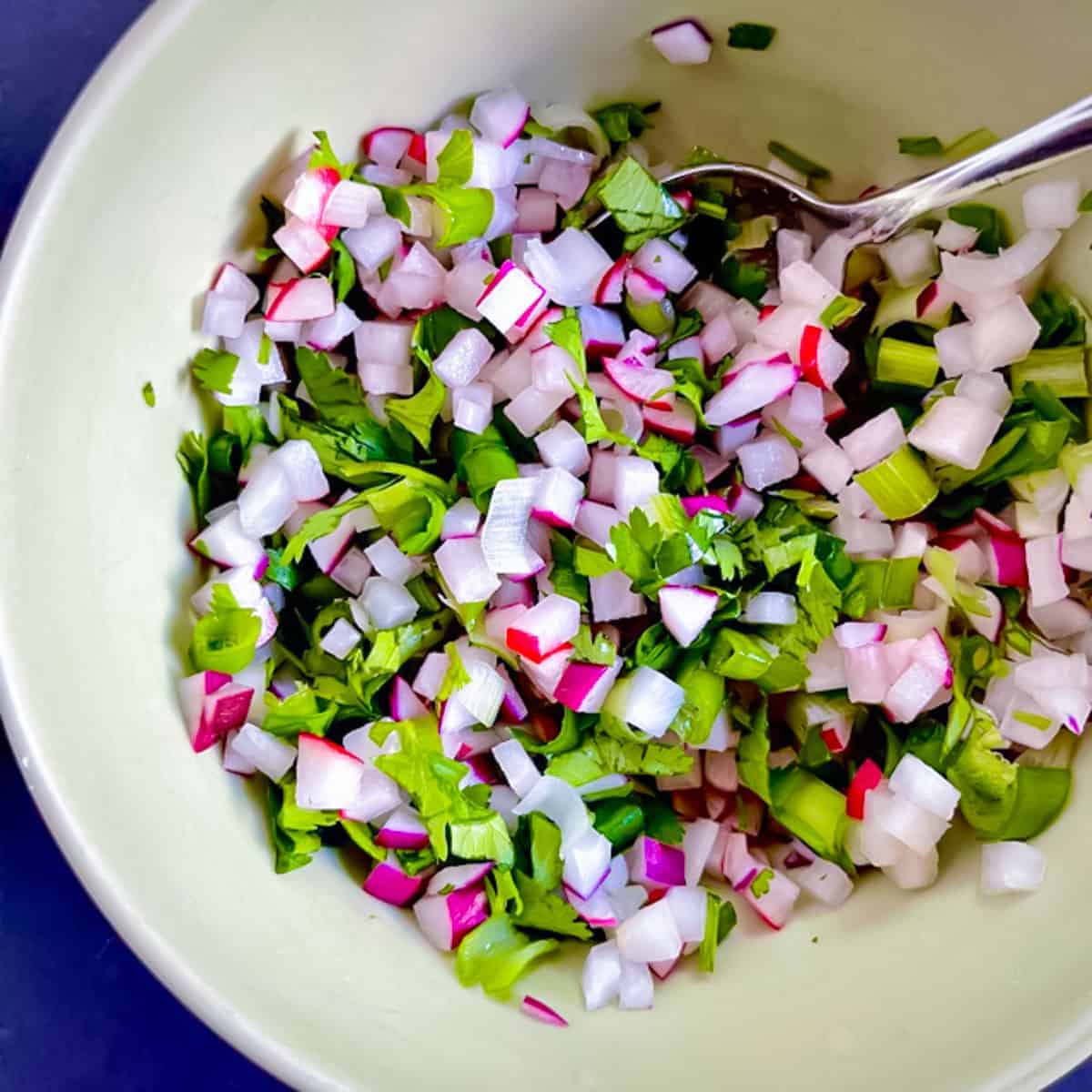 Variations
Here are a few tips for making this recipe extra zesty, spicy, and zingy:
Add one or two cloves of garlic
Make it a radish salsa verde by adding some tomatillos
Whip up a cucumber radish salsa by adding a half cup of chopped cucumber (English cucumber is best)
Love mangoes? Make a mango radish salsa by adding chopped mango.
Up the lime! Create a zesty lime radish salsa by adding some lime zest.
Make a Mexican radish salad by coarsely chopping the ingredients and add some avocado
Want to spice things up? Add some serrano pepper, red pepper flakes, chipotle powder or Aleppo pepper.
Add some horseradish
Change up the spices: add curry powder, cumin powder or even garam masala
Add other veggies such as chopped celery, bell pepper or jicama
Is this a low-FODMAP salsa recipe?
This was originally created as a low-FODMAP recipe because I'm a slave to my tummy and onions are pretty much out. But don't underestimate the power of green onions here. They're little green superheroes and lend their yummy onion-ness in a big way. When chopping them, use only the green part and you have a fresh, healthy, crunchy taco topper without FODMAPs! Happy tummies are good.
To get a little extra garlic flavor, try adding a tablespoon of garlic-infused olive oil or adding a little something extra to customize your masterpiece (see above!).
How to make a nightshade free AIP salsa recipe
You're in luck – this is an easy recipe without tomatoes or peppers. Simply eliminate the jalapeno and black pepper and you're good to go. Get inventive by trying some customizing ideas listed above. If you're looking to add some heat, add a touch of grated horseradish! It's pretty magnificent.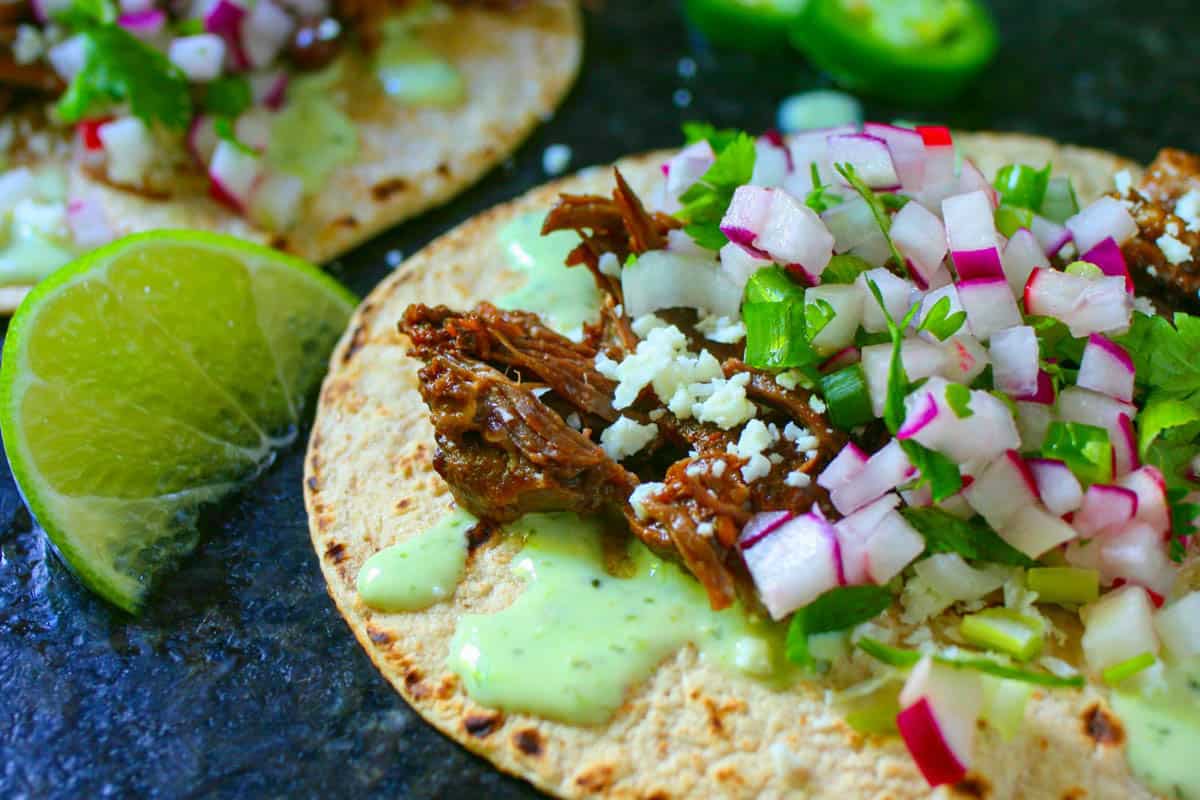 Serving suggestions
This is where you get to have fun! This fresh, crisp salsa makes pretty much any meal a really good time – and goes waaaay beyond a topping for tacos, nachos, quesadillas, burritos or serving up with your favorite keto chips. To add some big flavor, you could:
Top off grilled meats
Jazz up some pan fried fish or fish tacos
Add a sparkle to your omlette or scrambled eggs
Serve as a topping on an easy Instant Pot Chicken Taco Soup along with homemade guacamole and sour cream
Dress up your spring greens – replace sliced radishes with this amazing recipe
Serve it on some toast with ricotta cheese
Add to your favorite sandwich
FAQ
Is radish salsa good with other salsas?
Mix and match!  That's the beauty of simple ingredients.  You can top whatever you please with some salsa verde, guacamole and radish salsa.  Be daring!
What is the best kind of radish to use for radish salsa?
Any variety of radish is a good radish, I always say! White, red, black, breakfast radishes and even watermelon radishes will all work nicely.
Are radishes easy to grow?
If you're looking for an alternative to getting your radishes from your local CSA, farmer's market or grocery store, they're honestly the easiest crop to grow.  And they grow amazingly fast, even in chilly weather.  If you have space for a pot, you can grow radishes even if you don't have a green thumb.
Can you freeze homemade salsa?
Most types can be frozen in either a mason jar or zip top freezer bag and will keep for months, but radishes loose their crispness and texture when chopped in small pieces and frozen.
Are radish greens edible?
Edible and delicious sauteed, braised or steamed, they can also be used raw in salads. Some can be a little fuzzy and bitter if they are mature leaves.
Is salsa ketogenic?
Yes, radish salsa is a keto low carb salsa. Store bought brands can add unneccesary sugars and preservatives making them highter in carbs. A homemade keto recipe will naturally be low in carbs, especially those without tomatoes.
How long does homemade salsa last?
If kept in an airtight container and refrigerated, it will last between four to six days.
If you make this recipe, please leave a comment and let me know! I'd love to hear how you liked it! Enjoy!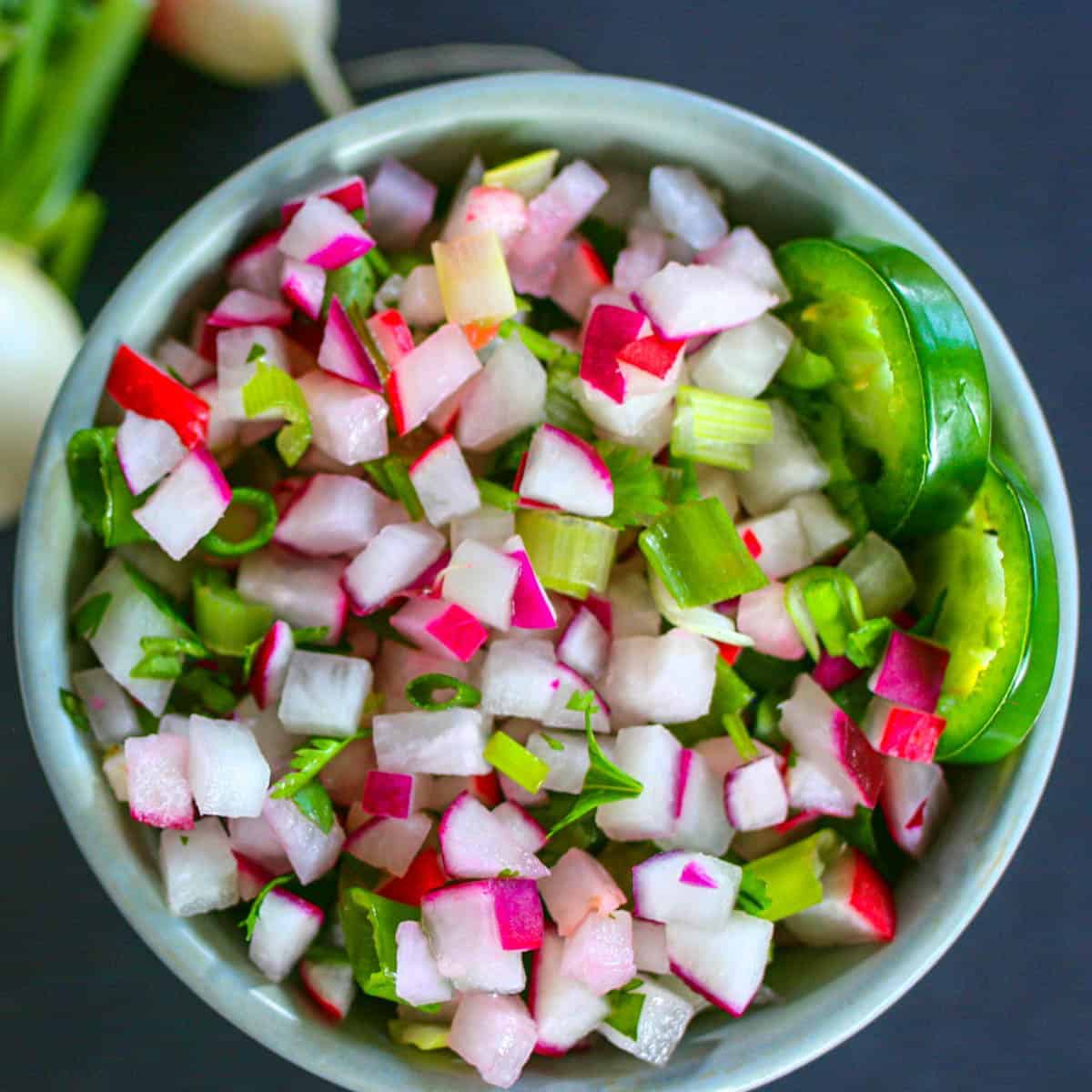 Other recipes you might like
This post contains affiliate links. As an Instacart and Amazon Associate, I earn from qualifying purchases.
📖 Recipe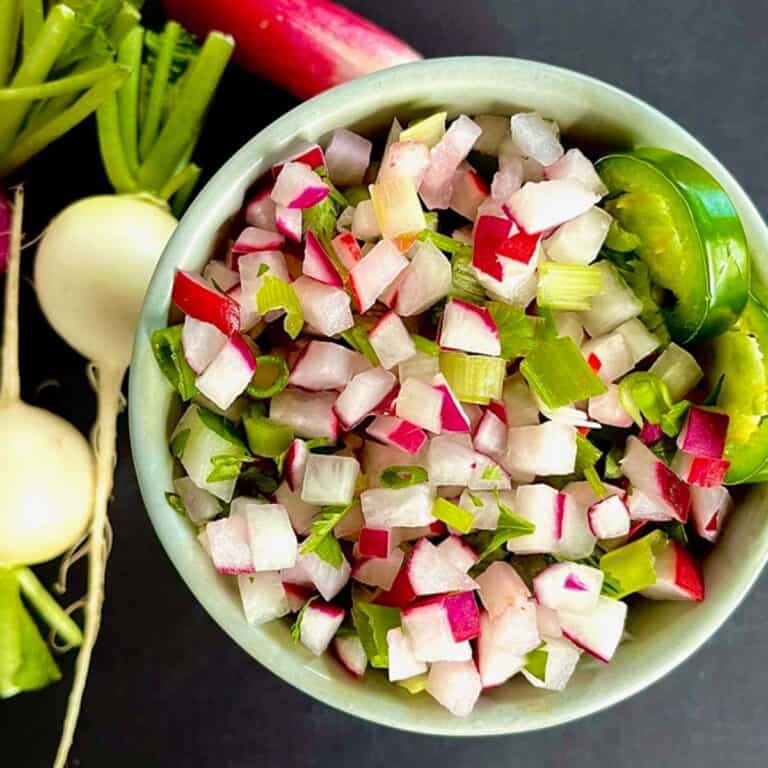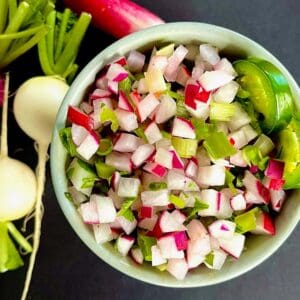 Radish Salsa with Cilantro (Keto and Low-FODMAP)
This Radish Salsa with cilantro is so light and refreshing and can be served with almost any dish.  It's healthy, low-carb keto, AIP and low-FODMAP friendly!
Ingredients
2

cups

radishes

(diced - about 15-20 large)

2

tablespoons

red onion

(diced. Or diced green onion - green tops only for low-FODMAP - omit red for low-FODMAP)

¼

cup

cilantro

(chopped)

1

tablespoon

jalapeno

(diced - optional - add to taste)

2

tablespoons

lime juice

(or to taste)

2

pinches

salt

(to taste)

2

pinches

black pepper

(to taste)
Instructions
Combine all ingredients in a large bowl and mix well.

If preparing in a food processor, combine all ingredients and pulse to desired consistency.
Nutrition
Serving:
3
ounces
Calories:
3
kcal
Carbohydrates:
0
g
Protein:
0
g
Fat:
0
g
Cholesterol:
0
mg
Sodium:
40
mg
Fiber:
0
g
Net Carbs*:
0
g
*Net carbs = carbohydrates - fiber
Nutritional information is an estimate, calculated using online tools and does not include optional ingredients unless otherwise indicated.
Did you make this recipe?
Leave a review below, then snap a picture and tag @Rad_Foodie on Instagram so I can see it!