This is a super easy keto carnitas recipe that makes the most juicy, fall-apart, mouthwatering Mexican style pulled pork ever. It's a crispy, tender, flavorful crowd favorite – with low-FODMAP and AIP carnitas variations!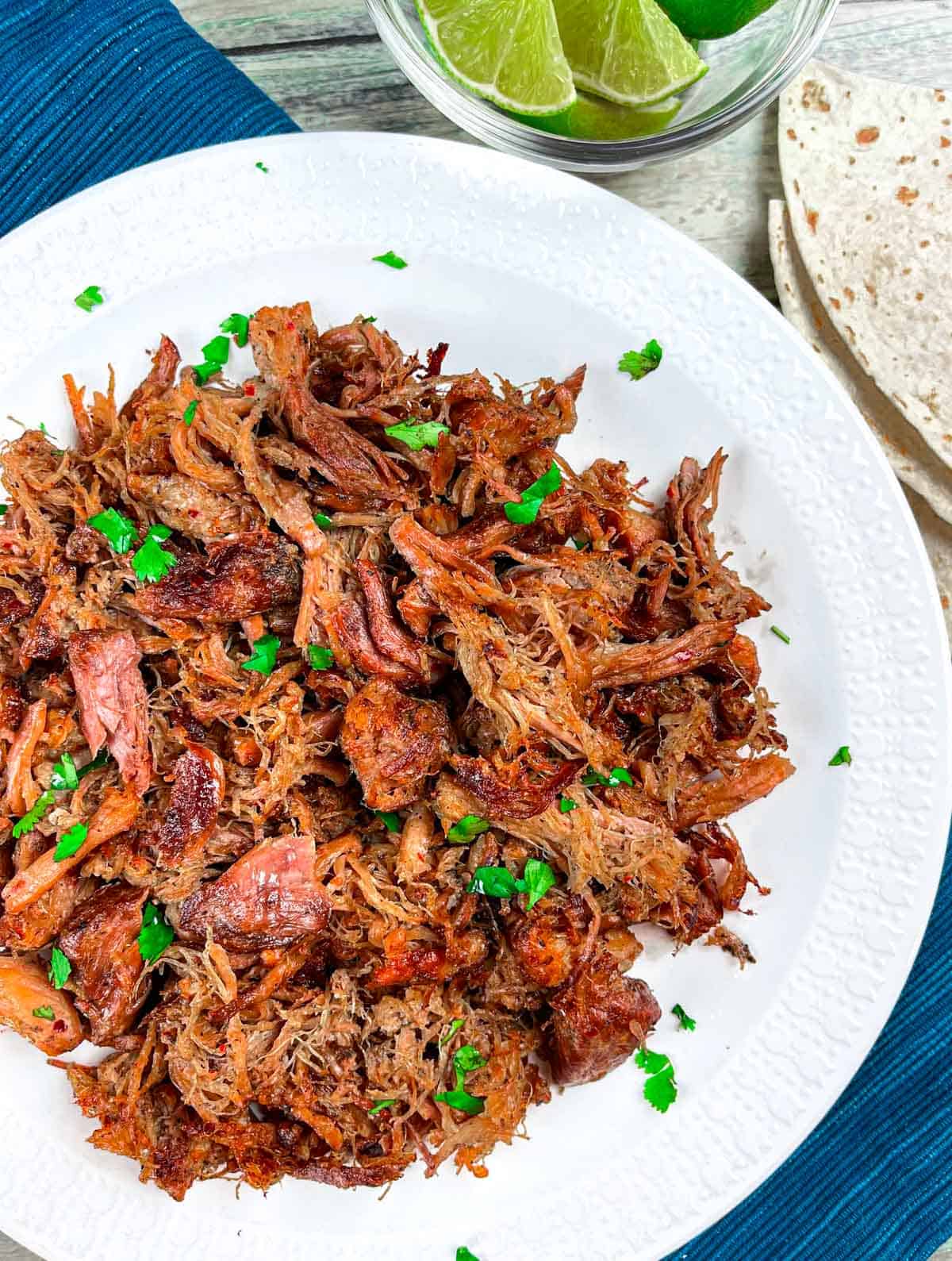 After starting a keto lifestyle, it took me a while to get around to cooking in my new Instant Pot. But one of the first things I DID make was some keto carnitas. I'm a total sucker for Mexican inspired dishes and mouthwatering pulled meats, and I'm glad I gave this a go. I've almost always cooked all my recipes with pork shoulder in my slow cooker (see my recipe for Crock Pot Pulled Pork) but I decided to switch things up and try it in the Instant Pot. Total win! Add this one to your Mexican recipe list, for sure.
Juicy and tender easy keto carnitas isn't just a favorite Cinco de Mayo recipe.  It's a year-round delicacy!  I like to keep this amazing stuff on hand for quick and easy meals. I love to serve this on a bed of Cauliflower Rice topped with Mexican Chimichurri Sauce or with Red Chimichurri. And, who doesn't love a delicious carnitas burrito, or a good taco (or two... or three...).
Benefits of batch-cooking carnitas
Carnitas is a perfect meat dish for a week's food prep. It makes great leftovers, and weekday meal planning and meal prep a snap. There's nothing like quick and easy weeknight dinners or on-the-go lunches for us busy people, am I right? Easy is good.
You'll fall in love with how fast dinner parties come together, too. Crispy carnitas tacos come together in no time and are great for feeding a crowd.
Making a large batch saves a ton of cashola, too. It's hard to say no to Chipotle carnitas or barbacoa at Chipotle – I hear you! Those are tasty viddles right there. But when you can rival that deliciousness in your own kitchen and save money, you're made in the shade. Who needs Chipotle delivery when you can save some bucks (I mean, we're all on a budget, right?) and make piles of tacos, burritos and shredded pork salads to last the week? No fast food delivery needed here, my friend.
Here's another big bonus: leftovers can be frozen for future use. Just defrost, grab a pan to crisp it up, add some salad fixins or cauliflower rice and boom – a quickie keto carnitas bowl.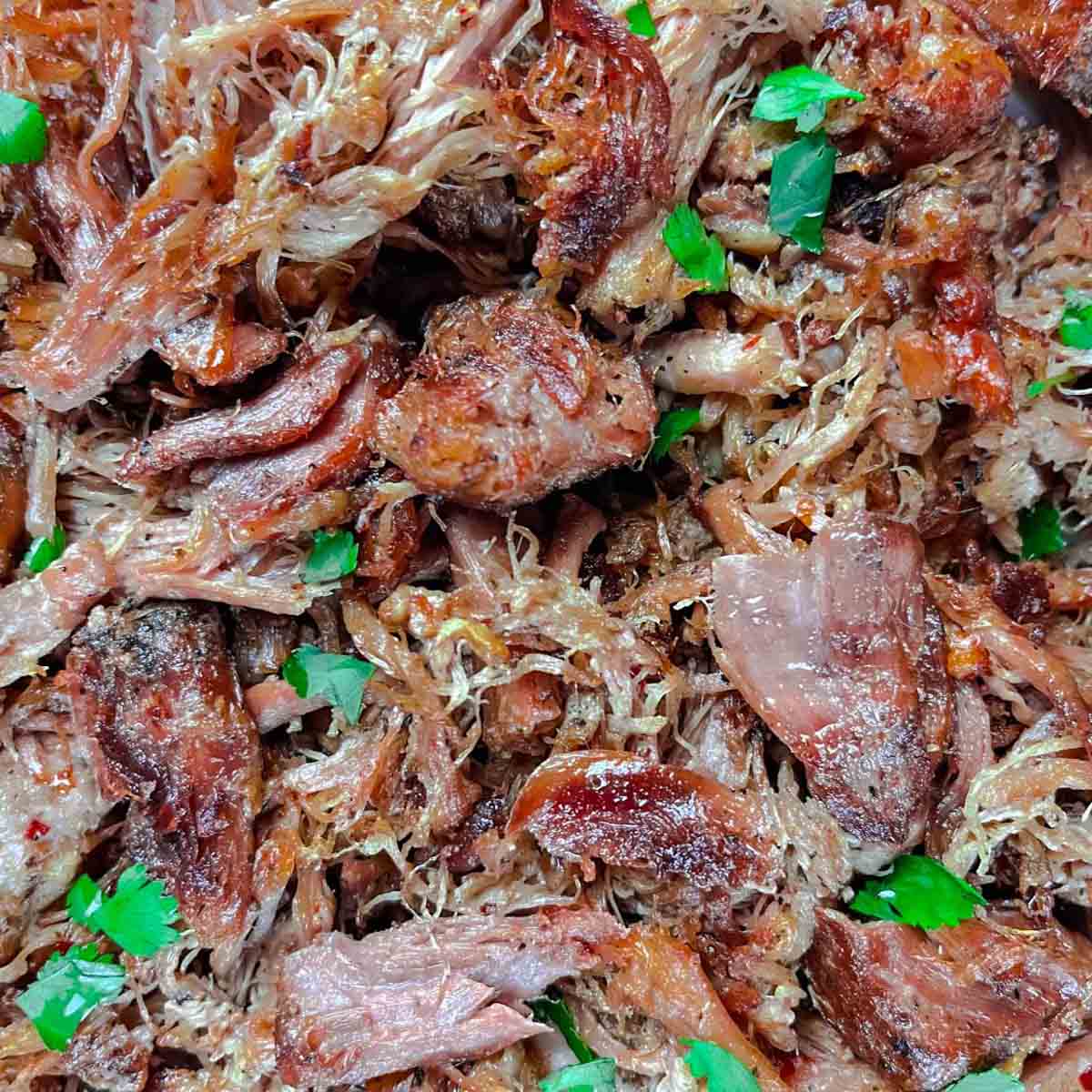 What is carnitas?
The word 'carnitas' means 'little meats' in Spanish. It is savory, juicy, fall apart pork traditionally slow cooked in lard. Since most folks don't fancy simmering meat in a vat of fat (I'm all for that, actually), many recipes (including this one) instead, use garlic, spices and tangy citrus. After cooking, it is shredded into little pieces, then roasted, broiled or fried to crisp the meat. It is often slow cooked, but with the magic of the Instant Pot and a few simple ingredients, you get mouthwatering carnitas that is so flavorful and tender in about 75 minutes.
Is carnitas pork?
Yes, carnitas is traditionally made with pork. Before I learned some Spanish, I actually thought that the word 'carnitas' meant pork. The actual words for pork in Spanish are 'carne de cerdo' – meaning 'pork meat'. El cerdo means pig. Nerdiness, aside, you could make your carnitas recipe with meat or poultry.
Carnitas vs Al Pastor
Even though both of these recipes are for two types of juicy Mexican pulled pork, they have a very different flavor profile, texture and are prepared differently.
Traditionally, carnitas is made by simmering or braising the shoulder in oil or lard until fall-apart tender, then shredded. After cooking, the meat is then roasted to make it crisp.
Al pastor means "shepherd style" in Spanish. Mexican shepherds had a technique of roasting strips of marinated meat on vertical spits. Today, in our home kitchens, al pastor is typically prepared by slicing pork shoulder, marinating it in dried chilies, achiote, spices and pineapple then grilled or cooked in a heavy skillet. It may be served shredded or in large pieces.
Is carnitas keto?
Good news, my friends – it sure is. Carnitas is a naturally low carb Mexican dish that you can include in many of your fabulous keto Mexican recipes. Even though this recipe (and pretty much all carnitas recipes) calls for orange juice. The carbohydrate concentration for each serving is ridiculously low to negligible. You could skip the fresh orange juice, but I don't recommend it. If you really want to skip the orange juice, you could try adding orange peel powder. I haven't tried this (yet), but it would probably work. But fresh juice lends a sweetness and orange flavor that helps make this dish unique.
Folks that are looking for Paleo or Whole30 carnitas recipes are in luck, as well. You can eat it on keto, paleo or Whole30 as much as your heart desires. Which, for me, is as often as possible.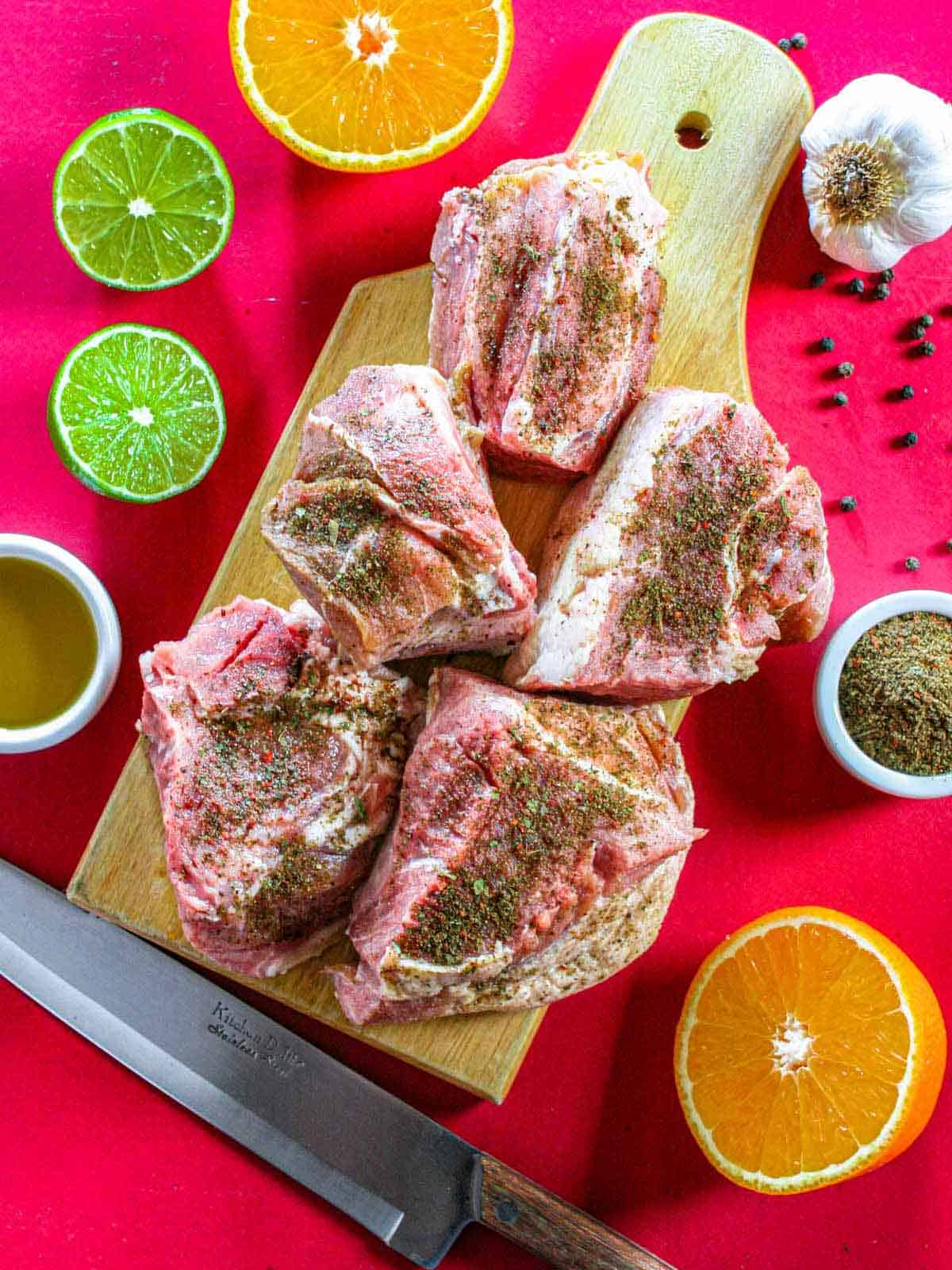 Ingredients
This recipe doesn't call for a lot of ingredients. It's simple and includes spices you probably already have in your keto pantry – with the exception of an orange. Even with the addition of the small amount of orange juice, it still fits into a keto lifestyle.
Pork shoulder (aka picinic or butt) – marbled cuts, perfect for pulling
Orange and lime – we're using the juice of both! Personally, I love using tangelo oranges.
Extra virgin olive oil – for browning the meat
Broth – I use my Instant Pot Chicken Bone Broth to deglaze the pot
Onion and garlic – I use half of a large onion, thinly sliced, and two cloves of garlic.  Feel free to add more if you want!
Spices and herbs – Basil, oregano, cilantro, cumin, red pepper flakes, salt and pepper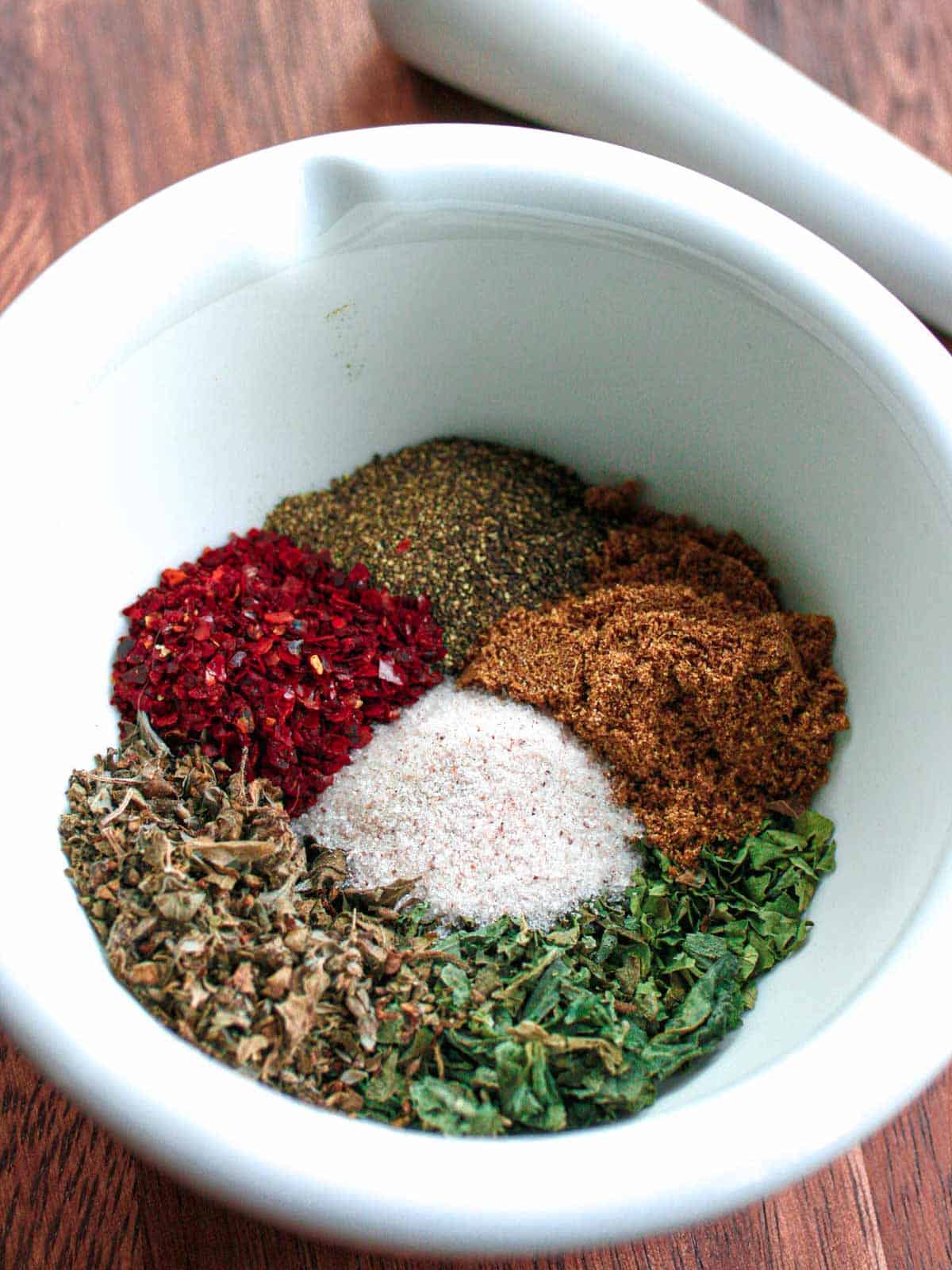 Can I make low-FODMAP carnitas?
I've always made this recipe with some onion and garlic, so I haven't tried it, myself. I can tolerate some FODMAPs on occasion and I use this as one of my 'on occasion' treats. I think the onion and garlic lend a lot of flavor, but you could try eliminating those, or sautéing the shoulder or butt in garlic-infused olive oil, and even replacing the onion with thinly sliced leek (green parts only). If you try these methods, please let me know how it turned out! See all of my Low-FODMAP recipes for wonderful mains, sides, and dessert ideas.
Is this AIP carnitas?
You can easily make this recipe AIP compliant! In the rub, simply omit the cumin, black pepper and red pepper flakes. Discover more of my AIP Recipes here.
Choosing the perfect cut
For super juicy and tender pulled pork, the shoulder cut is the best. I recommend boneless shoulder, but bone-in would work just fine as well.
There are two parts of the shoulder: the shoulder (also called the 'picnic' cut) and the butt. The 'butt' actually doesn't come from the butt of the pig - silly and confusing, I know. But whatever it's called, I love it.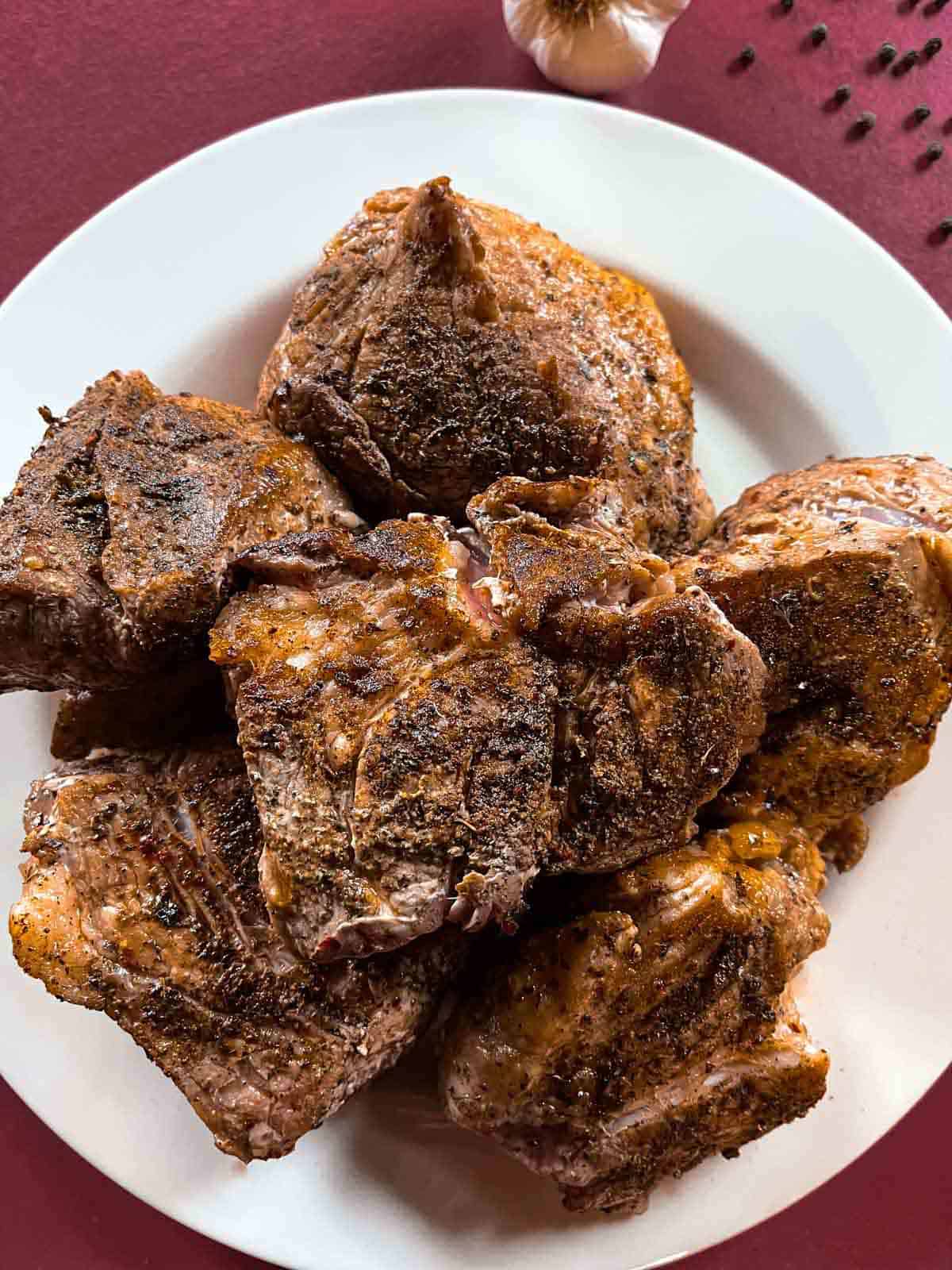 Preparation
Preparing the rub – blend together a simple spice mix and to rub on and into every nook and cranny of the meat.
Cut the pork into pieces – I like to have the shoulder cut into pieces no larger than about 4".
Rub it in good!
Slice up the onion and garlic and you're ready to roll.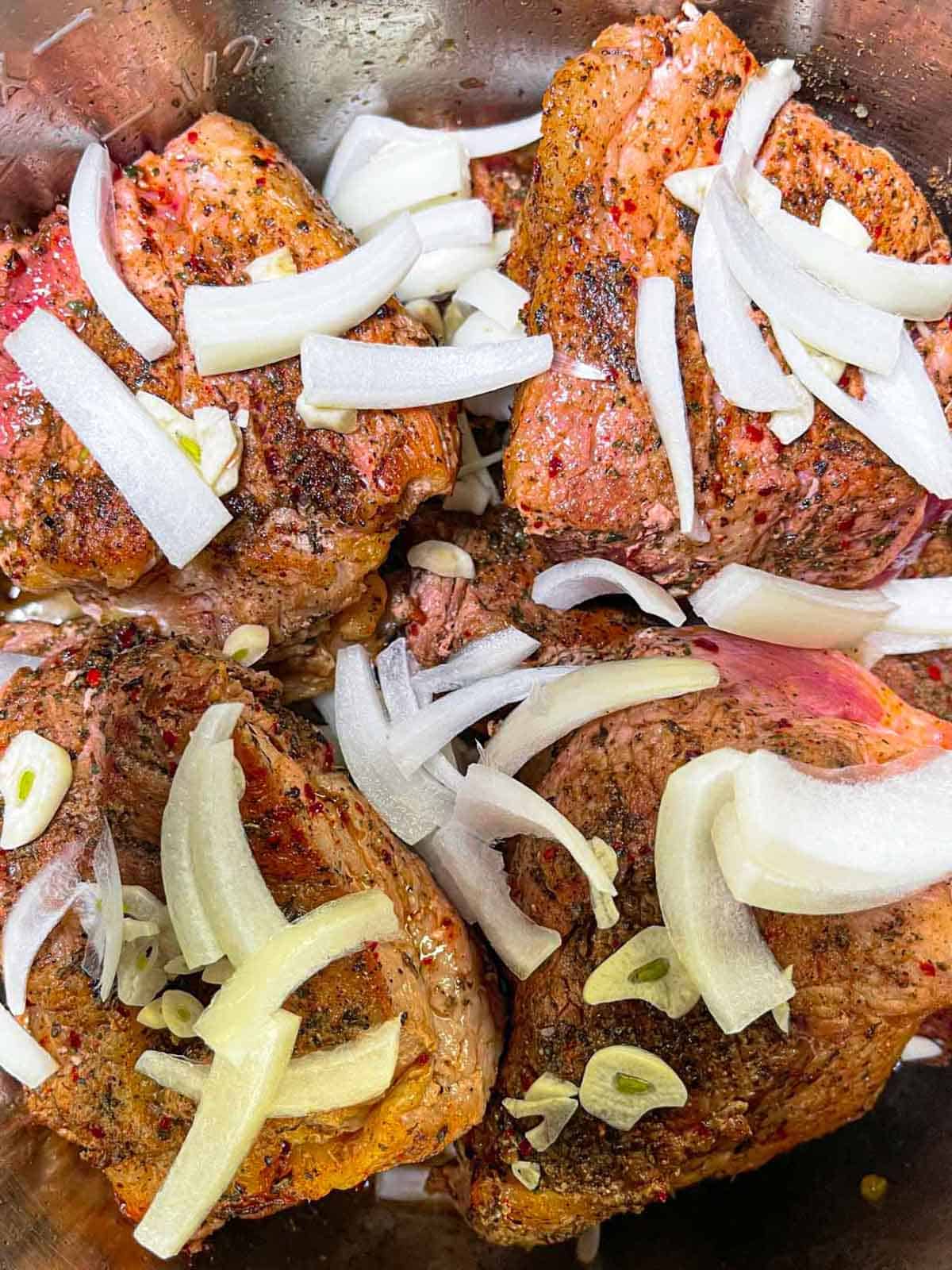 How to make in the pressure cooker (or Instant Pot)
You can use your Instant Pot or other stove top pressure cooker. I love my Instant Pot, but I use my stove top pressure cookers on a daily basis mostly for cooking up some quick veggies.
After the pork has been cut and rubbed, add some olive oil or lard to the pot and sauté, browning on all sides. You may have to brown the meat in batches. Simply remove the browned meat and set aside on a plate until all pieces are browned.
Add the broth, lime and orange juice and deglaze the pot, ensuring you scrape up all the meaty bits you can from the browning process.
Add the meat, onion and garlic to the deglazing liquid in the pressure cooker.
Cook on high pressure or use the Meat setting on your instant Pot.
Cook for about 60 minutes (15 minutes per pound of pork). Use the natural release method to release the pressure.
How to make in the slow cooker
While I'm a huge fan of my pressure cookers, cooking carnitas slow cooker style is definitely a favorite. I actually prefer my pulled pork cooked low and slow. Making this recipe in the Crock Pot is a snap to make and your house will smell insanely good.
While preparing the pork, turn the slow cooker to high until the pork is added. This is optional, but I like to have my slow cooker nice and hot when the meat goes in.
Prepare the pork as detailed above:  cover with the rub, brown on all sides, deglaze the pot and add all to your slow cooker along with the garlic and onion.
Cook on the low setting for about 8-10 hours, until tender and is pulled apart easily with two forks.
Slow braising in the oven
Slow roasted pork in the oven is a thing of beauty.
I use a large Dutch oven, but any large, oven-safe, heavy pot will work.  After preparing the meat (see above) and it's been browned, deglaze the pot, add the meat back in, and add the onion and garlic.
Cover the pot and place in a pre-heated 300F degree oven and bake for about 3 ½ hours until meat is tender and shreddable.
Making crispy carnitas
You do not want to skip this step! You can, of course, but there's nothing like crisping up this tender pulled pork. Trust me. If you don't feel like it, you don't have to – it's still amazing, tender and all-around out of this world.
After shredding the meat, I like to crisp it on the stove, in a skillet. It takes just a few short minutes.
Crisping can also be done in the oven. Spread the meat out on a sheet pan and place under the broiler for 5-10 minutes, flipping half way through. If you don't want to use the broiler, you can crisp your carnitas in the oven at 450F degrees for about 20 minutes, flipping about half way through.
What to do with the leftover liquid
Your finished carnitas will be quite juicy, with a good amount of liquid. Don't throw the liquid out (silent scream…)! Believe me, this is liquid gold you will want to keep.
After you've removed your shredded carnitas, pour the liquid into smaller containers. I like to freeze some and keep the rest in the fridge.
What to make with the carnitas liquid? My favorite use is in making Mexican cauliflower rice. Or, use it in soups or chili. See all of my delicious Soup Recipes here.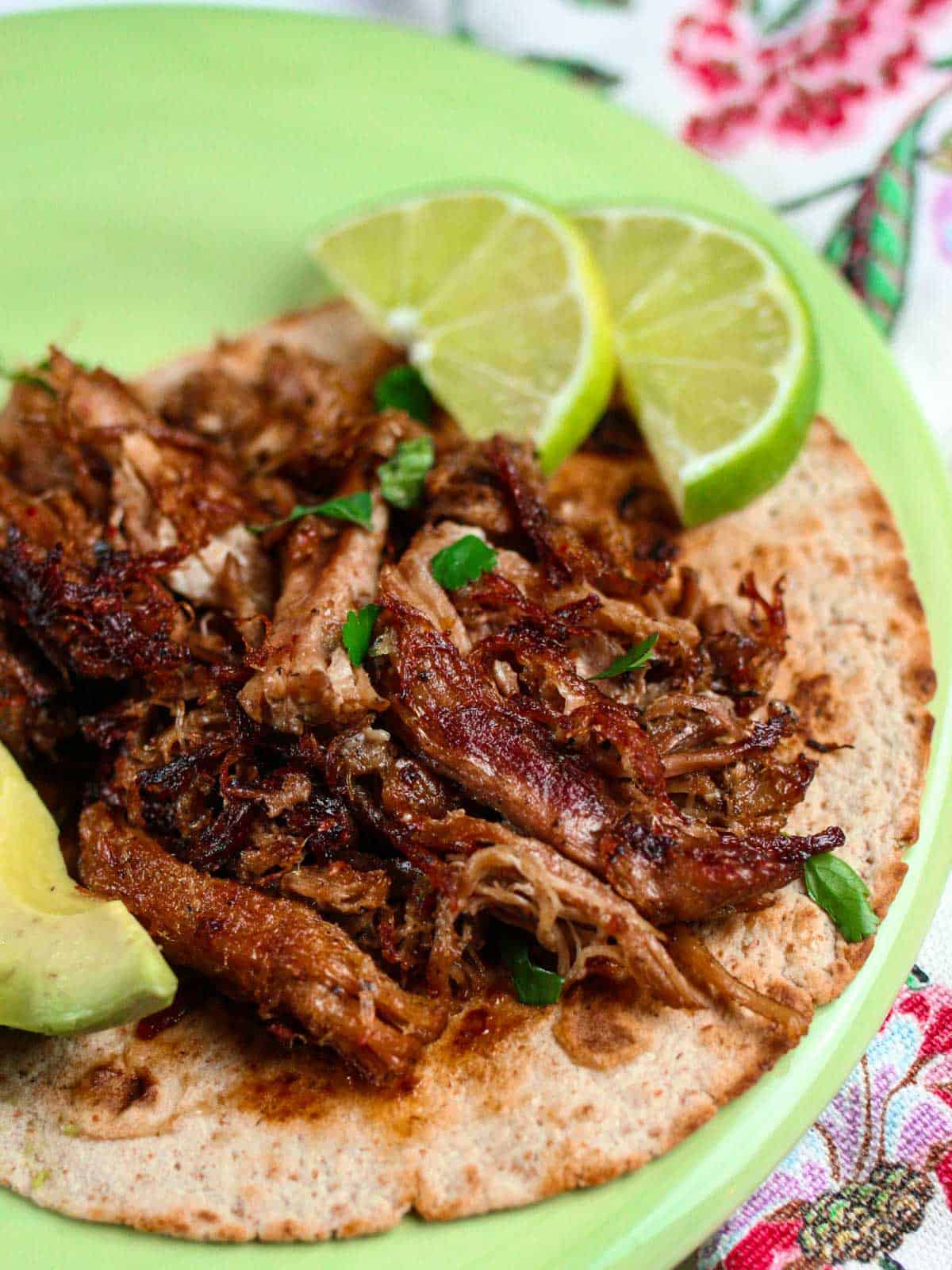 Serving suggestions
The sky is the limit on this one! Carnitas are so versatile. Try it in tacos, burritos, sliders with my Keto Coleslaw with Cilantro and Lime, and in quesadillas. I really love serving shredded pork on a green salad or piled high in a burrito bowl with cauliflower rice, black soy beans and leafy green veggies, with a heap of some dry, salty cotija cheese.
Whichever way you choose, serving it with sour cream, crema, guacamole, salsa verde and/or fresh, crisp radish salsa is going to make your taste buds extra happy. Try topping your mouthwatering creations with Cilantro Lime Salad Dressing or with Mexican Chimichurri Sauce - it's amazing on tacos! Or, top with Pineapple Habanero Sauce for a nice kick. If you prefer a more chunky topping, try with my Pineapple Habanero Salsa.
Freezing
Freezing carnitas for later is definitely a winner. This pork makes the best leftovers! Let the carnitas cool to room temperature and place in a freezer bag or a freezer-safe container and freeze for up to 6 months.
To serve after freezing, thaw in the fridge and crisp the pork in a skillet on the stove top. Or, reheat in the oven for about 20 minutes at 400F degrees.
FAQ
Are carnitas healthy?
Because carnitas is made with fattier cuts of meat, it is perfect for a keto or carnivore lifestyle.  But with everything in moderation, anyone can enjoy this delicious dish.

One serving can provide about 40g of protein, 1g net carbs and 6g of fat.
Carnitas also contains vitamins A and C, calcium, phosphorus, iron, sodium and potassium.

Can I make chicken carnitas?
While carnitas is traditionally made with pork, you can use any meat or poultry you please.  To make a chicken carnitas recipe, you would prepare the chicken the same way you would the pork carnitas. 

I would recommend using chicken thighs, as they're a fattier cut, but chicken breast can also be used.
How long is cooked pork good in the fridge?
The USDA recommends consuming within four days.  If you aren't going to eat all of your carnitas in that amount of time, freeze it for some easy meals at a later date.
If you make this pork carnitas, please leave a comment and let me know! I'd love to hear how you liked them. Enjoy!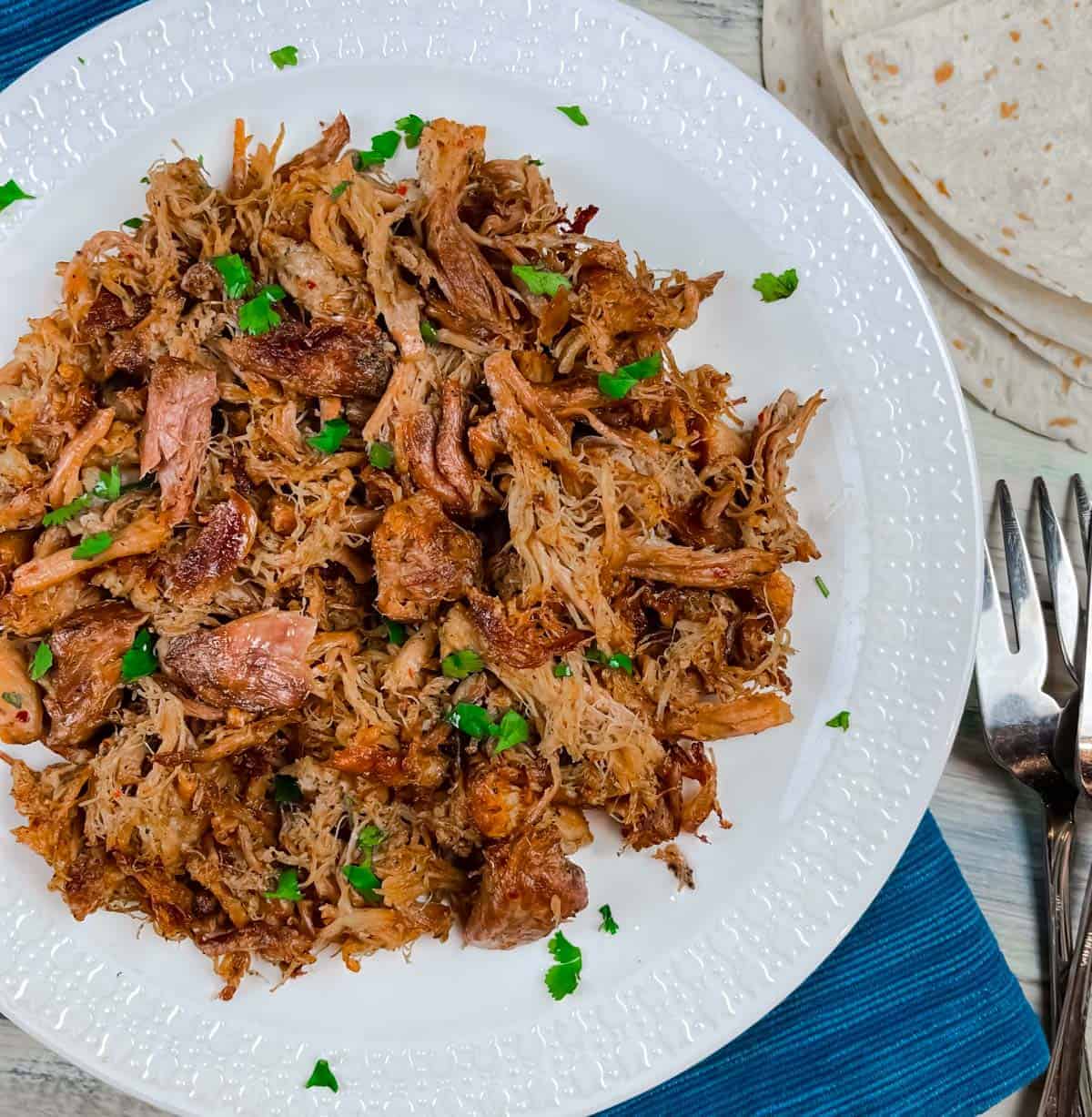 Other recipes you might like
This post contains affiliate links. As an Instacart and Amazon Associate, I earn from qualifying purchases.
📖 Recipe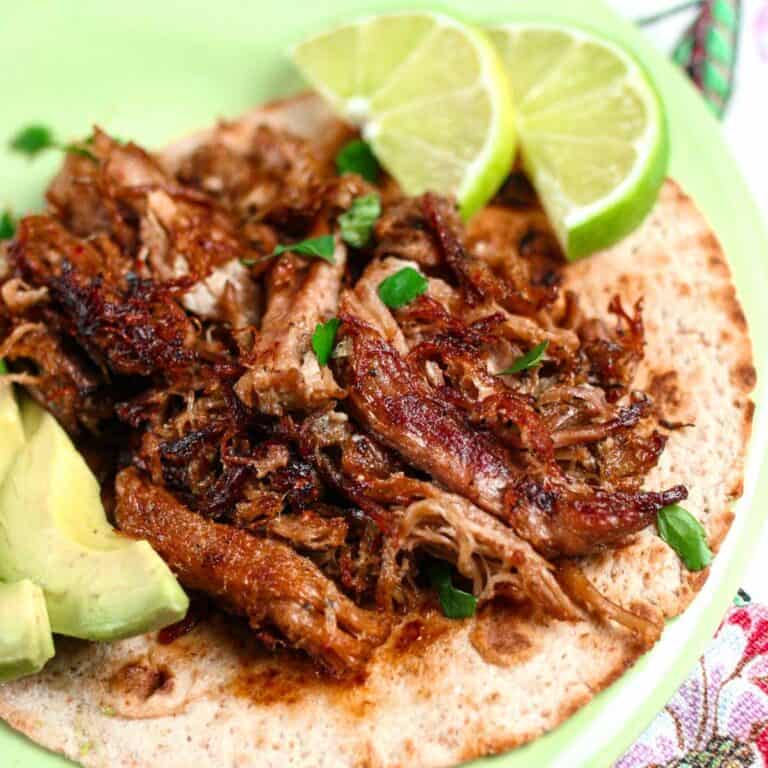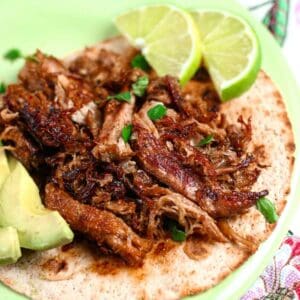 Easy Keto Carnitas - Three Cooking Methods!
This is a super easy keto carnitas recipe and makes the most juicy, fall-apart, mouthwatering Mexican style pulled pork ever!  It's crispy, tender, flavorful crowd favorite – but you may not want to share…
Ingredients
4

pounds

pork shoulder

(picnic or butt)

4

tablespoons

olive oil

(extra virgin - for browning the meat)

2

cloves

garlic

(thinly sliced - omit for low-FODMAP)

½

onion

(large sliced - omit for low-FODMAP)

¼

cup

chicken broth (or pork broth. Prepare using my Homemade Bone Broth recipe.)

1

lime

(juice only)

1

orange

(juice only)
Instructions
Combine all the carnitas rub ingredients in a mortar and pestle and grind until powdered.
Prep for all cooking methods
Cut the pork into 3-4 inch pieces.

Rub the dry rub on all sides of the pork. If you have any spice rub left, add it to the pork once in the pot, before cooking.
Instant Pot carnitas
Brown the pork on all sides.  Work in batches if needed - don't crowd the pot during browning.  When each batch is browned on all sides, set aside until all pieces are browned.

Add broth, orange and lime juices and deglaze the pot, scraping as many cooked bits from the bottom of the pot as possible.

Place the pork in the Instant Pot and top with the deglazing liquid, onion and garlic and any leftover spice rub.

Cook on the "Meat" setting for 60 minutes (15 min/lb) and use the natural release method.
Carnitas in the slow cooker
Pre-heat the slow cooker on high.

Add the olive oil to a skillet and brown the pork on all sides on medium heat and set aside on a plate.

Add the broth, lime and orange juices and deglaze the skillet.

Add the pan juices, browned pork, onion and garlic and leftover spice rub to the slow cooker and cover.  Turn to low and cook for 8-10 hours.
Carnitas in the oven
Pre-heat the oven to

300

°F

degrees.

In a large oven-safe pot or Dutch oven, heat the olive oil at medium heat on the stovetop.

Add the pork and brown on all sides, then set aside on a plate.

Add the broth, lime and orange juices and deglaze the pot.  

Add the pan juices, pork, onion, garlic and any leftover spice rub to the pot and cover.  Bake in the oven for about 3 ½ hours until the meat is tender and shreddable.
Shred the pork
With two forks, pull the meat into shreds.
To crisp the carnitas
Crisp in a skillet - carefully remove the shredded pork from the pot juices and place in the skillet.  Cook on medium heat until crisp, flipping often, about 5-10 minutes.

Crisp in the oven - pre-heat to

450

°F

.  Place the shredded carnitas on a sheet pan and bake until crisp, about 20 minutes.

Crisp by broiler - Place the shredded carnitas on a sheet pan and broil for about 5-10 minutes, turning them over about half-way through.
Nutrition
Serving:
5
oz
Calories:
350
kcal
Carbohydrates:
1
g
Protein:
39
g
Fat:
6
g
Cholesterol:
148
mg
Sodium:
89
mg
Fiber:
0
g
Net Carbs*:
1
g
*Net carbs = carbohydrates - fiber
Nutritional information is an estimate, calculated using online tools and does not include optional ingredients unless otherwise indicated.
Did you make this recipe?
Leave a review below, then snap a picture and tag @Rad_Foodie on Instagram so I can see it!