Sweet and spicy, this Pineapple Habanero Salsa is a perfect combination of both! It's bursting with nutrition, is FODMAP friendly and is only about 3 net carbs per serving. It's a versatile keto salsa you'll fall in love with. Don't like spicy but want the pepper flavor? I show you a way to cut that habanero heat!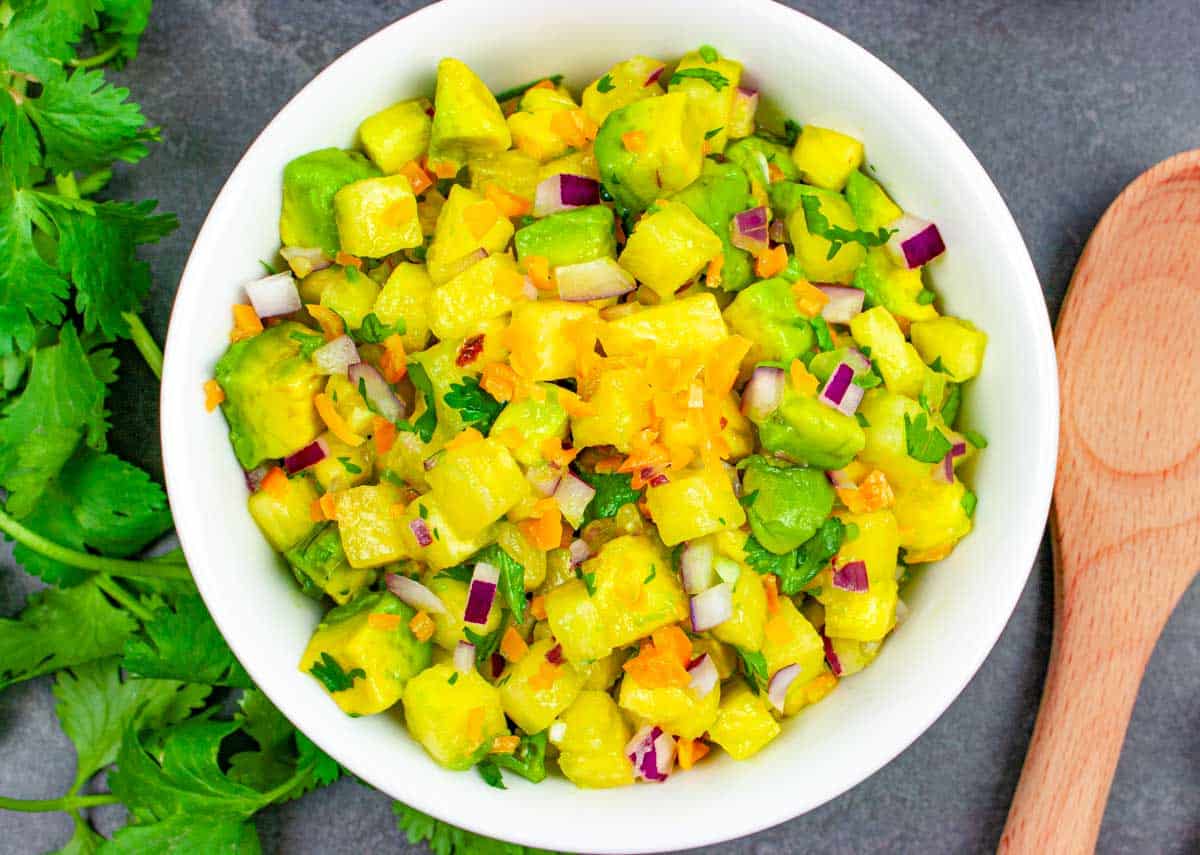 Fresh, homemade dips, guacamole and salsas are the best! I can't remember the last time I purchased a bottle of salsa off the grocery store shelves.
I'm a big fan of keeping different types of salsa around because they're a perfect condiment, in my opinion. I often like making salsa without tomatoes, but this recipe lends itself to many variations. The fresh pineapple is acidic enough, so I chose to leave them out.
This isn't your typical salsa recipe.  It's a combination of fresh flavors that pair perfectly with keto Mexican food, grilled chicken or fish, or use it as a topping for tacos using my Pork Carnitas, or with ground beef seasoned with homemade Taco Seasoning.  Salty tortilla chips aren't the only thing that will love this chunky salsa.  It's a perfect pairing of sweet and heat that's great for game day or party food.
Since this homemade salsa recipe calls for such a small amount of fruit, I don't include instructions for breaking down a whole pineapple. Since I follow a low-carb lifestyle and don't eat much citrus, I purchase ripe pineapple in the produce aisle that's been pre-cut. It's a much smaller quantity to purchase. What I don't use, I freeze for the next time I want to make this salsa or to top my Pina Colada Panna Cotta.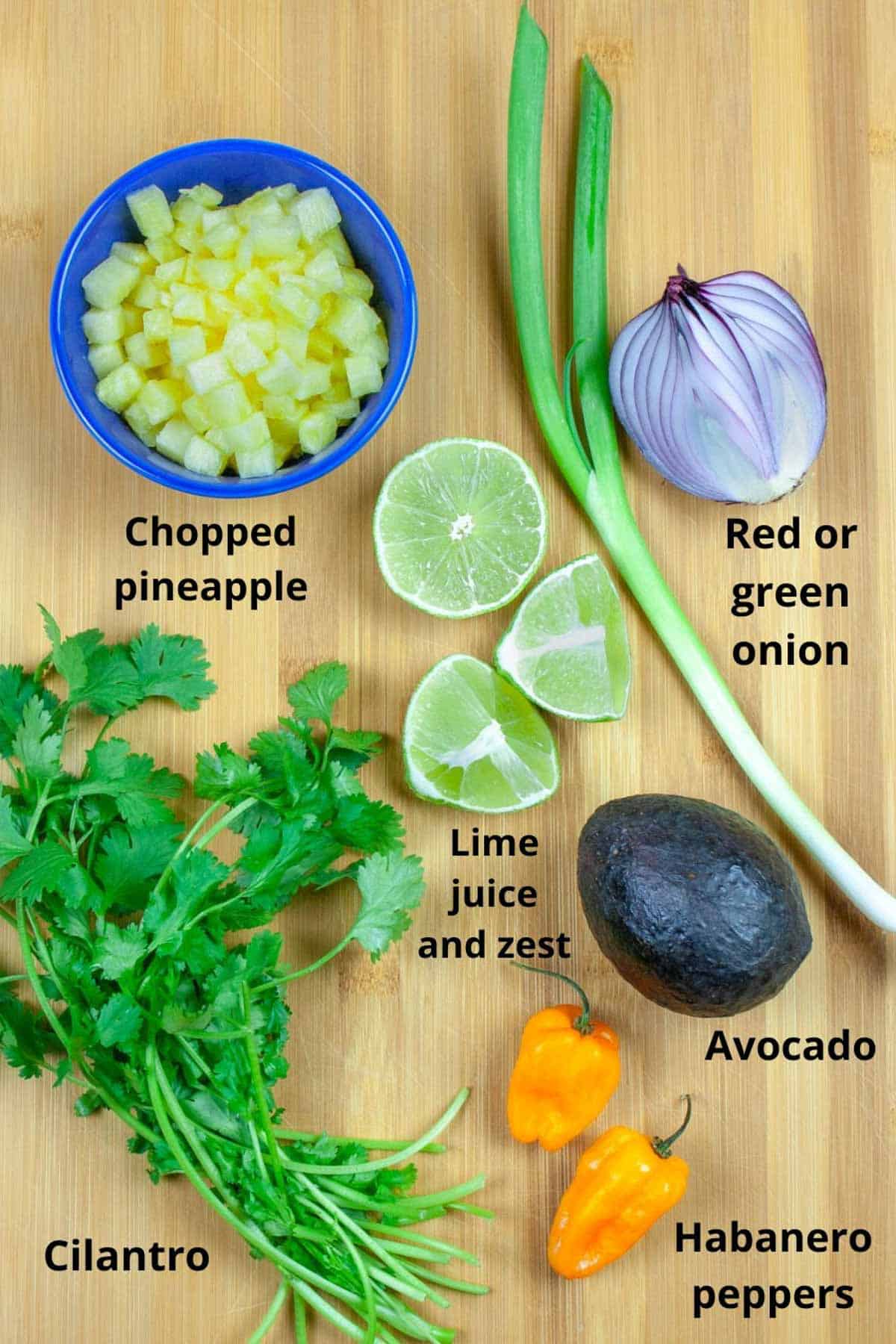 Ingredients
Pineapple – fresh cut is best
Avocado – provides a nice savory component
Red onion or green onion (green part only for low-FODMAP)
Habanero pepper(s) – how many you add depends on your heat tolerance
Cilantro
Lime juice and zest
Is pineapple keto friendly?
While pineapple typically isn't on a keto foods list, it can be eaten in small quantities without tossing you out of ketosis. The carbs in pineapple are on the high side, but one serving of this salsa comes in at about 3g net carbs.
With the pineapple cut into small pieces, you get to enjoy the bright, fresh citrus of this keto salsa without worrying about your macros.
Is pineapple fodmap friendly?
Pineapple is a low-fodmap fruit when served in quantities of 1 cup or less, according to Monash University. It contains a moderate amount of fructans, so you do need to watch your portion size.
How spicy is habanero?
The habanero scoville score lands in the very-hot zone, from 100,000-350,000, making it about 70 times hotter than a jalapeno. It has a floral sweetness and amazing flavor, if you can stand the heat.
These peppers come in many colors. Most people are familiar with orange or yellow habanero peppers, but they also vary in color and can be white, brown, green or purple.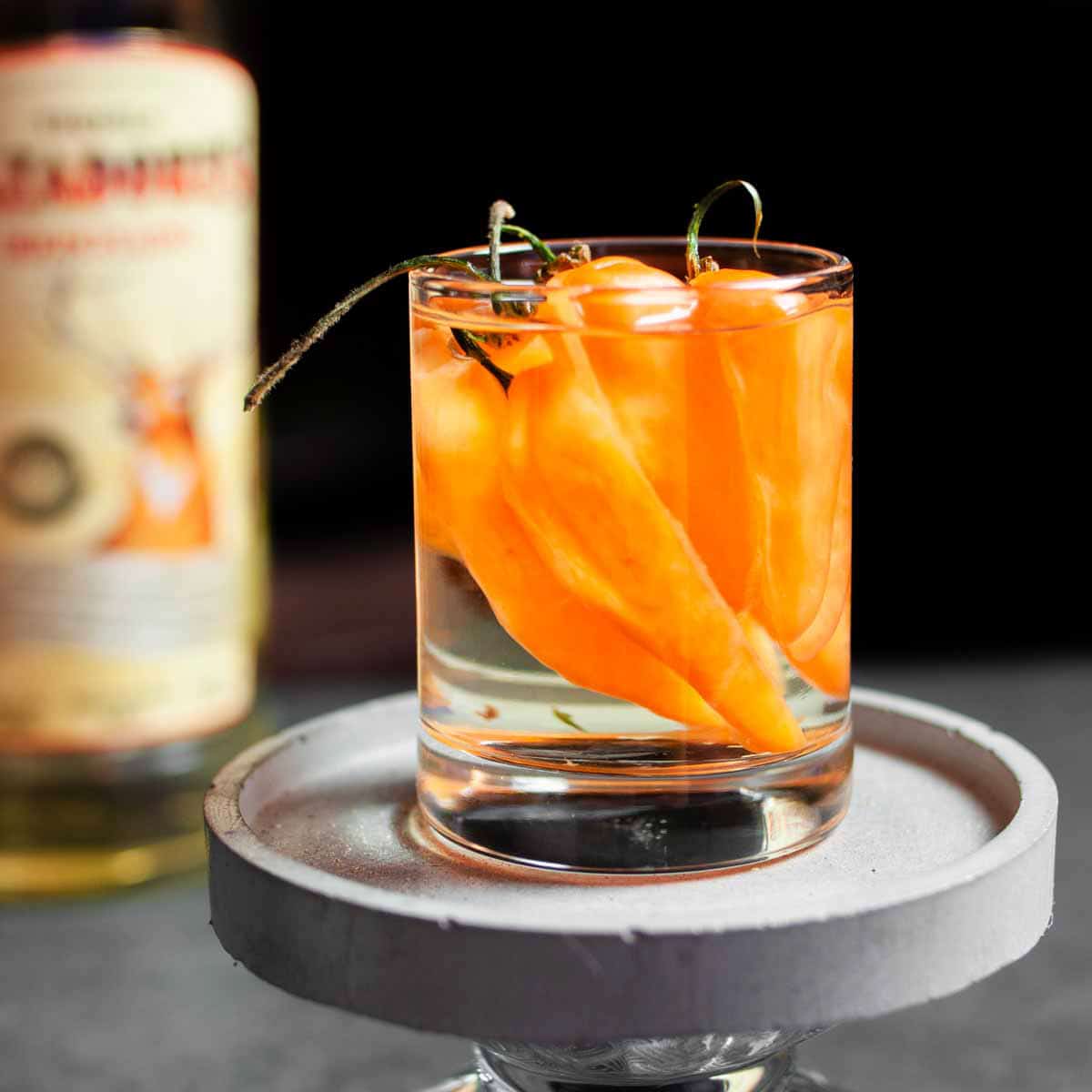 How to make hot peppers less spicy
Can't take the heat? No worries! Did you know that you can drastically turn down the heat on your hot peppers? For heat wimps like me, this is a blessing! I can enjoy the flavor of hot peppers without all the heat.
Making hot peppers less spicy is so easy and only takes about an hour.
Simply slice your pepper, remove the seeds and pith (wear gloves, please!), place in a glass or small bowl and cover with your favorite alcohol. I find that tequila, rum, brandy or vodka are best.
How long to let it sit in the booze is entirely up to you. The longer it sits, the less heat it will have.
I soaked my orange habanero for 60 minutes for this recipe. It had a very mild heat and retained its crisp, bright pepper flavor.
Do note that the alcohol will absorb the heat from your pepper – drink at your own risk!
Instructions
This salsa takes very little work – just chopping and a quick stir or two. Since I buy pre-cut pineapple chunks, I don't have to worry about taking the time and effort to core and peel the pineapple.
Simply chop the ingredients, squeeze the juice from the lime, add the zest and mix.
There is an added step if you want to remove some of the heat from your hot peppers (see above).
Let the mixture chill in the fridge for about an hour or so. It's not necessary, but the flavors tend to bloom just a bit with a little chill time.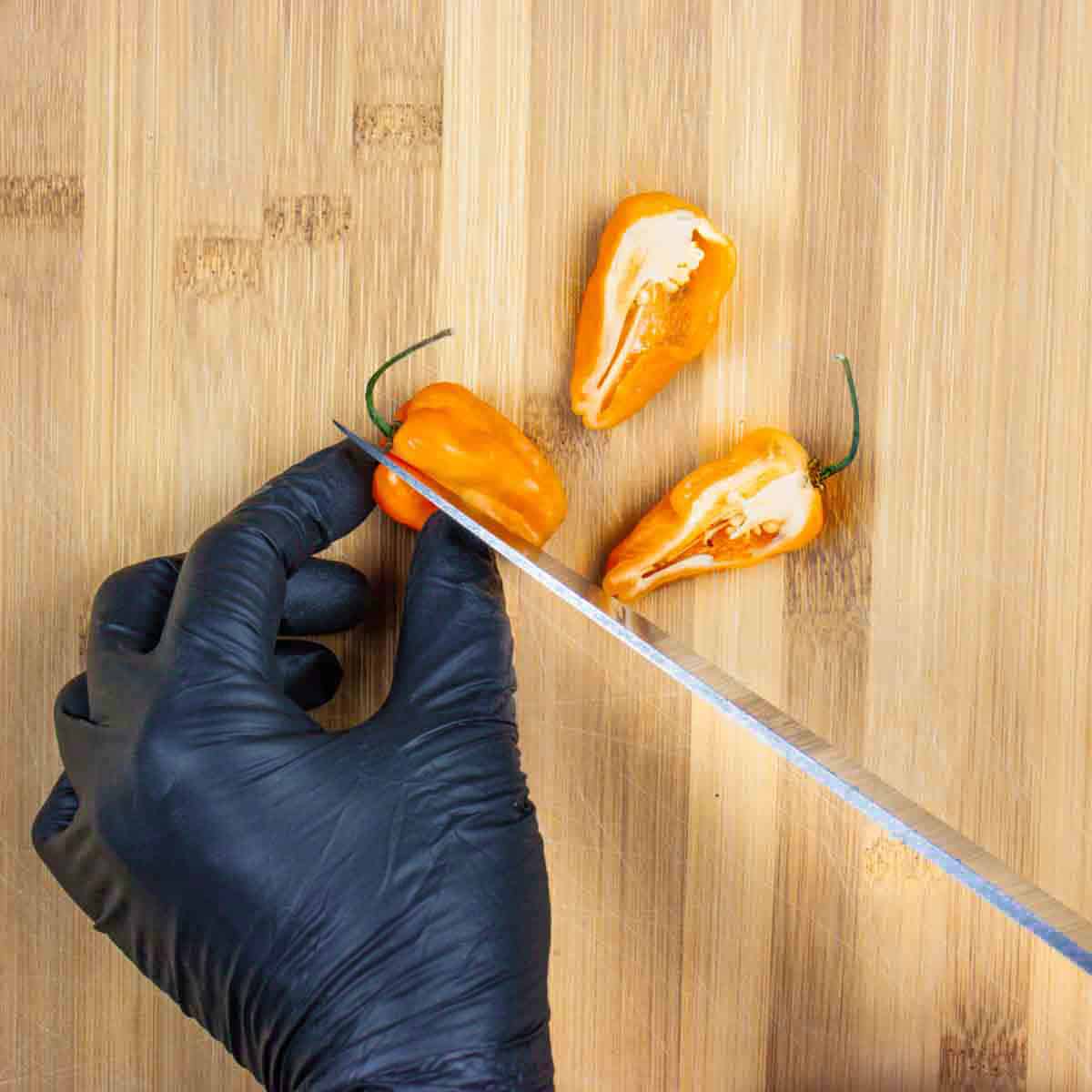 How to chop the habanero
TIP: Please wear gloves. These peppers can actually burn your skin, which is quite unpleasant and can last for hours. Ugh.
First, slice the pepper and then remove the seeds and white pith. While these tend to be the hottest parts, the flesh of the pepper also carries a load of heat.
Then cut into thin slices and dice.
If, for some reason, you forget the gloves, alcohol can help dissolve the oil-based hotness from your hands. Rubbing alcohol or your favorite spirits work well.
I like to follow that up with a good scrubbing using a good grease-cutting soap, like Dawn. But still, avoid rubbing your eyes for a while!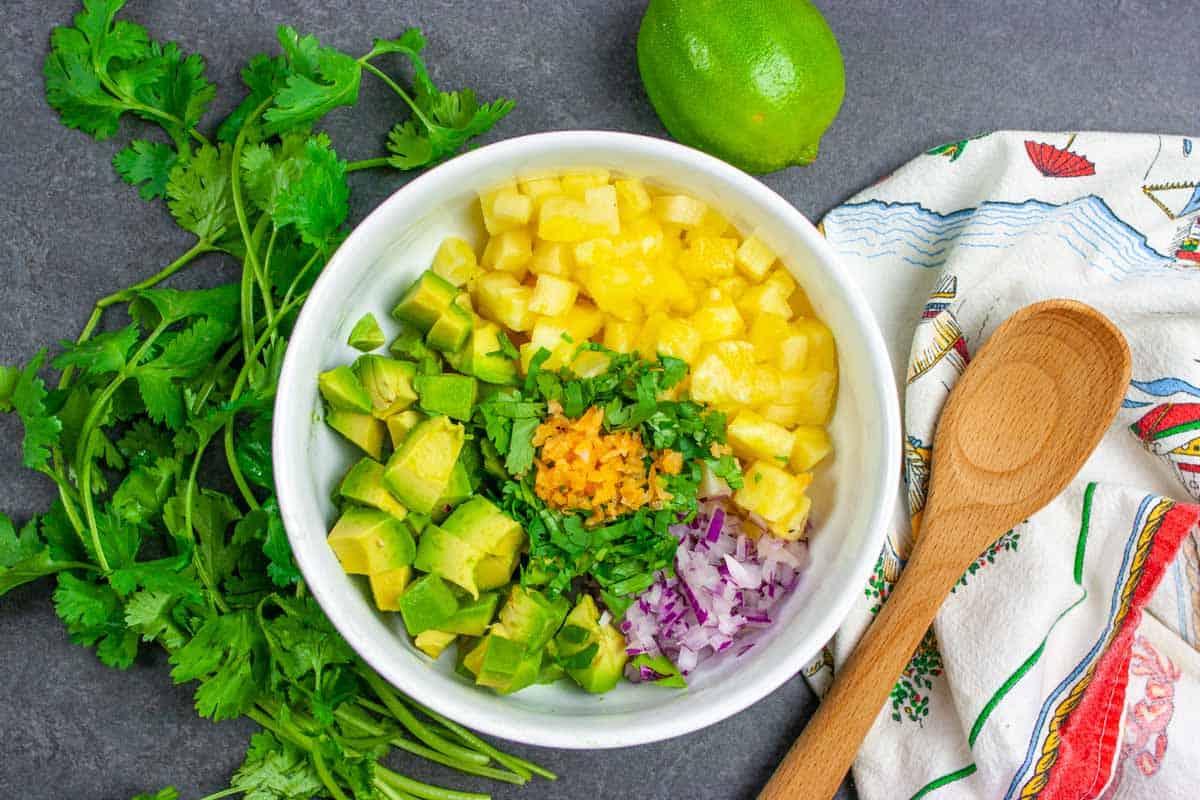 How to make this a low-FODMAP salsa
Since the serving sizes of pineapple and avocado are within low-FODMAP guidelines, using the green tops of a green onion in place of red onion to make a great low-FODMAP dip or salsa.
Making an AIP Salsa
To make this an AIP recipe, simply leave out the habanero. It's a wonderful salsa even without the pepper. If you want to increase the heat, consider adding some extra onion or a little fresh, grated horseradish.
Variations
Make mango habanero salsa – Mangos make an amazing salsa. They are high-FODMAP and very high carb, but are AIP friendly.
Add diced tomato or bell pepper
Try roasted pineapple for a deeper, roasted pineapple flavor
Use other hot peppers, such a aji pineapple, jalapeno or scotch bonnet
Make it thick and spicy! If you're not a chunky salsa fan, you can blend this salsa, just leave out the avocado and instead, make some guacamole to serve up alongside.
FAQ
Scotch bonnet vs habanero – are they the same?
They are, in fact, two different peppers.  Both have a fruity flavor but scotch bonnets are slightly sweeter.
Are habaneros healthy?
Yes – they are actually quite good for you.  One pepper contains 100% of the recommended daily allowance of vitamin C.

Capsaicin is the chemical that gives peppers their heat, but is also a phytonutrient that is a natural anti-inflammatory.
Can habanero peppers burn your skin?
Oh yes. Habanero contains oils loaded with capsaicin which can irritate the skin, causing an unpleasant burning sensation.

If you get the oil on your skin, wash it off with a good grease-cutting soap like Dawn and warm water.  Rubbing alcohol can also help dissolve the oil.  And, be careful when touching other parts of your body, as the oil can spread.
Are avocados high in FODMAPs?
Avocados can be low, moderate or high in fodmap content, depending on serving size.  They are rich in sorbitol, a type of polyol that can cause symptoms in people that are sensitive to it.
According to Monash University, 1/8 of an avocado is considered low-FODMAP, where a ¼ is moderate and ½ or more is high-FODMAP. Of course, this varies based on the size of your avocado.

Avocado oil, however, is FODMAP-free.
---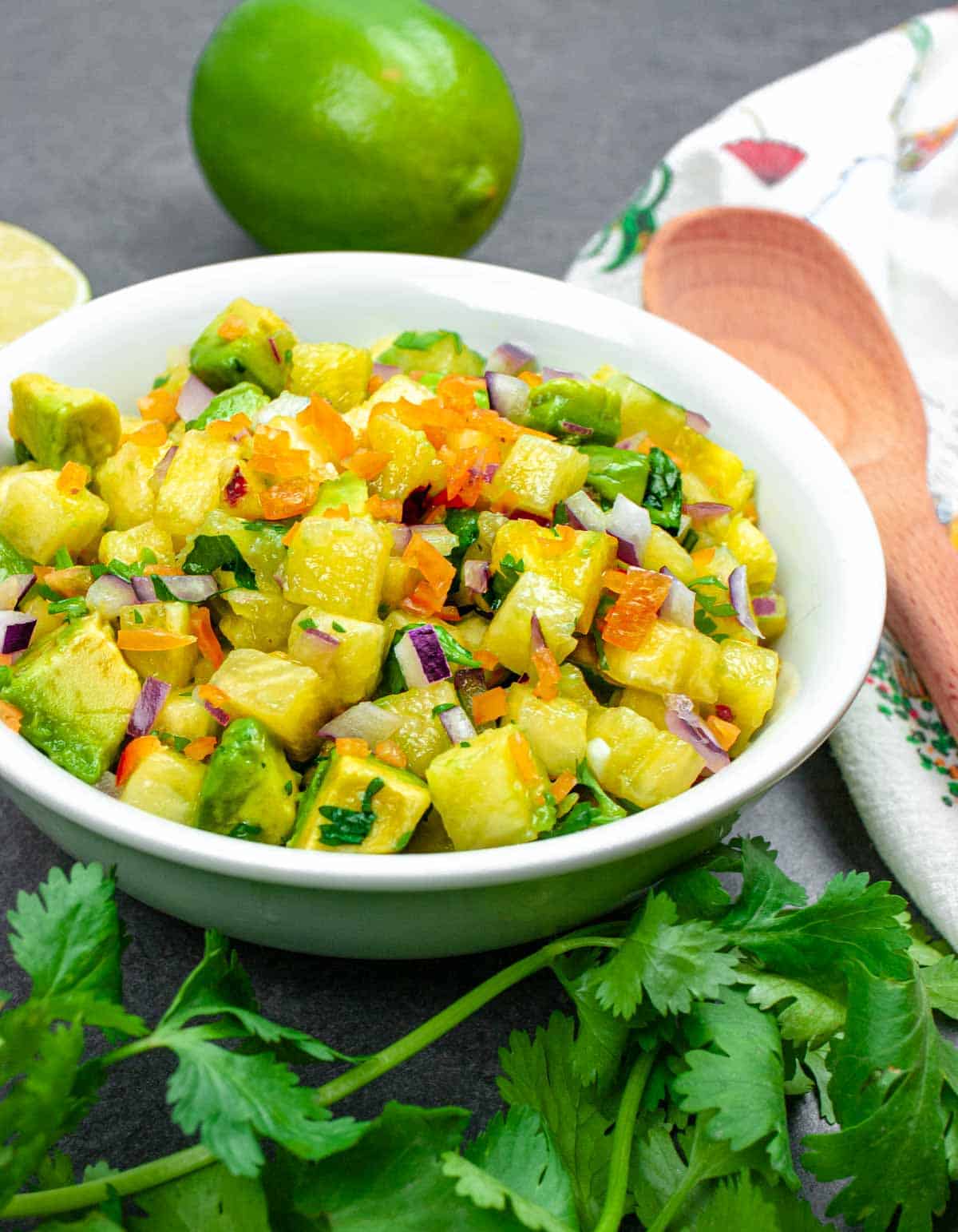 Other recipes you might like
Salsas and dips make amazing party or game day food and are perfect appetizers for a crowd with some dippables. Here are a few salsas, dips and sauces you might like:
This post contains affiliate links. As an Instacart and Amazon Associate, I earn from qualifying purchases.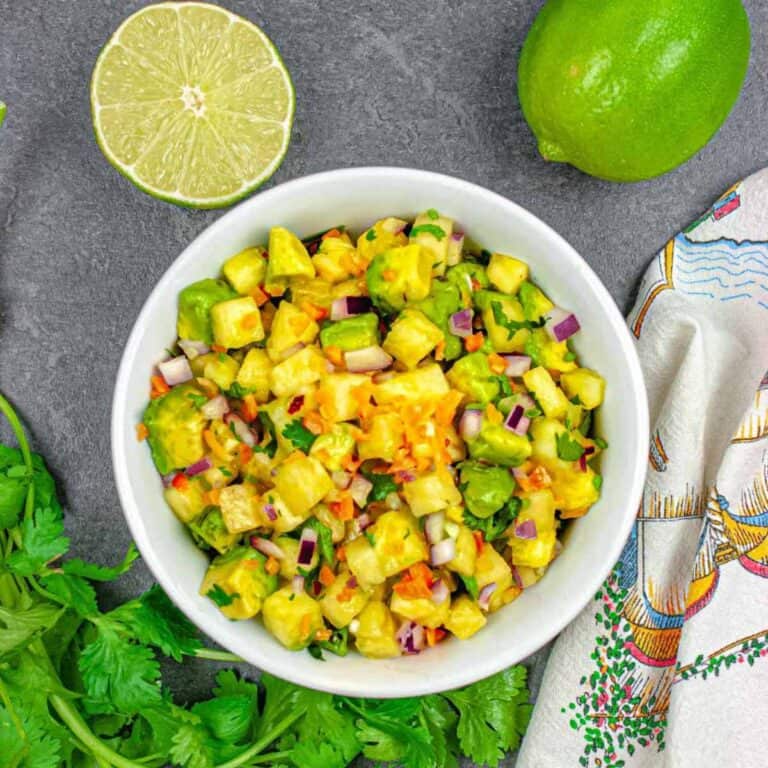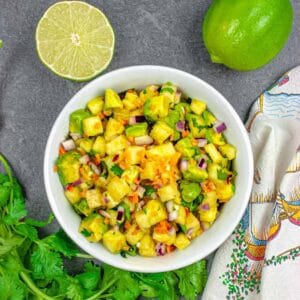 Pineapple Habanero Salsa
Sweet and spicy, this Pineapple Habanero Salsa is a perfect combination of both!  It's bursting with nutrition and is only about 3g net carbs per serving.  It's a versatile salsa you'll fall in love with!  Don't like spicy?  I show you a way to cut that habanero heat!
Ingredients
2

cups

chopped pineapple

1

avocado

¼

red onion

(or 1-2 green onions – use green part only for low-FODMAP)

2

habanero peppers

(omit for AIP salsa)

½

cup

cilantro

1

lime

(Juice and zest)
Instructions
Slice the habanero peppers and remove the seeds and pith (please wear gloves!)

Add the lime juice and zest and mix to combine.

For best flavor, chill for about an hour to let the flavors bloom.
Notes
To make the habanero less spicy: Simply slice your pepper, remove the seeds and pith (wear gloves, please!), place in a glass and cover with your favorite alcohol.  Let sit for 45 minutes to an hour, then finely dice.
Habaneros are very spicy and can burn your skin.  It's best to wear gloves so the oil doesn't come into contact with your skin.  If it does, apply rubbing alcohol (or any hard liquor) and wash with a good grease cutting soap (such as Dawn) and warm water.
Nutrition
Serving:
0.5
cup
Calories:
50
kcal
Carbohydrates:
7
g
Protein:
0
g
Fat:
2
g
Sodium:
2
mg
Fiber:
4
g
Net Carbs*:
3
g
*Net carbs = carbohydrates – fiber
Nutritional information is an estimate, calculated using online tools and does not include optional ingredients unless otherwise indicated.
Did you make this recipe?
Leave a review below, then snap a picture and tag @Rad_Foodie on Instagram so I can see it!