Kala Namak Black Salt just may become your favorite gourmet seasoning! It's incredibly versatile and adds a rich umami flavor to any dish.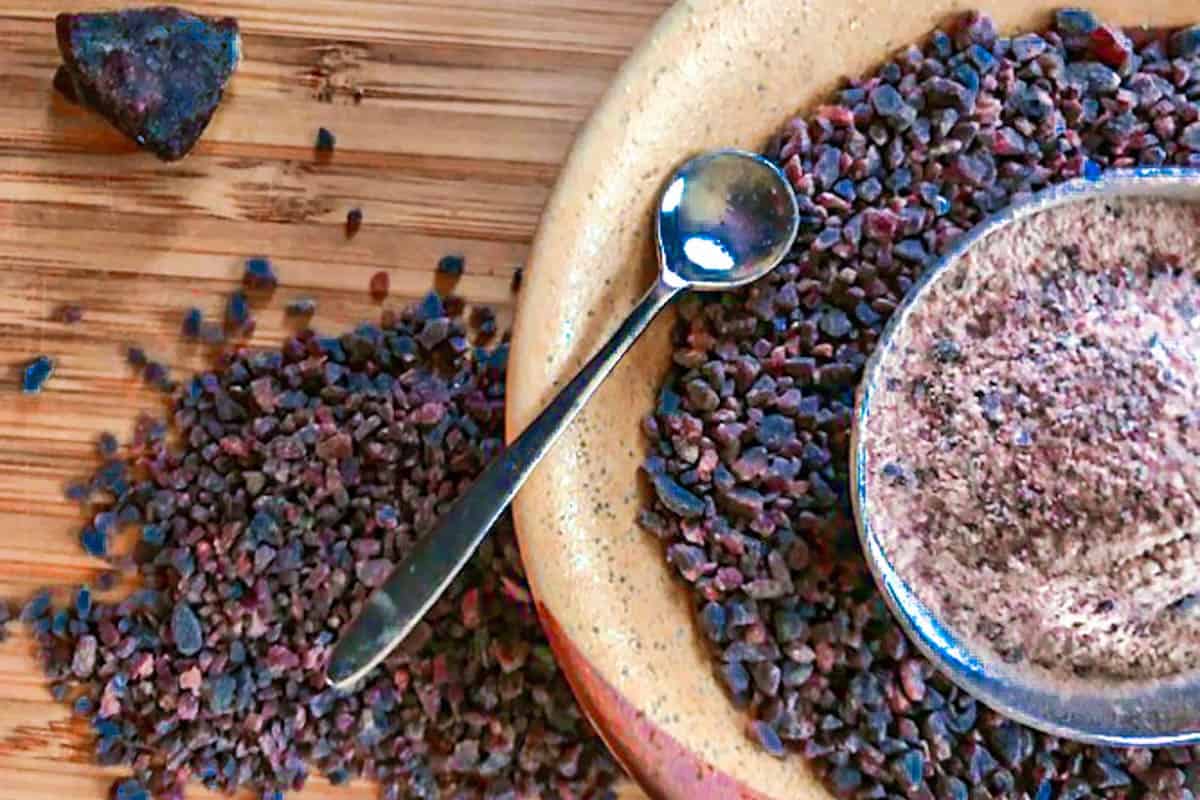 Jump to:
If there is one culinary salt in the world I'm in love with, this is it. I use it more than any other seasoning in my pantry and it's pretty much the only salt I use. If I were stranded on a desert island, this would be on my short list of wishes/needs. I use it in and on almost everything. It has such a savory, complex flavor and adds umami to any dish. Use it on fruit or eggs and in spices blends for meat, fish or poultry.
What is kala namak?
Kala namak is a rock salt with a sulfur-like, pungent smell that is widely used in southern Indian cuisine. It's known as Indian Black Salt, Himalayan Black Salt, Sulemani namak and kala noon. It is a volcanic rock salt that is mined in the Himalayas and then kiln fired with charcoal and other herbs to create a unique flavor profile.
Interestingly enough, it isn't actually black in color. In its rock form, it is a deep purple or a dark shade of purplish-red. When ground, it changes in hue to appear anywhere from purple to light pink. The color comes from a substance called greigite, which is a mineral rich in iron sulfide.
What does it taste and smell like?
Kala namak has a unique flavor that differs from gourmet or table salts. Due to its high minerality, the flavor is much more complex. When consumed as a finishing salt, it has an earthy, sweet, slightly tangy, sulfurous flavor. It contains less sodium chloride than table salt and also contains higher amounts of magnesium, iron, potassium, calcium, sulfur and other trace minerals that contribute to its character. It is also less tangy due to its lower sodium content.
Some people will say it tastes like eggs, which has made it a popular ingredient for people following a vegan lifestyle. It is a common addition to vegan 'scrambled eggs', tofu 'egg salad', and other meatless, plant based dishes to add an egg-like flavor.
When used in cooking, it gives a dish an incredible umami flavor. The sulfur taste and smell is transformed into an earthy richness that isn't quite identifiable – just delicious.
Here's where it gets kind of silly… many people describe the smell as a 'bag of farts', 'farts in a bag' or just rotten eggs. While it does smell a bit like eggs, personally, I don't think it smells rotten. But the smell is quite pungent – when the jar is opened, you know it. However, the egg-like smell does not transmit into your cooked dish.
How to use
Kala namak is used in many Indian and Asian dishes, and is known to be a flavor enhancer. It's most popular in the Indian spice blend chaat masala, where it lends a sulfurous egg-like aroma. I like to use it in my homemade Tikka Masala Paste. It is also used in many types of raitas, chutneys and is commonly used as a condiment on its own.
In addition to using it in Indian recipes, it can replace sea salt in soups, stews, rubs, stir frys and spice mixes. This is one fusion cooking ingredient that lends a unique flavor to both sweet and savory dishes. Try a sprinkle on meat or fish before cooking, such as Indian Spiced Salmon, for a whole new taste experience! See below for a list of recipes where I like to use Kala Namak.
While it's a perfect substitution for salts in most recipes, it cannot be used as a replacement for regular salt in baking.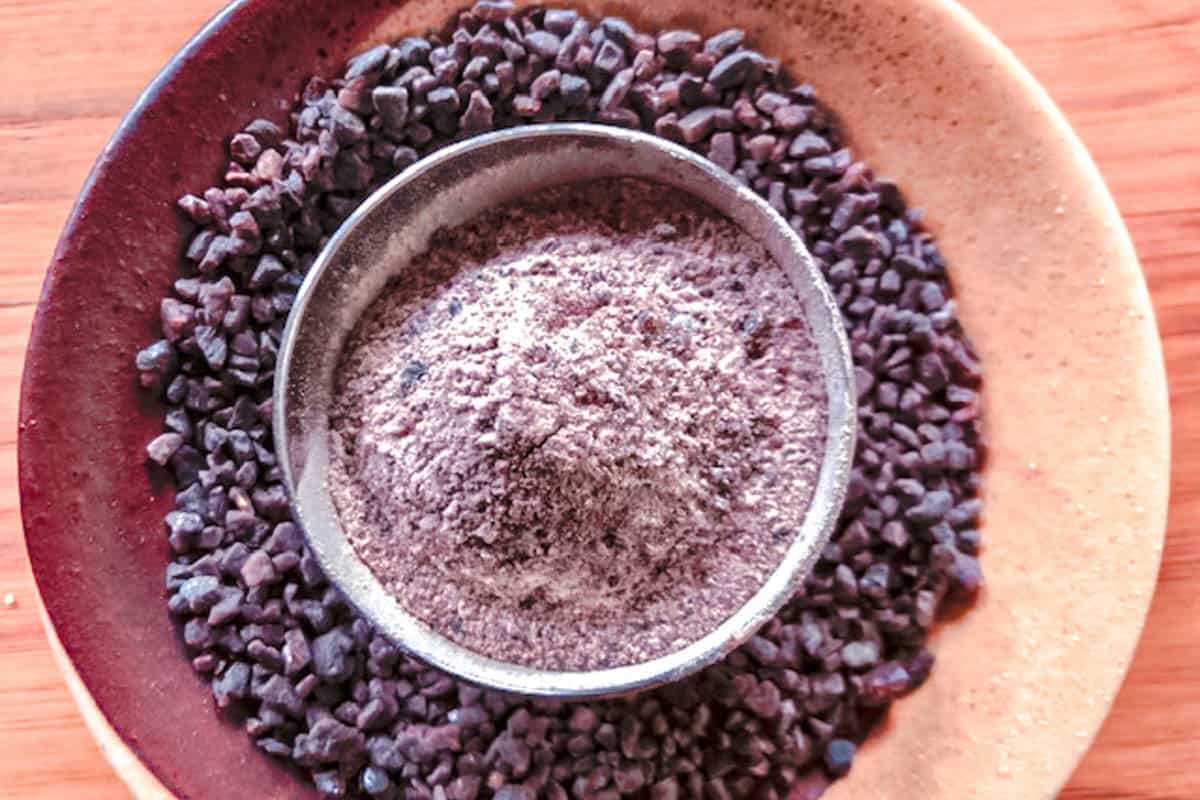 Possible health benefits
Historically, kala namak has been used in Ayurvedic medicine to improve digestion and to treat IBS symptoms.
It's main benefit is that it eliminates abdominal discomfort due to digestive disorders such as acid reflux, abdominal cramping and distention. It is claimed to stimulate the appetite as well as aid increasing enzyme production, balance acid in the stomach and stimulate bile production in the liver. Since it also contains iron, it also has been used to treat anemia. It is often combined with other herbs and spices such as black pepper, ginger and long pepper (the Trikatu in Ayurveda) as a digestive remedy.
Is kala namak low-FODMAP and AIP compliant?
Most gourmet culinary salts are a great addition to a low-FODMAP seasonings list, with the exception of garlic infused or garlic salt. Adding a pinch can give new dimension to your low-FODMAP and AIP recipes.
It can really add depth and complexity to AIP spice blends and recipes, especially if you're missing eggs. Use it as a finishing salt on veggies, fruit (peaches and avocado!) on salads or sprinkle some on meat, fish or poultry before cooking.
Types of black salt
There are a few different types of 'black' salt: Himalayan, lava salt, truffle salt and ritual salt.
Himalayan black (kala namak)
This is perhaps the most widely used of the culinary black salts. Even though it's actually purple, it has a very different flavor, color and aroma than the others.
Black lava
You will see this also referred to as Hawaiian black salt, as it usually comes from Hawaii.
Unlike kala namak, this variety is truly black. It has a very earthy, smoky flavor and is used as a finishing salt, rather than in cooking.
Surprisingly, it actually isn't volcanic at all. It is typically comes from the sea and is combined with activated charcoal to achieve the black color.
It has a wonderful crunch and the flavors truly shine when sprinkled on fruit, vegetables and salads.
Black truffle
While this is also not a black salt, it deserves its place in this list. What is it, exactly? Bliss. The truffle variety is a combination of sea salt and pieces of black truffle. It has a savory, earthy flavor that is amazing with eggs, pasta, veggies (especially roasted veggies) and meat. I adore using it in my Basil Pesto without Pine Nuts, which itself is amazing with meats, fish and poultry, in eggs (green eggs!) and as a base for low-carb/keto pizza.
Black ritual
This particular variety (aka Witches salt) is very black in color and is used only for ritual purposes and is not intended to be eaten.
It is a simple combination of sea salt blended with activated charcoal. It is commonly used in Magick traditions for protection and removing negative energies.
Where to buy
I'm very fortunate to have a specialty store close to me where I can purchase anything from smoked varieties to amazing fleur de sel, sel gris and other finishing salts. We have purchased pounds of kala namak from them for years.
International markets will often carry it, but ordering online is probably the fastest and easiest way to purchase some. I've seen it available online from Whole Foods and Walmart, but there is a much wider variety available on Amazon.
This is the online brand I use and recommend: Pride of India Coarse Grind and Pride of India Extra Fine Grind.
Different grinds
Kala Namak is typically available in two different grinds: fine (aka black crystal) and coarse (aka black rock). You may also find it in super coarse and ultra fine grinds.
Personally, I like buying the coarse grind and either powdering it in a mortar and pestle or grinding it in a mill. I think grinding it at home preserves some of the aromatics that may be lost when purchasing a pre-ground rock variety. There may not be much difference, especially if you purchase a high quality brand that is packaged well.
Storage
Gourmet salts should be stored in the same way you would store other herbs and spices. Store them in an airtight spice jar, away from heat and humidity. Powdered salt will keep well for over a year. The coarse grinds will keep for years if stored appropriately.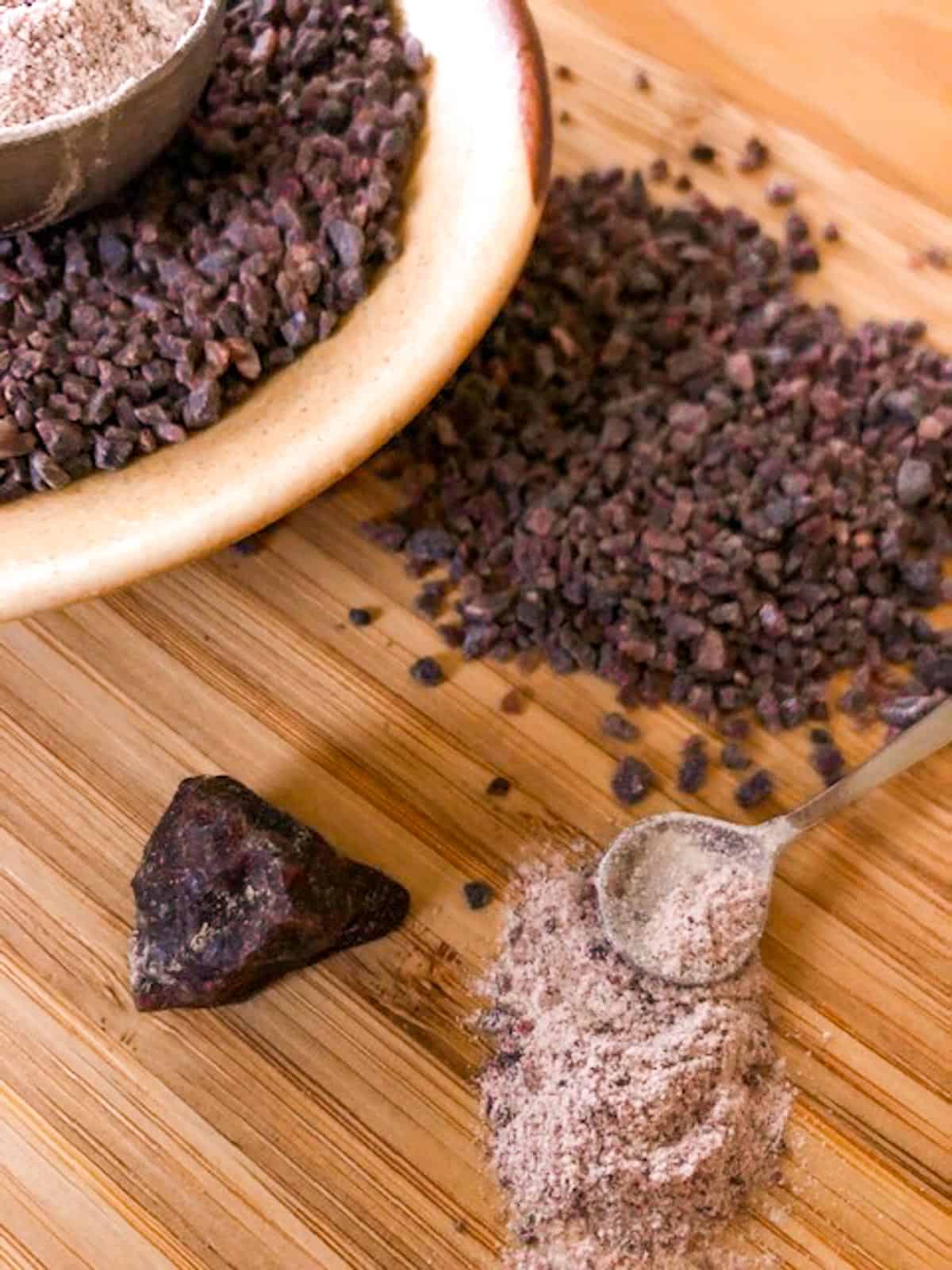 FAQ
Black salt vs pink salt – which is better?
Pink and black varieties are both naturally sourced and have high mineral contents. Black salt has a reddish-brown to purple color with a sulfurous, pungent and smokey flavor and aroma.  Pink salt comes in white, pink and orange shades and is almost odorless, with less complexity than black.  Both contain up to 84 minerals and trace elements, which gives them a less pungent taste compared to other varieties.
What is the difference: black salt vs rock salt?
The main differences between the two is the size, color and composition of the chunks.  Kala namak is a type of 'rock salt'.  This term can refer to many different varieties that are chunky, as opposed to smaller crystals (such as table salt).  Kala namak is highly mineralized, where other rock varieties tend to have higher sodium chloride content.

Some forms of rock salt are used for brines and for de-icing roads and sidewalks. Sodium chloride causes a chemical reaction that lowers the freezing point of water in the snow.
Does black salt have iodine?
Unlike iodized table salt, it does not contain iodine.  If you use primarily black or other gourmet culinary salts, you will need to find other sources of iodine for your diet.  Consider iodine-rich foods such as eggs, low-carb Greek yogurt, ocean fish, shell fish, cheese and seaweed.
Can Kala Namak be used for baking?
While it is a perfect substitution for sea or table salt for most recipes, it cannot replace regular table or sea salt for baking.
Recipes to use kala namak