Fresh, dried or powdered, add a subtle flavor to your recipes your taste buds will thank you for. A truly amazing herb that has a signature flavor and is worth seeking out!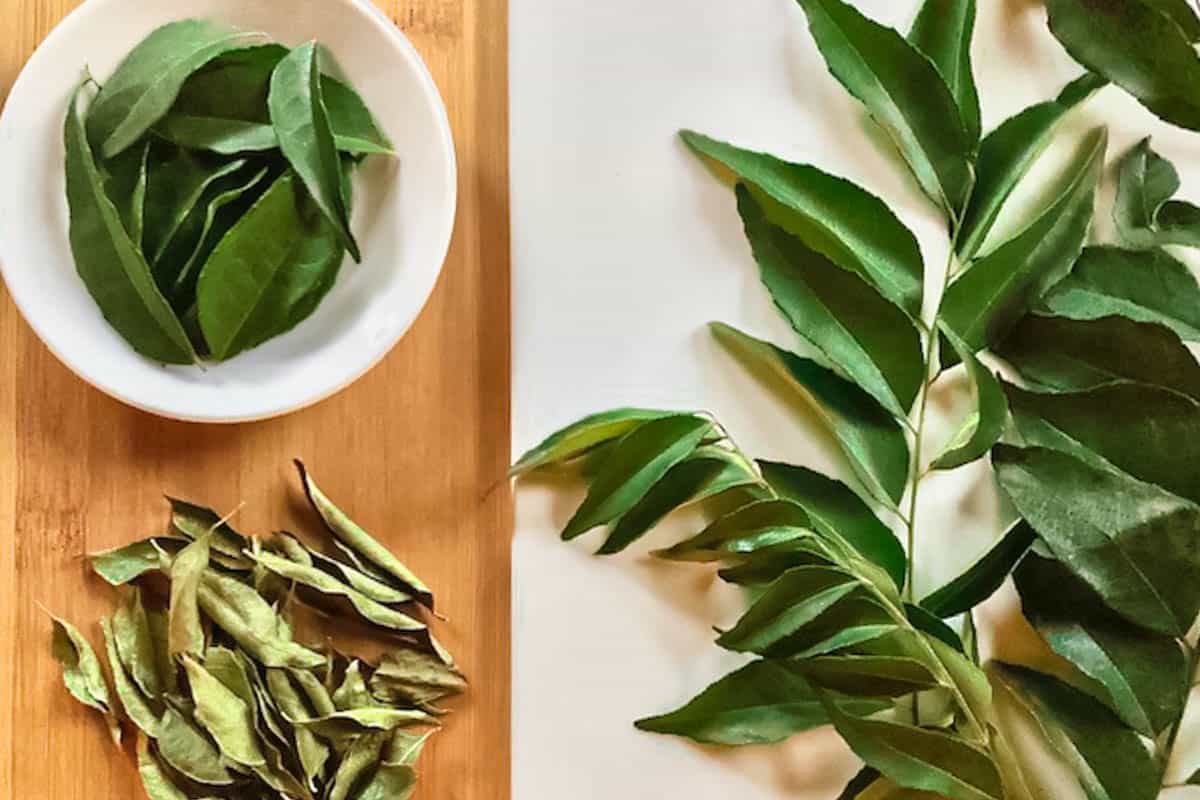 I have no doubt that most people see this title and say, "Wow, cool! I had no idea curry grew on trees. So what's up with the super expensive powder?" First, let me say, that these leaves are super cool and something to be excited about, but they have nothing to do with the mixed spice blend that's commonly referred to as 'curry'.
What are curry leaves?
Mostly known as kadi patta, they are used widely in Indian cooking. These fragrant leaves grow on a curry leaf plant, which is a member of the same family as citrus fruits. This small tree produces glossy green and aromatic leaves that have a very unique flavor.
The curry leaf plant is an elegant, evergreen shrub that is most often found growing in India, Sri Lanka and Thailand. It grows wild and can reach 20 feet in height. Its culinary uses are most often found in southern and western Indian cooking. However, this spice is also commonly used in Cambodian and Javan cooking.
What is the flavor of curry leaf?
The flavor is quite aromatic, with a slight bit of pungency and bitterness, that adds to the unique qualities of this herb. They have a hint of citrus and are slightly sweet with a pungent aroma, close to lemongrass. There's a unique flavor that's difficult to describe, which is what makes them an amazing addition to your spice collection.
Health benefits
Aside from being a super versatile culinary herb, these leaves offer a host of health benefits:
Not only are they beautiful, they are rich in many compounds that function as antioxidants in the body. These antioxidants scavenge free-radicals, keeping your body healthy and warding off disease
They are rich in vitamins A, B, C, calcium and iron
Consuming them may benefit heart health by reducing triglyceride and cholesterol levels
Research has demonstrated they can be beneficial in controlling blood sugar and reducing blood glucose levels
Due to their high levels of anti-inflammatory compounds, curry leaf extract shows promise as a natural pain reliever
They contribute to better digestive health by stimulating digestive enzymes. When eaten raw, they can also act as a natural laxative
Are curry leaves edible?
They can be used in the same way as bay leaf, but instead of removing them from a dish, they are completely edible. Some recipes may call for them to be removed, but it's not necessary. They can be eaten raw, dried or cooked. In fact, eating them raw on an empty stomach can relieve nausea.
Are curry leaves low fodmap and AIP friendly?
It appears they are one of the most allergy-friendly herbs and spices around and are okay for use on a low-FODMAP diet as well as for those following an autoimmune protocol. See all of my low-FODMAP recipes here. And, you can browse my AIP recipes as well.
In fact, raw leaf has been used for IBS-type symptoms and as a remedy for many forms of digestive upset for hundreds of years.
How to use
Their use goes far beyond adding them to curry dishes or recipes for Indian food.
While I'm a fan of all Indian culinary traditions, I'm also a rebel at heart and adore fusion cooking.  I love combining food cultures and cuisines and creating a whole new concept. Herbs from global cultures are great to use in everyday cooking!
Add whole leaves to soups and stews, such as Fish Stew with Turnip and Fennel. Try adding some when making bone broth to add a bright, savory flavor
Add crushed fresh or dried leaves to eggs, bread, vegetable dishes, salads and even whisk them into mayo for an out-of-this-world sandwich
Fry whole sprigs in ghee or oil with mixed spices like cumin and mustard seeds.  Use the flavored ghee or oil for sautéing vegetables, frying fish, meats, poultry or eggs.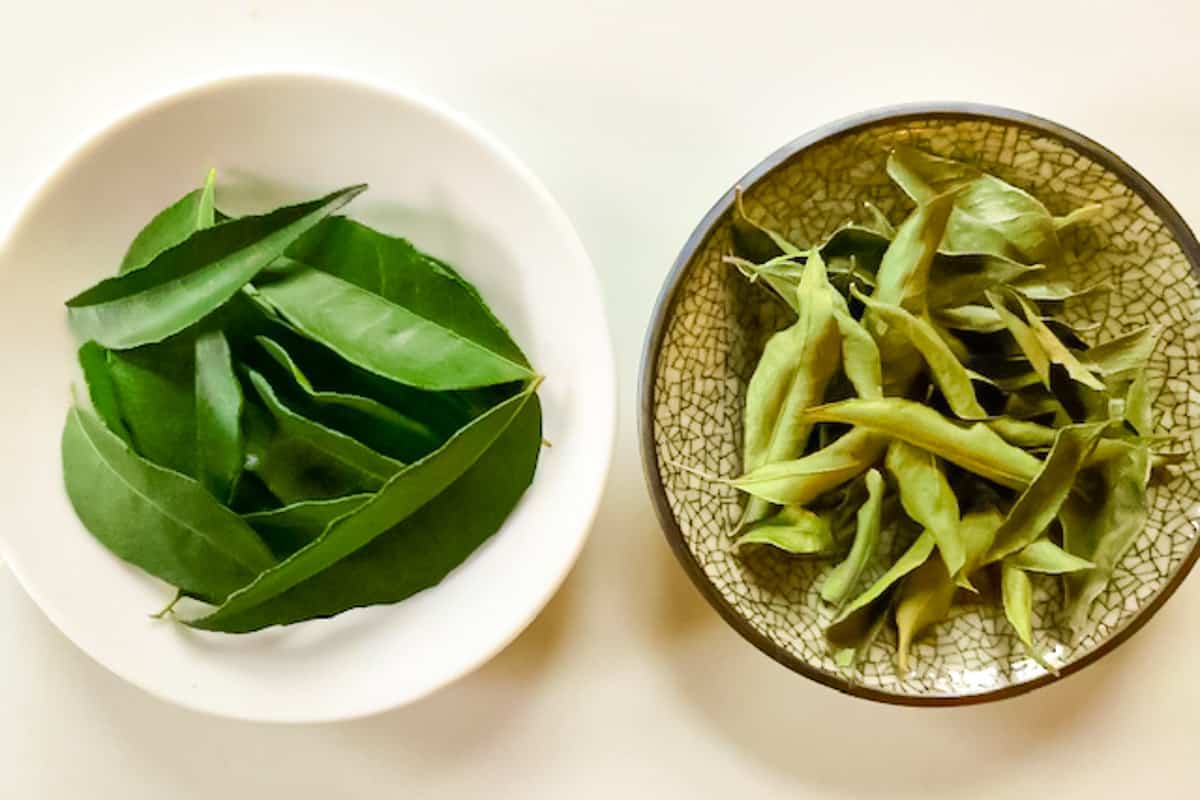 Dried curry leaves vs fresh
Used fresh, they are a culinary powerhouse. I'm fortunate I have a resource to find them at one of my favorite restaurants.
When dried, they lose some of their aromatic flavor (and color) during the drying process. When using dried leaves, you will want to add more to your dish than you would if you were using fresh.
Where to buy
You may be able to find fresh leaves for sale at your local international market or Asian grocery store.  If you can't find them fresh, there are options for purchasing dried whole curry leaves online. You can also find curry leaf powder, which is very handy.  I like the versatility of having dried on hand and then grind them in a mortar and pestle or spice grinder when I want them powdered or crushed.  Having both whole spices and powdered spices is convenient and practical for quick and easy weekday meals.
How to store
To store fresh leaves:  Line the bottom of an airtight container with a paper towel.  Place the leaves in the container and cover with another paper towel.  Secure the lid and refrigerate for up to several weeks.
Freezing:  Place dried, fresh leaves in a freezer bag.  Roll the bag, removing as much air as possible and seal the bag.  They should keep well in the freezer for several months.
Storing dried leaves and curry leaf powder: Seal in an airtight container and keep in a cool, dry place.
How to dry fresh curry leaves
Place fresh leaves on a large tray and spread out in a single layer.  Put the tray in a cool dry place and cover with a paper towel or cloth to prevent dust accumulating.  Allow to sit for 2-3 days, or until dry and crisp.  Store in an airtight container.
FAQ
What is the difference between curry leaves and curry spice powder?
Curry leaves are a fresh herb that is obtained from the curry leaf plant. Curry spice powder is a blend made by grinding together a variety of dried spices and herbs that typically includes turmeric, ginger, cinnamon, garlic, mustard seed, fennel and black pepper.
What is a curry leaf substitute?
While it's difficult to replicate the flavor, if you don't have them on hand, as a substitution, try using lemon or lime zest, basil, ground bay leaf, lemon balm or kaffir lime leaves.
Is neem the same as curry leaves?
Curry leaves are referred to as 'sweet neem' and belong to the Rutaceae family of plants.  Ordinary neem leaves come from the neem tree, are very bitter and belong to the Meliaceae family, making the two plants very different.
Can I grow a curry leaf plant?
If you have a very sunny spot, you can grow your own plant.  You can start one from seed or purchase a plant or cutting online.  They are quite slow growing and may take years before they are ready to harvest. Read about how to grow your own curry leaf plant!
Do you use curry leaf in your cooking? Let me know your favorite way to use them in the comments, below!
Other spices that pair well
Try these recipes that use this ingredient
This post contains affiliate links. As an Instacart and Amazon Associate, I earn from qualifying purchases.