An Eastern spice with a pungent smell – and a lot to offer. It imparts a remarkable onion and garlic flavor, with a good dose of umami to cooked dishes. When cooked, its sulfuric scent is transformed into an aroma that is described as being quite similar to garlic and leek.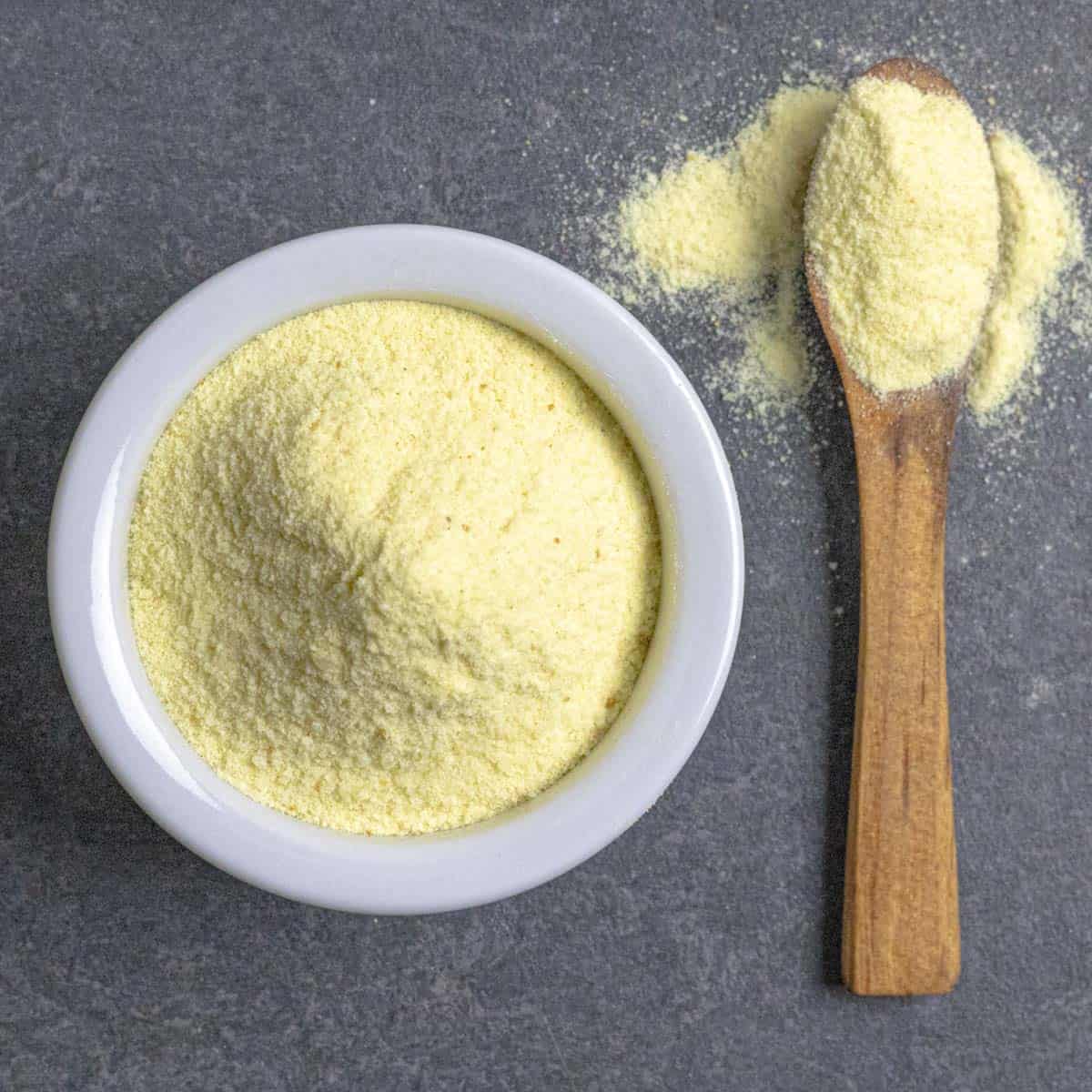 Asafa-what? Asafoetida, pronouced (ass-uh-fe-teed-uh), is an Eastern spice that is used in many Indian dishes, but can be used in any dish where an onion or garlic flavor is desired. It can enhance the flavors of other spices and can make any dish exceptional.
Asafoetida is also a low-FODMAP spice and is a great option to use as a substitute for garlic and onion. Be sure to stop by my Low-FODMAP Recipes category for more Low-FODMAP inspiration.
However, if you don't have any handy and are looking for an asafoetida substitute, I've included a few options to try.
This novel spice is a great addition to recipes without onion or garlic. I use it in Fish Stew with Turnip and Fennel as well as my Low-FODMAP Seasoning for BBQ. It adds a touch of magic to Pisto Manchego and when used as an ingredient in my Keto Seasoning for Barbeque, these Traeger Beef Ribs develop an incredible bark with amazing flavor.
Asafoetida is mostly considered an Indian spice and is used quite a bit in Indian and Middle Eastern cooking. Often, folks think it's native to India, but it really originates from Afghanistan and Iran, where most of it is grown.
What is asafoetida spice?
Asafoetida is a spice made from the dried sap of a plant called ferula – a variety of giant fennel. It has upwards of 10% essential oils from mostly sulfur compounds, which give this powder a strong, pungent smell that is sometimes referred to as 'fetid'. It's also known as 'hing' and 'devil's dung', due to it's fragrant, funky odor, in its raw form.
What is the meaning of 'hing'?
Hing, pronounced (heeng) is the Hindi word for asafoetida. Many Hindu sects do not eat any members of the Allium genus including garlic, onion, shallots, chives, and scallions. Orthodox Brahmins and Jain Indians, who are prohibited by their religion from using onion and garlic, use hing as a garlic and onion substitute.
Is asafoetida low-carb and FODMAP-friendly?
Yes! You can feel good about adding 'hing' to your list of low-carb keto and low-FODMAP spices. Use it as a great addition to many no onion, no garlic recipes. It makes a great low-FODMAP seasoning – and a little goes a long way.
If you follow a gluten-free diet, be sure to check the ingredient label. Some manufacturers blend the raw powder with wheat flour or starch, rather than a grain-free binder, such as acacia gum.
For those of us who need an onion powder substitute or a garlic powder substitute because we can't eat onions and garlic, I consider this a pantry staple.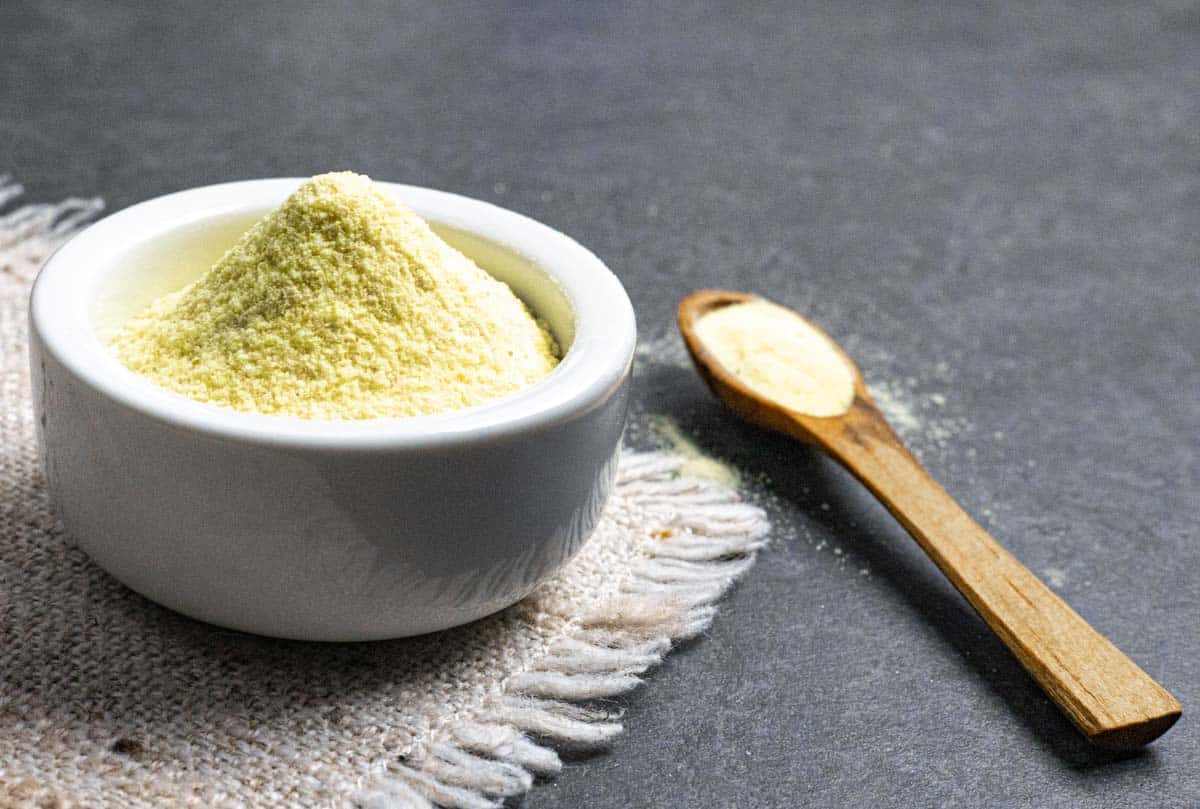 Health benefits
In Ayurvedic medicine (also known as Ayurveda), asafoetida has many medicinal uses, ranging from topical applications to digestive and throat maladies. There is some evidence that the chemicals in asafoetida can help treat IBS (irritable bowel syndrome) and may be beneficial in lowering triglycerides. The ancient Romans used it as an aphrodisiac and to soothe stomach pain. They also considered it to be a Food of the Gods (to which I'm in total agreement).
Asafoetida can be found sold in capsules, as a dietary supplement. Therapeutically, it's used for respiratory infections, chest congestion, phlegm, menstrual problems and anti-aging. However, it may act as a blood thinner and also lower blood pressure. Those on anti-hypertensive or anti-coagulant medications or are pregnant or breast feeding should probably avoid asafoetida supplements (or at least consult your health care provider).
How to use asafoetida
When using asafoetida, start small. The flavor can overwhelm a dish if used too generously. Traditionally, a small amount of powder (usually just a pinch) is added to oil or ghee at the sautéing or frying stage of a recipe. It's most often added to dishes such as soups, stews, curries and dal, but you can use it in any dish that calls for onion and garlic. It also makes a great leek substitute.
Here are a few ideas to try:
Use in sautéed vegetables or stir fry: Sprinkle a few pinches in oil before adding the vegetables. After sautéing for about 30 seconds, add the veggies and other spices. Try adding some to Homemade Cauliflower Rice.
Add a few pinches to spice blends or rubs that will be used for cooking. It tastes wonderful in my low-FODMAP barbeque seasoning and low-FODMAP taco seasoning.
When preparing the base of any soup, stew or casserole, add a few pinches for an extra savory flavor
Use it for paneer recipes without onion or garlic, such as paneer butter masala. Add a few pinches when sautéing other spices during the first stage of cooking and eliminate the garlic and onion.
For extra umami flavor in any dish, asafoetida's flavor pairs amazingly well with kala namak black salt (which is one of my favorite things, ever). You can read more about kala namak in my Ingredient Spotlights).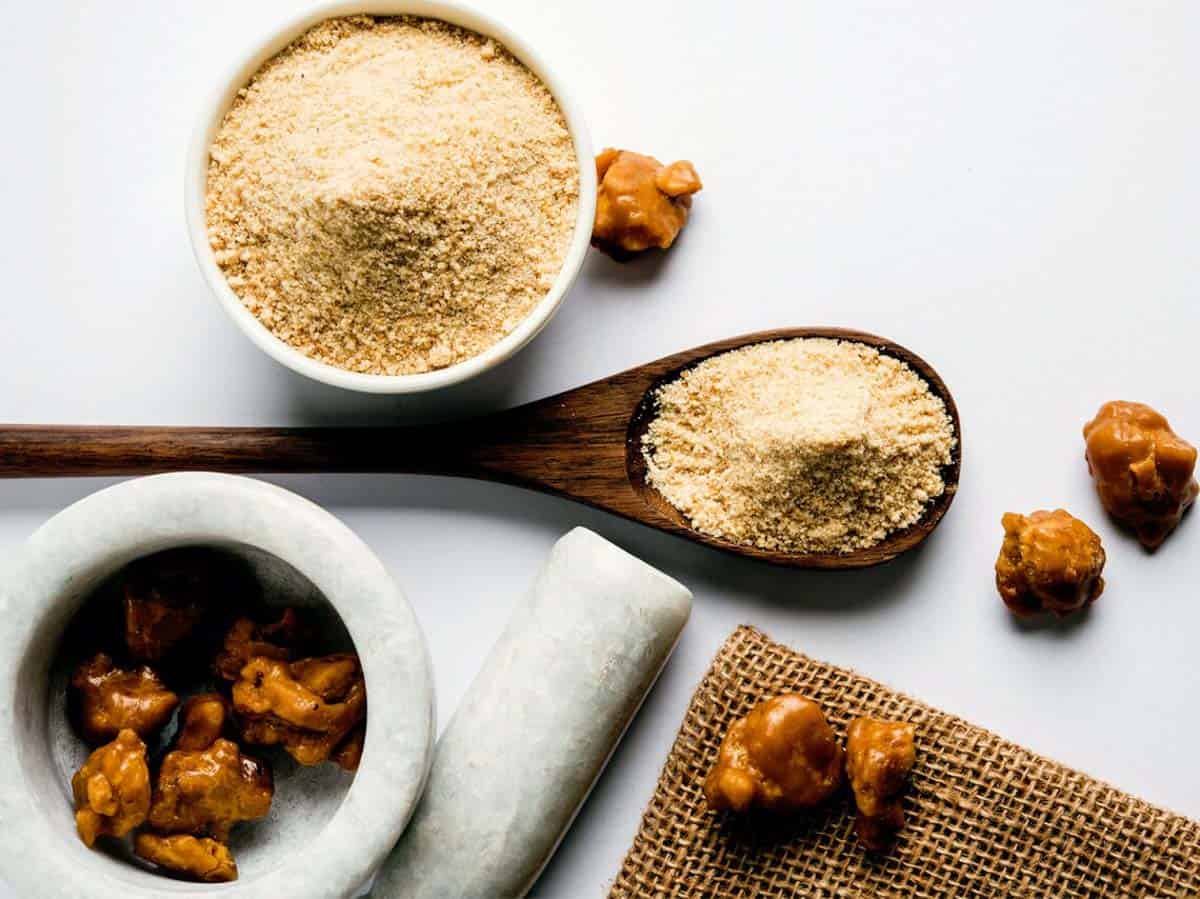 Where to buy
Asafoetida can be purchased in two forms: as the raw resin that comes in chunks, and ground into a fine powder.
You can find ground asafoetida powder at many grocery stores, international food markets and online. Often, you will find it labeled as 'hing'. You can also find whole asafoetida resin online.
How to store
Asafoetida should be stored in a tightly sealed, airtight container or spice jar to keep its volatile oils and essence from fading.
Asafoetida substitute
If you have don't have any on hand, and are looking for a substitute for asafoetida, here are a few options. You can find recipe measurements in the recipe card.
FAQ
Can asafoetida be a garlic salt substitute?
Yes! Because asafoetida imparts a garlic flavor to dishes, it can be used instead of garlic salt. However, you may need to add some additional salt to the recipe.
Is hing good for digestion?
Yes. Hing has been known to increase digestive enzyme activity, enhancing the digestion of food. It also may increase the release of bile from the gallbladder, aiding in the digestion of fats. Because it enhances digestion, it may also have a soothing action, reducing gas and improving IBS symptoms.
Is asafoetida anti-inflammatory?
Some research studies about the aniti-inflamatory properties of hing (PubMed6) indicate that it could be anti-inflammatory due to its antioxidant properties.
Is hing good for weight loss?
There is some controversy around drinking hing mixed in warm water for weight loss. There are claims that consuming hing water will increase metabolism and accelerate the fat burning process, but there is no research that supports these claims.
What foods and spices go well with asafoetida spice?
Asafoetida pairs well with any dish where onion or garlic could be used, such as meats, paneer, green leafy vegetables, summer squash and cauliflower. Spices such as curries, masalas, cardamom, cinnamon, cumin, chili and turmeric are great pairings. It also can be used for taco, barbeque, blackening or jerk seasonings.
---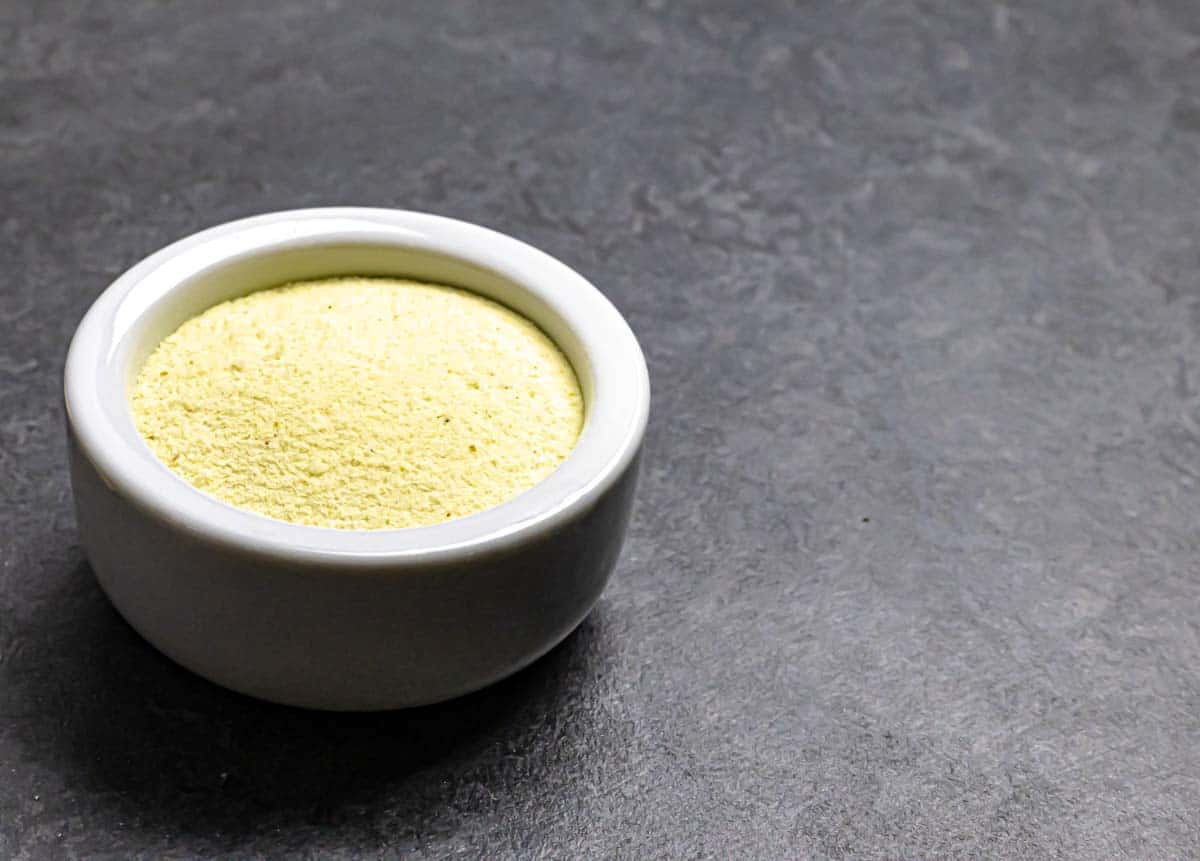 Use asafoetida in these favorite recipes
This post contains affiliate links. As an Instacart and Amazon Associate, I earn from qualifying purchases.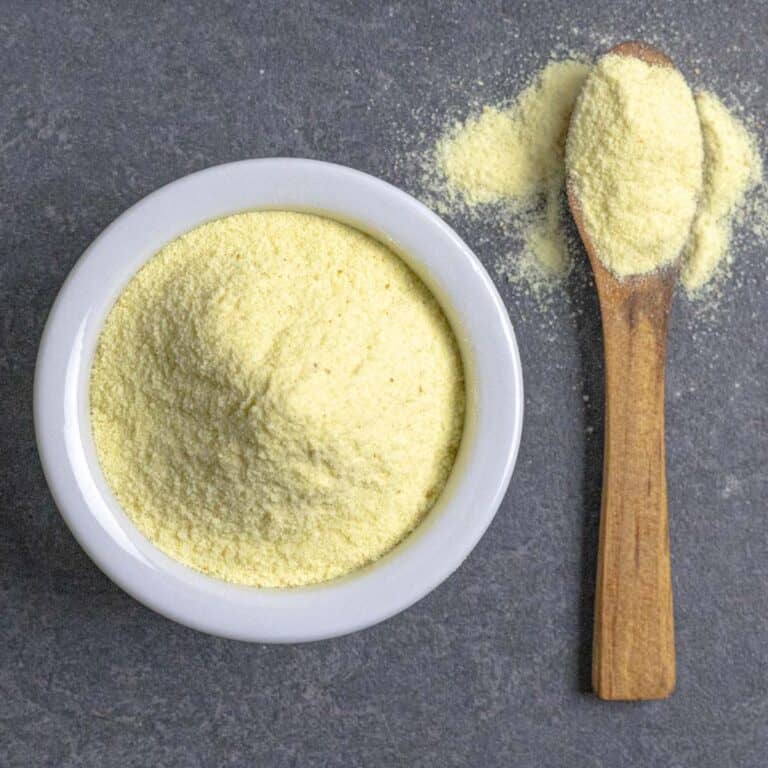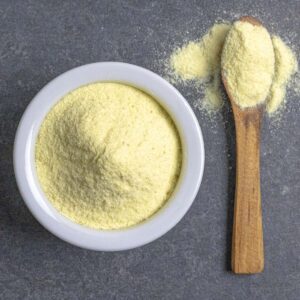 Asafoetida Substitute
An Eastern spice with a pungent smell and umami flavor. Here is a substitute if you don't happen to have any of this incredible spice on hand.
Ingredients
Asafoetida substitute (see notes for more ingredient suggestions)
Low-FODMAP Asafoetida substitute (see notes for more ingredient suggestions)
Instructions
Add all ground or powdered ingredients to a small bowl

Mix until thoroughly combined

Use ½ teaspoon in place of every ¼ teaspoon of Asafoetida (and adjust to taste)
Notes
Here are some additional options to use as an asafoetida spice substitute
Nutrition
Serving:
0.5
teaspoon
Calories:
0.01
kcal
Carbohydrates:
0
g
Protein:
0
g
Fat:
0
g
Fiber:
0
g
Sugar:
5
g
Net Carbs*:
0
g
*Net carbs = carbohydrates – fiber
Nutritional information is an estimate, calculated using online tools and does not include optional ingredients unless otherwise indicated.
Did you make this recipe?
Leave a review below, then snap a picture and tag @Rad_Foodie on Instagram so I can see it!