Fresh, blanched asparagus wrapped in prosciutto, and sautéed until crispy is one of my all-time favorite recipes. Serve this crisp, salty goodness as an appetizer, snack or a potluck side dish that is sure to impress!!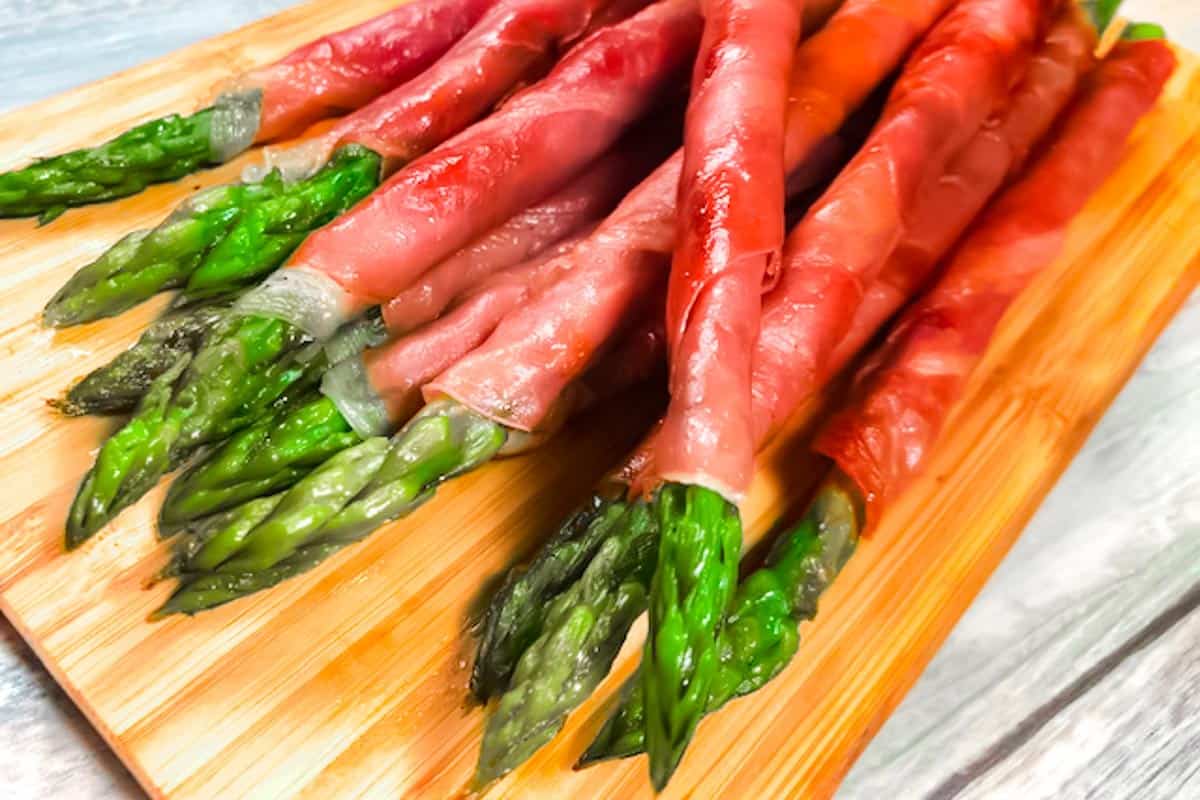 Stovetop asparagus with crispy prosciutto is a simple appetizer that pairs with any meal (think Easter dinner). Serve with Indian Spiced Salmon and Cheddar Drop Biscuits, or make it one of your prime rib side dishes. They're a perfect addition to antipasto platters or charcuterie boards, but I can't seem to leave them alone in my fridge and eat them as a decadent keto snack whenever I have leftovers.
Asparagus are so versatile and can be enjoyed in a number of ways, but there's something about their refreshing taste combined with savory, salty prosciutto ham that is just mouthwatering. And, you can have this recipe made in less than 30 minutes – how could you go wrong?
This recipe has just a few simple steps to make the perfect, elegant vegetable or holiday dinner side dish.  It's as easy as trimming and blanching asparagus, rolling them in high quality prosciutto and frying in a skillet on the stove until they're a crisp, pan fried asparagus side dish.  It all comes together in a snap!
Why you'll love this recipe
It's an easy, fun recipe that's loaded full of flavor
Asparagus are low in calories and high in nutrients such as vitamins A, C, K and folate, as well as antioxidants. They also have prebiotic properties.
This makes a great side dish, as well as a perfect appetizer to share
If you follow an AIP diet, asparagus are approved AIP vegetables. For an AIP friendly recipe, look for prosciutto that is made with just pork and salt. You can find more AIP friendly recipes here.
Is asparagus low-FODMAP?
Sigh... but, no. They contain both fructans and fructose. A FODMAP-friendly serving is about ⅔ of a spear. However, if you're in phase 3 of the low-FODMAP diet and find you can tolerate fructose and fructans, then they should be just fine.
Is asparagus keto friendly?
When considering keto vegetables, they are very low in carbs and are a perfect, healthy addition to a ketogenic lifestyle, with 4 spears containing less than 2 grams net carbs.
Ingredients
This recipe takes only 3 ingredients:
Asparagus spears
Proscuitto
Olive oil, for the pan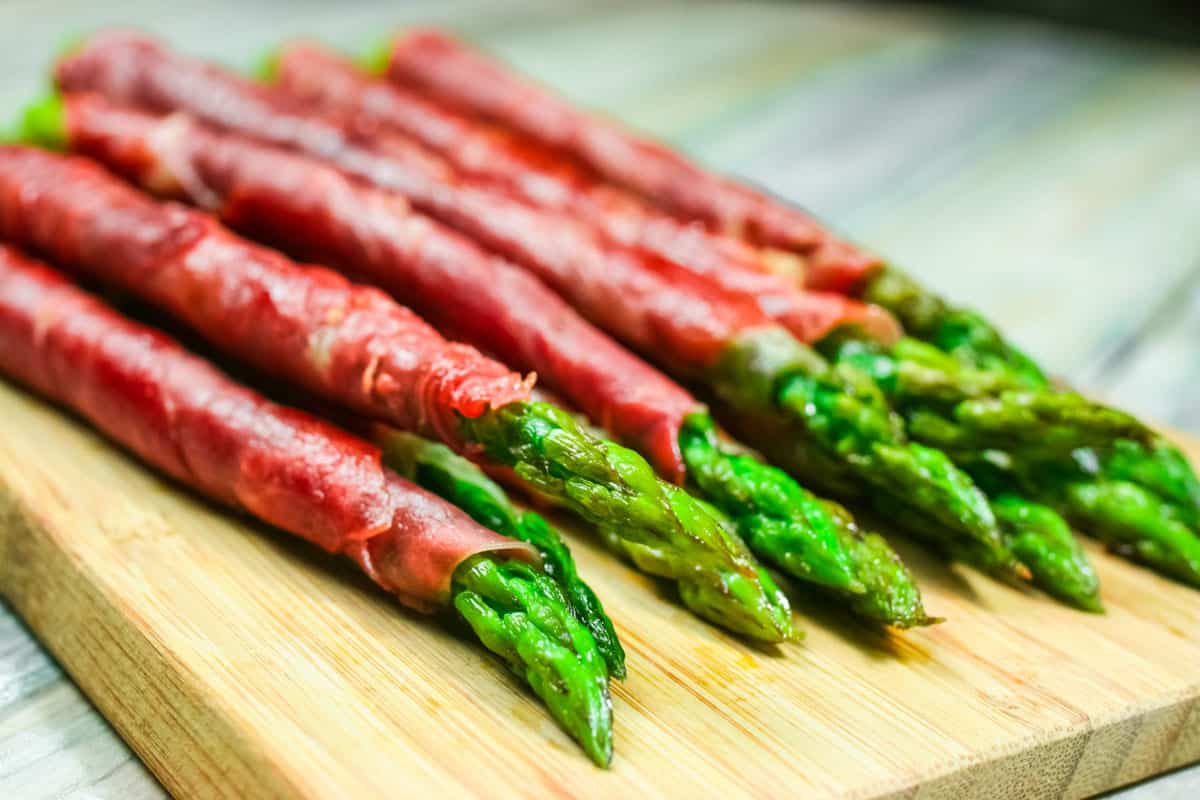 What is prosciutto?
Prosciutto is a fragrantly flavored, slightly sweet, salty aged, Italian ham. It is typically sliced very thin to reveal its creamy texture and complexity.
The Italian word prosciutto translates to "ham", in English. However, it's remarkably different from the deli meat style 'deli' ham that we're used to seeing in the cold cuts section of the grocery store.
Prosciutto dates back to pre-Roman times in Italy, where pork legs were dry-cured to provide meat over the cold winter months. In this modern age, the process has been refined to produce one of the most savory, decadent Italian specialty 'salumi' (cured meat product).
Pork legs are cured in salt, which draws out moisture and prevents bacterial growth. This curing method also concentrates the flavors of the pork. After the salting process, the pork legs are washed and seasoned and then cured for up to 36 months.
There are two types of prosciutto: 'crudo' (raw cured ham) and 'cotto' (cooked ham).
'Crudo' is seasoned, dry aged raw ham and is the most common variety found in stores. It is a deep red color, marbled with fat.
'Cotto' is cooked ham and has a lighter flavor than the 'crudo'. It is slow cooked and served in thin, tender slices.
For this asparagus and prosciutto recipe, we'll use the 'crudo' prosciutto, with my particularly favorite variety, Prosciutto di Parma. Prosciutto di Parma is prosciutto that is prepared in the time honored tradition, using only pork, salt and time.
Prosciutto vs pancetta
What is pancetta?
Pancetta is a seasoned, salted and cured Italian meat that is made from pork belly. It has a bold flavor and silky, smooth texture. Pancetta is sold either thinly sliced or in small cubes. Both preparations are intended to be cooked before eating.
Pancetta is much like bacon and can often be used interchangeably with bacon in dishes. Pancetta is cured and unsmoked pork belly, while bacon is cured and often smoked pork belly.
What is the difference between prosciutto and pancetta?
Prosciutto and pancetta are often confused with each other, but they have very different flavor profiles. But both are very flavorful, complex, salty meats.
Prosciutto is made from pork leg and is dryer with a more concentrated flavor. Pork leg is salt cured and air-dried over many months and when sold, is often referred to as 'pre-cooked'. The dry-cure in prosciutto prevents bacterial growth, which makes it safe to eat without cooking.
I think of prosciutto as a thinly sliced, elevated version of sandwich ham. It's perfect on its own or added to pizzas, eggs, wrapped around fresh fruit and even in salads.
Pancetta is made from pork belly and is more like a delicate, cured, thinly sliced bacon. It typically is not as 'dry' as prosciutto. Pancetta is also cured for a certain length of time, but often not as long as prosciutto. Some consider it to be raw and should be cooked before eating.
I like to think of pancetta as a decadent version of bacon. It can be used in place of American bacon in many dishes.
Can I use pancetta instead of prosciutto?
For this recipe, you certainly can! It will create a slightly different flavor, but will still be delicious.
The preparation is still basically the same and the pancetta will cook to crisp perfection. Since pancetta is a raw, cured meat, unlike prosciutto, the cooking might take a little bit longer.
Where to buy
Most grocery stores carry prosciutto and pancetta in their deli departments. Often they can be sliced to order or can found in pre-sliced refrigerated packages.
If the pre-sliced packages aren't found with other packaged deli meats, they can often be found where specialty cheeses are sold.
Capicola vs prosciutto
While both of these italian meats are often served on charcoutery boards, there are some differences. Capicola is an Italian cured meat made from pork shoulder which makes it generally more tender, while prosciutto comes from the hind leg of the pig and has a higher fat content. Capicola is usually seasoned with garlic, herbs and spices, and is dry-cured for up to six months, while prosciutto is salted only, and dried for up to thirty-six months.
Selecting asparagus
When selecting, medium or thick sized stalks are best. Thin stalks may wilt or overcook, so I recommend bundling them together 3-4 at a time if they are thin.
There are many varieties to choose from. Most people are familiar with the green variety, which is most common, but there are many types that come in various colors. White and purple asparagus are delicious, with slightly different flavors. Have fun and mix up the colors!
You can try this recipe with other fresh vegetables, as well. Try it with green beans or even broccolini!
Choosing the freshest asparagus is easy, but there are a few things to look for:
Texture: To choose the best stalks, they should be firm and plump and the tips should be tightly closed and compact. They should have a smooth texture and should not be wilted or limp.
Color: The color should be vibrant and not faded. Dull colors indicate they are past their prime.
Size: Stalks come in many sizes and thicknesses. Try to purchase bundles of stalks that are the same size.
Storage: Look for bundles that are chilled or standing upright in cold water.
Storing
Keeping asparagus fresh can be a bit of a challenge, but they can be kept in the refrigerator for days with a few simple steps:
Only wash them just before preparation. The stems should be kept as dry as possible.
Trim the bottoms of the stalks and wrap the cut ends in a wet paper towel. Store in a plastic bag in the crisper for 3-4 days.
After trimming the bottoms of the stalks, place the trimmed stalks in water and store standing up, with the tips covered in plastic wrap. Your stalks should stay fresh for 3-4 days.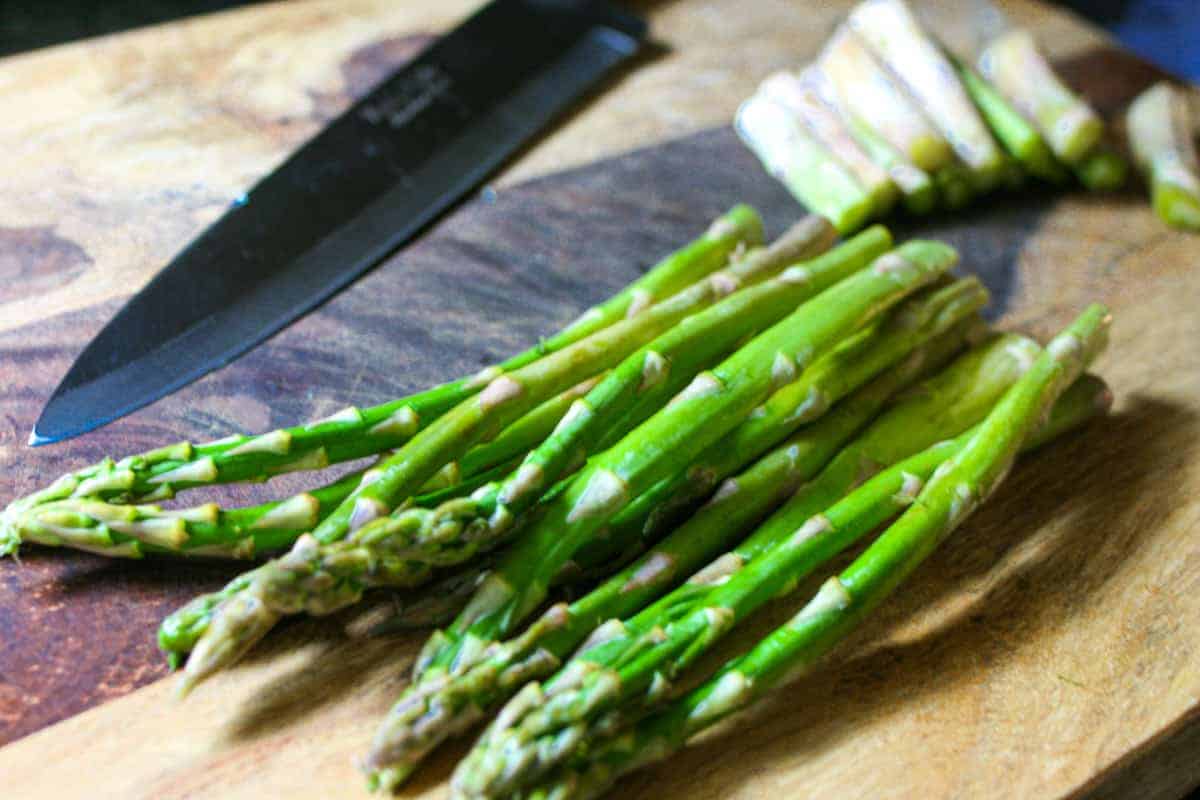 Trimming
The bottom of the stalks tend to be thick, tough and woody and are not pleasant to eat. Sometimes you can see where the tough part ends, but not always. They best way to know where to trim them is to bend a stalk toward the lower third of the stem until it snaps. Where it breaks is where the tender part starts and tough part ends. Then, you can line up the rest of your stalks and trim the bottoms off where the original snapped or simply break each stalk individually (which is the method I use most).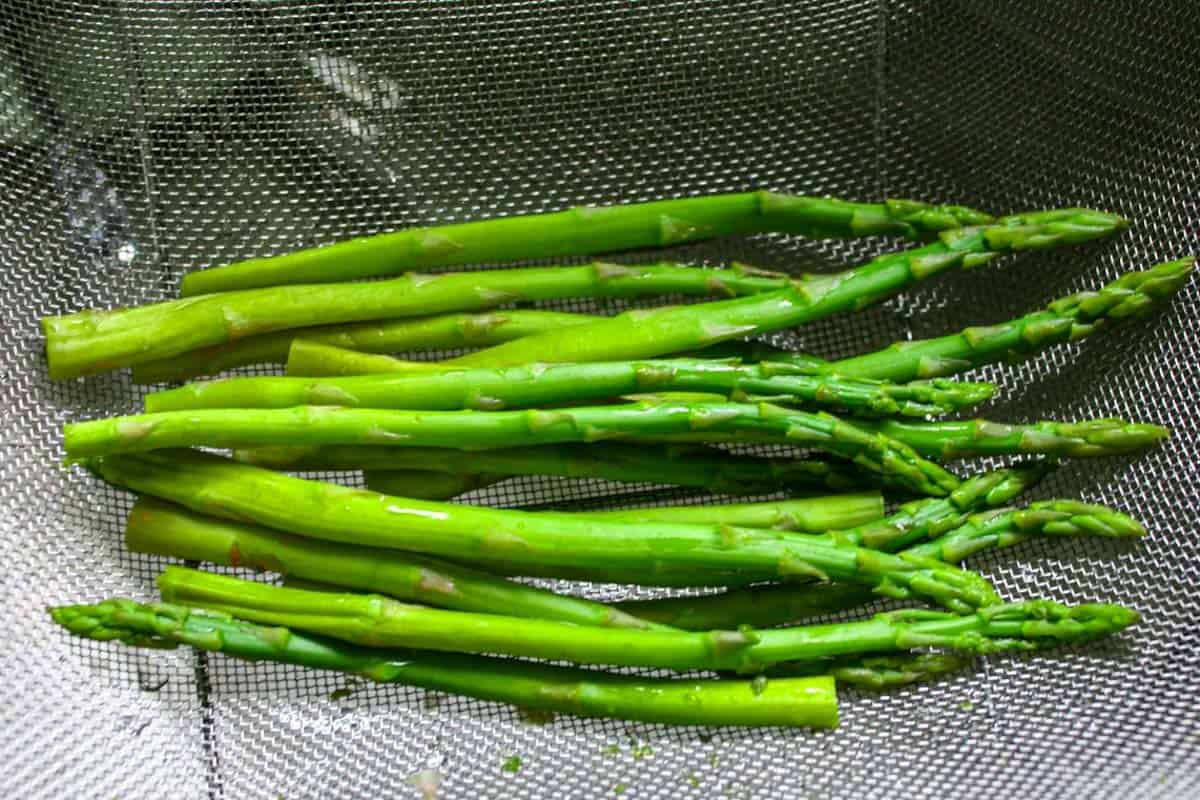 Blanching
Why do I like blanching my asparagus? I've found that it makes them more tender and crisp and they don't dry out like in some recipes that skip the blanching step and just bake them in the oven or sauté them raw.
I've tried this recipe with steamed asparagus, but they tend to get overcooked. Blanching is definitely the way to go.
Blanching instructions
Fill a large bowl with water and ice and set aside
Bring a pot of water to a boil and add the trimmed asparagus
Boil until crisp-tender about 2 minutes
Strain and place them into the ice bath for another 2 minutes to stop the cooking process. If you skip this ice bath step (also called 'shocking'), they continue cooking and could get too soft or mushy
Strain again and dry with a towel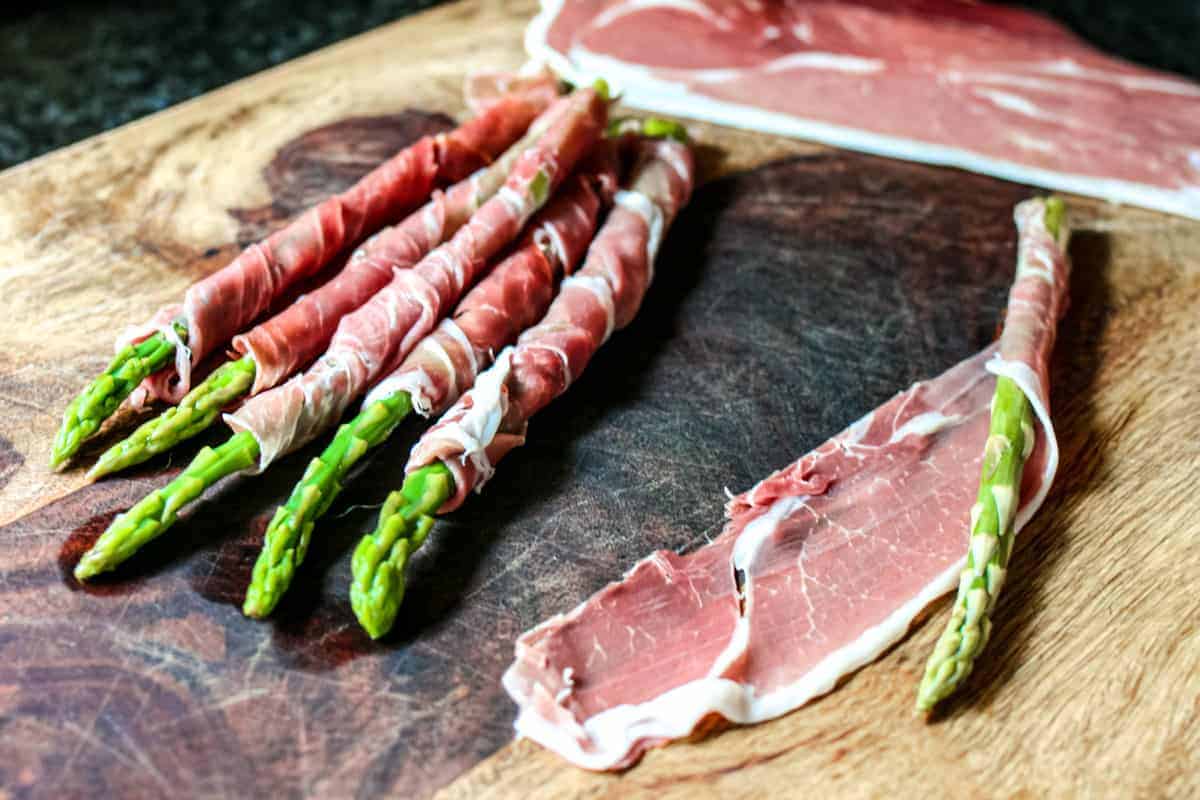 Wrapping the asparagus
I absolutely love prosciutto and enjoy my asparagus wrapped along the entire stalk. How much of the stalk you prefer to have wrapped is completely up to you. I tend to keep my slices nice and long so they will wrap the entire length of the stalk. Some folks prefer to just wrap the center of the stalk, which is still gorgeous and perfectly delicious. Just trim the piece of prosciutto to make it as short as you want. If you do that, then you can either modify the amount you use in the recipe (instead of six slices, you may only need three) or keep the leftovers in the fridge to have with eggs, serve crisp on top of veggies, etc. It also freezes well.
Start wrapping the stalk from the bottom, on the diagonal. Roll until it's wrapped to your liking!
Stovetop method
Making this recipe on the stove is so fast and simple.
First, heat the olive oil in a skillet. Then, when hot, add the prosciutto wrapped asparagus (they should sizzle when they hit the pan) and sauté for about 30 seconds on each side, or until crisp.
Transfer to a plate to cool and try not to eat too many 'quality control' samples!
Oven method
If you prefer to make oven roasted asparagus with prosciutto, it's a super easy process.
Simply skip the blanching step, brush the wrapped stalks with olive oil and broil for about 8 minutes, flipping them half way through.
Storing leftovers
While asparagus are best served fresh from the skillet or oven, they also make terrific leftovers.
They will keep in the fridge for 3-4 days in an airtight container. I love making a big batch to have some around to munch on as a savory keto snack.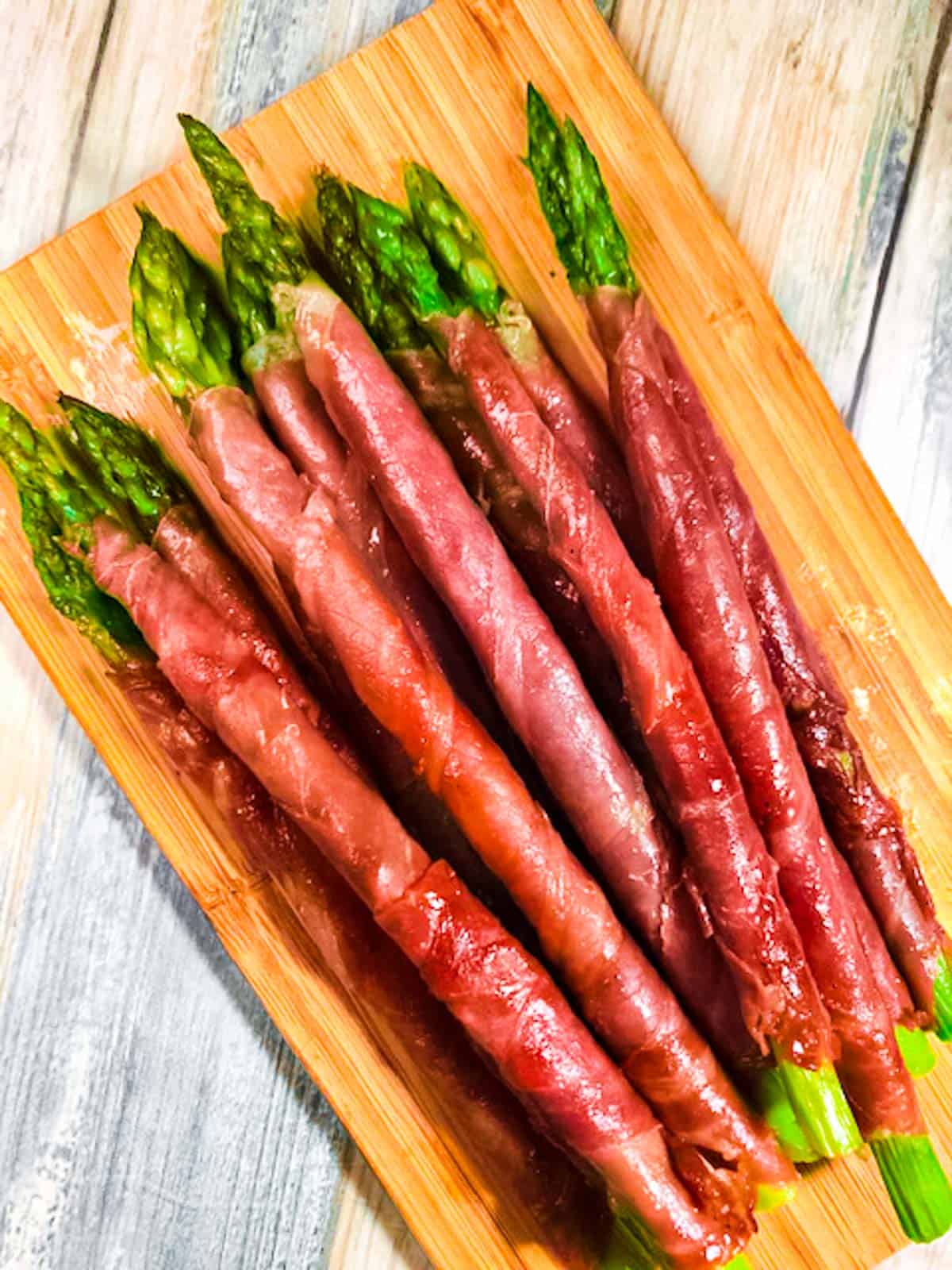 Serving suggestions
Prosciutto asparagus is often associated with holiday dinners (Christmas or Thanksgiving dinner) but they're perfect to serve year round, with any meal - even breakfast!
The beauty of asparagus wrapped in this savory Italian ham is that they pair well with just about anything - or on their own as an easy hot or cold asparagus appetizer.
Try serving them alongside roast meats, Indian Spiced Salmon, or even with quiche or a breakfast omelet.
Asparagus are excellent served with cheeses, other cured meats and olives as part of a charcuterie board or antipasto platter.
Recipe variations
Finish with herbs or cheese: Feel free to top with some fresh herbs, grated parmesan, crumbled feta or freshly cracked pepper after they're sautéed.
Bundles: Try wrapping 3-4 spears together to make prosciutto wrapped asparagus bundles, then sauté as directed. This makes a perfect individual side dish for guests.
If you want to prepare the asparagus ahead of time, you can roll them a day in advance and cook them when ready to serve.
FAQ
Can you freeze asparagus?
Yes! They can be frozen with some simple prep. Blanch for 2-3 minutes, then shock in ice water. Dry the stalks and then freeze in a single layer so they freeze quickly. They will lose some of their crispness in the freezer and will have a more tender texture. Asparagus can be cooked from frozen, without being thawed first.
When is asparagus season?
The best, fresh asparagus are found during spring, mostly from February until June. Peak production in the U.S. is typically between April and May. But, luckily, they can usually be found year-round in grocery stores, as the largest portion of asparagus is grown in Mexico.
Can you eat prosciutto raw?
Yes. It is actually cured for months with salt, which draws out moisture, blood and prevents bacteria.
How long does prosciutto last?
Since it is sliced very thinly, bacteria can colonize quickly in the refrigerator. It will usually stay good between 5-7 days before spoilage starts to occur.
Can you freeze prosciutto?
Technically yes, but because it is so thinly sliced with lots of exposed surface area, it will tend to suffer from freezer burn quickly. One option may be to use a vacuum sealer to extend the time it can be frozen without damage.
---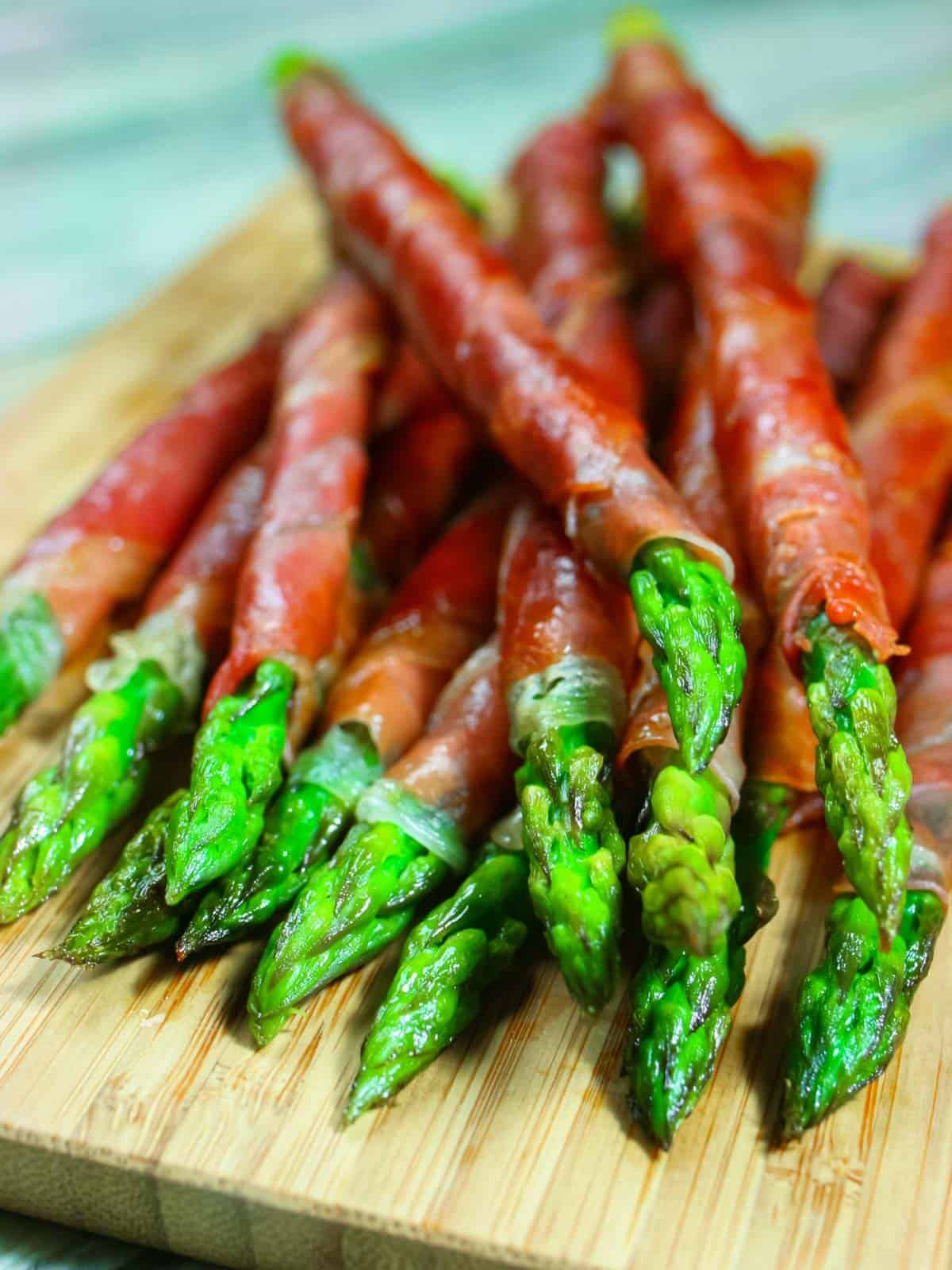 Other side dish recipes you might like
This post contains affiliate links. As an Instacart and Amazon Associate, I earn from qualifying purchases.
📖 Recipe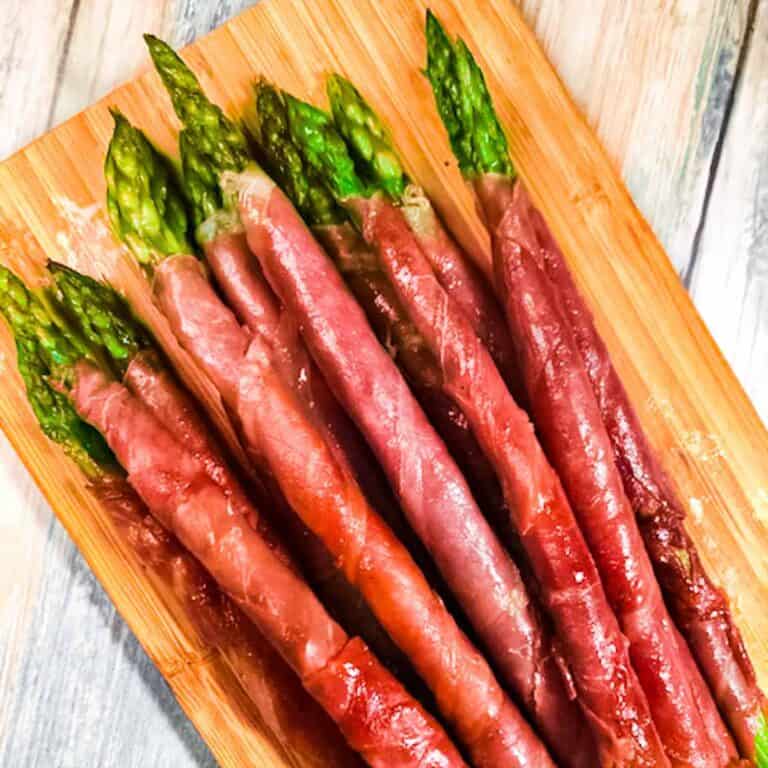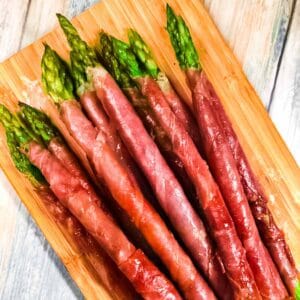 Stovetop Asparagus with Crispy Prosciutto
Asparagus wrapped in thinly sliced prosciutto, then cooked in a skillet until crispy is one of my all-time favorite recipes.  Serve these as an appetizer, a snack or a decadent side dish that is sure to impress!
Ingredients
12

asparagus spears

6

slices

prosciutto

2

tablespoons

olive oil
Instructions
Remove the tough, woody ends of the asparagus by bending the asparagus near the lower third of the stalk.  The stalks will break at the spot they start to toughen.

Fill a medium sized saucepan with enough water to cover the asparagus and bring to a boil.  Place the asparagus stems in the boiling water for two minutes. 

While the asparagus are boiling, fill a large bowl with ice water.

After two minutes, strain the asparagus and place into the bowl of ice water for two minutes.  Strain again and dry with a towel.

Cut each slice of prosciutto in half (you should have 12 slices).  Working from one end of the stalk, wrap each piece of asparagus with the prosciutto.

Heat the olive oil in a skillet.  When hot, add the prosciutto wrapped asparagus (they should sizzle when they hit the pan) and sauté for about 30 seconds on each side, or until crisp.
Notes
Variations
When finished, sprinkle the top with fresh herbs, grated parmesan, crumbled feta or freshly cracked pepper.
Try wrapping 3-4 spears together to make prosciutto wrapped asparagus bundles.  Sauteed this way, it makes a perfect individual side dish for guests.
Nutrition
Serving:
3
spears
Calories:
34
kcal
Carbohydrates:
2
g
Protein:
4
g
Fat:
2
g
Cholesterol:
8
mg
Sodium:
208
mg
Fiber:
1
g
Net Carbs*:
1
g
*Net carbs = carbohydrates - fiber
Nutritional information is an estimate, calculated using online tools and does not include optional ingredients unless otherwise indicated.
Did you make this recipe?
Leave a review below, then snap a picture and tag @Rad_Foodie on Instagram so I can see it!