I don't know exactly when the need to be outdoors actually hit me. I was exposed to nature when I was a little kid – short little hikes around the apartment complex with my mom and my toy microscope so I could get up close and personal with flowers and other things that would crawl, sting or squirm. Being a Girl Scout for a few years I'm sure was an influence. Nothing like hiking around Alligator Lake with your troop praying you don't become lunch. Seriously, though, there's always been a draw to the outdoors and to have a camera in my hands while doing it. It's kind of a compulsion.
I've spent several years of my life where I was lucky if I could walk to the store. Either from being too busy, stressed or too sick. I've dealt with several years where life literally punched me in the gut. Finally, in my 40s, when I underwent a huge, unimagineable life change, the first few things I did was stop that 'social' cigarette smoking, put the hard alcohol downstairs where it could collect dust, start a low-carb diet and made a b-line to start hugging some trees. Somehow, intuitively I knew that dirt worshipping was going to help me turn my life around. I mean, I live in Portland! We have infinite outdoor and hiking opportunities here – as easy or as challenging as you want your adventures to be, you can find plenty of options either in the city or within an hour's drive.
Why do I hike – really?
Beyond the physical benefits of hiking, just being in nature somehow renews my perspective. I get to set myself apart from the world dominated by humans and concrete and intentionally immerse myself in the soothing voice and quiet comfort of the forest. Feeling the ground beneath my feet and breathing the fresh, (mostly) clean air, along with that earthy/woodsy aroma really pulls me back to my roots. I have no choice but to be present – in this very body, this very place. In a way, hiking is it's its own meditation. And nature just smells good. I'm kind of a sucker for that, too. I like nice pretty, smelly stuff.
What are the benefits of hiking?
Hiking is a problem solving catalyst
When I'm on the trail, I think differently about things, which is remarkably helpful. I can't tell you how many times my perspective has changed about life's challenges. And how many problems I've found solutions to while tripping over some tree roots or slogging through some squishy boot-sucking terrain. I think stepping away the doldrums of daily life and getting your brain and body fully oxygenated can work wonders for how we view whatever is currently weighing on our mind. Oxygen, endorphins and negative ions are like a tune-up for the whole system.
Finding connection
There are many facets to 'finding connection' with regards to hiking. I specifically think of connection with myself, the earth, the ecosystem and my fellow hikers. And connection with that sense of intrigue that keeps me wanting more.
Connecting with nature is falling into alignment with this macrocosm of living beings we become part of on the trail. Being enveloped by the forested expanse can feel a little intimidating, but honestly it's safer (not to mention more serene) than driving down the freeway to your favorite coffee shop. And definitely prettier. It's a good vibe and it takes no effort at all to feel it. Just go for a walk on the dirt, listen to the birds and things that rustle in the bushes around you and let yourself get all blissed out. It just happens all on its own. And if you missed that walk to the coffee shop, just bring along a thermos. Mochas travel pretty well.
I really enjoy meeting other people on the trails. I've played 'tour guide' on more than one occasion for tourists that were unfamiliar with whatever trail I was on. It felt good to tell them highlights to look out for, turns NOT to take and to definitely take the spur trail for some super cool views. It's fun to consult with folks from back east or temporary Portlanders that are looking for some more good hikes to do while they're here. I think I need a website for them to visit… hmmm… :). Anyway, I've found the hiking community to be incredibly supportive and all inclusive. I've never seen any body shaming or negativity from other outdoors enthusiasts (which is a little different than the cranky folks that you see on the trail in their flip flops with no water or toilet paper and just want to be back in their car with the a/c. I suppose if I was sorely unprepared for a hike, I'd be testy…). My point is, is that it's hard to not be happy tromping around. Happiness is infectious.
Mental Health advantages of hiking
Okay, so this can be a big subject, but I'll try to sum it up here. Getting out on a trail helps to break us away from our electronics addictions and all of this 'man-made' stuff that we are surrounded by 24/7. To be a bit 'woo-woo' here, it energetically messes with our minds, nervous systems and hormones. Nature is like a 're-set' button. Any exercise will make us feel better, in general, but being outdoors getting exercise is even better.
Endorphins from hiking
Then there's endorphins – those wonderful 'happy chemicals' our body produces when we exercise. Being out walking around in peace and serenity pumps those little dudes up and lifts our mood. That's why exercise is often 'prescribed' for depression and anxiety. And when you have your blood flowing, muscles all warmed up and your body feeling all in-sync with itself, it just feels good. Maybe that's why the experts all say that walking is the best exercise.
Sense of accomplishment
Who doesn't like feeling accomplished, raise their hand! No hands? Right. When you mosey out for some time inhaling some fresh air, you can feel pretty darn good about yourself for burning some calories, having some 'me' time, oxygenating your blood and gaining some muscle tone. It's healthy and it just feels good. Be proud of yourself for your effort. And how good does it feel to finish hikes you can now cross off that mile-long bucket list? Not to mention, you'll have some really cool pics to share on your social media…
Ever heard of negative ions? I could write a whole post on these, but the science supports how beneficial these molecules are to our mental health. I'm not talking about going out and buying a negative ion lamp here – I'm talking about how nature is LOADED with them. So essentially negative ions = positive vibes. Negative ions are small molecules we inhale in abundance under certain environmental conditions: waterfalls, the ocean, forests, etc. Anywhere where water molecules are colliding together or where there's concentrated vegetation. These ions increase our serotonin levels which helps to alleviate depression, anxiety and stress and boosts our mood and energy. Seriously, this is one of the main reasons I love bathing in nature, aka forest bathing. Keeping depression in check is a positive influence on every aspect of my life.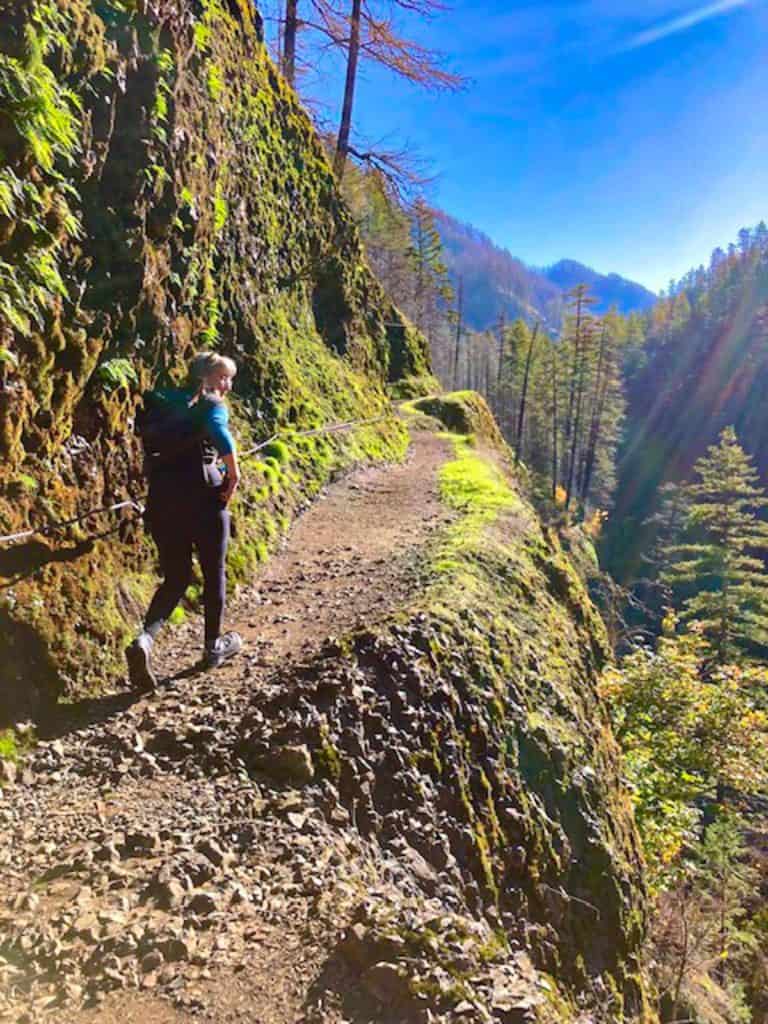 The physicality
I kind of like physical challenges – the easy and fun ones as well as the soul crushing workouts. Balance is good and it keeps me in shape. When I started out, I thought my legs were going to pay the price more than anything – nope. Wrong. While my thighs and calves did feel like they were on fire at time, it was my lungs and upper body/chest muscles. Pumping air is hard work for out of shape lungs and those primary and secondary muscles of respiration that get a work out. These muscles need just as much conditioning as hiking legs. It makes sense, but not entirely what I expected. So I hill train and suck a lot of air to be able to slay those harder hikes.
When I started I was in terrible shape. If there was a such thing as being in negative shape, that was me. And, to compound all of it, I have a couple of painful autoimmune diseases that like to try to set me back on a regular basis. So I started slow and easy. I would walk 1-2 miles a few times a week in my neighborhood, then go to the woods somewhere and do a short hike as often as possible. I added hills and staircases to my workout regimen. It took me months of dedicated work to hit my goal of a 7+ mile hike to Ramona Falls. 10 months, to be exact.
Remember, start where you are. Take it slow if you have to. Fitness isn't a race. You can always accomplish more when you don't hurt yourself or set yourself back by overdoing. The trails will always be there and you'll be surprised how your body will rejoice in the simple movement involved with hiking. It's different than walking on pavement, where each step is pretty predictable. Walking on a trail, regardless of how flat, engages all of your senses and causes your core muscles to engage when you maneuver uneven terrain. It's a whole-body experience and is pretty meditative in its own way.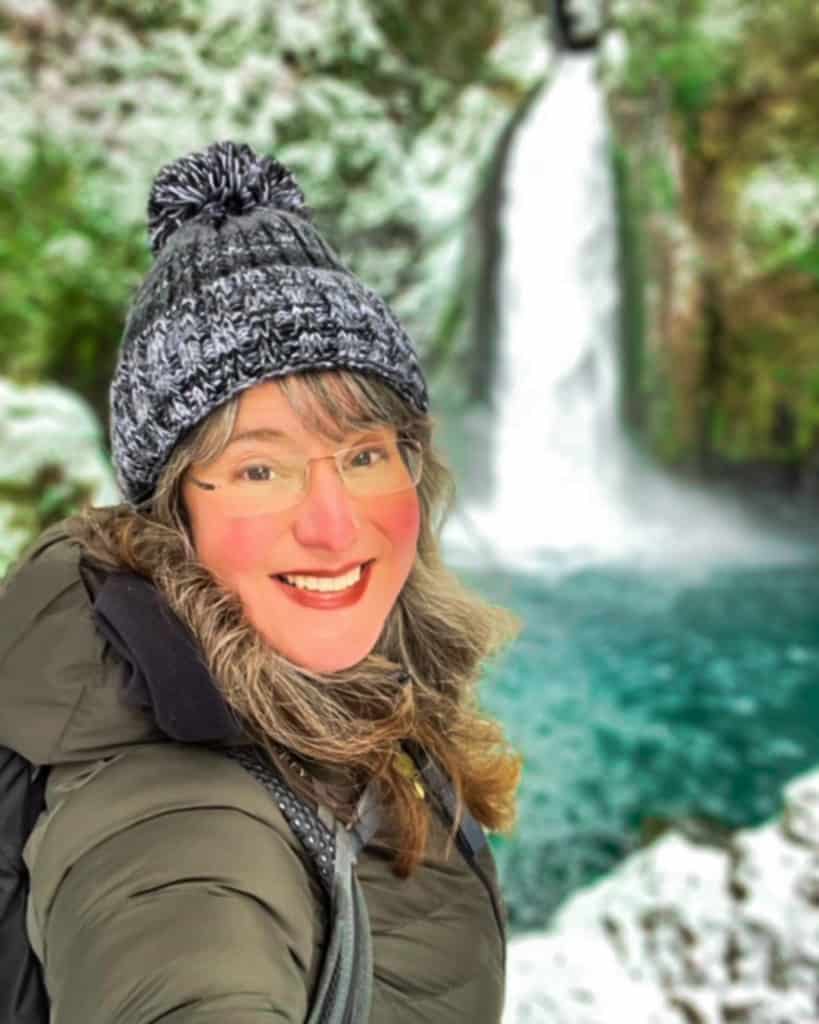 My hiking life
In many ways, hiking saved me. In recovering from traumas large and small, the outdoors is my sanctuary, along with my kitchen. Making delicious food and hitting a trail feeds my body, mind and soul. I don't know how I knew that climbing up mountains and hills would be my therapy – I just did.
I'm a searcher – for myself, for serenity, adventure, freedom, simplicity, beauty, magic, awe. I'm always on the lookout for a new adventure, destination, photo opportunity or experience. I'm kind of a beauty hound. I find beauty in nature, period. I don't always need lakes, waterfalls or epic views (even though I do seek those out, for sure). I'm in love with everything about the forest and am mesmerized simply being surrounded by trees and everything that flourishes in Mother Nature's garden. There's always so much to see. From short, easy strolls to epic peaks, I look forward to creating lasting memories, taking amazing photos, packing delicious food in my pack and eating it and sharing my accomplishments. Oh, and inspiring other humans to get out and play.
Hiking is rad. Be rad. Hike happy.
Read about rad fun doing the 52 Hike Challenge!
Rad hiking resources: