Skordalia is a beautiful, savory flavorful Greek dish that is typically made from potatoes or day-old bread, lots of garlic, almonds and lemon juice. I use rutabaga in place of potatoes to whip up this smooth, super easy and totally divine Keto Skordalia!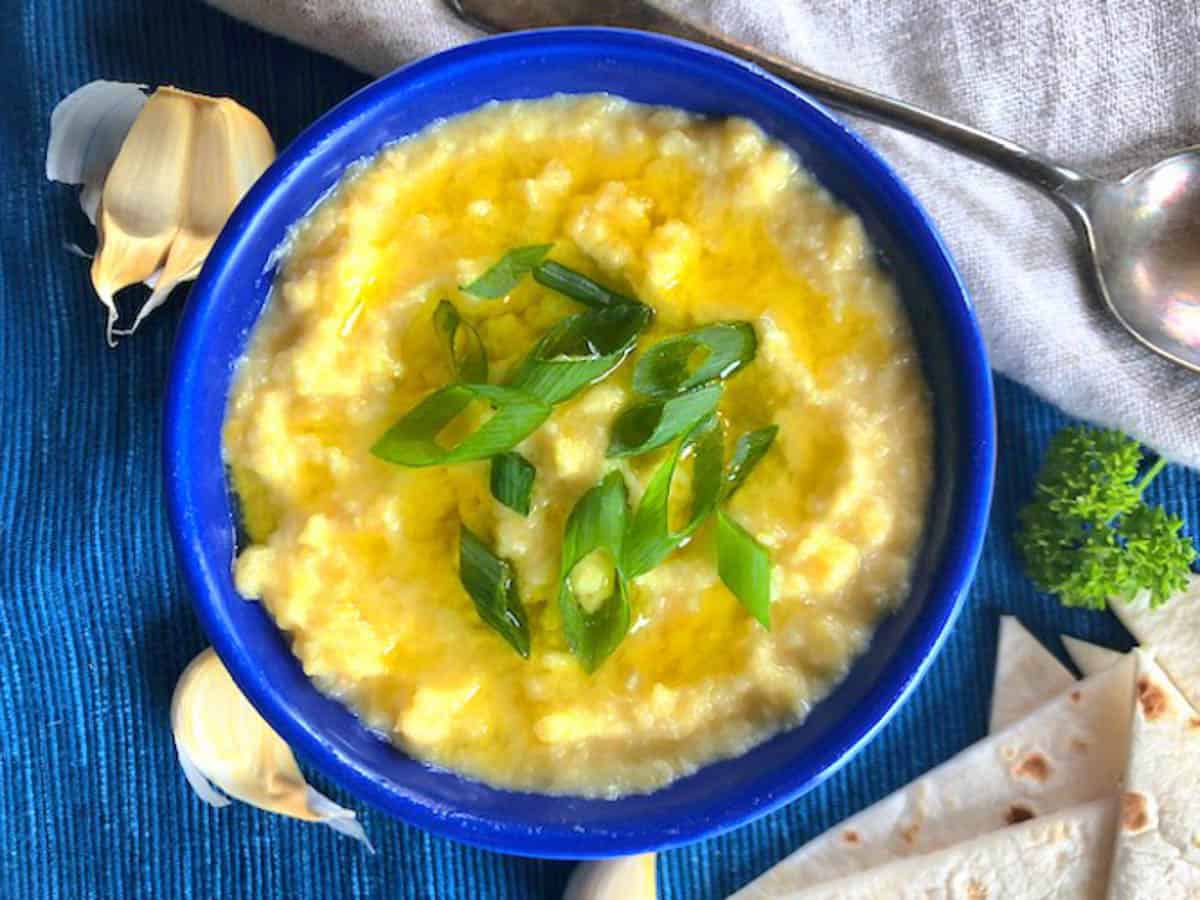 Skordalia is commonly used as a dip or spread, but can also be used as a side dish or even as a replacement for rice. I like to top it with thick stew, stir frys or even shrimp and sausage. It can be served hot or cold, depending on what you're serving it with. This recipe makes a totally low-carb skordalia that you will fall in love with, with only 5g net carbs per serving.
I first learned about skordalia at one of my favorite restaurants, the Mediterranean Exploration Company, here in Portland. They served this phenomenal salad of beets with orange blossom on top of a lovely base of skordalia. I was in love! After that, I HAD to try to replicate the dish – only keto style.
While my version of that dish will be in another recipe, I had to start off with the skordalia part.
What is Skordalia?
The name itself, in Greek, is a reference to garlic. So it would be difficult to have a skordalia recipe without garlic as a star ingredient. But, if you're following a low-FODMAP diet, you can totally leave it out and it will still be amazing.
Skordalia is basically a Greek-style thick dip or spread that combines potatoes or bread with garlic, olive oil, almonds and a bit of citrus. In place of citrus, some folks like to use vinegar, but I think the addition of preserved lemon paste adds a depth that you just can't get from vinegar or lemon or juice. Of course, if you don't have preserved lemon, lemon juice works great. It gives the dish a little bit of a punch that will bring a smile to your face.
The traditional recipes call for the dip to be super smooth, so you can use a food processor or potato masher. I'm a bit of a rebel, so I like to actually use a pastry cutter to mash the rutabaga. As rutabagas aren't very starchy and have a decent amount of fiber, you may find that your skordalia isn't completely smooth, but that's fine. It will still taste phenomenal.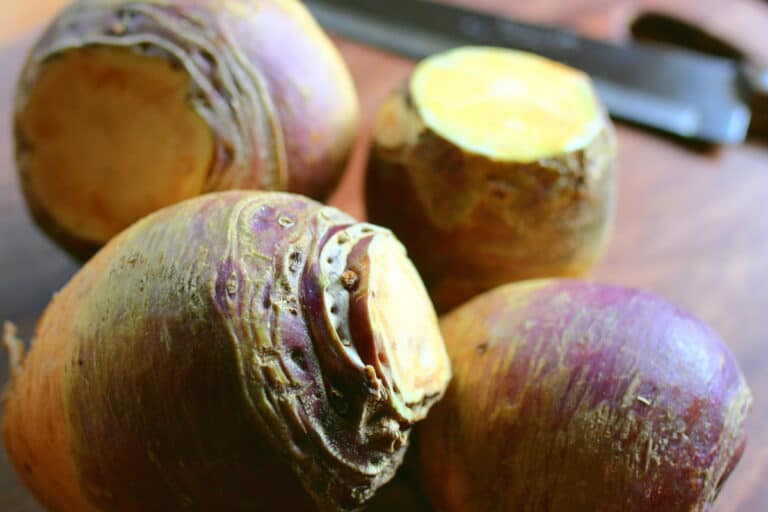 What exactly is a rutabaga?
The rutabaga is a little homely, but don't let that be a deterrent. They are full of flavor, are slightly peppery and don't have that smidge of bitterness that you get from turnips (in fact, they're actually sweeter and are very low in carbs, similar to turnips). They are commonly confused with their turnip cousins because they look quite similar. Turnips are white and purple and rutabagas are mostly yellowish and purple-brownish and are generally a bit bigger… Some rutabagas can be upwards of 3 pounds! The big ones make excellent fries… What I recently learned, is that both turnips and rutabagas are both members of the cabbage family. Who knew?
Rutabagas are incredibly savory with an earthy undertone. And if you happen to be missing the creamy-butteriness of hummus (which I do from time to time), this is the perfect dish to satisfy that craving with a fraction of the carbs.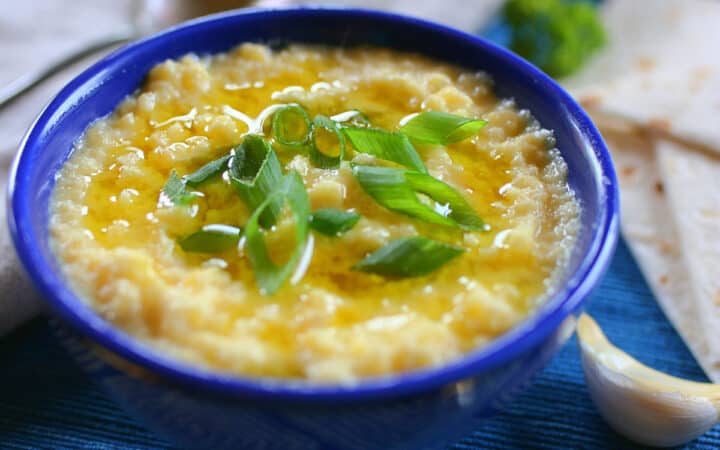 What do I serve Skordalia with?
The honest answer is: anything you want!
I've toasted low carb flat bread and eaten it as a dip, topped with olive oil and scallion, served it alongside fish, but my favorite is using it in place of rice and topping it with something delicious. I've topped it with a Greek-inspired stir fry in my Mediterranean Stir Fry with Skordalia, shrimp and sausage, white fish with a lemon sauce, and even chicken tikka.
You can use it as a condiment on a sandwich, chaffle or a burger (yes- a burger! It was sooo good).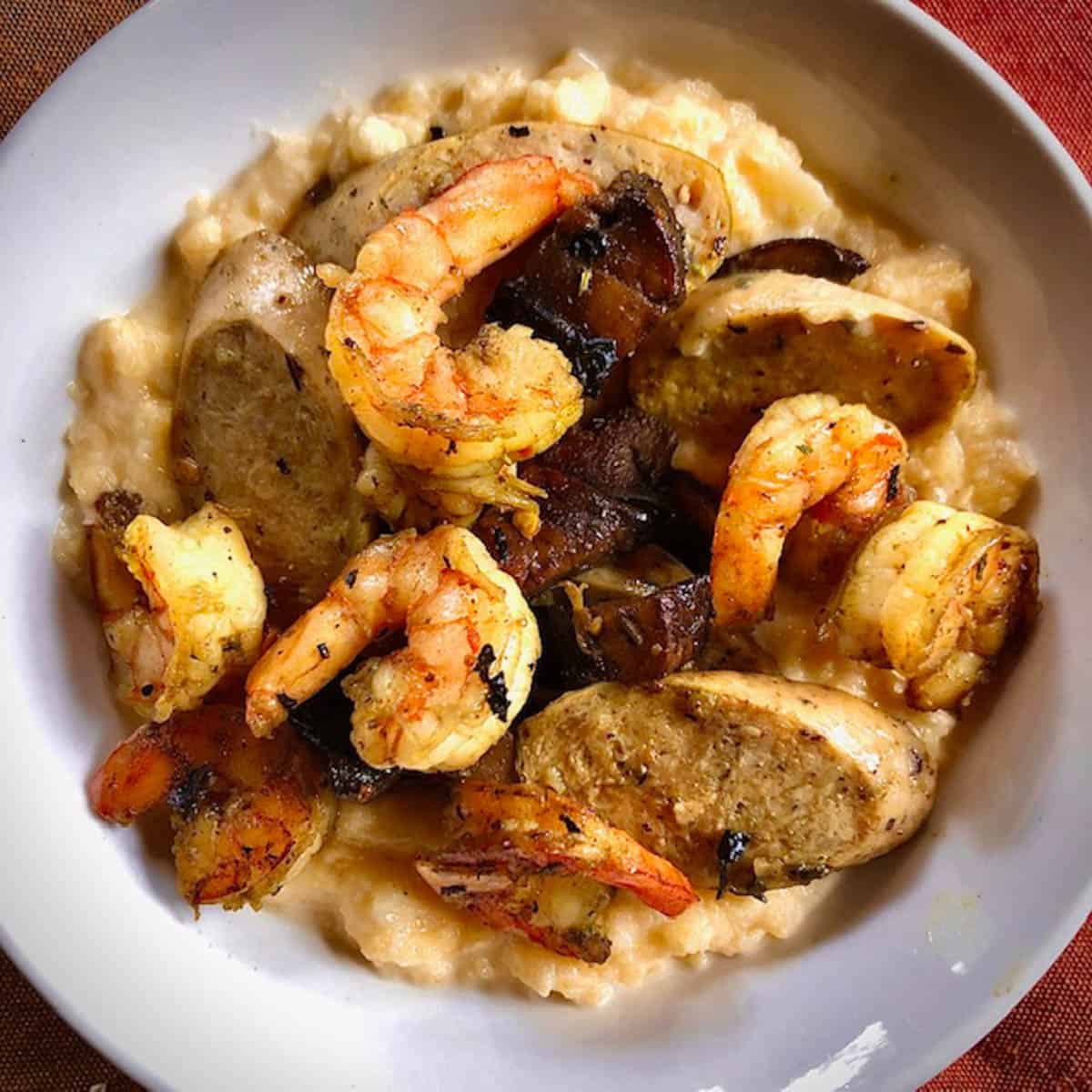 Is keto skordalia easy to make?
This is one of the easiest, most delicious recipes in my repertoire. The rutabagas only take about 10 minutes to cook, then the rest doing a quick sautee of the garlic, simply mashing and adding the rest of the tasty ingredients to the bowl. That's it! Easy squeezy.
Other recipes you might like
This post contains affiliate links. As an Instacart and Amazon Associate, I earn from qualifying purchases.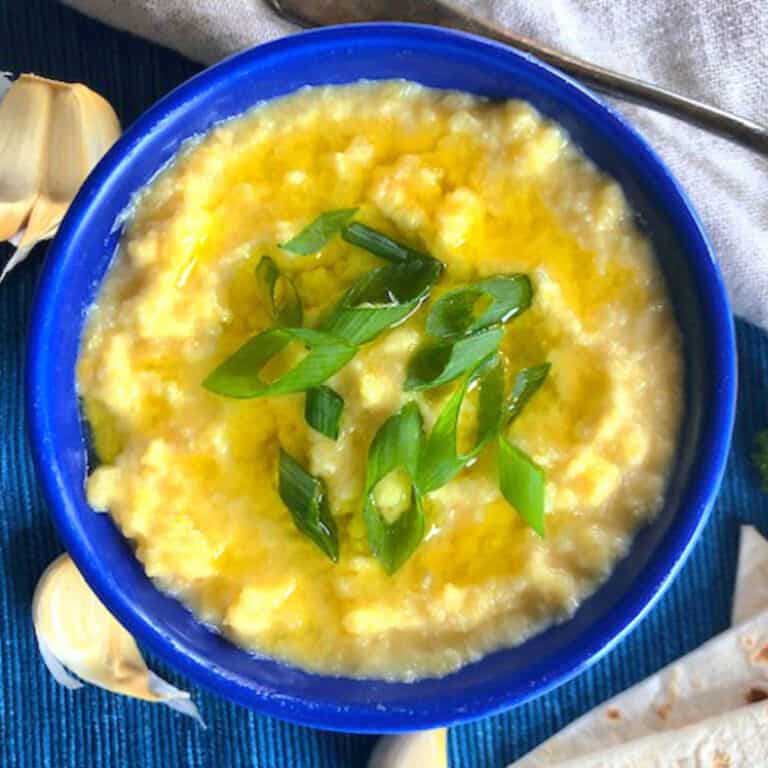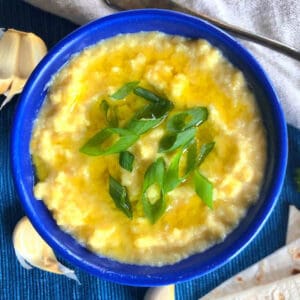 Keto Skordalia
Skordalia is a beautiful, savory flavorful Greek dish that is typically made from potatoes or day-old bread, lots of garlic, almonds and lemon juice.  I use rutabaga in place of potatoes to whip up this smooth, super easy and totally divine recipe.
Instructions
Cut off the root, the spot where the stem was removed.

Remove the skin. I just use a vegetable peeler for this

Chop rutabaga in one inch pieces (or smaller).

Add to a large pot, cover with water and boil until fork tender - about 10-15 minutes.

While the rutabaga is boiling, finely chop the garlic.  Add two tablespoons of olive oil to a small pan, add the garlic, and sautee for about 2 minutes, until garlic becomes soft. Set aside entire contents of the pan.

Drain the rutabaga and add to a large bowl.

Mash and add the olive oil, preserved lemon, the olive oil and garlic from the pan that was set aside, almond flour and salt and mash until thoroughly combined and smooth.

Add the sour cream last and mix well.

To serve: Top with more olive oil, chopped scallion and fleur de sel.
Nutrition
Serving:
1
serving
Calories:
217
kcal
Carbohydrates:
8
g
Protein:
2
g
Fat:
20
g
Cholesterol:
4
mg
Sodium:
597
mg
Fiber:
3
g
Sugar:
4
g
Net Carbs*:
5
g
*Net carbs = carbohydrates - fiber
Nutritional information is an estimate, calculated using online tools and does not include optional ingredients unless otherwise indicated.
Did you make this recipe?
Leave a review below, then snap a picture and tag @Rad_Foodie on Instagram so I can see it!